Bitcoin isn't a company. People who work on Bitcoin don't get paid a salary by Bitcoin Co. (not a real company), and there's no centralized developer fund which can be used to pay those who are working on making the network more robust. Even those who are not working on Bitcoin's main codebase are making Bitcoin better by making it easier to use for everyday folks.
As a founding principle of Bitcoin Focus, I'd like to pledge to donate 10% of profits to the funding of Bitcoin-related projects.
Currently, I'm not making any money from this site. I haven't decided yet how, or if, I'll be posting the exact earnings, but I will be listing donation numbers on this page. For now, I'll start by donating an even $100/month to various developers. I also encourage you to visit Bitcoin Dev List and see if there are any products/services/developers you'd like to fund.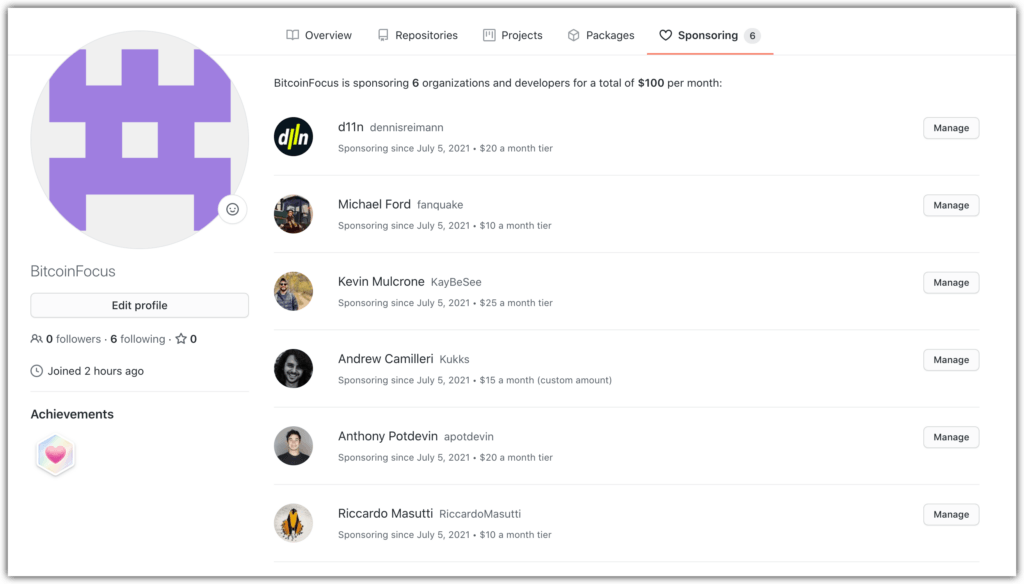 I prefer to donate through Github, since I can set up a recurring sponsorship using a credit card. I guess you could make the case I should be donating Bitcoin, and I may do that in the future, but for now this is just a passive donation while I focus on building the site. I may do one-time donations in the future as income for the Bitcoin Focus site grows.
Total donated as of March 2023: $2300 USD