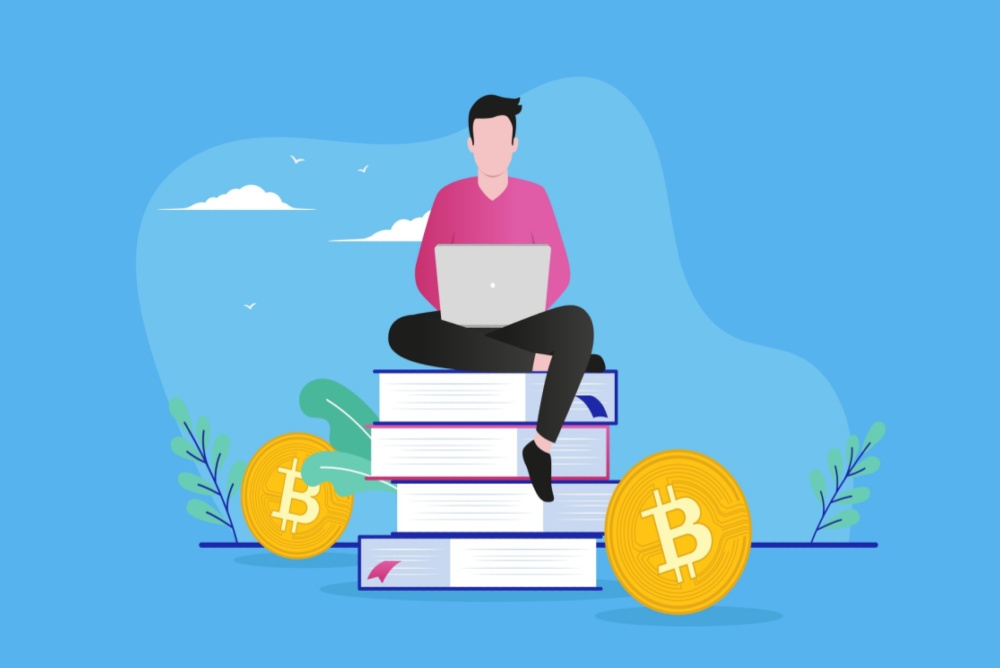 This is a Bitcoin-only blog. There's 3 distinct reasons for this.
1. The time for discussion around alts has passed. There was a time when talk about a multi-coin world and digital currency competition was interesting for those curious and new to bitcoin. These days, it's pretty clear that Bitcoin is the winner and will continue to be moving forward.
2. Bitcoin can only be invented once. Bitcoin is an idea. You can't invent a perfectly scarce asset, then invent it again. Everything else is a Silicone Valley startup or a scam. It's certainly not digital money that will outcompete bitcoin.
3. I don't have time to research and rebut everything. Studying Bitcoin is a lifelong task. Bitcoin is such a complex system at this point, that it's impossible to be an expert in everything at once, so I'd rather devote my time to learning more about another aspect of bitcoin, rather than reading about one of 5000+ altcoins out there. I don't really think it's worth my time to learn surface level knowledge when I can understand Bitcoin more deeply.
4 Reasons Ended Up Focusing On Bitcoin
To be honest, before reaching the conclusion to focus on only bitcoin for myself and for this blog, I did actually used to own multiple other cryptocurrencies. Yup, I was a shitcoiner. If you're curious, at one point I owned Litecoin, Monero, Basic Attention Token, 0x, Ethereum, Ethereum Classic, and Bitcoin Cash.
Like many, I had a vision of a multi-coin world. I figured there would be hundreds of coins out there, and you'd have a mobile wallet that contained any number of them, and you could programmatically buy, sell, or spend them depending on the market, and depending on your goals.
I've since changed my mind, and this graph below perfectly illustrates my own journey.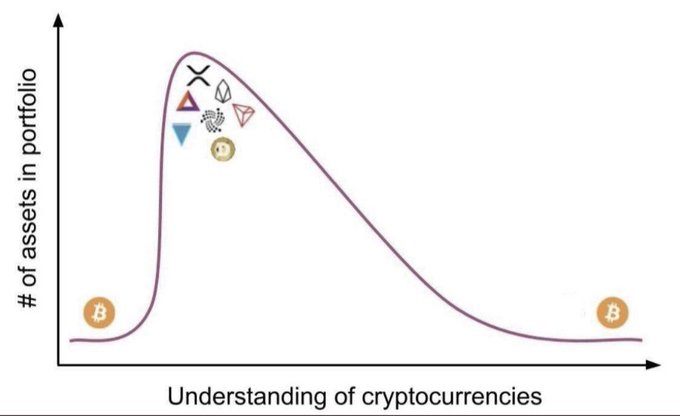 1. I Only Have Enough Time To Research Bitcoin
I have a job, a family, and a life. There's only so much time in the day. As I was doing research into Bitcoin, I started to find myself running out of time in the day and I just simply didn't have any time to research anything else.
It took me a couple months to really get up to speed on the basics of Bitcoin, and about 18 months to feel confident enough to start writing my thoughts on this site and getting into more things like lightning, transaction privacy, and multisig. Think about that. 18 months of continuous study, and I'm still not an "expert" by any means. How would I ever repeat that same process for any other coin?
2. The Rabbit Hole On Bitcoin Goes Much Deeper
As I was learning about Bitcoin, I actually started looking for resources for other coins out there, because remember, at that time I owned alts as well. Well, I discovered that the educational resources just don't exist. How many podcasts are there out there about Cardano? How many books have been written about Dash? How many Tron-only conferences are there every year? How many people sell all their possessions and travel the world on a Litecoin standard? How many people sell goods or services for Nano or Aave?
The answer is almost universally: none.
So as I was reading books and listening to podcasts related to Bitcoin I started to realize that there just wasn't the same amount of "knowledge" to gain about other coins. Even if I tried to dedicate 1000 hours to IOTA, I couldn't. Nobody cares about these coins beyond trading them for fiat gains.
By contrast, there is actually an infinite amount of knowledge to learn about Bitcoin. Unending. The study of how Bitcoin works and its implications for society is something you could do for a lifetime, and never reach "the end".
3. The Bitcoin Ecosystem Is Robust, Diverse, & Growing
The bitcoin community and ecosystem is massive. There's so much going on, it's impossible to keep up with everything. Just looking at basic bitcoin skills, it takes requires a lot of focus just to learn about why bitcoin has value and how to properly secure your own keys. Multisig? Home mining? Lightning? It all takes a few more brain cycles.
Consider then, that's just the bitcoin-specific stuff. Many bitcoiners are building beyond Bitcoin itself. For example, there's an entire subset of bitcoiners who are actively trying to start bitcoin communities around the idea of regenerative farming and homesteading. Some are building grassroots bitcoin circular economies around the globe. Some are researching how bitcoin can help build out intermittent energy sources like solar and wind using bitcoin mining, or getting involved in the politics around digital asset ownership and privacy.
There are many different niches of bitcoin focus, all centered around the idea that bitcoin is digital money deserves our attention. For many, Bitcoin is a mindset and a way of life.
4. The History Of Alts Is Clear
If you've been following crypto markets for more than a few years, the cycle becomes clear. A couple of coins with a strong narrative pump, then dump, and never return. The next cycle brings a new wave of altcoins, adding to the pool of alts to choose from, then the cycle repeats. The darling shitcoins of each cycle is different, and somehow, crypto people haven't picked up on it.
Most people in alts don't even really care about the mission of the coin itself. Their goal is to trade it successfully in order to get more bitcoin. The altcoin mindset is a gambling mindset. Maybe I'll pick the right coin, at the right time, buy enough of it to get rich, sell it at the right time, and then get out of crypto markets and responsibly invest my after-tax earnings.
Not likely.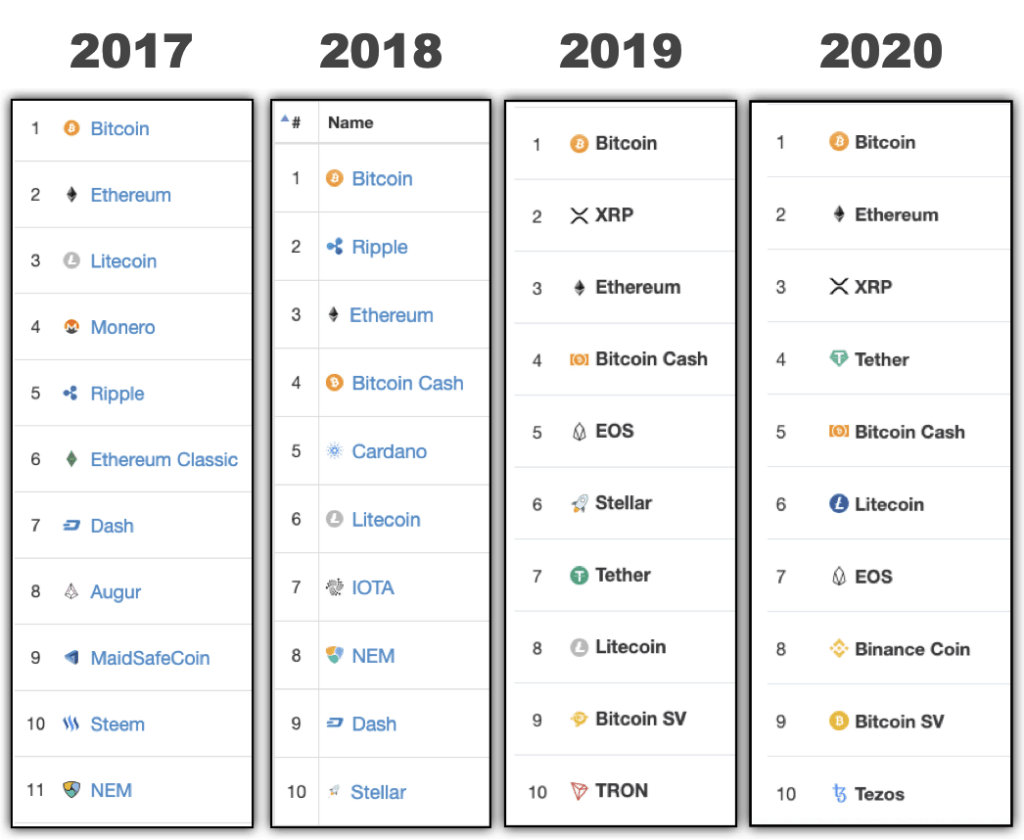 Absolute mathematical scarcity achieved by consensus in a sufficiently decentralized distributed network was a discovery rather than invention. It cannot be achieved again by a network made up of participants aware of this discovery since the very thing discovered was resistance to replicability itself.

Knut Svanholm
Any successful replacement of the Bitcoin block chain will forever undermine the credibility of any successor. How is an investor to know that it won't happen again? Rebooting now may benefit a few thousand early adopters. What happens when hundreds of millions use Bitcoin 2.0? They'll be just as jealous and envious of you as you are of others. Given the precedent you want to set, how will you argue against yet another reboot?"

Hal Finney
My General Framework Thinking About Other Coins & Tokens
I separate altcoins into two broad categories, utility tokens and money.
a. Why Do You Need A Token To Perform A Function?
A utility token would be something which is supposed to perform a function. For example, Basic Attention Token, built on Ethereum, is supposed to be used for micropayments on websites so you didn't have to view too many ads. Filecoin is supposed to be a decentralized sharing of hard drive space, paying you to rent your extra storage via blockchain. Steem was supposed to be a blogging platform with a native cryptocurrency. Chainlink is supposed to be a decentralized oracle for smart contracts.
With regards to utility tokens, the first question to ask is if you really need a token for the thing you're doing. It's cool that people want to build technology, but what's the purpose behind issuing a token with a floating value? Most likely what you're buying is a security. When you buy a utility token, you're basically just making an investment in a company and hoping they become popular so that your token value goes up.
I have no problem with that, but just be clear what you're doing. You're not buying the next Bitcoin.
Also, if tokens really represent value for that network, it doesn't really make sense to buy them early. Why would I need to buy 1000 concert tickets in advance? How do I know how many coffees I'll drink in a lifetime, so why buy Coffee Coin early? It only makes sense to buy the token when I need it. Just like I don't need to invest $5,000 into Starbucks gift cards, I don't need 5000 Dentacoin tokens.
b. If You're Creating "Money", Can You Really Compete With Bitcoin?
Money would be something like Bitcoin, meant to be a medium of exchange and store of value. Examples would include Litecoin, Dash, and Dogecoin.
With regards to other digital money, my thought process is to consider what are the chances that something outcompetes Bitcoin. Right now, Bitcoin is by far, the most distributed, most well-funded, talked about, most held, most transacted, highest value cryptocurrency in existence. By every metric or measure possible, Bitcoin is the biggest and the best.
What would it take to do better than that?
If you want to buy something other than bitcoin, you better have a good reason other than, "what if…". Do the research. Read blogs. Listen to podcasts. Run a node. Use it to buy stuff. Prove to yourself that your coin is better than Bitcoin.
Go to Amazon and look for books about your coin. Does a single book even exist? Even a "serious" project like Litecoin doesn't have a single book written about it, while Bitcoin has many types of books, including coding books, philosophy books, history books, and even books for kids.
What I found in my own research is that the conversation about most coins doesn't go much further than price predictions. If the network is dead the money is useless.
My Thoughts On Ethereum
Ethereum doesn't really fit in with the above frameworks, so I think it's worth addressing on its own. It's the second largest cryptocurrency, has very large transaction volumes (and daily value transfers), and a thriving, passionate community. It fits the bill of having an ecosystem as I talked above above, since there are books, podcasts, and art focused on Ethereum.
There are however, still a few clear reasons why I don't own any Ethereum.
1. It Was Never Supposed To Be Money
As far as I know, when Ethereum started, it was supposed to be a "world computer". The premise of the project was to build uncensorable apps, and to be a kind of open source thing where anyone could build anything they want on it. It wouldn't be like the Apple App Store where you need projects to be approved, or like anything running on centralized AWS that could be shut down at any time.
Sounds cool! But why does Ether, the token used by Ethereum, have value?
Supposedly, Ether was supposed to be how you're going to pay for computing power within this world computer. OK, that makes sense I guess, but then why are there gas fees to use Ether? So I need to pay money to use my money which then runs programs on the computer?
Also, it seem to me that technology gets cheaper over time, so wouldn't it also get cheaper to run the world computer in the future? Shouldn't the price of ether drop as the network gets more efficient?
Personally, I think Ethereum sounds like a cool idea, but I just don't get why I would want to buy ether to hold as money.
2. It's Basically A Company
I see Ethereum as a company. It's got a central leader and an organization which guides development. They make decisions on behalf of the stock holders ($ETH holders), and if those decisions go well and the project works, then the price of ether goes up.
Nobody holds ether for the purpose of buying anything. Nobody holds ether to pass on to their grandchildren. Nobody runs a podcast and sells sponsorships in ether. Ether isn't money. $ETH holders are hoping that Ethereum developers create a useful product so that their shares in the Ethereum company rise in value, and they can sell them for a profit.
3. It's Not Decentralized
Unlike Bitcoin which has no central leader and no roadmap for development, the Ethereum Foundation pretty much runs the show. It's clear that Vitalik invented Ethereum, and The Foundation decides what's going to be done, how, and when.
Ethereum is about building a cool project. It's a science experiment. It's a Silicone Valley startup. A centralized organization makes decisions for the community when changes need to be made to Ethereum blockchain. It's likely that this will continue to happen in the future. We saw it with the DAO fork, and now with the move to Proof-of-Stake. Why wouldn't it happen again?
4. There's Still A Lot Of Uncertainty
Ethereum fails as money because there's so much uncertainty in the ecosystem. The total supply is unknown. Layer 2's are still speculation. Upgrades and changes are continually promised, then delayed.
Money is supposed to be a reliable store of value, meaning I can sock it away and leave it there for a while. By the time I come back, that same money should be the same as I left it. If you put away some $ETH right now and come back in five or ten years, it's not entirely clear what you'll find.
5. Do I Really Need Decentralized Apps?
So far, the most successful "app" on Ethereum was Cryptokitties, a little game where you'd breed cats on the blockchain and they'd make little babies with fun designs and characteristics. It was so popular, it basically broke Ethereum, and then kind of faded out of popularity.
Cool idea, fun game, but do I need that to be decentralized? I think a game like this could do just as well as a regular, centralized app on the app store. When an app is built on Ethereum, I just think it's important to ask, "Does this need to be on the blockchain? Does this need to be decentralized?"
6. So Far, It's Main Use Cases Seem To Be Gambling
In terms of working products on Ethereum, the trend seems to be shitty ways to make money through gambling. Instead of a "world computer", it's more like a "world casino". ICOs in 2017 and NFTs in 2021 got a lot of people rekt with useless digital tokens. I get the idea behind some of these projects, but in practice, people are just losing money gambling on projects they hope will go up in value.
I do think it's kind of cool that we are now able to allow global micro-investments into companies and art with tokens. Most users are not actually investing though. They are simply speculating based on hype. In the end, we discovered that investing in companies without a functioning team or product was a bad idea. As it turns out, a digital image of a monkey or a rock isn't worth $20 million dollars.
Further Reading & Listening on Ethereum
Bitcoin, Not Blockchain
My dad loves to say something to the effect of, "Yeah, if you got in on Bitcoin early, that'd be nice, but you missed the boat. Whoever learns to make money with the blockchain is where you should invest."
Like my stint with altcoins and NFTs, I too once thought that blockchain was going to be important. My thinking was, "You can track all kinds of stuff and verify it's legit, so it's kind of like AI." I've since changed my mind, thanks to listening to smart bitcoiners.
One main takeaway is that the purpose of blockchain is to completely remove the human element from the system. When you use blockchain to manage real world goods, you still need humans to verify that the blockchain matches reality. What's the point of putting avocados on the blockchain if you still need someone to check that they're fresh? The blockchain says it's a good avocado, but the avocado is bruised. It's not possible to match the two without human intervention.
The original purpose of the TIMECHAIN (not blockchain) created by Satoshi served a specific purpose. It was creating and verifying it's own reality in cyberspace. A block was mined, validated, and then another block placed on top. Previous blocks become reality, locked in time via blockchain amber, giving us an increasingly-clear picture of digital history that cannot be undone.
Why would a company who wants to track something that would be impossible to change later? It seems to me that a company putting anything on an editable blockchain is simply running a database. That database might have some automation, but it still requires human verification and intervention from time to time.
Final Thoughts
So that's my thoughts, and this is Bitcoin Foqus. I'm not a cryptocurrency or technology expert. My site is about bitcoin, why it's useful, how to use it, and anything else interesting about bitcoin. Could there be some kind of crypto innovation in the future that has value? Sure. Why not. I'm not to worried about picking one out of a million projects trying to find that needle in a haystack. I don't wan to become a crypto analyst or crypto hedge fund.
Bitcoin is good enough for me. Bitcoin works. Bitcoin is what I'm focusing on. There's a lot to learn and share about bitcoin, and I hope you like my site!
---
Further Reading