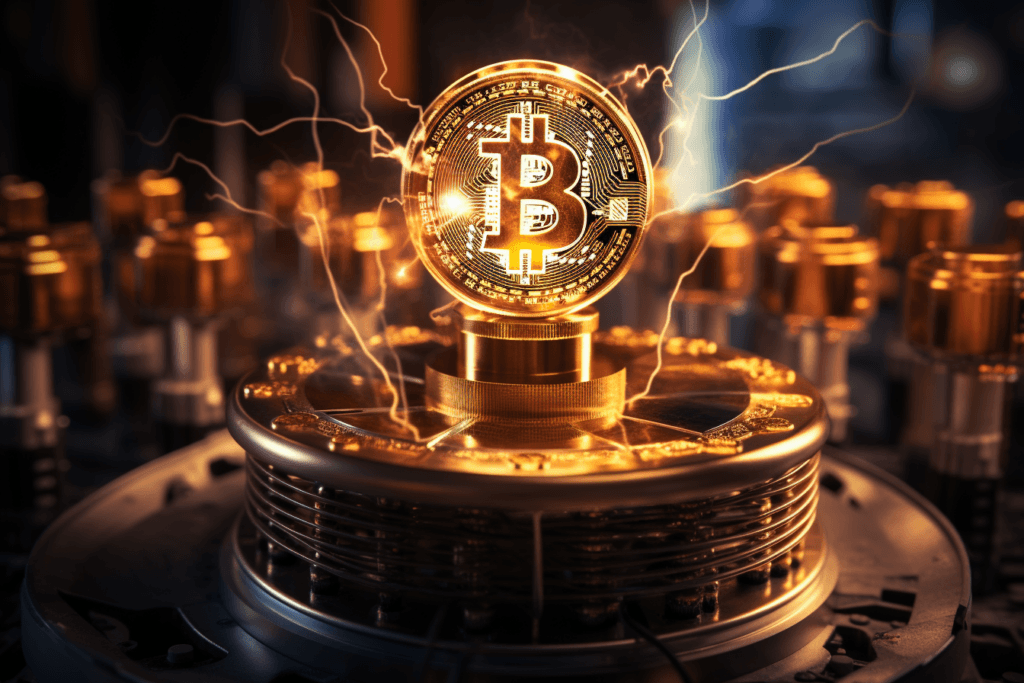 The thing about bitcoin mining that most people don't understand is that mining bitcoin simply requires electricity. Where things get interesting is how you generate that electricity. Electricity doesn't just pop out of the ground. You have to convert one form of energy into electrical energy. Some common energy sources for electricity generation include natural gas, coal, solar, hydro, geothermal, and wind.
Also consider normal is using an ASIC to mine bitcoin. For plebs, you might be using an s9 in your garage. s19's are getting more popular now that they are old-gen, but require a special electricity hookup. The most modern ASICs are like 3x more powerful and much more efficient than the previous generation. Anyway, if you're mining professionaly, you're using a standard bitcoin ASIC because you care about profit, not entertainment.
That's all the normal stuff. Let's get weird.
There are lots of weird ways to mine bitcoin that the plebs are using for fun and even for profit. If you ever thought bitcoin mining was boring, prepare to be surprised at some of these creative ways to contribute to bitcoin hash! Some of these are weird energy sources to mine bitcoin, and others are weird ways to hash, like mining with a Gameboy.
Weird Ways To Mine Bitcoin
1. Natural Gas Generator
What better way to trigger malthusian environmentalists than to use an internal combustion engine burning natural gas to mine bitcoin. Of course, it isn't very practical or cost-effective to be mining bitcoin with a natural gas generator pretty much anywhere in the world thanks to the price of gas, but you could definitely mine with natural gas closer to the source.
In fact, that's what many gas drilling operations are beginning to do in order to maximize their profits, as well as help them comply with environmental regulations. Burning excess gas created during drilling and fracking operations, then using that energy to mine bitcoin not only creates an additional revenue stream for oil and gas companies, it also reduces their carbon footprint.
It's a well-known fact that methane is much worse for the environment than carbon dioxide, so by burning methane, they are creating a less-harmful bi-product. That's right, mining bitcoin can actually be good for the environment.
2. Cow Shit
You can mine bitcoin with cow shit, and it's kind of a big deal. They even made a short documentary about it you can watch below. Basically, as I understand it, in Ireland they set some pretty unrealistic greenhouse gas emission targets at some point, and then farmers became the target of ire thanks to cows and other animals producing waste. In an effort to game reduce those emissions, famers were forced to invest in "anaerobic digesters", which basically macerate the waste which produces methane, then burn it and use it as fuel for various applications.
It's the same concept as burning flared gas. Rather than release methane into the atmosphere, you burn it, use the energy, and the bi-product is CO2.
For a while, this was profitable when energy prices were high enough. Farmers could sell electricity back to the grid to make their operations more sustainable (remember, this whole digester thing was forced on them). Unfortunately for many, the price they are paid for their energy production has fallen below what would make it a sustainable operation, and have been forced to close their farms.
With bitcoin mining however, some farmers are discovering a new source of revenue that can keep their farms afloat and satisfy ridiculous government regulations.
3. Toxic Waste
The story of using toxic waste to mine bitcoin is my favorite one, because it's real intelligence test to determine if you are a critical thinker.
You see, in the mainstream media, you will hear stories of bitcoin miners in Pennsylvania who are reviving the coal industry, dumping their dirty pollution into the sky for no reason other than to get rich with fake internet money.
The real story is that these bitcoin miners are paid by the government to clean up burning toxic coal waste from coal miners 100 years ago which is poisoning the local water [full story]. By burning up the waste material and turning it into "'clean coal", which can then be used for other types of fuel or disposed of in a less-harmful way.
So it turns out that once again, bitcoin miners are actually helping the environment.
4. Volcanos
The story of the decade is El Salvador adopting a bitcoin standard and putting themselves on the map as Bitcoin Mecca. Not only are they the most bitcoin-friendly nation on the planet, their government is mining bitcoin with volcanic energy.
This may sound like sci-fi, but it's actually quite normal to use geothermal energy in many places in the world, but it's less fun to call it geothermal. Let's just call it mining with volcanos.
Heat from within the Earth is captured, turned into electricity, and then bitcoin is mined with that electricity. The thing with geothermal energy is that there is an unlimited amount of it – more than anyone could ever use on the planet. Once the infrastructure to capture the heat is in place, there's no limit to how much bitcoin you can mine with it.Of course, energy is also sent
5. Vapes
Of course, this one is fake news brought to you by the Bitcoin Bugle, but it does bring up some interesting questions about integrating mining hardware into anything that generates energy. Mining bitcoin is unique to many industries in that it's location agnostic, energy source agnostic, and miners can join or leave freely without disrupting the bitcoin network.
With an energy source an an internet connection, you can mine bitcoin anywhere in the world, and start or stop on a dime.
6. 5V Battery
Batteries are a very impractical way to mine bitcoin because you'll certainly spend a lot more money buying and replacing batteries than you will earn mining bitcoin. Still, it's fun to know that you can.
In the Twitter thread below, @BitMaker_ is mining with a standard one cell 3.7v with 500mAh (milliampere-hours), and he was able to mine for 2.5 hours. You could of course use a larger battery and mine for longer.
7. Used Cooking Oil
The bitcoin energy debate is ridiculous because there are so many ways to mine bitcoin with waste. In the Tweet below, a bitcoiner is collecting nasty used oil from cooking, and using it to add hash to the bitcoin network. From my years in China I know that used cooking oil from street vendors is one of the nastiest substances around, and you can't reuse it over and over again (though some of the worst food stalls do! So what do you do with it? Well, most people just toss it in street drains. Imagine if that used cooking oil was more valuable!
You can see from the video that this guy has his setup outdoors under some corrugated metal roofing, behind a chain link fence. This is some real pleb-style bitcoin mining!
8. Hardware Wallet
The Blockstream Jade is one of my favorite hardware wallets to recommend because it's cheap, integrates perfectly with Green Wallet (desktop/mobile), is perfect for multisig, and they are constantly introducing cutting-edge user-focused upgrades. It's a beast of a wallet in a tiny form factor.
One of those cool features is that you can actually mine bitcoin with Jade and have it sent directly to your jade wallet. Just keep in mind that it does have to be plugged in and connected to a node to properly mine, so you probably don't want to mine bitcoin on the same Jade that holds the keys to your bitcoin stack!
https://cointelegraph.com/news/solo-bitcoin-miner-defies-odds-to-mine-valid-btc-block-gets-150k-block-reward
9. Space Heaters
The bitcoin space heater space is really heating up (did that make sense?), and there are at least 5-10 different companies building space heaters integrated with bitcoin ASICs. Bitcoin miners are famous for being two things: LOUD and HOT. I don't really think there's a use-case for loudness, but there are tons of use-cases for capturing the waste heat, one of which is simply heating your home.
It just makes sense. What does a normal space heater do? It takes electricity, heats up some internal elements, and pushes out that heat to warm up a room. It's literally using electricity to create heat, with no other purpose other than to keep you warm. So why not do something useful with your heater and mine bitcoin with it? The exact number of sats you earn doesn't matter much because it's more than zero, which is exactly how much money your normal space heater is producing.
Of course, we're still early, so these types of heaters are usually more expensive than something cheap you'd get on Amazon, and who knows how long they really last. Worth looking into though, and I imagine companies will continue to iterate until they find something affordable, user-friendly, and aesthetic.
10. Pencil and Paper
Insane, but true. Kind of. Because bitcoin mining is simply guessing a random number, there are calculations you can do using a pencil and paper to arrive at such a random number, and then you can broadcast your guess over satellite or even ham radio. I don't know exactly how the timing of it would work, since a new block is mined every ten minutes, and I'm not so sure you could do the math in 10 minutes or less, but it really doesn't matter. Nobody is going to do this. It's mostly just an argument against banning bitcoin, because you can't ban random number guessing.
https://twitter.com/DocumentingBTC/status/1559877383452348418?s=20
11. Nerd Miner
Nerd Miner is the hottest lotto miner project I can think of. It's open source. It's fun to build and customize, got a great GUI, and a tight community of tinkerers to connect with. You can build your using YouTube and Github, or you can buy one assembled from Bitronics.
Even if the chances of finding a block with this thing are insanely low, it's more about the process of learning how bitcoin mining works and tinkering with form factors that makes Nerd Miners fun.
12. Bitaxe
Bitaxe is the only open source bitcoin mining hardware project, but I think it's going to be the first of many. One of the great fears (FUD?) of bitcoin is centralizing of miners in the hands of just a few entities. Whether it's centralization of pools, centralization of hash, or centralization of ASIC manufacturing, when a large portion of the network is controlled by just a few large entities, bitcoiners are not happy.
That's why projects like Bitaxe are so important. It reminds us that mining bitcoin doesn't have to be done by a mega pool with their own substation in Texas. Mining bitcoin doesn't have to be with the latest ASIC imported from China with the most efficient hashrate possible. If you want to mine, you can mine.
I don't actually know what type of hardware it uses and if you can just buy it off Amazon, but this is some cutting edge stuff right here so as more information becomes available I'll update. You can see a picture of it running in the Tweet below, and according to the creator it'll be available commercially in at a few places in Q4 2023. I did find this site with some for sale, but it's an early version so I'm not sure if they'll be selling a more updated version soon.
13. Lotto Miners
Lotto Miners is the common name for small, low-power mining rigs that are spun up for fun and tinkering, as they have an very small chance of ever actually mining a block successfully. There are successful solo miners though, which is why it's called lotto mining. Jade and Nerd Miner mentioned above are two examples of lotto miners, but there are many more out there.
I'm not very familiar with the different styles, brands, types, and methods of mining, so I'll just keep a running list of products I find, and you can sort through which ones look good.
14. Water Heaters
Like space heaters, we use hot water every to take a shower, wash our hands/clothes/dishes. Hot water in the home is not a luxury. It's the standard. Some modern homes even go so far as to have hot water heating systems that deliver instant hot water at any moment, despite all the energy it wastes to keep the water in the lines hot all the time. Heated floors? That's done with a water heater too, then the hot water is pumped through tubes in the flooring.
With all that energy going into heating water for no other reason than to keep you comfortable, wouldn't it be nice if you were getting paid a little bit to help with the electrical bill?
Many bitcoiners dream of a time when every single water heater in the world will be shipped with a bitcoin miner attached. While many would scoff at earning a paltry $50/month mining bitcoin with a single miner in the garage, I'd be willing to be that nobody would turn down a $50 discount on their electricity bill every month. Until then, you can build your own.
More water heating setups:
15. Nintendo Gameboy
I'm not going pretend I know much about this because it's my first time hearing about it as I write this article, but the video below explain how you can hack your old Gameboy to mine bitcoin with the help of a Raspberry Pi (Pico). You've got to install some custom firmware called GBDK (Gameboy Development Kit)