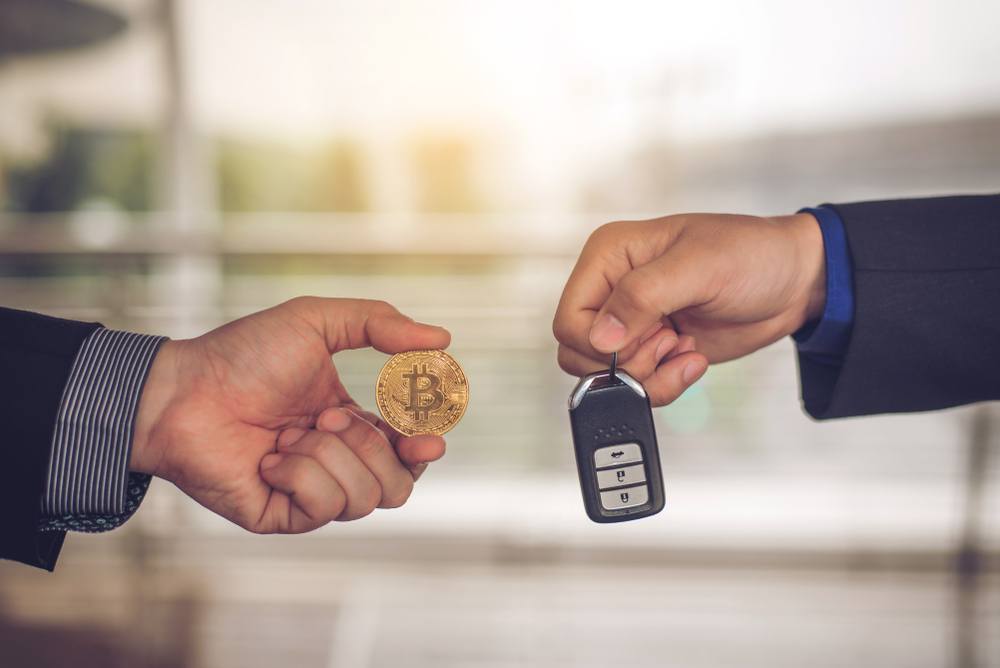 One of the longest running memes in Bitcoin Land is that when the price of bitcoin goes up enough, we're all going to buy a Lamborghini. While a Lambo isn't exactly everyone's taste, can you actually buy a car with Bitcoin?
What I found out in my research is that yes, you can buy a car with bitcoin but it isn't easy. Similar to buying a house with bitcoin, it really depends on the seller and whether or not they are willing to accept bitcoin in exchange for their property.
The main difference between buying a house with bitcoin versus buying a car with bitcoin is that a house has the potential to be an income producing asset, or at least an asset that appreciates in value over time. When you buy a car, it's going to be a depreciating asset 99% of the time, and any kind of money you might make from it will not be "passive income" as is the case with rentals.
Do you really want to sell your bitcoin to buy a car so you can deliver groceries as a side hustle? That doesn't make sense.
So, while I see some potential tradeoffs in the case of real estate vs bitcoin, when looking at cars vs bitcoin, I'm not convinced that buying a car with your bitcoin is the smartest decision.
4 Ways To Buy A Car With Bitcoin
1. The Car Owner Accepts Bitcoin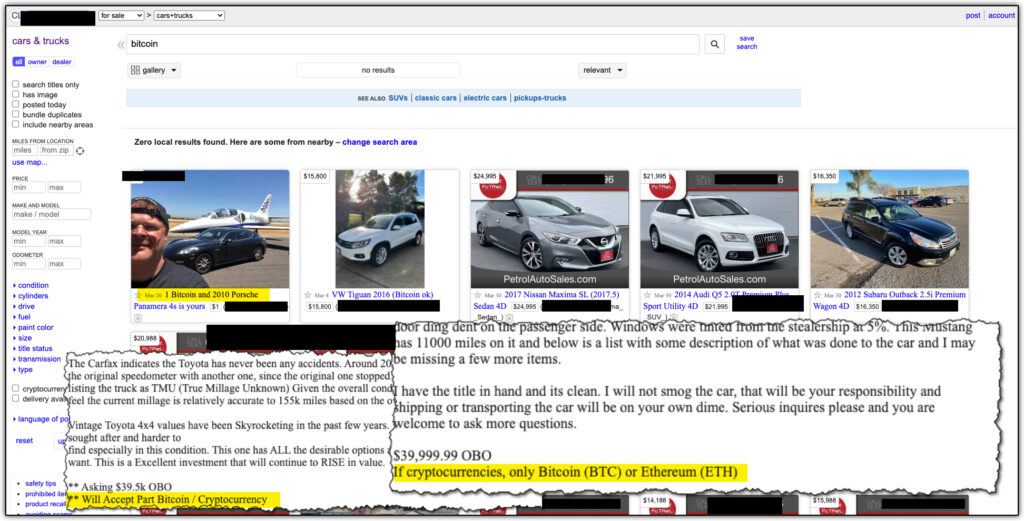 The best way to buy a car with bitcoin is going to be with a peer-to-peer transaction. That means finding a car owner who will accept bitcoin in exchange for their vehicle. With this type of purchase, you'll have the widest range of reasonably priced cars available to you, and you'll be directly contributing to the bitcoin circular economy.
Bitcoin is also great for the seller because bitcoin works like cash. Once the transaction is finalized, there's no way to reverse it.
One potential downside here is that if you are paying on chain and if the seller wants to wait around for six block confirmations, you may have to wait an hour for the transaction to finalize and be irreversible. If they may be willing to settle for a lower block confirmation, you could maybe settle in ten minutes after a single block confirmation.
In this case, lighting may not work because of the size of the transaction, but depending on the seller's enthusiasm for bitcoin, you two could maybe experiment.
One option could be to use a physical device like an Opendime with a specified amount of bitcoin loaded onto it. The buyer can verify that the device hasn't been tampered with and can see how much bitcoin is on there. This avoids the block verification time altogether, though you do need a laptop with a USB port on hand!
One interesting aspect of a deal like this is that the two of you would need to decide if the car is priced in dollars or bitcoin. Will they be taking a flat amount of bitcoin for the vehicle, or will it be a dollar-denominated price expressed in sats?
2. Search Specific Dealers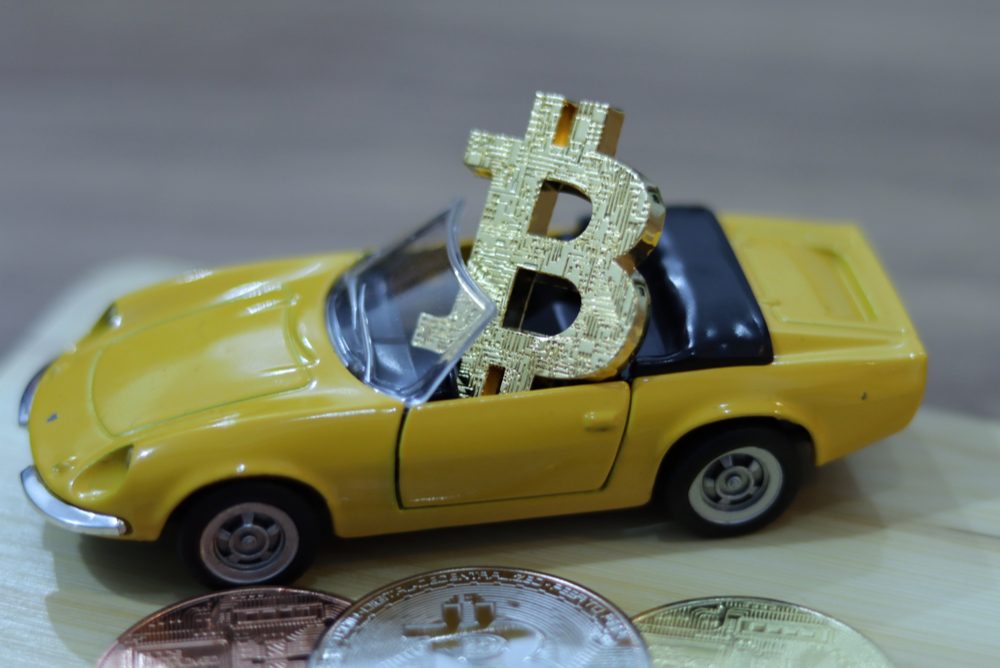 Another way to buy a car with bitcoin is through specific dealerships. Bitcoin owners are often associated with wealth, so there is a number of luxury car dealerships that directly accept bitcoin for both new and used vehicles.
The trouble I found with this method is that they are few and far between. There is no nationwide or global car brand that accepts bitcoin, so it's up to the individual dealership. That means you may find a BMW dealership in Austin, Texas that accepts bitcoin, or a Lexus dealership in Los Angeles, CA that accepts bitcoin, but if you live in Ohio, that complicates things.
I think most dealerships would be willing to do deals with anyone in the country, assuming you have enough funds to pay for their service, but then that begs the question – how much are you willing to pay?
If you just want to buy a family SUV with bitcoin, it may not be worth the extra money to ship the vehicle across the country when you can just get a car loan and buy it from your local dealership. If you want a specific Rolls Royce only available from one place, then spending a few thousand extra dollars to have the thing shipped to you would be reasonable.
3. Bitcoin Backed Loan
A clever way to buy a car with bitcoin would be to leverage your bitcoin stack to get a loan, then use fiat money to purchase the car. That means you wouldn't have to sell your bitcoin and pay capital gains tax, so you get a new car and you get to keep your bitcoin! There are a number of services that do this, including Ledn and Unchained.
The great thing about this method is that you don't need to qualify for credit for traditional financing. It doesn't matter what your credit score is, what your income is, or what your financial history is – as long as you have bitcoin to back the loan. You can often get a loan within a day or two, so bitcoin backed loans are relatively quick as well.
There are a few major downsides to this though.
For one, interest rates on bitcoin-backed loans are quite high compared to traditional financing. For example, I was able to finance $24,000 to buy a new truck at a rate of about 4%, meaning my monthly payment was about $360 for something like 5 years if I remember correctly (it's paid off now). With a bitcoin-backed loan, you'll be paying 11-14% interest on a 6-month to 2-year loan, plus origination fees.
You still have to come up with the money to pay that loan back, and you only have 3 years (max) to do it!
Plus, all bitcoin-backed loans are required to have a specific LTV (loan-to-value) ratio, meaning the dollar denominated debt you took out needs to remain backed by a specific value amount. Because the bitcoin value as denominated in dollars fluctuates wildly day to day or week to week, if the price of bitcoin goes down, you need to top up your loan with more bitcoin to main that LTV ratio.
If you don't have enough bitcoin, or don't deposit it fast enough, your bitcoin could be liquidated, meaning you lose your stash!
I would only do something like this if the bitcoin you use for the loan is a very small portion of your stack and you over-collateralize your loan to prevent getting liquidated in a market crash.
4. Bitcoin Exchanges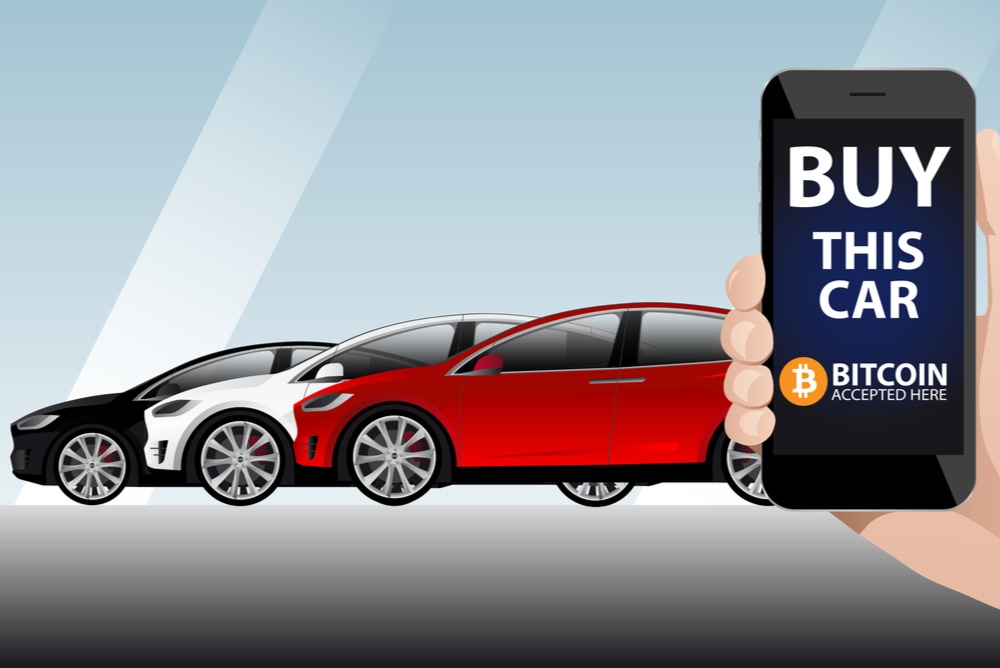 One unique concept I ran across in my research is the idea of a bitcoin exchange listing goods for sale in bitcoin. The only example of this I could find is cryptoexchange.com. I haven't used this exchange, and haven't purchased anything from their marketplace, so proceed with caution. It appears that they have an escrow service as part of marketplace deals, but I would definitely look into who's running the escrow and see if you can find some reviews on this particular company.
As of right now, you can buy cars, watches, real estate, and domains through their crypto marketplace.
Final Thoughts
Honestly, it's a little difficult to buy a car with bitcoin right now, but it's not impossible. For direct bitcoin payments, your choices are limited to what brand, style, and condition of car you can get. For the widest range of options, you'd need to get cash via a bitcoin-backed loan, but then you're not really buying a car with bitcoin, and now you've taken on some risk.
In a pinch, you can absolutely buy a car with bitcoin. However, buying exactly the car you want will be difficult. For most people with bitcoin, the best option is still to save your bitcoin and get a fiat loan with a cheap interest rate. If you can't qualify for a loan, get something you can afford with cash, and keep as much of your bitcoin as possible, then continue to stack sats.
For most people, the most convenient way to buy the specific car they want at the exact time they need it is going to be to sell some bitcoin and pay cash for the car, or at least pay cash for the down payment and get a traditional loan. Selling bitcoin is not ideal, because you never know when the next bull run will start, but it's important to remember that bitcoin is just money, and that's what money is for.
BONUS! 3 Ways To Earn Bitcoin With Your Car
If you do sell some bitcoin to buy a car, it's understandable. Pretty much everyone needs a car these days, and that's the purpose of money, isn't it? To buy the things you need? Once that bitcoin is gone, it's time to get on a mission to get it back, and now that you have a vehicle you can leverage it to earn some bitcoin. Here are some ways to use your car to earn bitcoin.
1. Private Rideshare Economy. It's pretty obvious that you can sign up to Uber, Lyft, etc companies to earn fiat money by giving people rides, but you can do something similar on a private level. Depending on your jurisdiction, you may need a taxi license to do this as a business, but there's nothing wrong with doing it amongst friends. Just make it known to your friend group that you're available at certain hours and can pick them up for a fee, paid in bitcoin.
Would your friend rather wait 30 minutes for some random person to pick them up at the club, then pay surge pricing, plus fees, plus tip, or would they rather have their buddy pick them up for a reasonable flat fee and stop for food on the way back? Would your female friend rather take the risk of a shady driver knowing their home address or a close friend safely driving them home? Cut out the middle man so that they pay less, and you make more.
2. Grocery & Errand Delivery. Bitcoiners love to talk about "know your farmer", but what about "know your driver"? On weekends and evenings, you can help out family, friends, and coworkers by running errands for them. Again, cut out the middle man and everyone wins. The goal here is to earn bitcoin, not necessarily be the next Silicon Valley startup success, so you can way undercut pricing to pay for just gas and a little bit of a tip since you probably won't be doing this long term.
This is also a great way to help out your local community. Though people may not want the service themselves, having a trusted person deliver groceries to their grandma seems like a pretty awesome thing to do.
3. Junk Pickup & Moving. If you bought a truck, then your options just opened up. So many people love to "borrow" trucks from their friends because trucks are useful. I use the bed of my truck several times a month to haul yard clippings, bring lumber back to the house for projects, or take trips to the local landfill after clearing out areas of my property (garage, wood pile, etc).
How the hell do people live their lives without a truck? You could do this for other people, price your labor in sats, and charge them for the physical labor as well as truck use.
Granted, I live in a rural area, so I find a lot of uses for my truck, but even in the city people frequently move and need to rent expensive trucks from U-Haul. You might take a little longer with a single truck bed instead of a big moving truck, but if it's someone you know and you do the work together, the savings are worth it to them. Have them pay you some bitcoin to help lift boxes and use your truck.