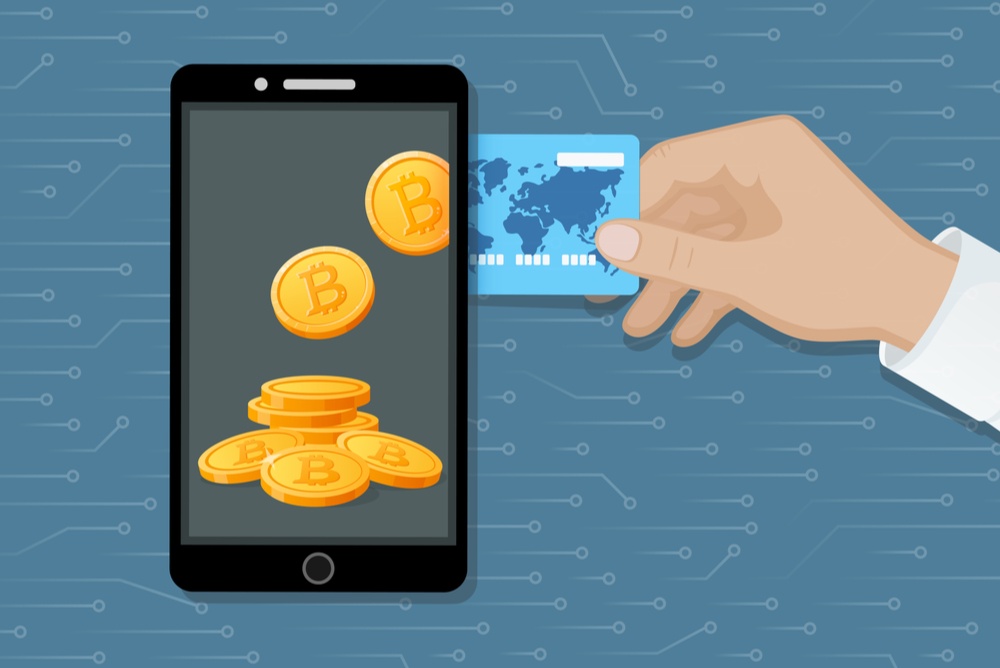 Update 2022: BlockFi has stopped processing withdrawals of bitcoin, and I no longer recommend their rewards credit card.
The most common way to get bitcoin is to simply buy it on an exchange. It's simple and straightforward. Just exchange a certain amount of dollars and you get a certain amount of bitcoin in return. Another common way to get bitcoin is to work for it. Find a company that will pay you in bitcoin or use a service to automatically convert your monthly paycheck into bitcoin.
A less common, but emerging method (and set to skyrocket IMO) of acquiring bitcoin is to get it for free with bitcoin rewards. To me, the most powerful and engaging way to turn a nocoiner into a bitcoiner is to simply give them free bitcoin and tell them it'll be worth 10x in ten years. What a powerful idea.
Instead of getting 1-3% cash back rewards on your credit card and earning a few bucks a month that you ultimately waste on some bullshit you won't even remember, getting "sats back" is a game changer. When you understand that the $30 you get back this month could be $300, or $3,000 over the next decade, it gives more incentive to claim those rewards and lock them in cold storage.
Suddenly, someone who is bitcoin agnostic starts to become a bitcoin bull.
The Fold debit card (affiliate) and BlockFi credit card are the two sats back cards I have personally tested. After using two of the main sats back cards to earn rewards for a period of 8 months each, by my calculations, spending a few thousand dollars a month on everyday items you'd normally buy means you could earn about a million sats or more per year – for doing basically nothing.
You just need to have the motivation to make the switch and start earning bitcoin rewards instead of dollar rewards.
Which one was the best? Well, it used to be a pros-and-cons type thing, but since BlockFi went bankrupt, it's a nobrainer to use Fold. The main downside is that you don't get to use the "credit" aspect of a credit card, so you need the cash on hand to pay for things, but as it stands, Fold is the only rewards card that pays out bitcoin that I can recommend.
Fold Debit Card VS BlockFi Credit Card Review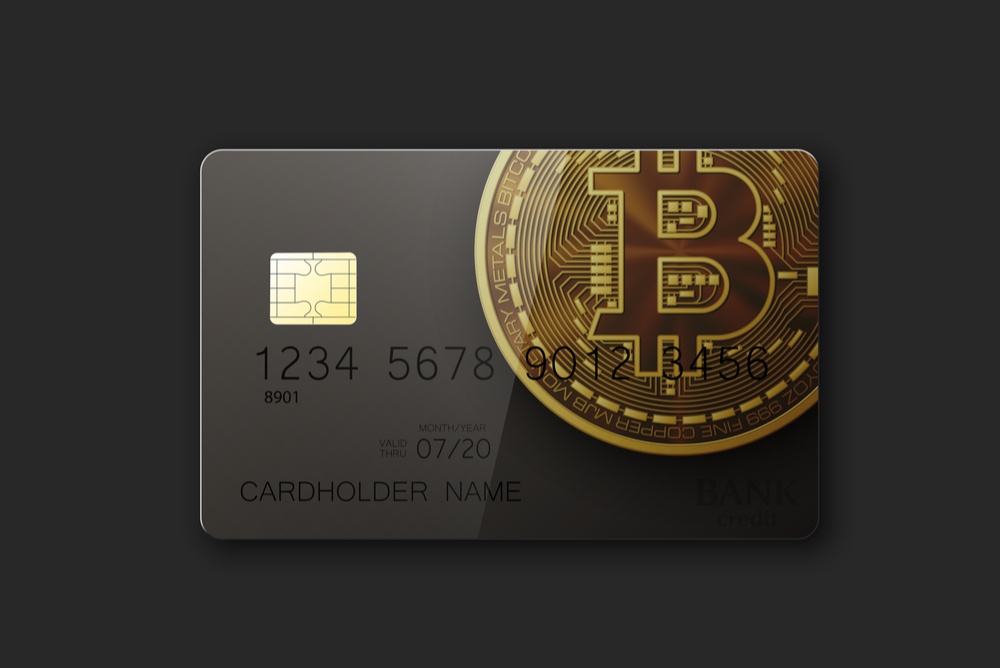 Fold Review
Fold is a very exciting company to work with because they are part of a new cohort of companies that have placed their flag in the ground as being bitcoin only, and I think that means they are going to be around for the long term. Anyone who's been around the crypto space for a while and actually done their homework can see an obvious split happening between decentralized, distributed, unstoppable, money and the VC-backed, Silicone Valley clown show casino.
I love working with and supporting bitcoin-only companies, and it's one of the reasons I continue to donate to bitcoin developers, despite this website not being profitable yet.
There are two levels to the Fold debit card: Spin, and Spin+ (Fold Spin+ Review). The Spin+ costs a yearly fee, but comes with more rewards. Both allow you to get free bitcoin daily by spinning a prize wheel, then you can earn more bitcoin by purchasing gift cards as well as spinning a better prize wheel each time you make a purchase.
That means you earn bitcoin with Fold in three ways.
free bitcoin daily spins
bitcoin rewards for each gift card purchased
upgraded spin wheel each time you buy something
Fold acts as a debit card and mobile bank. You can deposit or withdraw funds using your routing and account number, spend funds using your debit card number, or swipe a physical debit card. You manage your funds through the mobile or browser app. Each app includes details about which gift cards are available to buy and the cash back rewards available, but the prize wheel must be spun using the mobile phone app.
What I like about Fold's gift card purchasing system versus other gift card systems is that they actually work with quality companies that have broad sets of products, as opposed to weird niche companies that I never use.
The best example of this is Amazon. I can buy Amazon gift cards with 5% cash back, which means I can get bitcoin rewards on everything available on Amazon, which is basically anything I could ever want. Why would I ever buy something on Amazon with a different card when I can get a guaranteed 5% sats back on the gift card, PLUS extra money back on the spin wheel, which could equal up to 100% bitcoin back or even a full bitcoin reward.
Another big favorite of mine is DoorDash, because I can use DoorDash to order from any restaurant. It's not like I have to commit to Chili's or Domino's, although those are options! I can just load up on general DoorDash money, then spend it however I want. Right now, DoorDash is offering a massive 7% cash back.
A lot of other bitcoin rewards companies do deals with specific brands like Nike, where you can only buy sports clothes, or Flowers.com, where you can only buy flowers. How often do I need a new pair of shoes and how often do I send flowers online? Hardly ever.
I have two main issues with Fold and their system of bitcoin rewards.
1) I don't like the gamification of spending habits. When spending money is fun and rewarding, it incentivizes more spending. Bitcoin rewards are cool when managed properly, but ultimately, you could stack more sats if you just didn't buy junk you didn't need in the first place. 10% back is nice but 100% saved and stacked into cold storage is better. Don't get caught up in spending money to save money. Just save money and you'll be way ahead.
2) I don't like how much time and attention is needed. To maximize your rewards on Fold you need to be ready to play with the app each time you make a purchase. If you buy a coke from the gas station, to get your rewards you gotta spin the wheel. Every time you buy something you have to make a mental calculation whether x% guaranteed is better than x,xxx sats, or should you re-spin the wheel with the risk of getting something worse?
Despite these two drawbacks, money is money, and bitcoin is bitcoin, so if I have to spend a few minutes a day playing a dorky game collecting free money, then I guess it's not the worst thing in the world. It's just that sometimes I'm not in the mood.
Overall, I earned a lot of bitcoin back in my first months using Fold compared to how much I spent. I earned nearly a million sats after using the card for 8 months and spending less than $5,000 USD. Compare that to my BlockFi spending which was more than $30,000 to get that same million sat reward over the same time period. In terms of sats back vs dollars spent, the difference was astronomical. I earned a crazy amount of free bitcoin using Fold.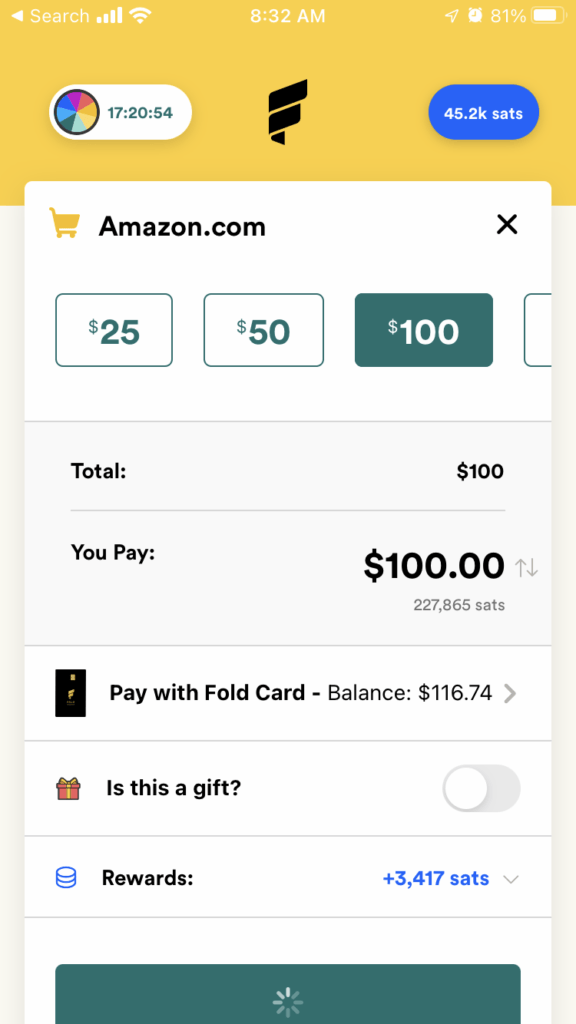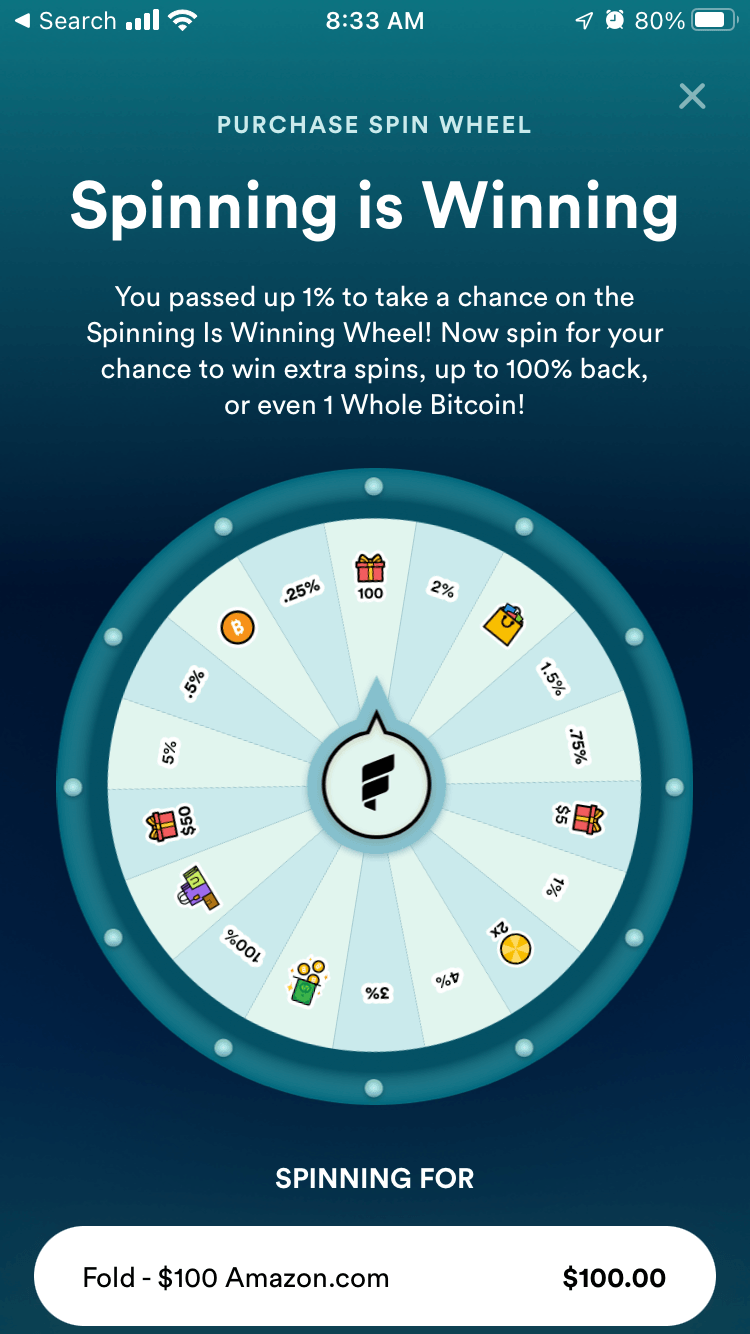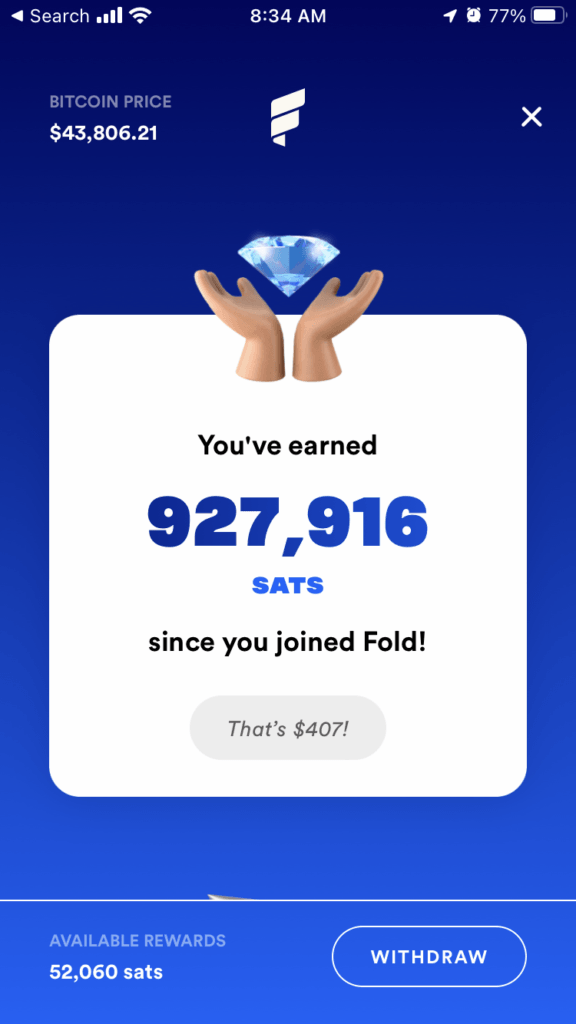 Of course, this was during the period when they just launched and had a bunch of one-time rewards for new card members. I'm not sure what those same earnings would look like now that they have a more normalized offering.
This is why I'm going to test out Fold for another couple of months to see what my rewards look like this time around. What I need to figure out next is if the yearly fee is worth it. At $150/year for Spin+ with the better rewards, that's a cost of 丰340,000 just to own a premium card!
Fold Spin+ Card Rewards Results
8 months (Sep 2020 – April 2021)
$3,496 spent
丰927,916 earned
11.4% cash back
minus 丰340,000 fee ($150) = 7.1% cash back
Pros & Cons of The Fold Spin+ Card
+ bitcoin only
+ lightning integration, perfect for sats (almost no fees)
+ free sats daily even if you don't spend
+ sats back on gift card purchases
+ easy Amazon gift card integration
+ sats back gift cards on popular companies
+ dollar cost average effect with daily/weekly stacking
– adds gambling aspect to bitcoin rewards
– time commitment to spin for rewards
– some rewards end up being garbage (0.75% back, 10 sats rewards)
– requires time to transfer funds from your bank account
– must have cash to buy things
– encourages overspending via gift cards
– yearly fee for Spin+ card with better rewards
BlockFi Review (NOT RECOMMENDED)
Update 2022: BlockFi has stopped processing withdrawals of bitcoin, and I no longer recommend their rewards credit card.
I've always hated credit card rewards because the incentive was just enough to hook me in, but in reality, the rewards never pay much at all. Over the course of a month I'd earn maybe $20 or $30 from rewards. I don't fly much so I don't need bonus travel points, and I'm not going buy stupid trinkets for an extra 0.5% reward.
Some people like to play the credit card shuffle, hunting for special offers and transferring balances to get maximum rewards back, but I just don't have the time for that shit. I'm certainly not going to spend my evenings looking at credit card fine print so I can get free airline miles once a year. I'm a grown ass man. I make money. I spend money. End of story. I like simplicity.
However, I figured since I was already participating in the bullshit charade of credit card rewards, I might as well earn bitcoin, so I was one of the earliest users of the BlockFi credit card. Bitcoin credit card rewards basically means I can auto-stack every month and not even think about it.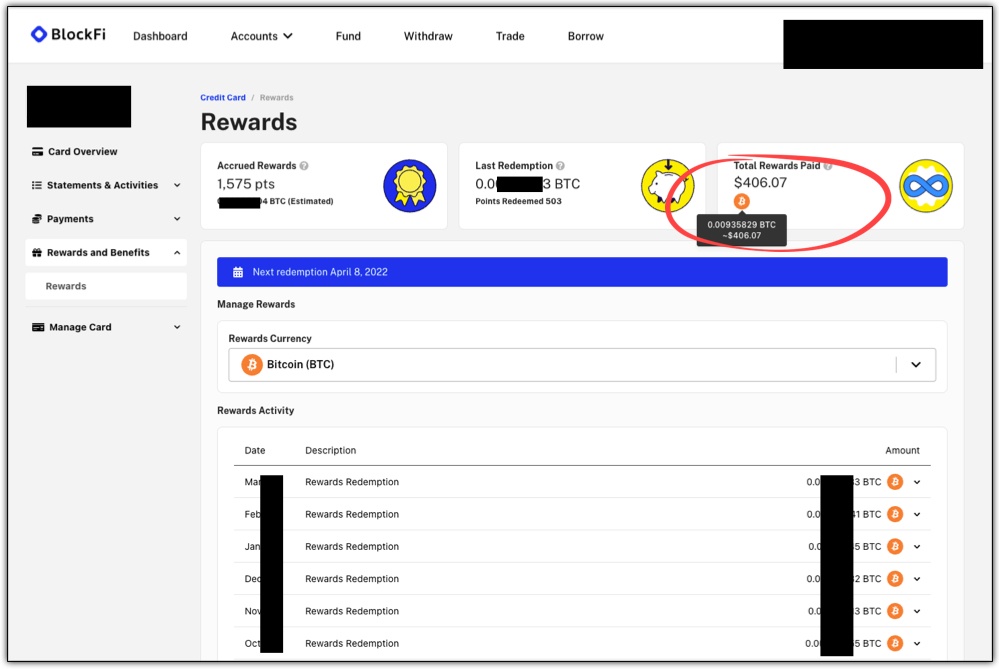 My BlockFi card is my regular credit card now. It's just natural to use it, and I don't have to think about it. I only carry four credit cards in my wallet: family card, emergency debit card, backup credit card, and my main card, which is my BlockFi rewards card.
I even got my wife on board, and she has her own BlockFi credit card too. The only way that she'll stack sats is if it's automated and she doesn't have to think about it. This is what makes the card great for nocoiners and newcoiners – that they don't have to put up any kind of risk or engage in any understanding in order to stack bitcoin.
The BlockFi credit card is a pretty simple pitch: Do you want at least a little bitcoin so you're not left out? Yes? OK, so here's an easy way to get some and you don't have to change anything about your life or learn anything new.
The qualification requirements may be the biggest downside of the card, namely for younger people without an established credit history. Just like a normal credit card, you need money in the bank, a job history, previous rental agreements, and a decent credit score to qualify.
Another downside, at least for bitcoiners, is that they do offer a lot of altcoins on BlockFi, and this kind of muddies the waters. They are a crypto company, not a bitcoin company.
Theoretically, you could receive rewards in ether, litecoin, or a few other cryptocurrencies. This is just me being a nitpicking bitcoin maximalist. I prefer to support bitcoin-only companies. Still, the bitcoin they hand out is as good as any, so I can imagine that most people won't actually be bothered by this. Just ignore the coins you don't like and get on with it.
Over the course of 8 months using the card, including the introductory offer and the 1.5% standard cash back rate, I was able to stack about a million free sats in rewards. That's pretty dang good in my opinion! You can actually see your monthly accumulated sats and total lifetime rewards right in your dashboard, so it's cool to watch your progress.
When sats are paid out, they are deposited directly into your BlockFi wallet, and you get one free withdrawal per month. Since sats accumulated are likely just in the tens of thousands or hundreds of thousands of sats per month, it may not make sense to withdraw every month. Maybe once a quarter or twice a year would make sense.
My only issue with their sats payout model is that it happens once a month, right on the first day of the month, so if bitcoin pumps right at the end of the month then you'll get fewer sats for your payout.
BlockFi Card Rewards Results
8 Months (August – March 2022)
$25,020 spent
丰935,829 earned
1.6% cash back
Pros & Cons of The BlockFi Card
+ buy with credit, pay back later
+ flat fee rewards on all purchases
+ 1.5% reward is decent rewards
+ no limit on sats back purchase
+ phone support
+ no yearly fee
– technical issues with BlockFi website and app
– not a bitcoin-only company
– multiple data breaches (+) and SEC issues
– no lightning integration
– limited to once per month payout
– requires credit check and approval
What's Better, The Fold or The BlockFi Card?
Both the Fold card and the BlockFi card have some very clear pros and cons, so it's definitely hard for me to pick a favorite. Almost two years later, I'm still using both cards because I haven't officially made up my mind about which one I'm going to stick with permanently. I'm the type of person who likes simplicity, so I don't plan on using two bitcoin rewards cards forever. When I make up my mind, I'll use one as my daily driver and stick the other one in a drawer.
Personally, the biggest reason for me to use Fold is that they are a bitcoin-only company, focused on bitcoin rewards, and they have a good enough rewards payout that I really want to support their company by using their card. Actually, their rewards payout is higher, but that's not the biggest factor for me since I can afford to buy way more sats using my income. Rewards are just a nice bonus.
Still, it's tough for me to get over how the spin wheel and app are kind of childish. I honestly prefer that I can just spend money as usual and get automatic rewards with BlockFi. It's just so easy, and it makes it easy for me to recommend it to others.
What Do I Recommend To My Friends?
Fold is the type of card I'd recommend to someone who is really into bitcoin and, like most bitcoiners, obsessed with finding sats under the couch cushions. Why wouldn't you try to get 10% or even 100% sats back on big purchases? If you can figure out how to get your rent or mortgage on the Fold card, that's bitcoin locked in every month.
>>> Fold Signup (affiliate)
Fold is great if you want to work the system, maximize your rewards, and be involved in bitcoin. It's also great for younger people who enjoy the gamification of their spending. BlockFi is best for no-coiner adults who want to dip their toes and get some easy bitcoin without any risk. It's just too much work for the average person in my circles. I just recommend they buy bitcoin rather than worry about sats back rewards.
Since the whole BlockFi blowup, I no longer have any recommended sats back credit card. I used to recommend this card to friends and family, but they're toast. I guess Gemini could be a close recommendation, but they have similar dynamics to BlockFi in that they are a crypto casino and offer lending products in addition to the card, so I don't have a lot of faith they will be able to weather future storms.
Have you used either card and what was your experience? Let me know in the comments.