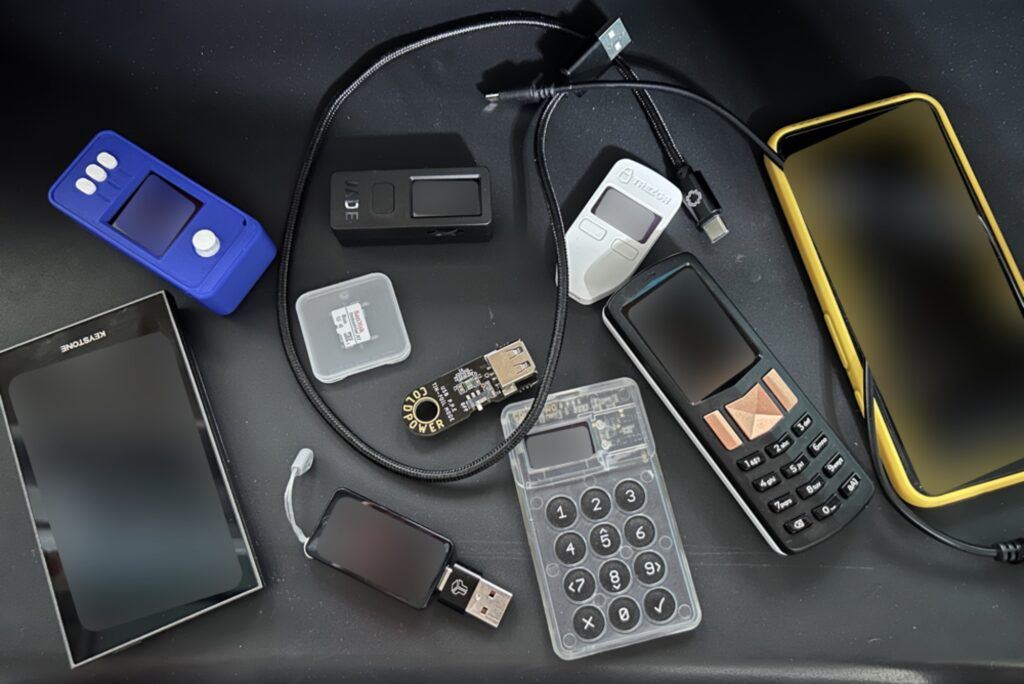 In 2023, there are a lot of choices for bitcoin hardware wallets. Oh, how far we've come in a decade of bitcoin. Now, the problem is picking the best wallet. One thing you can immediately do to narrow down the choices is to not pick any random dog shit you see on Amazon. Please. Don't try to save money on a hardware wallet. The next most important thing is to pick one of these bitcoin only hardware wallets. No shitcoins.
Why bitcoin only?
From a technical perspective, you can be sure that a team building a bitcoin only hardware wallet is focused on one thing: securing your bitcoin. Rather than wasting time adding yet another altcoin to your wallet, a bitcoin team is focused on making bitcoin storage better for their users. A bitcoin only team is thinking about the needs of bitcoiners.
From a philosophical perspective, you can be more confident that a bitcoin only team is building for the long term, because they actually get it. If your wallet team is still worried about supporting the next meme coin, there's something going on there. Where are their priorities?
For those reasons, I recommend bitcoin only hardware wallets to my friends and family. The one slight exception I do make is that there area number of crypto wallets that make bitcoin only firmware which I like. I'll mention my favorites at the end of the article, and you can read about my favorite bitcoin wallets for beginners if you fit into that category (it's basically a more refined list than the full list of bitcoin wallets you're reading now).
PS. These rules also apply to bitcoin only exchanges!
Top 3 Bitcoin Hardware Wallets
(assume links are affiliate links)
Bitcoin Only Hardware Wallets I Recommend
A Quick Note About Hardware Wallet Security.
I am what I'd consider to be a "practical user" instead of "technical user" of bitcoin wallets. In other words, I've personally used all of these wallets, sent and received bitcoin, and troubleshot various issues.
I'm not the guy who can answer any question about anything.
If you are interested in some more of the technical details and comparisons, you can take this list simply as a starting point. Use this list of bitcoin-only hardware wallets as a starting point for your own deep dive. I recommend Wallet Scrutiny, and you can also listen to the Bitcoin.Review podcast to see if they make any mention of your favorite wallets.
If you are a non-technical user and a beginner bitcoiner, this guide was written with you in mind. Many technical reviews of wallets discuss things that'll be over your head and just confuse you. In the summaries below, I try to deliver the most important information to you in a way that's simple and quick to understand. I'll cover some user experiences positives/negatives, security tradeoffs, and my personal thoughts about each wallet.
It should be enough information for you to make a decision on which bitcoin hardware wallet to buy.
If you want to go deeper and learn about each wallet, be aware that most "crypto websites" are not really doing their homework. They just reword the information from the manufacturer website and past in some affiliate links. Podcast interviews with wallet creators and Twitter debates are much better sources of information. Seek out more technical-focused bitcoin podcasts like Stephan Livera and Citadel Dispatch who might have interviewed wallet creators at some point.
There will also be Telegram groups or discords you can join to see what active users are talking about, and you can verify that I'm not recommending garbage by visiting the bitcoin.org official hardware wallet page to see many of the same recommendations (with much less detail).
For most of you, that's going to be way too much work. My advice is to just pick a wallet you think is good based on your first instinct after reading this page. They are all "good" wallets, and the finer points will become more important to you as you use bitcoin more. You can always switch later. Don't be spooked into keeping your funds on an exchange while you hesitate about what's the "best" wallet.
Having any wallet and securing your bitcoin properly is better than letting someone else hold your keys.
Not your keys, not your coins

Bitcoin Axiom
Blockstream Jade | $65
stellar mobile/desktop app
camera for air gapped transactions
frequent addition of new features (follow their Twitter)
strong commitment to bitcoin-only
battery + bluetooth/camera makes it great for on-the-go signing.
tiny but ergonomic form factor
some bluetooth connection issues
pin server security model reliance on blockstream
difficulty setting up the first time (my experience)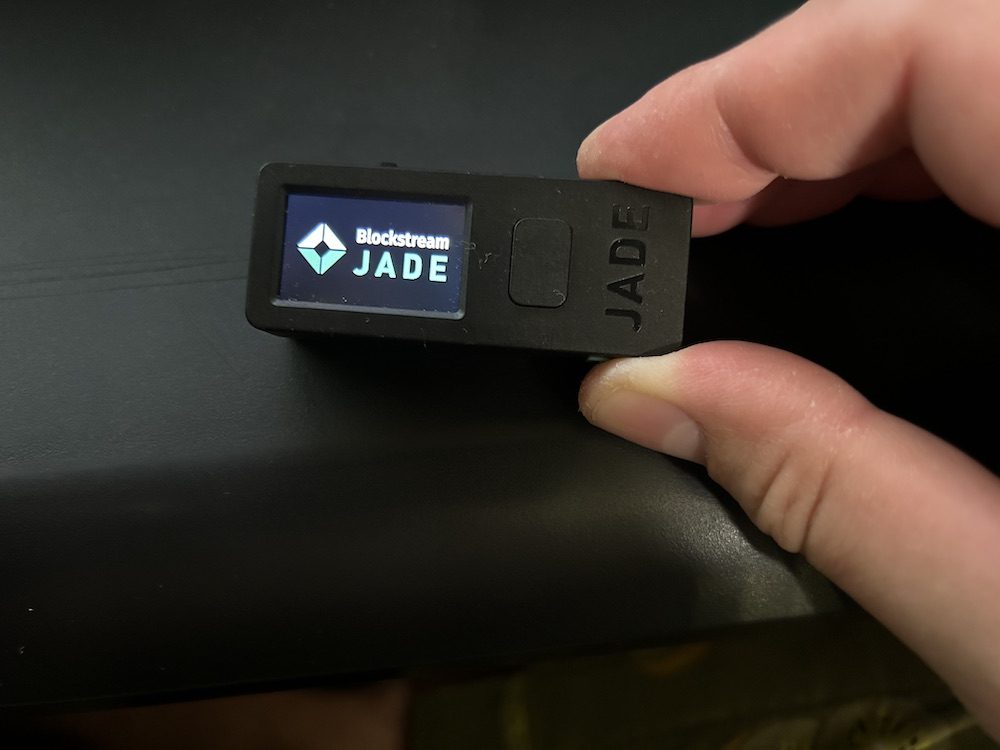 Blockstream creates a lot of cool shit. They do bitcoin software. They do bitcoin miners. They created a satellite to receive blockchain data from space. They are into solar mining. They also have a bitcoin hardware wallet called Blockstream Jade that doesn't get a ton of attention, but it's a feature-rich bitcoin-only hardware wallet with some unique qualities.
Jade is the bitcoin wallet I'm most excited about because they have their own mobile wallet and desktop wallet, and are introducing new features to their mobile wallet at a rapid pace in 2023. Jade, in my opinion, is one of the most exciting hardware wallet projects out there and it's being developed by one of the smartest and most trusted companies in the bitcoin space.
Unfortunately, my initial experience with Jade was not great, making it hard to make it my "top recommendation" at this point. It took me several hours and multiple attempts to set up, and from reading other reviews, it seems that I'm not the only one who had this experience.
For a bitcoiner who is interested in testing stuff and experimenting, it's not a big deal. I expect it. For a newcoiner who wants confidence that they're securing their coins correctly and doesn't have a ton of time to troubleshoot, it would be an extremely frustrating experience.
Here's a great example. When setting up the Jade, it brought me back to the time when I finally convinced my wife to buy some bitcoin, and by the end of setting up her exchange account (which took forever), the amount of money she was willing to buy had been cut in half.
Basically, if a new bitcoiner went through the same experience as me setting up their Blockstream Jade, I'm afraid they'd give before they finished. Maybe that was just my experience, and maybe this will be improved over time, but my test with Jade was off to a rocky start.
That being said, the wallet works great, has very cool and useful features for long term secure bitcoin storage as well as mobile bitcoin spending, and the thing only costs $65. That's insanely cheap considering that most top-ranked wallets are $100-$300, and anything under $100 is either a DIY project or missing features due to it being the "budget" option.
Blockstream Jade Features
The Blockstream Jade can connect to a mobile or desktop wallet in a number of ways, including cable connection, bluetooth, or as a fully airgapped wallet using QR codes (no microSD slot). You can also choose to use Jade as a "stateless" device, meaning it'll forget your information upon shutting off, so your seed is never stored on the wallet. Instead of a secure element, they have a unique feature of using a "pin server", where the Jade requires connecting to a remote server where the decryption information is stored remotely and requires a pin to access the information.
Though you can pair a Jade with many different mobile and desktop wallets, the Blockstream Green wallet allows you to hold a few different digital assets that bitcoiners would find useful.
One of those assets is Liquid Bitcoin, or L-BTC. This is a bitcoin "side chain" and its value is equivalent to that of bitcoin. I won't go into the details of how it works here, but if you aren't familiar with it, just be aware that it's not a separate altcoin. It's basically bitcoin, with some different security tradeoffs.
Another asset that you can hold (currently in Beta testing) is Lightning Bitcoin, which is again, basically bitcoin, but faster and cheaper.
You can hold Tether (TUSD), which is a digital dollar product used globally. This is a centralized company issuing digital tokens which retain a 1:1 dollar value. There is a lot of controversy around Tether, but it's quite popular globally for holding and trading dollars outside of the traditional financial system, and it's not a shitcoin token, so I'll give Jade a pass here and still consider it a "bitcoin only" wallet.
Lastly, you can also hold a variety of security tokens such as EXO, BMN, and other assets listed on liquid. You might (continue to) say, but these are non-bitcoin assets! I guess I make the exception here because they are tokens issued on bitcoin, or bitcoin sidechains (Liquid).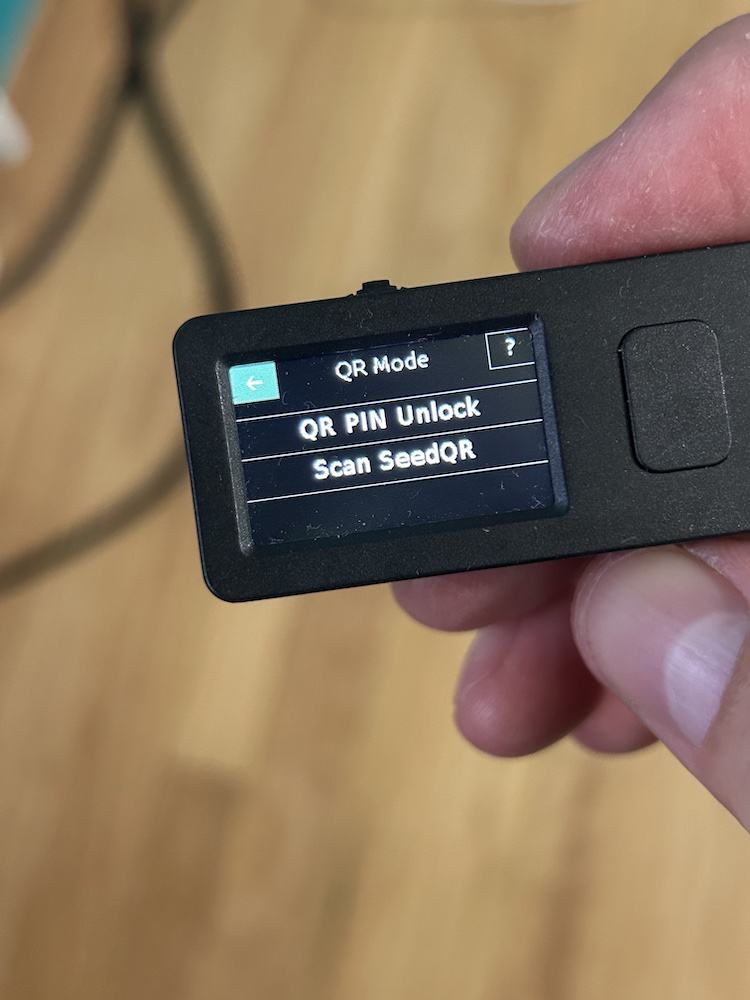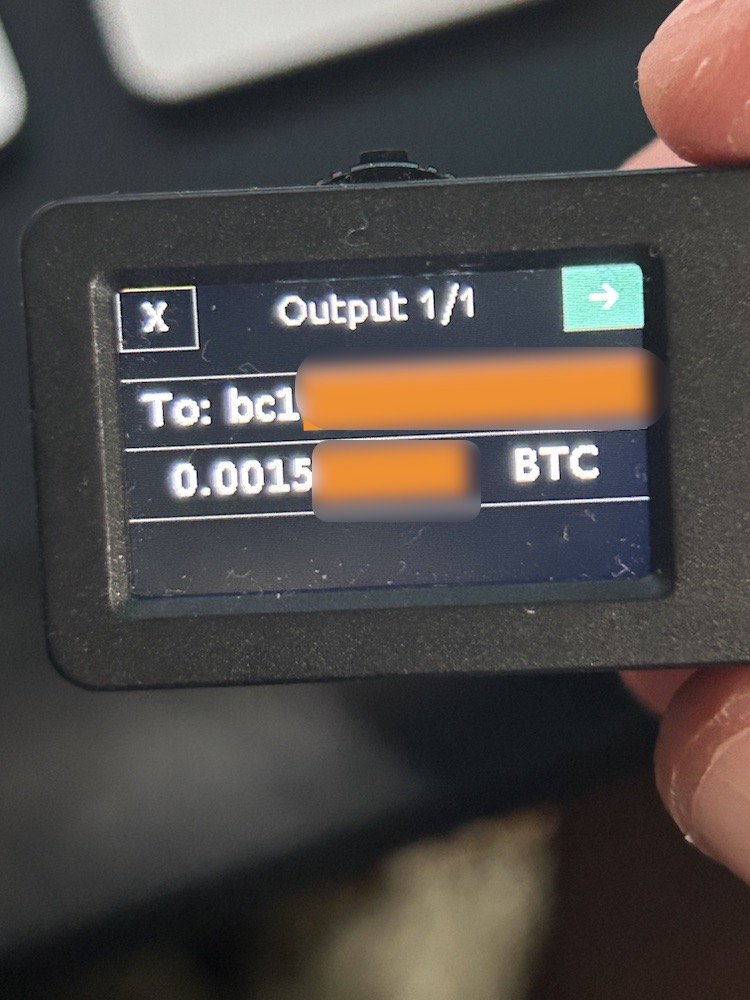 Other Comments
Actually, using the Jade was quite cool once I got it set up. I think the coolest thing about Jade is that it was really the first "mobile signing device" that really embodied the idea of signing device instead of wallet.
I could view my wallet balance and receive bitcoin via the Blockstream Green App (or Nunchuck, Blue Wallet, etc) on my phone, but to send bitcoin, I had to approve the transaction with my hardware device. This is easy to understand as "secure" because if your Jade is locked away at home, you simply cannot be forced to send bitcoin if you're out at a bar or wherever.
Once you actually get Jade connected to Green Wallet, its bluetooth connection to sign for transactions is a cool added layer of security for your mobile "hot wallet" in the case that you want to separate mobile wallet funds into "hot" and "warm", where the funds are usable from your phone, but require a second signing device (the Jade), rather than just a phone passcode to move funds.
In the past, I felt like I had to choose between an ultra secure hardware + desktop only setup, or a hot wallet on my phone. This seems to have the best of both worlds, especially since I can have multiple wallets in the Green app. I could have one hot, one cold, all in the same app. Maybe even one multisig for long term cold storage!
Signing using Jade was super easy. I set up the transaction via the Green app, then it communicated with my Jade via Bluetooth, allowing me to approve the transaction without even being plugged in (still powered on thanks to the battery).
:: Note. Bluetooth can definitely present some security risks when using it in public, and Blockstream knows this. Bluetooth is disabled by default, and you can turn it on/off in settings. You can also flash the No Radio firmware, which disables all bluetooth drivers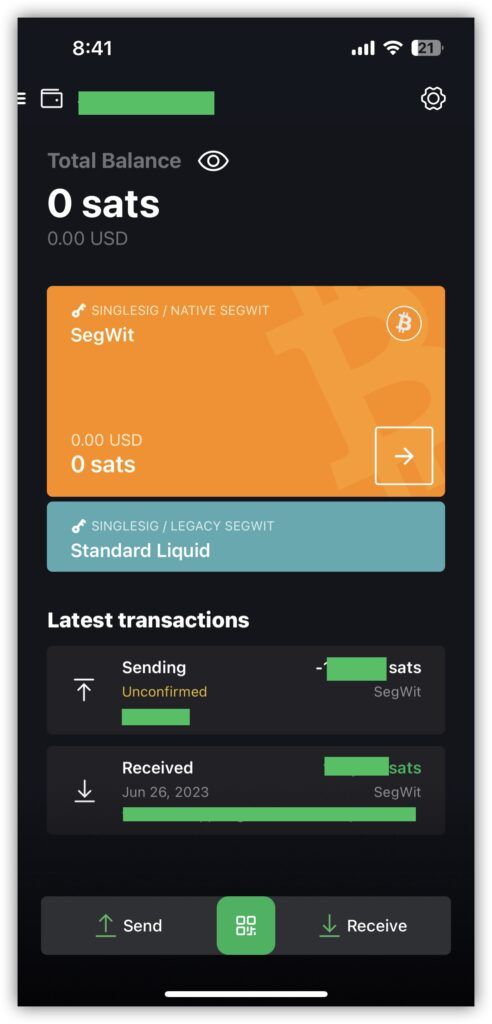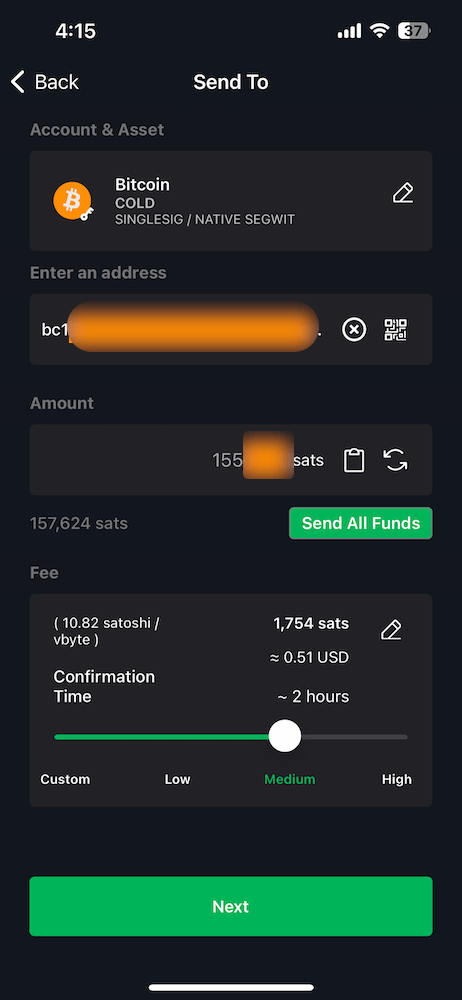 Video: Blockstream Jade
This is quite a technical look at what's happening inside the Jade wallet and why certain tradeoffs were made. Though many of you reading this will get lost in some of the minutia of what he talks about, I think this is the most interesting video about the Jade, and worth watching. Everything else was basic setup guides as usual. The best guides are included in in the Jade Resources subsection below, and of course you can look those up yourself. I just wanted to draw your attention to this one, so check it out.
Include in this video:
physical comparison to other hardware wallets
button comparison to other hardware wallets
technical breakdown of Jade hardware design
running jade on a general purpose computer
open source hardware and software discussion
secure elements are not open source but industry standard (security by obscurity)
excellent breakdown of the secure element debate
blockstream pin server disappearing kinda scary
multiple assets self custody (L-BTC, USDT) (Soon, L-Sats / Lightning)
More Blockstream Jade Resources
Coldcard | $147
most feature rich and customizable of any wallet
extreme commitment to bitcoin-only
MK4 has two secure elements
enhanced security features
create hidden/decoy wallets, trick pins, and other cypherpunk hacks
ergonomic form factor and weight
no companion desktop or mobile app
no touch screen or camera
must navigate around to find task at hand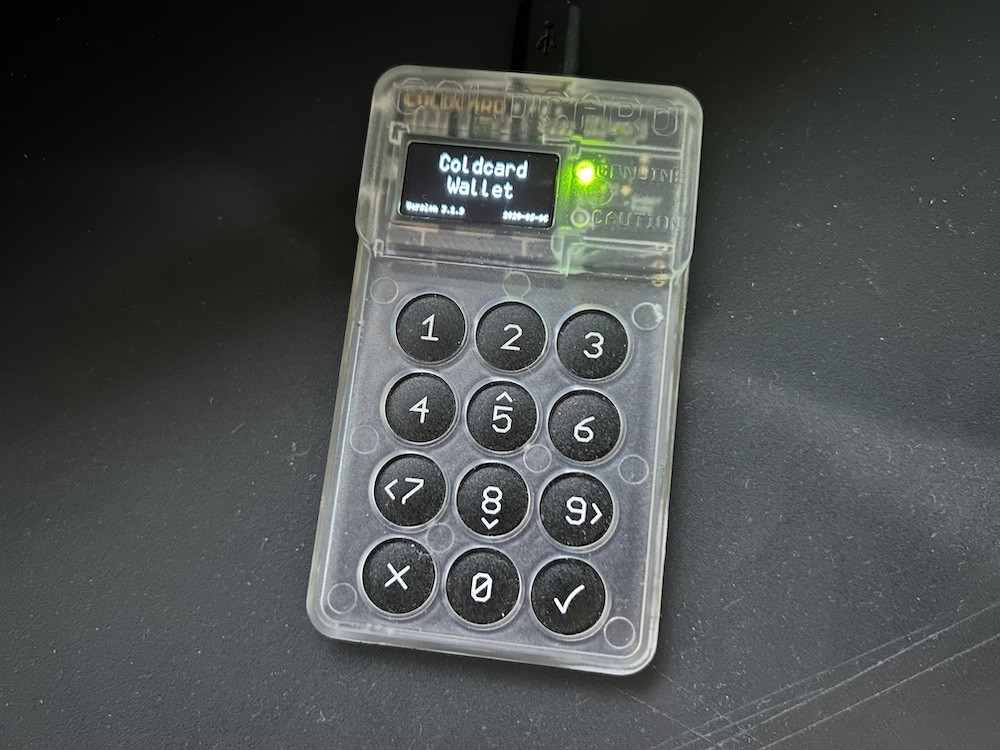 Coldcard is one of the most often recommended hardware wallets you'll hear about in dedicated bitcoiner circles. They are well known for the broad ranging optionality, unique features unavailable with other hardware wallets, and focus on security. For any bitcoiner with a penchant for tinkering, Coldcard would be one of the best, if not the only hardware wallet worth considering.
I'm a big user of Coldcard, and it's probably my 2nd most used hardware wallet after Trezor (also featured below). I'm not a power user of Coldcard, but I do use its basic features frequently.
As I'll say a few times here, I'm not a very technical user. My perspective is that Coldcard is pretty intimidating, but it's not that hard to figure out if you really want to. It's not rocket science to get your cold card connected to some bitcoin software and use it to secure, send, and receive bitcoin. Coldcard is often labeled as "harder to use" by reviewers, but that's not really the case.
That's probably because most people reviewing the Coldcard are not actually using it, and are just regurgitating something they read or heard from someone else – who also has never actually used the coldcard.
That being said, with no color touch screen, no companion mobile app, and its airgapped design (microSD MK3 / NFC MK4), using a Coldcard for the first time can be intimidating.
You just have to want to use a Coldcard because many other more popular wallets are going to have much slicker marketing, design, apps, etc that'll attract the novice user crowd. Out of all the wallets here, Coldcard definitely makes it into my top 3, but whether you choose it as your main wallet will just depend on some of the security, design, and user experience tradeoffs you're willing to make.
Coldcard Features
There are a ton of crazy cool features to the Coldcard that you simply won't get with any other wallet. Many of them are a little more technical, such as Bip85 where you can generate "child seeds" from a "parent seed", so you could potentially be a backup option for your family members holding bitcoin. Coldcard is only one of two hardware wallets of any kind I've ever heard of that supports it.
Other features are a little easier to understand and imagine the average user getting familiar with, such as "trick pins" that can be used to do programmatic actions. For example, a trick pin could be used to brick your device or give you access to a decoy wallet, which could be used in some kind of duress situation.
Coldcard is designed to be airgapped when signing transactions, and has a micro SD slot you'll frequently use. It doesn't connect to the internet, and you never have to even connect it to a computer to sign transactions. The newer Coldcard MK4 has an NFC option for tap signing, or you can disable this feature permanently.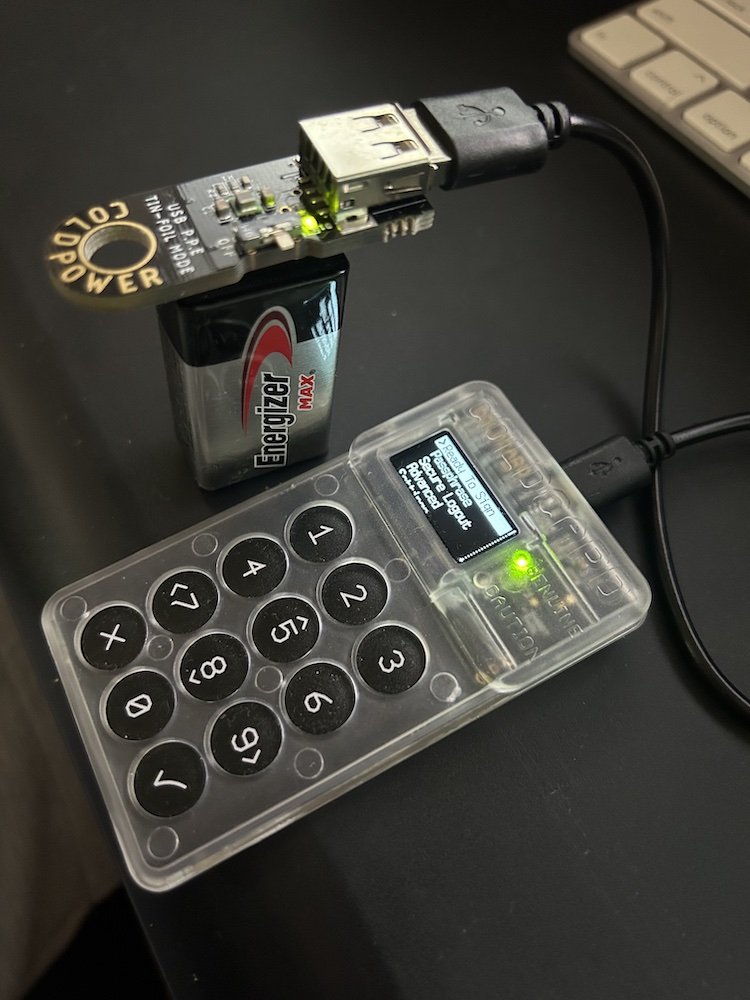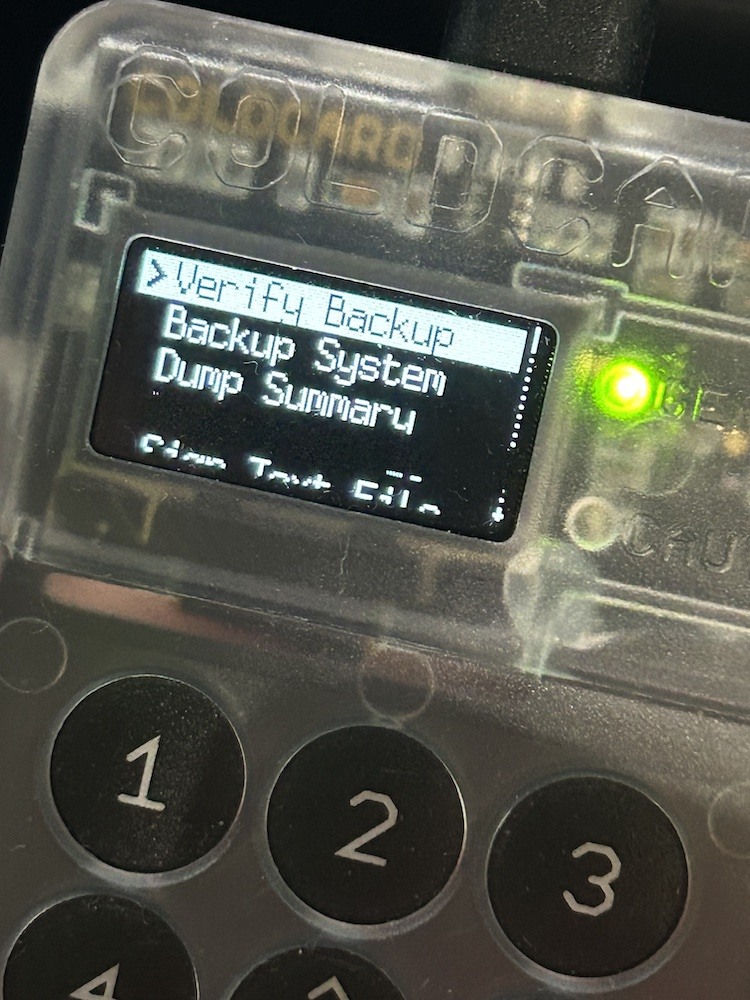 Other Comments
Not having its own dedicated mobile app is definitely a deal breaker for some people who are '"mobile first" bitcoiners. You can use Coldcard with other mobile wallets though. For example, it's quite easy to use it with Blue Wallet and Nunchuk. Both great wallets. There's probably more. I'm sure you can use it with Green Wallet, for example, as it seems to be quite versatile, though I haven't tested it yet.
Actually, for writing this review I specifically figured out how to use Coldcard MK3 on iOS, though you do need some special adaptors. With NFC on MK4, you can maybe get it to work more easily with NFC.
To export my xPub to Blue Wallet so that I could "watch" my wallet on mobile and use Coldcard as a hardware signing device, I had to watch a single 5-minute video. I needed an microSD card and an microSD card reader for my iPhone. Then I had to export the wallet from Coldcard via microSD, insert the card into my phone, and import the file from inside BlueWallet.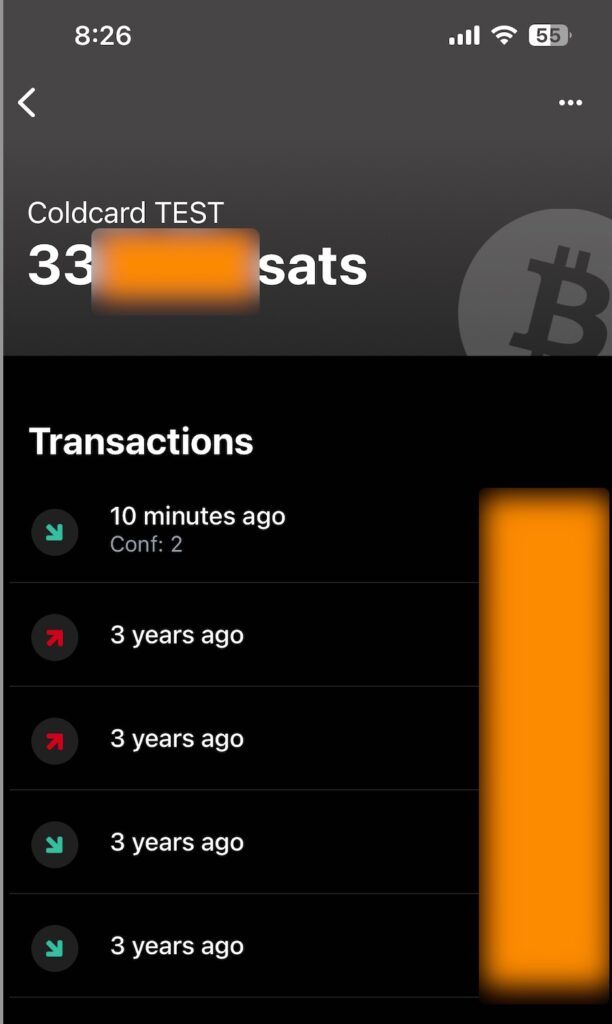 Consider also that I had to navigate the to the "export wallet" area of Coldcard, which was in the Advanced Settings section, so it wasn't super intuitive, but it took about 60 seconds maybe, on my first try.
Of course, that's about nine steps too many for most people. It's a bit disappointing to think about how many people will read a 10-step tutorial on how to get a their favorite song to play as a ringtone in iOS versus how many people will learn how to export an xPub to create a watch-only wallet, but that's the reality we live in.
Also in relation to this, I find it kind of annoying that every time I use the Coldcard, it doesn't prompt me to complete the task at hand. For example, if I have to sign a transaction from a Watch Only wallet, I have to remember which menu path the "sign" transaction is on. Is it on "Ready to Sign" or "MicroSD"? When I perform a key check in a multisig, is it under "Advanced" or "MicroSD"?
So I'm kinda split on this one. Honestly it's a lot easier than people make it out to be, and one of your best options if you are securing a lot of bitcoin. Still, most people want an introductory, easy-to-use wallet for their first hardware wallet.
Although Coldcard will continue to be one of my daily driver hardware wallets, it probably wouldn't be my top recommendation as a starter wallet for bitcoin curious people who are just looking to have a small stack.
Video: Coldcard
In this video:
basic coldcard setup
how to back up your wallet
wallet setup, send/receive with sparrow (why using sparrow all the time? Specter option)
firmware updates
dice rolls for entropy
pin change, decoy pin behavior
duress wallets
BIP-85
how to use a passphrase
encrypted backups
Seed XOR
importing data new coldcard
wallet recovery
Other Coldcard Resources
Foundation Passport | $199
intuitive hardware design and user experience
"phone" buttons super easy and comfortable to click
both microSD and QR code options for airgapped signing
removable lithium ion battery and long battery life
default encrypted backup, must look for seed
microSD card fit/removal difficult
using Tor borked the Envoy app
Foundation Devices makes a killer hardware wallet. Setting up and sending my first transactions with off without a single hiccup, which is a lot to say for a bitcoin hardware wallet. For beginners looking at their first bitcoin hardware wallet, the Passport has got to be in the top 3 choices no matter what you're looking for.
I gotta say, the Foundation Passport and companion Envoy app really has lived up to the hype and is a truly high quality, intuitive bitcoin wallet. The user experience of the Passport an Envoy mobile app is more more like what you'd expect from a modern tech company like Netflix or Uber.
Despite the "higher" price point, the wallet is not even the most expensive wallet out there, especially when you consider that it comes with a microSD card and SD card adapters for your mobile devices. The MicroSD card will be useful for encrypted backups and signing "airgapped" transactions.
I bought and tested out this wallet for a bit just for the review here, so I'm not intimately familiar with it, but it's definitely something I'd like to add to my roster of daily driver hardware wallets.
Passport Features
There are a lot of features worth discussing in this wallet. After having tested and run into lots of issues with other bitcoin hardware wallets, here are some of my highlights.
long battery life
rechargeable and swappable lithium ion battery
dense feel high quality material
intuitive, push/click buttons (like a mobile phone)
scan QR codes or use microSD for signing airgapped transactions
encrypted backups AND seed phrase backups (with cards for each)
can create a watch only AND mobile wallet in Envoy
passphrase hidden wallets
whirlpool (mix) bitcoin using Sparrow wallet straight into cold storage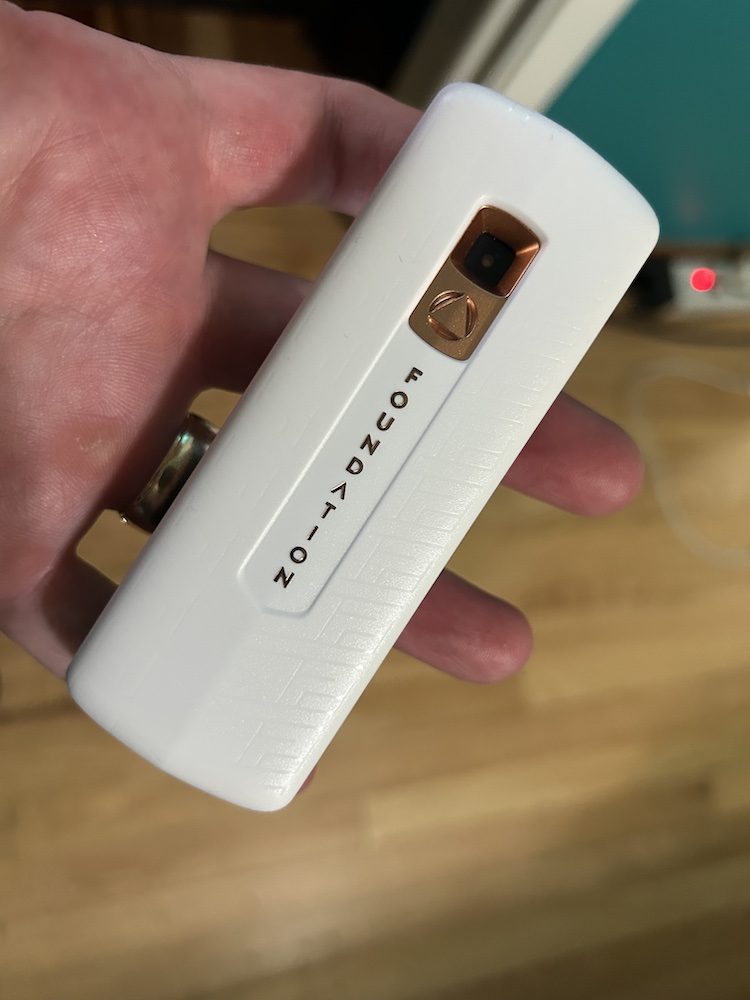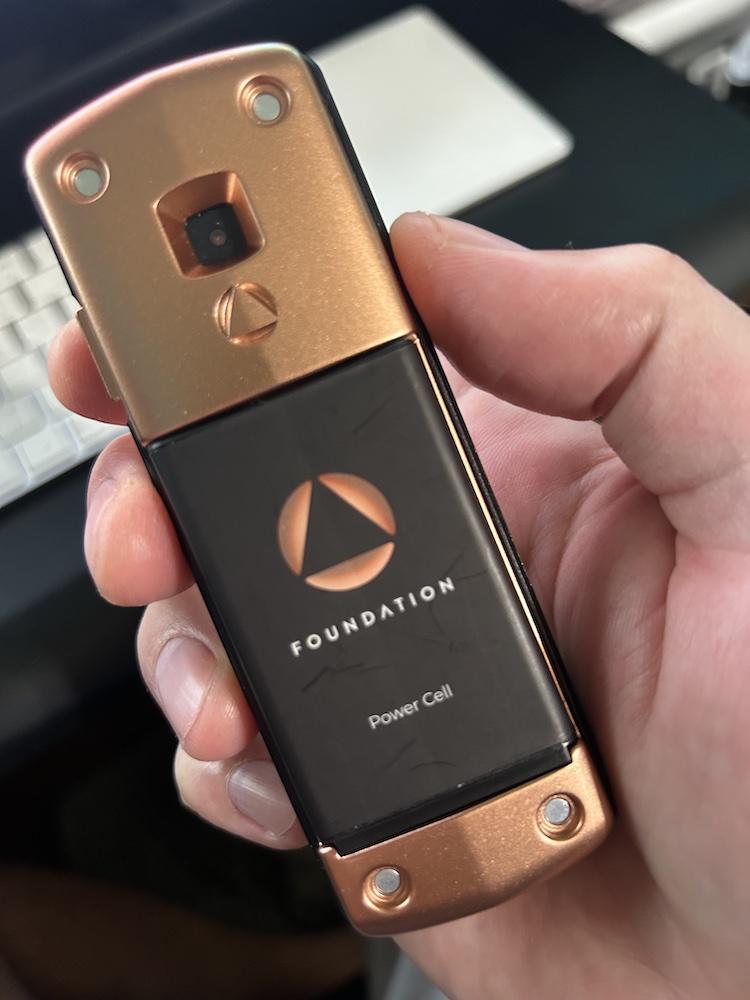 Envoy Mobile App
The Envoy mobile app was simple to use and intuitive. You don't have to use the Envoy app, and can export your xPub to a number of mobile wallet options, including Blue Wallet, which I have used extensively in my reviews of these wallets. Most hardware wallets function with a variety of apps and software to serve as a signing device.
Evnoy itself was a good app, and would be good for beginners. You can connect to your own node, set up a cold storage "watch only" wallet as well as a mobile "hot wallet" in the sam account.
One complaint I had is that I wasn't able to set a custom fee for sending sats. This option is often looked over because most people don't know what fee rates are all about, so I get why they did it, but it was frustrating for me. They only had the option to send normal or "boost" (fast), but I had no idea what the actual fee rate was (they actual fee amount was clear, just not the sats per vbyte rate).
They also don't support coin control. I'm not the most consistent with leveraging this feature for more private bitcoin transactions, but I do occasionally, and it's nice to have when you need it. Novice users won't miss it, but advanced users will.
In terms of security, I had two issues. I wish they had a separate pin from the mobile device pin for extra security. I'm also not sure that backing up your mobile seed phrase to the cloud is a smart idea, though I'm not really clear about whether or not this could actually be decrypted by a 3rd party. Still, I opted out of "Magic Backups". The security tradeoffs for this option wasn't super clear to me.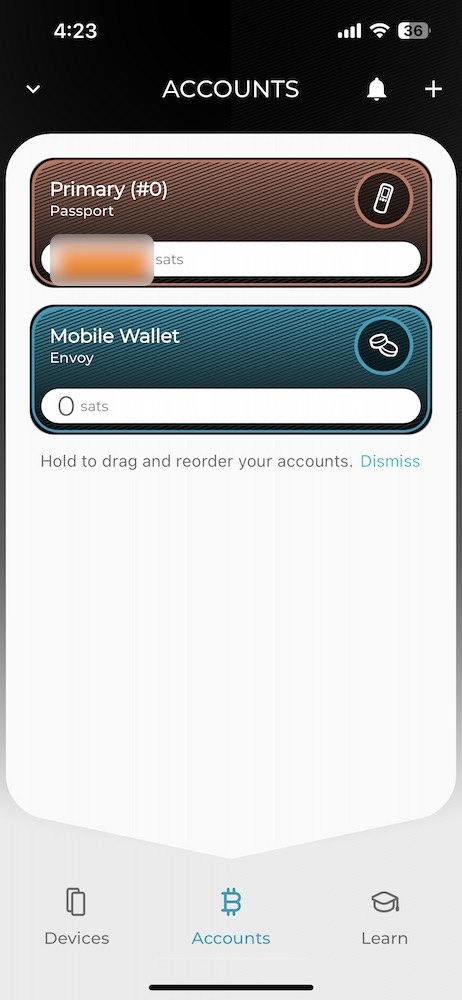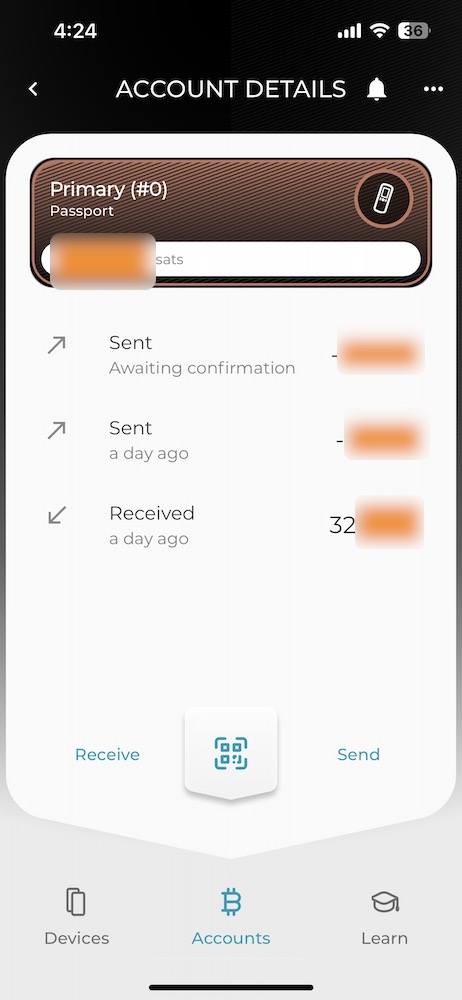 From reading their FAQ, it sounds like Envoy plans to support lightning transactions in the future, which would be very cool!
Other Comments
I don't mean to hype this wallet up too much. I did have some small issues worth mentioning. Perhaps the most concerning is that if you get the pin wrong too many times it'll brick the device rather than just resetting it. I guess that's a good security feature, but that sucks if you're having a bad day and fat finger the pin a couple times (this has happened to me once before).
I also wasn't a fan of defaulting to encrypted backup on microSD and not introducing the seed phrase immediately. I just don't trust an encrypted backup that requires a Passport device to unlock. Every user should be prompted to write down their seed phrase. I had to look for it on the device because I knew what I was looking for, but most newbies won't know the significance of this.
And, as with most wallets, Envoy could do much better in allowing me to confirm recipient addresses and change addresses. I often forget what the first/last numbers of the address is and I have to go back to previous screen to check to make sure I'm sending it to the right place, then memorize the short string of numbers/letters. This could be more user friendly.
Lastly, I didn't really like their microSD card setup. It didn't "click" when inserted fully to confirm it was correctly docked. Then, it was pretty difficult to get out.
But back to the good stuff.
Another great thing to mention is that this company actually provides traditional email, phone, and live chat support. I think a lot of people will get some use out of these support channels. Most of my help on setting up my bitcoin wallets has been through a wide variety of Telegram groups, Discord channels, Reddit, and just Tweeting at people. Wallet providers usually have just a basic level of customer support, but not a lot of product support. I'm not sure how good the support is, but it's there.
Video: Foundation Passport
setup passport and connect to envoy app
firmware updates
seed phrase and backup code (encrypted backup)
device settings
Envoy app walkthrough
wallet recovery
pairing passport with blue wallet (mobile)
pairing passport with sparrow (desktop)
using a passphrase on passport
Other Passport Resources
SeedSigner (DIY) | $54
can be built from widely available parts
"stateless" meaning nothing is saved when device shuts down
inexpensive and easy to build
great user experience for sending and receiving bitcoin
hardware feels cheap, which can be scary for life savings
QR code creation takes a long time during setup
backing up seed to QR on paper is risky (seed steel backup)
DIY and troubleshooting can be frustrating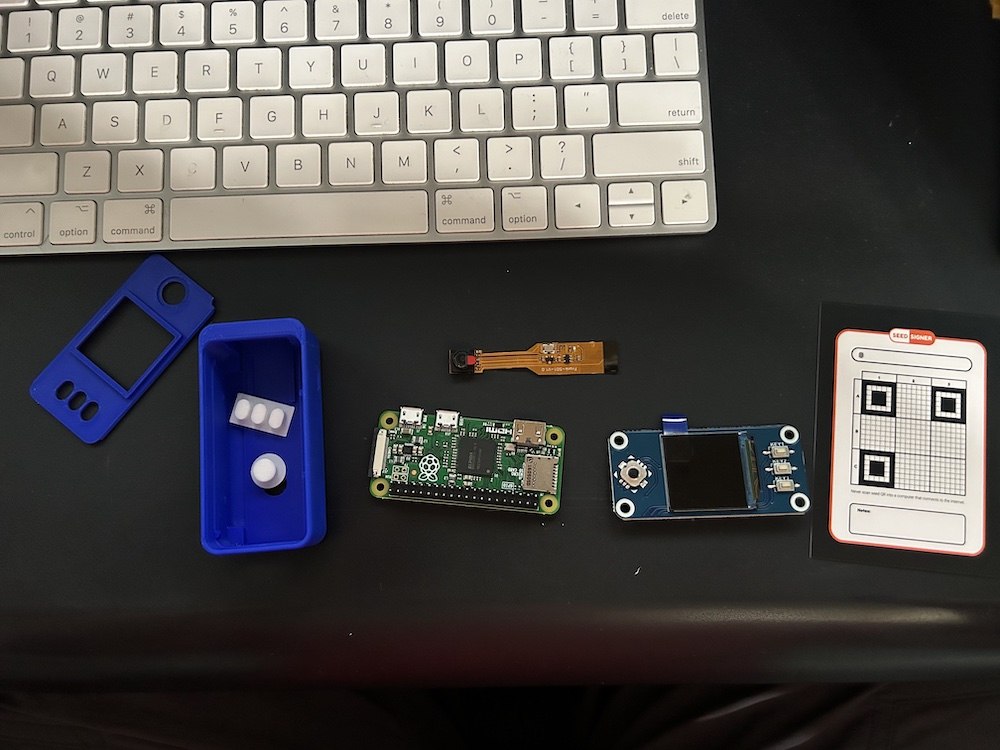 SeedSigner is another very popular hardware wallet that has the unique feature of being completely DIY. You can source all the parts yourself and build your own bitcoin hardware wallet, even 3D-printing or custom ordering your own case.
Alternatively, you can buy a full kit from from BTC Hardware Solutions, either as individual parts which you assemble at home, or a fully assembled wallet. You'll still need to flash the firmware onto the device and follow other instructions to set up the device, but SeedSigner is great for DIY bitcoiners who are living the motto, don't trust, verify.
Herein lies the main issue with SeedSigner with most people, including myself: most beginners aren't going to trust themselves to set the thing up correctly and not waste their bitcoin stack in some sort of catastrophic mistake.
I know, I know. Many new bitcoiners would say the same thing about any hardware wallet, i.e. I don't trust myself, and I would respond with something like, it's easier than you think. So I get it. At some level, I wish I was a SeedSigner kind of bitcoiner.
But I'm not.
I'm also not into the stateless device thing. For long term cold storage, I think multisig is the way to go, so in terms of security that's my choice. For hot wallets and spending bitcoin, I like using a mobile wallet with a portable signing device. Practically speaking, I don't see a way of using a SeedSigner as a daily driver for spending bitcoin.
So this one won't make it on my top recommendations, because I'm not using it myself.
That being said, I've ordered a kit, and will mess around with it and try to get comfortable with it, then update my review accordingly. Links to buy are included above.
SeedSigner Features
SeedSigner has the one-of-a-kind feature of any bitcoin wallet of being able to construct it from universally available computing parts, meaning you'll be able to make your own bitcoin wallet no matter where you are in the in the world.
The basic parts you'll need are:
Pi Zero Computer ($10)
Pi Zero Camera ($17)
LCD Screen ($17)
Case (optional)
So clocking in at $54 for all the parts (about $100 fully assembled) building this yourself, this is definitely the cheapest hardware wallet out there, though not by much, considering a Trezor One is $69 and a Jade is $65.
Seedsigner is fully airgapped and does not actually store any seed information on the device after you shut it down (stateless). Because all the parts to the wallet are widely available and super basic, there is not way to securely store your seed, so it doesn't even attempt to. When you turn off the device, your seed is gone.
This is a security preference for some people, since extracting the seed from a Seedsigner is impossible, reducing your attack surface.
Of course, you backed it up beforehand, so next time you need the device to sign a transaction, you just need to scan the QR code you created which is the backup of your seed. This could be a paper QR code, or there are ways to etch your QR into steel using an electric marking machine. (The DIY rabbit hole goes deep, and you can go as simple or complex as you want to.)
The problem with stateless devices is that every time you want to sign for a transaction, you have to re-upload your seed into the device, so your seed needs to be handy. Depending on how often you access your bitcoin, you might expose yourself to further risk simply by making a habit out of moving your cold storage backups. It's super easy to be mindless about repetitive activities.
So like everything in bitcoin, there are tradeoffs.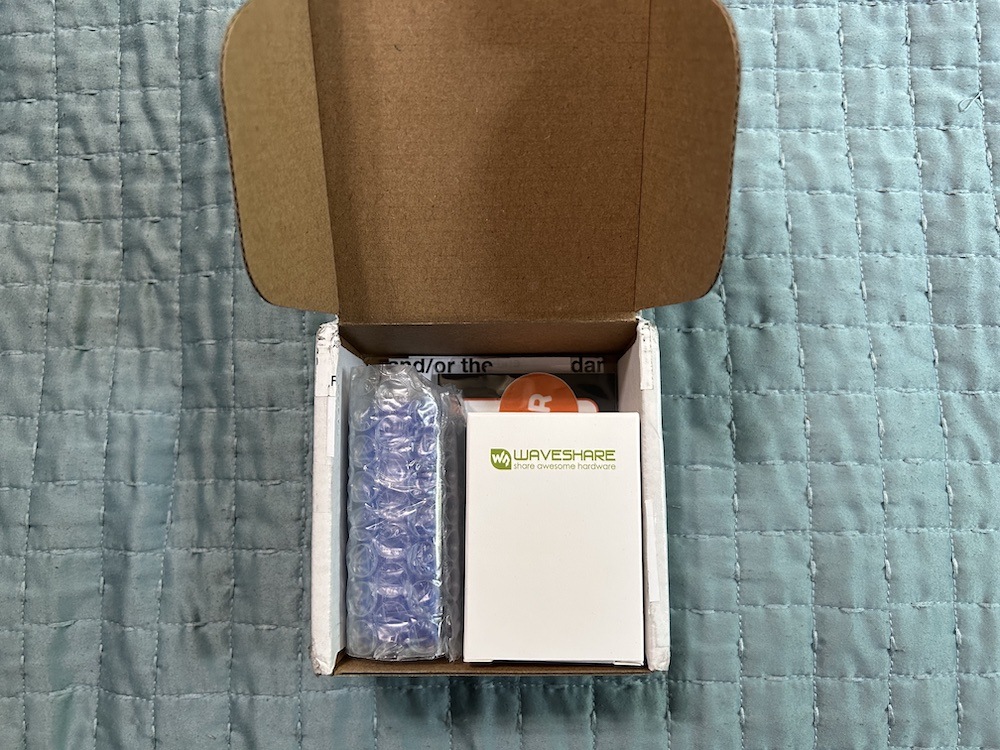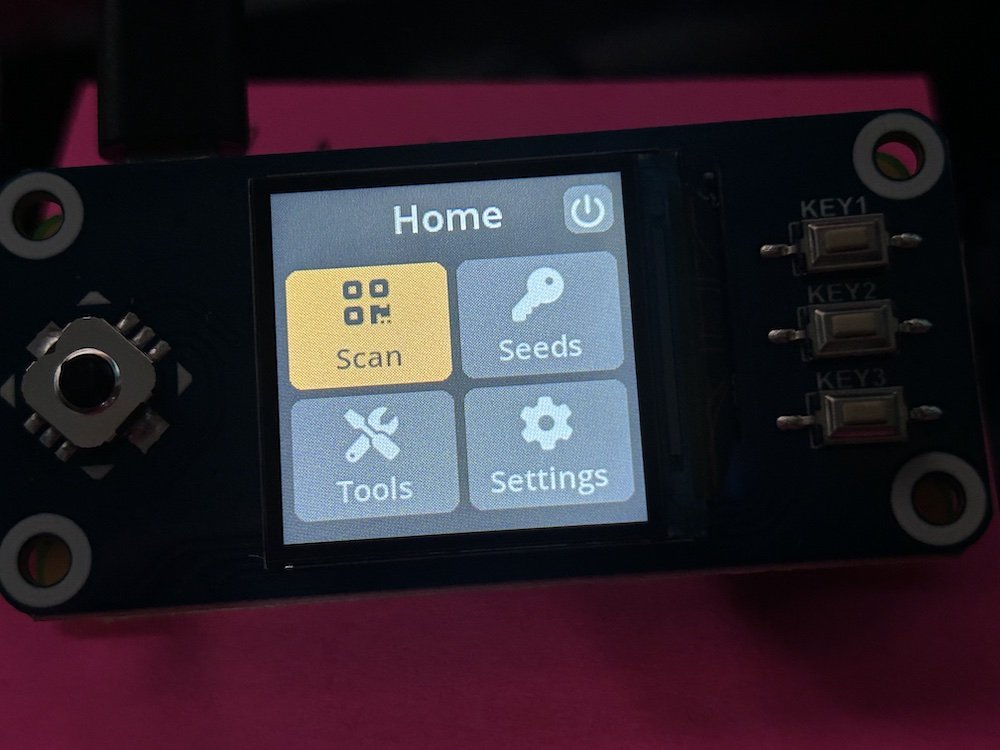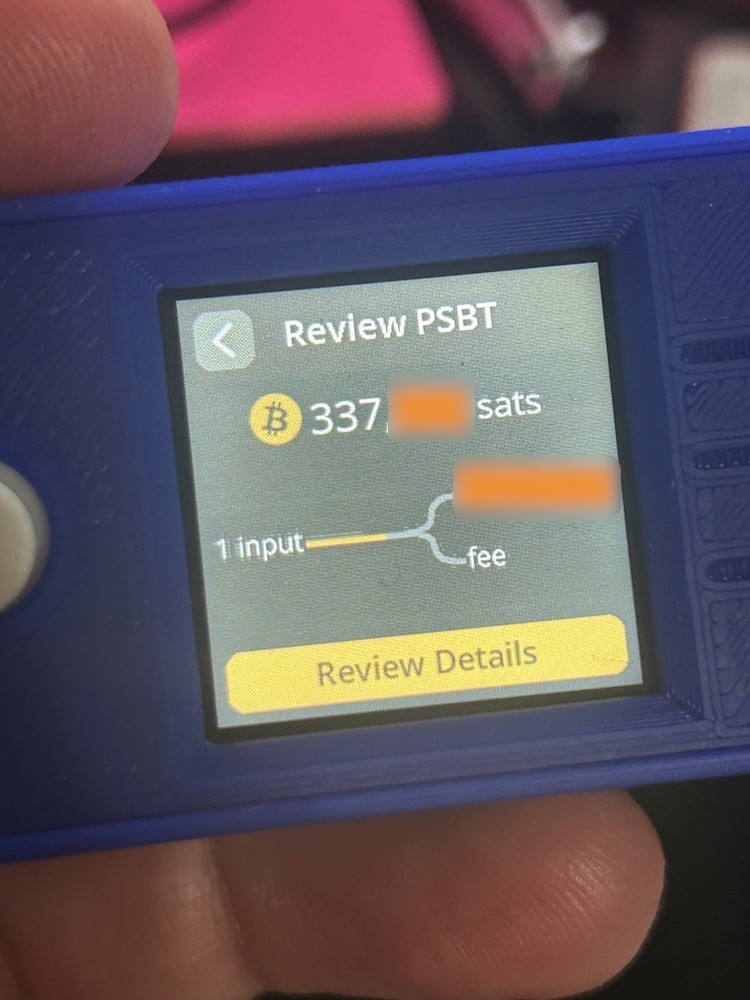 Other Comments
Building the Seedsigner was insanely quick. It took me about 30 minutes watching a single tutorial, and got it done right the first time through. Then setting up my own bitcoin wallet with dice rolls for verifiable entropy was another 20 minutes, including backup.
The only exception was the damn SeedQR thing. That was a HUGE pain in the ass to do, and took another 20 minutes just to get the card filled in right with no mistakes. You basically have to make a custom QR code using a little card and a marker. It's a very cool idea, and super useful to easily scan your seed next time you log into SeedSigner, but making this was not fun, and left me feeling like there was a good chance something could go wrong with this card in the future.
I got it done though, and was pleasantly surprised at how easy it was to log into a "stateless" bitcoin wallet (never saves your data on the device so you have to re-scan your seed every time).
Using SeedSigner was also a lot easier than I imagined it. Was able to import my xPub into Blue Wallet and create a watch only wallet, then receive and send out bitcoin very quickly. Everything worked as expected. No hiccups. I guess I'm just still very shocked at how easy everything was to do DIY.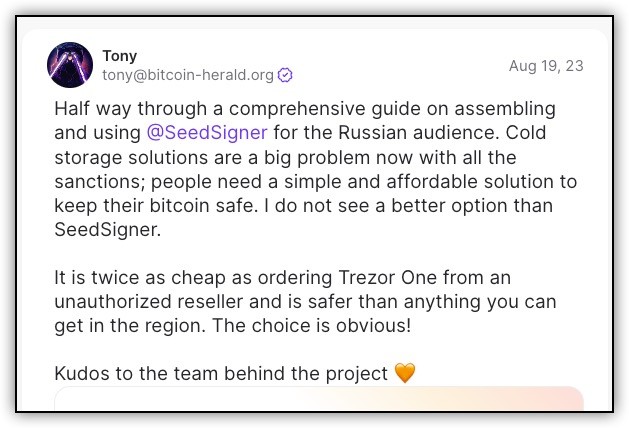 One of the biggest use-cases for SeedSigner is building a wallet if you can't get access to, or don't want to use a corporate product. For example, if you live in a country where any of the wallets listed on this page don't ship, or are expensive to ship, then SeedSigner is a great option.
Alternatively, if you are moving out of the country and don't want to cross a border with a hardware device in your pocket, you can destroy your local device, then restore your wallet in your new location by sourcing these common parts.
By using everyday parts, you also will not tip off anyone, local or global, that you are buying a bitcoin wallet. This is great for privately using bitcoin! Imagine you live in a small town and the local mailman sees a box shipped from Trezor to your door. Suddenly, everyone knows you're a bitcoiner, and it makes you a target!
A couple of big downsides though.
For one, it takes a long time boot up. I mean, realistically, it's like 10-15 seconds or something like that, but when you expect instant-on, 10 seconds feels like a lot.
Also, everything just feels kind of cheap. Even with a 3d printed case (or maybe especially because of it), the toggle and buttons were just janky and didn't inspire confidence to protect my life savings. Realistically, it's the bitcoin network doing the heavy lifting and this is just a device to interact with the network, but the human brain and our emotions are a funny thing. I'd be much more likely to "trust" something like The Passport because if feels 5x heavier.
However, something I thought SeedSigner did better than any other wallet was really helping me visually confirm recipient and change addresses, fee rates, and other transaction data. They have a good system of highlighting parts of the text and I was able to confirm what I needed to without flipping back and forth between screens like I usually do.
Video: SeedSigner
In this video:
parts needed
verifying the software
flashing the software
how to assemble the wallet
Other SeedSigner Resources
Crypto Wallets With Bitcoin-Only Firmware
Bitbox02 (Bitcoin-Only Firmware) | $155
simple to use and get started
default to encrypted backup without introducing seed phrase
tap buttons are hard to master
requires non-standard adapter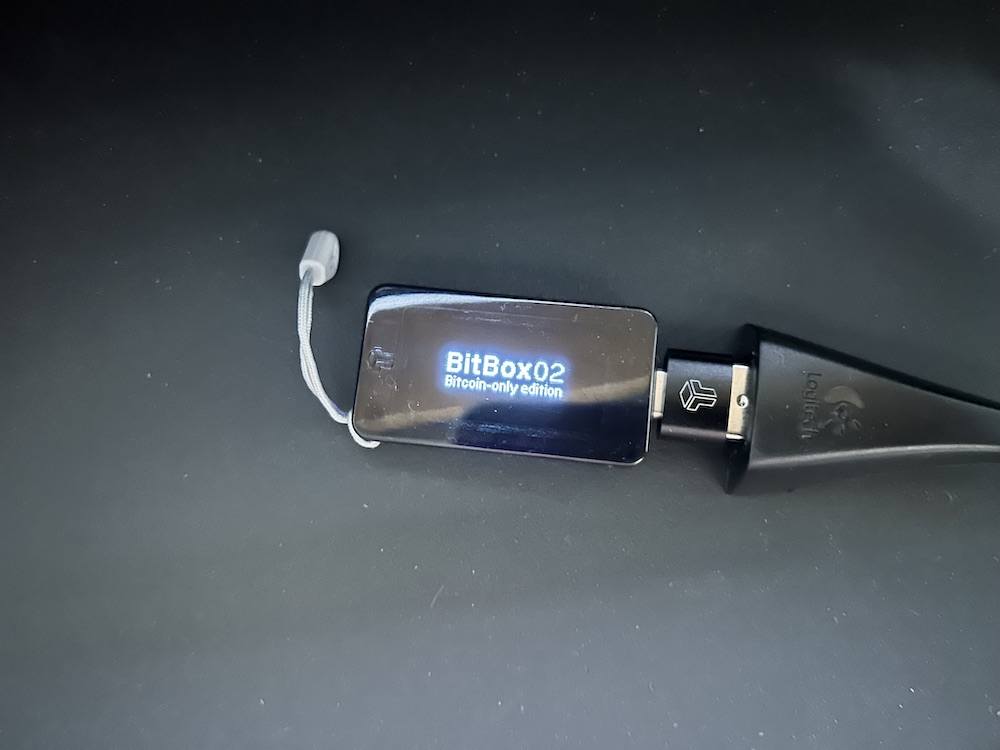 Bitbox is a neat little hardware wallet that's been around for a while. It's open source, has bitcoin-only firmware, and a secure element to store your seed phrase. The Bitbox hardware wallet comes with its own desktop software, but for mobile, there's only the option for Android. With iOS, you'll have to use a separate wallet like Blue Wallet to import your wallet information.
I think the main benefit of Bitbox is that it's quite simple to use and set up. It worked the first time. I was able to update the firmware, back up my wallet, buy, receive, and send bitcoin within minutes of setting up the wallet. During the setup process I was prompted to validate the authenticity of my device and the firmware, so I felt confident about the security of the device.
I have no doubt A new bitcoiner could easily set this up with no technical ability and be holding their own keys to some bitcoin.
There are also plenty of advanced options for more experienced users like connecting to your own node, selecting various address types, custom fees, coin control, and passphrase wallets.
As a basic or a intermediate wallet, Bitbox works.
That's pretty much my assessment though – it works, and that's it. There doesn't seem to be many distinguishing features to make it a "must have" wallet, other than possibly saying your bitcoin wallet is "Swiss made".
Bitbox Features
I've looked at a lot of wallets so far, so if you're reading this post from start to finish, trying to figure out the best hardware wallet, it may be helpful to look at a list of bullet points and how they compare to other wallets.
The distinguishing features of Bitbox are:
secure element
small form factor hardware
simple desktop app
open source software
The wallet is small like the Trezor and Jade, but has a secure element like a Passport and Coldcard. It's got a companion desktop app like Trezor, but no companion like Jade.
It's open source, like all options on this page, so you can view the code for yourself and possibly even create your own wallet from it (thought most people would simply use the code just for checking for malicious firmware).
The Bitbox desktop wallet software offers power user options like coin control, custom fees, passphrase wallets, and the ability to connect to your own node, but doesn't support other advanced features you see in dedicated bitcoin wallet software like Sparrow, Specter, Blue Wallet, Nunchuk, and others.
You can connect to your own node, and though the option is simple enough to find, I found this quite difficult to actually get working.
Other Comments
In my opinion, the features that make Bitbox unique are the reasons I'd list to not use it.
The buttonless hardware, for example, is difficult to use and master for quick interactions with the wallet. Also, the default of encrypted backup via microSD is not ideal for long term cold storage in my opinion. I was actually quite surprised the wallet software didn't explain the dangers of having your wallet backed up on a microSD and that I had to dig around for my seed phrase.
Plus, the backup is unencrypted, and you must manually enable the password option. If you forget this password, then the backup is useless. If you don't have your seed phrase and you forgot your microSD backup password, your coins are gone. It seems a lot simpler just to give people their seed phrase.
What are the dangers of relying on an encrypted backup on a microSD card?

While convenient to simply pop in a microSD card to restore your wallet in an emergency, it also comes with some drawbacks when compared to paper or steel backups of your seed phrase.

First and foremost, it means you need Bitbox to decrypt the seed. You can't do this with another wallet! If your wallet hardware fails, you need to order a new Bitbox to access your bitcoin. If Shift Crypto goes out of business, you'll need to move to a new hardware wallet ASAP.

Also, hardware fails. If your microSD fails for whatever reason, your backup is gone. How reliable is your microSD? Are you storing it properly so it doesn't get bitrot down the line? MicroSD cards are only supposed to last 10 years when stored properly, and frequent users should update them more often.
Bitbox was one of these wallets where I tested it, then put it in a drawer for 3 years because it just wasn't for me. It's not a bad wallet. It's just kind of "an option" in case you like the form factor. The software wasn't attractive enough to make it better than a Trezor. The hardware wasn't secure enough to make it better than a Coldcard MK4. The mobile usage depends on which wallets support it, and wasn't as feature rich as the Jade + Green combination.
Lastly, if you're confused about my "non standard adapter" comment in the info-box at the top, it' the female USB adapter required to actually use the Bitbox. Because the device is male USBC, you can't just plug it into the back of an iMac, or even comfortably on the side of laptop. I needed a a female USB adapter AND a USB-C to USB converter to be able to hold the device comfortably while using. Small gripe on the user experience I guess, but it seems like an odd design choice.
Video: Bitbox02
In this video:
setting up your Bitbox
bitbox user experience and software walkthrough
finding advanced features in the Bitbox app
using a passphrase on a microSD backup
Bitbox durability discussion
Other Bitbox Resources
Keystone (Bitcoin-Only Firmware) | $169
lithium ion and aaa battery options
terrible battery life with batteries and lithium ion
cannot use while plugged in
English mistakes and other errors on website
dumb password requirements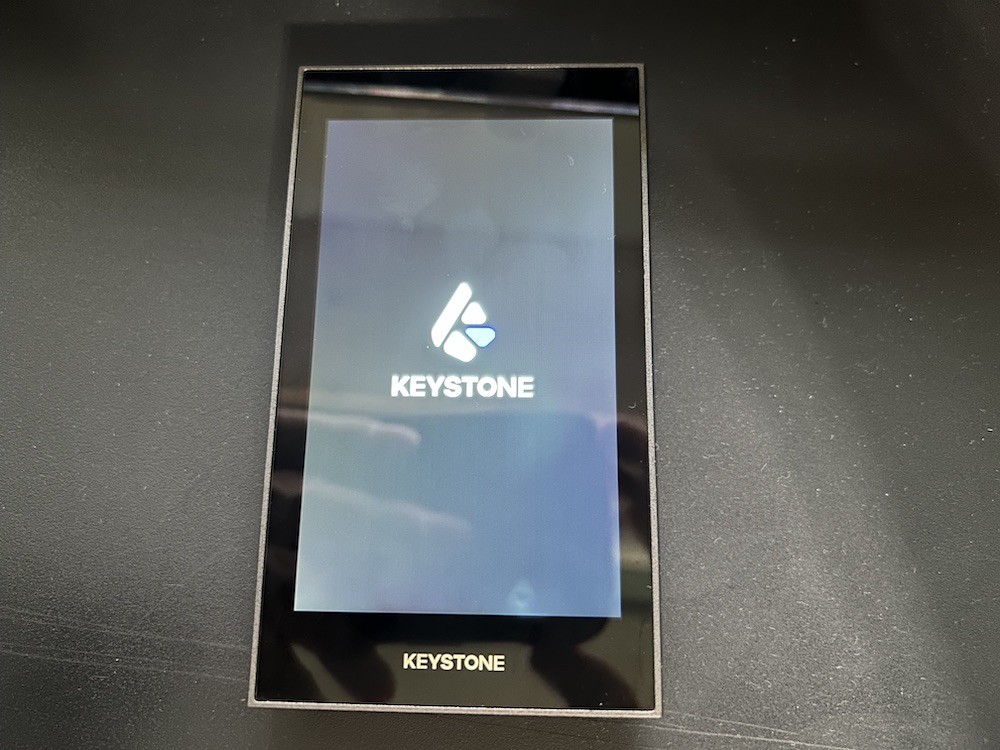 Keystone has been one of my least favorite wallet experiences, despite it looking very cool with a gigantic touch screen and convenient to use just like a smartphone. However, aside from the touchscreen, I found very little to like about this wallet.
I actually bought a Keystone back in 2020 as part of an initial "test every wallet" phase I went though, and after testing, I didn't pick it up again for three years until I reluctantly fired it up again to refresh my memory for this review.
Three years later, I still hate it. In fact, it seem like nothing really change in 3 years – not even the mobile app, so I makes me kind of worry about about the future of this wallet for bitcoin users. Their newest version of the hardware set to launch later in 2023 seems to be appealing to the NFT crowd who want to see their JPEGs displayed on the screen.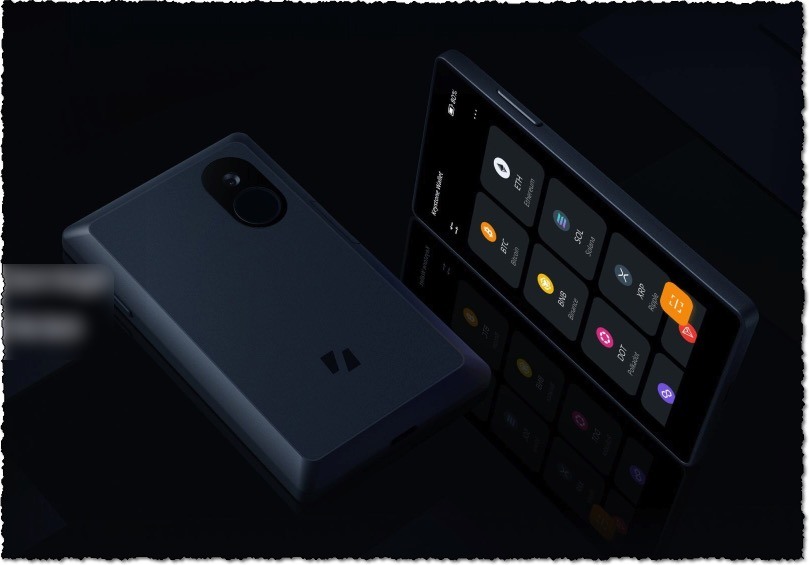 Technically, keystone has some great features and will secure your bitcoin as good as any other bitcoin hardware wallet, but the user experience was not good.
I'll go through some of my personal experiences in the comments section, but this one is a not-recommended wallet IMO.
Keystone Features
Keystone Pro is unique in that there is a removable, rechargeable lithium ion battery, plus you can use AAA batteries as a removable battery pack as well. You could optionally go for just the battery pack option for a cheaper price ($119), but I don't recommend it. I initially bought the battery pack version and I burned through a ton of batteries. At one point, I actually ran out of all the random batteries lying in drawers around my house and had to go buy more to continue using the wallet.
Keystone is open source. During the initial setup you are easily able to add "dice entropy" to your key generation to ensure that your seed phrase is truly randomized. You can also opt for a Shamir backup quite easily, though most users should be OK using the basic setup without these advanced features.
Other Comments
Keystone is based out of China, which is honestly a red flag for me. I guess there's a lot of hardware being built in China these days, so I'm sure someone with more knowledge of hardware wallets could make a decent argument why that doesn't matter, but from a high level, when making the difficult decision of which bitcoin wallet to buy, "Made in China" isn't one that screams trust when I want to secure a large amount of bitcoin.
Exacerbating this hesitation was the fact that when I went to their website (2023), they had language errors and even contradictor language about which wallets were available to buy versus pre-order, and the market of the new wallet seemed to be heavily geared towards holding NFTs.
Something was off, and in a world of choice, it just left me kind of meh about the company and the wallet.
Oh, and the complaints continue.
Furthermore, I think though the fingerprint scanner for login was convenient at times, I think long term this is quite a dangerous feature. Anyone with access to you could force you to log into your device while sleeping or drugged (yes, this has happened before), and authorities in many regions, including the USA, are allowed by law to open your devices using a fingerprint even without your consent.
OK, so maybe you want to go with the password, but man, if you have a secure password and are using your device frequently, it's a real pain in the ass to unlock your wallet. They force you to have a 10-character master password with upper and lower case, plus a number and character.
So I tried pattern unlock for a while, which was cool (you basically draw a shape to unlock the wallet), but then I forgot it after a week of not using the wallet and had to restore it from the seed.
Most importantly, the battery life of Keystone is absolute SHIT, no matter which option you go with. I originally ordered a basic Keystone with the AAA batteries and went through a 16 pack of batteries in about two days setting up my device and playing with it. So I ordered another one (yes, I own two Keystones now) with the rechargeable battery and you won't believe what I discovered.
To charge the battery, you have to have it disconnected from the device.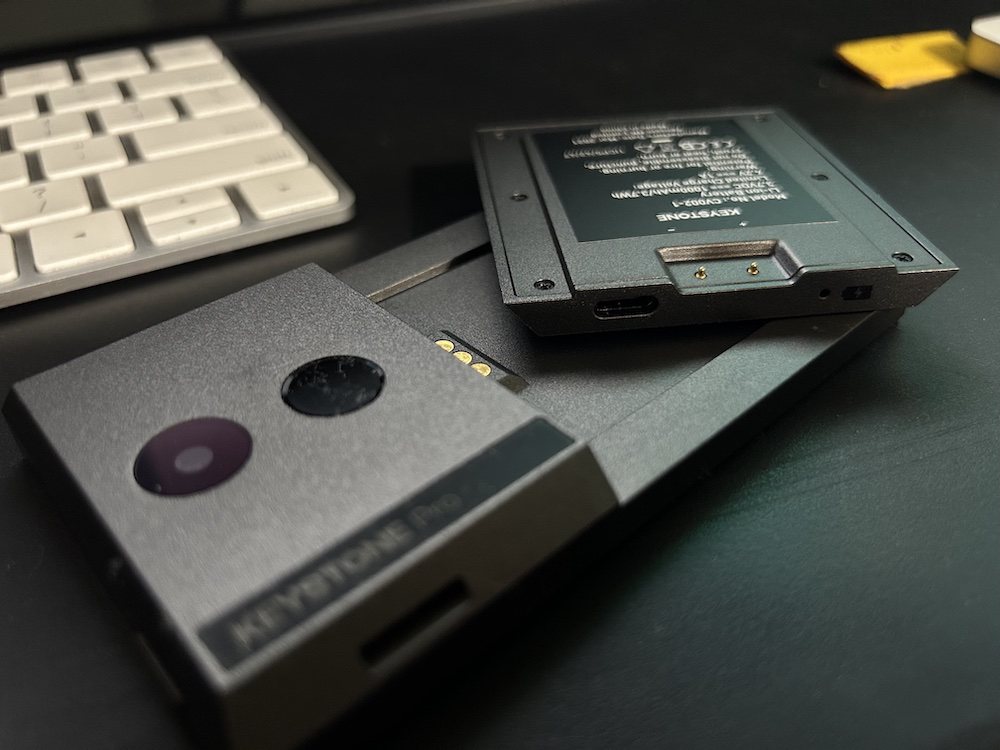 That means you cannot use the device while plugged in.
While testing the Keystone for this review of bitcoin hardware wallets, just to re-familiarize myself with the wallet and receive/send a single transaction using the mobile app I vaporized 50% of the batter. One. Single. Transaction. Then I bumped it and the whole device shut down mid-transaction…because it's a magnetic battery and doesn't lock in.
The battery situation was a dealbreaker. Worst wallet I ever used.
Some people like it though (see the videos below). I wonder if they're still using it (the videos are quite old now).
Video: Keystone Vault Pro
Other Keystone Resources
Trezor T (Bitcoin-Only Firmware) | $219
first and longest existing hardware wallet
touch screen for easy pin and password management
excellent companion app for desktop
most intuitive software to understand hidden wallets and coin control
broadly compatible with most software wallets
easy to use privacy features like Tor and Coinjoin
no serious mobile app on iOS on Android
unable to realistically use as mobile signing device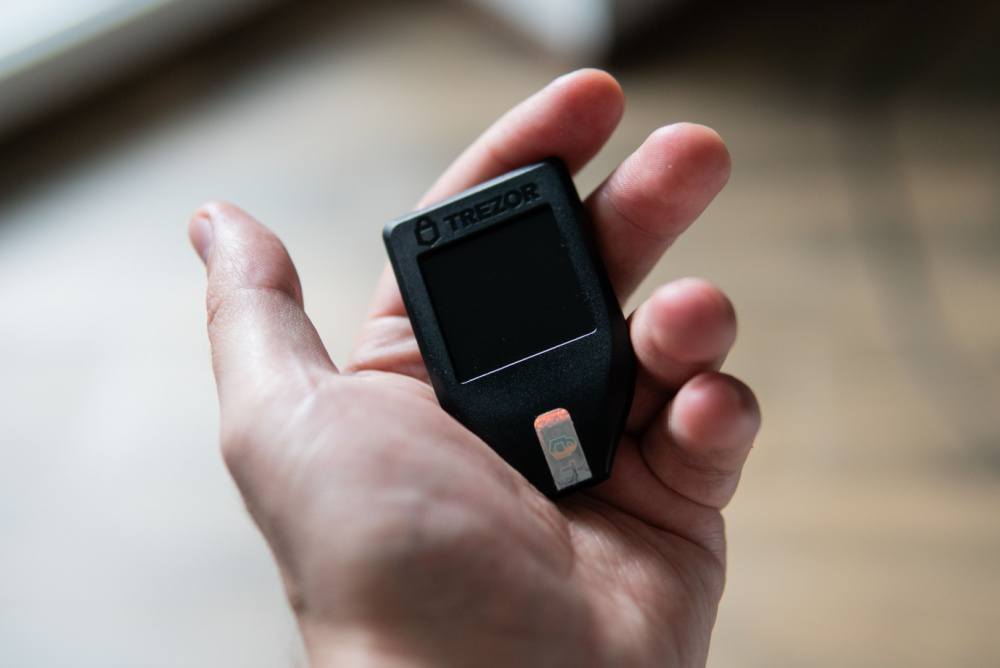 Trezor is very simple to set up, receive, and send bitcoin. You'll hear me talk a lot about Trezor on my site a lot. There are many gripes among bitcoiners about the company and certain security tradeoffs they made, but in terms of striking a balance for new bitcoiners, I think Trezor does it best.
As much as I'd like every new bitcoiner to have the time to explore every feature of Coldcard, or do every bitcoin transaction as cheaply, privately, and perfectly as possible, I know they won't. So in a world where we don't want "Perfect" to be the enemy of "Good", I'd rather you use an easy wallet than to leave your bitcoin on exchanges.
I've used Trezor more consistently and for longer than any other hardware wallet on this list. I don't hesitate to open it like my Jade. And I haven't tossed it like my Ledger. Trezor wallets are great daily drivers for average bitcoiners in my opinion.
Trezor T is the newer version of Trezor hardware wallets. They also make a Model One version which is cheaper, but doesn't come with a touch screen. There are some newer software updates limited to the Trezor T as well, but most functions of the software work exactly the same with either hardware device.
Unfortunately, the Model T is a full 3x more expensive than the Model One. I think for most new bitcoiners, that's going to be a deal breaker, considering the software is the same. I used the Model One for many years and was happy with it. Is the Model T 3x better than the Model One? Not really. I prefer it, but if you don't have the cash, you're not really missing out except for the convenience factor.
I imagine that as the company grows, they are going to introduce more and more Model T only features, such as coinjoin which was recently launched.
For now, the main reason to use Model T over Model One is convenience.
The large touch screen is nice for visualization and manually entering information. Verifying addresses and confirming transactions is easier. Entering your pin is faster. Recovering a 12-word seed phrase via touch screen is a whole lot faster than a 24-word seed phrase on the two-button Model One. The stuff isn't really a deal breaker though, so if you're on a budget, the Model One is good enough. Just don't get caught up in trying to go as cheap as possible if you're securing a large stack. Pay a little extra, get a wallet that's easy to use and you'll like. Secure your bitcoin like it's worth 10x its current value.
Personally, I use the Model T over the Model One, but as you can tell from how many hardware wallets I own, I can afford it and am interested in learning the advanced features. You'll have to make the choice.
Trezor T Features
The Trezor T has a vibrant touch screen which makes it easy to view and operate. Though the screen isn't as big as something like a Keystone, you get the best of both worlds: a touch screen and a small form factor. The touch screen allows you to enter your pin code and seed phrase on the device itself, rather than with a keyboard, reducing your attack surface from key loggers. (As a side note, this is why the Trezor One defaults to a 24-word seed and the Trezor T defaults to just a 12-word seed).
With Trezor T you can also set up a Shamir backup, which is a method of "splitting" your seed into multiple "shards", which you can then hide in various physical locations. You can then destroy the original seed, and then use M of N shards to restore your seed if needed. For example, 2 of 3 shards could be used to restore your funds if you lose your wallet. This was not an option on Trezor One.
Trezor T also has the option to "coinjoin", a method of obfuscating coin history for financial privacy on the bitcoin blockchain. The specific method of coinjoin selected by Trezor is a subject of controversy in bitcoin world, but nonetheless, it's an option with Trezor.
The Trezor T should be used with the Trezor Suite software, but you can use Trezor with many other wallets such as Sparrow, Specter, Blue Wallet and more. Trezor is also a popular device to use in Multisig quorums, meaning it can be one of several signing devices used to secure your bitcoin.
Trezor is open source, and has actually been put to the test. Several other hardware projects have forked the code and the produce and sold their own hardware wallets! Trezor is the longest running hardware wallet project and has been continually updated, tested, and scrutinized.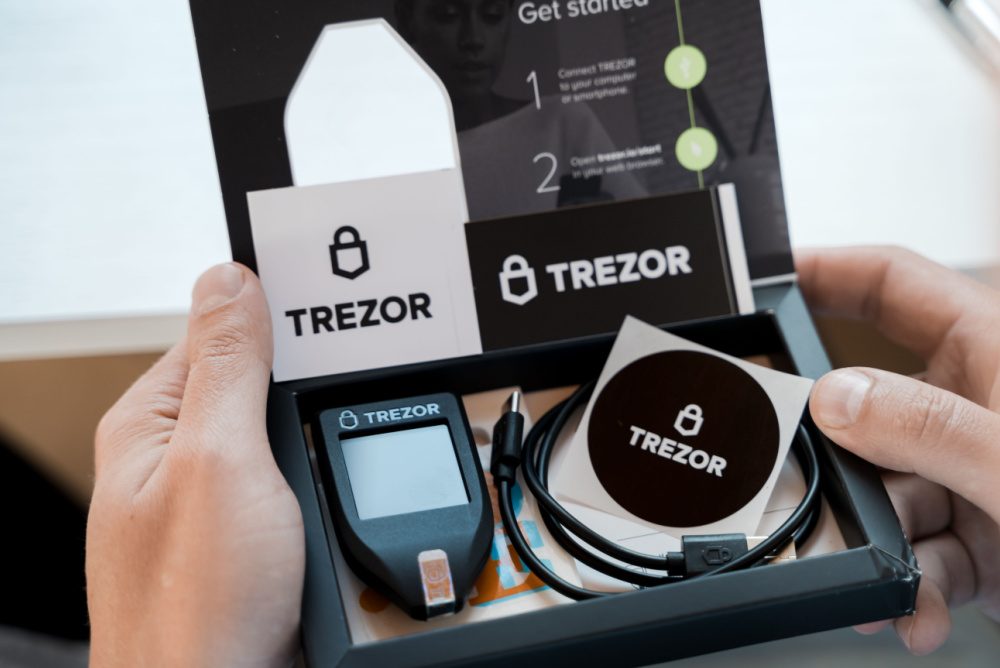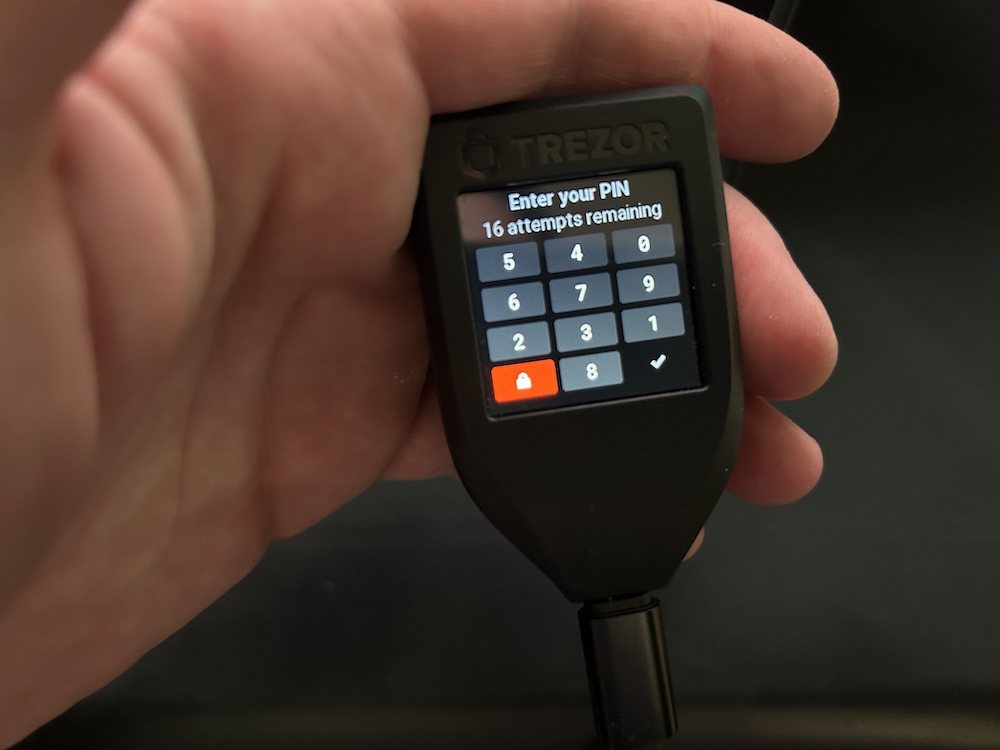 Other Comments
For new bitcoiners, you can't really beat the Trezor Suite for desktop in my opinion. I found the software super intuitive. Trezor was my first hardware wallet back in 2017, and in 2023 I still find myself using it more than any other wallet (although Coldcard and Jade are quickly becoming new favorites for various reasons I outline in their sections).
My main gripe with Trezor is that they don't have a good mobile wallet for mobile. The way we operate today, spending from our phones is second nature. Though 5 years ago I would have never even considered spending bitcoin from my phone, as of 2023, I spend bitcoin from my phone wayyyy more than from desktop. There are simply more opportunities to spend, and it's faster and easier to do.
I'm on iOS, so there's basically nothing for Trezor. You can't even use Trezor very easily with partially signed bitcoin transactions despite it having a slot for a microSD card. I guess the have some kind of functional "watch only" wallet for Android, but I'm not really sure how good it is.
There are plenty of great mobile bitcoin only wallets out there, and many of those wallets have even better features than Trezor Suite. I'm happy to use them, but it's taken me many years of experimentation and learning to get where I am now. Asking new users to learn two separate pieces of software just to use bitcoin is a big ask IMO.
My advice? If you go with Trezor, use Trezor suite for desktop to secure your "main stack", then find a good mobile bitcoin wallet you like for your hot/spending wallet.
Video: Trezor Model T
In this video:
setting up Trezor Suite (desktop)
the Trezor Suite dashboard (desktop)
account types
receiving bitcoin
sending bitcoin
Trezor Suite settings
creating a hidden account/wallet
Other Trezor Resources
More Bitcoin Wallets
Block Bitkey (Future Release)
Block is supposed to release a cool bitcoin only hardware wallet at some point in the next couple of years. The premise of the wallet is that it'll allow you to self custody your bitcoin with the help of Cash App.
It would be a 2-of-3 multisig setup, where Cash App holds one key remotely, your phone holds another key locally, and the hardware device would function as a 3rd key. You can allow Cash App to "pre-sign" any transactions under a certain threshold (something like $100 for example), so that you can spend directly from your Cash App wallet on your phone, but anything above that would require a signature from your hardware device, or a manual email (with security checks) to approve it with their remote key.
This would allow for super simple self-custody of bitcoin, even for normies. Everything would connect automatically, there wouldn't be any advanced customizations, and signing for high value transactions would be as simple as a click of a button. Stick the hardware device in a drawer or somewhere more secure, and as long as someone doesn't grab your phone and the hardware at the same time, they can't steal your bitcoin.
At the same time, you'd be able to use both lightning and on chain bitcoin in one wallet, and spending for daily transactions wouldn't look any different from what you do today.
In terms of the fear of self custody which most newbies have, as long as you don't lose your phone and hardware device at the same time, you'll always have 2 of 3 keys to back up your bitcoin savings.
Very cool idea for normies getting into bitcoin who trust Cash App.
This is still in the design phase, so we there may still be several years yet until we see it hit the market, but it's exciting to see new hardware wallets emerging with different tradeoffs.
The tradeoffs with the Block wallet, named "Bitkey" at this point are many.
For example, you wouldn't be able to use your own node or do coin control, so Cash App would know a lot about how you spend your bitcoin. Then, with no screen on the hardware, you'd be blind to double checking things like recipient address and amount with an offline device, leaving you open to attack if Cash App is compromised.
There's no perfect solution to bitcoin self custody, but this is certainly an interesting one to keep an eye on.
Bonus: OpenDime + SatsCard
An OpenDime is not a hardware wallet per se, but it is a physical hardware device on which you can store your bitcoin. There's nothing else like it on the market, and they're cheap, so it's worth buying a multi-pack to have on hand for whatever.
With an OpenDime, you can load some bitcoin onto the stick, pass it to someone physically (same as cash), and now they are the new owner of the bitcoin. They can verify a device is "sealed" based on the way the LED lights flash. Once the seal is broken (private key revealed), the lights will flash in a different way to indicate the OpenDime is no longer safe to use.
An OpenDime can be loaded multiple times with bitcoin, but only unsealed once. When you're ready to use the funds, you can "sweep" them into a spendable wallet and toss the OpenDime.
The newer version is called the SatsCard, which has a credit card form factor, and has 10 slots to load/unseal bitcoin, making it 10x more reusable than an OpenDime. You can also use it with mobile devices, sweeping funds onto any mobile wallets that support NFC. To load it onto a desktop wallet, you'd need an NFC card reader.
Why Not Use Ledger Hardware Wallets??
Ledger is not a "bad" hardware wallet. In fact, it's one of the most popular hardware wallets for bitcoin and cryptocurrency. However, they've had a number of high profile screwups in the past few years that would make me hesitate to recommend them. When you have so many good choices of bitcoin hardware wallets, there's no reason to compromise.
What did they screw up?
First off, they in 2020, the Ledger website was hacked and customer data was sold on the dark web. That information include names and physical addresses. As a result, some customers began receiving fake ledger devices trying to steal users crypto.
More recently, they announced the launch of a "seed sharding" service, which would split your seed phrase into multiple parts, and hold those parts in various custodians. This would be done remotely. Although an opt-in option, it exposed the potential for Ledger to push a malicious update and extract user seed phrases without them knowing. Even if Ledger is an honest player here, the fact that this threat vector exists, means it's available for someone to exploit down the road.
All of that aside, I actually used a Ledger Nano S for a full year and simply didn't like it. It used to be my #2 wallet back in 2017 simply because it was popular and easy to use. However, after working with Ledger for a year, I decided to stop using it in favor of other wallets. Ledger just wasn't for me.
I didn't like the feel of the device. I didn't like the software. I didn't have any catastrophic experience with it. It wasn't bad per se, it just wasn't as good as the other wallets I was using.
As I learned more about bitcoin and cold storage, I discovered that Ledger code is not open source, so you'll never know what type of update they push. Not being open source doesn't sound like a big deal to a lot of new bitcoiners because they are used to assuming companies are 'good actors', but as your stack grows and you witness some of the dumb things companies do, you'll get a little more suspicious. You'll learn to appreciate having community eyes on the code, even if you can't audit the code yourself.
So basically, I don't recommend Ledger products to my friends or family, so I won't recommend it to you.
Why Not iCoin?
The only other wallet worth mentioning to avoid is the iCoin wallet. Though I don't have any personal experience with it, and it seems like a product with quite a small reach, they do have one major advertiser of their product so it's worth talking about briefly.
First off, I while doing research for it, I found it very strange that there were basically no in-depth tutorials or review of it on YouTube, which means there aren't a lot of bitcoiners using this product or critiquing it. The only "reviews" seem to be sponsored ads, such as this super weird sponsored video from verizon.com (no longer available to buy).
Bitcoiners love talking about the nuances of of cold storage security, so if nobody is talking about iCoin, then it's probably not a great product to begin with.
The only hands-on test I ran across, from a trusted name in bitcoin comes from @sethforprivacy on Twitter. He gave it a very, very negative review (full tweet below)
Please for the love of God don't use this for your life savings, I could pwn it from around the block with simple Bluetooth Android vulnerabilities from 2015, or just sniff Bluetooth traffic for your private keys when you "back it up" and run with your money.

@sethforprivacy
If you scroll through the tweets, the iCoin Twitter account deleted all their responses and never really addressed anything.
Lastly, their "stand out feature" seems to be that it comes with a printer that can print out your seed phrase. Now the question is, do I also need to secure the printer? I know some printers store information, so could someone hack the printer and steal my phrase? How many situations will I be in where I need to print a receipt for my send/receive transactions or need a new paper backup?
It's just a super odd thing and seems like kind of a gimmick. The code is also not open source, so who really knows what's going on behind the scenes.
Other Hardware Wallets Not Featured
There are lots of other hardware wallets you can find on Amazon, and I wouldn't recommend any of them. None of these are open source, and you have no f-ing idea who the sellers are on Amazon, so it really is a crapshoot what you get and if your money is safe.
SafePal
NGRAVE
ELLIPAL
D'Cent Biometric Cold Wallet
Keepkey
imKey Pro
SecuX
Arculus
Keevo
Unfortunately, they have hundreds of five-star reviews so may appear to be "good" wallets based on Amazon criteria, but you just don't know what's going on there. Are those paid reviews? Are people using these things actually putting significant amounts of money on them?
Also, none are bitcoin-only.
Whatever savings or convenience you may be looking for by shopping on Amazon is not worth the risk. Buy directly from the manufacturer, and buy bitcoin only.
Bitcoin Hardware Wallet Summary
Personally, I use a variety of wallets and setups, and don't want to reveal my specific security setup for privacy reasons. I also don't want to expose myself too much and reveal exactly what my personal wallet setup is, so I won't be recommending that you set up your bitcoin wallet exactly like I do. Ultimately, you'll have to decide which hardware wallet is best for your skill level and goals.
1. Trezor T is the wallet I recommend to most people. When I started in Bitcoin, my first hardware wallet was a Trezor One. It's a decent wallet, and very cheap to get started. I prefer the Trezor T to the Trezor One, but it's much more expensive. These are the two I generally recommend to friends and family getting started with self custody of their bitcoin. The hardware is slick. It's open source code. It's got bitcoin-only firmware. The Trezor Suite software is simple to use. It's just an easy go-to where I feel like people can navigate the wallet setup by themselves.
Their mobile wallet situation is super weak though, so a major downside if you want to view/transact with your phone.
2. Coldcard is definitely the hardware wallet I'd recommend for long term bitcoin users who want the grow their knowledge of bitcoin with their device. Coldcard has awesome security features, and the most advanced options of any hardware wallet available. I'm a huge fan of using the microSD card for airgapped signing, and using NFC with the MK4 sounds be super convenient, although I haven't tried it myself yet. Coinkite, the makers of Coldcard, have been consistent and vocal about their support for Bitcoin and the Bitcoin community, so I'm a big fan of the brand as well.
Coldcard gets a bad rap for being "for advanced users", but it's not really that bad if you stick to the basic functions.
3. Blockstream Jade was tough to set up initially, but I suspect this is a growing pain associated with being a relatively new hardware wallet. Jade has been rolling out tons of new features via firmware updates lately (2023), so I'm guessing many of these early bugs are getting fixed.
Actually, Jade is my newest favorite wallet to tinker with. It's simple to use, feature rich, and being the cheapest wallet on the list makes it an easy one to recommend. PLUS, their mobile app is a very strong contender for a daily driver considering they allow you to hold BTC, L-BTC, and Lightning Bitcoin (beta) in one wallet.
The only real downside is that there's no secure element, and requiring a Blockstream server to verify your pin in order to work is a bit scary to me. Most people won't be running their own pin server. This is just one of those security tradeoffs you have to consider when picking a wallet.
4. Bitbox02 is an OK choice for newbies. It's, open source, has bitcoin-only firmware, and a secure element. Their desktop app is easy to navigate, and you can easily connect to your own node. Even so, it's not really something I recommend to friends. I wasn't a huge fan of the invisible button hardware design, and I thought the default backup to microSD without introducing the seed phrase was not very smart design.
5. Keystone blows IMO. Not recommended. Mostly due to the battery life but the shitty website scares me too.
6. SeedSigner comes highly recommended from many DIY pleb bitcoiners, but it's just not the thing that most people are going to want to build, or going to feel comfortable using. It works, and it's cool, but it's not a top recommendation. The main benefit is that parts are globally available and simple to acquire, but it won't save you much money, if any.
7. Foundation Passport was pretty awesome, and by far the most comfortable to use physically and mentally. It set up correctly the first time, connected to the companion app easily, and I was able to sign an airgapped transaction seamlessly within a few minutes of setting it up. I guess the only downside is that they're kind of a new company, and if you're protecting a big stack of bitcoin, it can be comforting working with a company you know will be around for the next couple decades.
[/END]
I hope all my thoughts and experiences here help you confidently pick a bitcoin-only hardware wallet! Let me know if you have any questions or thoughts about my summaries and reviews of these wallets, or another one to shill in the comments.