There's a lot of noise out there in Bitcoin Land. In fact, the whole reason I started Bitcoin Foqus was to help beginners focus on the real shit you need to know about bitcoin. Anything you read in traditional financial media is uninformed, garbage journalism, published to generated clicks rather than inform. However, bitcoin news sources aren't perfect either, and there are some big problems with so-called bitcoin news sources as well.
One huge problem for me is that they talk way too much about non-bitcoin news. Shitcoining pays the bills. It's cheaper and more profitable. Rather than become a high quality Bitcoin-only news source talking about niche topics for a niche audience, shitcoin news allows them to hire cheap writers to without a whole lot of experience or knowledge.
There's an unlimited amount of surface-level content to be published about what this or that coin and speculate on what it might do in the future. It's hard to get a few thousand people to read about federated Chaumian mints on lightning versus 1500 words about Moon Coin and its price targets.
Price talk gets clicks, so price predictions, whether up or down, dominate front page articles. The fact is most people aren't interested in the details of how bitcoin works or why it's an important invention. They just want to know when to buy, and when to sell, so when they see a sensational headline about an upcoming crash or a crazy-bullish future price prediction, the urge to click is just too strong.
Content creators are always struggling to keep up with a content schedule. When you pause on publishing, you can quickly become irrelevant. Nothing interesting to say about bitcoin today? Don't have time to do research? Just write a thousand words about some charts you found on Twitter. It's junk food content to be forgotten after a day.
So today I wanted to share some of my most trusted bitcoin news sources, where I go to get real, honest, up to date information about how to use bitcoin, what's happening with bitcoin development, and what's happening in bitcoin markets. I've listed a variety of sources that focus on different aspects of bitcoin, and use a variety of mediums to distribute their content.
Though I strive to publish pure signal here at Bitcoin Foqus, I'm not going to smoke my own stuff here and say that I'm the best news source. I publish my perspective on bitcoin stuff that I get from other news sources. So where do I get my news? That's exactly what I'm sharing below; these are the reputable bitcoin news sources I use to learn about bitcoin and stay updated on what's going on in the space.
Got something to add? Leave a comment and let me know where you get your bitcoin news!
The Best In Bitcoin News & Updates
No Bullshit Bitcoin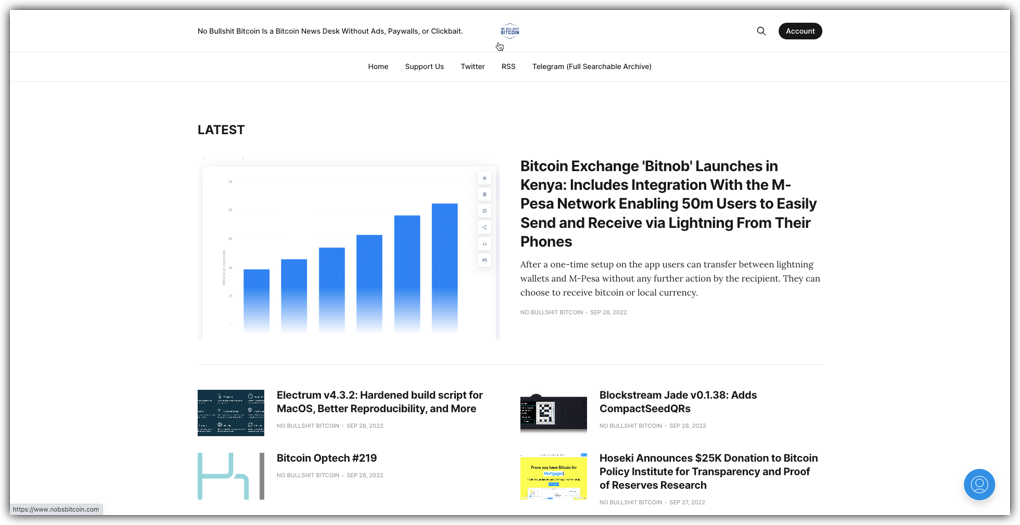 No Bullshit Bitcoin is probably the most "pure" Bitcoin news source on this page, so I listed it here as #1. You can subscribe to a variety of curated news feeds, which include Breaking News, Project Updates, Research, Guides, and a Weekly Digest. I subscribe to a bunch of them, and basically I get a couple of emails per day with a main headline (no clickbait), a descriptive title (no sensationalism), a link to the news source, and a bullet list summary of what's going on.
It's insane that something like this is so hard to come by in the traditional media, but No BS Bitcoin is doing it right. It's just pure news, with a link to the source, and an accurate/short summary for when I don't have the time to read the full article. They are also reader funded so there are no ads for mattresses to worry about.
No Bullshit Bitcoin is pure signal.
Stacker News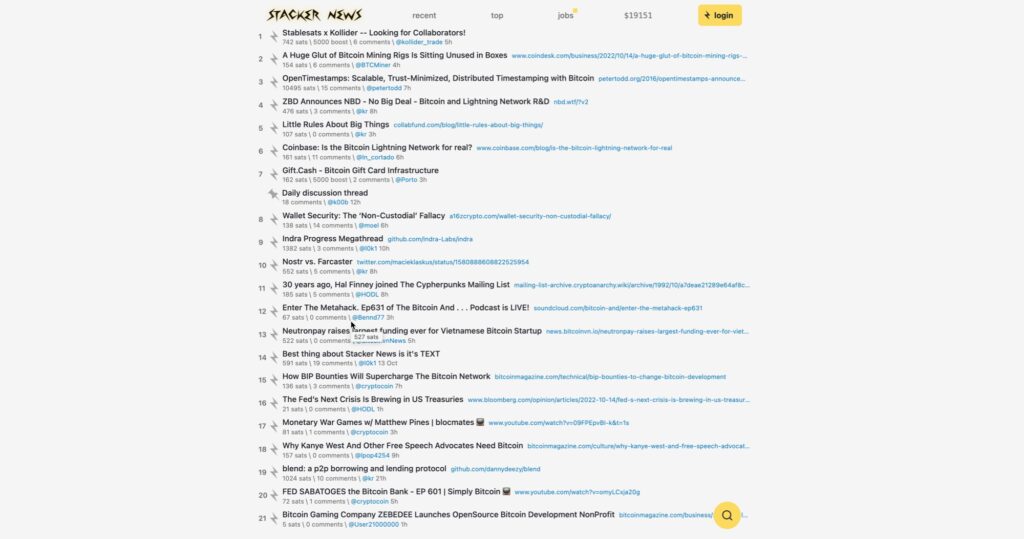 Stacker.News is a Hacker News style website where users of the platform submit news stories and commentary, and other users can add their own commentary and have discussions within each submission. The difference here is that instead of just voting for the best news with fake internet points, there is a monetary incentive – sats over lightning.
With each Stacker News account you get a lightning wallet in which you can deposit some bitcoin over lightning. You can tip a person who submitted a quality news report you found interesting, or tip a commenter if they said something insightful, or just something you agreed with. The more people who tip a story or comment, the higher and longer it ranks on the news feed.
As a user, you can also earn sats by submitting quality stories or creating thoughtful content, either as a submission on its own, or as a comment on someone else's submission. The top ranked comments and submissions also share in some of the profits from the day, but I forget exactly how this is structured. Basically, Stacker News is using the Value-for-Value model where you get rewarded with money for quality content.
Stacker News is a great place to find quality news articles on bitcoin-only topics and participate in the discussion with other plebs.
Rabbit Hole Recap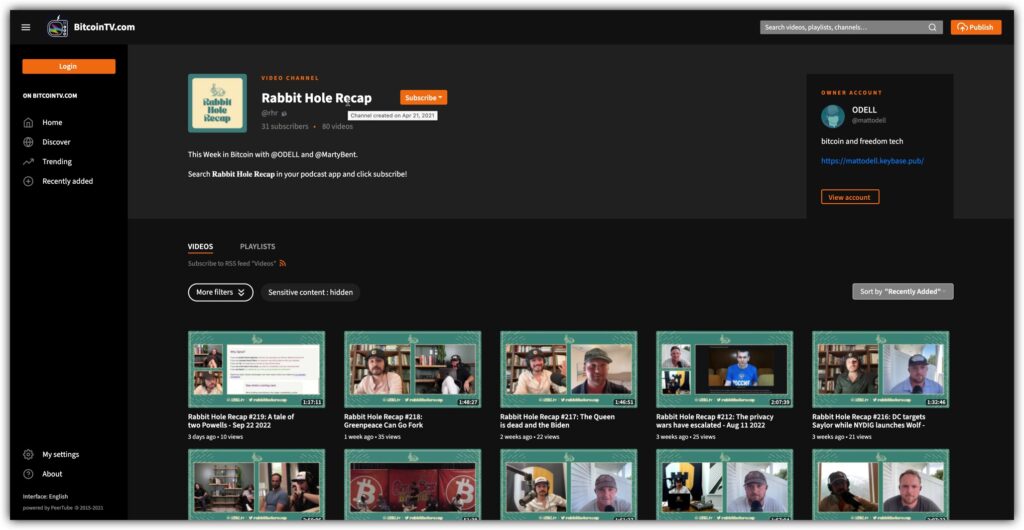 Rabbit Hole Recap is a video Podcast that covers the bitcoin news for the week. For me, it's the one podcast that I can't miss. If I have a busy week and miss every other bit of bitcoin content, I still set aside an hour or two of time to catch up with RHR. You can find their podcast feed on all of your favorite podcast apps.
Rabbit Hole Recap is hosted by two bitcoin experts who bring slightly different perspectives to the table, but always meet in the middle, with bitcoin as the connecting thread. Crazy Uncle Marty is a bitcoin miner who always has something to say about the (literal) demons in power in the US and abroad, while Matt Odell never lets us forget that financial surveillance is a tool of oppression and our KYC sats will definitely come to bite us in the ass at some point in the future.
They cover pretty much everything you can imagine in the world of bitcoin, including technical news, as well as global financial trends. RHR is a fun conversation for average bitcoiners and a great way to keep up with what's happening in bitcoin every week.
Why Are We Bullish?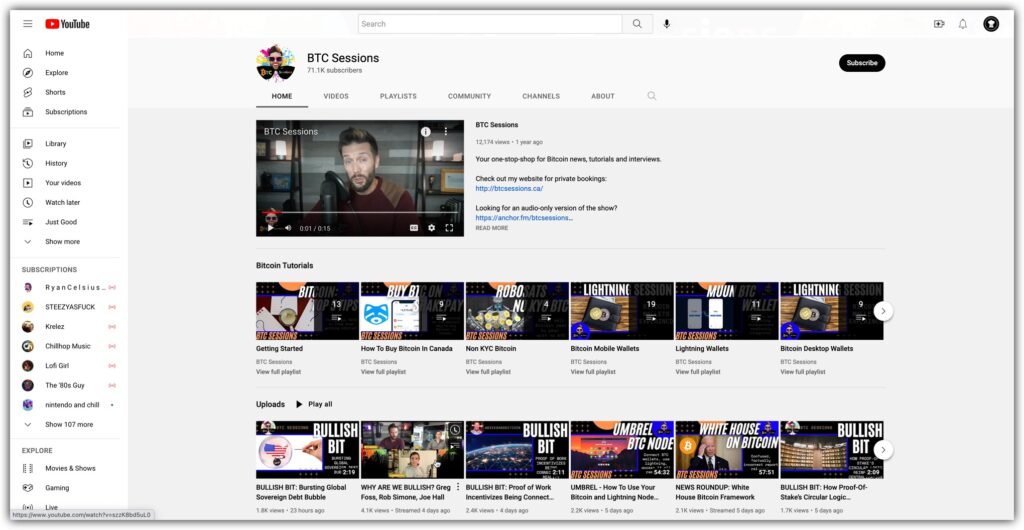 BTC Sessions really is killing it with his YouTube channel. It's simply the best Bitcoin YouTube channel by far. No competition. His tutorials are incredibly detailed, but slow and methodical, so beginners can really follow along and participate in every aspect of getting started with bitcoin. However, I think his weekly show Why Are We Bullish is a great source of Bitcoin news.
Though not structured in the way you'd expect from a news show per se, when you have a weekly roundtable with bitcoiners, you know everything that happened during the week is going to come up. I think I like this show because it's a little bit different, in that it's more of a discussion, and you just get to hear bitcoiners talk about what's on their mind. It's like a bitcoin meetup for folks who don't have one in their area.
I'll be honest though, I also like that the show is about being bullish on Bitcoin. There's a ton of FUD being spread during the 2022 bear market, and being able to regroup at the end of the week to learn about all the awesome shit happening in bitcoin is a great way to remind myself to remain steadfast.
Hard Money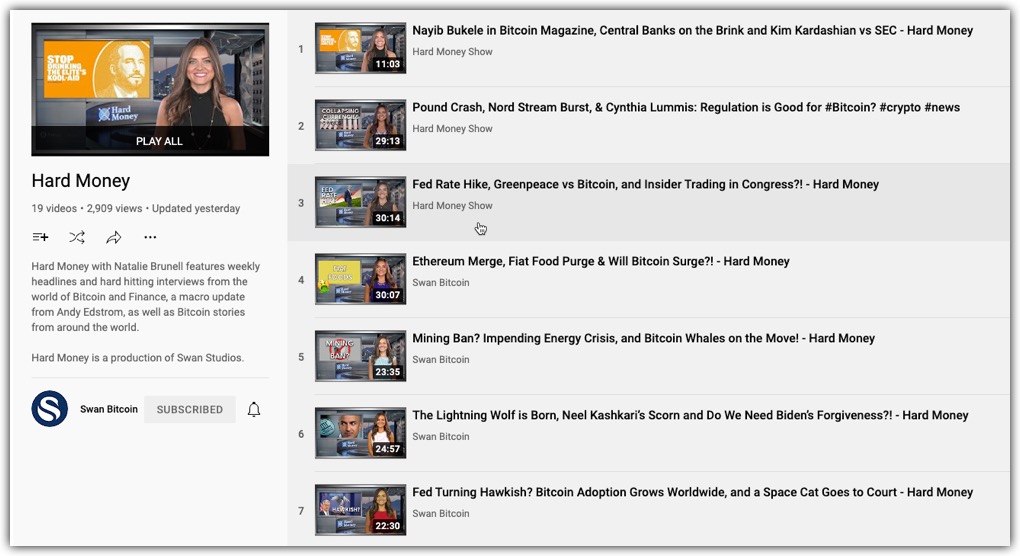 Hard Money is a quick 10-minute hit about the news in bitcoin for the past week. The show tries to emulate the style popular financial news, adopting the aesthetic of shows like Fast Money or Mad Money, but it's only about Bitcoin. Hard Money really is an excellent name for an up-and-coming financial news show about bitcoin. I mean, do I really want my money to be fast and crazy? Not really.
It's a relatively new show, but one that I've been keeping up with. Hard Money covers financial news as it relates to bitcoin, so you can expect topics about The Fed, the US and global economy, bitcoin price talk, regulation, mining, bitcoin companies, and bitcoin events. Its well-produced and consistent, and gets to the point quickly without a ton of distractions as you'd normally see in a marketplace driven by ad clicks.
The Bitcoin Layer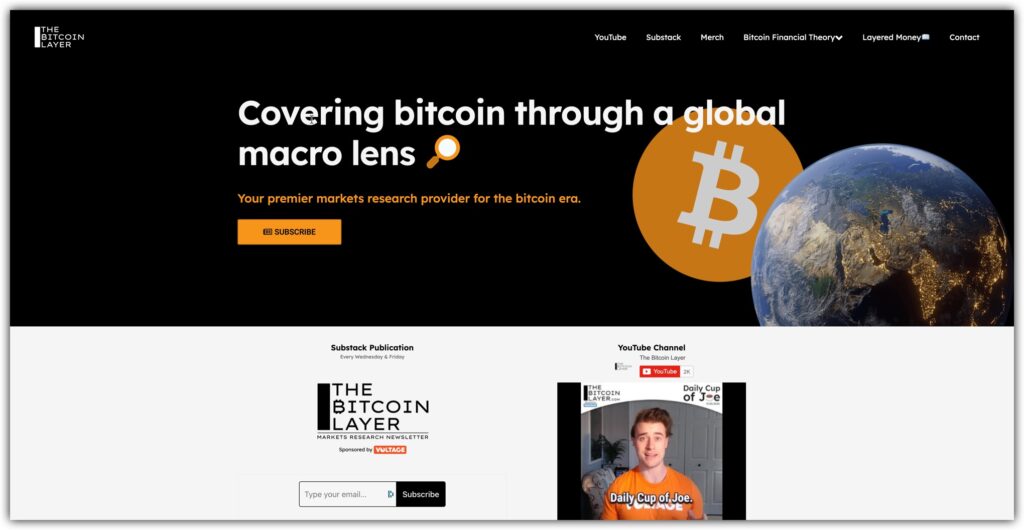 The Bitcoin Layer is focused on news about the macro financial environment and how bitcoin relates. When you think of bitcoin news, you may be thinking exclusively about software updates and that type of technical stuff, but now that bitcoin is a globally traded asset, there's plenty to understand regarding how bitcoin fits into the modern financial world. So although you won't learn about Taproot or Taro here, you'll learn about what's happening at the Fed, on-chain bitcoin analytics, and where global bitcoin adoption is heading.
This is one of my favorite bitcoin newsletters to follow, and if you subscribe to only one "macro & bitcoin" news source, this should be it.
The Bitcoin Manual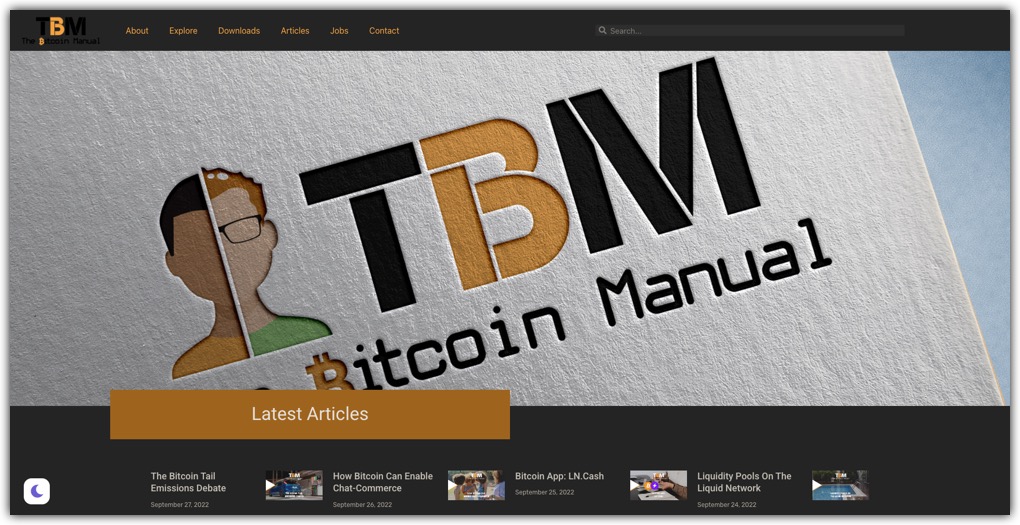 The Bitcoin Manual website isn't really news per se. It's more of a blog, with opinion pieces, reviews, and explainers. It's more of a Bitcoin blog, similar to my own Bitcoin Foqus, but it's still worth a bookmark in my opinion. Many bitcoin news sites tend to focus on raw data about what's happening in bitcoin and the broader macro financial world, but TBM adds more of a personal touch, helping newbies understand bitcoin.
I like to read their articles about new bitcoin apps and definitions, because honestly sometimes I can't keep up with everything going on in bitcoin on my own. I also enjoy reading their opinion articles because they are hardcore bitcoin maximalists and I enjoy reading news from that perspective rather than from a lot of these other shitcoin apologists.
Bitcoin is a grassroots, bottom-up movement, and these two guys are a great example of how that works. Just some humble plebs learning about bitcoin and helping others understand it along the way.
BTC Times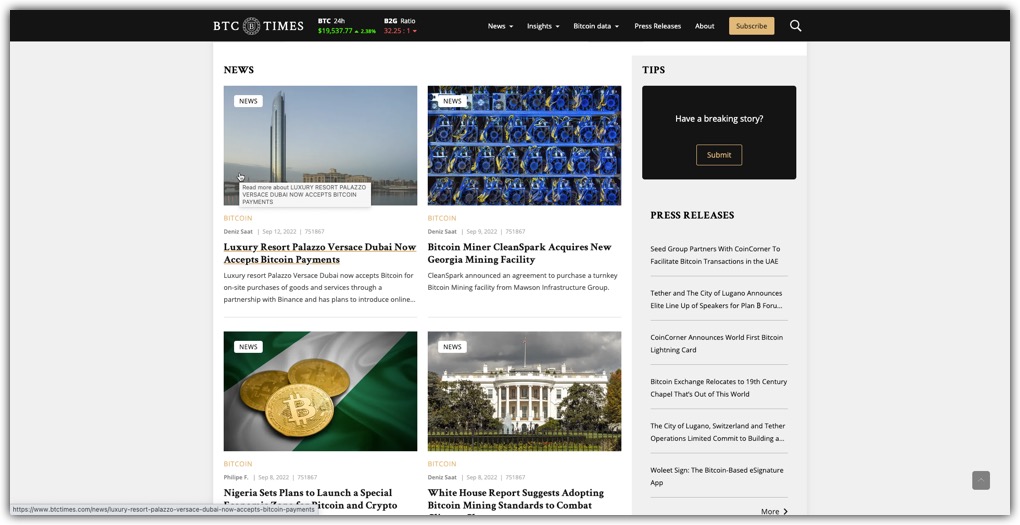 The BTC Times website doesn't publish as frequently as many other news sources on this list, but they are still a solid source of bitcoin news worth visiting from time to time to see what they think is important enough to publish. I don't read their site very much myself, but I did want to highlight another bitcoin-only website publishing original content.
Bitcoin Magazine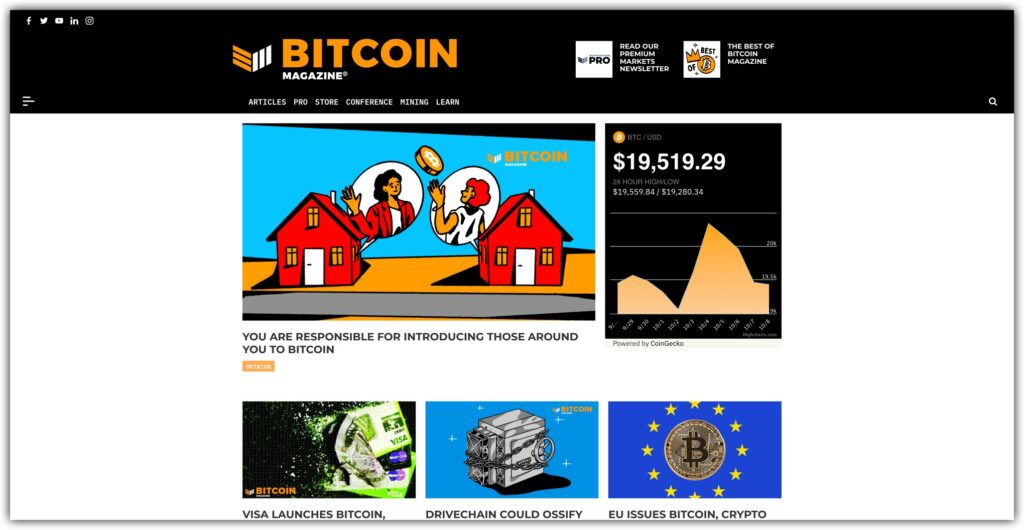 Bitcoin Magazine focuses exclusively on Bitcoin news and the publish so much content about bitcoin you just can't read it all. They publish written articles, do live Twitter Spaces, have a YouTube channel, and at least one podcast I can think of. There are a variety of regular writers and popular guest writers, so there is a good mix of voices in the bitcoin space to learn from.
I guess my only gripe with them is that sometimes their Twitter account publishes or retweets sensationalized news, and I wish they were a little bit more careful about that stuff to maintain a quality reputation, but that's getting into the weeds a little about where the "best" place to get Bitcoin news. If you compare Bitcoin Magazine with something like Coin Desk, Coin Telegraph, it's miles ahead in terms of delivering good information for bitcoiners.
Bitcoin Magazine writes about all aspects of bitcoin, including technical developments, mining, tutorials, culture, and opinion pieces from diverse voices. I love that sometimes I'll read articles with conflicting narratives from different writers, and it goes to show you that not all bitcoiners agree on things (and that's awesome)!
[COMEDY] The Bitcoin Bugle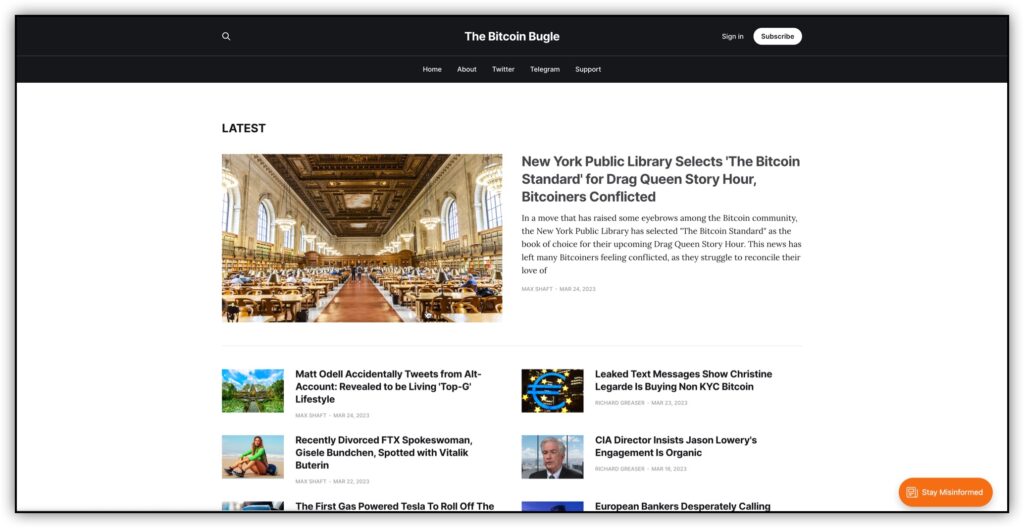 As a bonus addition to this list, because it's not really "reputable" per se, is The Bitcoin Bugle, which is an Onion-style news outlet dedicated to creating fake, hilarious news about bitcoin. I guess you're really into bitcoin if you can read an obviously fake article about a micro-influencer in the bitcoin space an laugh your ass off, but here we are.
Final Thoughts
Mainstream news sources absolutely suck at delivering news about bitcoin. Not only are they complete dog shit at getting basic facts about bitcoin correct, they are written by non-bitcoiners on a deadline. Plus, although I can't confirm this, it really does appear that many "trusted" news sources have a bias against bitcoin, and relish in publishing news biased against bitcoin.
At best, the information is so watered down that it's not even worth paying attention. At worst, they publish verifiably false information and just block bitcoiners on Twitter as a cyber mob.
If you want to learn about bitcoin, look at pro-bitcoin, bitcoin-only news sources. Bitcoiners keep it real, and are great at publishing dissenting opinions, or admitting when they're wrong. They'll do a much better job of giving you a realistic look at the state of the bitcoin network than any other non-bitcoin source. No single organization or individual does this perfectly, so it's good to tap into a variety of bitcoin news sources. It's impossible to keep up with everything, so just find a few that you like and read a little bit every day!
Further Education
Frequently Asked Questions
What Is The Best Bitcoin News Site?
For a basic news feed of events happening in the bitcoin space, No Bullshit Bitcoin will be your best source of raw information. For an editorialized, magazine-style articles, Bitcoin Magazine provides the best coverage of bitcoin news.
What Is The Best Bitcoin Newsletter?
Each bitcoin newsletter has their own niche within the larger bitcoin space, such as bitcoin trading, bitcoin + macro analytics, the lightning network, bitcoin software updates, bitcoin & politics, or bitcoin & society. There really is no single "best" bitcoin newsletter, and it depends on which niche you find the most interesting.
What's The Best Place To Learn The Bitcoin Basics?