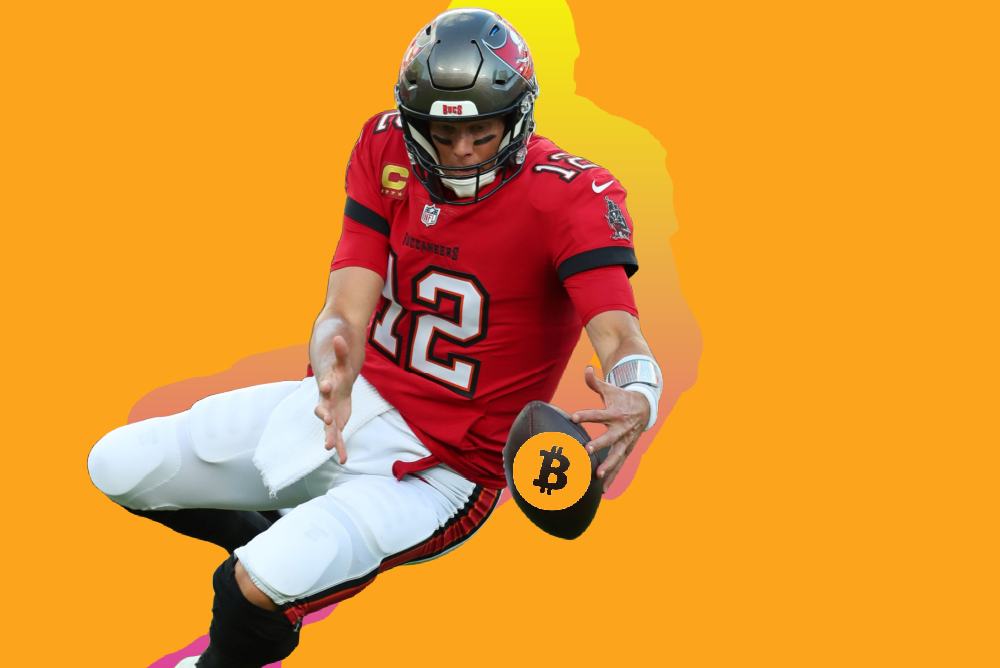 Tom Brady's name will live on in the annals of American football history.
He is an American quarterback who has spent over two decades in the NFL. Tom Brady has accomplished things that most football players can only dream of during his time in the NFL. He is regarded as one of the greatest quarterbacks of all time, having won seven Super Bowls, five Super Bowl MVPs, and three NFL MVPs.
However, it is not only his football career that has garnered attention in recent years. Brady has also endorsed Bitcoin, and that's what we really care about here at Bitcoin Foqus.
Tom Brady's endorsement of Bitcoin is a testament to the currency's growing popularity. There's nothing more bullish than the best modern American football player being pro-bitcoin. It's been quite a journey for bitcoin to begin as a currency for criminals in 2011, to a being owned and endorsed by an American sports hero. With the backing of one of the greatest athletes of all time, it's no wonder that Bitcoin use continues to proliferate into the mainstream.
Bitcoin has been gaining traction over the years and is now seen as a viable investment option individuals, corporations, and institutions.
However, bitcoin is more than just an investment. Brady's promotion of bitcoin demonstrates the potential for athletes to be early adopters and benefit from its functionality and growth as a global digital asset.
What Does Tom Brady Think About Bitcoin?
Brady is a Bitcoin Believer
In 2021 Tom Brady made headlines when he endorsed Bitcoin and changed his Twitter profile picture to "laser eyes"– a common feature of those endorsing the digital currency.
Brady has spoken about how he is a "big believer" in Bitcoin but "not an expert". Brady's words of wisdom resonated with many people, and his endorsement of Bitcoin was seen as a sign that the digital currency is here to stay.
At the CoinDesk Consensus 2021 forum, Brady elaborated on his views about Bitcoin, saying that he is still learning about the cryptocurrency but sees it as an interesting investment opportunity:
"In my understanding, it was really a vote of confidence to really get into the conversation as I'm such a big believer in crypto, and where things are heading in the world," Brady said.
When asked if he had gotten involved in digital currency, Brady said he "definitely had." He went on to say: "In our quarterback room, one of my coaches has been on it for eight, nine months. So we talk about it basically every day, the prices of the different tokens, how the space is doing,"
Tom Brady Is Learning About Bitcoin, Optimistic
Brady also commented on the future of Bitcoin and how rapidly the technology is changing:
How we pay for things now is very different from how we paid for things when I was a kid," Brady said. "At the end of the day it's transactions and how they're happening between people in the space of 3 to 4 feet, it's not exchanging dollar bills anymore, it's passing along technology."
Brady also went on to acknowledge the volatility of Bitcoin markets stating:
"We're learning more and more about these emerging markets," he said. "I don't think it's going anywhere. … The world is changing. … And you can be ahead of the curve or behind it, and I'm choosing to be ahead of it."
This is a similar sentiment among bitcoiners who say that the best way to learn about bitcoin is to simply buy some and get some skin in the game, AKA get off zero. Learning about bitcoin is not a single-step, easy process. Just get some into cold storage and you'll be in a better position than 99% of everyone else.
Exchanging Footballs For Bitcoin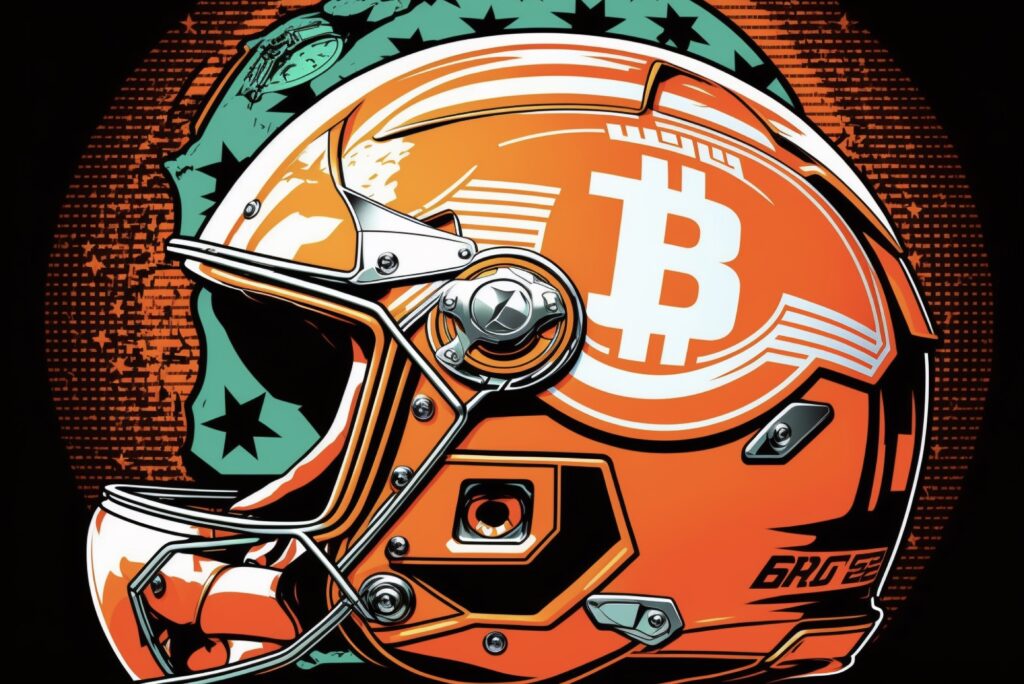 Tom Brady also made headlines again when he gave a Bitcoin to a lucky fan who caught the ball from his 600th career touchdown pass.
The incident occurred during the Tampa Bay Buccaneers game against the Chicago Bears.
When Brady threw his 600th touchdown pass, Mike Evans caught it and passed it to a fan in the stands. The fan, Byron Kennedy, had no idea he had just acquired a priceless piece of NFL history.
Following the game, it became clear that Kennedy had the ball, and negotiations to reclaim it began. Kennedy was offered a variety of incentives in exchange for the ball, including a signed jersey, a helmet, and season tickets to both the Buccaneers and the Bears.
Value 4 Value: Bitcoin 4 A Souvenir
The offer from Tom Brady himself, however, was by far the most valuable incentive.
Brady offered to give Kennedy a Bitcoin as a reward for giving up the ball, in addition to the other incentives. Kennedy accepted the offer and soon found himself not only with the 600th touchdown ball but also with the surprise bonus of a bitcoin sent directly to his own bitcoin wallet.
In an interview with ESPN's Monday Night Football, Brady spoke of the incident, and during the interview, he told brothers Peyton and Eli Manning, "I think it worked out, I am also giving him a Bitcoin. That's pretty cool too. At the end of the day, I think he's still making out pretty well."
At the time of the exchange, the Bitcoin Byron received was worth in excess of $62,000 USD.
Tom Brady's Bitcoin gift to a lucky fan is just one more example of professional sports' growing relationship with bitcoin, and as more athletes and teams adopt bitcoin, we can expect to see more innovative applications at the confluence of bitcoin and sports.
Tom Brady & FTX
Though Tom Brady says all the right things about bitcoin, it's clear that he is still on his journey to understanding the finer details. Brady was an investor and spokesperson for FTX, the well-known crypto exchange that collapsed in 2022. His 1.1 million shares, once valued at $45 million, are now worth about $0.
Though FTX collapsed due to fraud, Bitcoiners saw the writing on the wall. Any exchange built on incentivizing its users to gamble on coins or risk their bitcoin in yield-generating schemes on DeFi is not a great investment. If you understand why bitcoin has value, it's quite easy to see why everything else doesn't. I find it hard to believe that if Brady understood these fundamentals of bitcoin, that he'd recommend – on nationally broadcasted TV commercial – that users get involved with FTX.
Should Brady Have Known Better?
But then again, do any celebrities endorsing products really understand what the products are? Does Kim Kardashian really know anything about T-Mobile? Does 50 Cent really care about Vitamin Water? Taylor Swift and Diet Coke? It's all just celebrity advertising garbage.
As far as I saw in my research, I didn't find anything on Brady actually endorsing other coins, so who knows how the FTX deal really went down. Most bitcoiners have been gone through a shitcoin phase in the past, and many have been burned making mistakes like trading with leverage, so it's really unclear what Brady's actual stance is on bitcoin vs crypto.
It's quite possible he only holds bitcoin, and the FTX deal was just about getting paid to endorse a business, which, to be fair, looked like a legitimate business at the time.
Bitcoin for Athletes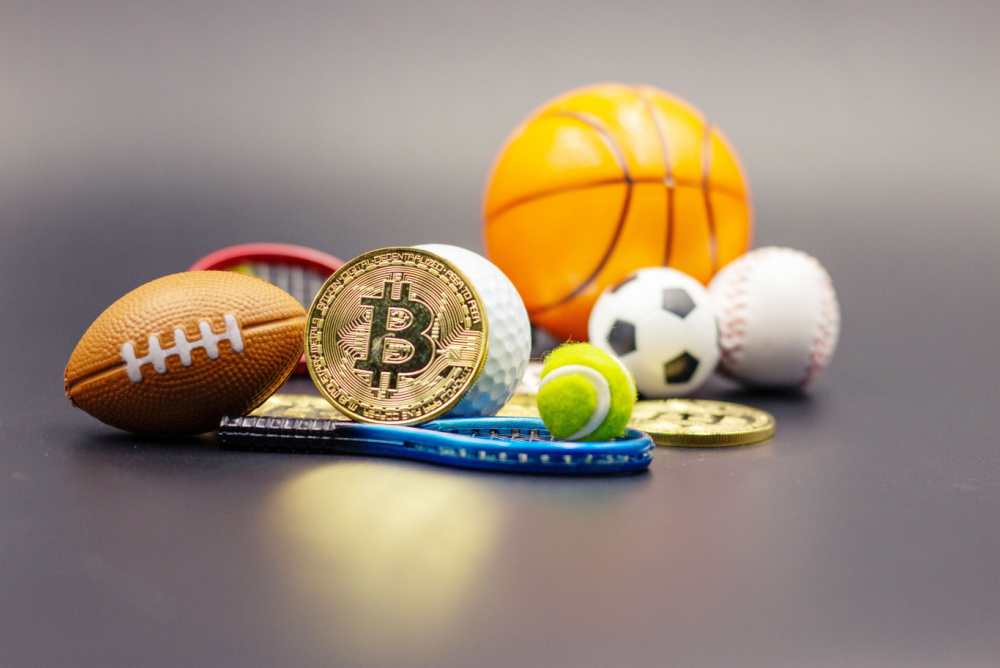 Bitcoin has the potential to be a game changer for professional athletes when it comes to receiving payment and protecting their wealth.
The comments Tom Brady has made regarding Bitcoin as it pertains to sports and athletes introduce an interesting point of discussion regarding professional athletes and how they manage their wealth.
Athletes who accept Bitcoin payments can benefit from its ability to better preserve wealth over time. Bitcoin's hard cap of 21 million coins is one of its distinguishing features, and the inability to devalue bitcoin through inflation of those units make it particularly attractive to professional athletes, who have a unique income situation.
Video: Tom Brady Says All The Quarterbacks Talk About Bitcoin
It's no secret that most athletes are able to sustain a professional career as a player for a very short period of time. The average length of career for an NFL player is only 2.5-5 years. Average time playing for The NBA is also less than 5 years.
Considering many players in these, and other professional leagues have worked their entire lives to reach the pinnacle of their skill level, it means their earning potential as a player peaks very early on in their lives. If they made the common mistake of not developing other skills alongside those required to play sports, they could be left without direction and drive after their professional career ends.
For athletes who are savers, keeping their money in dollars means that they get the melting ice cube effect, whereby the purchasing power of their nest egg declines over time. However, investing their money into real estate, stocks, and other investments means that they take on risk, with the potential of their invested money going to zero.
Bitcoin Is Not Like Investing In A Company
Bitcoin provides an alternative way to retain the purchasing power of their money. Bitcoin is not an investment into a company. Companies reliant on products, sales, and a team of entrepreneurs, and subject to the whims of shopping trends. Bitcoin is digital money. Its value fluctuates, but it's based on supply and demand for its monetary properties. As more people desire digital money that cannot be debased by corporations or governments, and as new supply continues to decrease over time through the halving process, its value should go up.
Tom Brady is not the only athlete to recognize this, and there have been many high profile celebrity athletes who have announced getting paid in bitcoin, such as Sean Culkin (NFL), Russel Okung (NFL), and Klay Thompson (NBA). The Australian Baseball League club Perth Heat have also begun to pay players in Bitcoin, and the English football club Real Bedford adopted bitcoin orange on their kits (apologies to British readers, I have no idea if I got that right), is owned by a bitcoin podcaster, takes bitcoin donations, and is sponsored exclusively by bitcoin companies.
Many of the athletes listed above have taken all, or much of their salary in bitcoin, but you don't need to take an all-in approach to benefit from bitcoin as hard money. Most average bitcoiners look at bitcoin as a long-term savings account, and just take cash flows in fiat.
Bitcoin Promotes Privacy From Corporations
One of the primary advantages of using Bitcoin for financial transactions is that it can aid in the preservation of privacy and the protection of sensitive financial information.
While Bitcoin transactions are not entirely anonymous, they do offer a level of privacy and security that is not typically available with traditional banking methods.
Bitcoin transactions are recorded on a public ledger known as the blockchain, which is a decentralized and secure database that records every transaction made using the cryptocurrency.
While the details of each transaction, including the amount and the public addresses of the sender and receiver, are visible on the blockchain, the identities of the individuals behind the transactions are not necessarily revealed.
UTXO management and CoinJoins are additional techniques that can be used to enhance privacy when using Bitcoin. UTXO (Unspent Transaction Output) management involves managing the way that bitcoin is sent and received, which can help to prevent the linking of multiple transactions and improve overall privacy.
This is especially important for professional athletes like Brady, who are frequently in the public eye and subject to intense scrutiny regarding their earnings and finances.
Bitcoin transactions can be made pseudonymously, and without the use of intermediaries such as banks or payment processors. As a result, Bitcoin can help athletes keep their financial information secure and avoid the prying eyes of the media or others who may be interested in their finances.
The Tangible Value of Bitcoin
Brady's decision to offer Bitcoin as a reward was astute, not only highlighting the growing relationship between professional sports and Bitcoin but also the intrinsic value of the digital currency.
Tom Brady's Bitcoin gift to a fan who returned his 600th touchdown ball exemplifies Bitcoin's real-world value as a tangible and valuable asset.
While the exact value of the Bitcoin gift is subject to market fluctuations and volatility, the ability to exchange it for goods, services, and other currencies gives it intrinsic and tangible value.
Tom Brady's decision to give a Bitcoin as a reward for returning the ball demonstrates the growing acceptance of Bitcoin and other cryptocurrencies as legitimate means of payment. You may hear the argument "I can't buy anything with bitcoin so it's not real money", but it's clear that you can buy a lot more with bitcoin than you could ten years ago, and the trend isn't slowing down. Imagine 20 or 30 years into the future, how easy it will be to buy things with bitcoin. Change doesn't happen over night!
Bitcoin and other cryptocurrencies are becoming an increasingly important part of the global economy and financial system as more businesses and individuals accept them. In 2023, I can buy something on Etsy and have it shipped from Turkey in just a few weeks. This was not the case just a decade ago, and the global landscape of buyers and sellers are connecting more easily thanks to internet technology. No doubt, bitcoin will play a role in global peer to peer payments in the future.
Bitcoin Transactions Are Secure And Final
As Tom Brady pointed out, the way that we pay for things is rapidly changing, and the adoption of Bitcoin as a payment method is a reflection of this shift toward digital transactions.
By transacting digitally instead of dollar bills, athletes can make transactions quickly and securely without the need for physical cash. By paying with bitcoin, they can make sure that those payments are completed without permission from a digital payments company like Paypal.
Tom Brady's gift of a Bitcoin to the lucky fan highlights the advantages of using cryptocurrency for transactions. At the time of the gift, the value of the Bitcoin exceeded $60,000 USD, which is a significant amount that might have drawn scrutiny or delay if it were transacted using traditional banking methods.
However, because the exchange was made directly using Bitcoin, there was no need for intermediaries, and the transaction was completed instantly and securely without any third-party involvement. This demonstrates the speed, security, and privacy advantages of bitcoin.
Sports Fans and Bitcoiners Agree – The Future of Sports is Digital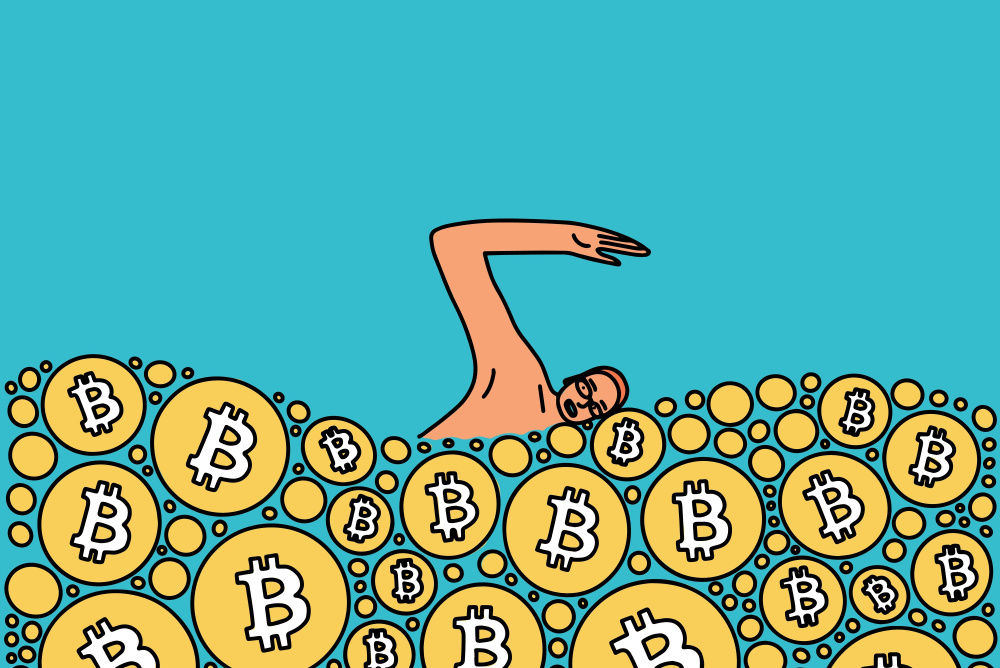 Tom Brady's support for Bitcoin at the CoinDesk Consensus 2021 forum sparked a lot of interest among the general public and the Bitcoin community. Many Bitcoin supporters interpreted Brady's remarks as confirmation of the cryptocurrency's potential and an indication of its growing mainstream acceptance.
In particular, Bitcoin influencers on Twitter posted collective praise:
"Tom Brady, arguably the greatest NFL quarterback of all time, has joined the #Bitcoin team." – DocumentingBTC
"Football legend Tom Brady has joined team #Bitcoin" – BitcoinMagazine
"#Bitcoin now has a star quarterback. Welcome to the team @TomBrady" – Michael Saylor
In response to Brady giving the sports fan who traded the 600th touchdown ball a Bitcoin, there was overwhelmingly positive support:
"Tom Brady said the Bucs fan lost all his leverage once he gave up the 600th TD ball. But Brady is giving him a Bitcoin $" – SportsCenter
Investing In Bitcoin Is Different From Investing In Bitcoin Companies
Some critics, however, questioned Bitcoin's volatility and regulatory uncertainties, warning against putting too much faith in Bitcoin, especially in light of the collapse of the digital currency exchange FTX, which Brady also endorsed.
"Again, I don't think these celebrities are laughing all the way to the bank" – Matt Goldberg
Others saw it as a positive development for the sports industry and a sign that Bitcoin and other cryptocurrencies could become more widely used for payment and asset protection.
"Crypto offers a way for sports stars to potentially take greater ownership over their brands and reputations – considering their notoriously unstable contract agreements – by allowing them to monetize their own collectibles and interact with fans directly." – Aaron Stanly of CoinDesk
Tom Brady's endorsement of Bitcoin and its potential benefits for professional athletes has brought Bitcoin into the spotlight.
Despite the mixed reactions of late to celebrities embracing Bitcoin, the fact still remains that athletes like Tom Brady have done so much to amalgamate the seemingly different worlds of digital currency and professional sports.
My Thoughts On Tom Brady And Bitcoin
It's easy for bitcoiners to get excited about celebrity endorsements of bitcoin because it adds a sense of legitimacy, or at least serves as free press to onboard more bitcoiners. Who doesn't like a little bit of price pump action? In the end, Brady being pro-bitcoin is nothing more than a celebrity endorsement, and it'll probably stay that way.
Tom Brady doesn't pretend to be a bitcoin expert, and never gave any specific advice about investing. Though his FTX investment went bust in a big way, a lot of investments do. You can say that he never should have invested in a shitcoin exchange like FTX, but most bitcoiners had a history of shitcoining before figuring out what's really going on. Tom Brady is just learning like every other pleb, but he's got more money to start with and is learning in a very public way.
Unlike some other celebrities like Mark Cuban or Elon Musk, who have publicly endorsed obvious scam coins like Iron Finance and Dogecoin, at least the extent to Brady's mistake was being defrauded by criminal.
To finish, the collapse of FTX is not the last shitcoin exchange to go bust due to mismanagement and fraud. With the news of the SEC suing both Coinbase and Binance, you should really consider getting your coins off those exchanges and stop supporting shitcoin exchanges.
Frequently Asked Questions
Is Tom Brady Involved In Bitcoin?
Tom Brady owns bitcoin and has invested in at least one crypto company, but is not involved in coding for bitcoin, creating bitcoin companies, or advocating for bitcoin usage.
Which Crypto Does Tom Brady Endorse?
Tom Brady hasn't publicly endorsed any specific cryptocurrency, though he has mentioned bitcoin and having had conversations about bitcoin many times in interviews. He even gave a fan a bitcoin in exchange for the football used in his 600th touchdown pass.
Which NFL Players Invest In Bitcoin?
There are many NFL players that have been public about investing in bitcoin, including Tom Brady, Russel Okung, Sean Culkin, Odell Beckam Jr., Aaron Rodgers, and Saquon Barkley.
How Much Bitcoin Does Tom Brady Own?
Tom Brady has not disclosed how much bitcoin he owns, or if he holds his own keys.