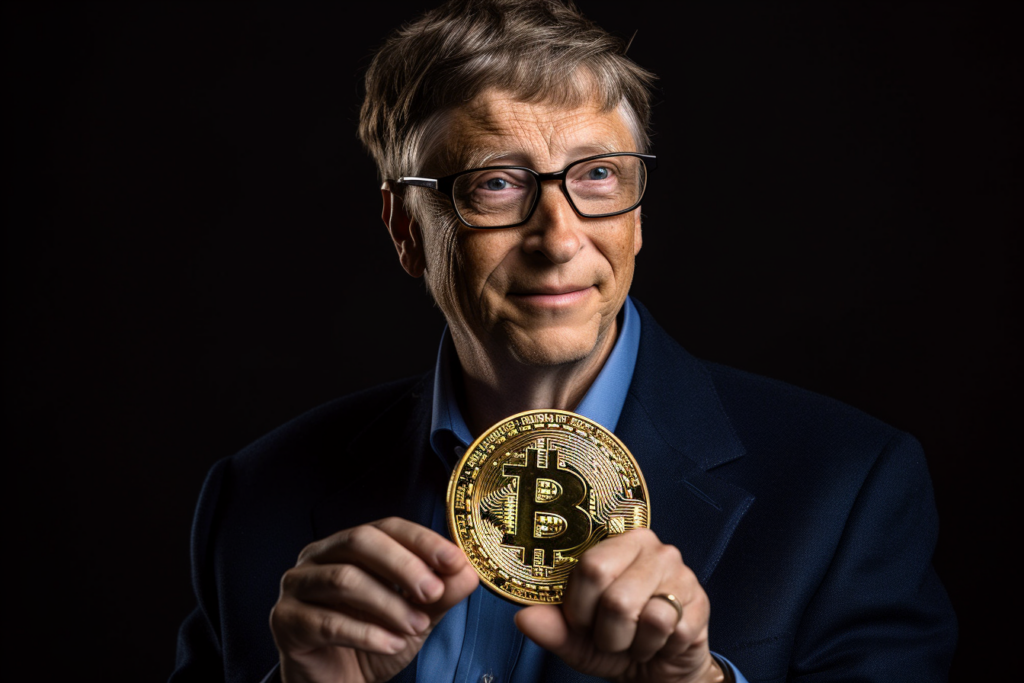 Bill Gates – the mastermind who revolutionized personal computing. He's the man who, long before the Linux enthusiasts proclaimed their open-source love, gave the world both the comfort and burden of Microsoft Windows. As a longstanding builder in the world of computing, naturally, people want to know what Bill Gates thinks about bitcoin
When it comes to Bitcoin, Gates has displayed a palpable hesitancy. Interestingly, Gates had initially demonstrated optimism for Bitcoin back in 2014, but his enthusiasm seemed to temper, leaving him adopting a more neutral position by 2023.
Herein lies an intriguing paradox. Gates, the creator of one of the world's leading software giants, remains cautious about fully embracing Bitcoin, a transformative force in the financial world. This element of the digital revolution, it seems, has yet to win him over completely.
There's a potential missed opportunity here. Bitcoin, with its decentralized nature and global accessibility, could be a powerful tool for the underbanked societies that Gates strives to uplift through the Gates Foundation.
It's evident that his stance on Bitcoin is nuanced, colored by skepticism, ignorance, and a lack of recognition of its potential.
So, what exactly has Gates said about Bitcoin? As we delve into his statements, we may discover that the billionaire's relationship with Bitcoin is more complex than it appears.
What Does Bill Gates Think About Bitcoin?
Bill Gates Hates Bitcoin More Over Time
The Early Years (Bitcoin Is Great)
Diving right into Bill Gates' public discourse on Bitcoin, we first encounter a considerably optimistic Gates in a 2014 Bloomberg Street Smart interview.
Back then, he perceived Bitcoin as an exciting, cost-effective innovation that surpassed traditional currency in terms of convenience. He remarked:
"Bitcoin is exciting because it shows how cheap it can be. Bitcoin is better than currency in that you don't have to be physically in the same place and, of course, for large transactions, currency can get pretty inconvenient."
In 2015, Gate's hosted a Reddit AMA, and when asked for his opinions on Bitcoin by a Redditor, he had this to say:
"Bitcoin is an exciting new technology. For our Foundation work we are doing digital currency to help the poor get banking services. We don't use bitcoin specifically for two reasons. One is that the poor shouldn't have a currency whose value goes up and down a lot compared to their local currency. Second is that if a mistake is made in who you pay then you need to be able to reverse it so anonymity wouldn't work."
The Middle Years (I Don't Own It, But I Won't Short It)
However, fast forward to a 2018 Reddit AMA, and we see a shift in Gates' tone.
Confronted with a query about Bitcoin, he revealed a level of skepticism regarding its intrinsic value:
"I don't own any. I like investing in things that have valuable output…"
Gates alluded to the value of Bitcoin as being "just what some other person decides someone else will pay for it" and not "adding to society like other investments."
By February 2021, in a CNBC Squawk Box interview, Gates laid bare his stance:
"I don't own #Bitcoin. I'm not short Bitcoin."
Interestingly, he highlighted the crucial role of digitizing money and slashing transaction costs, something he identified as a key goal of the Gates Foundation in developing countries:
"I do think moving money into a more digital form and getting transaction costs down, that's something the Gates Foundation does in developing countries."
Unlike other Billionaires like Richard Branson who see the potential for bitcoin as a global monetary standard, Gates continues to issue cautionary tones, such as his interview in Bloomberg Technology from the same month. He voiced his concern for individuals getting swept up in the Bitcoin frenzy, cautioning:
"If you have less money than Elon, you should probably watch out." Further, he scrutinized Bitcoin's anonymity, arguing that it "happens to promote anonymous transactions."
The Recent Years (Bitcoin Has No Value)
The environmental implications of Bitcoin were brought to the fore during a Clubhouse podcast with Brian Penny. Gates pointed out:
"Bitcoin uses more electricity per transaction than any other method known to mankind, and so it's not a great climate thing."
However, he conceded that if the energy involved were green, its environmental footprint would be less alarming.
Gates' narrative reached a decisive pinnacle in 2022 during a TechCrunch appearance, where he declared that Bitcoin and emerging technologies in the same space are based on the "greater fool theory" lacking substantial contributions to the world.
Following Gates' commentary through the years, we uncover a journey from early intrigue to growing skepticism and caution. His evolving perspective on Bitcoin provides a fascinating lens through which to view this groundbreaking technology.
Digging Deeper In Bill Gates Comments On Bitcoin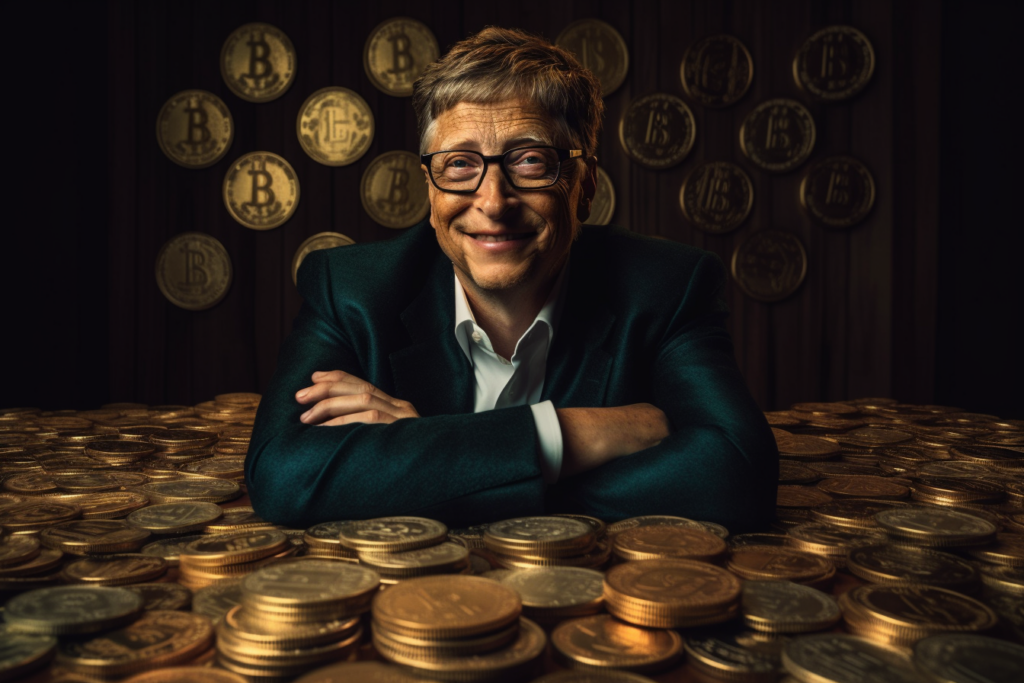 Bill Gates, a juggernaut in the tech arena, a benevolent force in philanthropy, a formidable player in geopolitics, and a vanguard in charitable initiatives, has left an indelible imprint across a vast spectrum of domains.
However, the question that generally piques our curiosity is whether this expansive influence accords him any credence as a Bitcoin expert. The court of public opinion is often prone to bending towards the views of influential figures who boast a track record of wealth and success. This is a logical fallacy called appeal to authority, whereby you assume because someone is successful in one domain, that they are experts in many others.
So, how do Gates' insights into Bitcoin fare when placed under the discerning gaze of those well-versed in the dynamics of Bitcoin?
Bitcoin as Lifeline
Rewind to 2015, a year in which Bill Gates spoke candidly about Bitcoin during a Reddit AMA. For Gates, it seemed that Bitcoin was more akin to a game of hot potato than a bona fide investment and was definitely off limits as far as his philanthropy was concerned.
Here's the thing about Bitcoin – it's not just a pretty face with a hefty price tag. Sure, its meteoric rise has been nothing short of breathtaking, but the real charm of Bitcoin lies in its decentralized, peer-to-peer nature. It's money you can send over the internet, without a third party managing (i.e. controlling) your transactions.
Bitcoin tends to thumb its nose at governmental control, a trait that's seen as a lifesaver for those attempting to safeguard their wealth from local economic turbulence.
Bitcoin Is Volatile, But It's Better Than A Failing Currency
Consider countries like Venezuela and Zimbabwe, where hyperinflation has taken a severe toll. In such circumstances, Bitcoin has emerged as a digital oasis of stability.
As their local currencies continue to plummet, citizens are turning to Bitcoin to store their wealth and continue financial transactions despite the economic chaos, filling the gaps of local inflated currency. Bitcoin has handed them a financial lifeline in the stormy seas of hyperinflation.
Bitcoin isn't just helping fight hyperinflation in Venezuela and Zimbabwe. Countries like Nigeria and Argentina are also getting in on the action. In these nations, Bitcoin isn't just a speculative asset or an investment – it's a necessity.
In Nigeria, for instance, inflation rates have consistently hovered above 10%, sometimes even reaching as high as 22%. Amid this, Bitcoin adoption in Nigeria has surged.
The situation is similar in Argentina. With an inflation rate that once hit nearly 110%, the Argentine peso is constantly losing its value. Against this backdrop, Bitcoin has emerged as a haven for Argentinians, offering an alternative to their rapidly depreciating local currency.
An Escape Hatch Can't Be Centralized
Bitcoin can also address other issues related to conventional financial systems. With Bitcoin, cross-border transactions can be done without the need for exchange rates or hefty bank charges.
This can be particularly beneficial for migrant workers who regularly send remittances back home, especially in cases where economic sanctions have all but removed this option.
Bitcoin's blockchain technology, characterized by its transparency, has the potential to reduce corruption and improve governance. The public ledger of transactions is transparent and almost impossible to manipulate, adding a level of accountability that may be missing in some countries.
While Bill Gates may remain skeptical, the reality on the ground tells a different story. In places where economic hardship is a part of daily life, Bitcoin is more than an investment or a technological novelty – it's a financial lifeline, providing hope and stability amidst the chaos.
What Gates seems to fail to understand is that if there were a digital currency that had its value artificially stabilized by a centralized body, it wouldn't be allowed to exist in these countries with authoritarian governments.
After all, why not just use PayPal? Because they can't! I'm not really sure how Gates plans on helping the unbanked with "digital currency" in a via centralized price management of a token, but won't fall into the same traps as modern fintech banking like PayPal and CashApp.
Greater Fool Theory Exposing Bill Gates As The Fool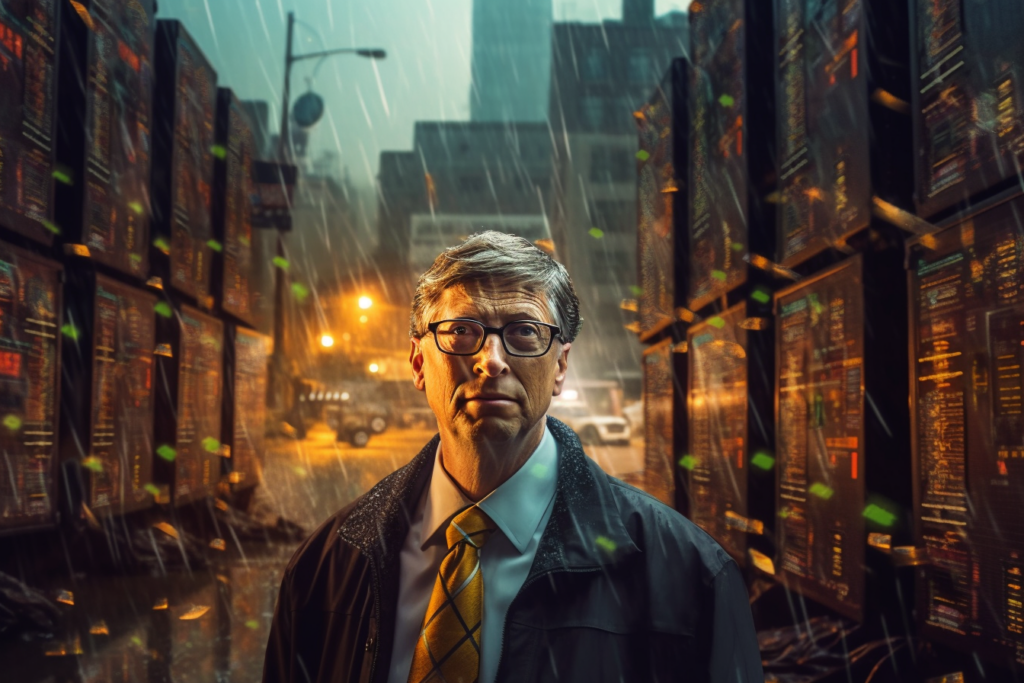 The Greater Fool Theory (GFT) might be a familiar concept if you've ever scratched your head at why people invest in seemingly overpriced assets. In a nutshell, the GFT posits that it's possible to make a profit from an overpriced asset, providing there's a 'greater fool' ready to fork out an even higher price later on.
This theory has popped up time and again, notably during the Dotcom bubble and the housing market crash of 2008. Investors bought into hyped tech stocks and real estate, aiming to sell them off for a profit to the next willing buyer.
But when the greater fools ran out, prices tanked, leaving many nursing hefty losses.
Bill Gates applied this theory to Bitcoin, likening its investors to those hoping to make a quick buck from the next 'greater fool' and suggesting that this economic theory created the framework for the success and widespread adoption of Bitcoin.
All Assets Require A Liquid Market Of Buyers And Sellers
True, the value of Bitcoin, like any asset, hinges on what the next person is willing to pay for it. Whether it's stocks, gold, or property, the value is ultimately decided by market demand. Yet, Bitcoin holds a distinctive edge over these assets.
Bitcoin's allure lies in its intrinsic value – the value derived from its innovative attributes. It is a type of money that cannot be debased by governments or censored by corporations, and it can be stored/transferred at the speed of light. Ownership is determined by who owns the keys. No other asset or commodity can do that.
Bitcoin shines as a beacon of financial stability amidst the tumult of economies grappling with hyperinflation. It streamlines the pathway for economic remittances and money transfers, lifting the burdensome costs typically associated with these transactions.
It fuels investigative journalism by facilitating donations, combats government corruption through enhanced transparency, and extends financial services to those who have been left on the sidelines of traditional banking.
If these groundbreaking functions don't qualify as 'valuable outputs' or 'contributions to society,' we might need to redefine those terms.
Does He Hate Bitcoin, Or Does He Just Not Get It?
Gates' dismissive remarks could stem from an inability to control Bitcoin's trajectory or a straightforward lack of comprehension. We often see this with well-meaning philanthropists and successful entrepreneurs who regard bitcoin as "interesting", but not "the thing". My bet is that if they owned a stake in "the thing" that it would be the answer they were looking for. Bill Gates can't influence bitcoin, so it couldn't possibly be valuable.
Regardless of the motive, it seems Gates has missed the mark on understanding how profoundly beneficial Bitcoin can be.
Yes, there are undoubtedly Bitcoin investors who only hope to offload their coins onto the next buyer, but there are many more who can see bitcoin for what it's worth. Many are in it for the long haul, firmly believing in Bitcoin's long-term potential and its transformative power.
Bitcoin Isn't Just For Billionaires
Gates' assertion that only the uber-wealthy, such as Elon Musk, should dabble in Bitcoin investments is not only a curious one but outright incorrect. It implies that only those with vast wealth can afford the risk associated with Bitcoin.
While it's true that any investment comes with a degree of risk, and Bitcoin's notorious volatility can indeed lead to substantial losses, this claim overlooks one fundamental aspect of Bitcoin – its inclusivity.
You absolutely do not need to possess a bulging bank account like Elon Musk to dip your toes into the Bitcoin pool. No need to shell out for a whole Bitcoin, which – let's face it – currently represents a fair chunk of anyone's disposable income.
You Can Buy A Fraction Of A Bitcoin And Secure It With Your Phone
Bitcoin can be broken down into smaller fractions known as Satoshis, with a whopping 100 million Satoshis making up one Bitcoin. Unlike real estate and many other types of high return investments, this means you could buy some Bitcoin with just a couple of bucks.
Investing isn't the only route to jump on the Bitcoin bandwagon. Across the globe, many are mining Bitcoin, add to that the multitude of online platforms dishing out bitcoin rewards.
Bitcoin's open-door policy is a stark contrast to traditional financial setups, which often keep top-tier investment opportunities behind a velvet rope for those flush with cash.
Not only that, but securing your investment, no matter how small, can be done on a typical mobile device, an inexpensive $100 dedicated hardware device, or even through DIY methods. No other method of securing wealth privately and independently can compare.
Bitcoin flips the script here. You could be Elon Musk or just an average Joe, buy you can still buy bitcoin and secure it in the same way as any other bitcoin hodler.
In its very essence, Bitcoin is a grand equalizer in the world of finance – offering a shot to participate in a global financial network, no matter the size of your wallet or where you land on the social ladder.
Bitcoiners and Tech World Respond
It seems that many in the Bitcoin community have taken issue with Gates' assessment. They view Bitcoin as more than just a simple currency or investment – it's seen as a revolutionary technology with the potential to profoundly impact society.
Reddit user DiNagila passionately responded to Gate's AMA
"I have achieved nothing in life, but damn when I heard about Bitcoin, I knew it was the greatest invention mankind has witnessed."
This sentiment is shared by Oleg Andreev of Oledganza:
"Wrong. Bitcoin is pretty hard to use anonymously while virtually no one uses altcoins designed to be more anonymous. Anonymity is a feature, but not the main one. The main feature is sovereignty."
Andy Savage of BitcoinNews was puzzled by Gates' categorization of Bitcoin, stating:
"Bitcoin isn't a commodity, nor a company. It's just money. So why is Gates confusing these very different things?"
The surprise isn't limited to the Bitcoin community. Even those from the tech industry, like Rob Viglione from ZenCash are taken aback by Gates' comments:
"What he fails to understand is that the entire cryptocurrency movement originated from a handful of cypherpunks advocating the need for privacy. These cypherpunks understood that there is a difference between secrecy and privacy, and that in any free society, the latter should be treated as a human right."
"One might expect that Bill Gates, who earned his billions in the tech industry, would be a bit more open-minded."
Bitcoin Is A Completely Different Way To Think About Money
In a more philosophical critique, Mike Ross Kane suggested that Gates' stance might stem from a "severe case of status quo bias."
Kane challenges us to envision the possibilities of a world where Bitcoin reaches its full potential – an idea that may seem radical now but could be closer to reality than we think:
"His prognosis for bitcoin only holds weight under the assumption that the world will be substantially the same in the future. Making that assumption might be good for avoiding controversy, but it is not necessarily true — in fact, it is highly likely to be false."
It's evident that Gates' perspective on Bitcoin, albeit intriguing, barely scratches the surface of its potential.
Bitcoin isn't merely a speculator's paradise – it's a beacon of financial sovereignty and a liberator for the financially marginalized. Far from being the villain, Bitcoin could be a lifeline to billions worldwide, serving as a stabilizing force amid economic uncertainty.
The key might just be to look beyond the gates of traditional finance and right into the heart of Bitcoin.
My Thoughts On Bill Gates And Bitcoin
I think the main reason Bill Gates has said negative things about bitcoin is because he doesn't understand it. He doesn't understand it because he hasn't taken the time to learn. He hasn't taken the time to learn because he assumes that if he doesn't think it can't work, that it cannot work. It's a circular kind of logic that prevents even the so-called smartest people in our society from understanding how bitcoin works and what benefits it brings to the world.
To be fair, Bill Gates has spent many years being the smartest in the room, either by actually being smart, or simply by being rich and people assuming it was his intelligence that got him there. After 50 years of never being wrong, I would imagine you start to believe that you never can be.
Bill Gates Hasn't Offered Intelligent Critique Of Bitcoin
From an outsider perspective, it seems pretty ridiculous that Bill Gates would make comments about brining digital currency to the unbanked and then completely write off bitcoin as a speculative gambling token. This is not an intelligent critique of bitcoin. At least Snowden offered some criticisms that showed he's engaged with bitcoin.
Another issue with Bill Gate's critique of bitcoin is that he shows he hasn't though of the problem of money. His money is managed by expert investors. He's got access to business deals behind closed doors. He built a business, and he's set for life. Many other people are struggling with the effect of inflation thanks to monetary and fiscal policy mismanagement, so where are they supposed to turn – their stock advisor? I think not.
It shows a serious lack of consideration for the people who use bitcoin to store and transfer value every day. Bill Gates sits in his ivory tower and declares bitcoin a Ponzi scheme, while us plebs are just figuring out how to not get fleeced by inflation. We're lucky that bitcoin exists.