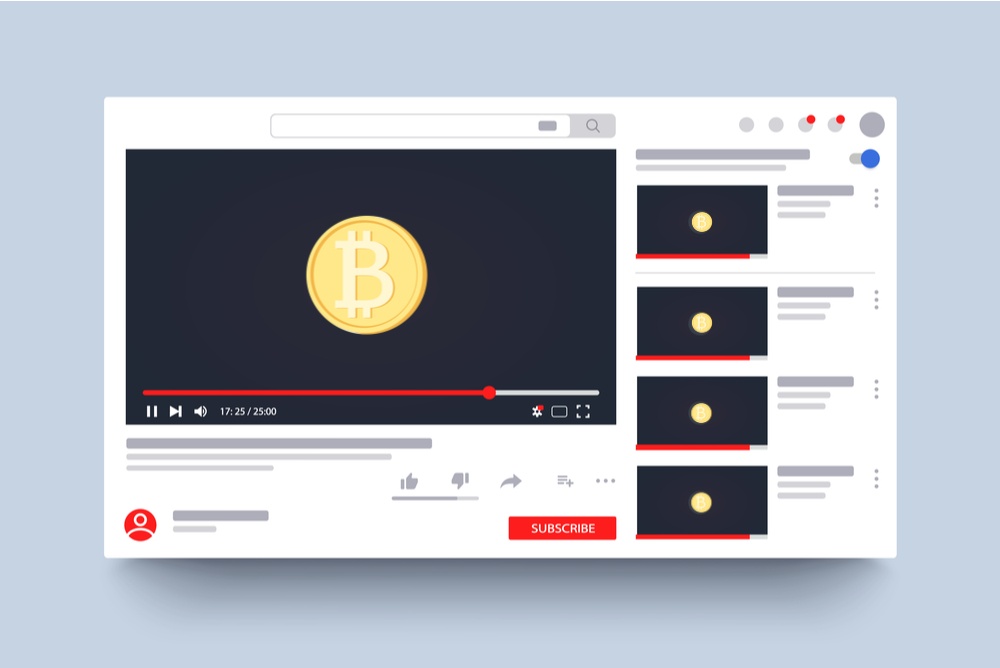 There aren't a ton of Bitcoin YouTube channels, but they are growing in number as more creators gravitate towards bitcoin as a means of saving money, and more bitcoiners get interested in creating content about their work and their passion. YouTube is great for visual learners and creators, and it's very much an untapped resource for bitcoin-only content.
Bitcoin YouTube channels are not just great for learning how to do technical things though. It's also really cool to sit in on conversations between people whose ideas you think are interesting and even participate in the discussion through live chat or comments. You can learn a lot about economics, global politics, and how money works just by sitting in on a few conversations between bitcoin experts.
YouTube and social media have opened up an entire world of being able to interact directly with people who live on the bleeding edge of their fields.
Here are some of my favorite bitcoin-only YouTube channels, plus some that I think look pretty good, but haven't had the time to get into. If you know of another channel I should include in this list, let me know in the comments! There's a variety of content covered, including tutorials, interviews, round table discussion, and price analysis.
10 Best Bitcoin YouTube Channels
1. BTC Sessions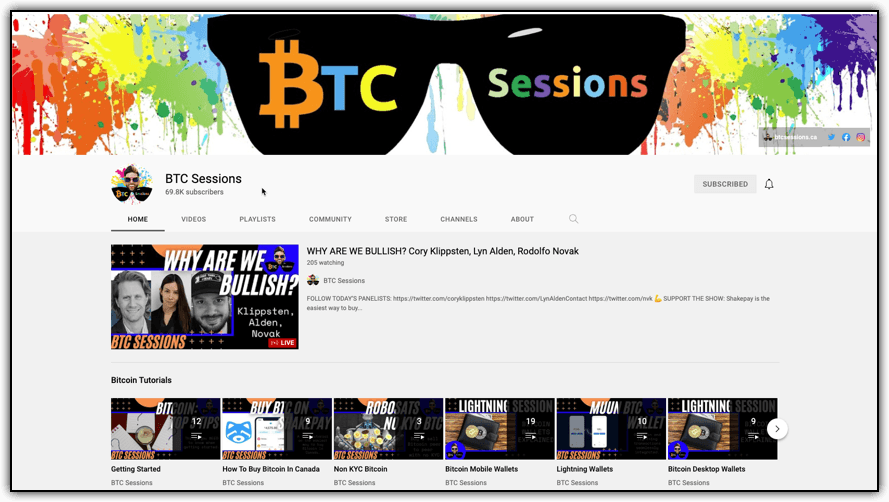 BTC Sessions is the #1 YouTube channel for in-depth, newbie friendly bitcoin tutorials. There really is no better channel out there if you want to learn how to do something in bitcoin. His tutorials are painstakingly step by step, targeted at newbies trying to do everyday things like set up a mobile wallet and hold their own keys, to complex things in bitcoin like set up multisig wallets and manage liquidity in a lightning node.
His weekly live show Why Are We Bullish? is also worth a listen. It's a roundtable discussion with all types of bitcoiners talking about recent developments in the bitcoin ecosystem and what they are "bullish" on. He does a great job of keeping the show lighthearted and bitcoin-focused, so it's a great way to keep up with bitcoin news.
2. Swan Signal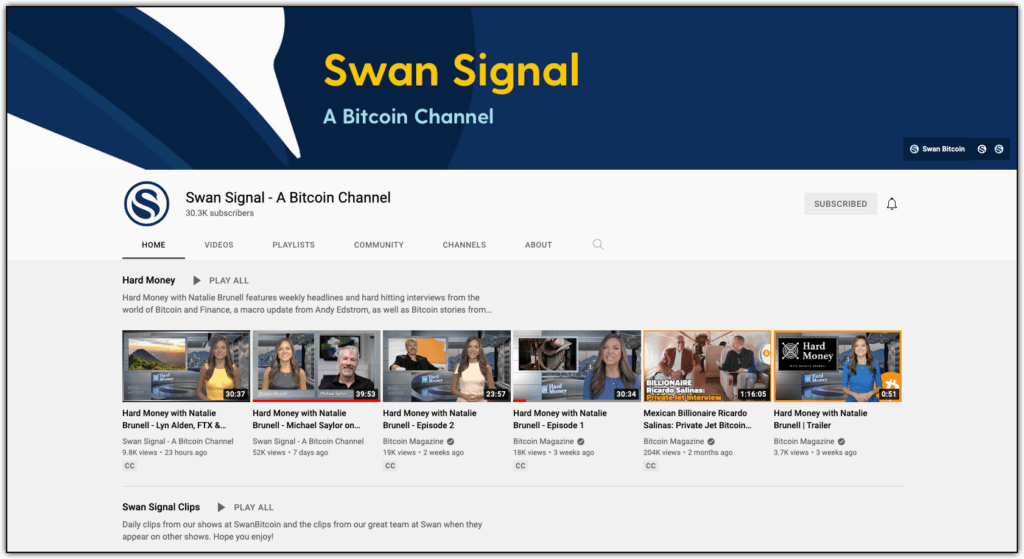 Swan Signal is the name for all the media channels from Swan Bitcoin, including YouTube, blog, and podcast. Swan is a bitcoin-only exchange, but also a dedicated bitcoin education center, and they put out a ton of content that can help you understand how bitcoin works, why bitcoin is important, and why you should own bitcoin. Maybe it sounds cliché, but this is a high-signal media channel worth being plugged into.
Their newest offshoot media channel is called Hard Money and is their version of a traditional weekly finance show aimed at bitcoiners. Keep up to date with bitcoin news updates, interviews with bitcoiners and bitcoin companies, and follow interesting topics happening in the world of bitcoin.
3. Simply Bitcoin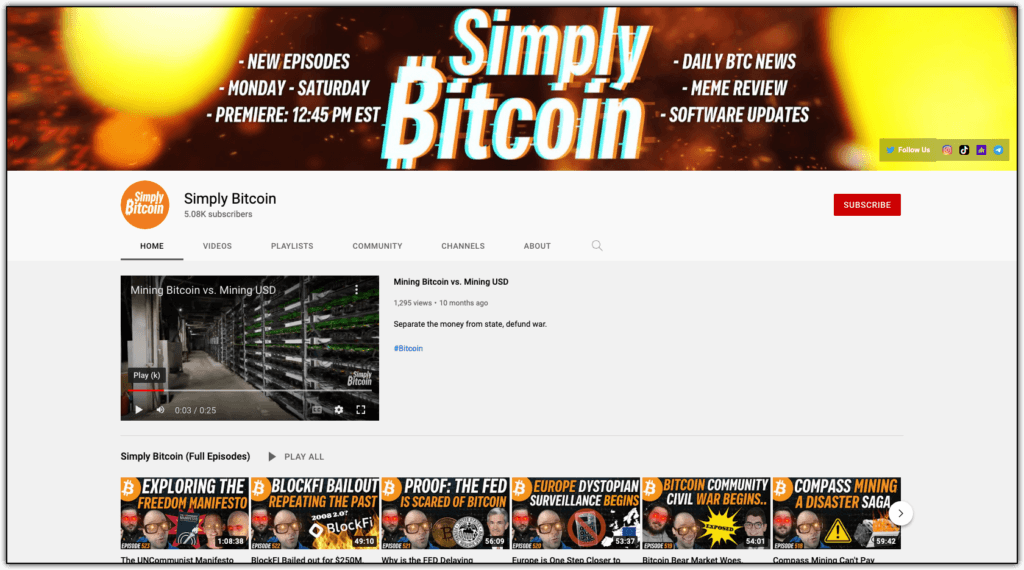 Simply Bitcoin: I don't actually watch Simply Bitcoin that much, but they are basically one of these podcast/youtube channels where they do audio as well as video content. They are bitcoin-only, and do all the new YouTube stuff like YouTube shorts and interact with the chat during the livestream. They have a daily livestream with recurring hosts, and then occasional guests. Sorry to be vague with this one but they are just not in my weekly roster of content, but they are one of the most subscribed bitcoin-only YouTube channels so they should be included in this list!
4. Max & Stacy Report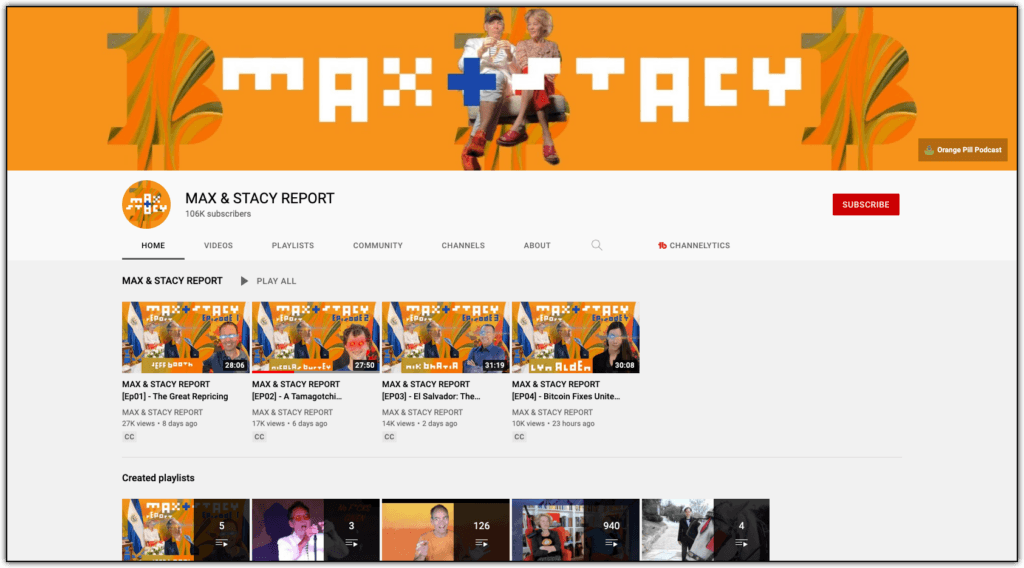 Max & Stacy Report is the newest show from Max Kaiser and Stacy Herbert, and seems to be their current effort to rebrand and consolidate since they closed down their show at RT. It's a little unclear right now whether this is a weekly or biweekly show since they are only 4 episodes into launch. Max and Stacy are known for their irreverent fun and big-picture views of bitcoin and the macro economy. This new show seems much more serious in tone, but it's hard to get too serious when Max is the cohost
Their original show, called Orange Pill, was podcast that was also filmed for YouTube. It was much more chill and humous, where "micropenis" was a common insult and there were frequent guest appearances by a rubber chicken named Plucky. They have a massive community, and their videos get 10s of thousands of views per episode on YouTube alone.
Both shows do guest interviews and have a strong focus on Max's views on bitcoin and its position in the broader global economy.
5. Kevin Rooke
Kevin Rooke has a unique bitcoin show in that it's focused exclusively on lighting-related topics. The videos are pretty standard interviews on a wide variety of topics all related to the lightning network. Kevin has a very thoughtful and thorough interview style.
I typically listen to the podcast version via the Fountain podcast 2.0 app where you can stream sats to the creator. Kevin also posts some interesting stats about the lightning network on his Twitter, so both the show and the Twitter are worth a follow.
6. Bitcoin For The Masses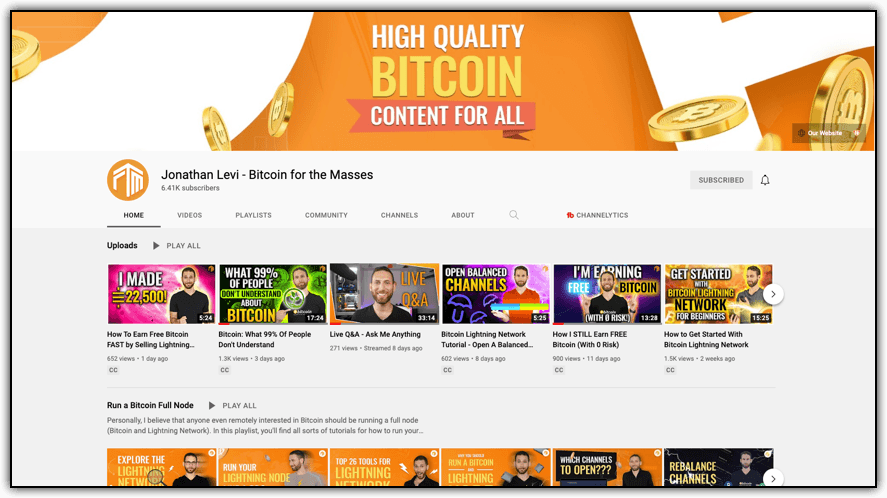 Bitcoin For The Masses is a tutorial-focused YouTube channel from creator Jonathan Levi, that covers topics like how to set up a node, how to use the lightning network (including managing channel liquidity), and bitcoin product reviews.
I have a lot of hope for the Bitcoin For The Masses YouTube channel because it seems targeted at mainstream bitcoin users, but also has quality, in-depth, PRACTICAL bitcoin-only content which is noticeably absent from YouTube.
7. TFTC + Rabbit Hole Recap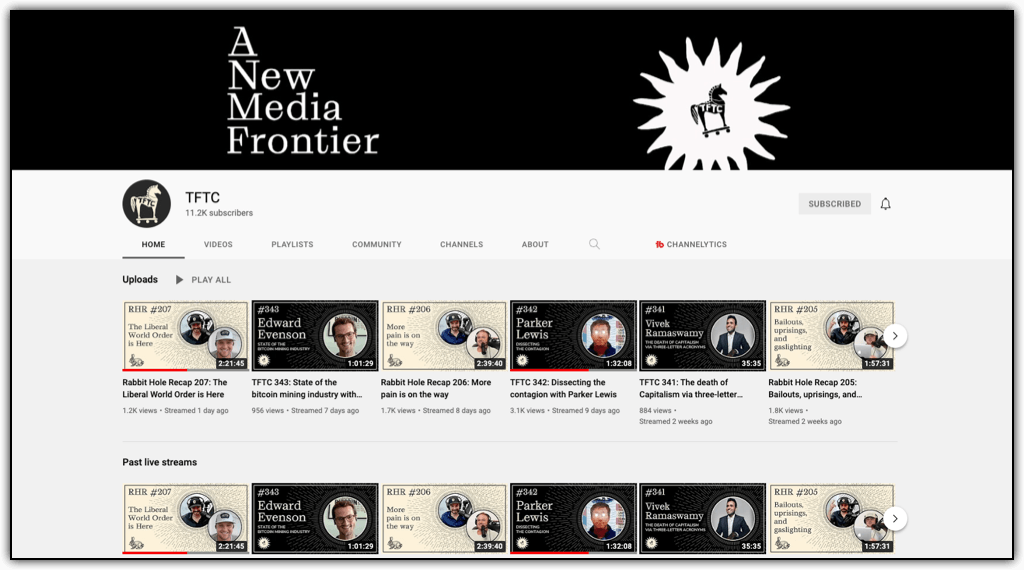 TFTC and Rabbit Hole Recap certainly are my personal favorite bitcoin podcasts, so the channel is worth a watch too. What used to be podcast-only, has now graduated to a live weekly YouTube show as well, where you can join in and comment each week as Marty and Matt go through weekly events and updates in bitcoin and how bitcoin relates to current events.
TFTC covers things like bitcoin mining trends, bitcoin mining energy sources, the bitcoin circular economy, global monetary trends, and monetary freedom. Rabbit Hole Recap is more focused on weekly updates and news, including software updates, trends in bitcoin, and global events as they relate to bitcoin. Rabbit Hole Recap is my #1 pick for high-signal bitcoin content and is a show I do not miss under any circumstances.
8. The "What Is Money?" Show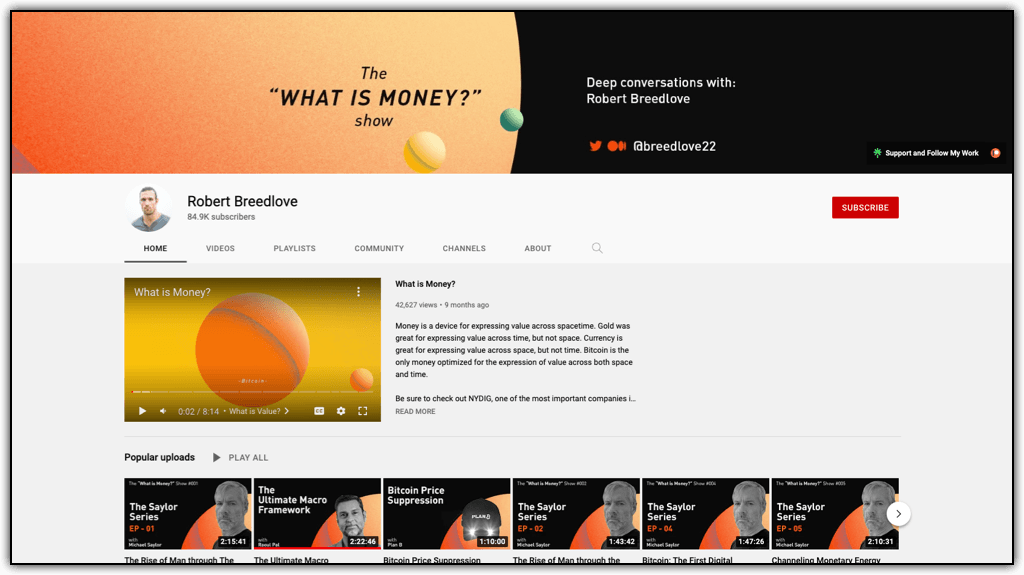 The "What Is Money Show" is hosted by Robert Breedlove, and is about money as a technology. It's a bitcoin focused show, but covers bitcoin's relationships to other types of money, including gold and fiat currency. The show also dives into ideas about how our current monetary system is broken, causing distorted incentives in many aspects of society like healthcare, politics, technology, and science.
I like the unique format of the show, in that there are multiple series of interviews done based on a person, not a topic. For example, the most popular series is The Saylor Series, which contains seventeen 2-hour long sessions with Michael Saylor about the history of money and how we arrived at Bitcoin. There are many other series in this format as well, including epic interviews with Jeff Booth and Preston Pysh.
9. Tone Vays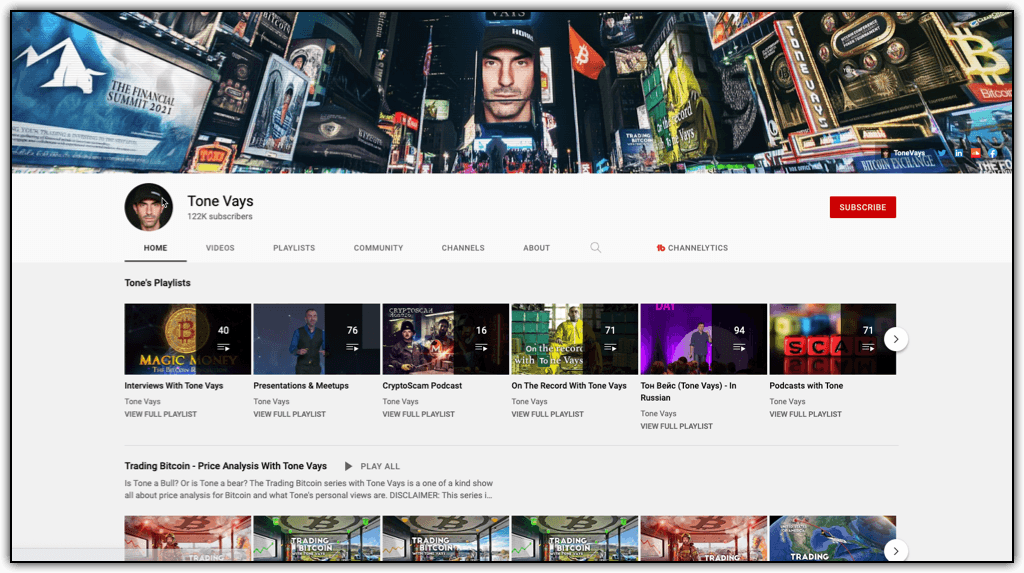 Tone Vays is a long time bitcoiner and well-known bitcoin trader. Honestly, I haven't seen too much of his channel because the most consistent content is trading-related content, but there are lots of other interviews he does, plus he's had his channel for a long time so you can "go back in time" to see historical content starting from about 2017.
I think it could be interesting to go through some of his uploads and see what's available. His trading content gets thousands of views, so if that's your thing go for it, but it's not really the type of content I watch.
10. Bitcoin Magazine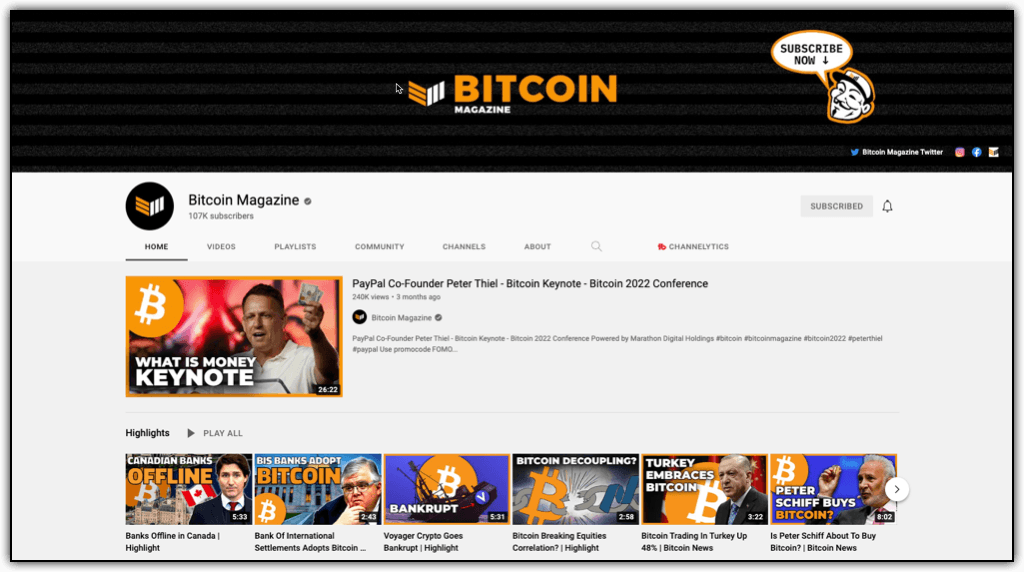 Bitcoin Magazine is what you'd expect from a YouTube channel from a magazine: lots of interviews, live shows, clips, and news event coverage. I like to watch the recordings from the Bitcoin Magazine Conferences, and though I don't trade bitcoin, I do enjoy listening to technical analysis trends from Dylan LeClair in the live show from time to time.
11. All Things Bitcoin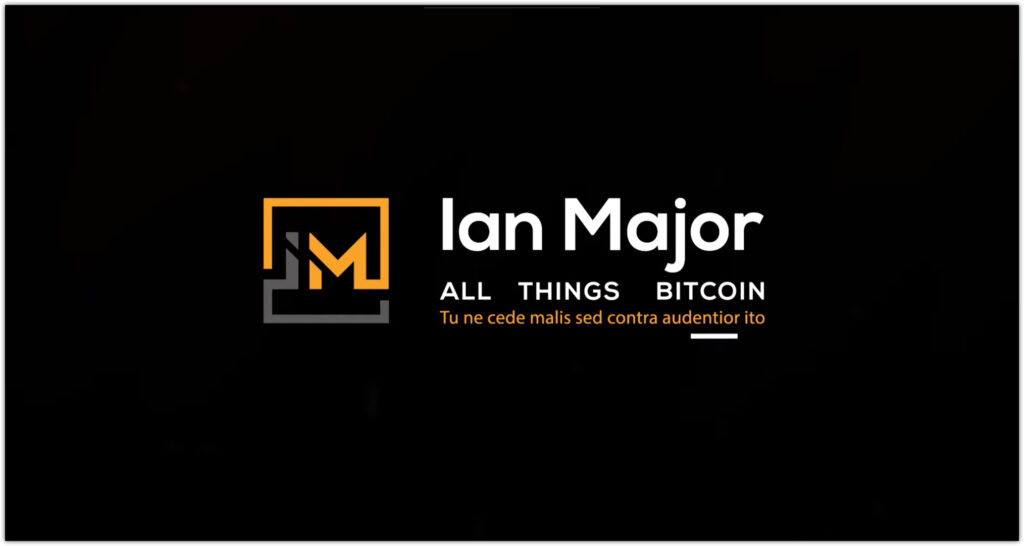 All Things Bitcoin is a channel that really delivers on its namesake, and talks about everything bitcoin. Tutorials, news, opinions, etc. What's interesting about All Things Bitcoin is that this most popular videos are the tutorials like the Coldcard Mk4 tutorial or the BlueWallet tutorial, each racking up thousands of views. Meanwhile, some of the more sensational about like "attacks on bitcoin and "the truth about energy consumption" says don't get as much traction. Just interesting to see that there really are dedicated folks trying to learn how to use bitcoin rather than care too much about the day to day news.
His tutorial style is pretty chill and easy to follow, so I recommend you browse around to see if you can learn something new!
12. Bitcoin University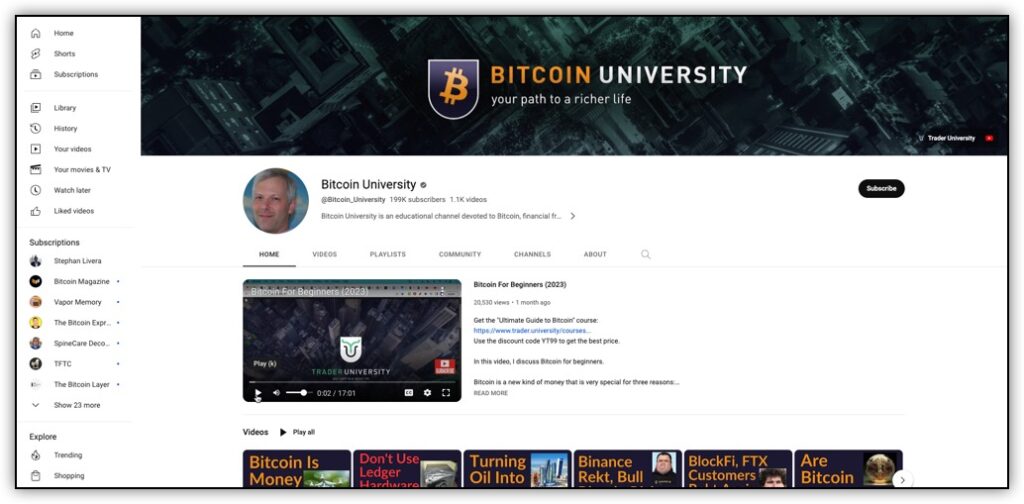 Bitcoin University is a great YouTube channel because no matter what your question is, they've probably answered it. I embed their videos in my articles A LOT because no matter what I'm writing about, they've got something on it, and their vision for bitcoin lines up very well with the bitcoin maximalist viewpoint.
They offer specific answers to specific questions, but also have some opinions and talk about news. His videos are a little dry and very basic, but are packed with high quality information. Most videos are a simple powerpoint presentation with text and images as he talks. It's very well organized, easy to listen to, and the audio is high quality. Just be aware that there aren't a bunch of lighting tricks and jump cuts like you typically see on YouTube. Very straightforward stuff.
As you watch the videos, be aware that the older ones are branded as Trader University, and you'll see that logo a lot, but the channel owner transitioned to Bitcoin University recently.
More Bitcoin YouTube Channels
More bitcoin channels keep appearing, so I'll just keep a running list as I find them, and do reviews as I spend time watching them. I resisted posting podcasts that double as YouTube channels for a while, but I'll cave and start posting them as well, as long as there is actual video feed (some podcasts just post audio to YouTube)
Final Thoughts
You can listen to bitcoin podcasts all day long, but until you are actually taking action on these ideas like holding your own keys, running your own node, and using bitcoin, you're still just trusting that all this stuff works.
For myself, I know that I came into bitcoin with a basic level of technical computer knowledge, and it has only been through video tutorials that I've been able to learn how to do basic bitcoin things like flash an OS onto a raspberry pi so that I can run a node or how to troubleshoot bitcoin transactions and create a self sovereign multisig quorum.
YouTube Is Visual
Sound complicated? It's not that bad when you watch people do it step by step. Just rewind the video a hundred times until you get it right. You can learn a lot about every bitcoin topic from individual people who are taking action and sharing their knowledge.
YouTube is a great learning platform for visual people. It has massive reach and is pretty much the second largest search engine in the world, second to Google. Need to know how to do something? There's a 99% chance that there's a YouTube tutorial about it.
Even if you are just listening to an interview with someone, actually watching people speak is a whole different vibe from just listening through headphones. Conversations about bitcoin can range from general fireside chats over beers and whiskey, to roundtable discussions, to one-on-one interviews.
YouTube Is Generally Dog Shit For Bitcoin Content
I look at YouTube a lot to pair video companions with my written content with video embeds, and it's a real shit show on YouTube. Watch out for yourself when you browser for YouTube content. The top results are almost 100% of the time crypto clickbait garbage.
Every single big crypto channel just posts trashy clickbait headlines every day just to get you to pump their ad revenue, sign up to exchanges, and trade shitcoins. Many of them do backdoor deals with altcoins for undisclosed paid sponsorships. One of my personal pet peeves is people who make market timing calls to their audience because people often take action on this advice, trade it, and get rekt.
Personally, I think bitcoiners do a better job of not posting bullshit. Surprisingly, these YouTube channels listed above were pretty much all I could find out there. Literally just 12 bitcoin-only YouTube channels. There are a few others, but they were pretty low quality in my opinion, so I didn't include them. Everything else is crypto trash and price speculation.
There is still a growing demand for bitcoin-only content, and if you've got the desire to start a YouTube channel about bitcoin, I think there's a massive opportunity here. I hope to see this space expand over the next bear market.
Frequently Asked Questions
What Are The Best Bitcoin YouTube Channels For Beginners?
For learning technical things and how-to videos, the best Bitcoin YouTube channel for beginners is BTC Sessions. For interviews and discussions about Bitcoin, the best channel is probably Swan Signal.
Are There Any Spanish Language Bitcoin YouTube Channels?
The best Spanish Language Bitcoin YouTube channel I could find was BTC en Español. Though Spanish is not my first language, I can see that many of their tutorials are for bitcoin products and they appear to be a bitcoin-only channel.
Who is The Biggest Bitcoin YouTuber?
The biggest Bitcoiner on YouTube in terms of subscribers and views is Andreas Antonopolos, but the most prolific and well-know as a "YouTuber" is BTC Sessions.
Are There Any Women Doing Bitcoin-Only YouTube Content?
The most well-known woman in Bitcoin on YouTube is Natalie Brunell who runs the podcast/youtube show Coin Stories, and is also the host of Hard Money. There are many other women who do crypto shows, but they are shitcoiners so not worth mentioning. There are many women who would fall under the category of bitcoin maximalists, contribute to bitcoin code, and create or work for bitcoin-only companies, but they do not create YouTube content.