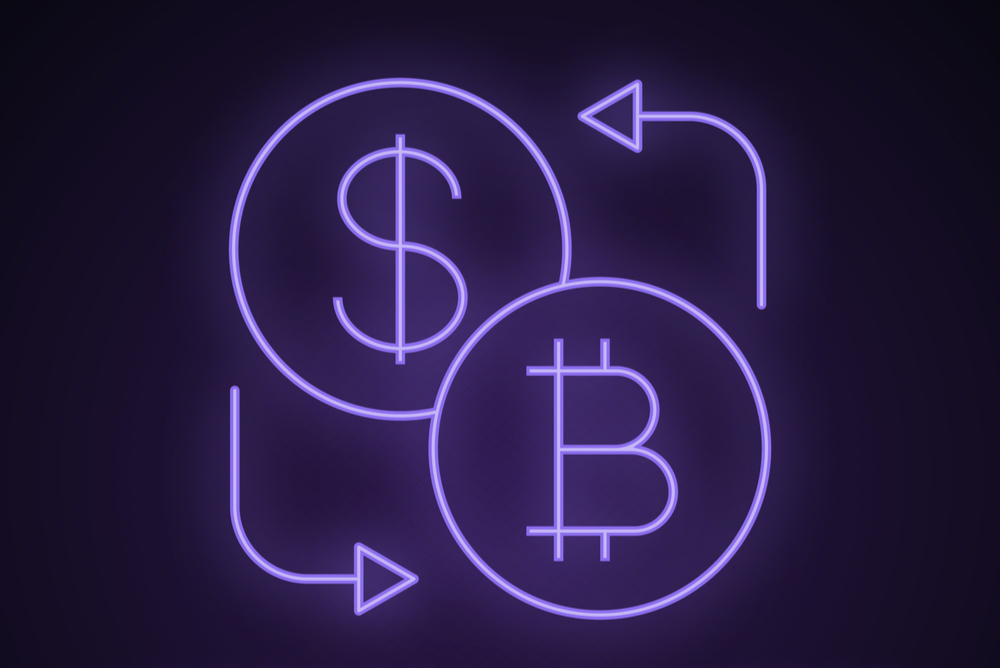 Once you decide to pull the trigger and get some Bitcoin, one of the first decisions you'll have to make is where to buy your Bitcoin. There is more than one way to buy Bitcoin! The most common way to buy Bitcoin is through an exchange, and then you'll have to decide which exchange to use. Some exchanges offer bitcoin, plus a variety of other cryptocurrencies, but I recommend working with bitcoin-only exchanges.
On the surface, it may seem like this is an unimportant decision. The bitcoin you buy anywhere is the same, right? (this is correct).
There are three main reasons you would want to work with a bitcoin-only exchange to buy bitcoin.
1. Simplicity Of User Experience
2. Longevity Of Exchange
3. No Shitcoin Marketing
Why Buy From Bitcoin-Only Exchanges?
Simplicity Of User Experience
When you're dealing with a bitcoin-only exchange, there's one goal in mind. Buy bitcoin. That means they are on the back end trying to make your bitcoin purchase as fast and easy as possible. Whether getting your first bitcoin buy completed as fast as possible or setting up a recurring bitcoin buy as cheaply (zero fees are common) as possible, the goal is clear.
When you deal with generic cryptocurrency exchanges, their incentive is to get you to trade coins, because that's the main way they make money. If you are only interested in buying bitcoin, then there will be about 90% of a crypto exchange that will be useless to you.
Longevity of Exchange
For an exchange to become bitcoin-only, it's a strong social signal that the exchange is committed to the bitcoin story and is planning to support bitcoin for the long term. For crypto exchanges, the story is different. It doesn't matter what coins they support, and long as there are new and exciting narratives to exploit.
Not only are crypto exchanges at risk of being regulated as securities, they are also at risk of engaging in trading themselves and becoming insolvent. This happened with FTX, who was lending money to their sister company Alameda Research. After a couple of big trades went bad, the whole thing blew up.
Aside from that, it's clear that with ten thousand different cryptocurrencies and new ones being invented daily, it's a massive task to keep up with security. It's easy to see that when an exchange is focused on adding new coins instead on the security and longevity of their company, there's a bigger chance of hacks. Bitcoin-only exchanges are hyper focused on doing one thing, and doing it well.
No Shitcoin Marketing
It's actually shocking what some of these crypto exchanges do to encourage trading. Coinbase, the biggest crypto exchange in the US is actively calling their users "degens" (degenerate gamblers).
Gemini has offered free NFTs and done a number of "air drops" of meme tokens to get them into the hands of users and jumpstart trading activity. I guess free money is free money, but do you really care about a corporate NFT or a frog meme pump and dump if you are trying to understand the value of bitcoin? For new bitcoiners, this is wasting their time and muddying the waters for understanding the value of digital money.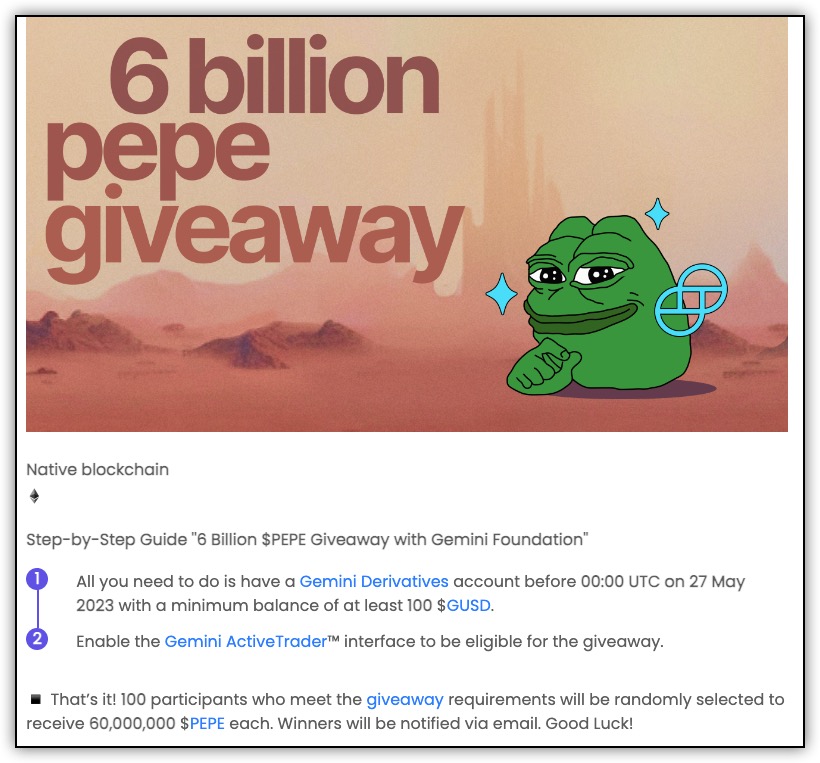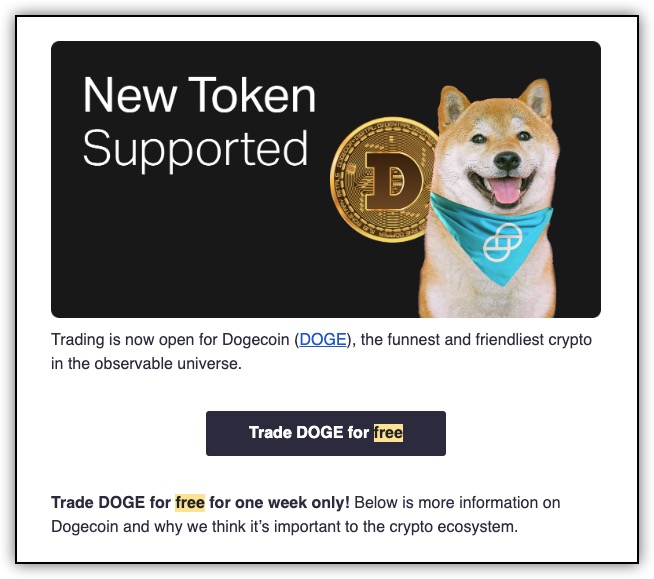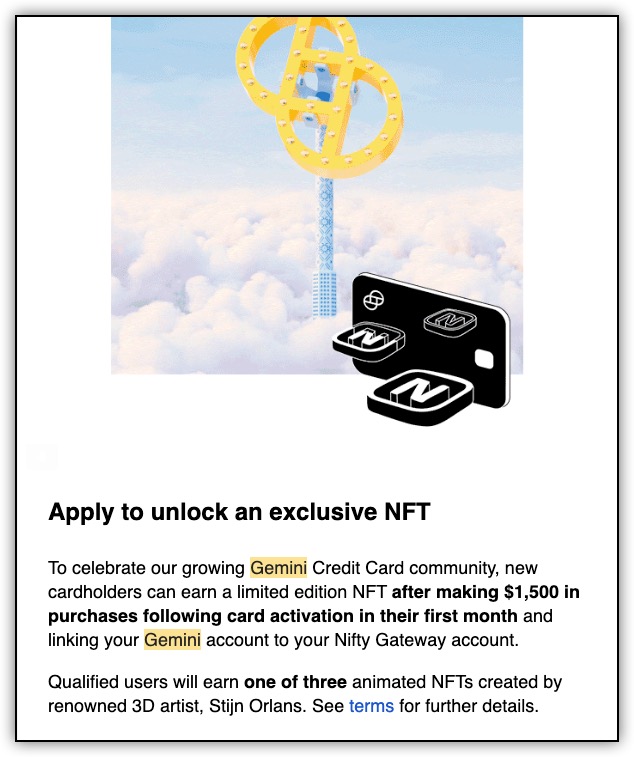 It's all a massive distraction from the real value of bitcoin.
Many people get started with the most famous crypto exchanges like Coinbase, Gemini, Kraken, Binance, FTX, or others. While these are easily accessible, offer great incentives to sign up, and considered "trusted" crypto businesses, I recommend that you use a Bitcoin-only exchange.
You'll Learn More About Bitcoin
Many bitcoin exchanges offer free educational material in addition to provide you a service. Maybe that seems a bit whatever since you can hop onto YouTube or read a substack for free, but I think it's a nice incentive to invest your time learning from a trusted source of bitcoin-only content. When there's a million things you can read, an email or two of a few hundred simple words about bitcoin news can be useful.
For example, many bitcoin-only exchanges encourage and even help users withdraw their bitcoin to cold storage so you never have to worry about your bitcoin. I switched exchanges once and even hopped on a Zoom call with verify some things about my cold storage setup and they were happy to help.
Bitcoin-only exchanges love bitcoin, and want to help bitcoiners. Step into the world of bitcoin with the right mindset and survive a couple of bear markets with your stack of bitcoin fatter each year. Here are some trusted Bitcoin-only exchanges by region, where you can buy and sell Bitcoin online.
US Bitcoin-Only Exchanges
USA
River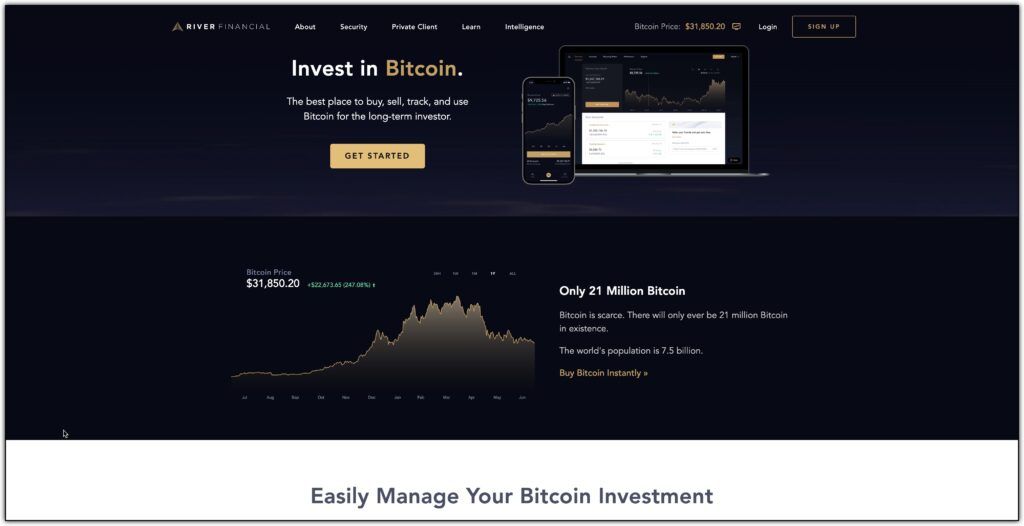 River.com is cool because they allow you to buy the most amount of Bitcoin right out the gate. Within a few minutes of signing up, I was able to buy up to $100,000 USD worth of Bitcoin right from my bank account. That's a lot – most people aren't going to buy that much in one go, but consider that most exchanges will only allow you to buy $5,000 initially, then may bump you up to something like $25k later on. If you plan to buy $20-30k initially, on other exchanges, you'd have to split up your buy into multiple days, or set up a wire transfer, which would still take a day or more to come through.
River has a great app as well, though it's a bit limited in that you cannot send Bitcoin at this time. It's mostly for account management and Bitcoin buys.
Swan Bitcoin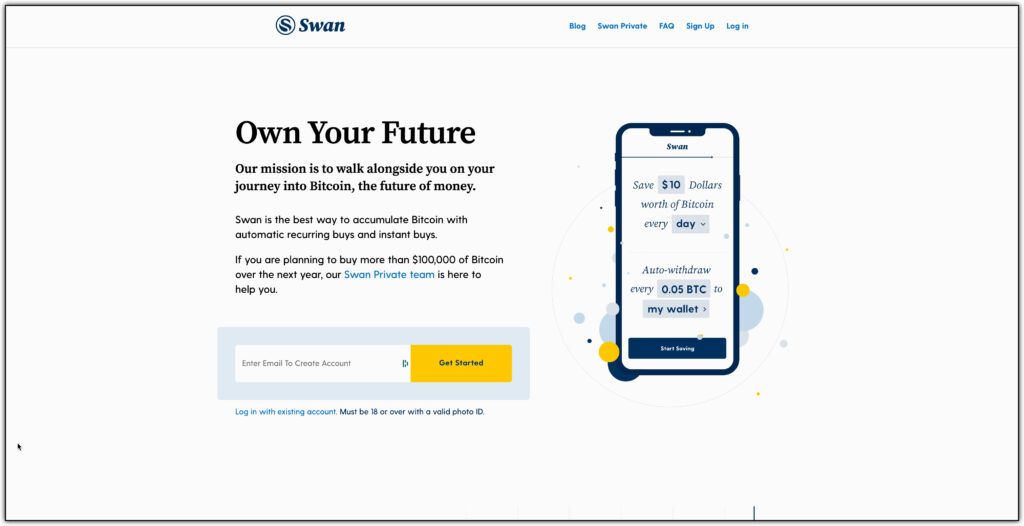 Swanbitcoin.com is famous for their recurring-buy program. They want to encourage best practices for buying Bitcoin, which means doing regular, recurring buys and withdrawing to your own wallet. They are a popular exchange because they have heavily invested in Bitcoin education. They often give away a popular book called "inventing Bitcoin", they produce several Bitcoin podcasts (plus sponsor many more), and have a blog with original Bitcoin content.
They also produce YouTube videos, and at one point were running a 24/7 YouTube channel called Bitcoin TV. They are all in.
I haven't used this exchange myself, so I'm not exactly sure how the dynamics work. From their advertising, it sounds like you can set up and auto-buy based on fiat amount, then auto-withdraw to your hardware wallet based on BTC amount. I'm not sure how they set this up, but will update this section when I give them a try.
Unchained Capital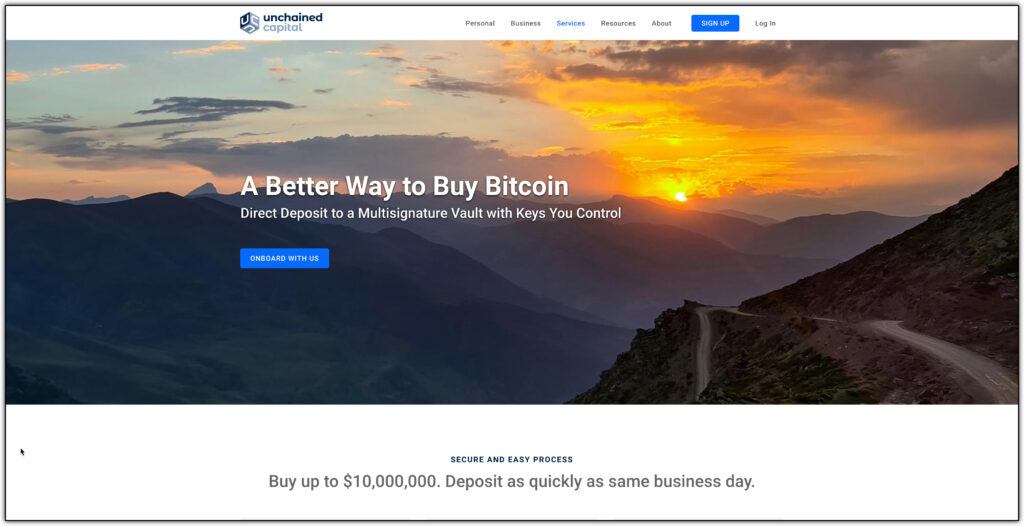 Unchained-capital.com offers a number of services, so they are not a "Bitcoin exchange" first. Their two most popular products are their multisig vault and their Bitcoin-backed loans.
With a multisig vault, you own 2 of 3 keys, and unchained holds the third. This 2 of 3 setup is a popular way to boost your security, and save your butt if you make a mistake with one of your keys. If you lose one of your keys or it's compromised, unchained can help you send a transaction or set up a new key since they have one, and you still have one, you can still construct a 2 of 3 signature. This is a free service.
They also offer Bitcoin-backed loans, meaning if you have some Bitcoin, you can borrow fiat money based on how much Bitcoin you have. For example, with their current 40% loan-to-value ratio, if you have $100,000 USD value in Bitcoin, you can borrow up to $40,000 USD in dollars. This can be a good way to get some liquidity without selling your Bitcoin.
Some people employ Bitcoin-backed loans to do some unique financial tricks to save themselves on taxes or buy more Bitcoin.
Strike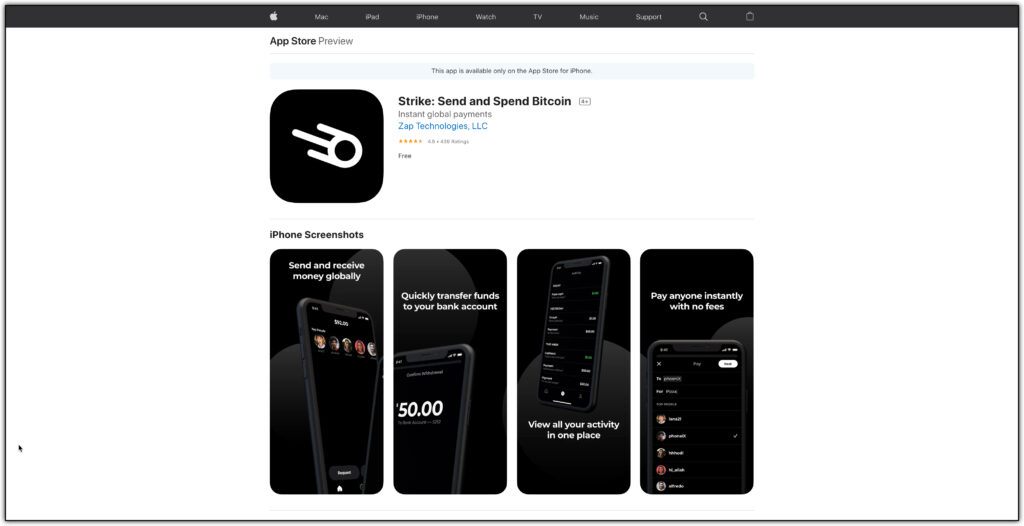 Strike App (iOS & Android only) is actually like Venmo, PayPal, or Cash App, where you use it to send money to people. The difference here is that Strike is built on Bitcoin rails instead of USD rails. I can send USD or Bitcoin, and I can use it with lightning as well. Right now, balances are displayed in USD, but you can send money to a Bitcoin address and it will appear as Bitcoin. You can also send money to non-USD jurisdictions, and they will receive their local currency.
As of July 2021, buying and holding Bitcoin on the app is still in beta, but it's coming soon. Right now, it's just USD.
Strike is one of the most innovative companies in the Bitcoin space right now, so it's worth downloading the app and paying attention to what they're doing.
Cash App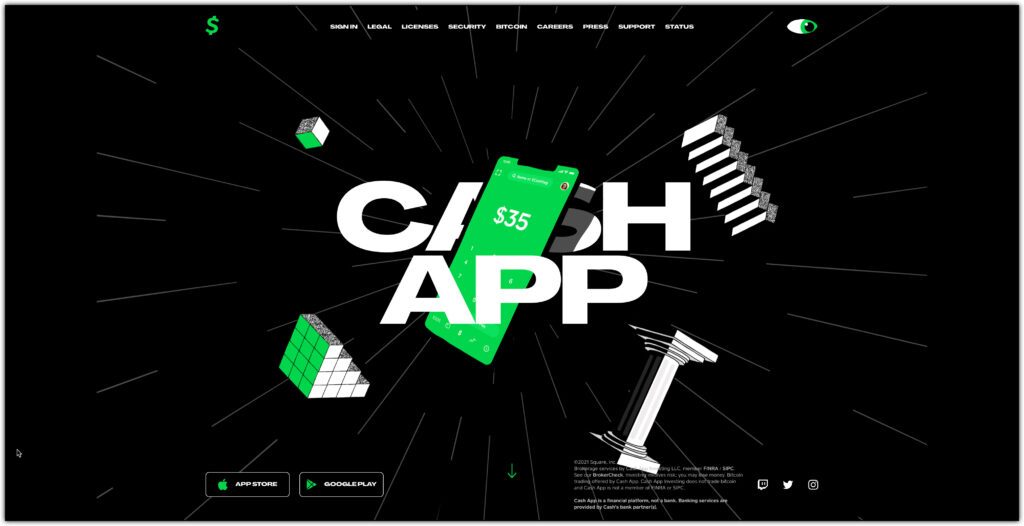 Cash App is one of the easiest ways to get started buying Bitcoin because it works just like a bank account. In fact, you have an account and routing number as well, so you can direct deposit checks to your Cash App, then pay people like PayPal or Venmo. Right within the app, you can also buy Bitcoin with your cash balance or connect to your bank account and buy.
Cash App really has their user experience locked in. Plus, you can set up recurring buys, and they just introduced a feature called "buy the dip", where you can buy a certain amount of Bitcoin if the price drops a certain amount.
CEO Jack Dorsey recently announced that they are starting to build their own Bitcoin-only hardware wallet, so I expect it to easily integrate with Cash App in the future. That may be a few years down the road yet, but it's worth looking out for.
P2P Exchanges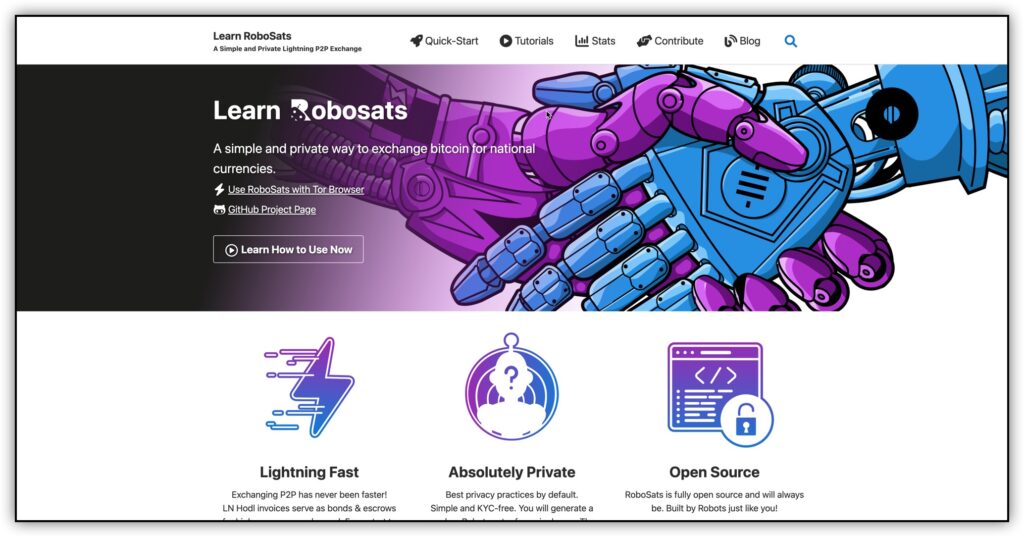 You don't have to go through a traditional KYC exchange to buy bitcoin. You can use open source software to connect directly with other bitcoiners and buy/sell bitcoin for a variety of types of money and payment standards. Exchange global currencies through Paypal, bank transfer, wire, Zelle, money transfer, and other more niche methods simply by connecting on a p2p exchange.
The three main ones to use right now are, Robosats, Peach (non-USA), Bisq, and HodlHodl. Each come with pros, cons, and differences. I haven't used these myself, so can't speak to the precise differences, but this can serve as your starting off point for research if this type of bitcoin exchange interests you.
The main advantage of going p2p is that you can acquire bitcoin without things like uploading government ID or using facial recognition software. The main downsides as I see them is that you often pay a premium for direct exchange like this, and the amounts can be quite low if you're looking to stack hard.
For the frequent small stacker who prefers private bitcoin usage though, this is definitely an option worth looking into.
Non-US Bitcoin-Only Exchanges
Canada
I have much less to say about non-US services, since I haven't tried them. I picked out some companies which are Bitcoin-only, and whose names I've heard as being trusted. The following section is just a list based on my research and not an endorsement of any specific company. Do your own due diligence!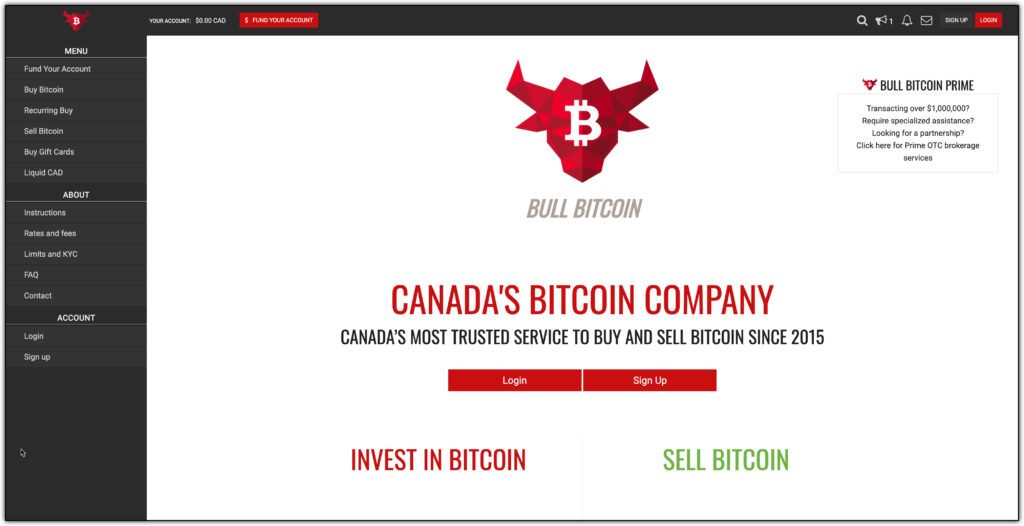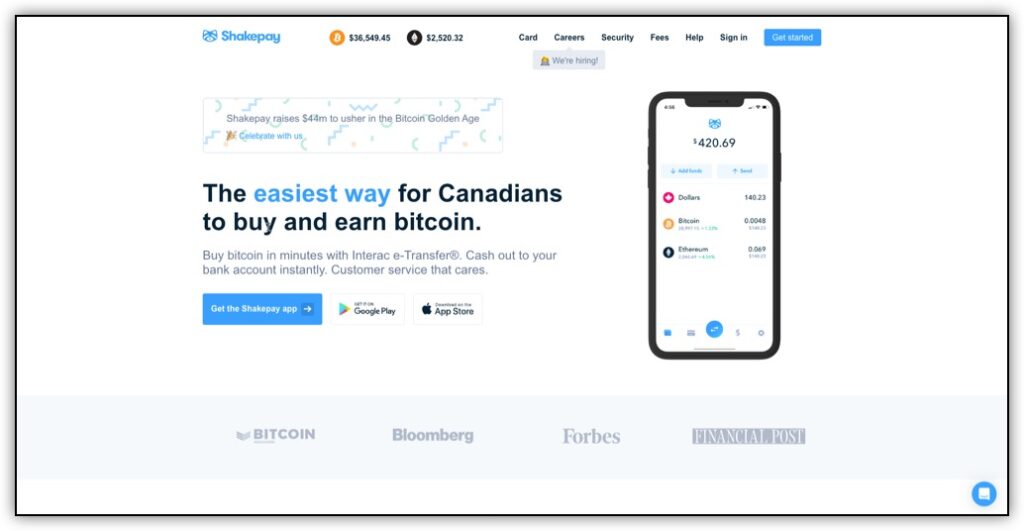 Shakepay offers bitcoin and Ethereum, so normally I wouldn't include them here but there aren't many choices so I'll make an exception. At least they stay away from all other altcoins at this point.
UK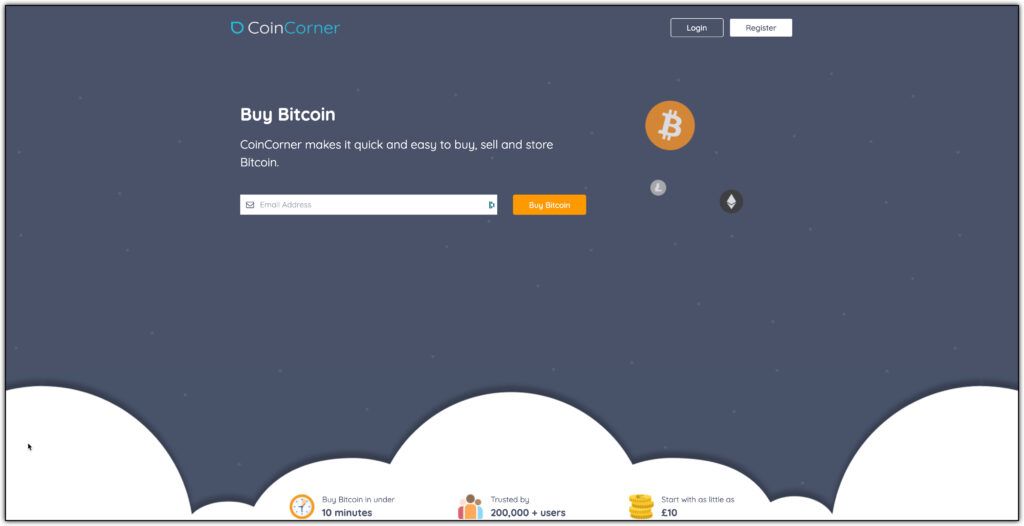 EU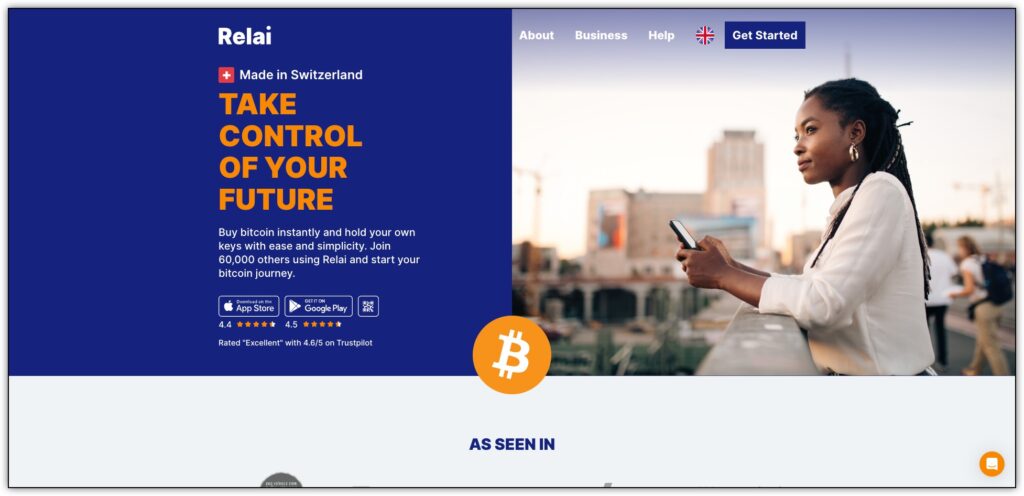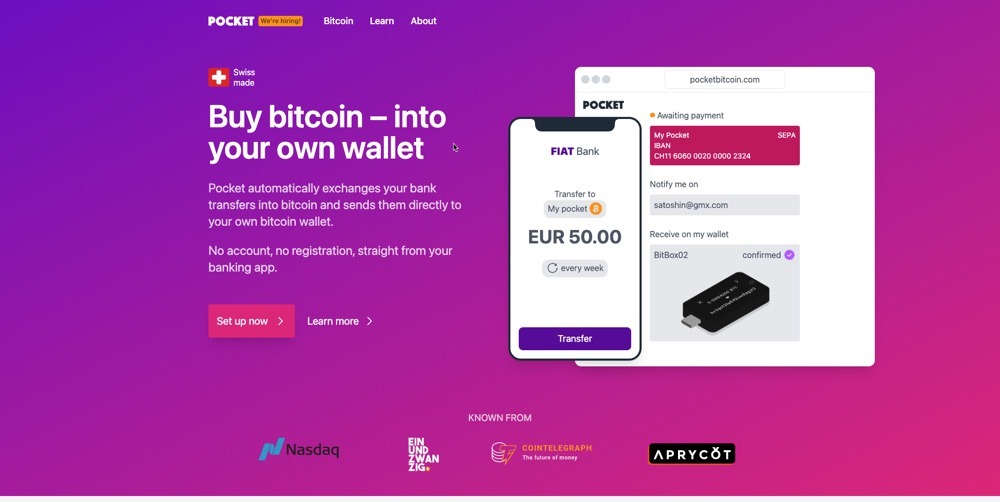 Australia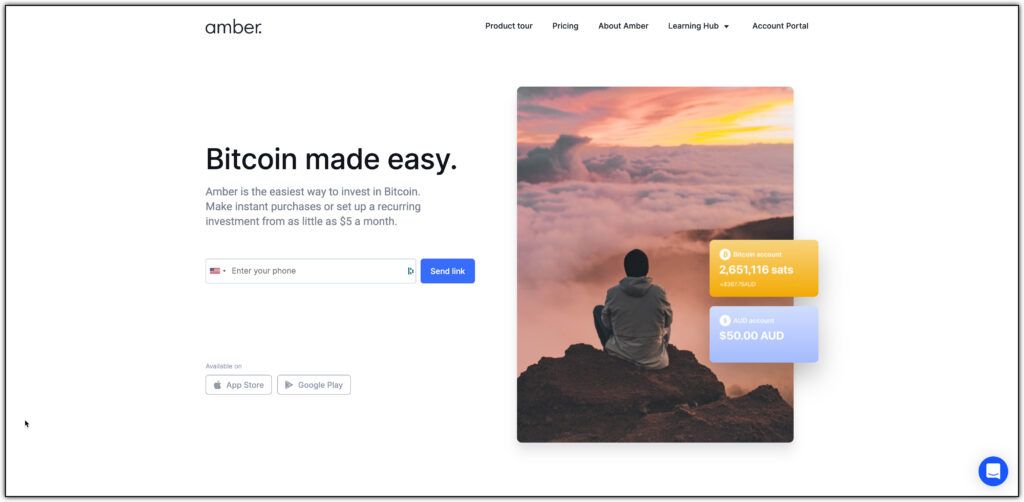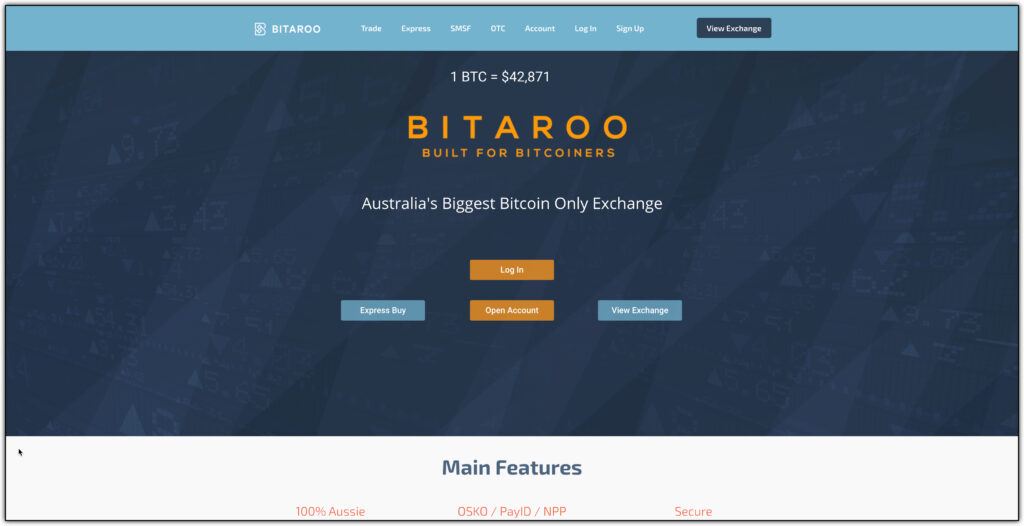 What's The Issue With Buying Bitcoin From Crypto Exchanges?
It's totally fine if you want to buy your Bitcoin from popular exchanges like Gemini or Coinbase AS LONG AS YOU MAKE SELF CUSTODY A PRIORITY.
I'm a believer in just getting to that first step of buying some bitcoin by any means necessary. There are some serious disadvantages to using services that are exposed to the risks inherent in shitcoins. This became very clear in May/June 2022 when "lending platforms" got rekt trading tokens and earning yield on shitcoins.
If you have your money on a platform that is engaging in this kind of stuff and they go bankrupt while your funds are on their exchange, you might not be able to access your bitcoin in an emergency.
That being said, I realize that not everyone can go from total n00b to bitcoiner over a weekend. Use whatever exchange suits you, but just be aware of the risks, and make self-custody a priority.
The only one I'd caution you against is using Coinbase. They are the second largest cryptocurrency exchange in the world, but they have a history of issues that makes me warn people against them. In a sentence, the CEO has attempted to undermine the Bitcoin protocol in the past, the exchange has a history of downtime during high traffic periods, and I have personally had funds stolen from my bank via Coinbase, without any compensation from them.
However, I've since moved to buying Bitcoin from Bitcoin-only exchanges. I prefer to work with companies focused on making a single product as awesome as possible. I like to support Bitcoin-only companies because I feel they have the right incentives and are focused on building out the future of permissionless, hard money for the world. I have no interest in trading or owning other coins, so why would I buy Bitcoin from a token casino?
Related Content
Frequently Asked Questions
What Is The Best Bitcoin Exchange?
The best bitcoin exchange is River because they are a bitcoin-only exchange, lighting deposits and withdrawals, and encourage self custody. They also offer other bitcoin-related products and services. There are several other good bitcoin exchanges, but River is my favorite.
How Many Exchanges Is Bitcoin On?
Bitcoin is on over 100 different exchanges globally, plus many decentralized trading protocols and a few p2p trading apps. Most "bitcoin" exchanges are actually "crypto" exchanges, offering a wide variety of various coins and tokens in addition to bitcoin. I always recommend finding a bitcoin-only exchange to buy your bitcoin, as it says a lot about their priorities around the security and longevity of their product/company.
What Is The Cheapest Exchange To Buy Bitcoin?
There are a variety of factors determining the cost of acquiring bitcoin, including the spot market price, fees associate with purchasing, and fees associated with withdrawals. Some exchanges may have "no fee purchases", but then give you a less ideal spot price, or vice versa. Some exchanges offer to waive fees if you sign up for recurring buys.
What Is The Safest Exchange To Buy Bitcoin?
You can never be 100% sure of what's going on at a bitcoin exchange, so even if you believe your exchange is safe, you should be withdrawing your bitcoin to self custody on a regular basis. FTX is a great example of why this is important, as they were one of the biggest and most trusted exchanges, yet were committing fraud behind the scenes.

More technically speaking, the safest bitcoin exchange will be one that allow for additional security features in addition to a typical password login. Additional security features for a bitcoin account would be 2FA, self-imposed withdrawal limits, or whitelisting addresses.

Lastly, ensuring your exchange isn't engaged in lending activity on the back end should be considered due diligence on your part, as loans can go bad and your exchange may go bankrupt, as happened with BlockFi.