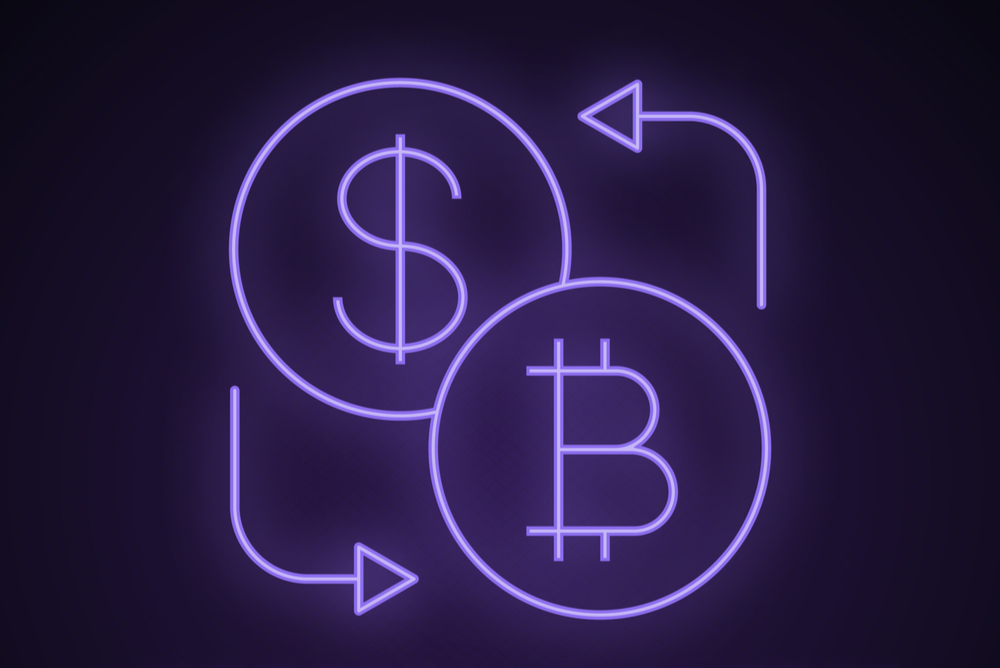 Once you decide to pull the trigger and get some Bitcoin, one of the first decisions you'll have to make is where to buy your Bitcoin. There is more than one way to buy Bitcoin! The most common way to buy Bitcoin is through an exchange, and then you'll have to decide which exchange to use.
Though most exchanges are similar in that you can connect them to your bank and exchange fiat currency Bitcoin, each is set up in a slightly different way. Different UX. Different rules. Different product offerings.
One of the main ways that these exchanges differ is whether they allow you to buy only Bitcoin, or if they offer a range of different cryptocurrencies.
Many people get started with the most famous crypto exchanges like Coinbase, Gemini, Kraken, Binance, FTX, or others. While these are easily accessible, and trusted businesses, personally, I recommend that you use a Bitcoin-only exchange to buy your Bitcoin for these reasons:
simplified user experience
no garbage altcoins to buy
cheaper fees
better security
Bitcoin-only exchanges tend to be more focused. There's just one thing to buy and sell – Bitcoin! There's just one thing to secure – Bitcoin! Rather than thinking about onboarding the next dog coin, or how to increase trading volume for yet another useless ERC-20 token, they just make your Bitcoin experience better.
This also means fees tend to be cheaper. They don't need an engineer for every different cryptocurrency. Just a Bitcoin guy.
Lastly, I think that because they decided to be a Bitcoin-only company and ignore all the other noise out there, their incentives are usually well-aligned with the Bitcoin ethos. Although there are many diverse personalities and belief systems in the Bitcoin community, I would say that the "Bitcoin ethos" usually includes things like a right to financial privacy, freedom from government overreach, personal responsibility, and low time preference (long term planning). There may be others as well, but those are some that come to mind.
There are good exchanges that have non-bitcoin offerings, but if you want to be bitcoin-only, it makes sense to support bitcoin-only companies.
With that, here are some trusted Bitcoin-only exchanges by region, where you can buy and sell Bitcoin online.
Bitcoin Only Exchanges From Around The World
USA
River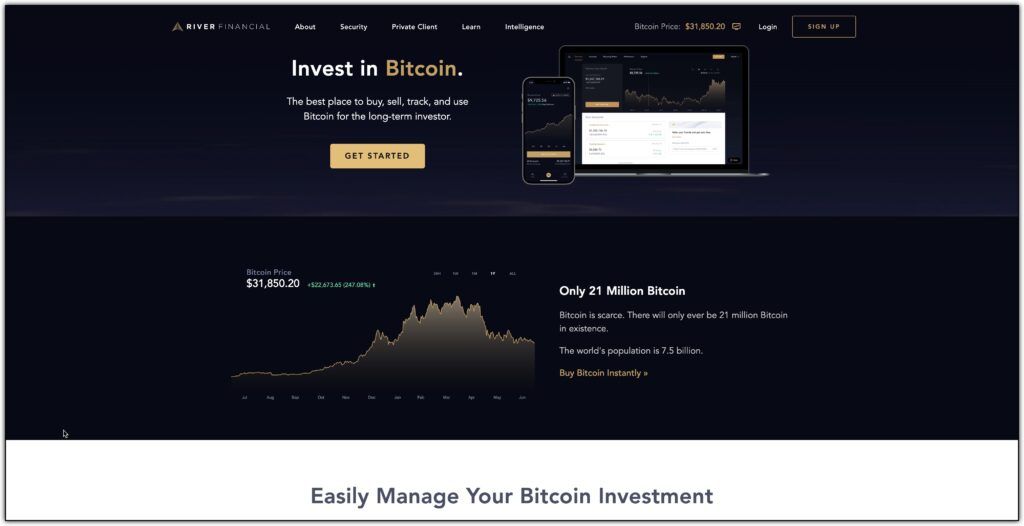 River.com is cool because they allow you to buy the most amount of Bitcoin right out the gate. Within a few minutes of signing up, I was able to buy up to $100,000 USD worth of Bitcoin right from my bank account. That's a lot – most people aren't going to buy that much in one go, but consider that most exchanges will only allow you to buy $5,000 initially, then may bump you up to something like $25k later on. If you plan to buy $20-30k initially, on other exchanges, you'd have to split up your buy into multiple days, or set up a wire transfer, which would still take a day or more to come through.
River has a great app as well, though it's a bit limited in that you cannot send Bitcoin at this time. It's mostly for account management and Bitcoin buys.
Swan Bitcoin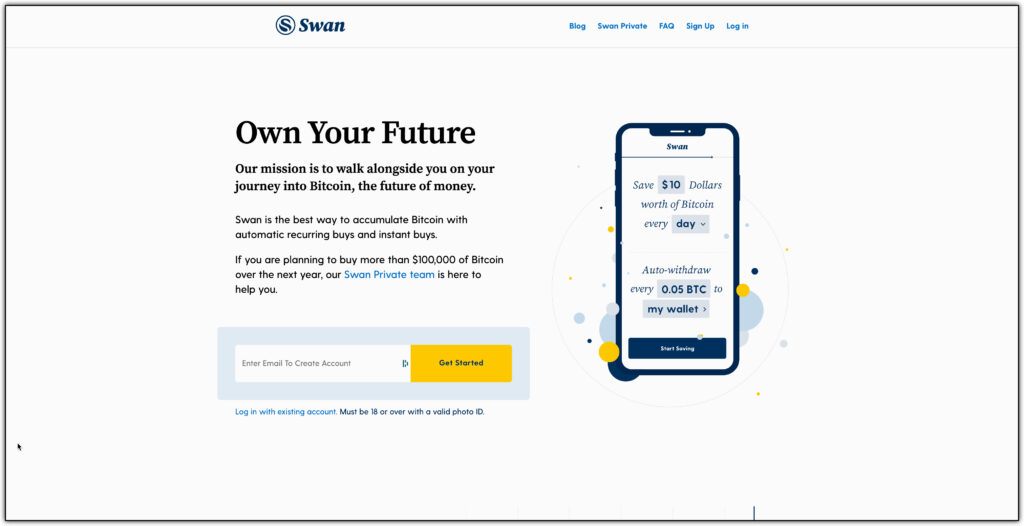 Swanbitcoin.com is famous for their recurring-buy program. They want to encourage best practices for buying Bitcoin, which means doing regular, recurring buys and withdrawing to your own wallet. They are a popular exchange because they have heavily invested in Bitcoin education. They often give away a popular book called "inventing Bitcoin", they produce several Bitcoin podcasts (plus sponsor many more), and have a blog with original Bitcoin content.
They also produce YouTube videos, and at one point were running a 24/7 YouTube channel called Bitcoin TV. They are all in.
I haven't used this exchange myself, so I'm not exactly sure how the dynamics work. From their advertising, it sounds like you can set up and auto-buy based on fiat amount, then auto-withdraw to your hardware wallet based on BTC amount. I'm not sure how they set this up, but will update this section when I give them a try.
Unchained Capital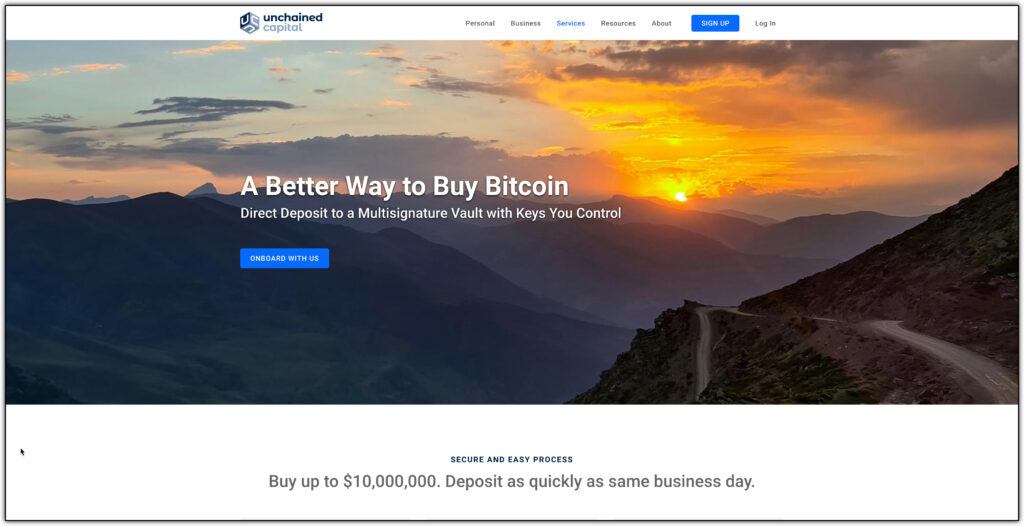 Unchained-capital.com offers a number of services, so they are not a "Bitcoin exchange" first. Their two most popular products are their multisig vault and their Bitcoin-backed loans.
With a multisig vault, you own 2 of 3 keys, and unchained holds the third. This 2 of 3 setup is a popular way to boost your security, and save your butt if you make a mistake with one of your keys. If you lose one of your keys or it's compromised, unchained can help you send a transaction or set up a new key since they have one, and you still have one, you can still construct a 2 of 3 signature. This is a free service.
They also offer Bitcoin-backed loans, meaning if you have some Bitcoin, you can borrow fiat money based on how much Bitcoin you have. For example, with their current 40% loan-to-value ratio, if you have $100,000 USD value in Bitcoin, you can borrow up to $40,000 USD in dollars. This can be a good way to get some liquidity without selling your Bitcoin.
Some people employ Bitcoin-backed loans to do some unique financial tricks to save themselves on taxes or buy more Bitcoin.
Strike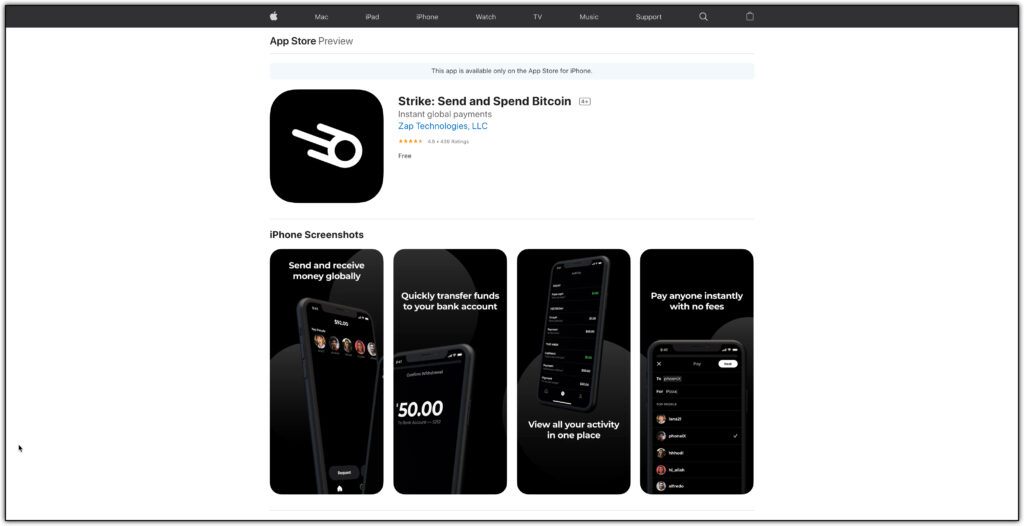 Strike App (iOS & Android only) is actually like Venmo, PayPal, or Cash App, where you use it to send money to people. The difference here is that Strike is built on Bitcoin rails instead of USD rails. I can send USD or Bitcoin, and I can use it with lightning as well. Right now, balances are displayed in USD, but you can send money to a Bitcoin address and it will appear as Bitcoin. You can also send money to non-USD jurisdictions, and they will receive their local currency.
As of July 2021, buying and holding Bitcoin on the app is still in beta, but it's coming soon. Right now, it's just USD.
Strike is one of the most innovative companies in the Bitcoin space right now, so it's worth downloading the app and paying attention to what they're doing.
Cash App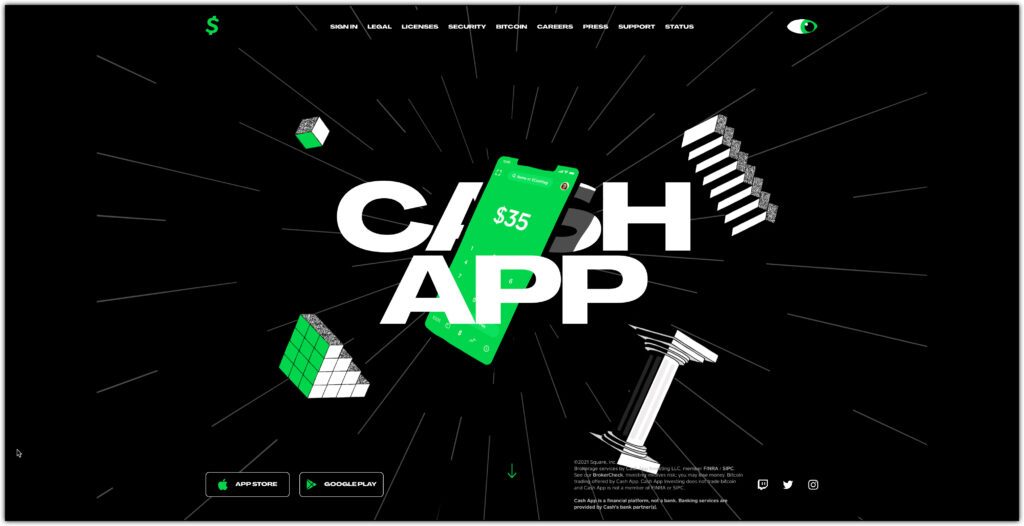 Cash App is one of the easiest ways to get started buying Bitcoin because it works just like a bank account. In fact, you have an account and routing number as well, so you can direct deposit checks to your Cash App, then pay people like PayPal or Venmo. Right within the app, you can also buy Bitcoin with your cash balance or connect to your bank account and buy.
Cash App really has their user experience locked in. Plus, you can set up recurring buys, and they just introduced a feature called "buy the dip", where you can buy a certain amount of Bitcoin if the price drops a certain amount.
CEO Jack Dorsey recently announced that they are starting to build their own Bitcoin-only hardware wallet, so I expect it to easily integrate with Cash App in the future. That may be a few years down the road yet, but it's worth looking out for.
Casa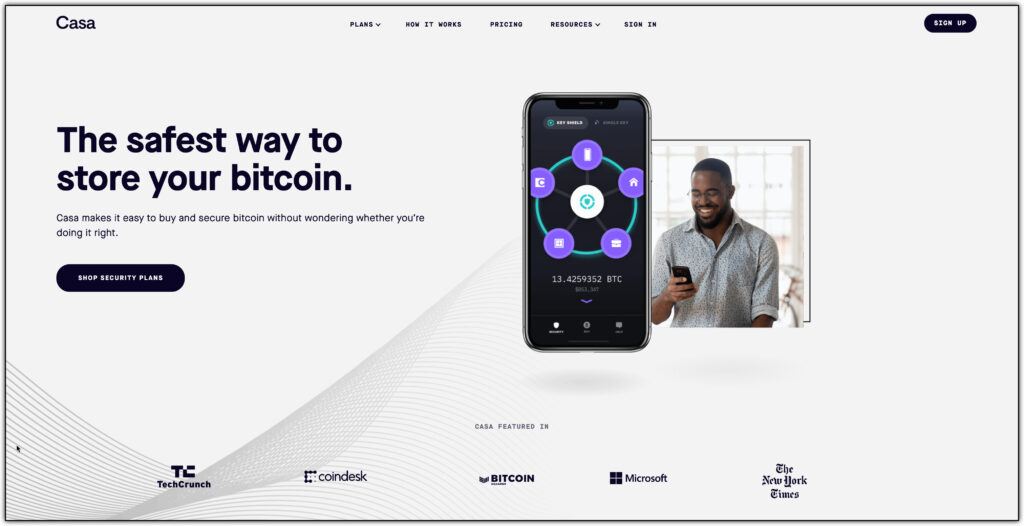 Keys.casa is another service where selling Bitcoin isn't the main thing they do, but you can buy through them once you set up their service. Casa is a multisig service that integrates your smartphone as a key. You can choose a 2/3 multisig or 3/5 multisig, plus they have a normal singlesig wallet (like a standard smartphone Bitcoin wallet), all within one app.
Casa is cool because it turns your smartphone into a key to your Bitcoin, but if you lose your phone, you aren't completely screwed! With a 2/3 setup, you still have one hardware wallet key you can combine with Casa to access your funds. With a 3/5 setup, you'd still have 3 hardware wallet keys plus Casa you could use to access your funds.
They also have more advanced services like estate planning if you want to store a ton of money with them and organize how to pass it onto your heirs.
One thing I really like about Casa is that their CTO is Jameson Lopp, a well-known and respected person in the Bitcoin space.
P2P Exchanges
You don't have to go through a traditional KYC exchange to buy bitcoin. You can use open source software to connect directly with other bitcoiners and buy/sell bitcoin for a variety of types of money and payment standards. Exchange global currencies through Paypal, bank transfer, wire, Zelle, money transfer, and other more niche methods simply by connecting on a p2p exchange.
The two main ones to use right now are Robosats [more info] and Bisq. Each come with pros, cons, and differences. I haven't used these myself, so can't speak to the precise differences, but this can serve as your starting off point for research if this type of bitcoin exchange interests you.
The main advantage of going p2p is that you can acquire bitcoin without things like uploading government ID or using facial recognition software. The main downsides as I see them is that you often pay a premium for direct exchange like this, and the amounts can be quite low if you're looking to stack hard. For the frequent small stacker who prefers private bitcoin usage though, this is definitely an option worth looking into.
Canada
I have much less to say about non-US services, since I haven't tried them. I picked out some companies which are Bitcoin-only, and whose names I've heard as being trusted. The following section is just a list based on my research and not an endorsement of any specific company. Do your own due diligence!
Bull Bitcoin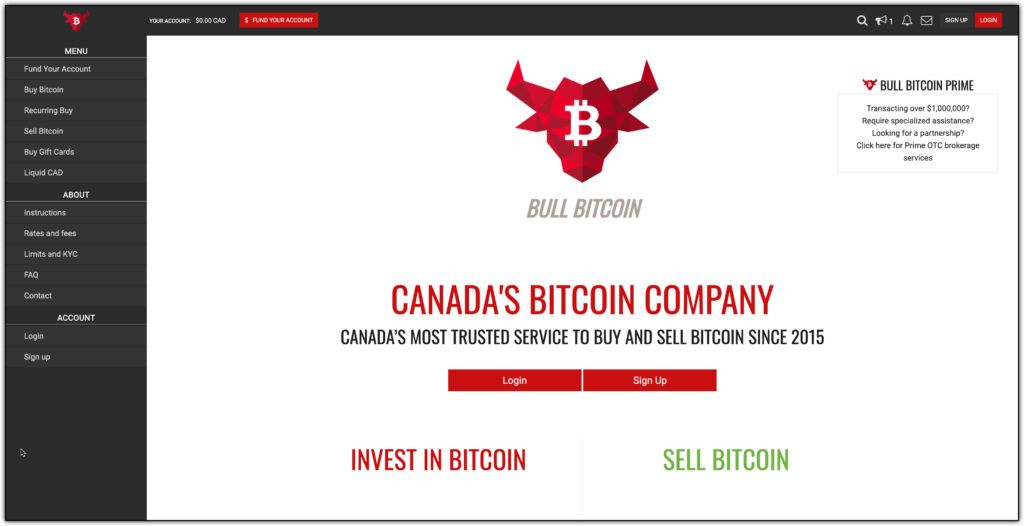 UK
Coin Corner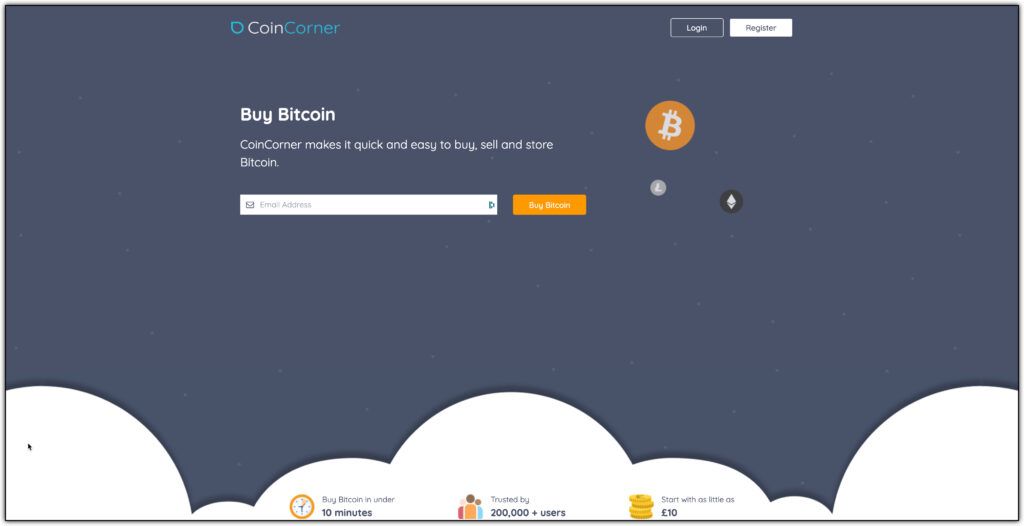 EU
Stacking Sat
Australia
Amber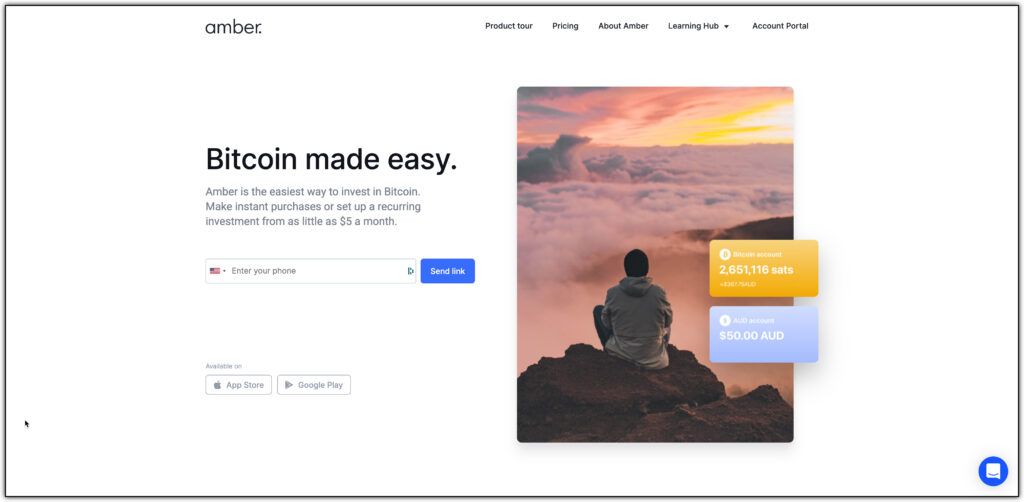 Bitaroo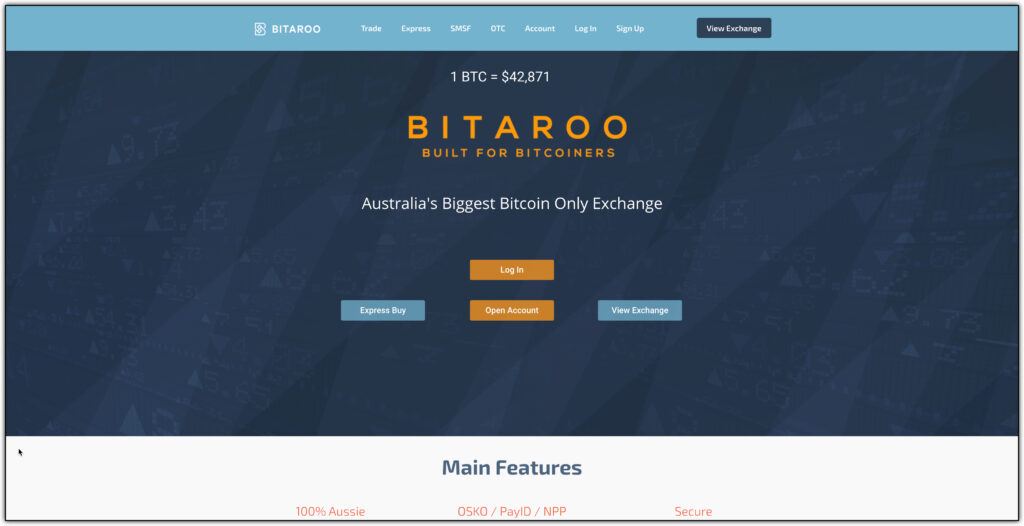 Is It Bad To Buy Bitcoin From Exchange That Offer Cryptocurrency Other Than Bitcoin?
It's totally fine if you want to buy your Bitcoin from popular exchanges like Gemini or Coinbase AS LONG AS YOU MAKE SELF CUSTODY A PRIORITY.
I'm a believer in just getting to that first step of buying some bitcoin by any means necessary. There are some serious disadvantages to using services that are exposed to the risks inherent in shitcoins. This became very clear in May/June 2022 when "lending platforms" got rekt trading tokens and earning yield on shitcoins.
If you have your money on a platform that is engaging in this kind of stuff and they go bankrupt while your funds are on their exchange, you might not be able to access your bitcoin in an emergency.
That being said, I realize that not everyone can go from total n00b to bitcoiner over a weekend. Use whatever exchange suits you, but just be aware of the risks, and make self-custody a priority.
The only one I'd caution you against is using Coinbase. They are the second largest cryptocurrency exchange in the world, but they have a history of issues that makes me warn people against them. In a sentence, the CEO has attempted to undermine the Bitcoin protocol in the past, the exchange has a history of downtime during high traffic periods, and I have personally had funds stolen from my bank via Coinbase, without any compensation from them.
However, I've since moved to buying Bitcoin from Bitcoin-only exchanges. I prefer to work with companies focused on making a single product as awesome as possible. I like to support Bitcoin-only companies because I feel they have the right incentives and are focused on building out the future of permissionless, hard money for the world. I have no interest in trading or owning other coins, so why would I buy Bitcoin from a token casino?