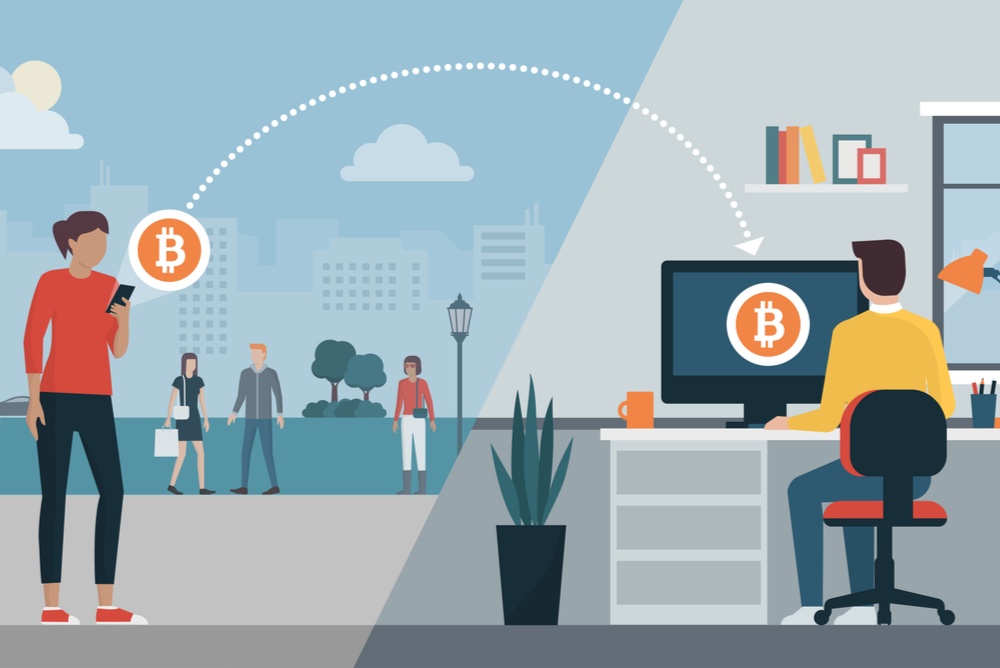 Let's get something straight right from the start: the easiest way to send bitcoin is not going to be the best way to send bitcoin. The convenience of sending an easy bitcoin transaction is going to mean that you are making some compromises. The bitcoin will still get where it's going, but just be aware of what those compromises are.
Everyone is a beginner at some point, and using bitcoin is a learning process, so don't let that scare you off of sending and receiving bitcoin transactions in any way you want. The bitcoin ecosystem is still heavy in development, and there will be many more tools that emerge over the next decade to making sending bitcoin easier.
Similar to the internet, the pace of innovation is in the bitcoin network is exponential. 20 years ago, you might remember how much of a pain in the ass it was to use dial up, and how often you'd get kicked off. I remember trying to download music and leaving the computer on for days (literally, no joke), just to get some songs downloaded so I could burn them onto a CD. Whew. It was a process.
Now, I have 24/7 internet access directly in my pocket. Many people are predicting something similar will happen with bitcoin, so it should get easier to use bitcoin over the next decade.
Like the internet, bitcoin is a permissionless protocol, where anyone can create products and services to make it more functional and easier to use. Like the internet, bitcoin is a network, where each newly added participant increases the value of the network.
That's the future. For now, let's look at what we have available and see what the easiest way to send bitcoin in our current year.
The Easiest Ways To Send Bitcoin (For Beginners)
Easy Level 1: Cash App
I think the easiest way for beginners to send bitcoin is through Cash App. If you want to simply get started, buy some bitcoin, and send it to someone for a payment, you can download Cash App and be transacting in a few minutes. You can hold your bitcoin on the app, send bitcoin to other CashApp users, and send bitcoin to any wallet that accepts bitcoin or lightning transactions.
It's quick. It's simple. It's a trusted brand.
The main downside to the Cash App is that you are trusting them with a lot of things, and that kind of defeats the main purpose of bitcoin.
Cash App Requires A Lot Of Trust
Bitcoin is peer-to-peer digital money, meaning you are able to self custody your bitcoin, then send it directly to another person, without intervention by a third party. You don't need permission from your bank or from Paypal to send money to anyone with a bitcoin wallet. That was the innovation that made bitcoin so powerful.
When you use Cash App, you are handing over all your personal data, then trusting them to keep your bitcoin secure, and trusting them to send the right amount of bitcoin to the right person. You're also trusting them to verify any bitcoin you receive by giving up the option to run your own node.
In practice, for most people, this is totally fine. Most people don't care about the privacy issues, and most beginners don't trust themselves to use bitcoin properly yet. As a bitcoiner, I'd rather see someone use bitcoin through Cash App rather than not at all, but eventually want to move past this type of custody model.
Nothing wrong with Cash App the company! After all, I'm ranking them as #1 easy way to buy, hold, and send bitcoin. I'm just trying to make you aware of the tradeoffs as we go down the list.
Cash App is working on creating a multisig security model for self custody. It would be a 2-of-3 security model, where you need two keys to spend. One key would be your at Cash App HQ, one key would be your smartphone, and you'd have one hardware wallet key. This would allow you to self-custody your bitcoin, while still having the security assurances of a trusted brand. It's still very early in development, so not slated to release for several years, but it's something cool to look forward to!
Cash App Is Great For First-Time Bitcoiners
Cash App is great as an easy bitcoin wallet for starters because you can buy and sell directly in the wallet, plus you can hold a USD balance in your digital dollar wallet as well. Cash App also connects directly do your bank account, so you can buy bitcoin instantly.
Also, Cash App has both on-chain bitcoin as well as lightning bitcoin functionality. On-chain is directly interacting with the bitcoin network, and better for large amounts. Lightning bitcoin is a "second layer", and much faster and cheaper to use. It's better for small amounts of bitcoin. You don't have to worry about this distinction as you use Cash App, but it's useful to have both options in one wallet. When you scan a QR code to pay, Cash App will automatically pay with the proper method.
Easy Level 2: Muun Wallet
Muun Wallet is a great next step to using bitcoin, and it's also very easy to send and receive bitcoin. The reason I consider Muun a "step up" in terms of using bitcoin is because with Muun, you are self-custodying your bitcoin. That means you have full control over your bitcoin balance, and you are not relying on a 3rd party company to hold your keys.
Of course, this comes with the added responsibility of properly backing up your keys and keeping your seed phrase safe, but like most things in bitcoin, with sovereignty comes responsibility.
Like Cash App, you have both lightning and on-chan bitcoin options. The setup is a bit different, but it's also a relatively seamless experience. You have a single (on chain) balance with Muun, and to send bitcoin, you just scan a bitcoin or lightning QR code. Muun will figure out what it is, and either ask you how much you want to send, or confirm the amount requested by the invoice.
The receive portion is marked "bitcoin" and "lightning", which may be confusing if you aren't familiar with the differences, but the reality is all your funds are being held on-chain, and Muun is working the lightning stuff behind the scenes.
The Tradeoffs Of Muun Wallet
One downside to Muun Wallet as I see it is that you are giving up control of your lightning setup. This is probably ideal for non-technical users, but when complexity is obscured away for convenience, you are giving up some control. You will not be running your own lightning node, and you will not have the option to keep your funds on lightning.
This means you will be paying more in fees because every lightning transaction is swapping out from on-chain bitcoin. If fees are high, you're gonna pay a LOT more for lightning than you should be paying. Payments also may take longer than if you had a proper lightning channels set up.
As an on-chain wallet, it's also missing some more advanced functionality like UTXO management, which can also affect the fees you pay.
However, these are all advanced things, and Muun still sits comfortably as an easy way to send bitcoin.
Easy Level 3: Blue Wallet
At last, we have Blue Wallet. For me, Blue Wallet is simply an awesome wallet for any Bitcoiner to use because it comes with so many features and options. There's something for everyone!
For a pure beginner, if you want to send bitcoin, you can create a normal on chain bitcoin wallet. They do offer a lightning option, but you need to be running your own lightning node to use this. What's nice is that you can have multiple wallets in your Blue Wallet app, and it's very easy to flip through them.
You might have one on chain wallet, one lightning wallet, and one key to a multi-sig vault with a watch-only wallet.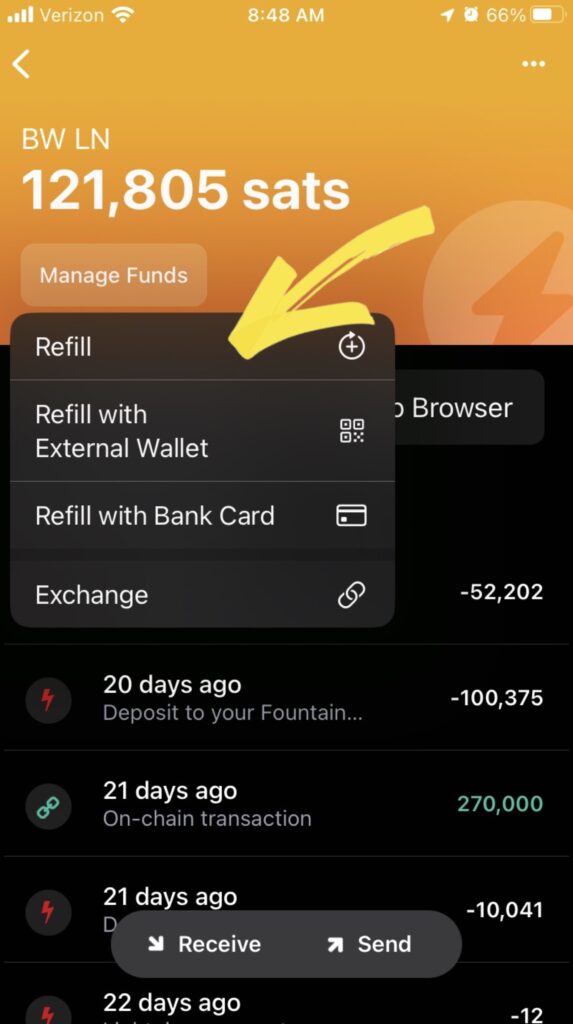 Why is blue wallet next level for sending and receiving bitcoin?
First, you have the option of using your own node for on-chain bitcoin. This makes Blue Wallet a great choice for learning to ouse your own node.
With both Muun and Cash App wallets, you are trusting someone else's node to verify the validity of your transactions. You are trusting them when you receive bitcoin, and you are trusting them when you send bitcoin. With Blue Wallet, you can remove that layer of trust by verifying your own transactions using your own bitcoin node!
Second, you can use your own lightning node. This even further removes trust from the system, allowing you to manage your own lightning channels through your own lightning node. This is much more complicated to do, but there are many tutorials and support groups learning how to use lightning bitcoin.
If you're searching for the easiest way to send bitcoin, this certainly isn't the easiest, but it's nice to know that with Blue Wallet you have the option to do so as you gain more confidence as a bitcoiner.
Another cool feature of Blue Wallet is that you can actually use it as a signing device in a multisig wallet quorum, meaning that if you need to send bitcoin as part of a multisig setup, you can use Blue Wallet too.
2023 Favorite: Phoenix Wallet
My new favorite wallet for 2023 is Phoenix wallet because it works awesome as a non-custodial lightning wallet.
Lightning is the faster, cheaper way to send bitcoin, but it comes with some tradeoffs. The #1 issu with lightning is that it requires some skills to set up your lightning node and manage your lightning channels. It's not easy to set up, takes time to maintain, and you definitely have to troubleshoot some things from time to time.
With Phoenix, they automatically create lightning channels for you when you deposit on-chain bitcoin, and they manage channel liquidity on the back end for you. This way, you don't have mess with setting up a node or managing your own channels. Plus, because your funds are held on chain instead of in a custodial lightning wallet, you have the backup keys.
Unlike most "easy" lightning wallets, they do not hold your funds!
This also means you pay way less fees than with something like Muun, which has similar capabilities, but they manage lightning in a different way.
The downside to Phoenix is that it requires a minimum deposit amount, and because you aren't managing your own channels, you may end up paying more in fees than if you were running your own node. However, this is a decent tradeoff for non-technical users .
As of 2023, this is my go-to bitcoin wallet.
Sending Bitcoin From A Bitcoin Exchange
Another way to send bitcoin easily is to send it from an exchange to someone's wallet. This is pretty simple, and works directly from your browser or their exchange app. Like any other bitcoin wallet, you'd simply paste in a bitcoin address or scan a QR code, and send the money.
The downside here is that if you send bitcoin from an exchange, you may be required to do extra verification steps, depending on your security settings. If you enabled 2FA through an app or email, you'll have to click link sent to your email or enter your 2FA code. These extra steps make your account secure from hacking, but can also be cumbersome. If you choose to disable these settings to make sending bitcoin from the exchange easier, your funds on the account will be less secure as a result.
I would also consider who you are sending bitcoin to. Some exchanges are very sensitive when it comes to who they interact with, so if your friend is engaged is any kind of activity you think may get you in trouble, you may not want to associate your exchange account with their wallet. It's not uncommon for users to have their accounts suspended or even permanently closed due to what an exchange deems a violation of their terms of service.
Can You Send Bitcoin With A Desktop App?
You'll notice that I mentioned a lot of mobile apps for sending bitcoin here, so are there any desktop apps you can use? Yes, there are! However, from my own experience, when I interact with bitcoin using my desktop rather than mobile, it's usually because I am doing something that I wouldn't call "easy", so I didn't list those methods here in this list.
For example, I like to use the Trezor hardware wallet to send bitcoin, but that requires having a $100-$250 piece of hardware, which takes 2-3 weeks to arrive to most places in the world. Using their desktop software, the Trezor Suite, is very easy and I'd recommend to friends and family who want to buy, hold, and send bitcoin on a regular basis. However, you need the hardware device to interact with the desktop software. If you are planning on using bitcoin regularly, then this would be a good option for self custody in cold storage and easy sending/receiving of bitcoin.
There are many other possible options to send bitcoin such as purchasing a Coldcard signing device and creating a bitcoin wallet using Specter or Sparrow, or creating a multisig wallet with Unchained Capital or Casa, but this is an even more advanced step in being able to custody, send, and receive bitcoin.
Sending Bitcoin As A Gift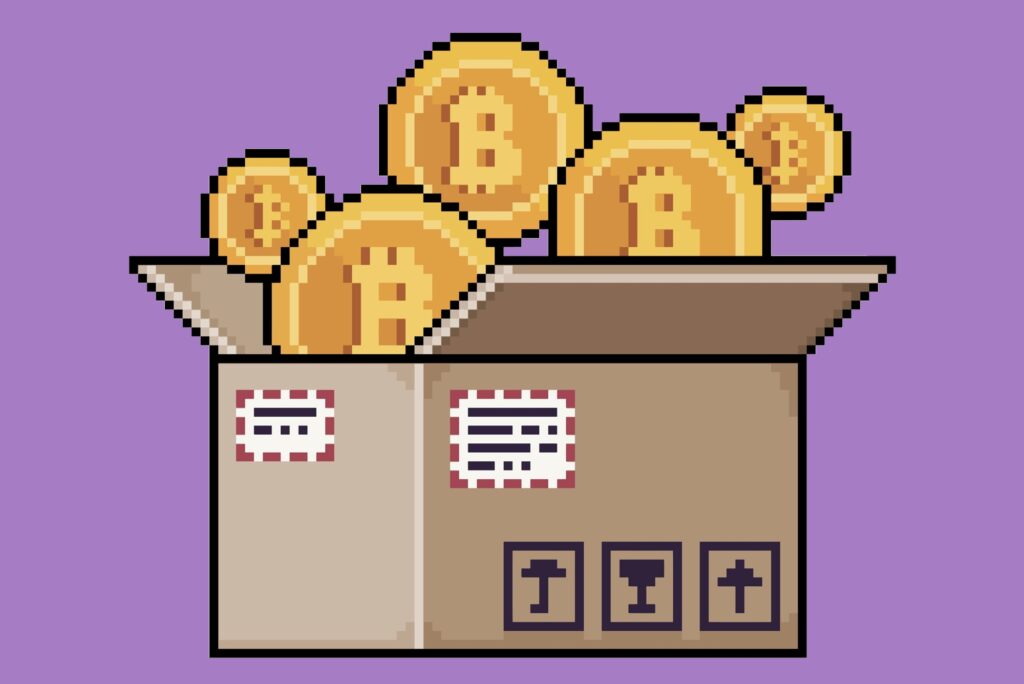 Are you trying to send someone bitcoin as a gift?
There is one reputable company I'd recommend that's selling bitcoin gift cards, but they are in Canada in only a few selection locations. Some exchanges offer gift cards, but the ones I know of tend to emphasize trading shitcoins, so I can't recommend them. If you want to send someone bitcoin as a gift, you have basically three options.
1. Send them bitcoin directly. Buy some bitcoin yourself, then send some bitcoin to their wallet. You can buy bitcoin on an exchange or app, then send it to their bitcoin wallet directly. You just need then to send you a bitcoin address.
2. Load bitcoin onto a disposable hardware wallet like OpenDime or SatsCard and give them the physical device.
3. Send them bitcoin through Swan's bitcoin gift service, which basically sends them a redeem code for some bitcoin at Swan (bitcoin exchange). If they haven't used bitcoin before, it'll walk them through the process how bitcoin works and how to self custody. Great for beginners!
Frequently Asked Questions
Can I Send Bitcoin To Someone Without A Wallet?
To send bitcoin to someone over the bitcoin network, both you and the receiver would need a bitcoin wallet. If you want to send someone bitcoin but they don't have a wallet, you would need to load bitcoin onto a hardware wallet and give them the device as well as the private keys. If you do not have a wallet but would like to send bitcoin to someone, you would at the very least need an account at a bitcoin exchange to buy and send bitcoin.
How Much Does It Cost To Send Bitcoin To Someone?
The cost to send bitcoin varies based on network activity and the size of the transaction. When the network is busy (lots of users sending bitcoin), it's more expensive. Larger bitcoin amounts (more UTXOs) or custom settings (like multisig) can also increase the cost of sending bitcoin. The cost to send bitcoin is not directly related to the value of the bitcoin being sent. The price to send bitcoin can range from just a few pennies to tens of dollars per transaction.
What Is The Safest Way To Send Bitcoin To Someone?
The safest way to send someone bitcoin depends on your definition of "safe". In terms of beginner level security and peace of mind, using a reputable app such as Cash App or Strike guarantees that the receiver will get their bitcoin quickly and safely. However, your personal data is then linked to that bitcoin transaction forever, and there have been many exchanges in the past that exposed user private data. To safely and privately send bitcoin requires more steps beyond the scope of this article.
How Long Does It Take To Send Bitcoin To Another Wallet?
The length of time to send bitcoin to another wallet varies based on the definition of "receive", and the particular settings of the wallet you're using. Some wallets can detect that you have broadcast a bitcoin transaction within less than a minute, and will show that you have received some (pending) bitcoin. Other wallets will wait for one, two, or up to six "confirmations" on the blockchain, which is usually around sixty minutes. However, being included in a block is not guaranteed, depending on the amount of fees you paid and how active the network is, so it could take longer.
If the network is not busy and you pay a decent fee, you can be confirmed in less than an hour. If you pay a low fee and the network is busy, it could take a week.
Being able to spend bitcoin the bitcoin you received will usually take at least a few confirmations (6 blocks, up to 60 minutes), but some wallets let you spend sooner.
Can You Buy And Send Bitcoin Instantly?
If you are buying bitcoin on an exchange, being able to buy and send bitcoin instantly will depend on how your account is funded and the operations of the exchange. If you have a dollar balance on the exchange wired from a US bank account, you could possibly buy and send bitcoin instantly. However, if you use instant-funding with an app like Plaid, an exchange could make you wait up to 60 days to send your bitcoin to prevent fraud.
Can You Send Bitcoin To Any Wallet?
You can send bitcoin to any bitcoin wallet address, but some wallets may require that you first format the bitcoin to a specific address type. You cannot send bitcoin to other blockchains or traditional bank accounts.