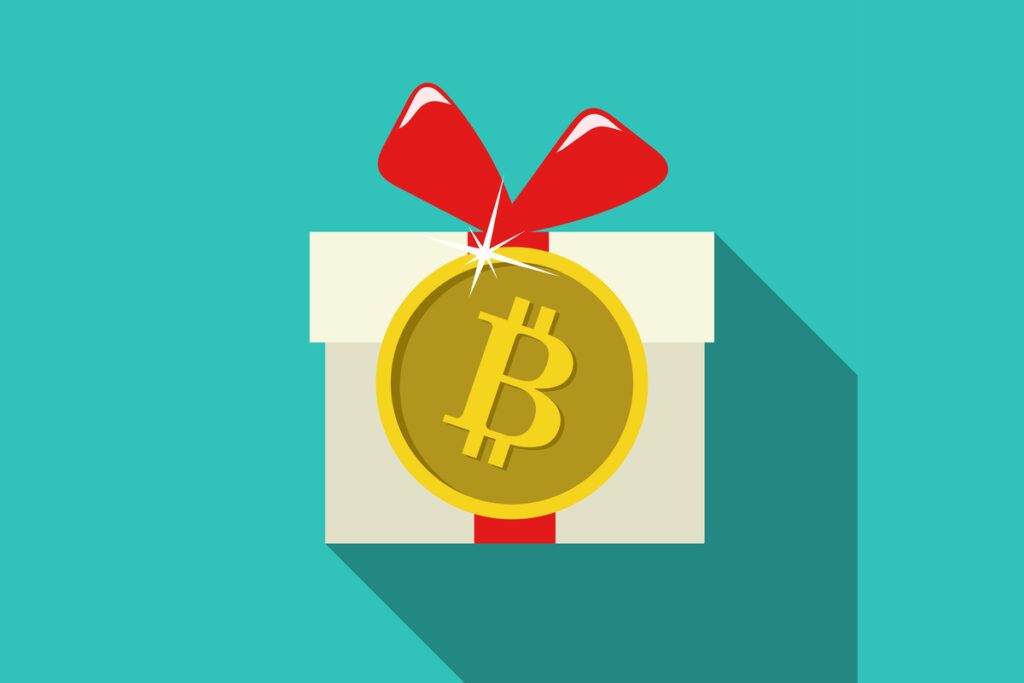 Bitcoin is better money, but it's more than that. Bitcoin is a movement. Once you 'get it', you get it, and you just can't get enough bitcoin. Literally and figuratively. Bitcoin is interesting. Bitcoin can be life changing. Actually, Bitcoin is fun. Bitcoin just clicks with a certain type of person, and for that person, Bitcoin gifts will always be a hit, for birthdays, holidays, or any number of Bitcoin holiday celebrations like:
Jan 3 (First Bitcoin Block Mined)
Jan 12 (First Bitcoin Transaction Sent)
May 22 (Bitcoin Pizza Day)
Oct 31 (Bitcoin Whitepaper Day)
There are tons of reasons to gift bitcoin-related stuff to your bitcoin-obsessed friend or family member, but I'm going to be honest here – bitcoin socks suck. The kind of stuff you get when you type "bitcoin" into typical search engines Amazon or Google what turns up normie shit. Basically, poorly manufactured, generic gear with the bitcoin logo on it. It's crappy stuff made for nocoiner shoppers getting gifts for their bitcoiner friends. It's not really the type of stuff that I'd want.
That's why I wanted to create this page, showcasing some websites where you can get bitcoin gifts for bitcoiners that they'd actually want. For shirts, here are my favorite bitcoin t-shirts with cool designs and inside jokes that make good gifts too.
Websites For Legit Bitcoin Gifts
Opsec Swag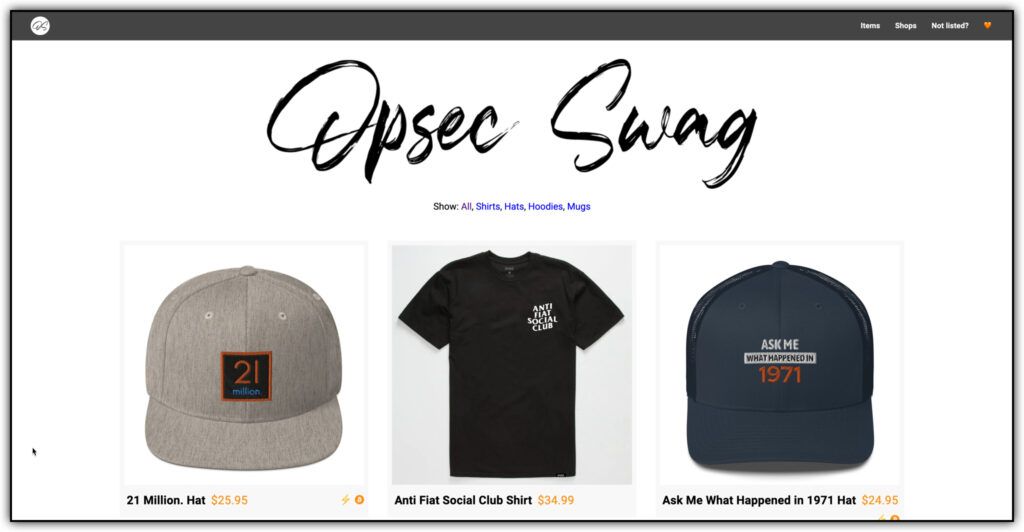 Opsec Swag is actually a central hub of Bitcoin swag, with the focus being non-obvious bitcoin gear. "Opsec" is short for operational security, which usually entails being private about information that can reveal your identity or the nature of your work. How it relates to bitcoin is that many times, it's "good opsec" to not even tell people you own bitcoin. Bragging about being bitcoin rich could make you a target for personal harm.
If bitcoin is going through a massive bull run phase and you're walking around covered in Bitcoin logos, who knows what kind of character could think you have a bunch of bitcoin on your phone.
Lots of the gear featured on this site are subtle nods to bitcoin culture and inside jokes. For example, 🖕🐻 shirt is an inside joke that bitcoiners expect adoption, and thus the price of bitcoin to go up, and anyone who says otherwise is a "bear", or expects the market to go down. You may also see some honey badger gear, which is the non-official mascot of bitcoin because it's the most ferocious and unstoppable animal, or references to the year 1971, the year Nixon took the US off the gold standard.
It's mostly hats, shirts, hoodies, and mugs, and they don't actually sell stuff through the Opsec Swag site. It looks like a store, but they link out to the official web store for each item.
Finite Supply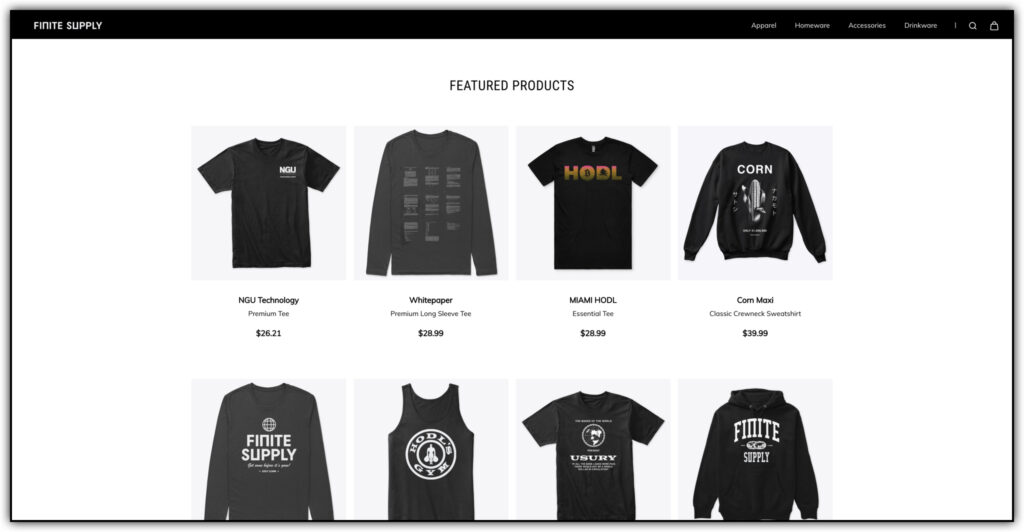 Finite Supply produces original designs that focus on Bitcoin memes, and their designs are featured on shirts, tanks, hoodies, mugs, water bottles, and a couple of home decor items. The most famous design is the "Cyber Hornet", the name lovingly given to Bitcoiners by Michael Saylor. Where does the name cyber hornet come from? To some, a wall of ASICs at a bitcoin mining facility sounds a lot like a swarm of angry hornets, but it also refers to the fact that Bitcoiners will defend the Bitcoin network at all costs, no matter if it's a social attack (public debate), or a physical attack (as seen during the Blocksize Wars and the User Activated Soft Fork (UASF)).
Personally, my favorite design here is the "Corn Maxi". Why corn? Of course, bitcoiners love to meme their critics to the point of absurdity, and one time, one guy, accidentally said "Bit-corn" instead of "Bit-coin". He was then dubbed, Professor Bitcorn. Coin sounds a lot like corn, so now bitcoin is also corn. LOL. Hey. I don't make the memes. I just report on them.
The Little Hodler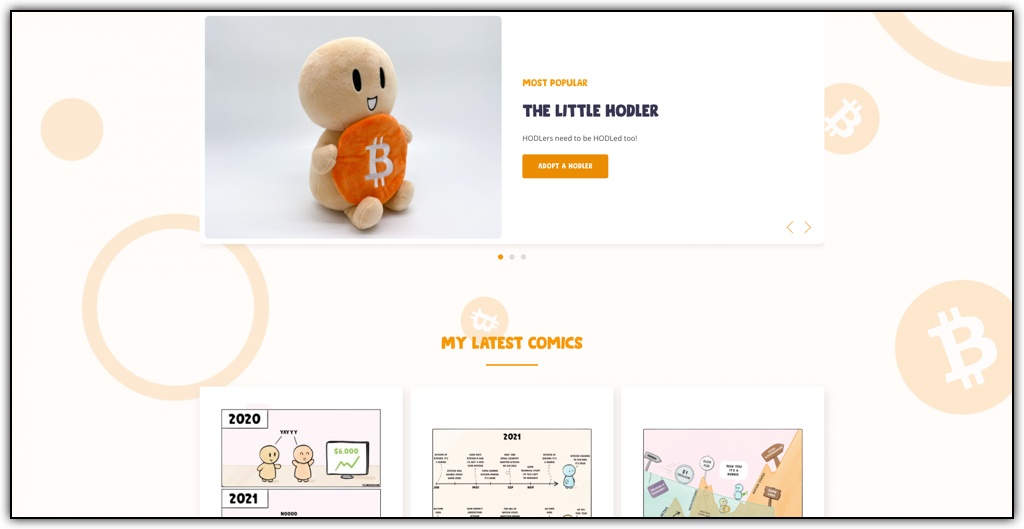 The Little Hodler started as a series of webcomics explaining bitcoin in simple, but fun ways and its main character was always this cute, little, hairless guy who loves bitcoin. The comics are usually short and simple, but very effective ways of communicating information about bitcoin, bitcoin history, or events in the world of bitcoin, as well as jokes among bitcoiners, commentary on the broader cryptocurrency market, and of course memes bitcoiners love.
One of my favorite comics explains the perception vs reality of holding bitcoin for long periods of time – it seems easy on the outside, but it's a rough road sometimes! Another good one shows how the value of bitcoin continually goes up over time as the bitcoiner buys more and more stuff, but the nocoiner holding cash buys less and less over time.
The most popular item from this store is a plushie of "The Little Hodler", the little guy holding tightly onto his bitcoin. They also sell framed prints of the comics, as well as shirts featuring the character.
BTC Pins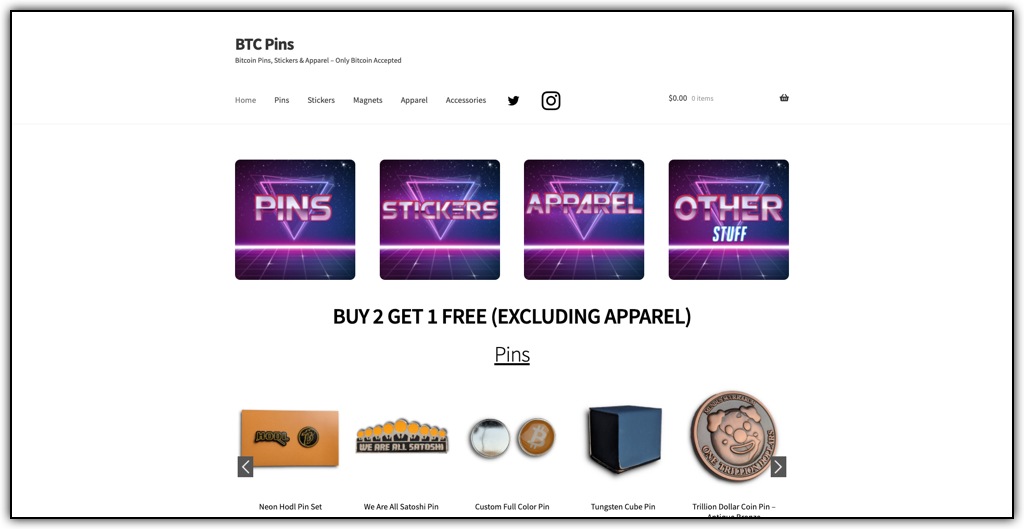 BTC Pins is a unique shop that focuses on, what else – pins! They have other stuff like some apparel and stickers, but the main thing is original artwork in the form of high quality pins. These are high quality, metal pins, featuring the Bitcoin logo itself, and other bitcoin memes. This store only accepts Bitcoin payments, so if you are buying for a bitcoiner, and don't actually have any bitcoin, you'll need to get some first!
MF Merch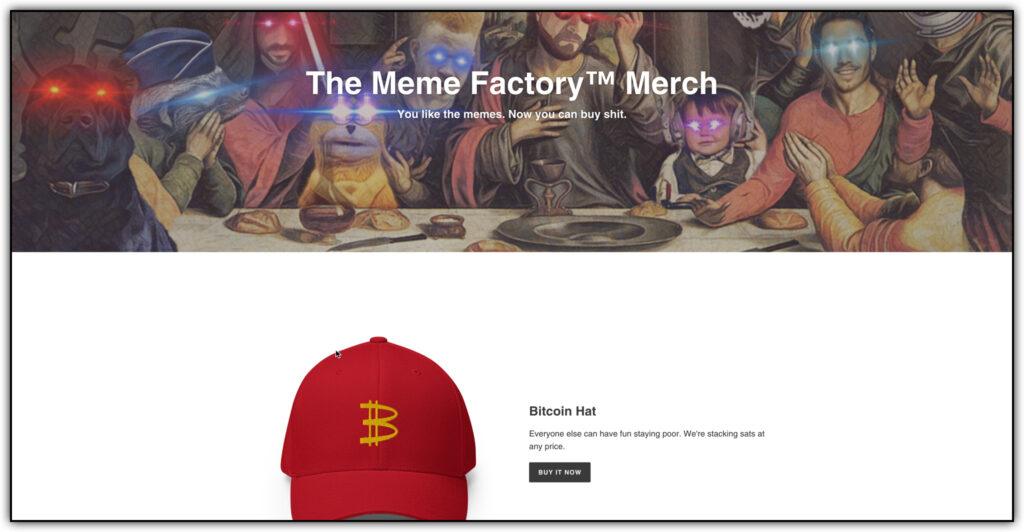 MF Merch is all about bitcoin memes. If something funny happens on Bitcoin Twitter, it'll be up on the shop in a few minutes. You've got laser eyes (or nipples), the Bitcoin fast food worker hat, rainbow dildo eyes, laughing Liotta, banana bread, and much more.
To be honest, I'd be suspicious of the quality of these products since they go up pretty fast so who knows where they outsource the merch to, but the memes are priceless.
Lucho Poletti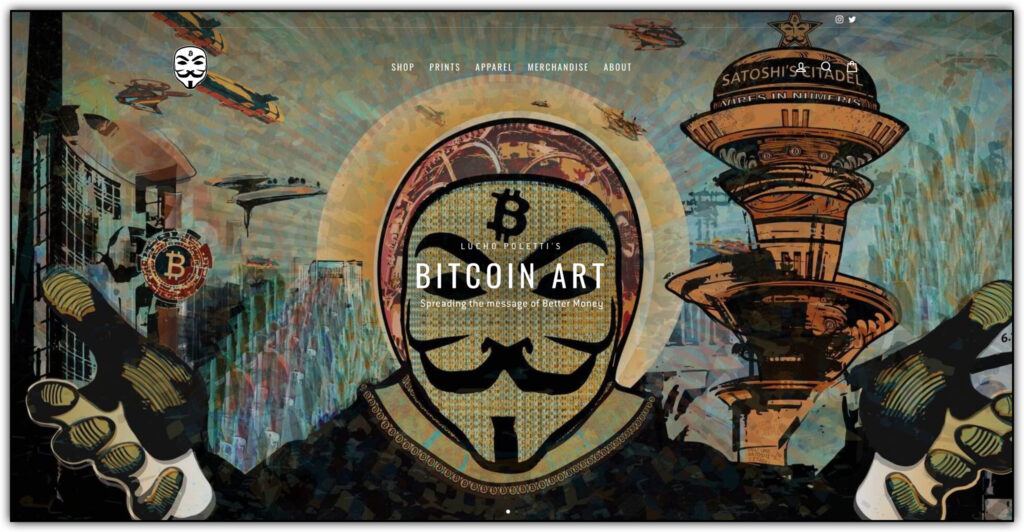 Lucho Poletti is an amazing artist who creates incredibly unique art related to bitcoin. His style is a combination of vintage meets modern, with striking black lines and vibrant colorscapes. You can buy handmade art, canvas prints, apparel, and even home decor with his custom designs. There's really a huge variety of things to shop for on his site.
Vulcan21
Product: SEEDMINT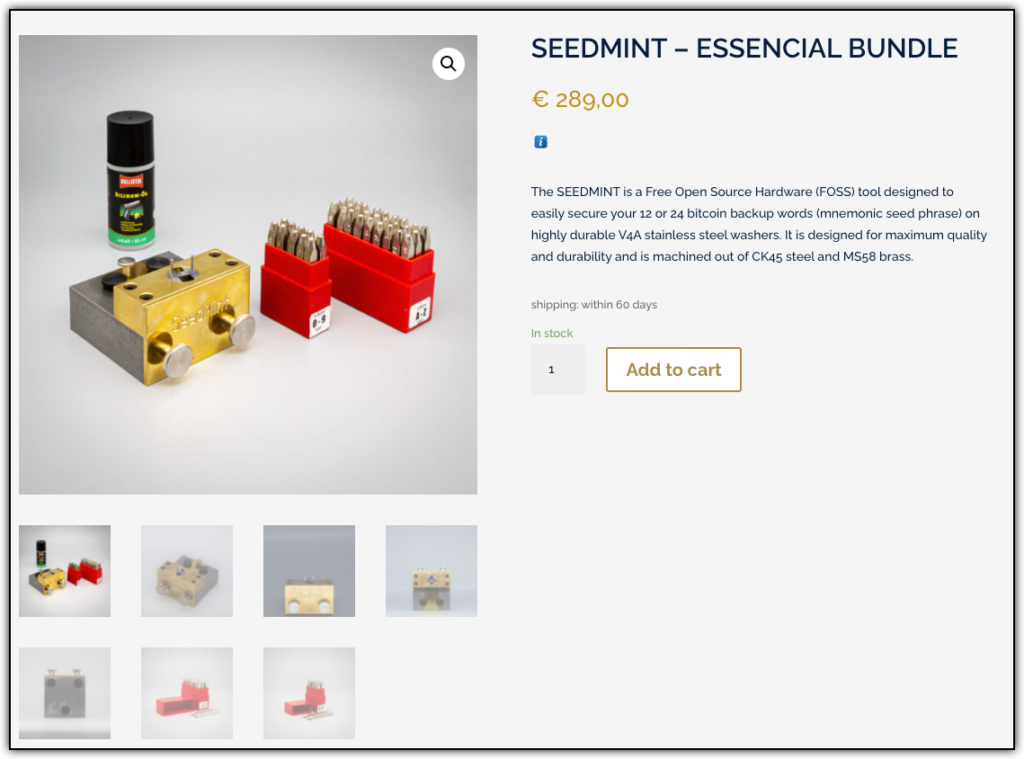 SEEDMINT alloys you to create unlimited steel backups of your 12 or 24 word seed phrases using simple steel washers you can buy from any hardware store. This will cut down on seed phrase storage expenses greatly, especially if you have multiple wallet setups, as most bitcoiners do. With a 3 of 5 multisig, you'd need 5 different backups, and many popular steel plate backup products cost between $100 – $200 each!
If you have a decoy wallet setup, or perhaps a more complex wallet setup, you could be looking at thousands of dollars in steel backups… and you'd better hope you don't make a mistake (I have, and it sucks).
So this is a very cool setup to have on hand, where you can just print as many backups as you want using your own at-home tools.
21 Million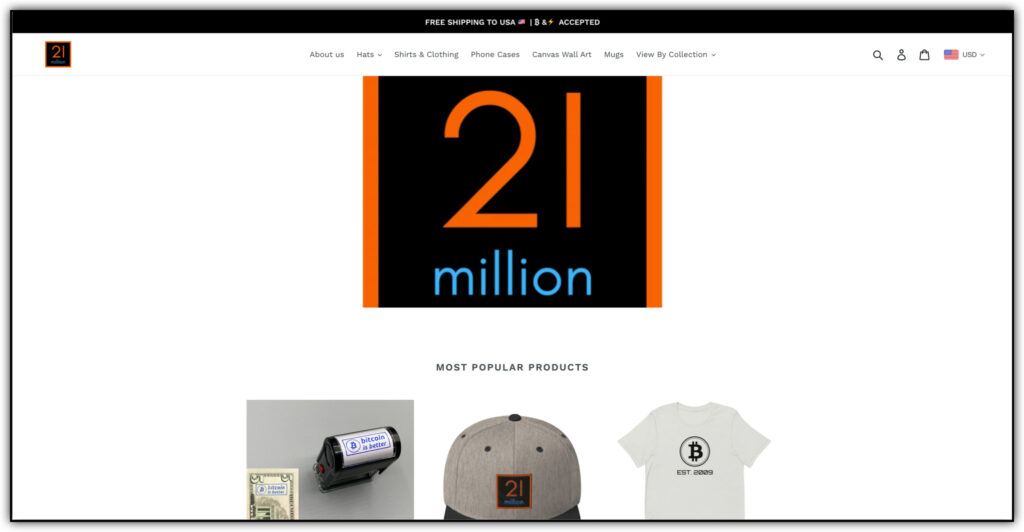 21 Million has a wide variety of custom designs for bitcoin swag. That includes clothes, hats, phone cases, and mugs. They also sell a very popular self-inking rubber stamp that people use to stamp fiat dollars with the phrase, "bitcoin is better".
Bitcoin Hat Guy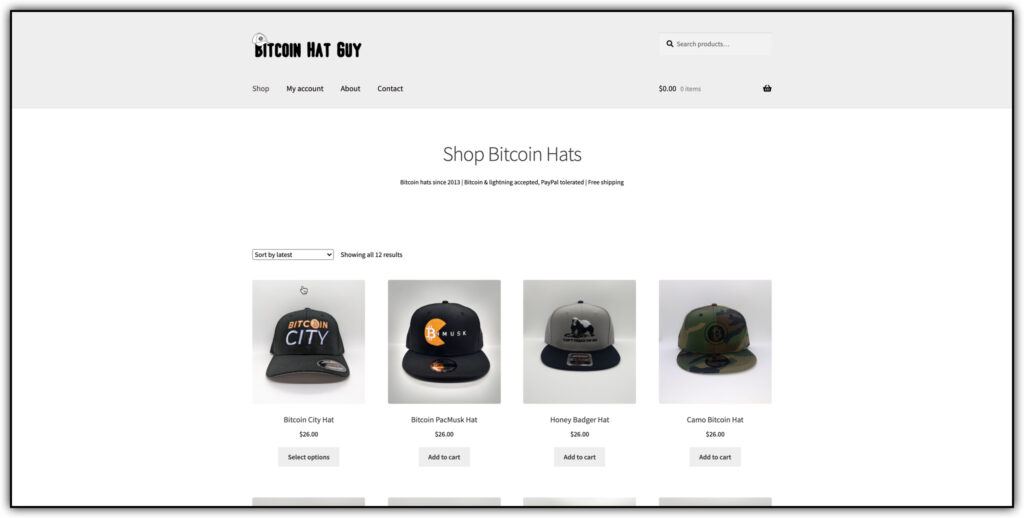 Pretty simple and self-explanatory, Bitcoin Hat Guy is an online store that sells hats related to bitcoin. Hats make a great gift because most guys will wear a hat from time to time, either for style or for actually keeping the sun out of your eyes. They have a variety of styles of hats, including baseball hats, snapbacks, and beanies. I didn't see any trucker hats or cowboy hats though!
Crypto Cloaks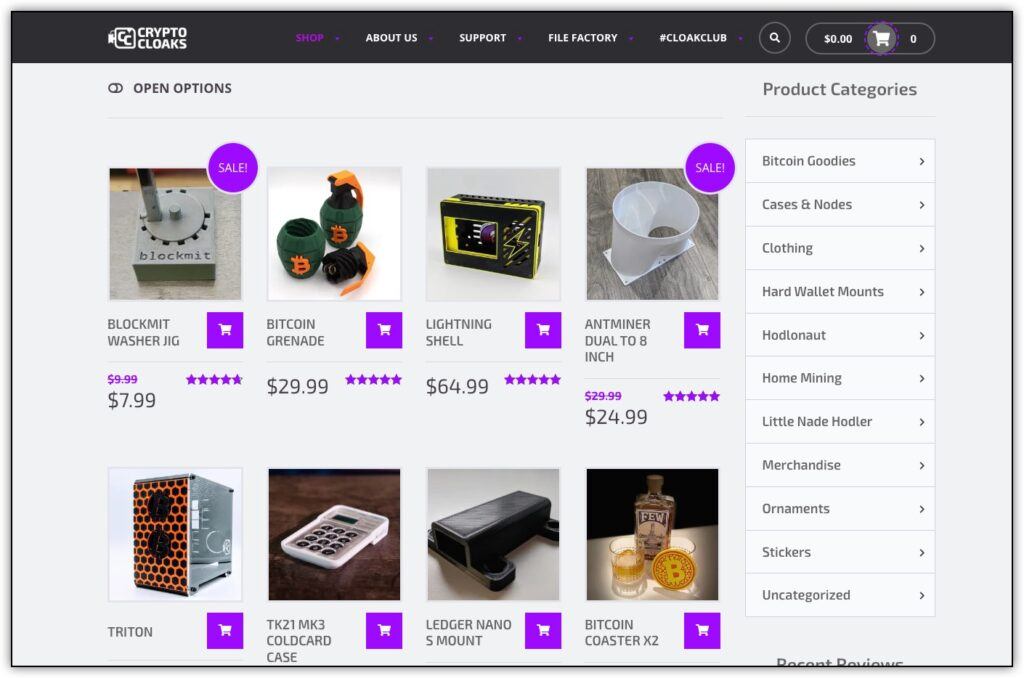 Crypto Cloaks is a very specific niche online store of 3d printed gear for bitcoin equipment. There are cases for nodes, secret hiding places for physical bitcoin keys and hardware wallets, and some other random things.
Coinkite
Product: Blockclock Mini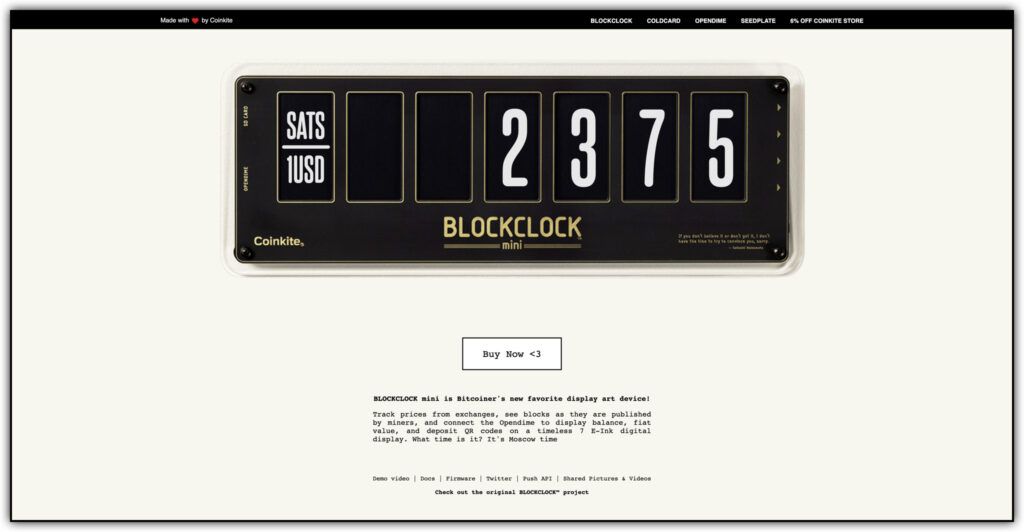 The Blockclock Mini is from the makers of the Blockclock, among other things. The Blockclock mini, however, is not a common piece of hardware to own, and it makes a pretty awesome gift.
This device is a "split-flap", like you'd see displaying the names of destinations and vehicle numbers in the old train stations or airports, and you can program it to show various bitcoin statistics. For example, you can have it display the price of bitcoin, the number sats per dollar, or block height.
There are tons of options, and it updates automatically. It's very cool to have the tiles flip back and forth, and it's pretty interesting to pair the "old tech" of the split-flap with the "new tech" of Bluetooth and bitcoin.
Pretty awesome stuff.
If you do want to get a couple of things from the shop, Opendimes are another super unique gift sold at Coinkite, and are pretty versatile. They are a way to trade physical bitcoin in a roundabout way. You just load some bitcoin onto the USB stick and can give the stick as payment.
Product: SATSCARD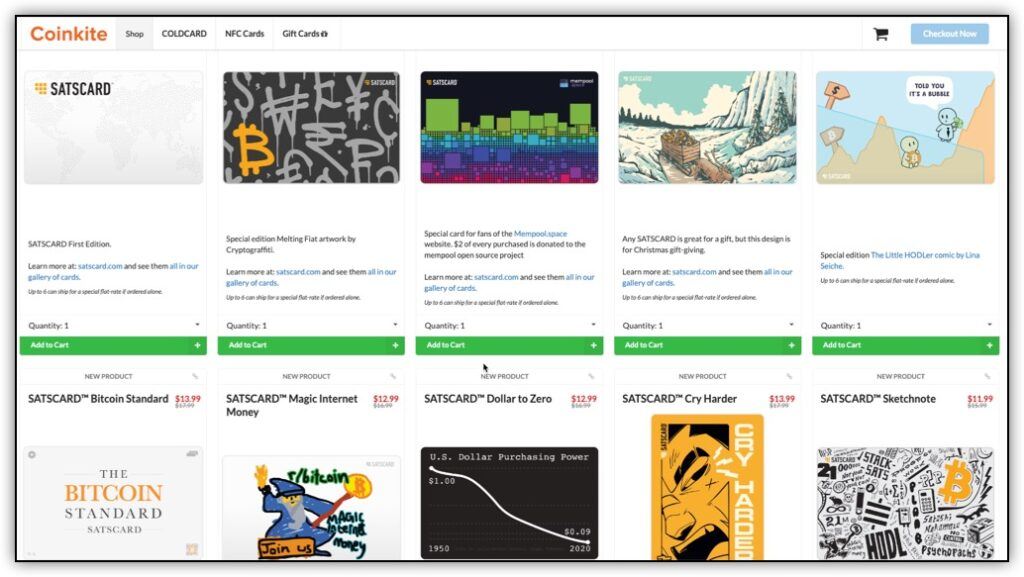 The SATSCARD is a cool bit of technology that allows you to store bitcoin on a physical device to be traded with other bitcoiners IRL. It's like using cash, but bitcoin. SATSCARDs can be loaded with bitcoin, but once redeemed (funds swept into a spendable wallet), the "slot" (1 of 10) is used. This makes sure that your private key for any bitcoin held is always safe and secret.
There are many potential use cases here, but one potential use case could be that you want to buy a high ticket item like a car, but don't want to carry $10,000 USD in cash, which can be easily confiscated. You could load $10k in bitcoin onto a card, the recipient could take the card, verify funds, and then sweep the funds to their own wallet.
Another potential use case could be that you have a Satscard in your wallet to load funds from bitcoin ATMs at local gas stations for KYC-free sats. This could also serve as an emergency fund in your wallet, allowing you to sweep bitcoin into a mobile wallet at any time.
Just don't lose the card. The private key is stored on the card, so you can't write it down to back it up at home.
Product: Tapsigner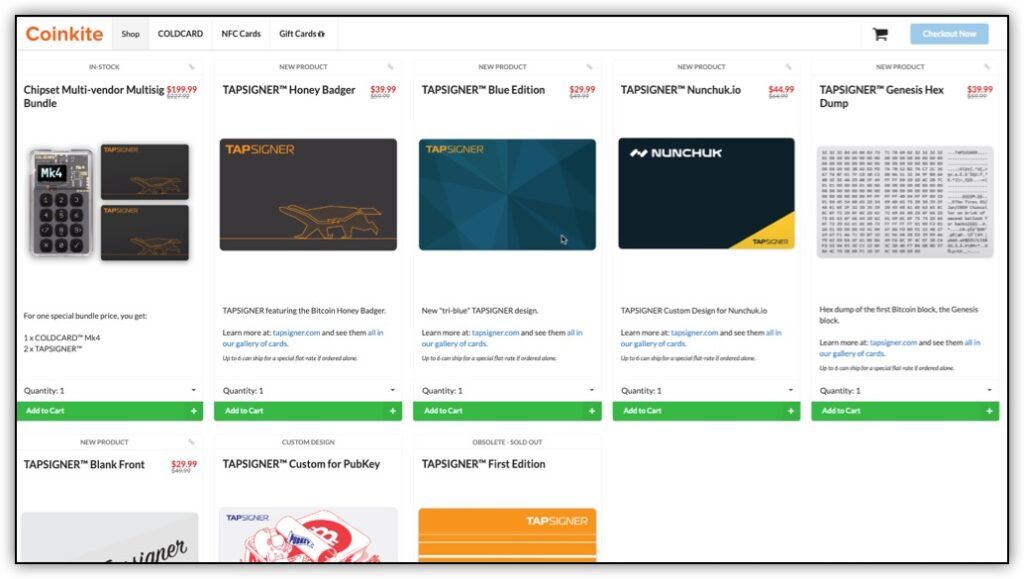 TAPSIGNER also takes the form factor of a credit card, but with a different use case from the SATSCARD. This works as a hardware "signing device" that you can easily take with you in your wallet. It can be used with some mobile wallets as a security feature, requiring that you "tap" the card to your phone using the NFC on your phone to confirm sending a transaction. Without the tap of a TAPSIGNER, the transaction won't send!
It can also be used a part of a larger multisig quorum, requiring other traditional bitcoin hardware wallets to sign alongside TAPSIGNER, such as a 2-of-3 or 3-of-5 multisig.
Tons of fun use cases with this, so it would be useful to have a couple of these laying around.
LNbits
Product: Nerdminer W/ S9 Case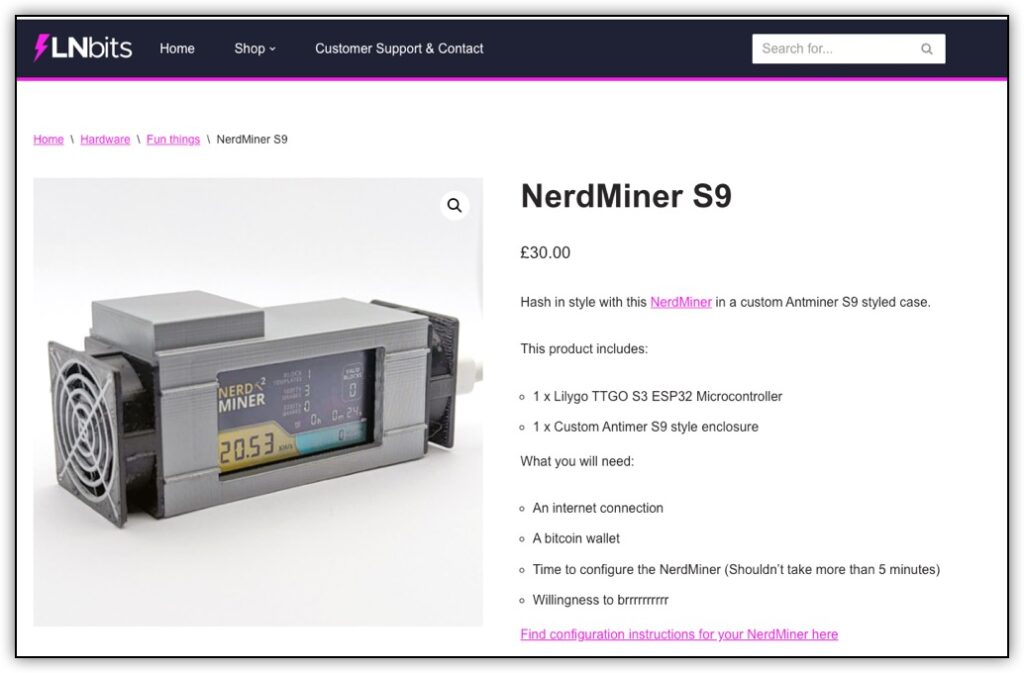 The NerdMiner is a little device you can build to solo mine bitcoin. It's called "NerdMiner" because there's an almost zero chance you'll ever actually get any bitcoin, but it's fun to build. It's for nerds. This particular version comes with a 3d printed case that looks like an S9 ASIC miner. You can build these things from scratch and make up your own case design (or do no case), but the S9 enclosure is pretty funny.
It's cool to say you're mining bitcoin at home, and there legit are people who solo mine bitcoin blocks, so there is a chance you could hit the lottery and win a whole bitcoin with this thing. It's mostly just for fun display though, and makes a great gift for a bitcoiner, even if they've never mined bitcoin before!
Pivotal Pleb Tech
Product: Loki Kit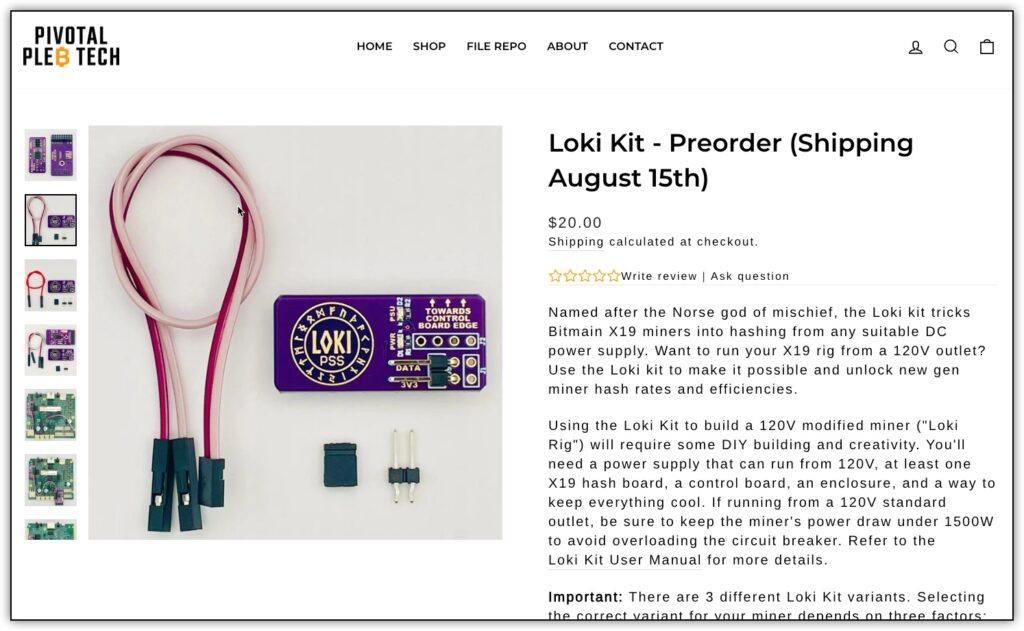 Pivotal Pleb Tech has a very brand new bit of bitcoin hardware as of 2023 with one very specific use case. The "Loki Kit" allows home miners to hook up a new generation miner which usually takes 220v electricity (think clothes dryer) to a 120v outlet. Home miners have historically been limited to s9's and similar miners because they use a standard 120v outlet, while more advance miners that can has at a much higher rate need special electricity hookups. That means calling your local electrician, and suddenly your return on investment changes drastically.
If you know a home miner who wants to experiment with more modern miners, this could be an interesting kit for them!
Blockstream
Blockstream Satellite Base Station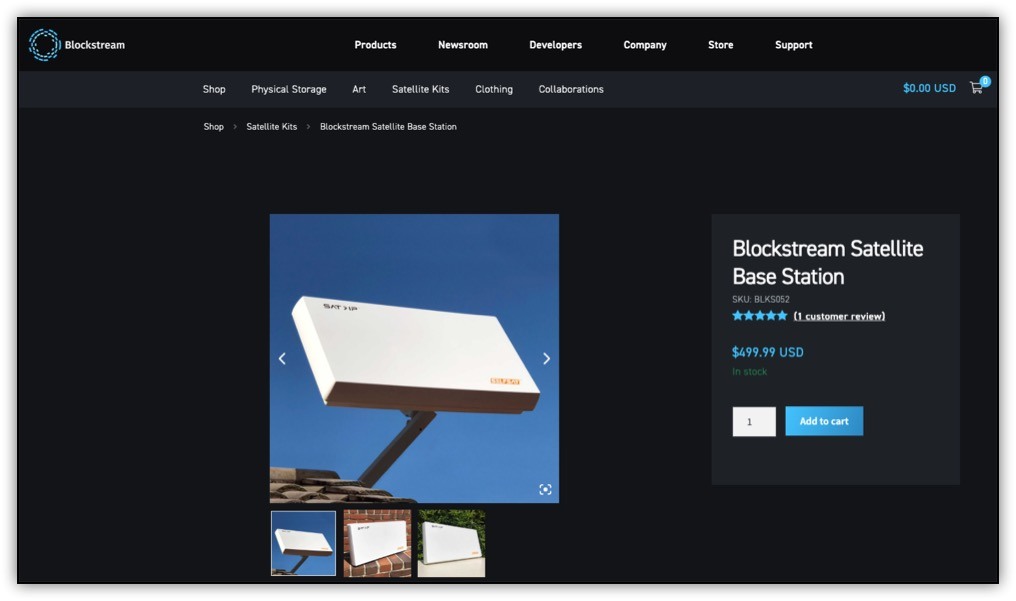 The Blockstream Satellite Base Station is a one of a kind way to receive bitcoin blocks to your node and connect to the bitcoin network without internet access! This satellite data receive can be part of a suite of tools used to send and receive bitcoin without internet access. Real cypherpunk off the grid technology here.
General Bitcoin Swag (Shitcoin Warning!)
The websites above are just the ones that I've personally vetted as having awesome bitcoin gifts, but there are plenty of other websites out there. I would highly advise avoiding Amazon, since there's a lot of pure garbage on that site – along with uninteresting, generic, low-quality stuff. However, general websites like the one listed below have some decent, unique items, if you know what the person you're shopping for likes. For example, I found some cool canvas art on Society 6.
The main warning I'll give you with regards to these types of websites, especially if you're shopping for a bitcoiner, is that there are a lot of things listed under "bitcoin", which are not actually bitcoin. We call these things shitcoins. Shitcoin products make shitty gifts. Unfortunately, most of the time when you search for bitcoin stuff on these types of general websites, sellers tag their items with "bitcoin" regardless of if it's bitcoin or not.
Just something to keep in mind when shopping!
Other Bitcoin Stores
Just some other shops I run into selling stuff for bitcoin or selling bitcoin things.
Bitko: Original comic-style bitcoin decals, posters, hats, flags, and pins. https://bitko.cc/
Cypherpunk.store: Variety of trinkets, clothing, and hardware: https://cypherpunk.store/
Give Them Bitcoin!
Maybe the best gift you can give a bitcoiner is more bitcoin. Maybe. I'll leave that up to you. There are two awesome ways you can give someone bitcoin without just handing them a wad of paper cash and say, "Go buy yourself some bitcoin." If you're a nocoiner, and want to show you care, giving REAL BITCOIN is a very thoughtful thing to do. It shows you made the effort.
Most of all, it's one step closer to orange-pilling yourself, which will probably make your bitcoiner friend even happier.
Gift Bitcoin With Swan
The easiest way to gift bitcoin to anyone, whether they are a nocoiner, pre-coiner, or bitcoiner is Swan Bitcoin Gifts. You decide on the USD amount and pay in standard fiat dollars you have in your account (very easy), then the person gets an email on the date you choose. They then create a Swan Bitcoin account and can receive their bitcoin.
If they have a bitcoin wallet already, they can use that one to withdraw their bitcoin. If not, Swan will walk them through the process of getting that set up. I haven't done it myself, but I assume they'll have you set up a mobile wallet if you don't have a hardware wallet. Swan specializes in Bitcoin education for newbies and has an awesome support team.
Load An Opendime Or Satscard
I mentioned Opendimes earlier in this post. They make great gifts because they're a one-of-a-kind physical storage device for bitcoin that's very inexpensive, which makes it great to trade around like physical cash. There's no such thing as physical bitcoin, but this comes pretty close! A pack of three sells for about $50, so you could load one up with some bitcoin, then give the other two empty ones as bonus gifts. Every bitcoiner needs a couple of these lying around anyway.
Opendimes plug into USB ports. They work kind of like piggy banks. You can continually add bitcoin to them over time, and once you decide to withdraw your bitcoin from the device, you break the seal, and can take the bitcoin out. After that, the device is "spent", and can be tossed.
The next iteration on this concept, from the same company, is the Satscard. It's the same basic concept but in credit card form. It uses NFC tech and comes with a mobile app, and each card has 10 slots for bitcoin, so it can be used 10 times instead of just one like the Opendimes. Unfortunately, it's not available to purchase yet (Jan 2022), but I'll update here when it launches.
Frequently Asked Questions
What Should You Get Someone Who Loves Bitcoin?
Every bitcoiner is different so you should base your gift on their personality. Bitcoin art is beautiful, but each person appreciates a e s t h e t i c differently. You can buy hardware, but that's hard if you aren't into bitcoin yourself. Hats are popular, but is your bitcoiner a hat-person?

At the end of the day, you need to know the person you're buying for, then think about what they'd like, and simply add bitcoin to it to make it a bitcoiner gift.
Can You Gift Someone Bitcoin?
Yes, it's legal to gift someone bitcoin in most places in the world. However, gift taxes apply. The gift tax limit is $17,000 as of 2023.
What Do You Get Bitcoin Lovers For Christmas?
There are many bitcoin-Christmas themed gift items available, and there are always new ones available each season. Socks and ugly sweaters are always popular, but I'm a big fan of coffee mugs myself because there are lots of funny designs.
How Do You Buy A Bitcoin Gift Card?
There are no widely available bitcoin gift cards, however there are a few options to gift bitcoin directly to people.
Can I Buy Bitcoin For My Child?
Yes, you can buy bitcoin for your child, but you should consider custody options based on the age of your child and your goals for giving them bitcoin. For example, gifting a 5-year old a whole bitcoin to start their family in 20 years would require a different custody setup than giving a 10-year old a weekly allowance in bitcoin.