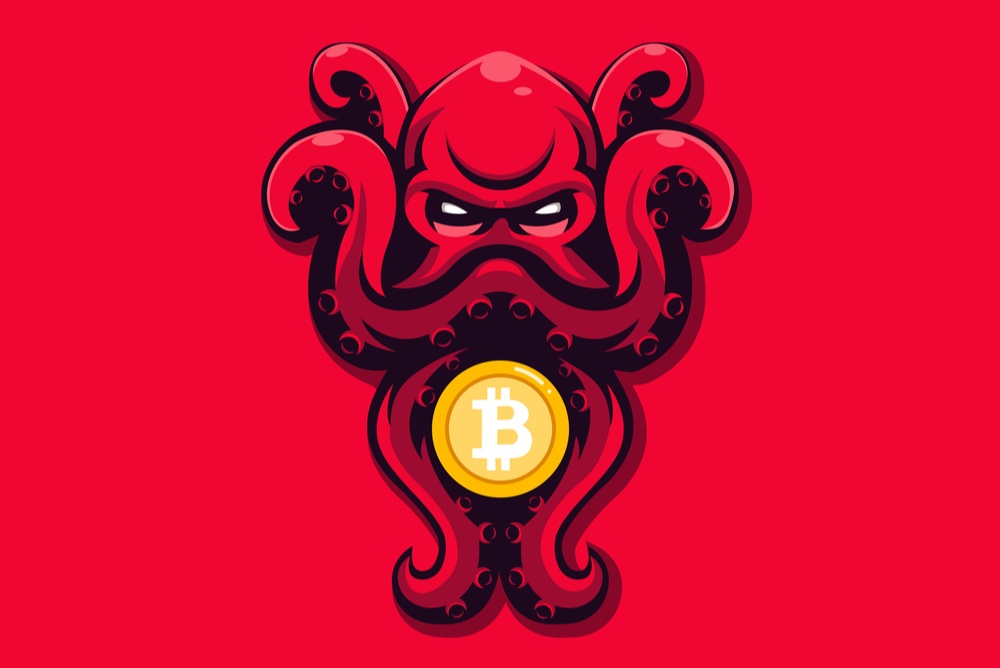 There are hundreds – maybe even thousands of bitcoin t-shirt designs out there to choose from. Finding the best bitcoin t-shirt designs takes a bit of time and curation as you sort through all the standard stuff you see everywhere.
In today's world of global trade and ecommerce, made possible by the internet, it's super fast to create (or outsource) a design, throw up an online store and start selling custom stuff in an hour or two. If you see a meme on Twitter, chances are it'll be for sale as a coffee mug or bumper sticker in just a few minutes.
One of the most popular made-to-order, or custom memeified products to sell is the classic t-shirt, so there is no shortage of custom Bitcoin t-shirt designs. The trouble is that most of them suck. Pretty much 90% of what you find out there is just a basic bitcoin logo on a plain shirt. It's got very normie vibes to it.
Maybe if this was 2011, something like that might be cool and unique. Someone might even ask you what a "bit coin" was. Those were simpler times, I guess.
Now we have history. We have memes. Bitcoiners want to express themselves in more ways than just "I like bitcoin". There's been a recent explosion of independent artists and entrepreneurs selling bitcoin gear online so I wanted to compile a list of some cool bitcoin t-shirt designs from quality companies that would be great as gifts for the bitcoiner in your life. Or just get one for yourself.
My Top Bitcoin T-Shirt Picks From 10 Different Companies
I tried to pick a diverse range of themes and styles to highlight from some of my favorite companies, but of course, click the links to the individual stores to see more designs at each company. I'll add more to the list as I find them, and if you have a bitcoin-only shirt shop or know of a good one I missed, post a link in the comments and I may add it to the list.
1. LMTD Supply Co.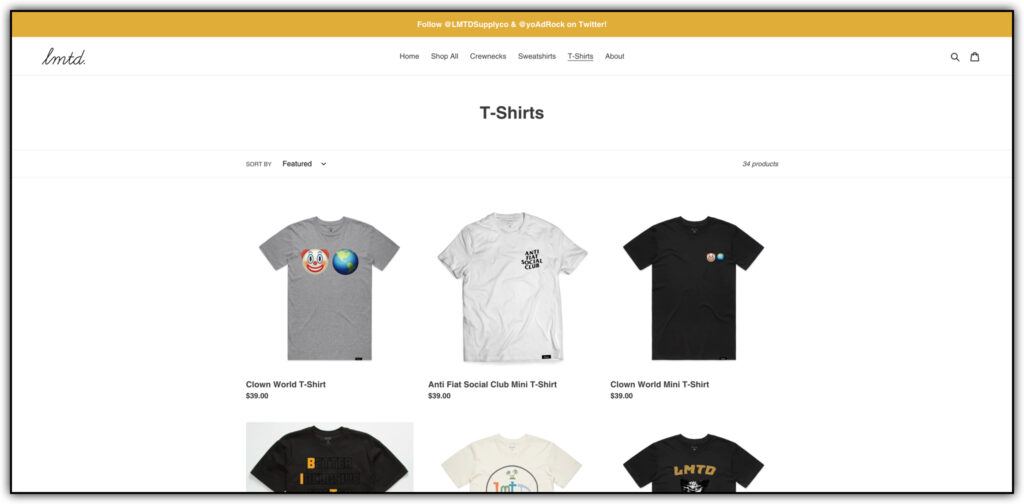 LMTD Supply Co. offers a variety of t-shirts, crewnecks, and sweatshirts on bitcoin themed topics. I like that many of the shirts are subtle bitcoin references like stay humble, which, to most people doesn't mean much, but to bitcoiners is a very famous meme (stay humble, stack sats). Even more obscure references include slay your heroes or CBDCB, which references CBDCs, but actually means Central Bank Digital Cuck Bucks.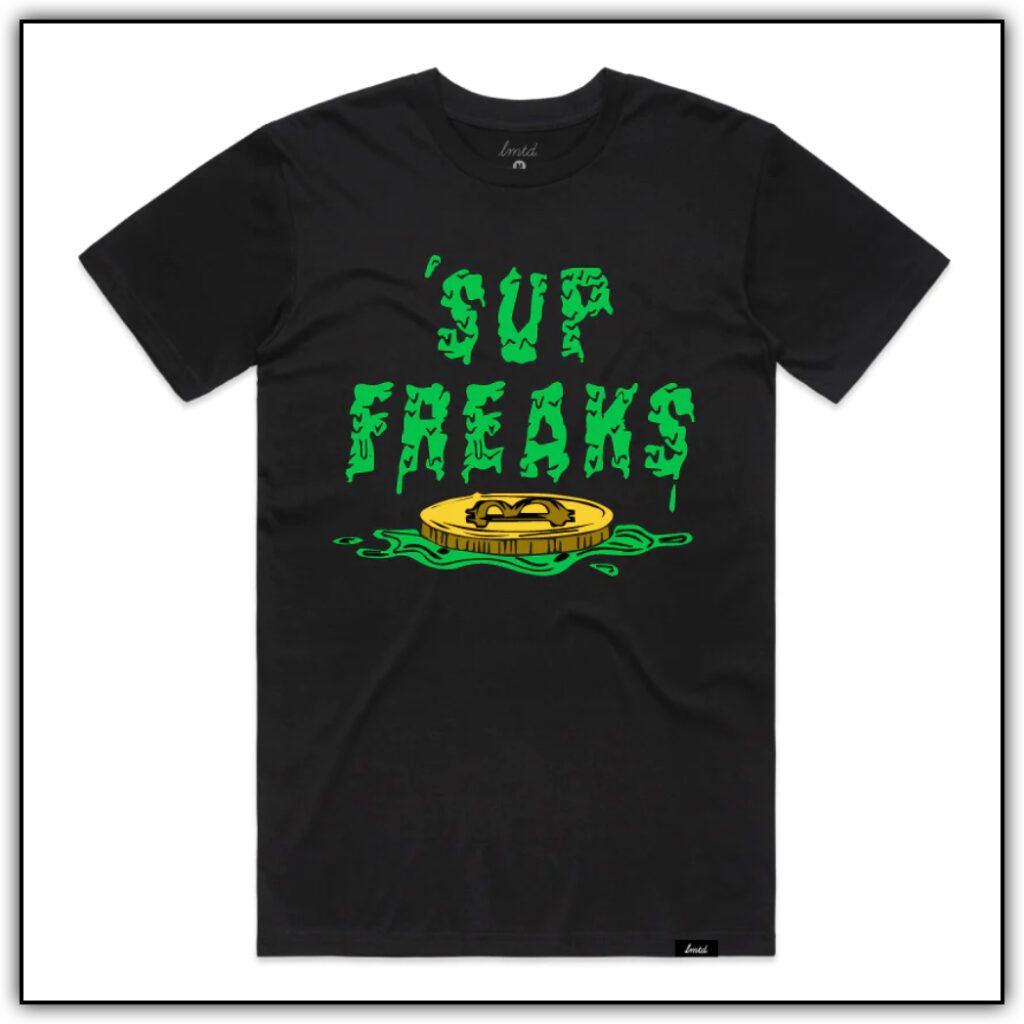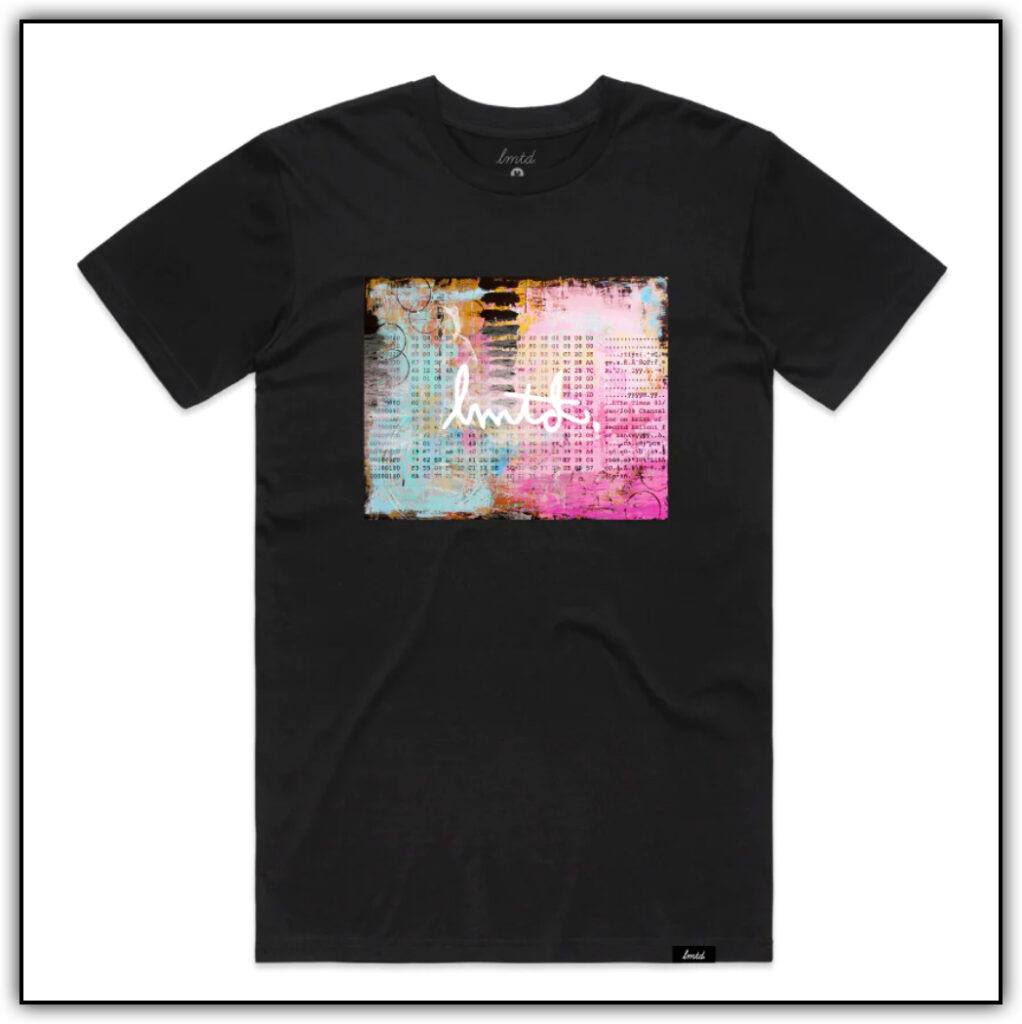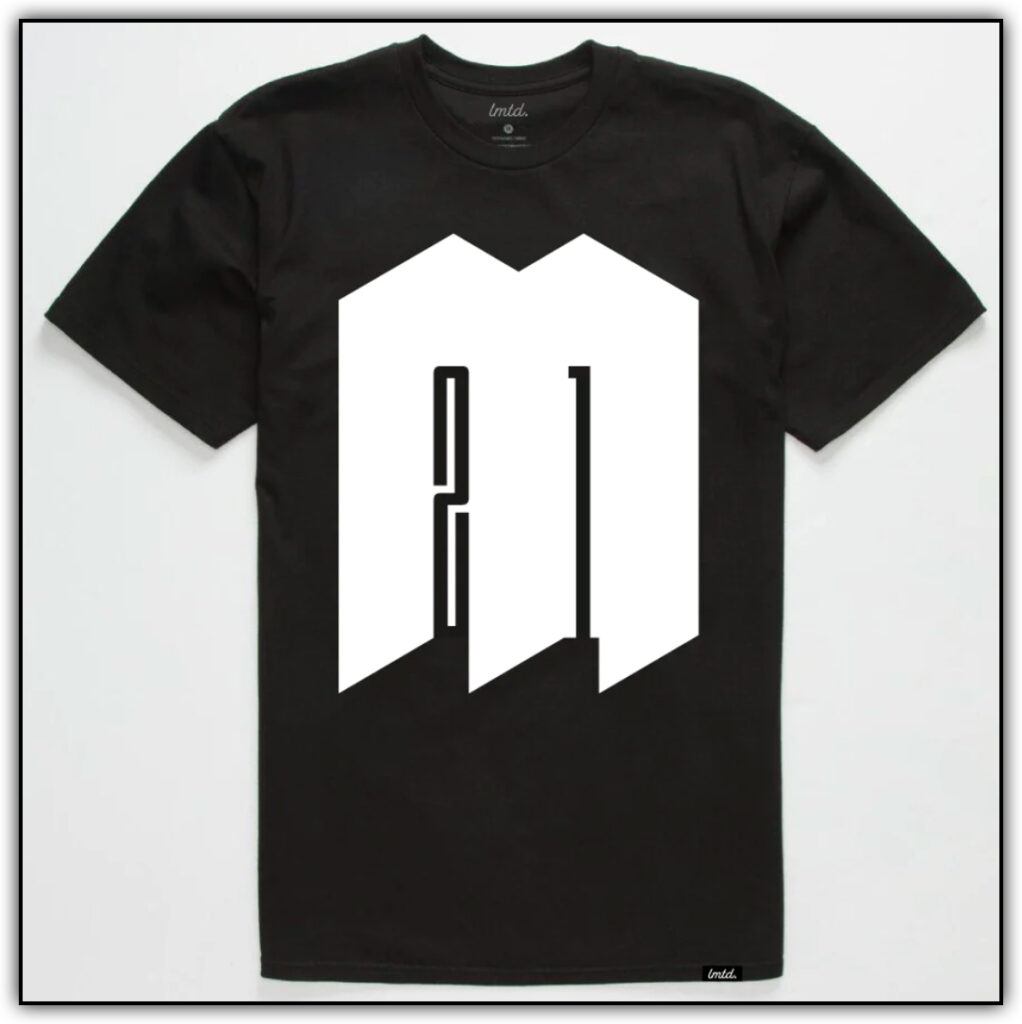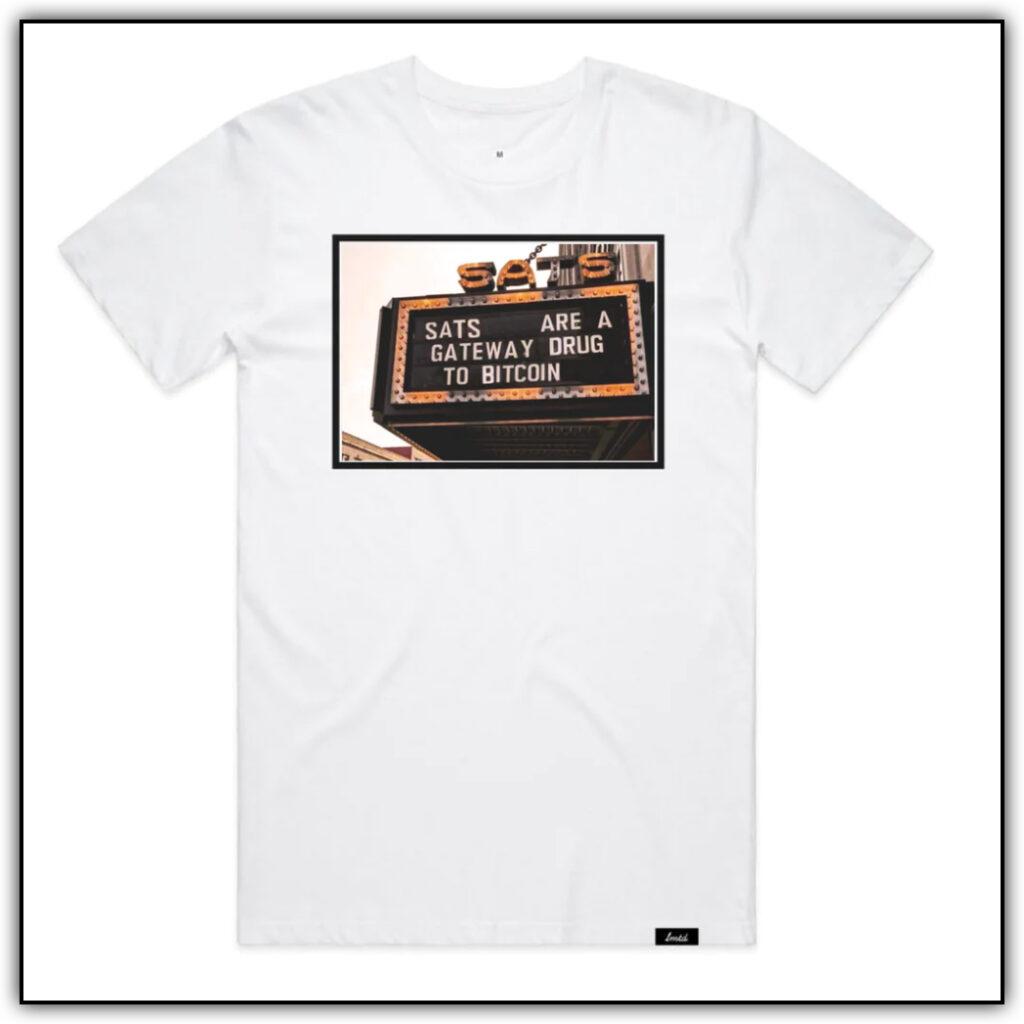 2. Meme Factory Merch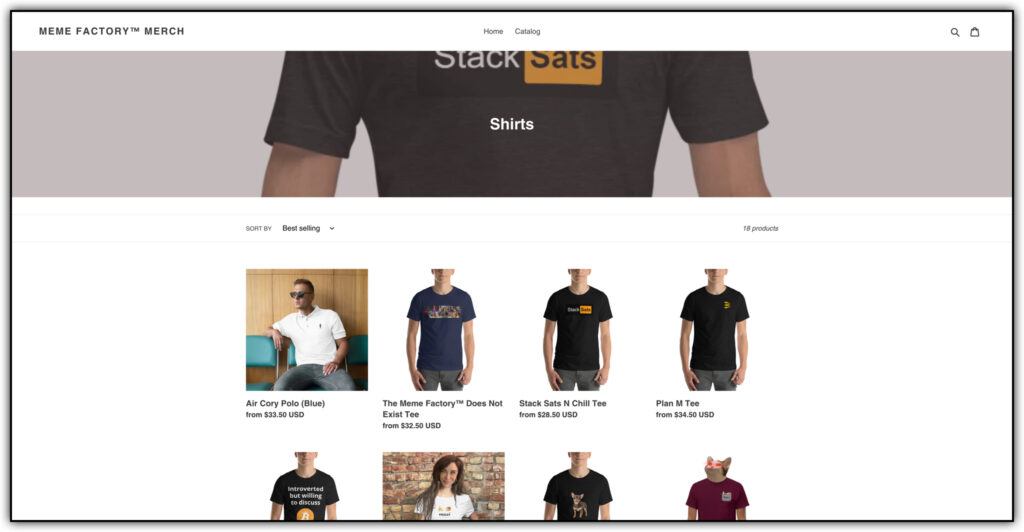 Meme Factory Merch is probably the silliest and most fun of the bitcoin t-shirt stores I found. Many designs are deep cut memes like banana bread maxi, here come Cory, and nasers (laser nipples). Just FYI whoever made their website didn't categorize things properly, so you have to browse "all products" to find all their shirt designs (don't look in the shirts tab).
I've got all black examples below because that's just how it ended up, but each design has several color schemes available.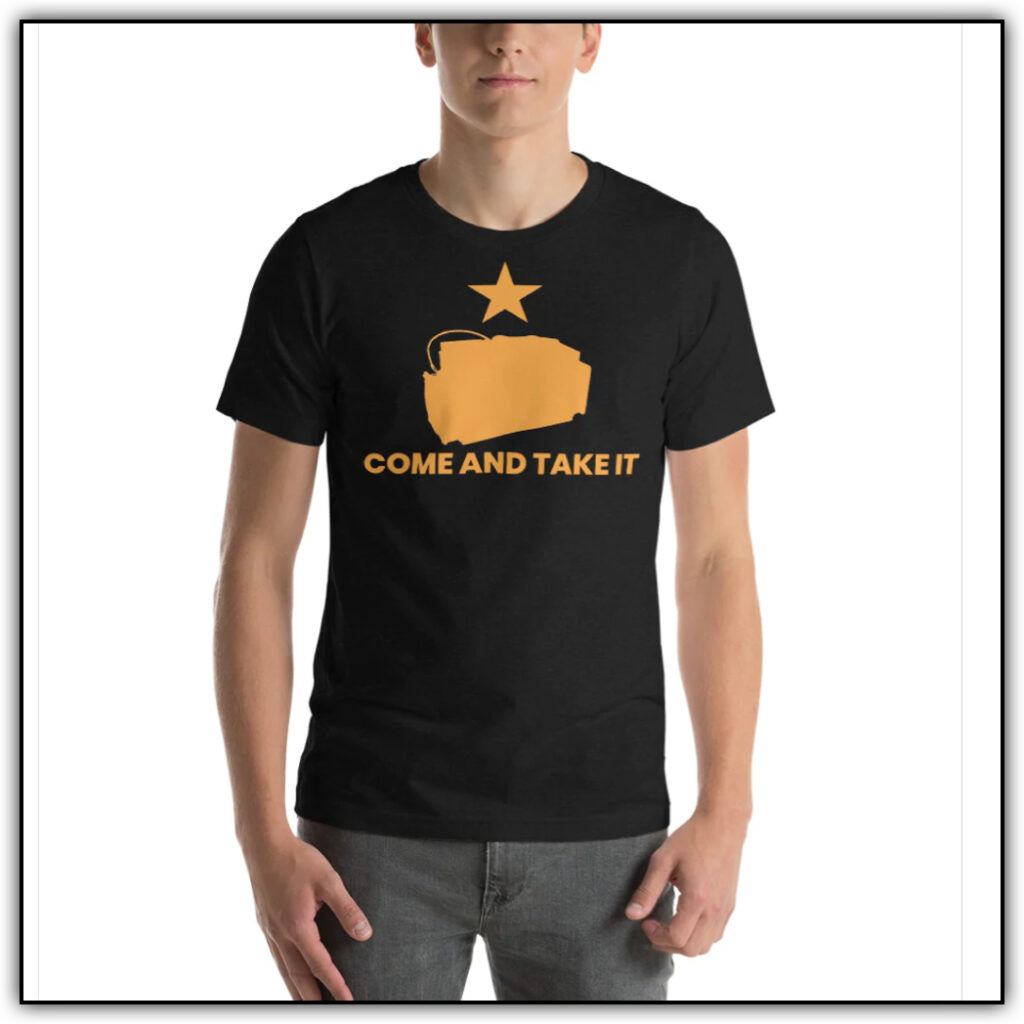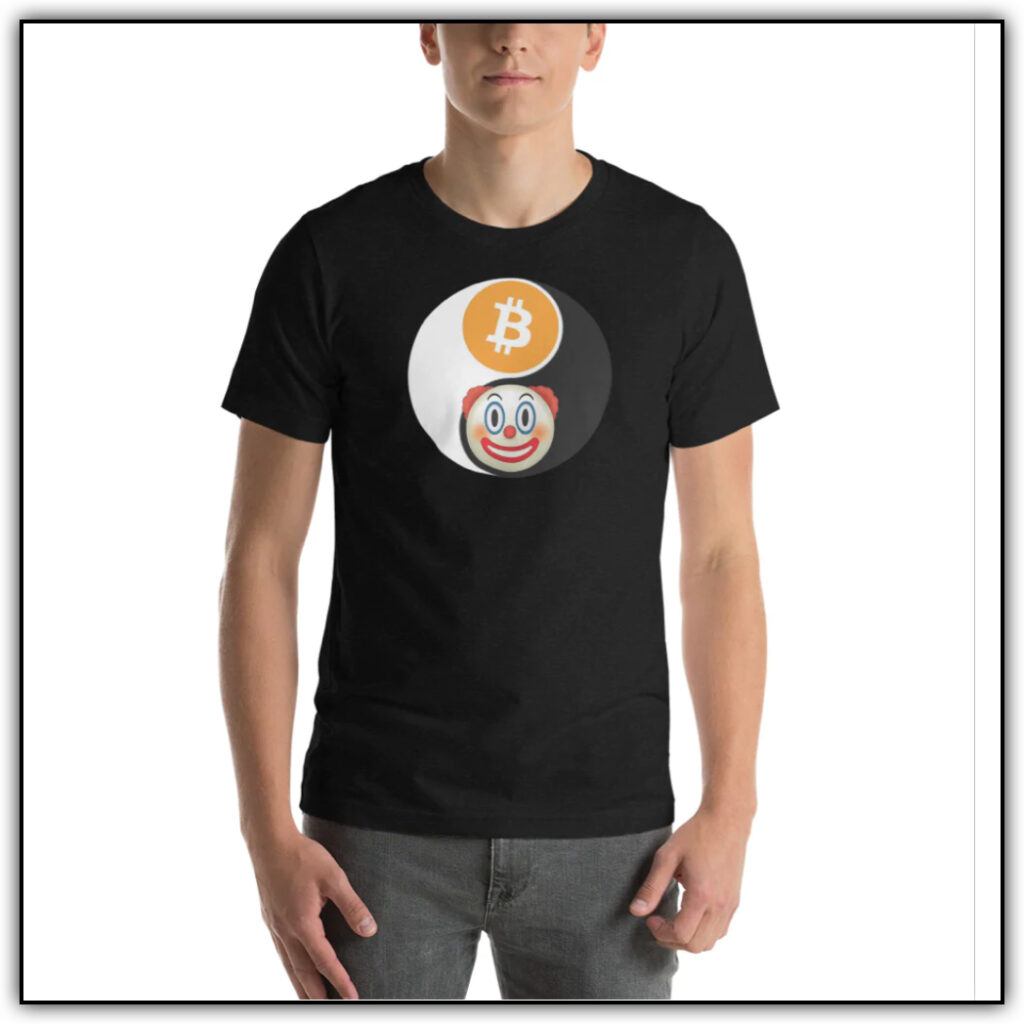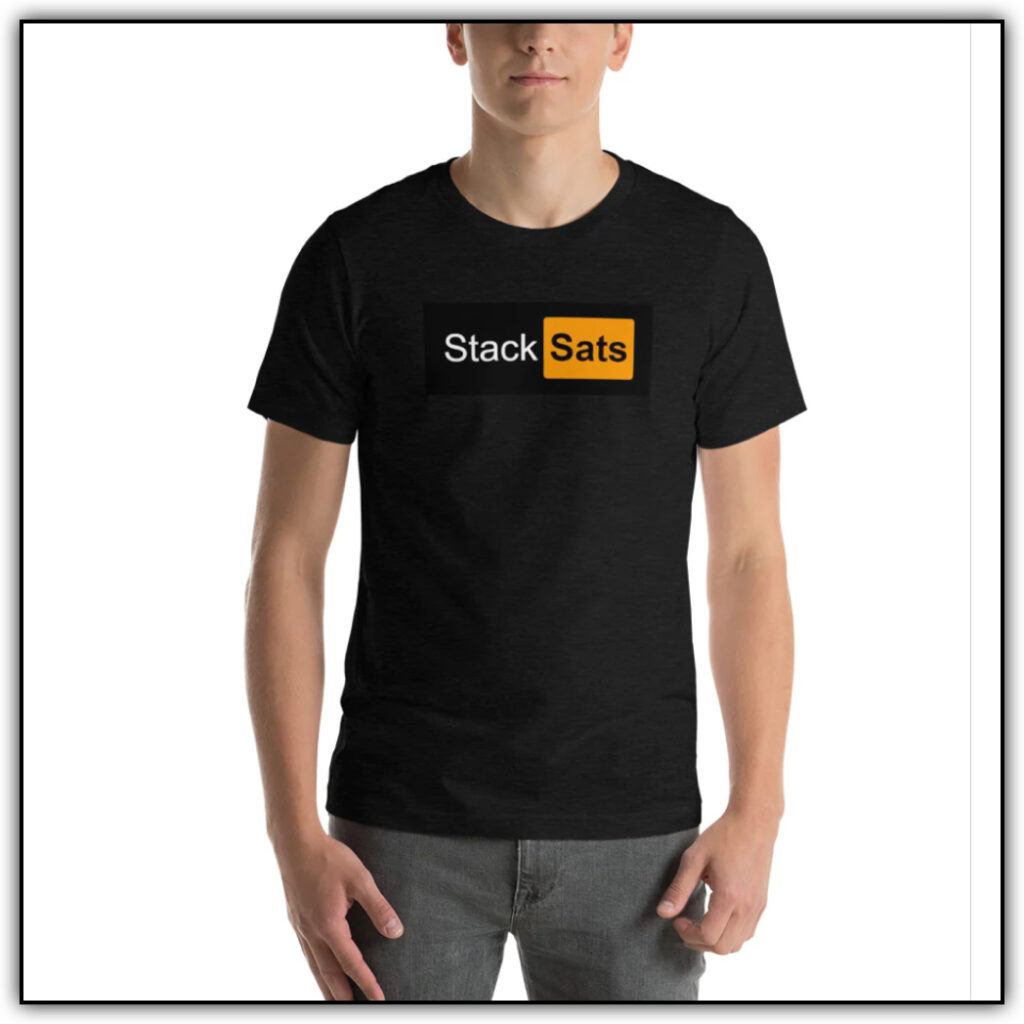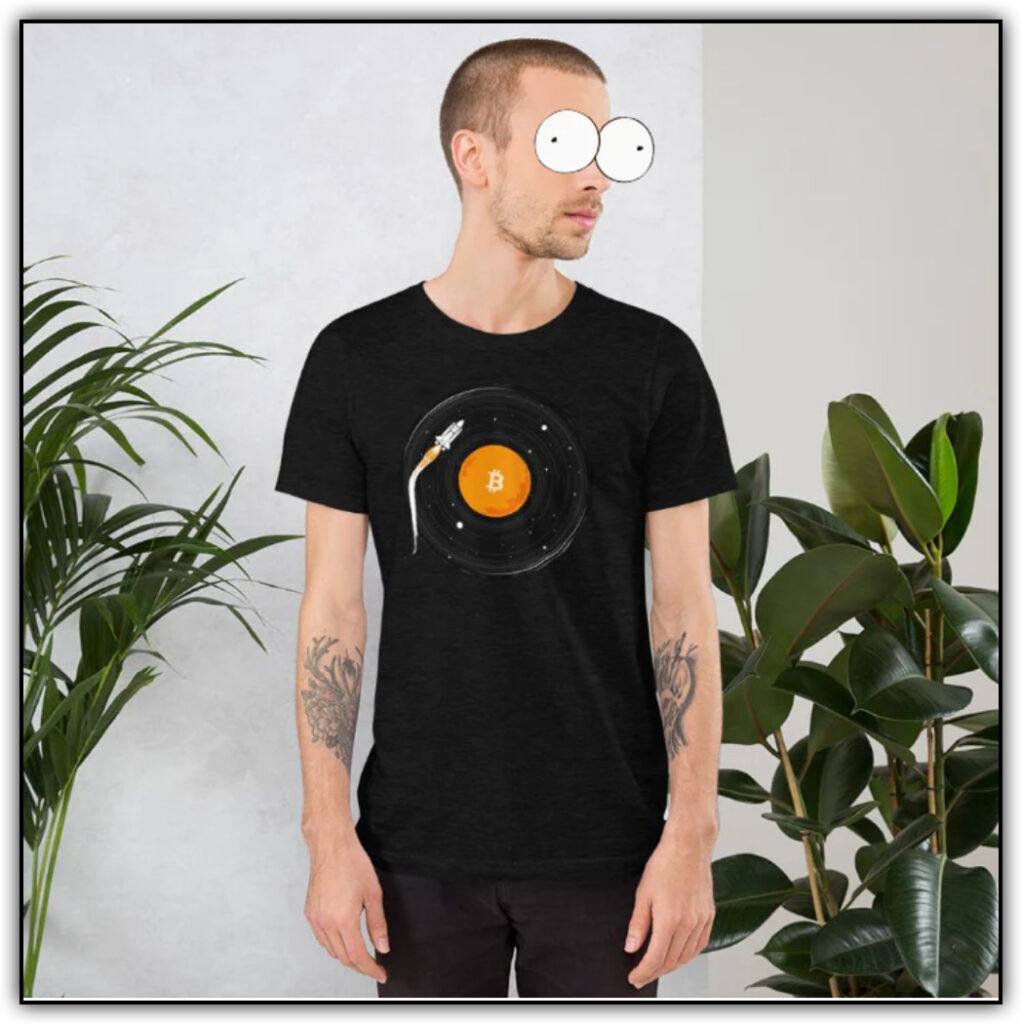 3. 21 Million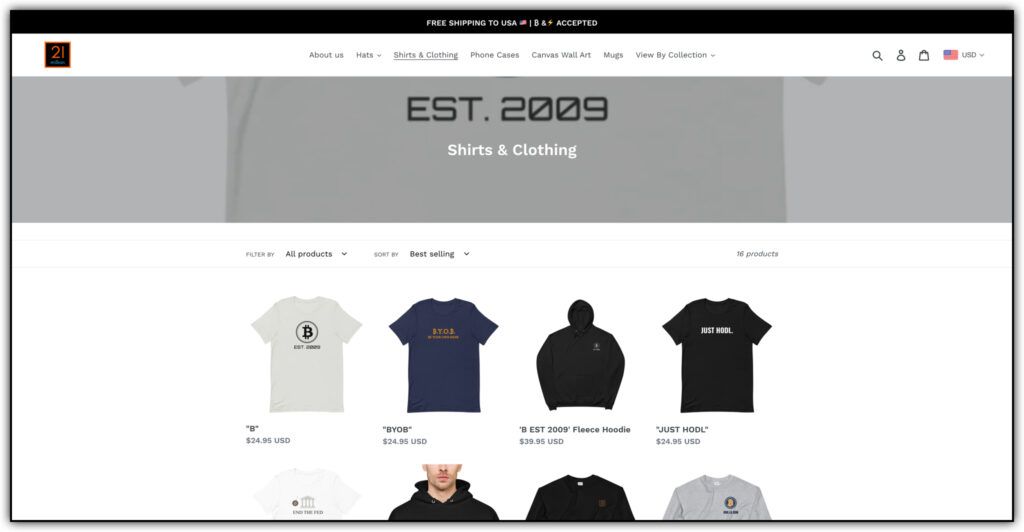 21 Million, has a really slick logo, so although I normally wouldn't buy any shirts with the eCommerce store logo, I would make the exception here. In fact, it's one of my top design picks! 21 Million has a pretty small selection of designs, but they do also have phone cases, wall art, mugs, and hats. You can even pay in bitcoin here!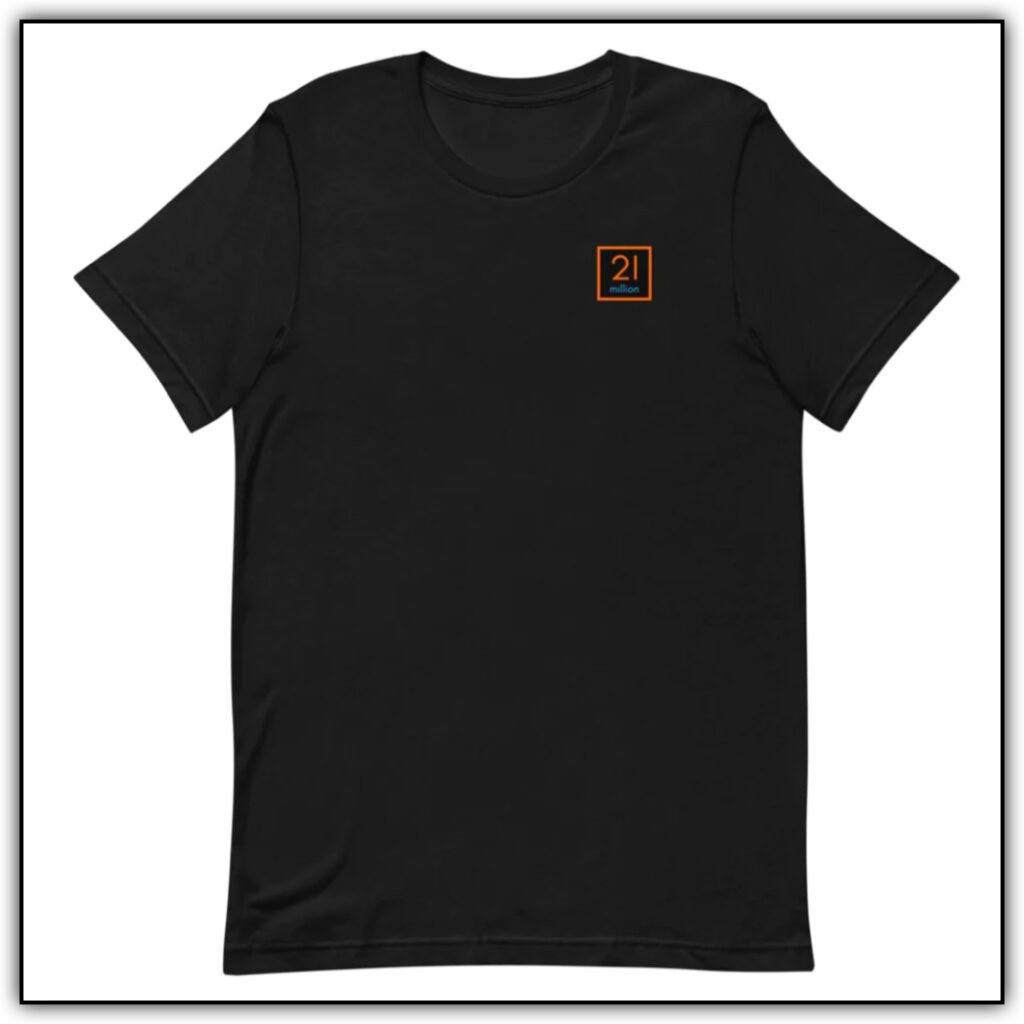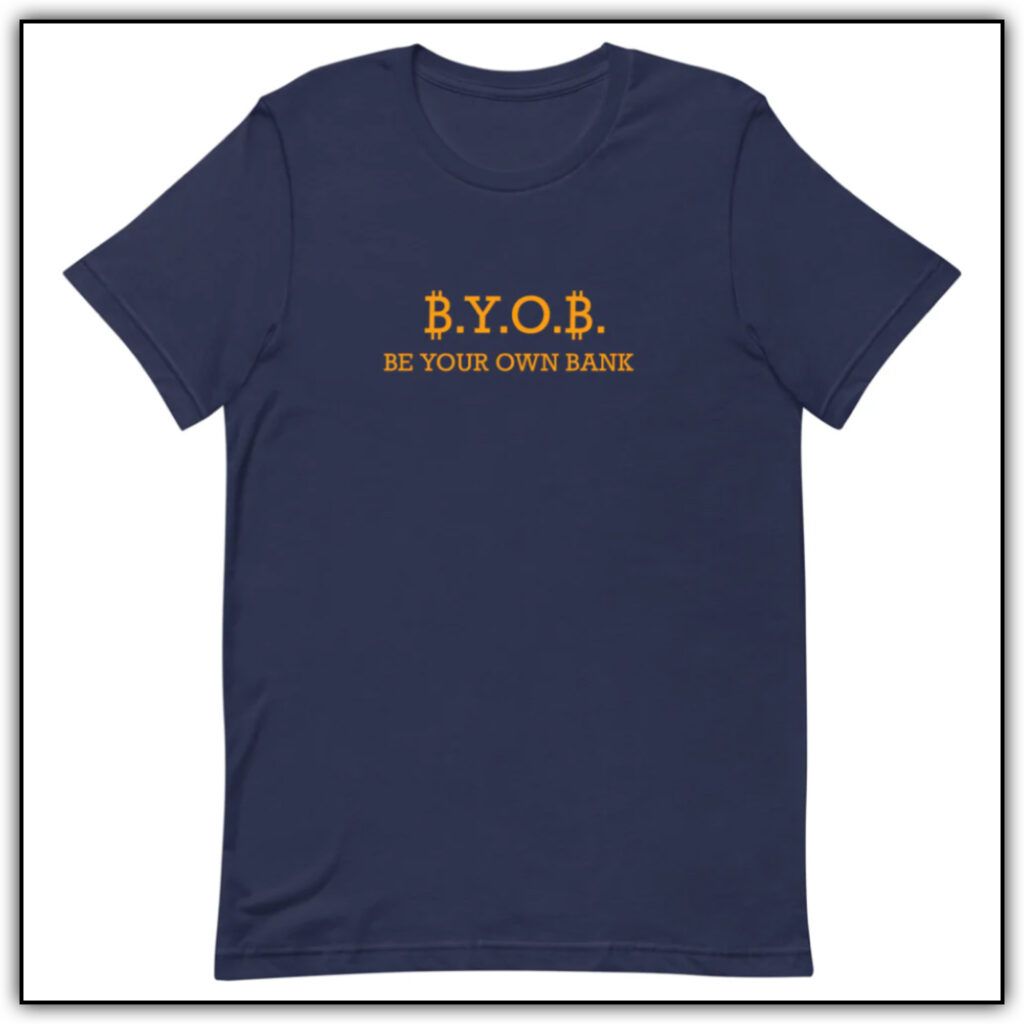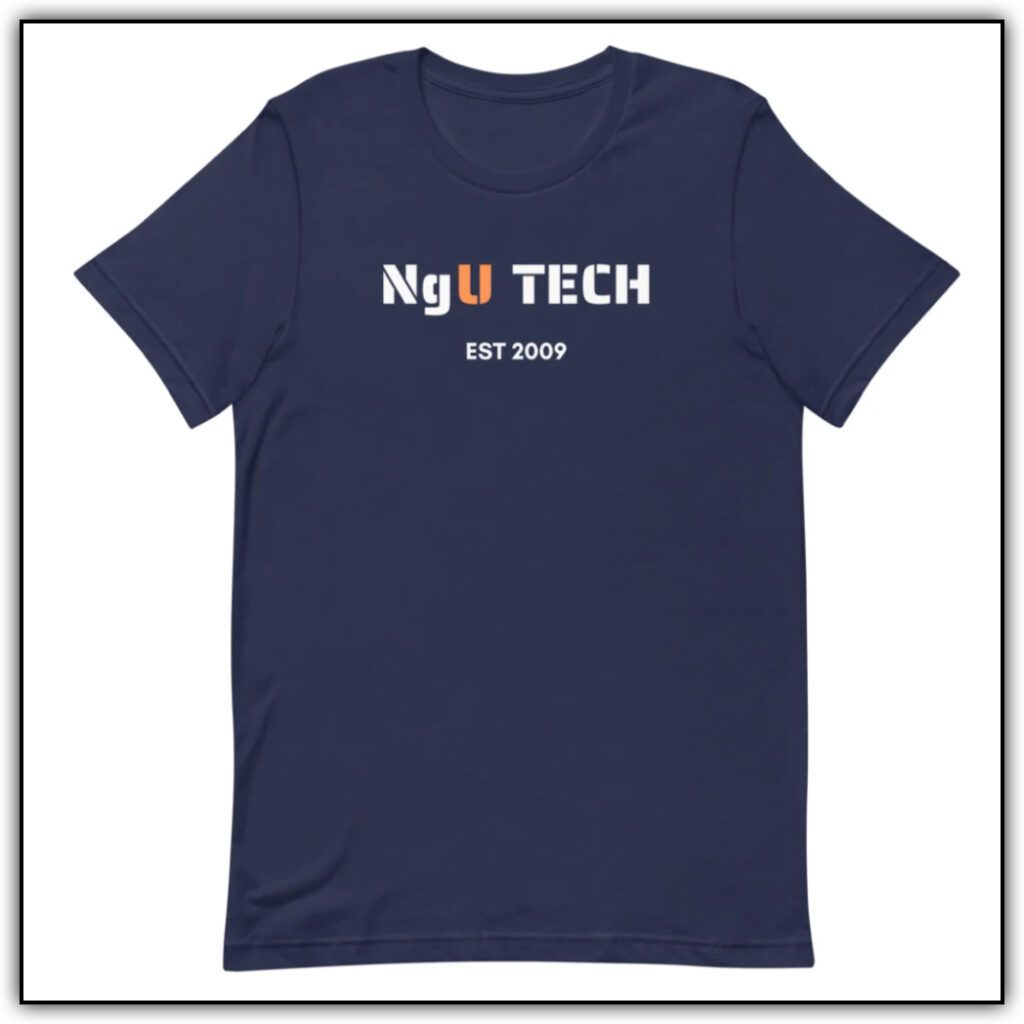 4. Bitcoin Gear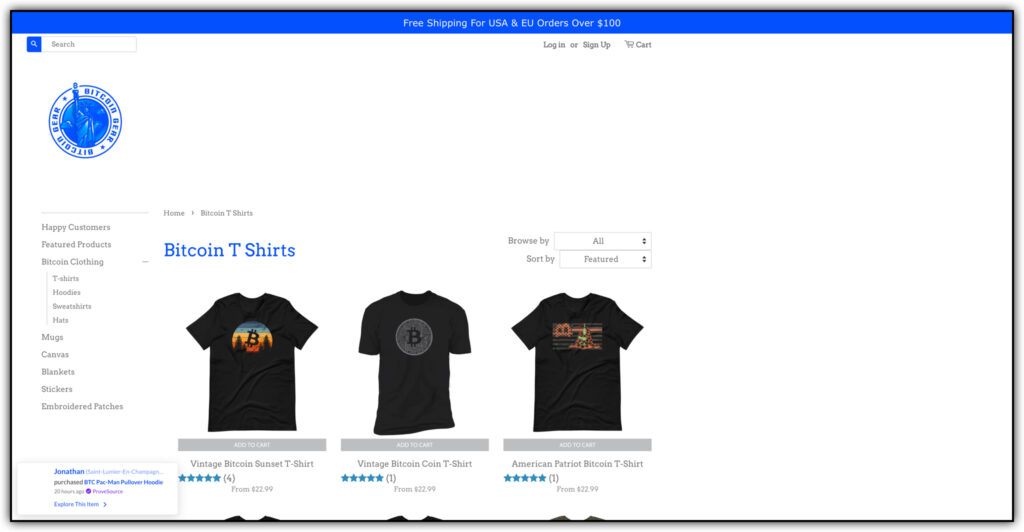 Bitcoin Gear has quite a few unique designs I didn't see anywhere else, so it was hard to narrow them down to just a few of my favorites. There are tons of meme shirts available and funny bitcoin sayings that I see on Twitter, each available in a selection of colors. They also offer mugs, blankets, patches, stickers, and canvases with the same designs.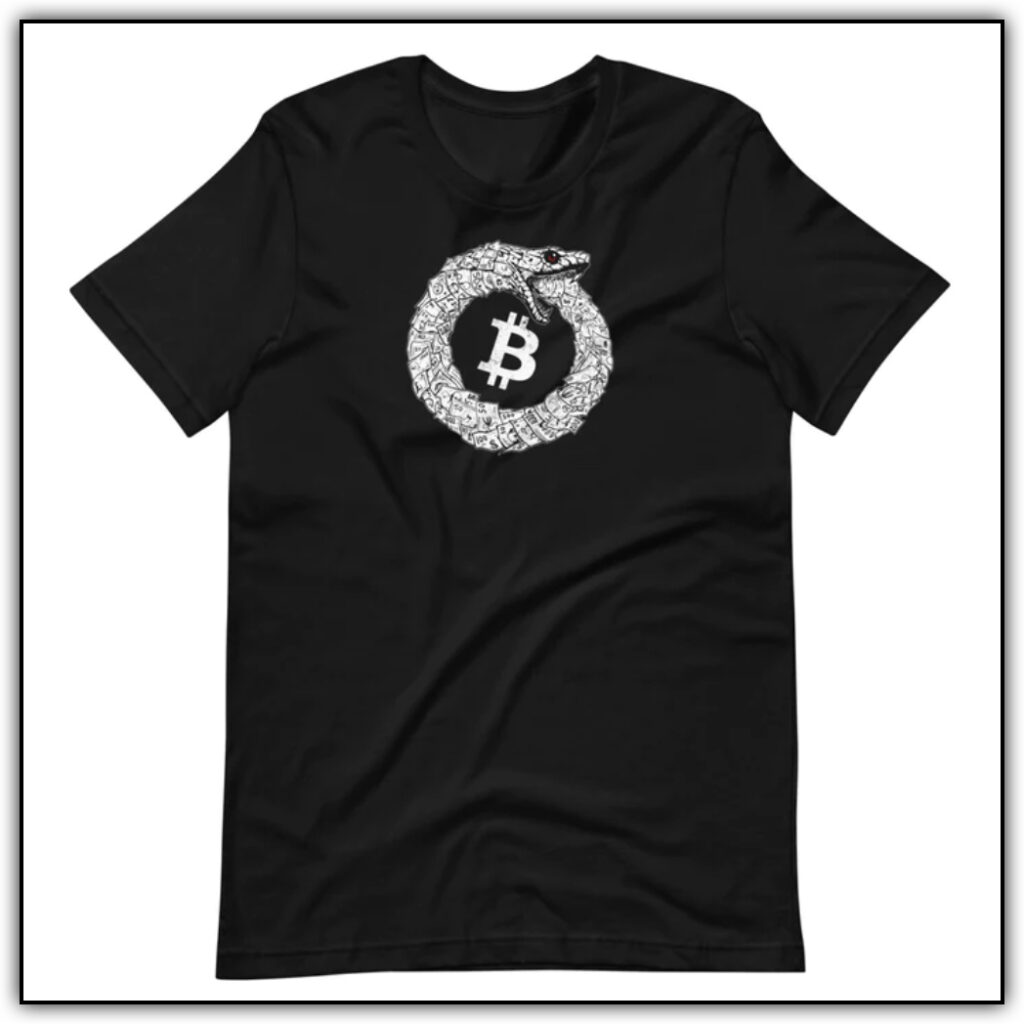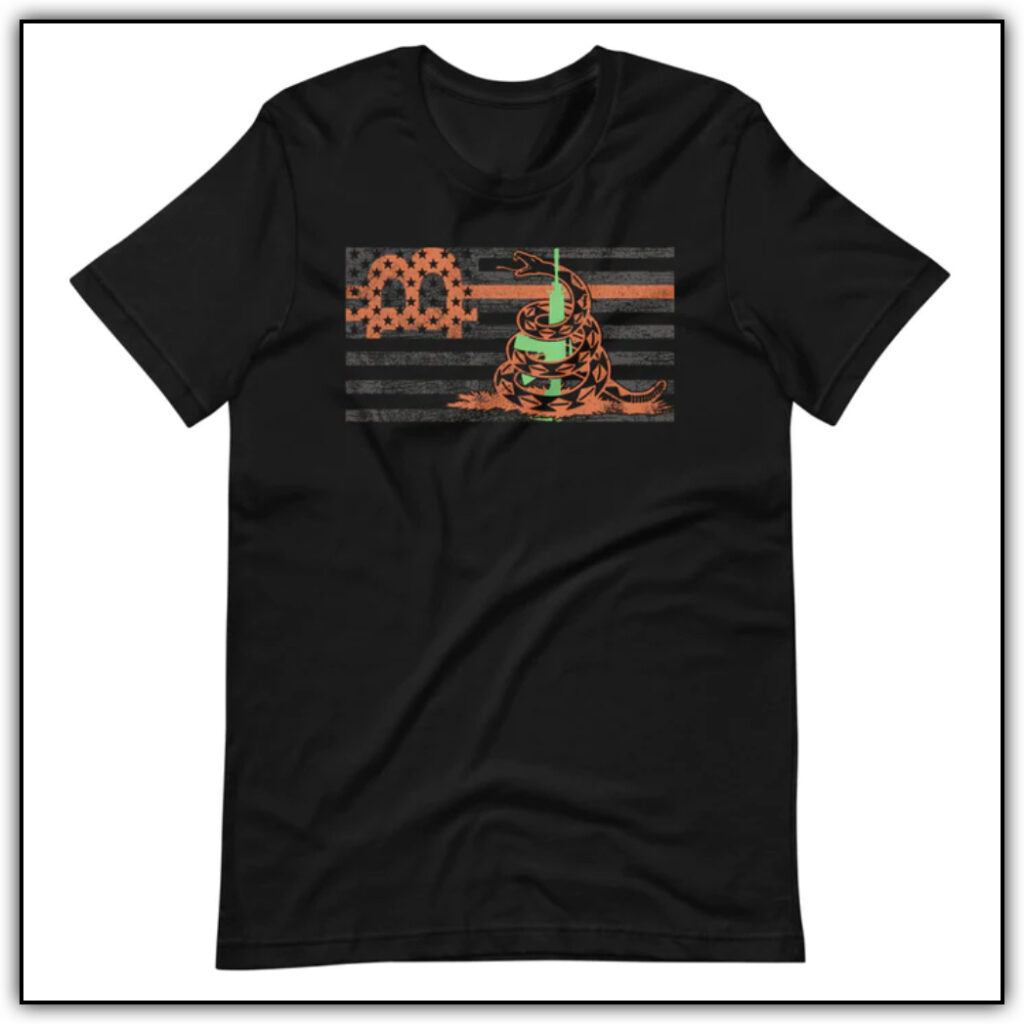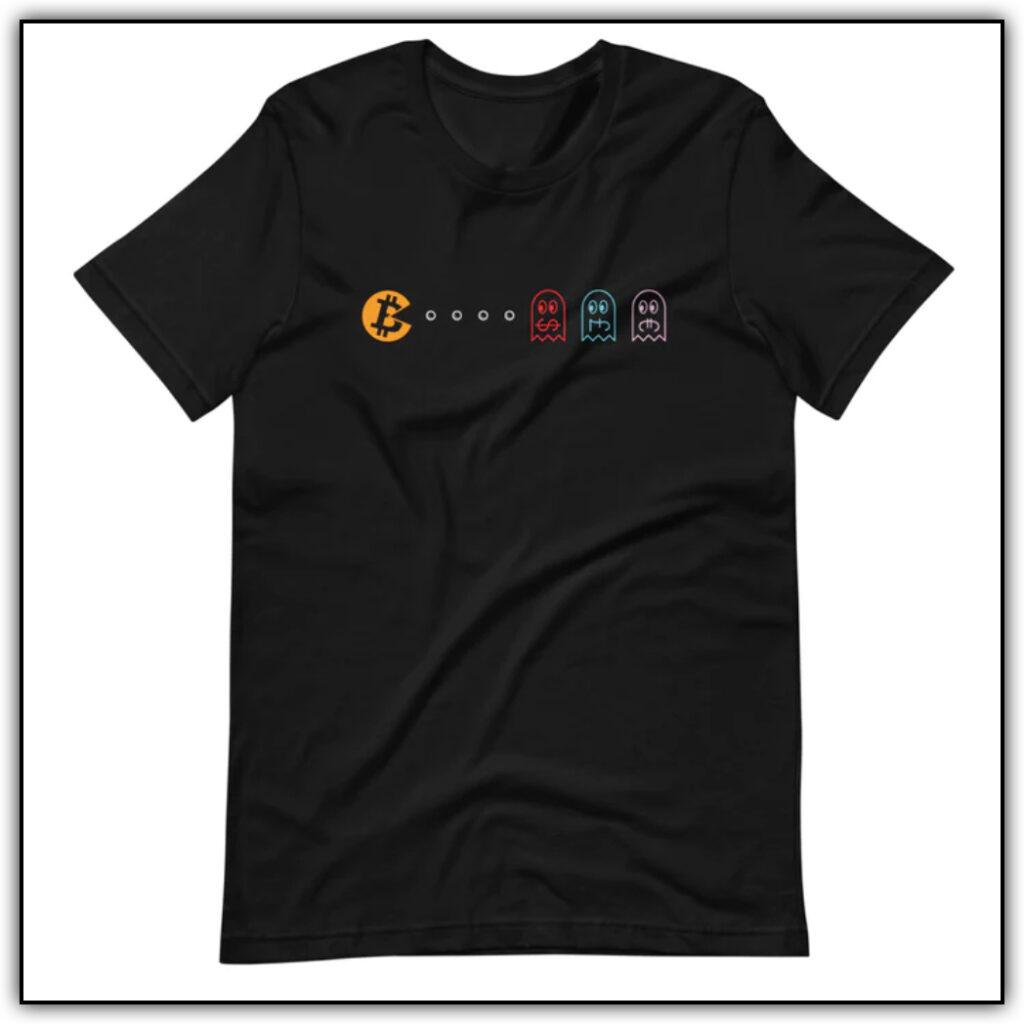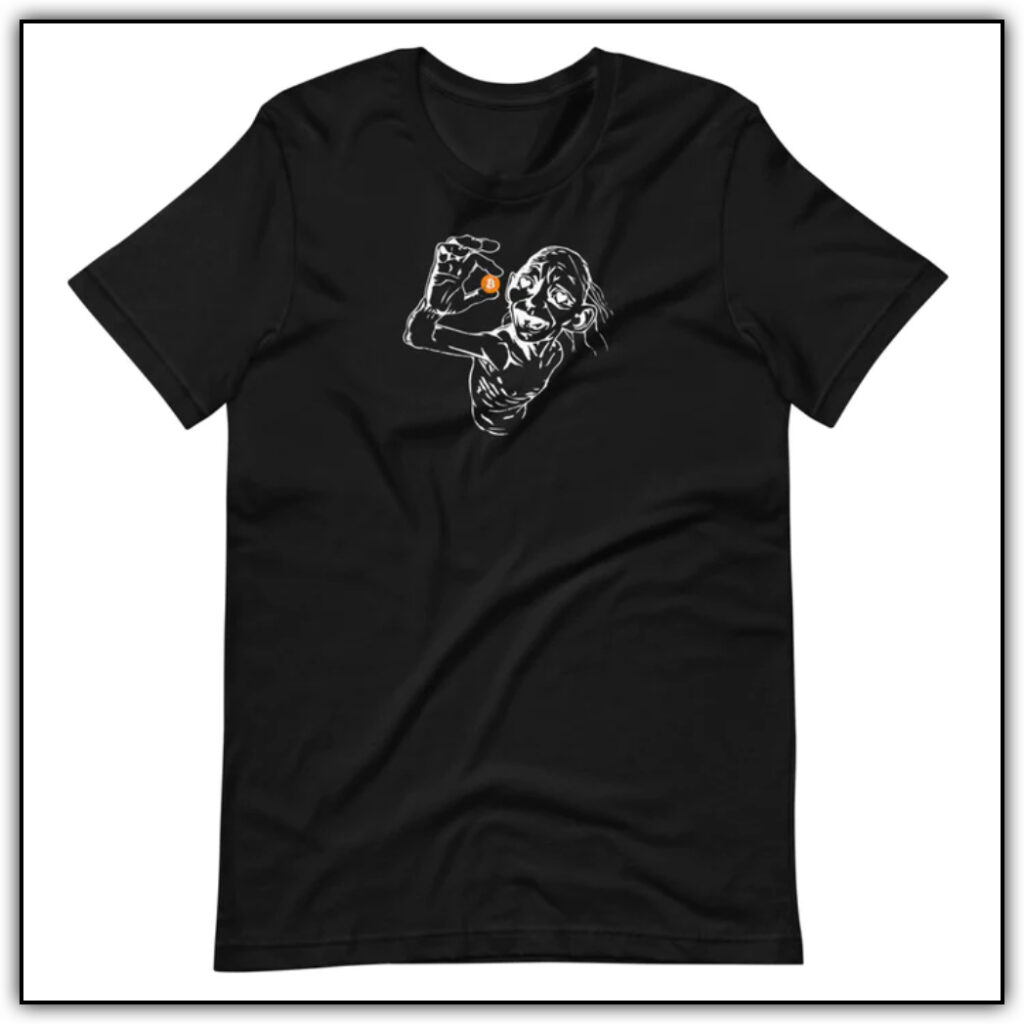 5. HODL Tee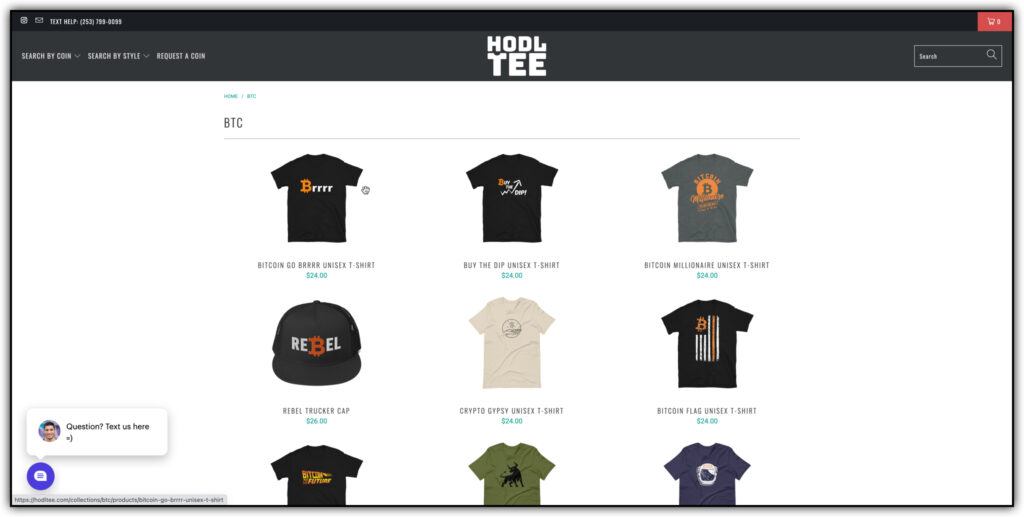 HODL Tee is the only site I've featured here that does actually offer altcoin designs, but since their Bitcoin t-shirts are quarantined to their own URL, I decided to include them in this list. They do have some interesting ones available as well, which is another reason to include them. Many of these don't have color options, but the colors they are printed in are stellar anyway.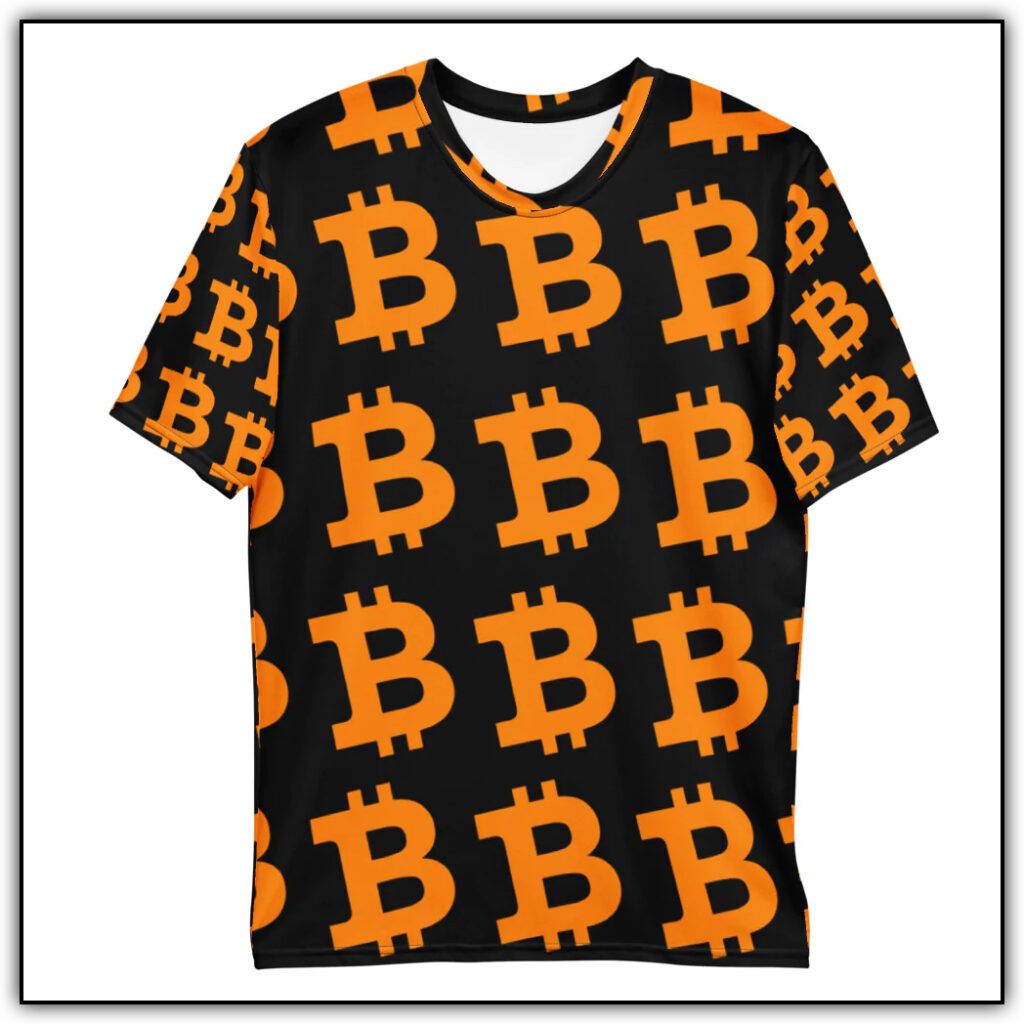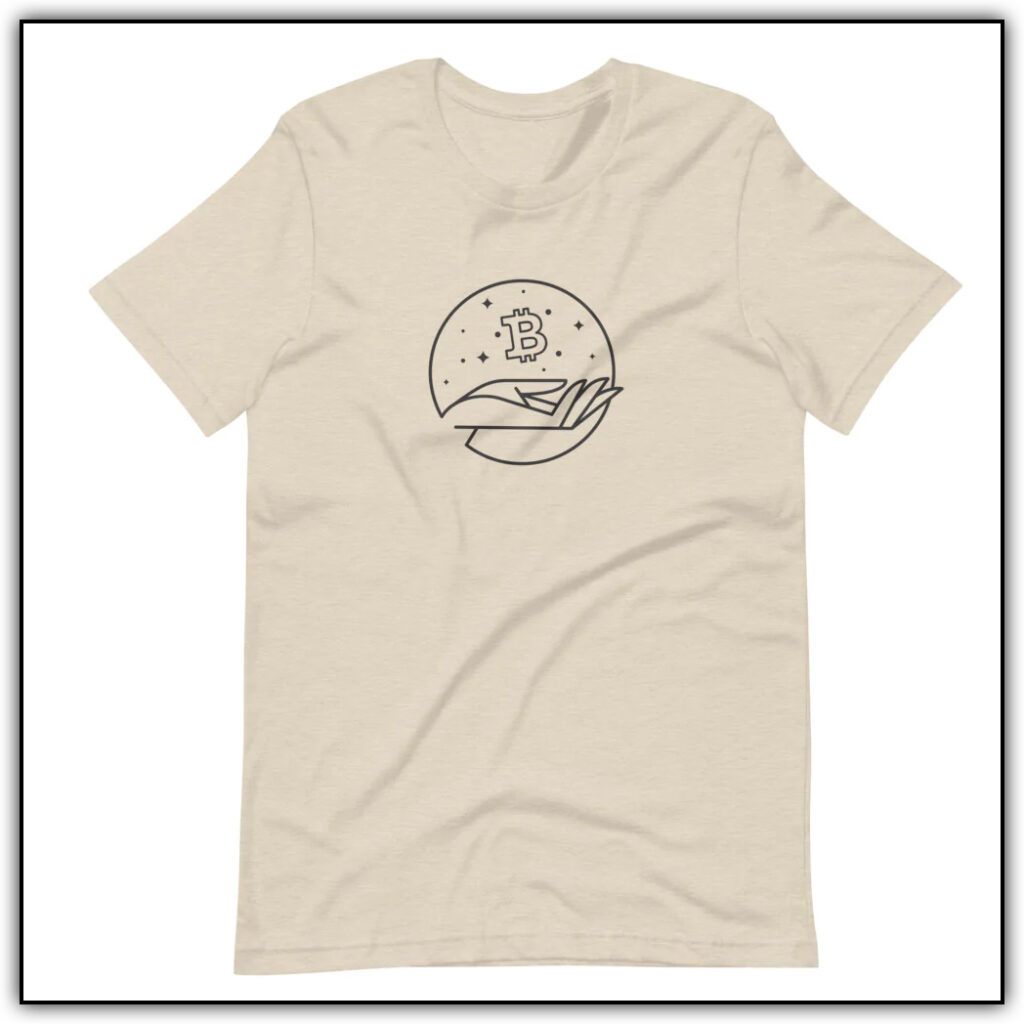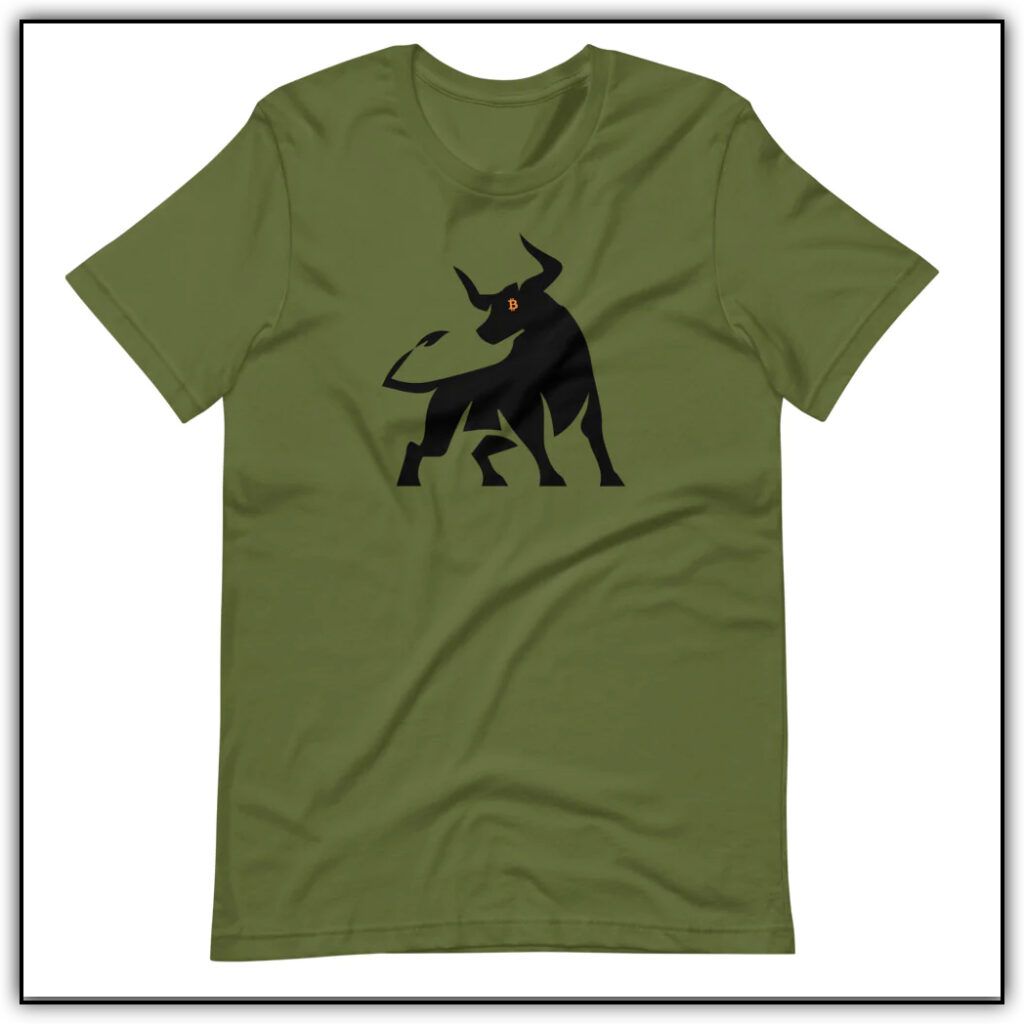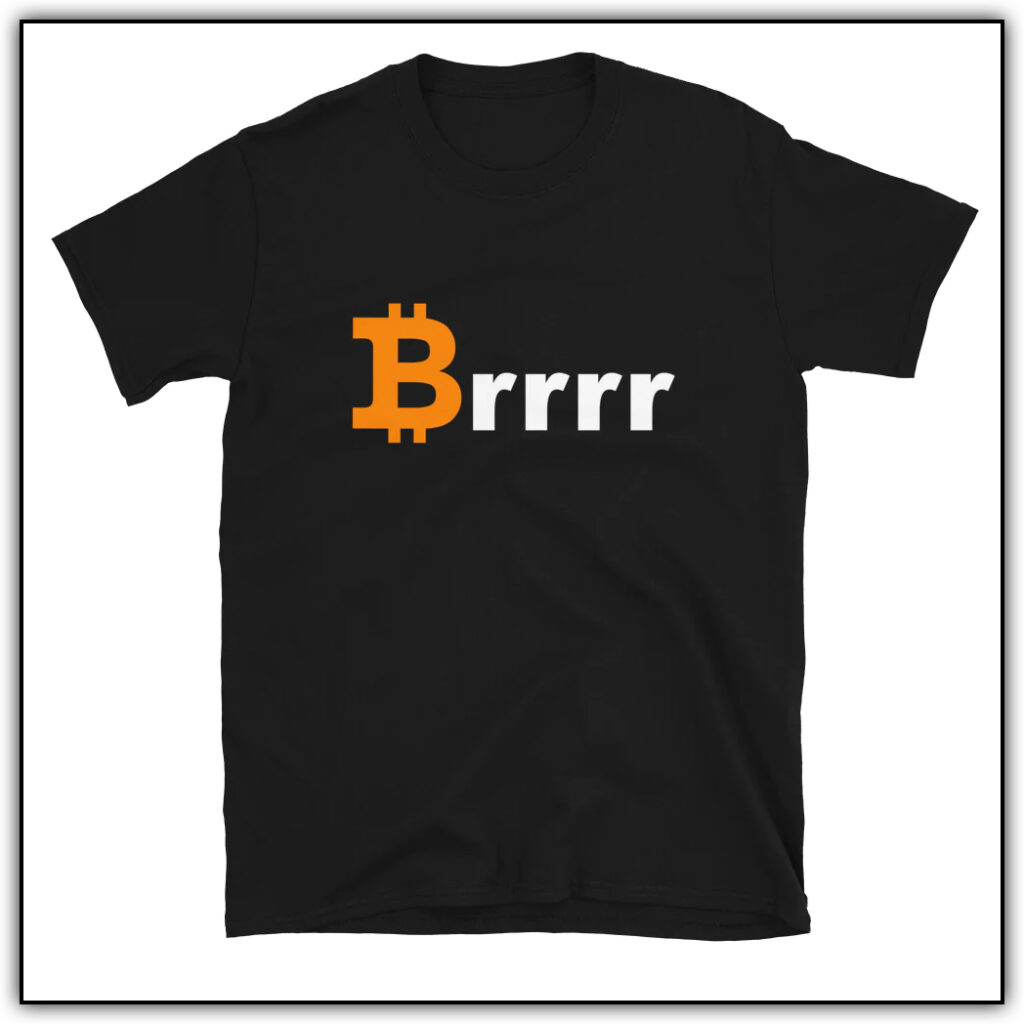 6. Tee Public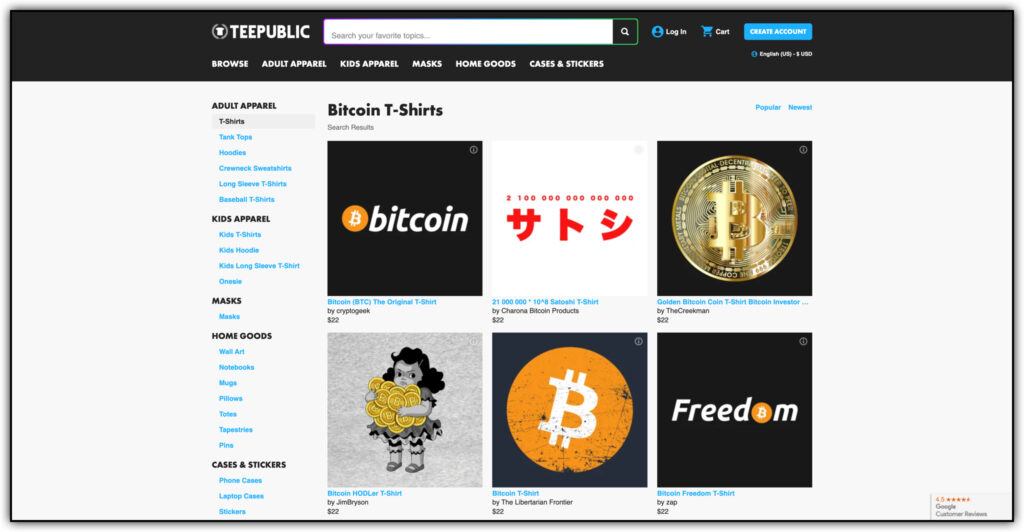 Tee Public is a host site for individual artists to sell their t-shirt designs in one central location. I've featured some of my favorite bitcoin shirt designs below, but you can click on an artist's name to see what else they sell. You'll also see items such as coffee cups, stickers, phone cases, hoodies, and others using the same designs.
With the t-shirts, they offer an incredible 27 color choices for each design, so choose wisely!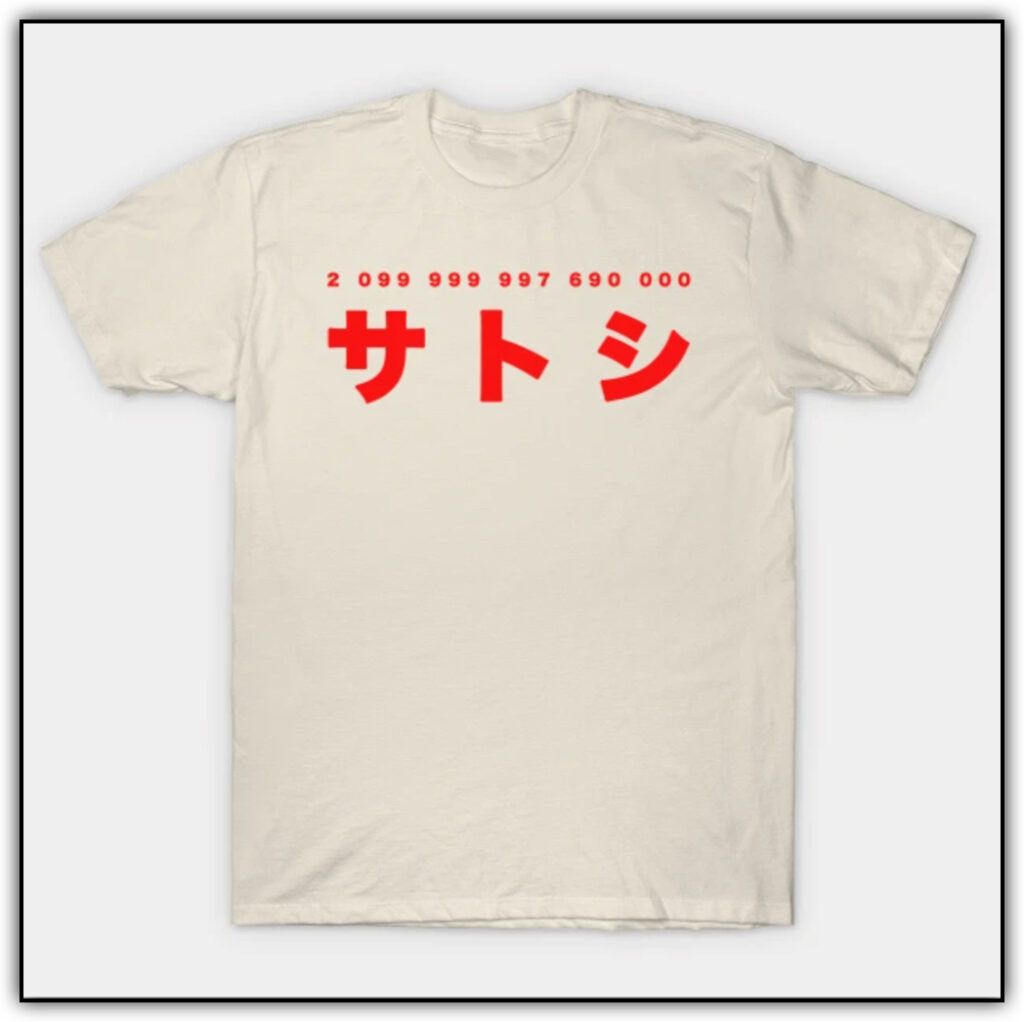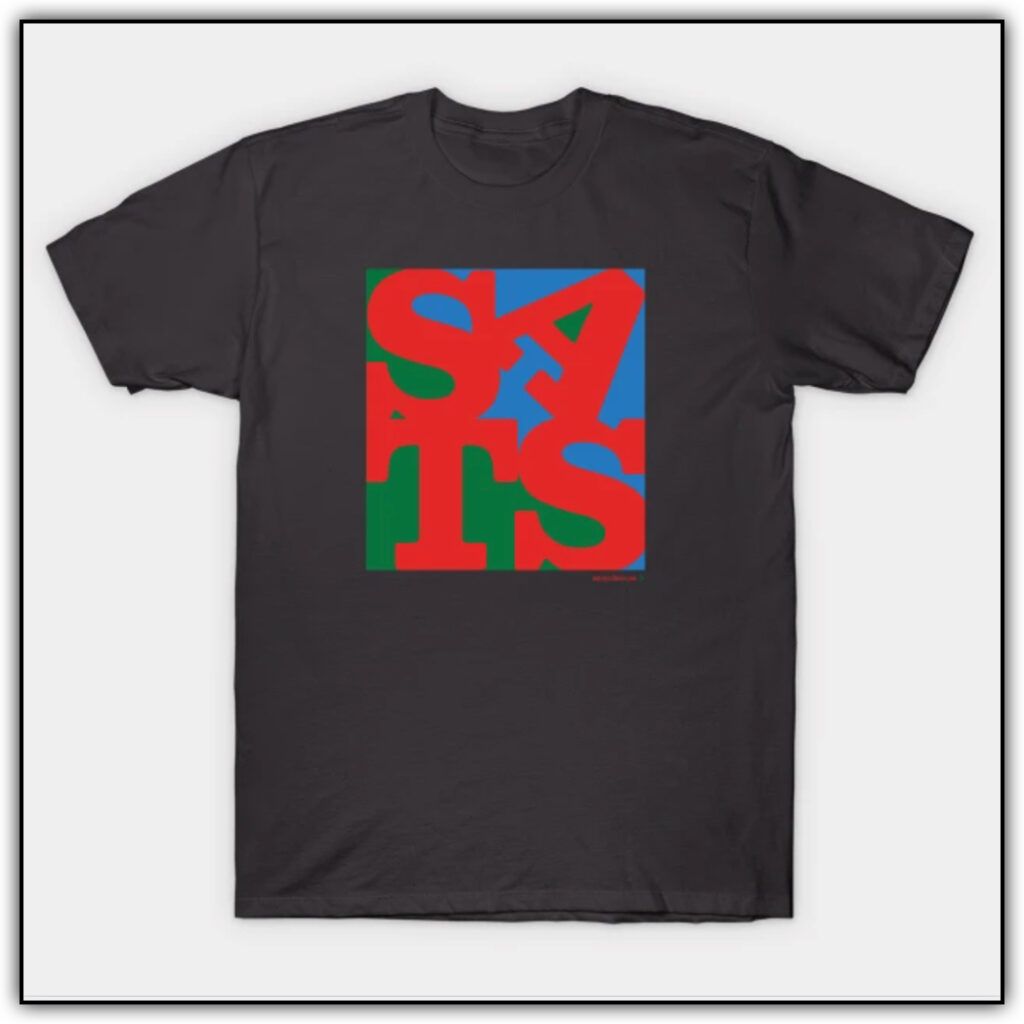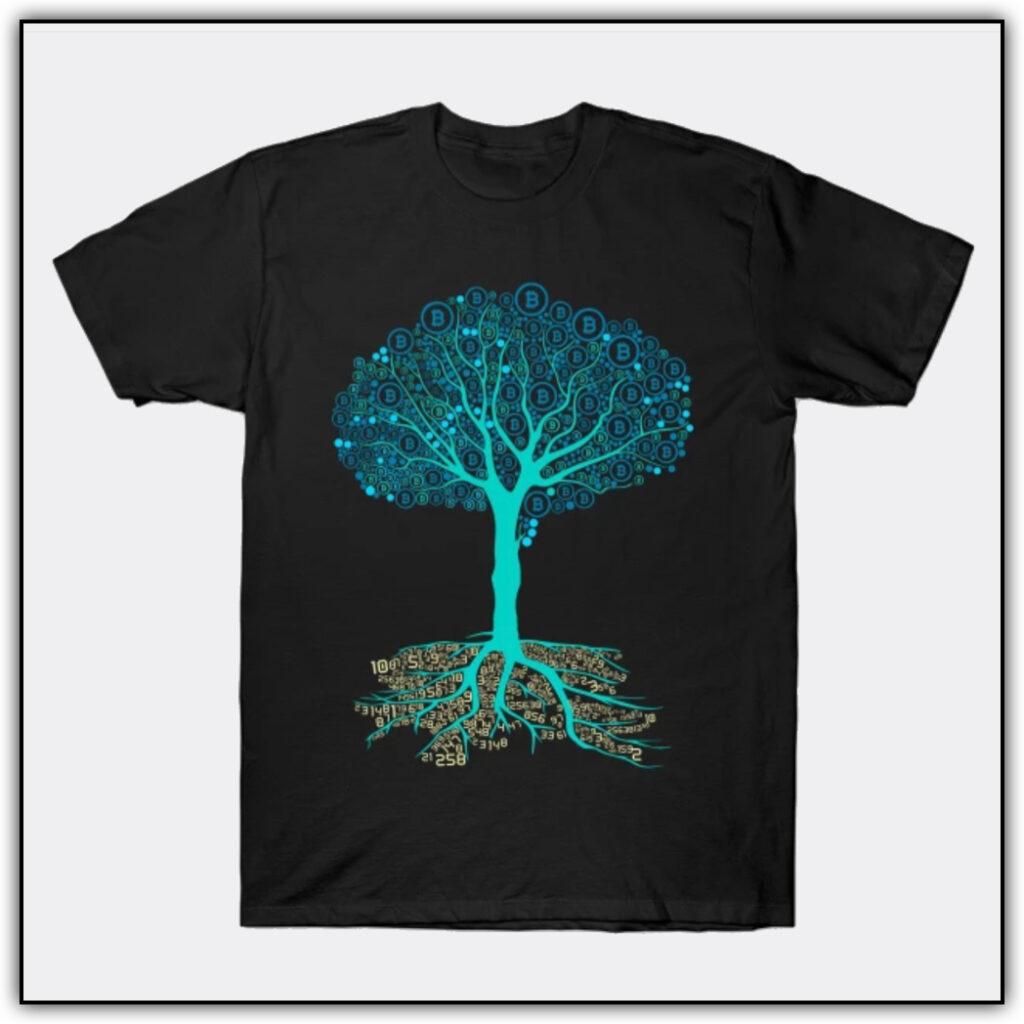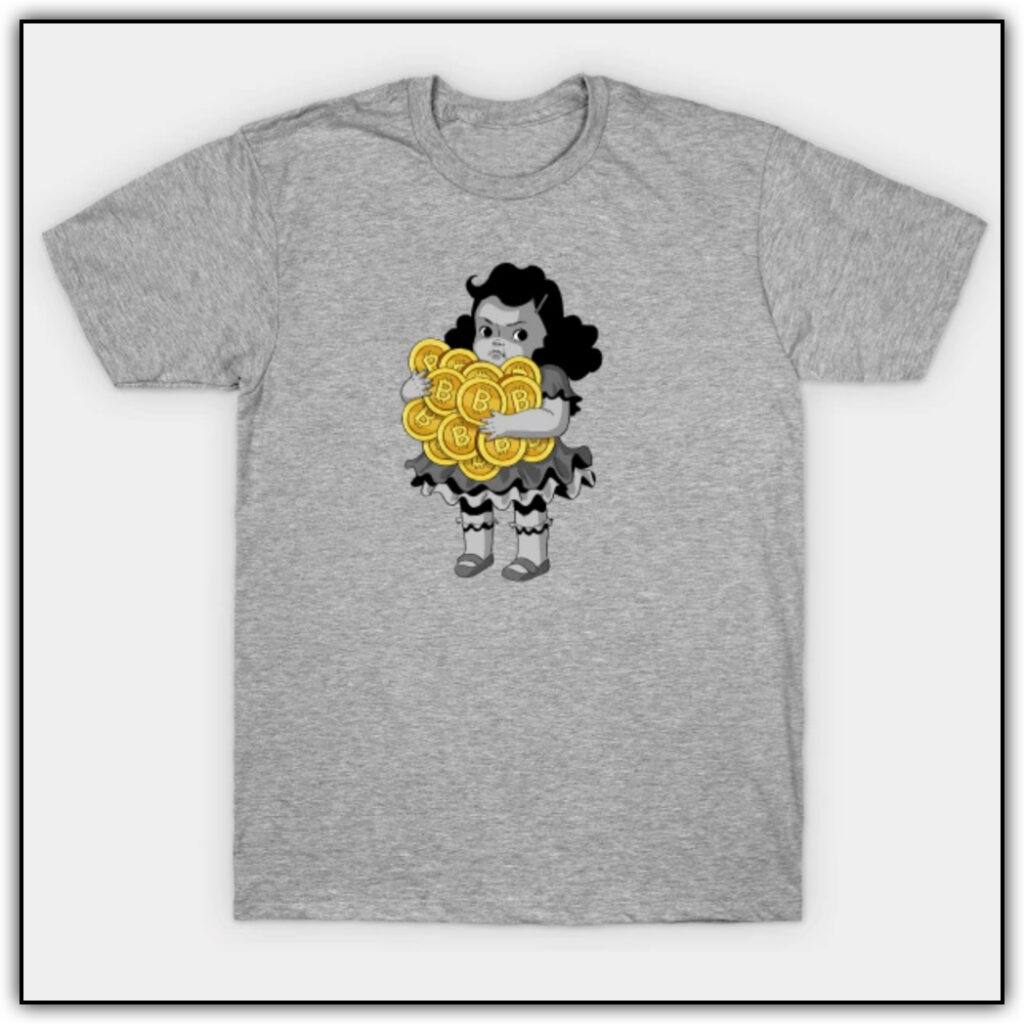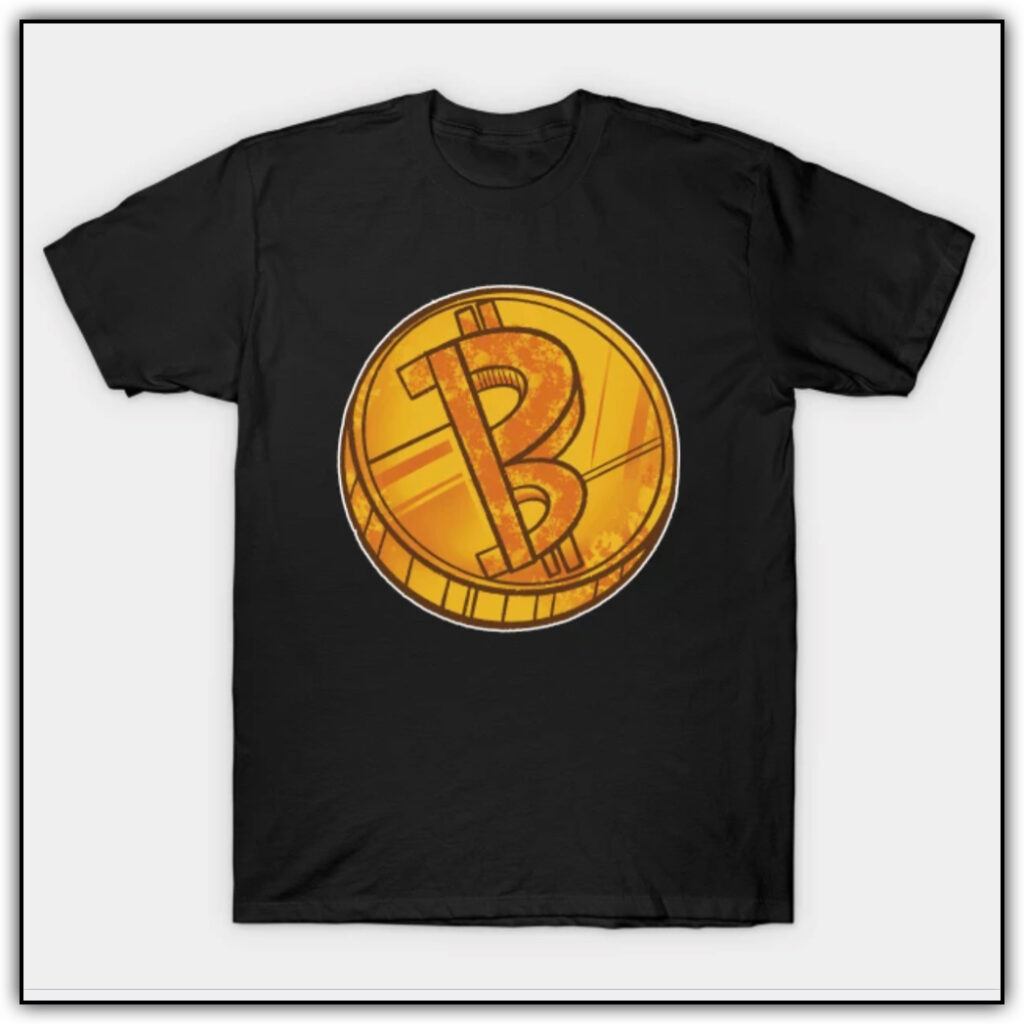 7. Lightning.Store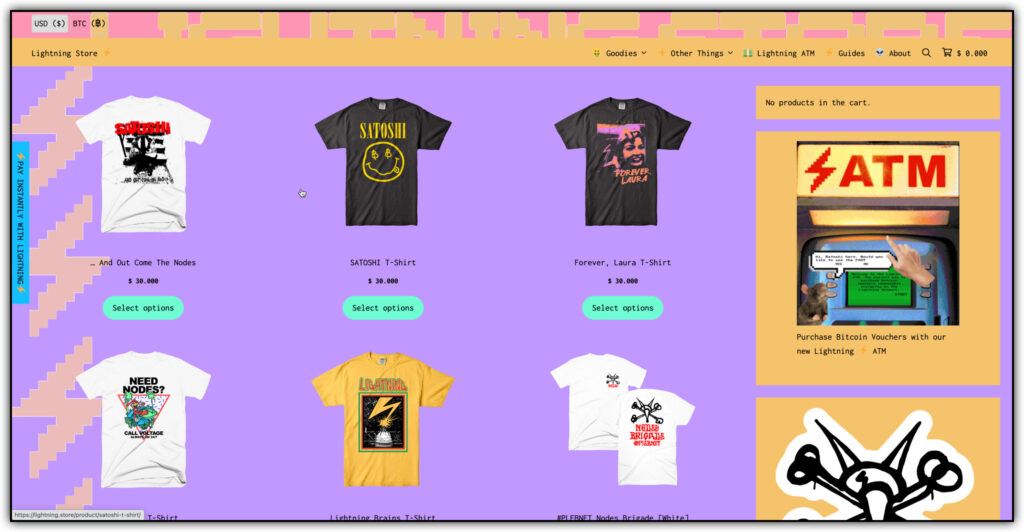 Lightning.Store is actually one of my personal favorites from the list because the designs are so creative. I think my favorite design is the "Forever Laura", which is Michael Saylor's famous line about how high the price of bitcoin can go. However, the coolest thing about Lightning.Store is that you must pay in bitcoin to buy anything. I think we'll continue to see the growth of bitcoin-only or bitcoin-discount stores as bitcoin becomes more of an in-demand form of settlement.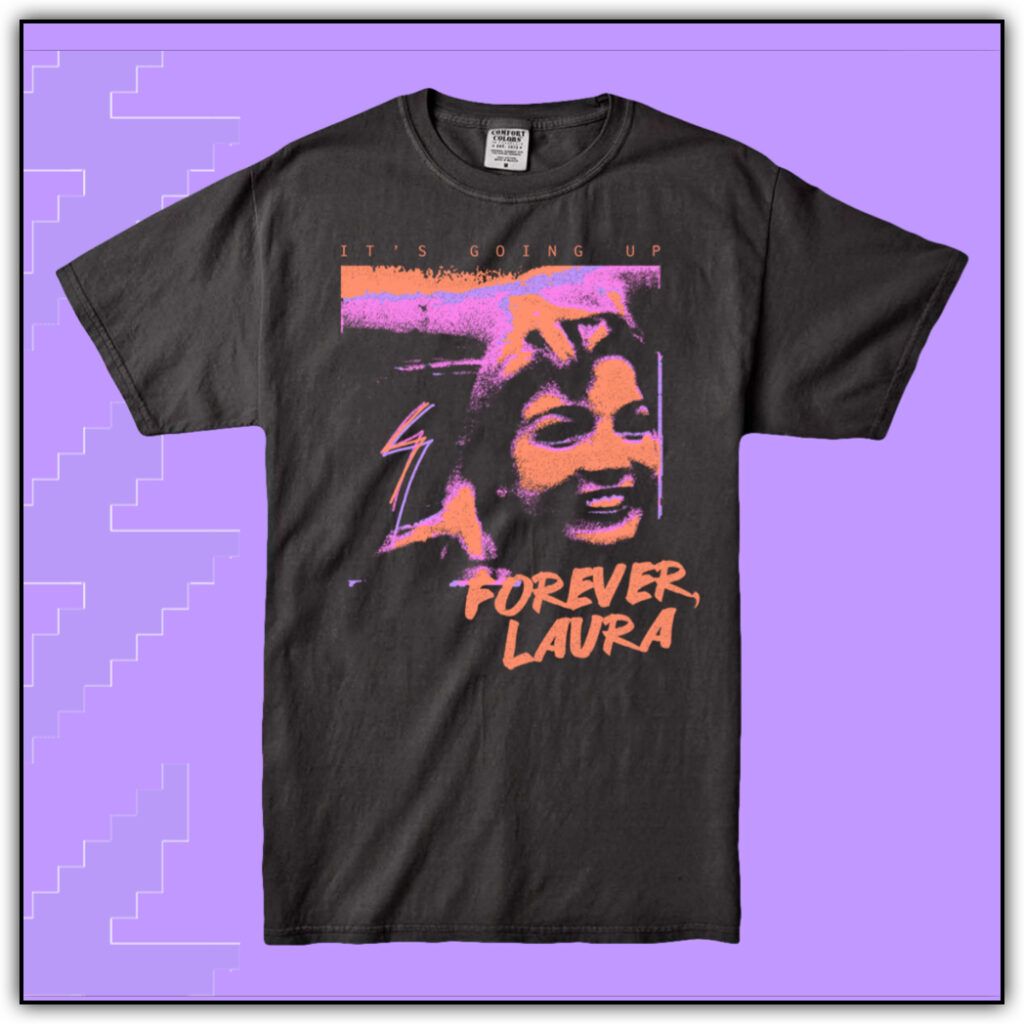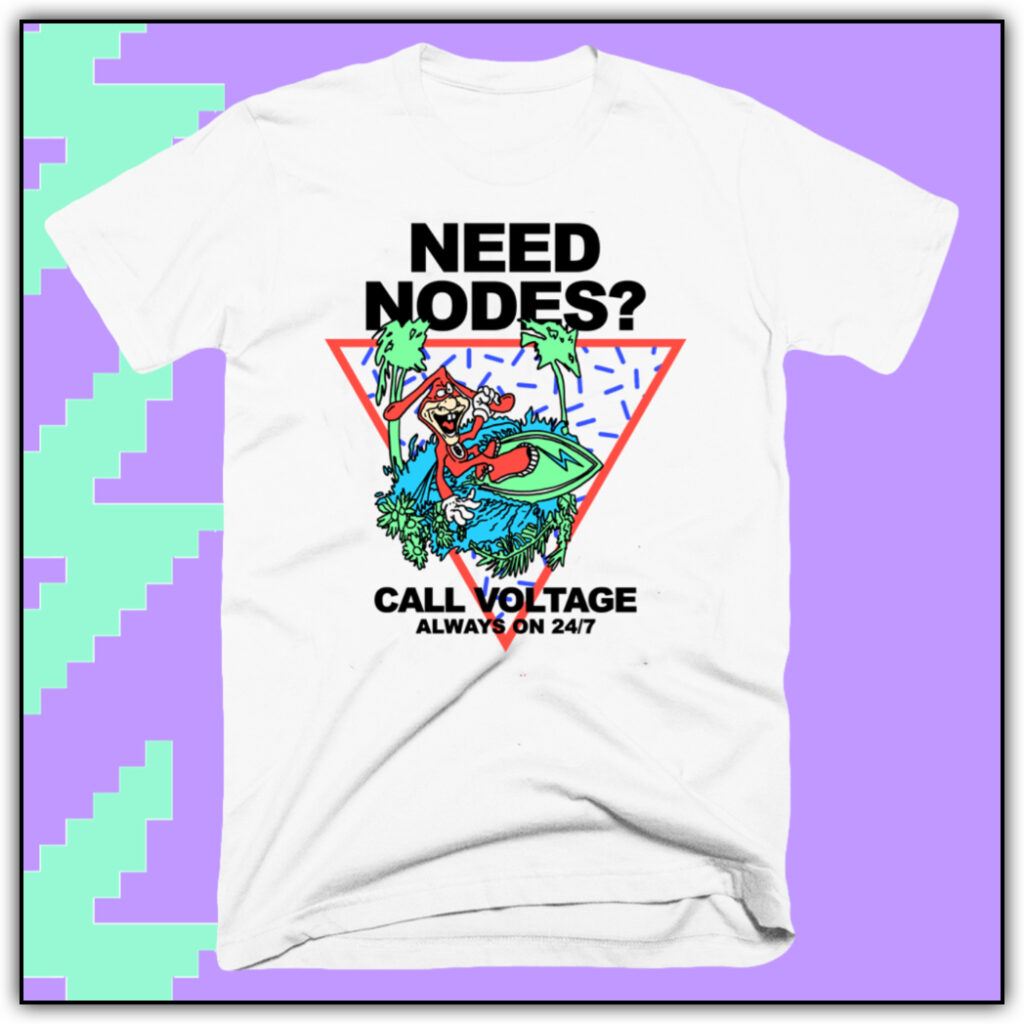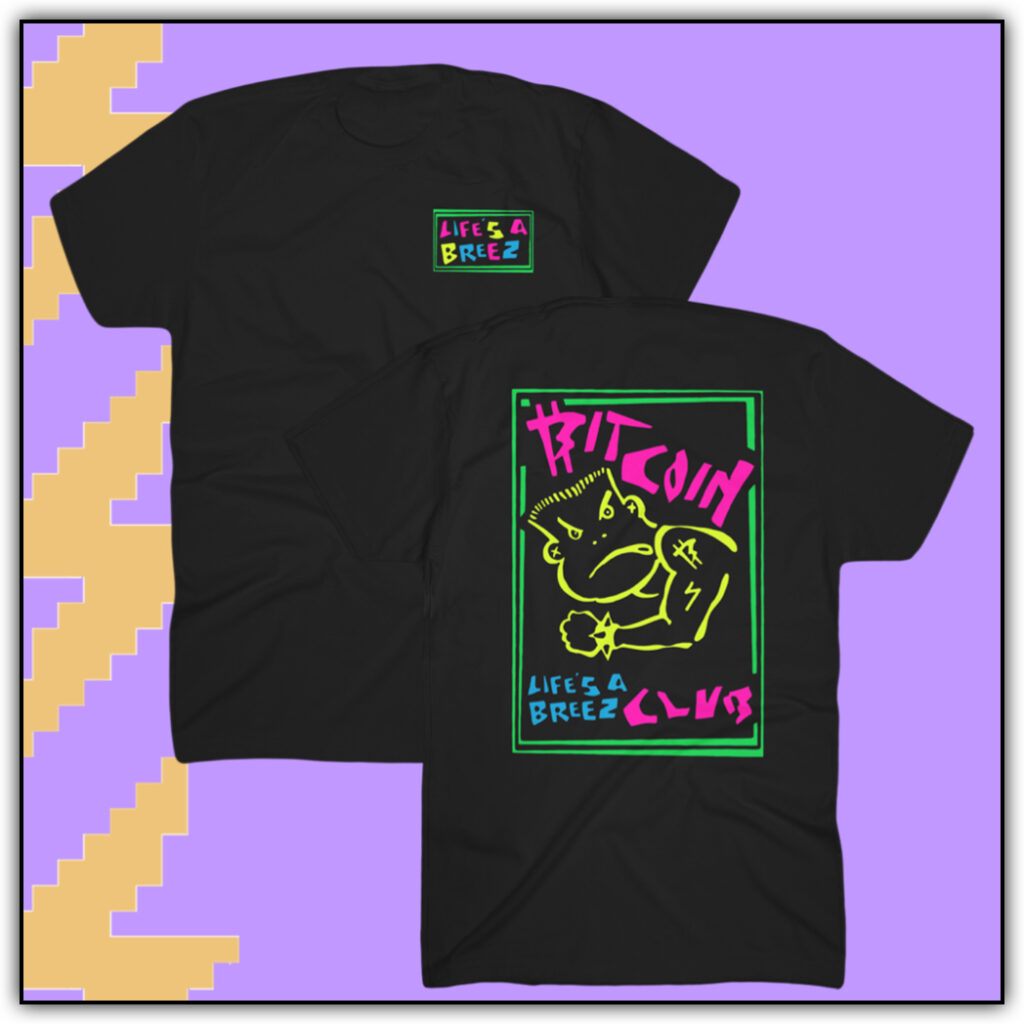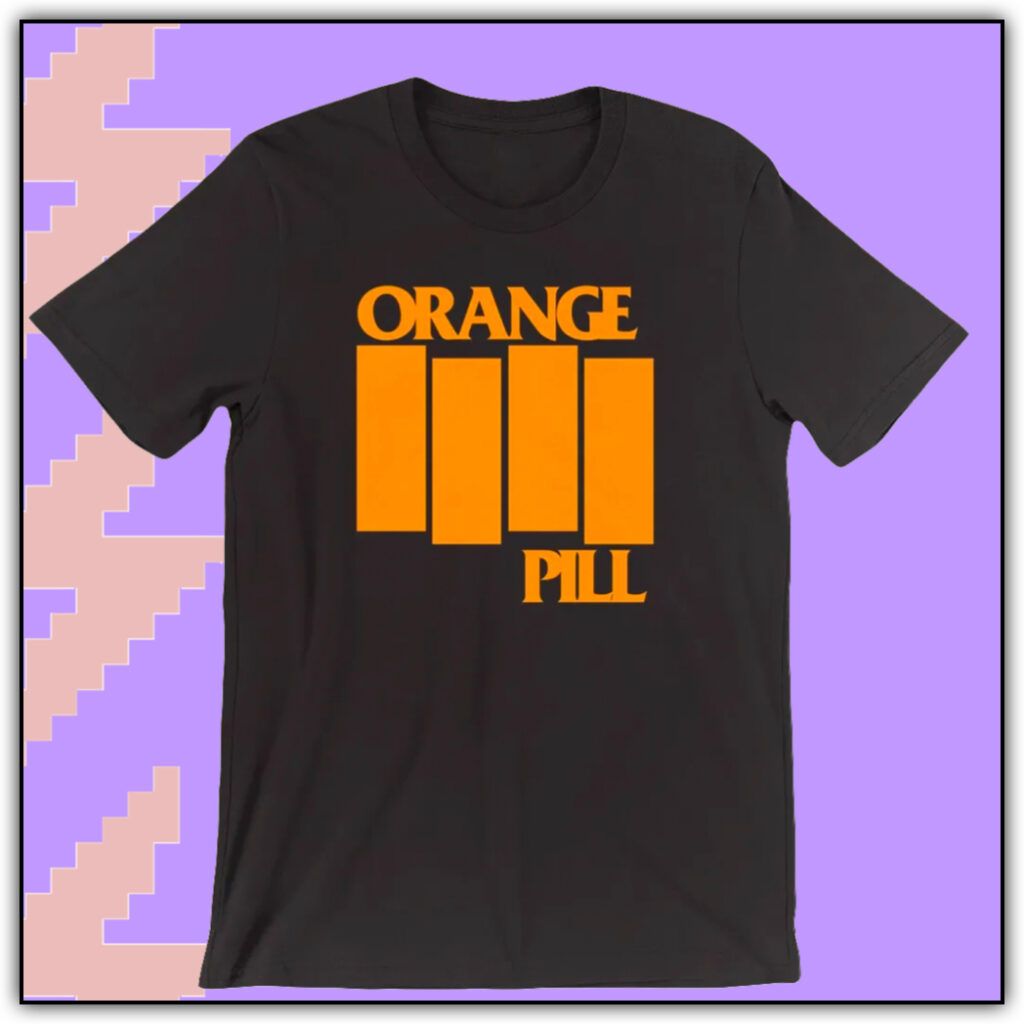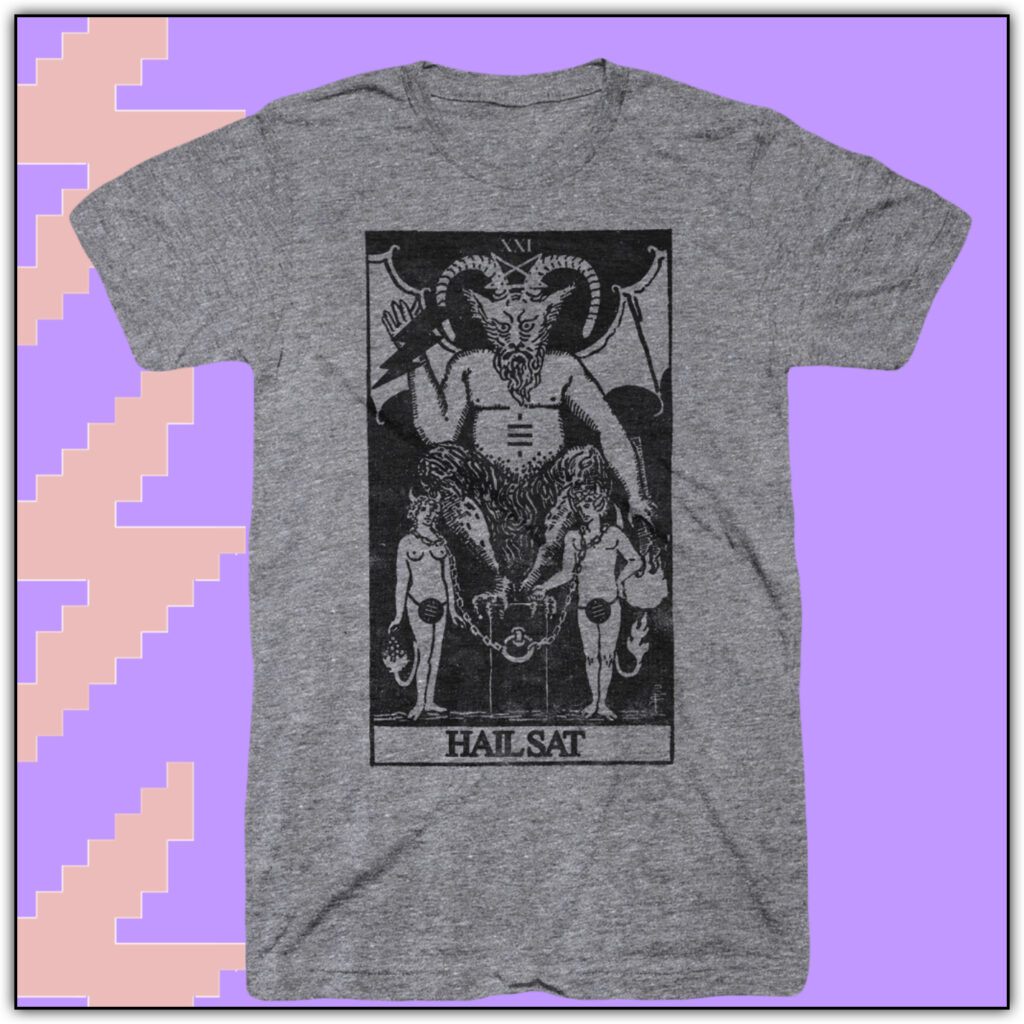 8. Orange Coin Goods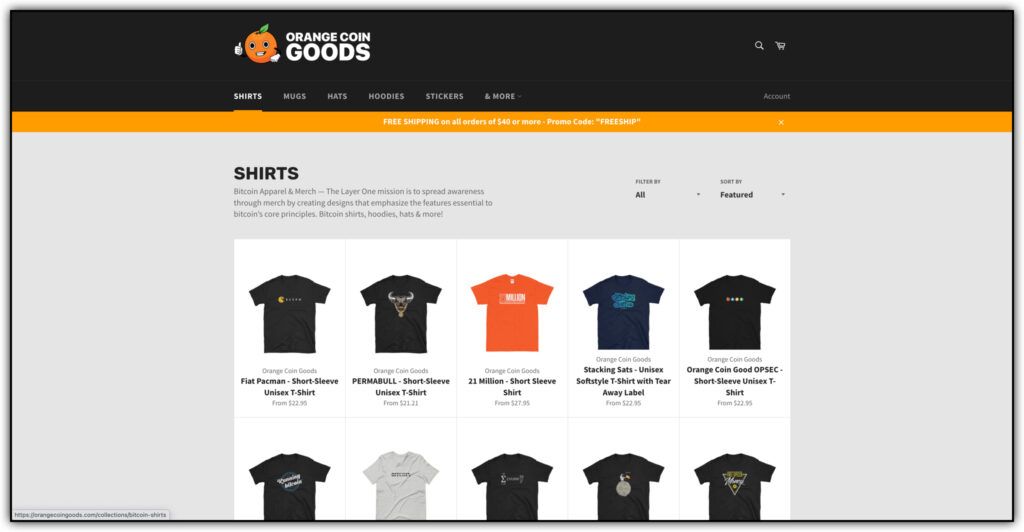 I just want to congratulate the owner of Orange Coin Goods on a freakin' fantastic brand name. So clever. Love it. If you weren't aware, "orange coin good" is a meme that goes several levels deep already (originated from "orange man bad"), so it's just a fantastic play on words.
Aside from that, the whole store has a ton of original t-shirt designs you won't see anywhere else such as "Microchadegy" (featured below) and "BTC Airlines" (click the site to see). Many of the designs are stylized text with popular bitcoin axioms.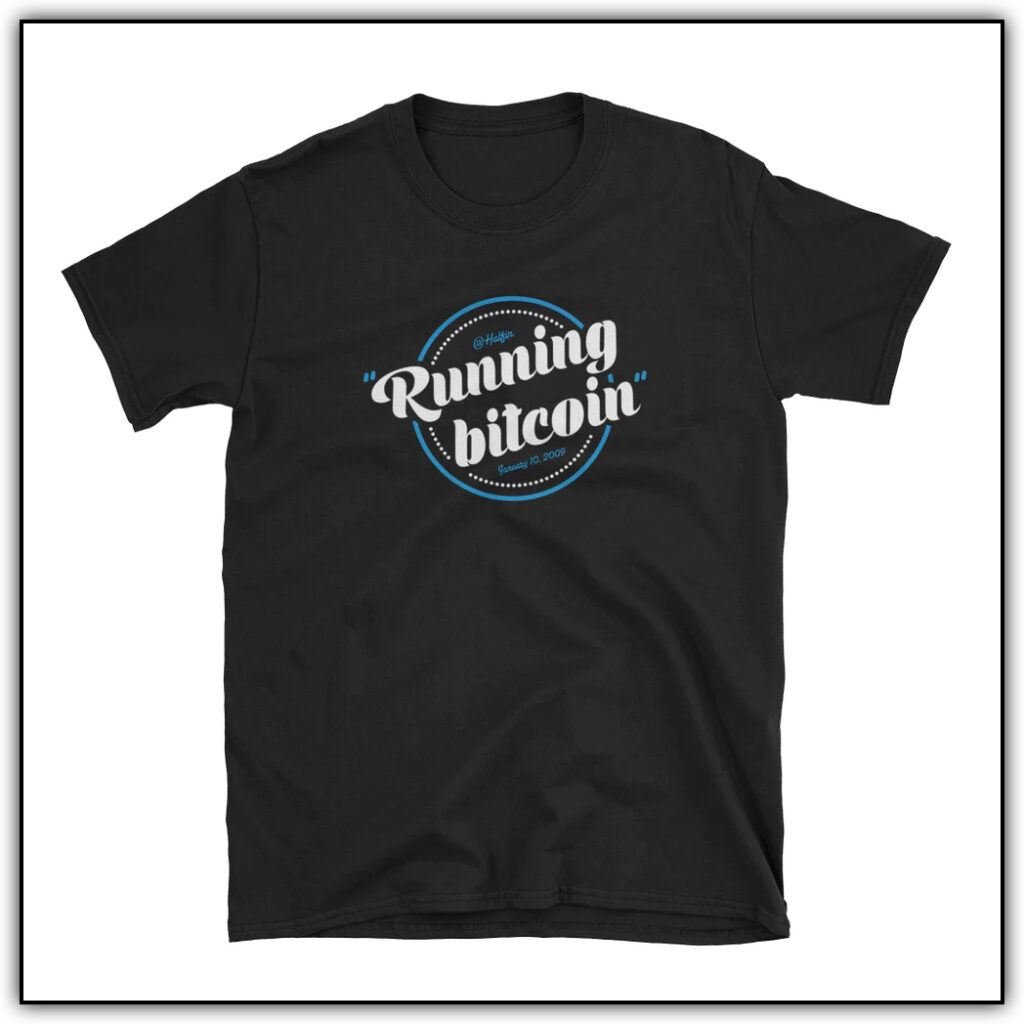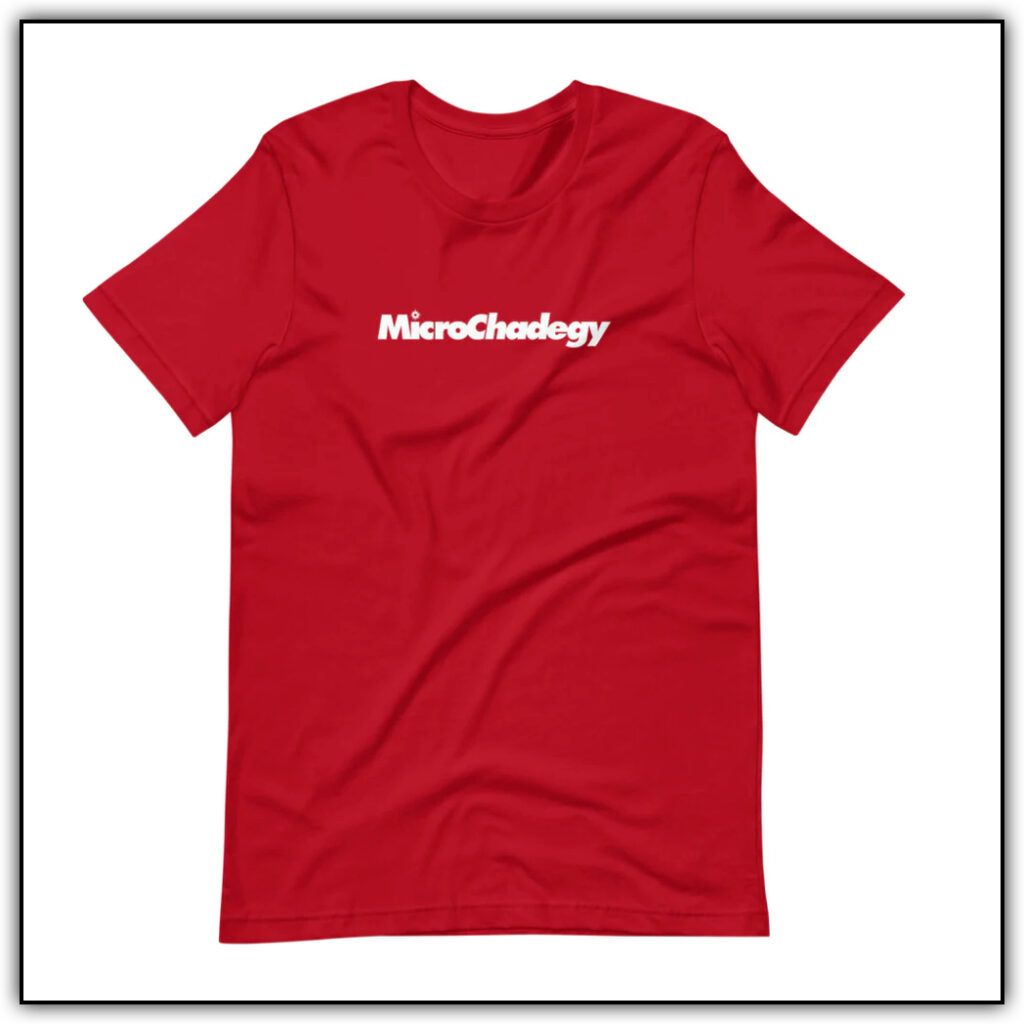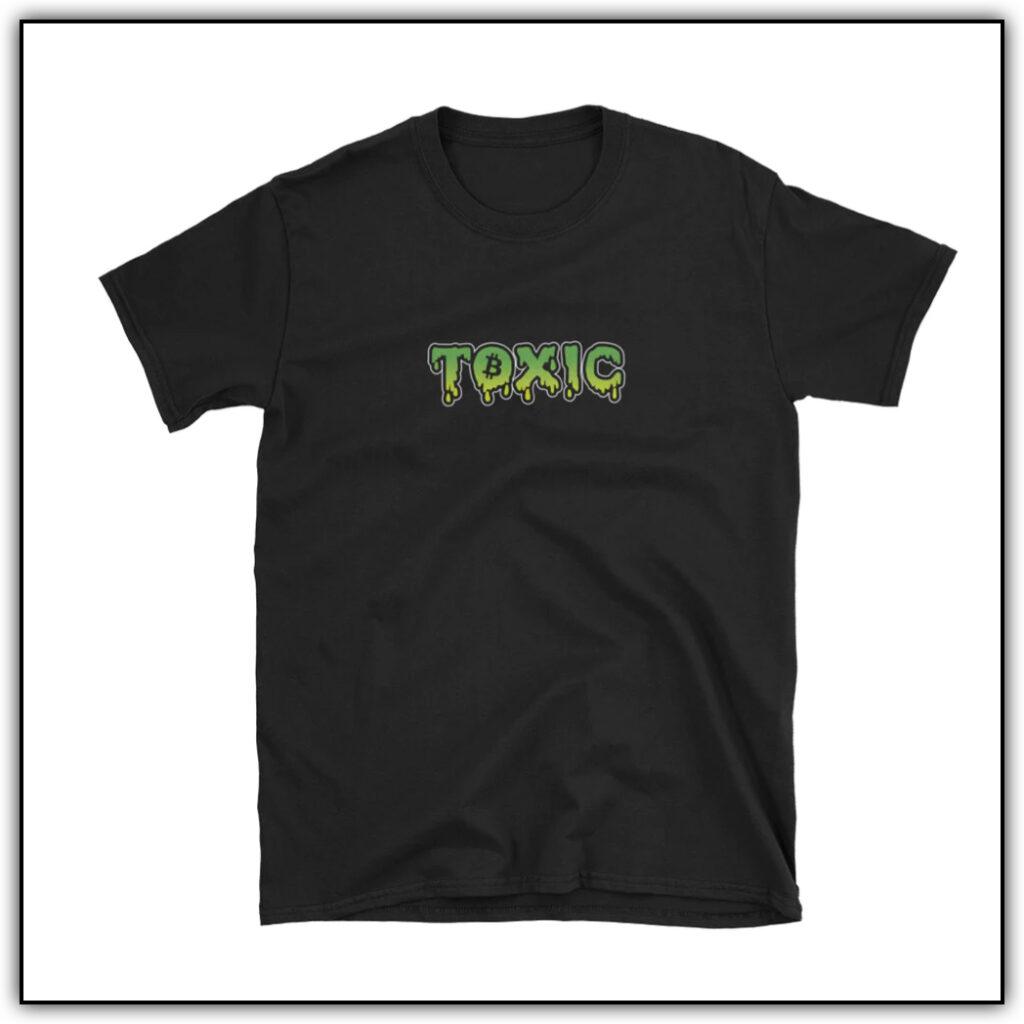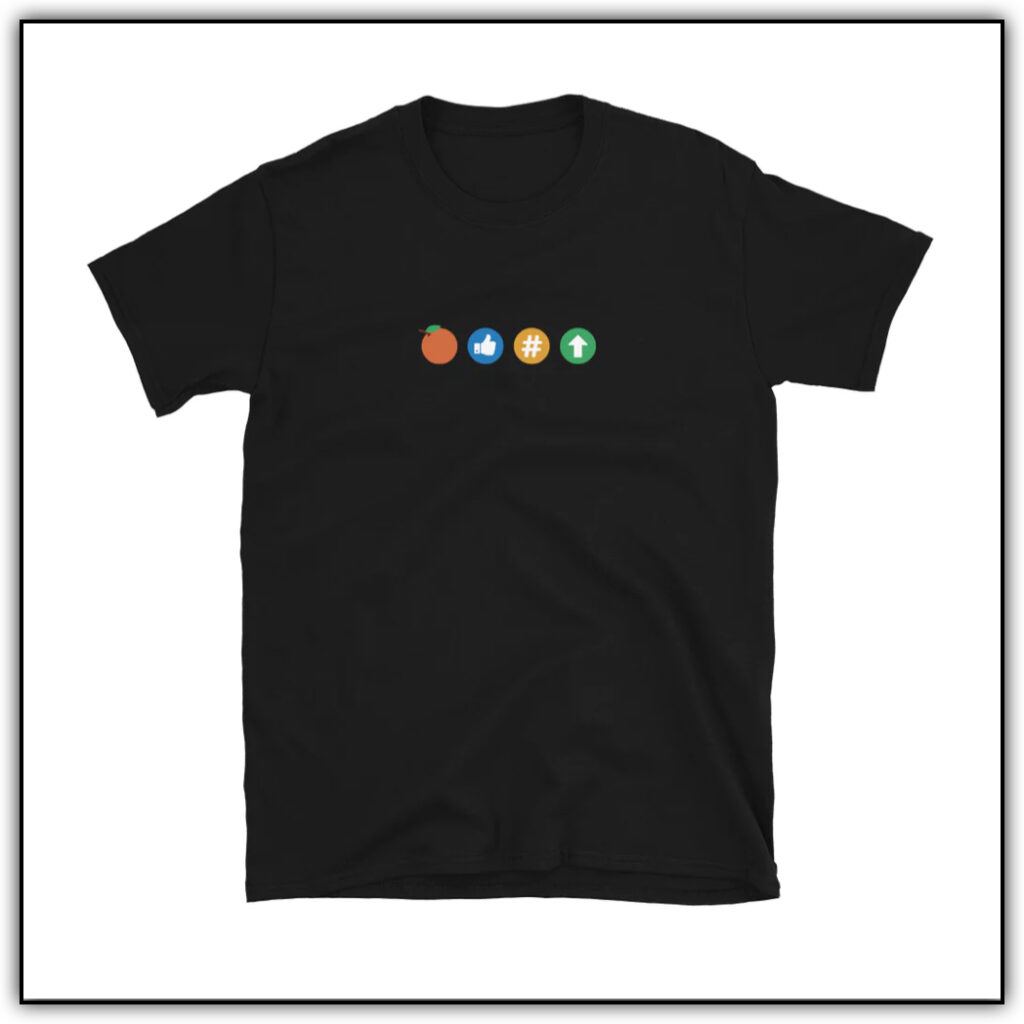 9. FOMO21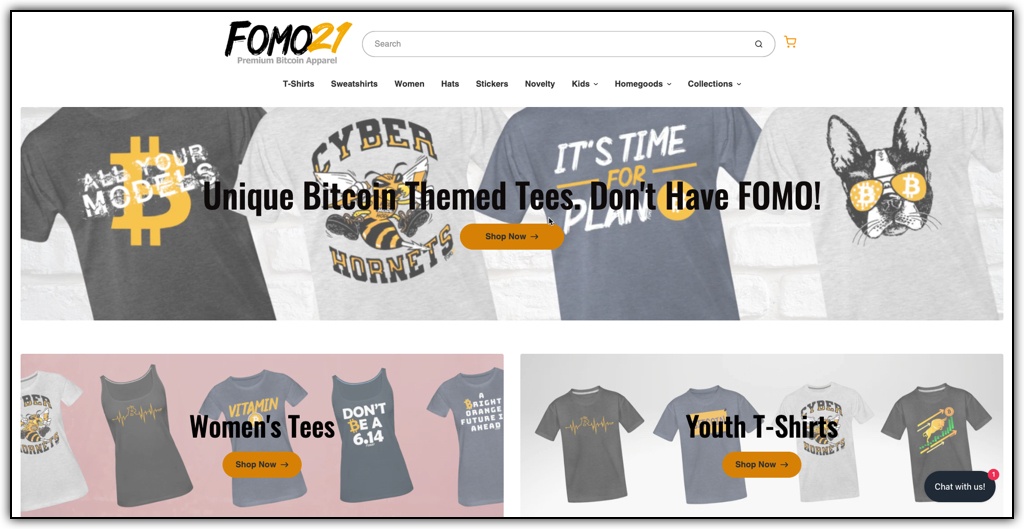 FOMO21 is another great brand that took a second to sink in for me (it's a play off of Forever 21). This t-shirt shop is exclusively focused on apparel. They have a lot of unique designs you won't find anywhere else, such as the college mascot style Cyber Hornets and famous brands transformed into bitcoin (Netflix, NASA, BMW, Air Jordan, Pringles, Coca-Cola, UPS, + more). These guys honestly have pages and pages of unique shirts to look through; more than 400 according to my calculation! There are even some lightning themed shirts like girth matters and open a channel with me. Here are some of my personal favorites.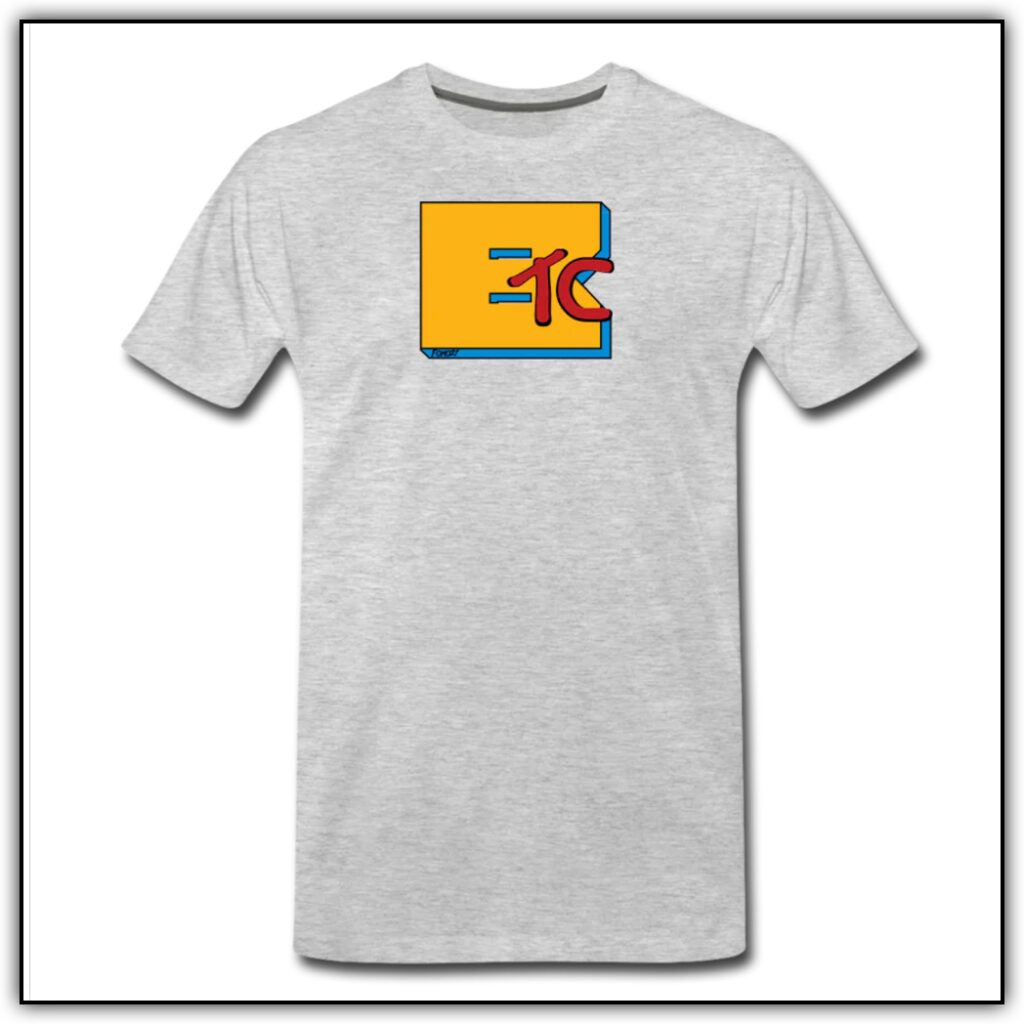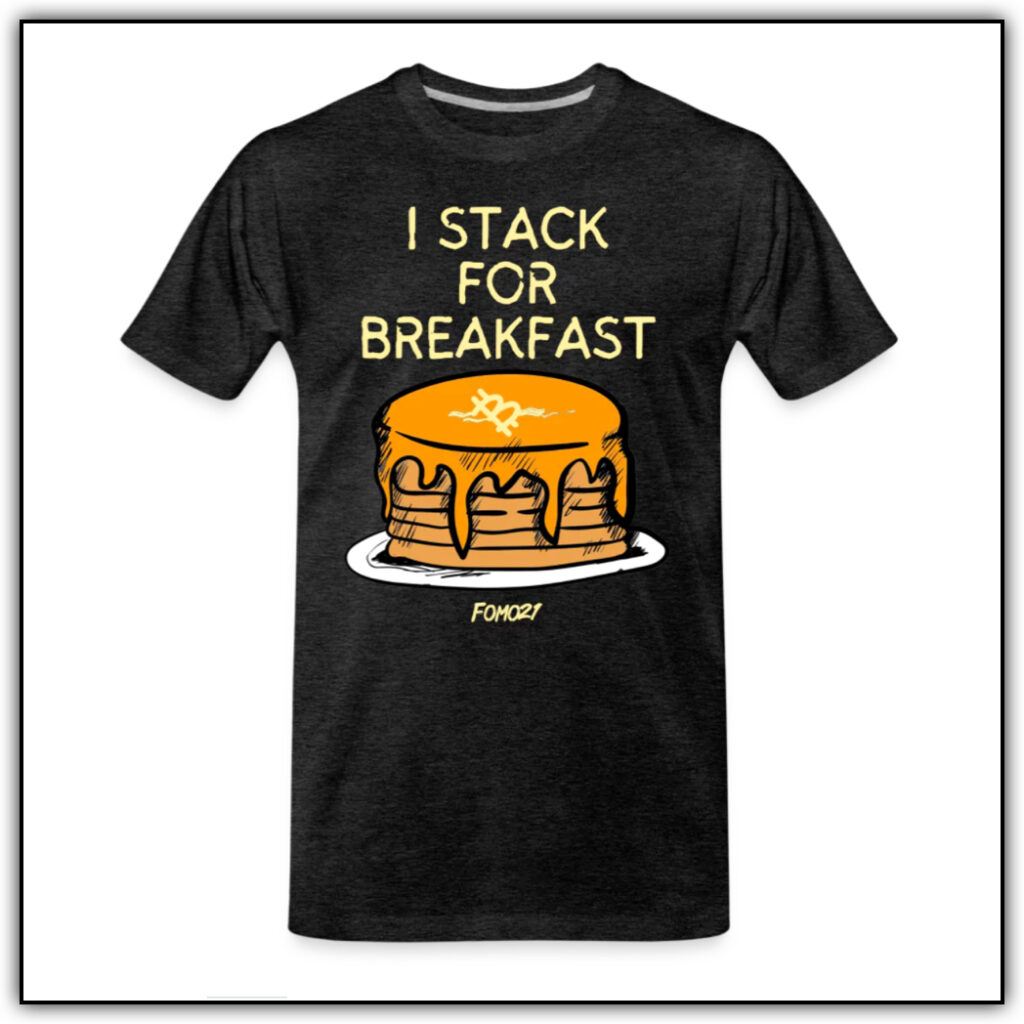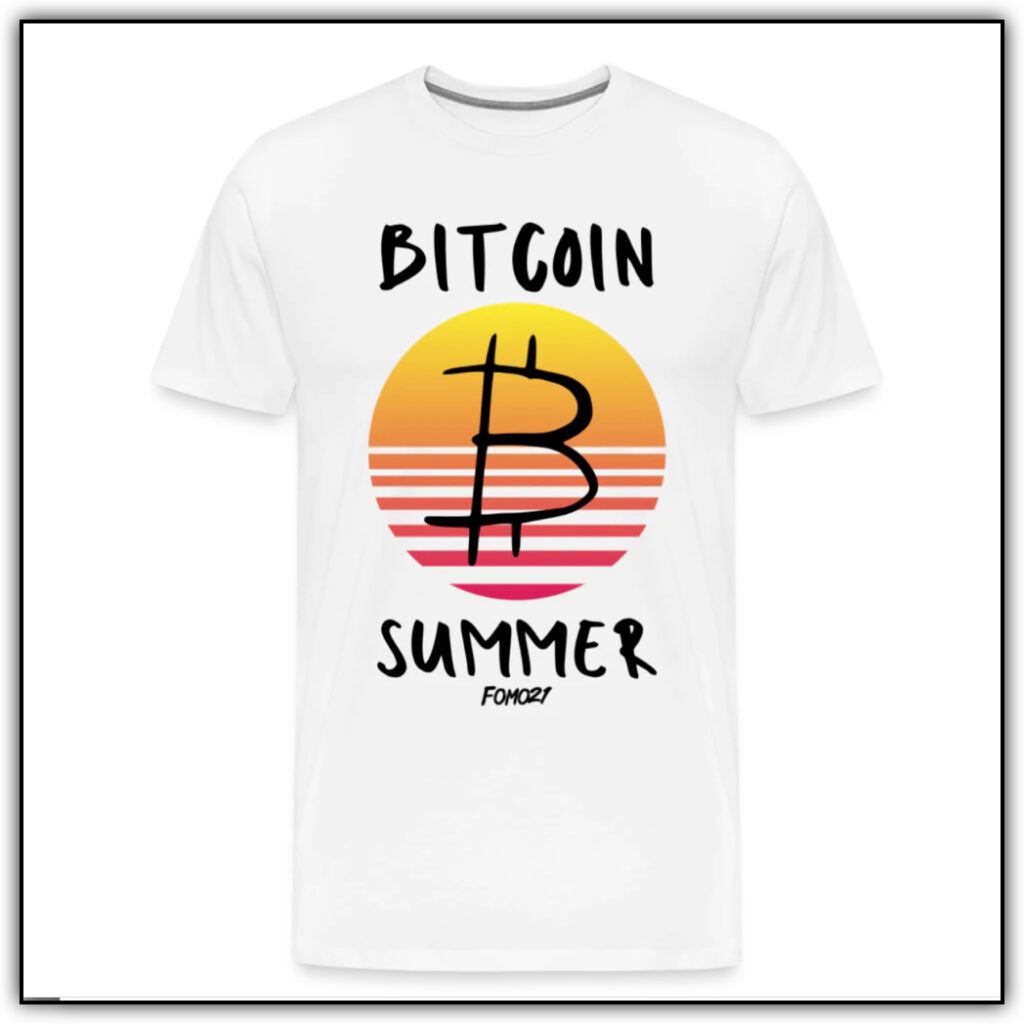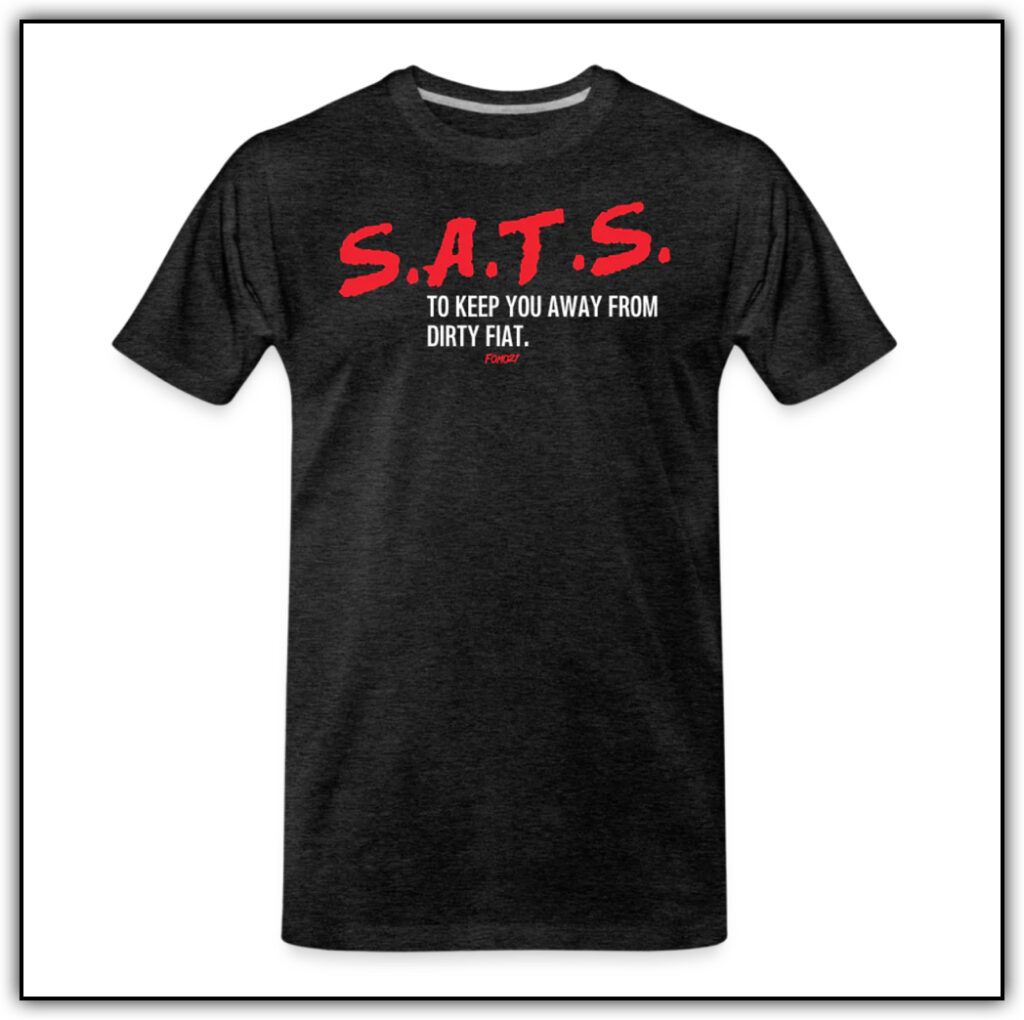 10. More Shops & Designs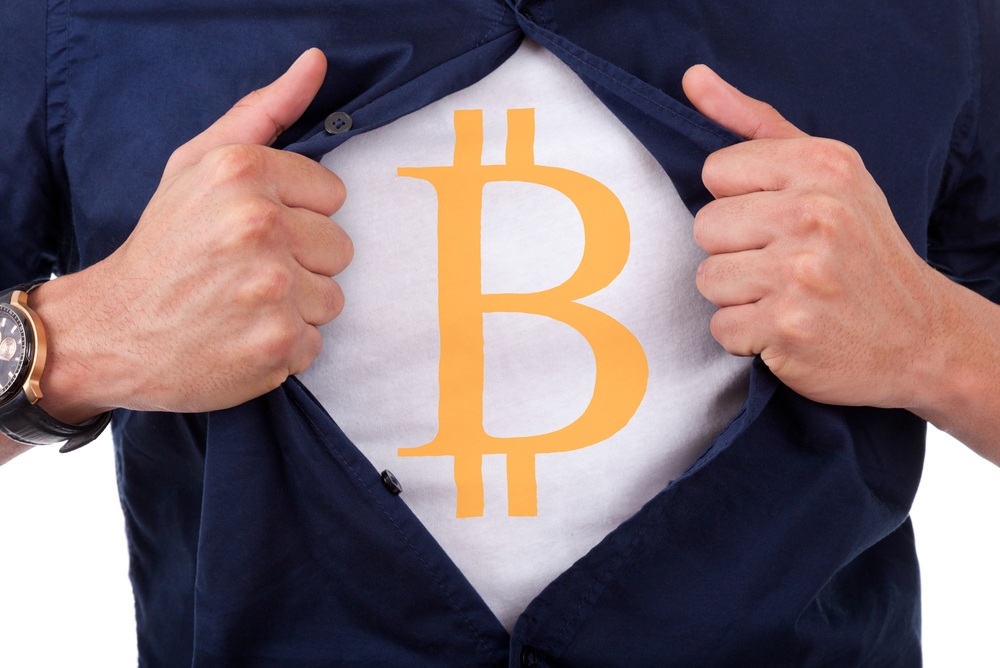 In the various category, I've got a couple of other cool Bitcoin t-shirt designs from shops that didn't have a ton of merch available, so weren't worth a full listing. Since these are from different shops, I'll link to the source under each image.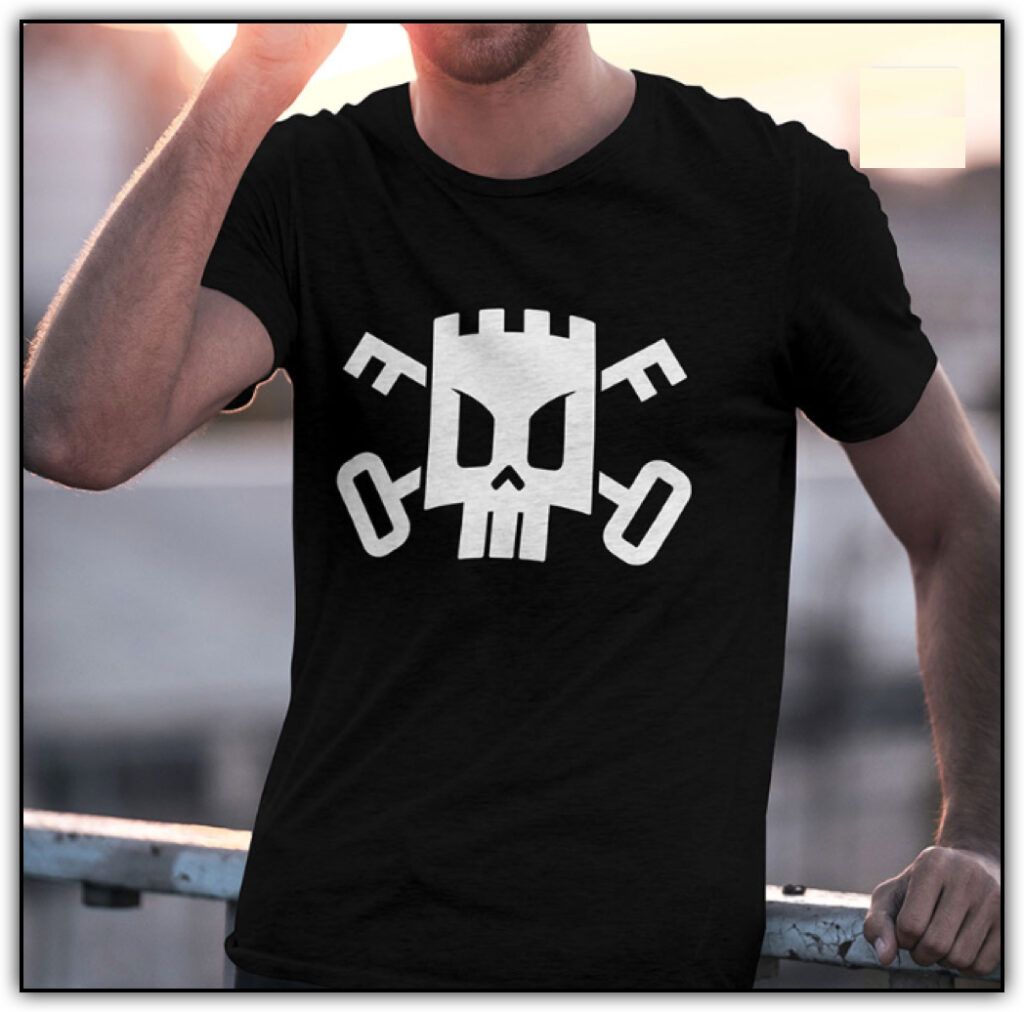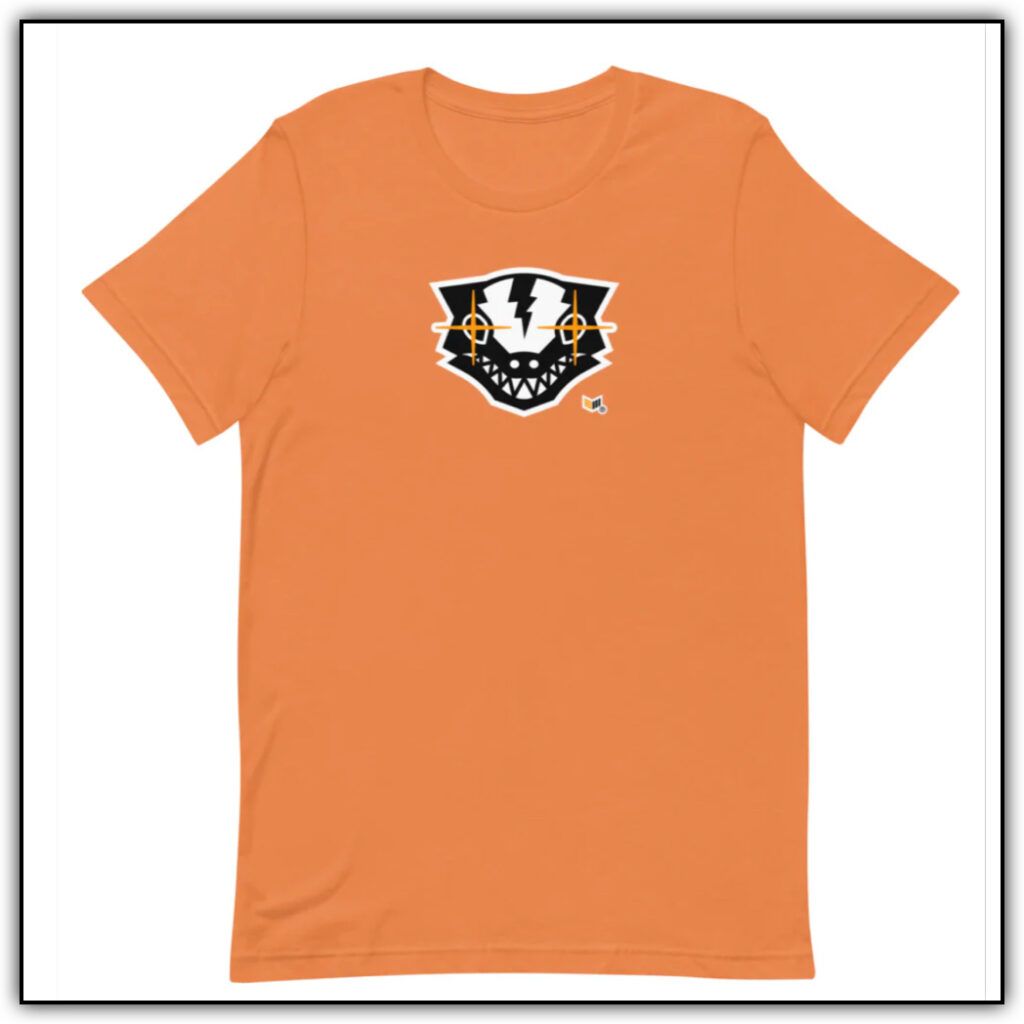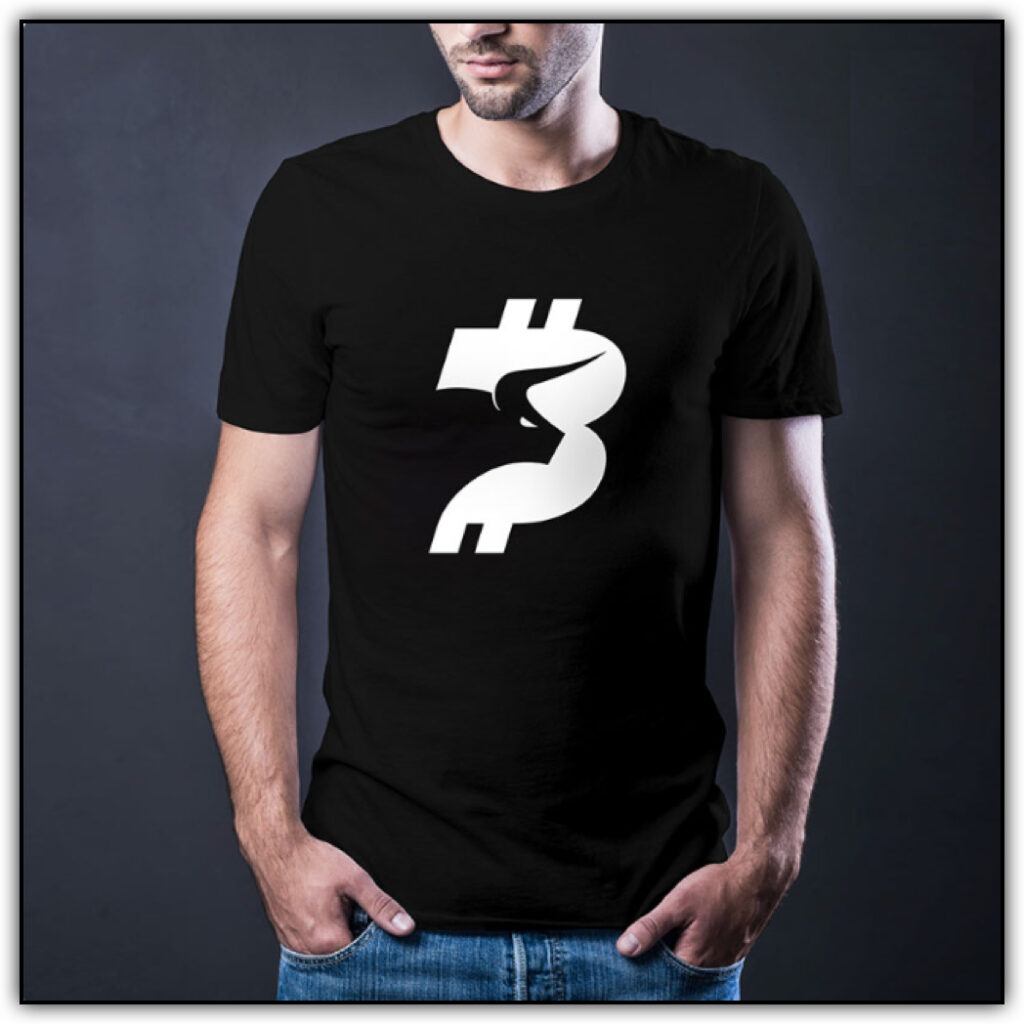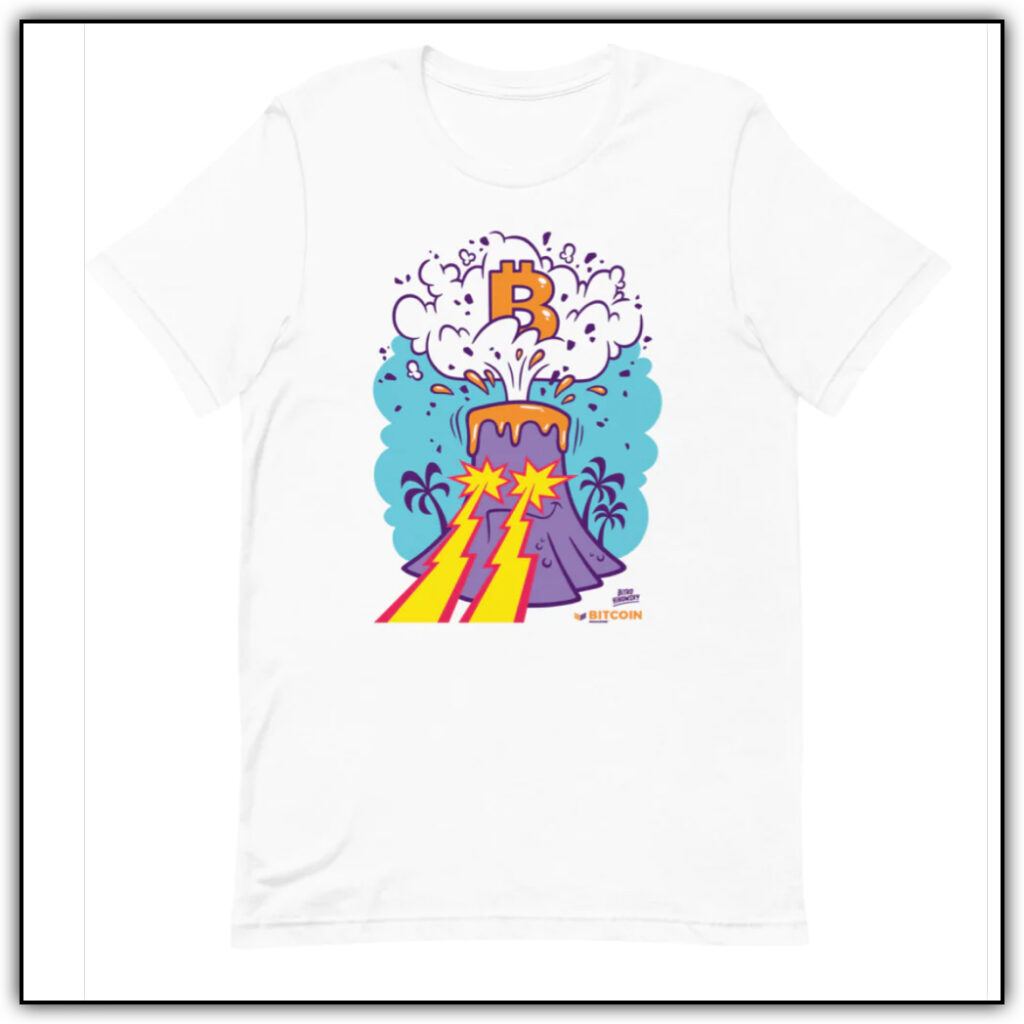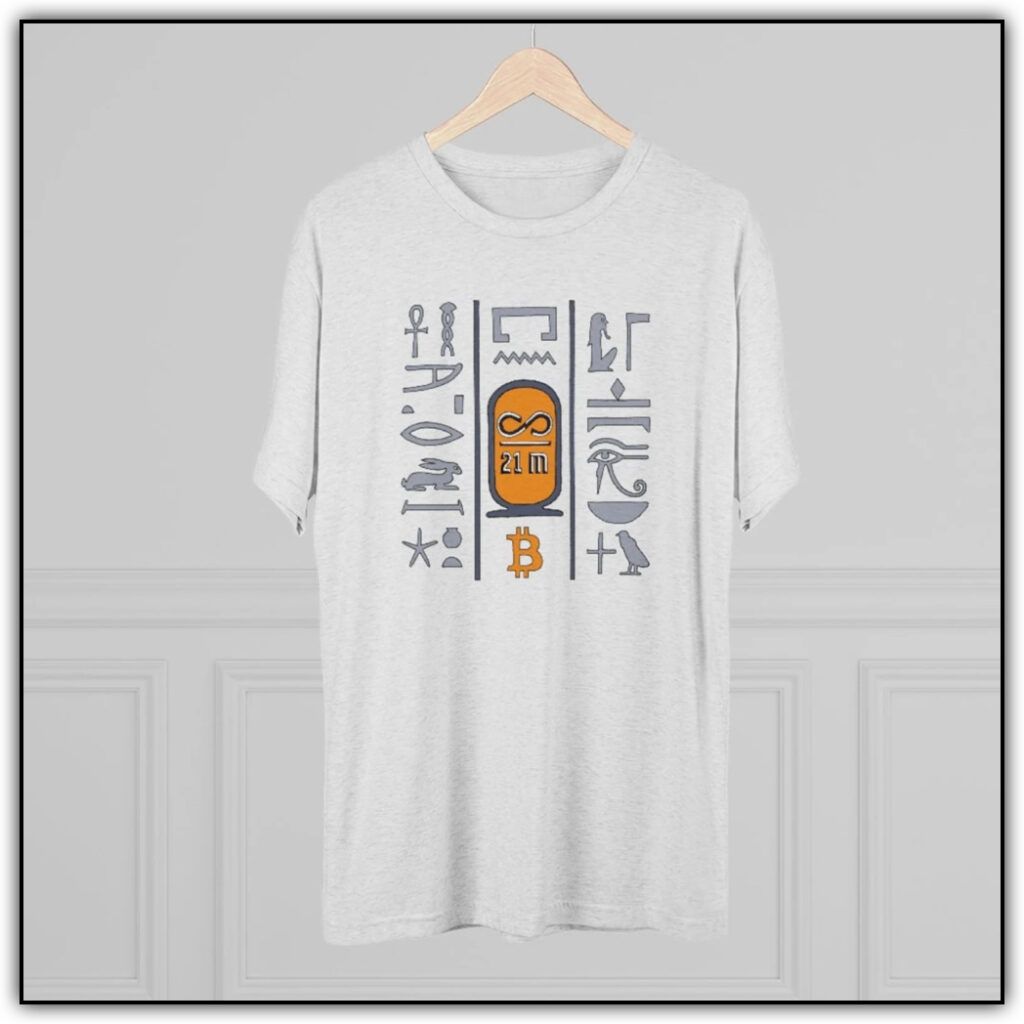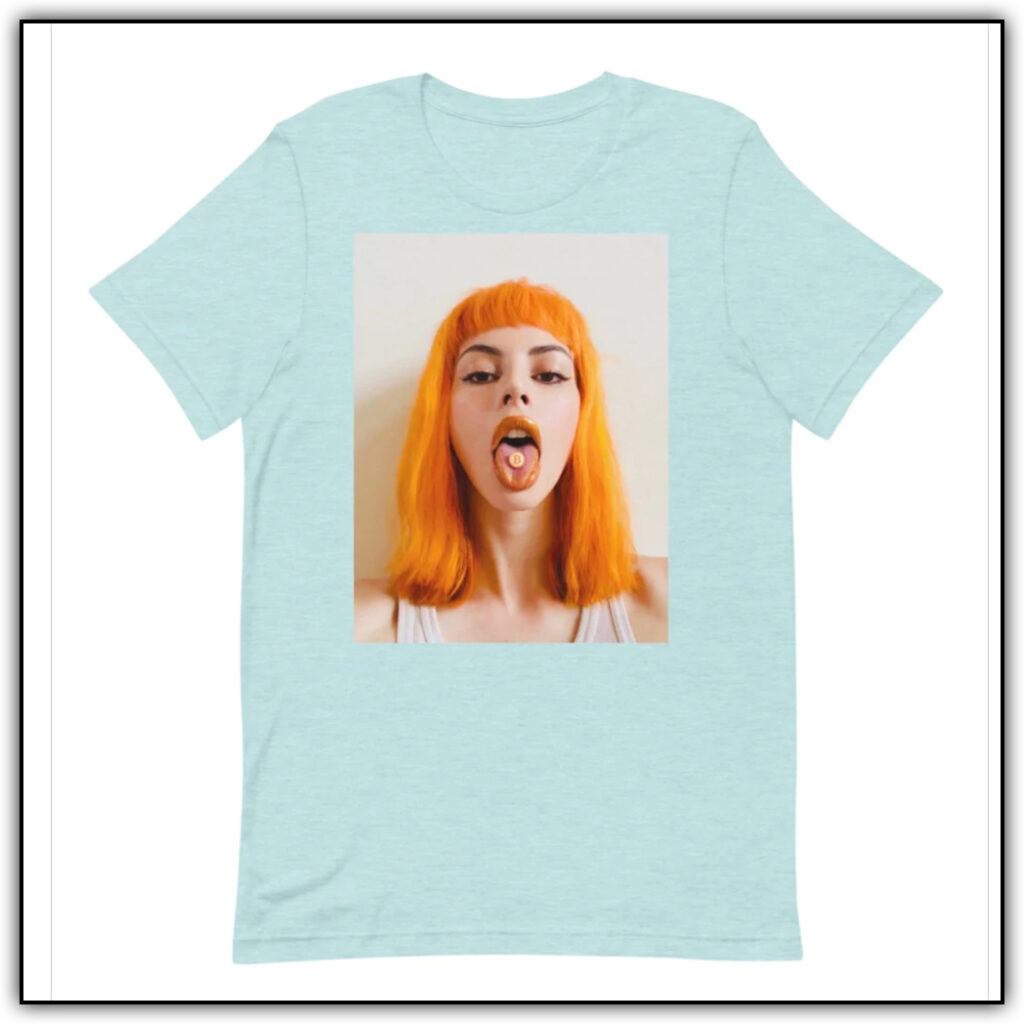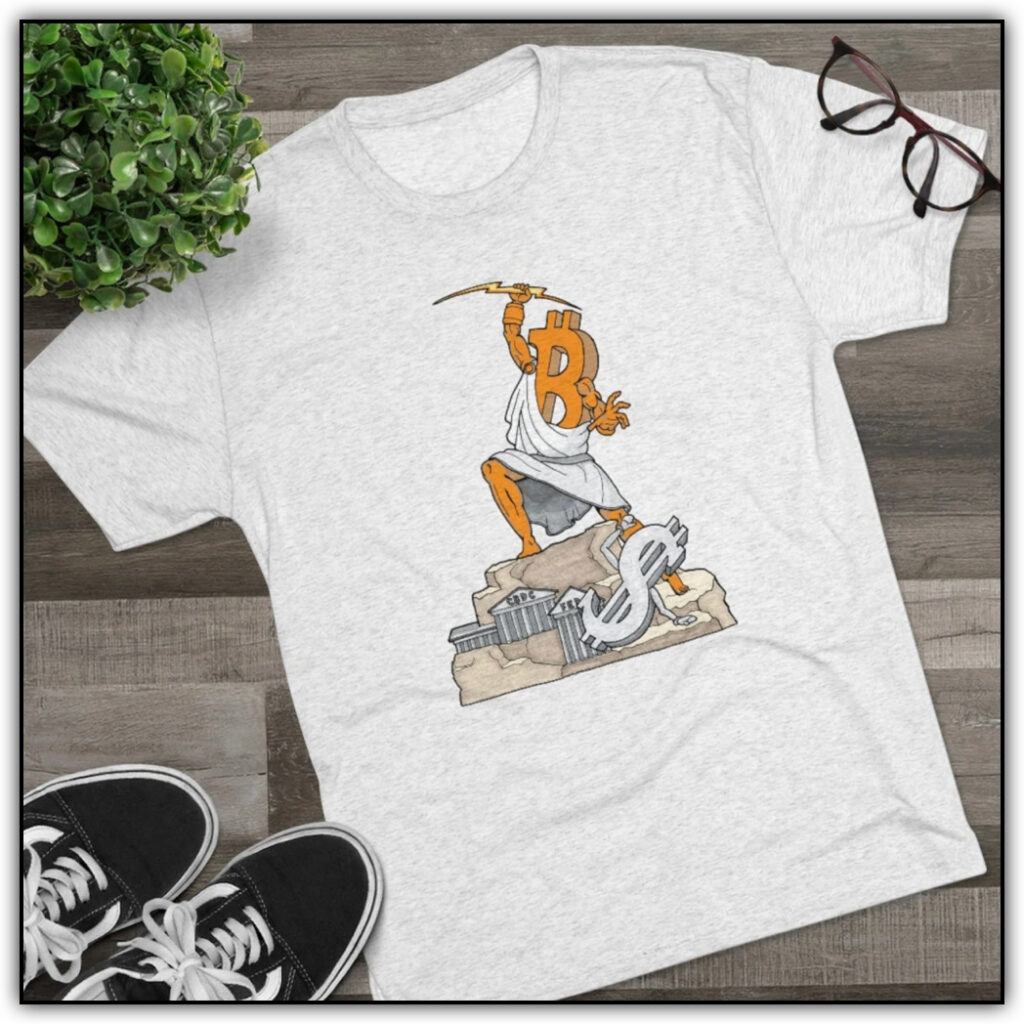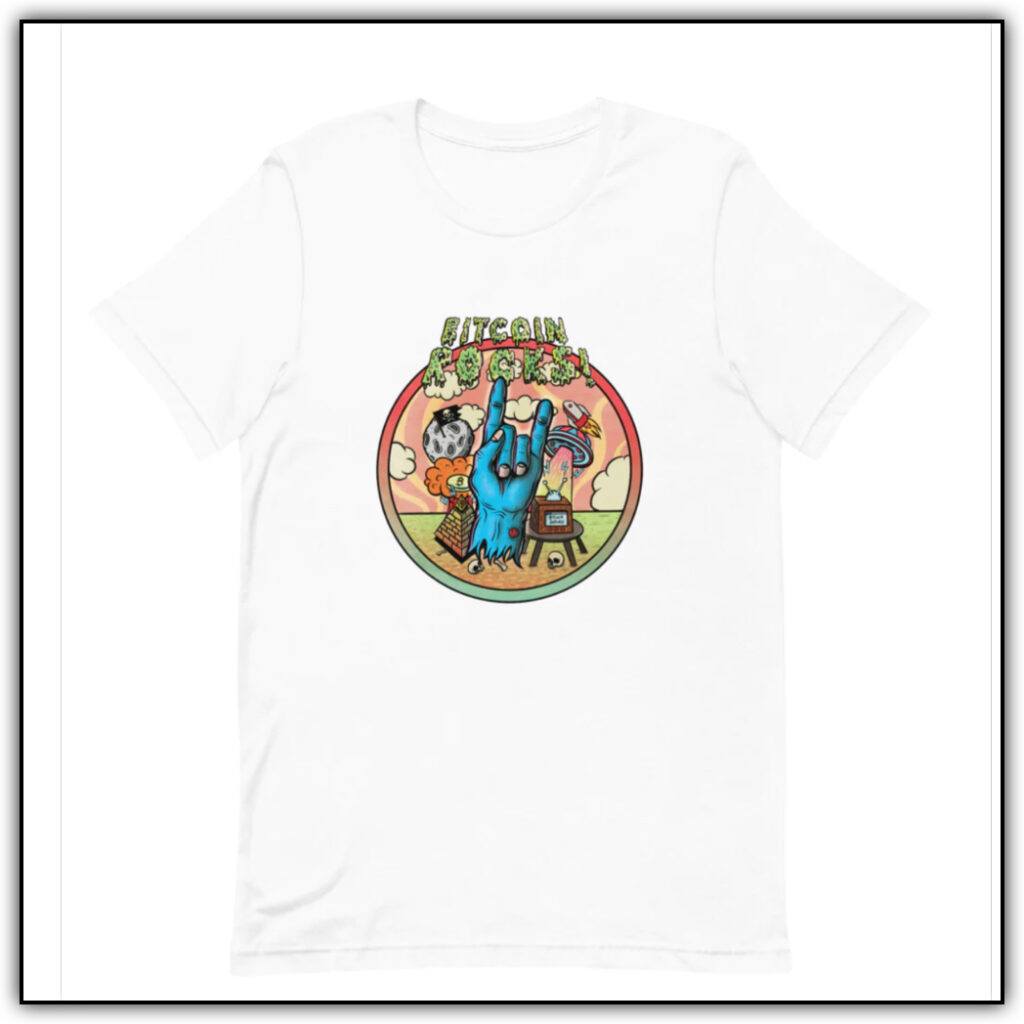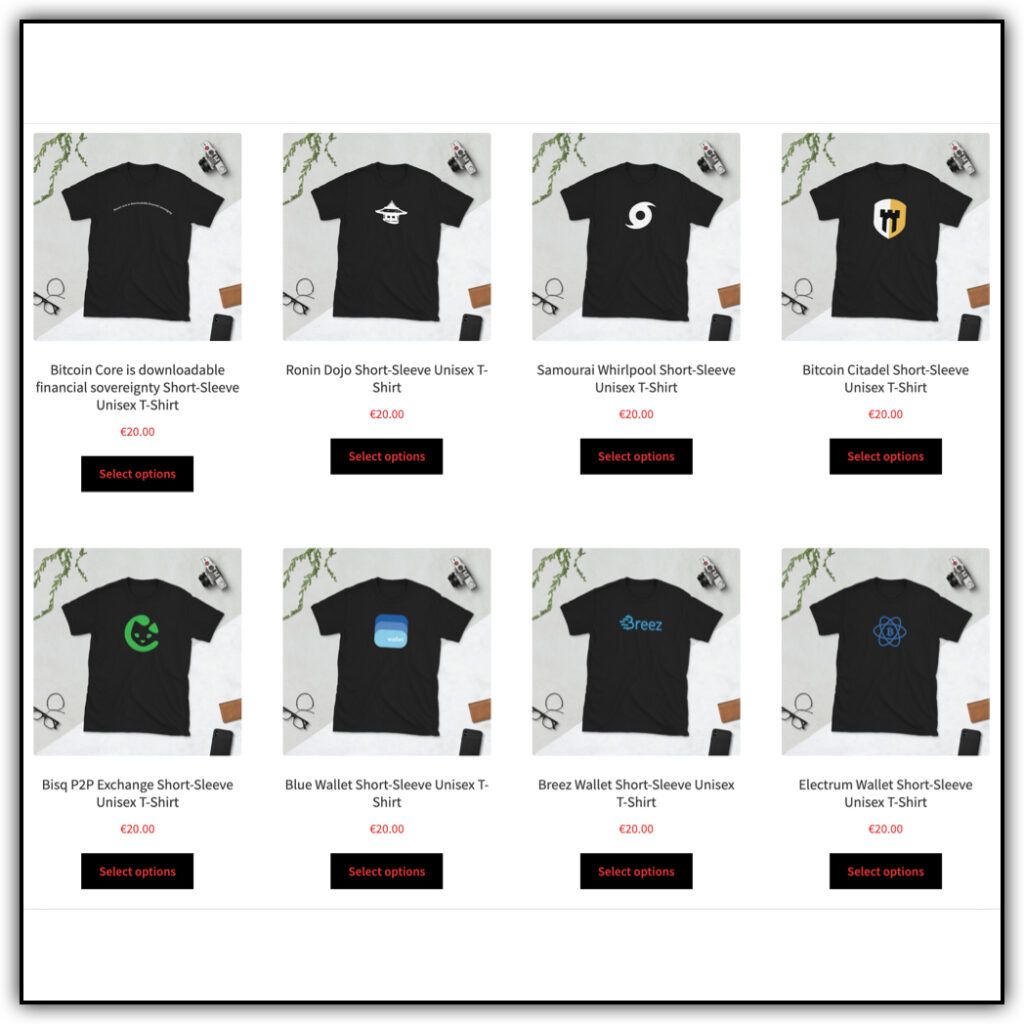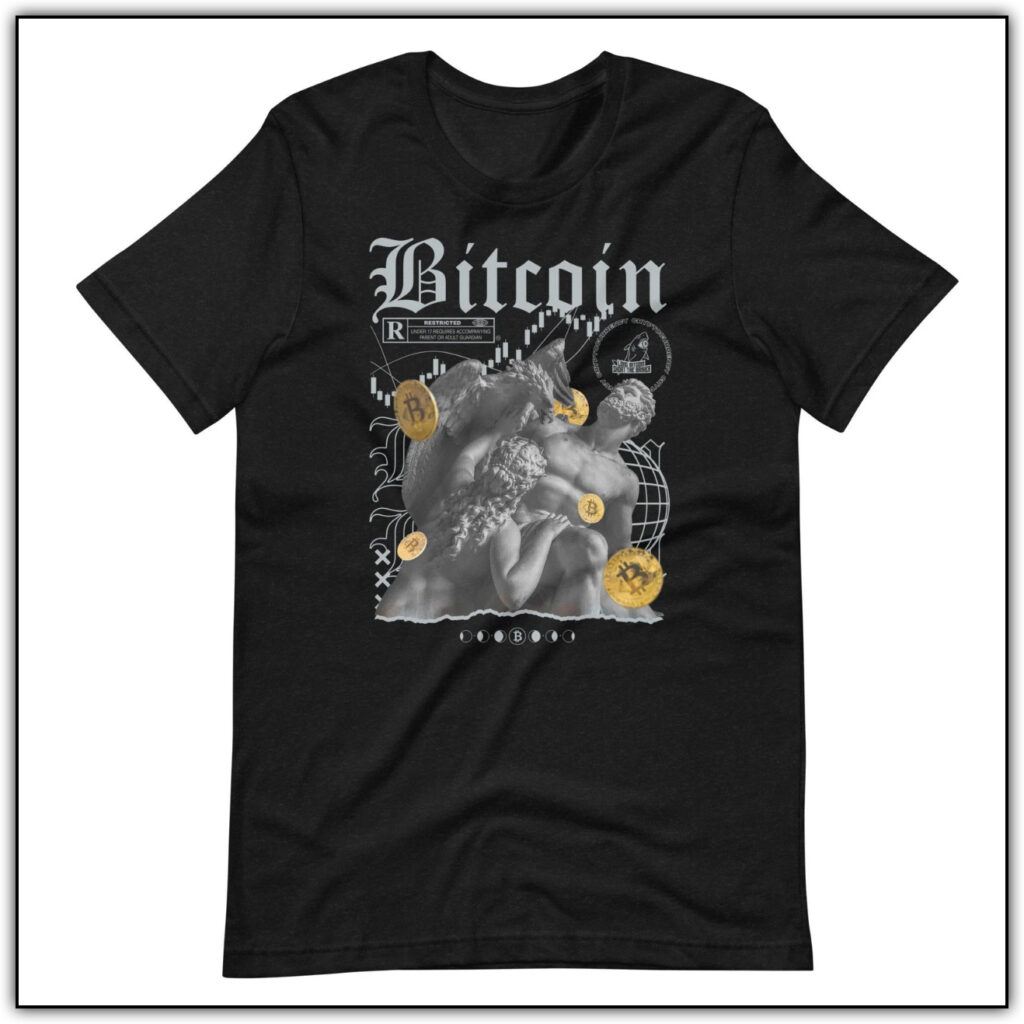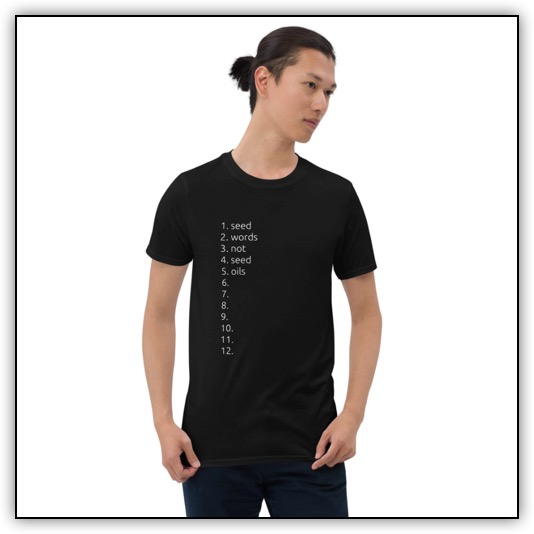 Other Places To Buy Bitcoin T-Shirts
You can certainly find a ton more shirt designs at other typical places that I've listed below, but many of them are very typical designs you see everywhere, so they are less interesting to me. I like weird stuff though, so maybe this type of stuff appeals to you.
Best Bitcoin T-Shirts From Bitcoin Miami 2022
Frequently Asked Questions
What Are The Best Bitcoin T-Shirts on Amazon?
The best bitcoin t-shirts on Amazon will be ones that are bitcoin-only, and do not refer to generic crypto, or show pictures of other cryptocurrencies. Even though there are lots of bitcoin t-shirts on Amazon, they tend to be pretty generic designs so Amazon would not be my first choice to buy.
Are There Any Bitcoin Polo Shirts?
There are many bitcoin polo shirts available, though they tend to be more minimalist in their design, with a small embroidery logo on the left breast. Many bitcoin polo shirts have a simple bitcoin logo, but some may have a short phrase. These simple designs are perfect for a more subtle approach to showing off that you're a bitcoiner.