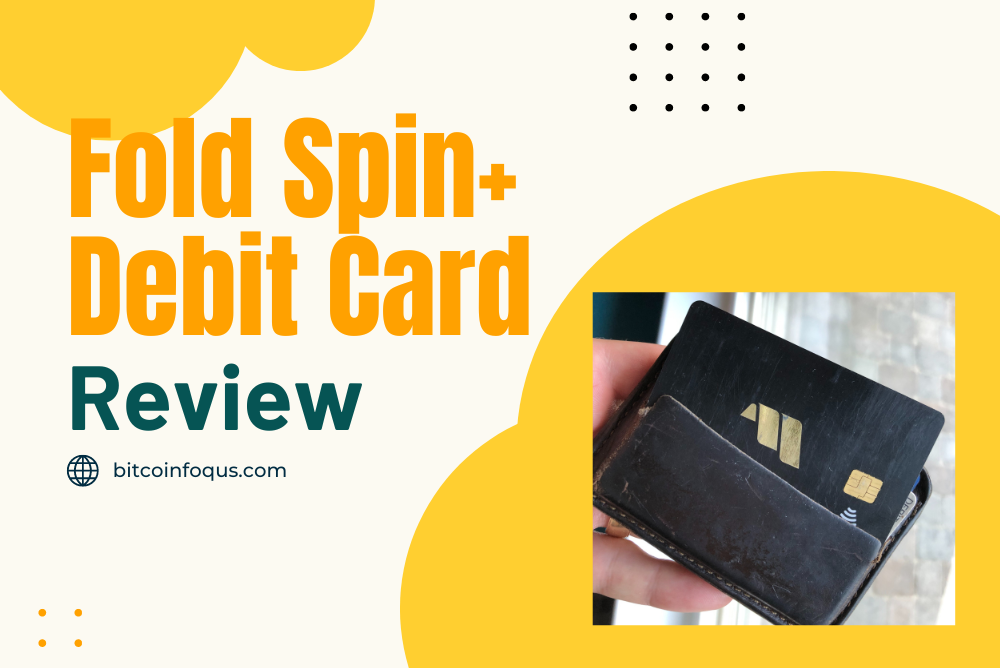 Stacking sats is a way of life. The goal is to just have a little more bitcoin than you had the previous month. My Fold debit card review here is going to let you know if this is a actually a good way to stack sats every month.
Fold is one of a new cohort of bitcoin companies helping you earn bitcoin rewards on everyday purchases using their credit cards, debit cards, or gift cards. That means you get to add more sats to cold storage by simply spending what you normally would, even paying bills!
The Fold card actually offers a variety of bitcoin rewards incentives, including rewards on gift card purchases, paying bills or mortgages, or via their game app and prize wheel. The main method of stacking sats with the fold card is going to be gift card purchases, but their bill pay feature is insanely popular and I stacked millions of sats paying down my mortgage.
I've used the Fold Card Spin+ membership for 2 or 3 years now, so have had the full experience of using this card and their various sats back programs. Throughout that time, I've also used a couple of other sats back cards, so I have a pretty solid idea of where Fold stands in the landscape of growing options out there. Of course, this is my personal review, so everything is my personal opinion, but I hope reading about my experience can help you get an idea of Fold is the right card for you.
Of course, let me know what you think in the comments, and if you've used the card yourself, tell me what your experience has been.
Fold Spin+ Debit Card
Fold is a fantastic Bitcoin-only company that lets you easily earn free bitcoin with sats back rewards. Whether you choose a "set and forget" mentality of just using the card as your daily driver, or you get more serious about the gamified aspects of the card and stack the max possible, it just makes sense for the average bitcoiner to use something like this.
Most recently I started using this card to pay my mortgage payment, and get over 丰100,000 per month that would have otherwise been left on the table. The only question for you to ask yourself is, how much is the free bitcoin worth to you?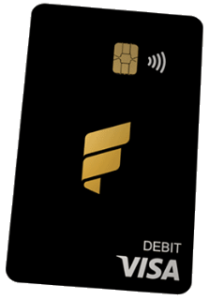 (referral)
Fold Debit Card Review (Spin+ Member)
Using The Fold Debit Card
Once you sign up for Fold and are approved, you'll immediately get access to a virtual VISA card, as well as a routing and account number within the Fold App. In addition, you'll get a physical debit card sent to you in the mail. All three can be used to make purchases as you normally would with a debit card or bank account with ACH payments enabled.
To deposit money, there are a variety of funding options. You can do a one time deposit or recurring deposits from a bank using a debit card, or you can use the ACH system which usually takes a bit longer. You can also fund your account with Venmo or Apple Cash.
In the past when I was using the typical one-time deposit option, it would take about 3 days to fund, and an additional day to clear/be accessible. Now that I have instant funding available, fund are able to be spent within minutes. Instant funding does have amount limits though.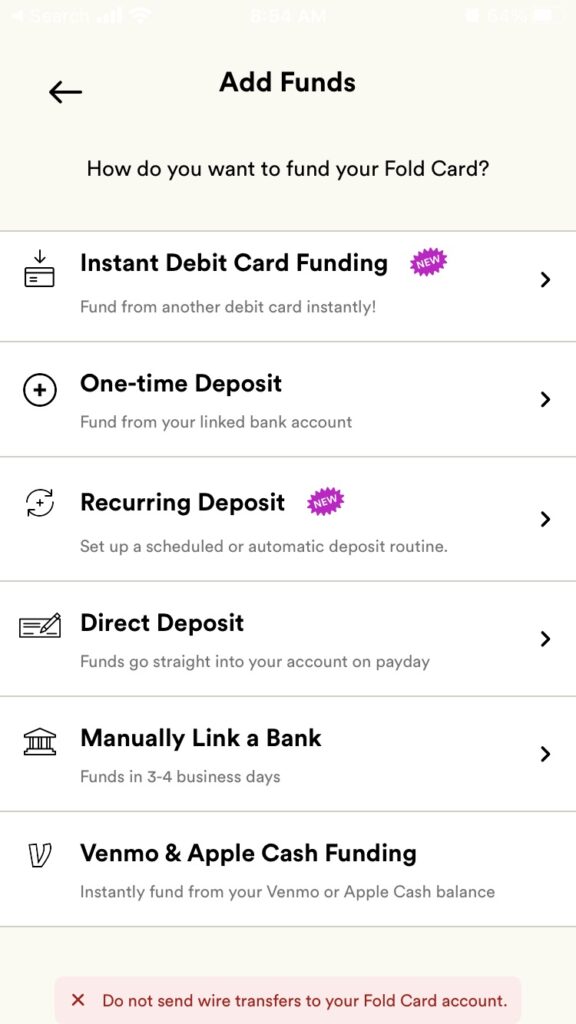 Once you have a balance on your Fold app, you can spend through the virtual card or physical card, and transactions process normally like they would with any other card. It's got the chip system and NFC, so you can swipe, insert, or tap to spend.
You'll notice in all the images on this page, my own card looks pretty beat up now, but at one point it was quite a nice looking card with the black and gold theme.
6 Reasons Why I Personally Use The Fold Debit Card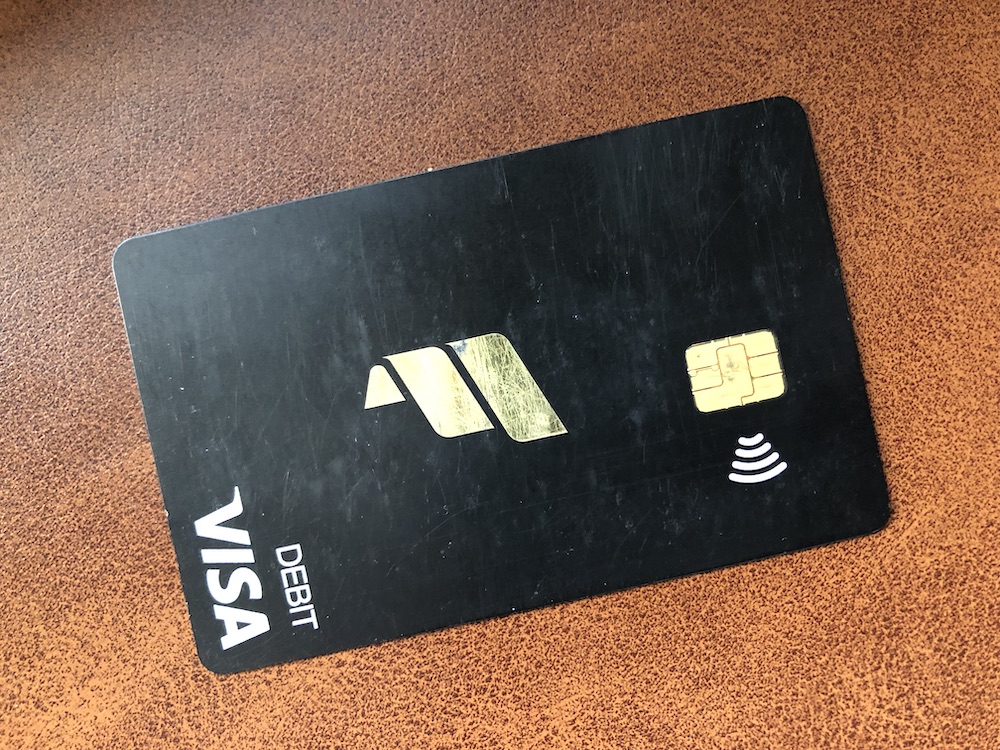 Fold A Bitcoin-Only Company
There are a lot of different cards offering bitcoin rewards out there, and I'm not going to be using all of them on the daily. It's just not practical. So I have to pick and choose what's important to me when weighing which card I'm going to use as a daily driver. One of the things that's very important to me is to support the bitcoin ecosystem, and Fold is one company that I feel can help me achieve that goal.
Fold is a bitcoin-only company focused on building tools for bitcoiners. So while these other "crypto" companies are adding the next altcoin or looking for the next hype-train to drive crypto traders to their platform so they can make fees, Fold is looking at what incentivizes bitcoiner to engage with their product.
With Fold, you can expect things like lightning payments and withdrawals in the future. With other companies, you can expect trading incentives to risk your altcoins in the shitcoin casino. With Fold, you can expect that they are trying to get you the best bitcoin rewards, since that's their business. With other companies, you can expect that their incentives not hyper-focused on only bitcoin. They've got 100 other altcoin projects to promote!
For me, this is just the type of company I'd like to support, because I have a choice.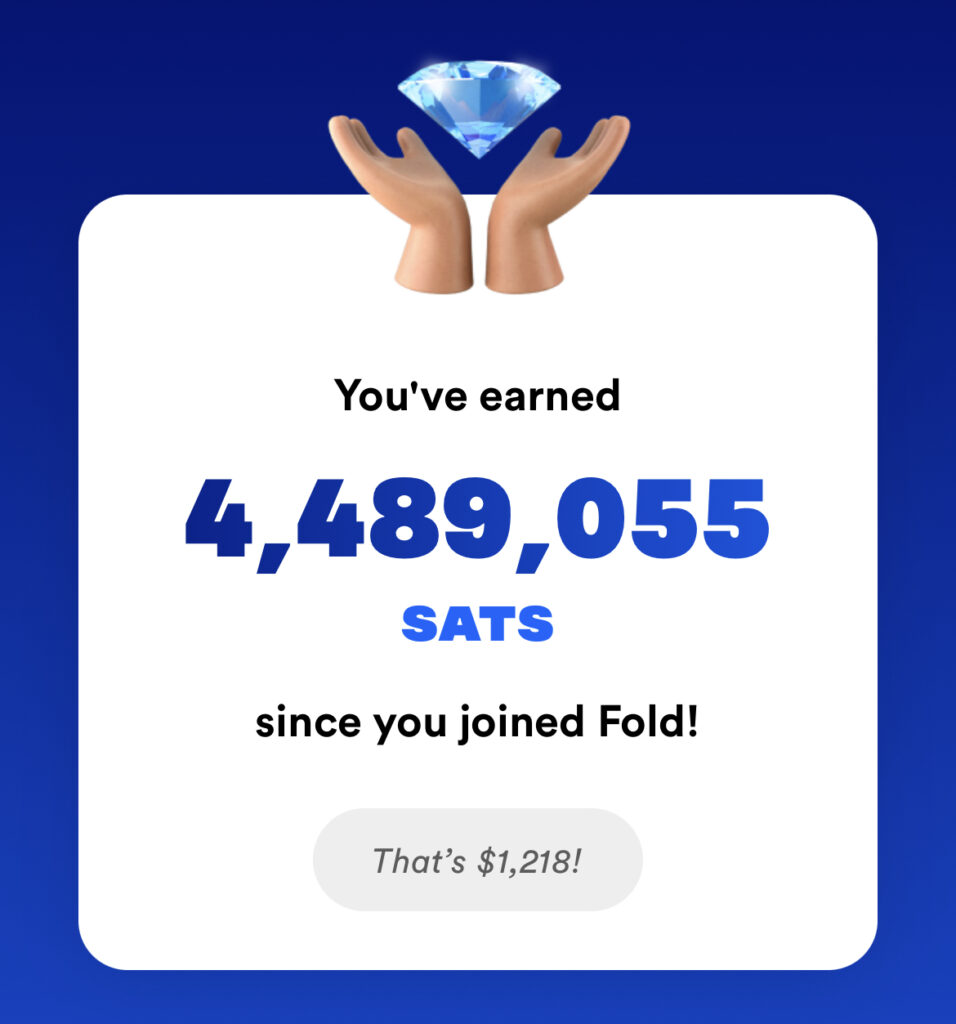 I Consistently Get 1%-3% Sats Back
For Spin+ card holders, you get the option for a flat 1% cash back, or you can spin the prize wheel for a chance to earn more than that. You get a certain amount of "extra spins" per day and based on card activity, so I usually have about 5 extra spins available, plus you can win more in the wheel. This means that on every purchase I'm able to pretty consistently earn anywhere from 1.25% up to 3% depending on my luck.
Overall, it averages out to about 1.5% over time, which is pretty much in line with the baseline returns of other cards out there.
6% Back On Amazon Is Nuts
When you consider much higher returns on gift card purchases such as the Amazon gift card, it pushes my own returns closer to the 2-3% range.
I try not to be too spendthrift while trying to seek out sats back rewards because it kind of defeats the purpose of saving money, but I do spend a few hundred dollars on Amazon per month on all types of things. Just this month I bought a 50lb bag of dog food, an electric mosquito repellant device, a microSD card, and a bunch of other toiletries and household things.
With the Amazon credit card, I'd normally be getting 3% back. With Fold Spin+, I get 6% back. Double. So all I really need to do is buy one $250 or $500 gift card per month from Amazon and I've doubled my normal cash back rewards, but in bitcoin.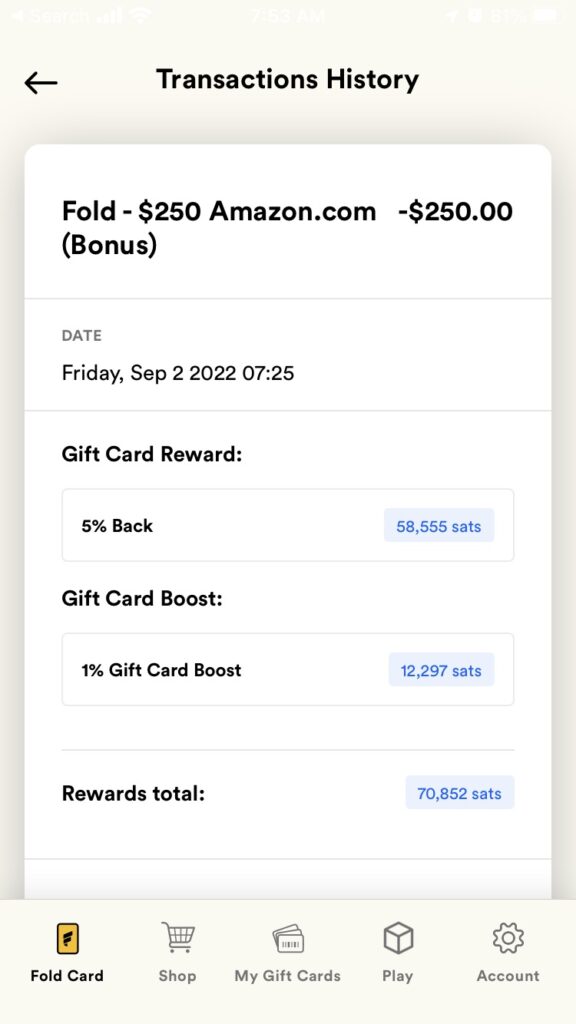 I Get Sats Back On My Mortgage & Other Bills
A cool new feature they've released is that you can choose the "Pay Bills" option in Paypal, while connected to your Fold account, which means that you can pay utilities and even your mortgage through your Fold account.
Not only would most people never get cash back on their mortgage payments because most mortgage companies don't take credit cards, if you get lucky, you can almost always get to that common 1% to 3% range.
The prize wheel is random, so you never know what you're going to get. There are better returns than the 3% I've mentioned a few times, but I rarely (almost never) hit them, so I'm just commenting on what's "realistic" to get here.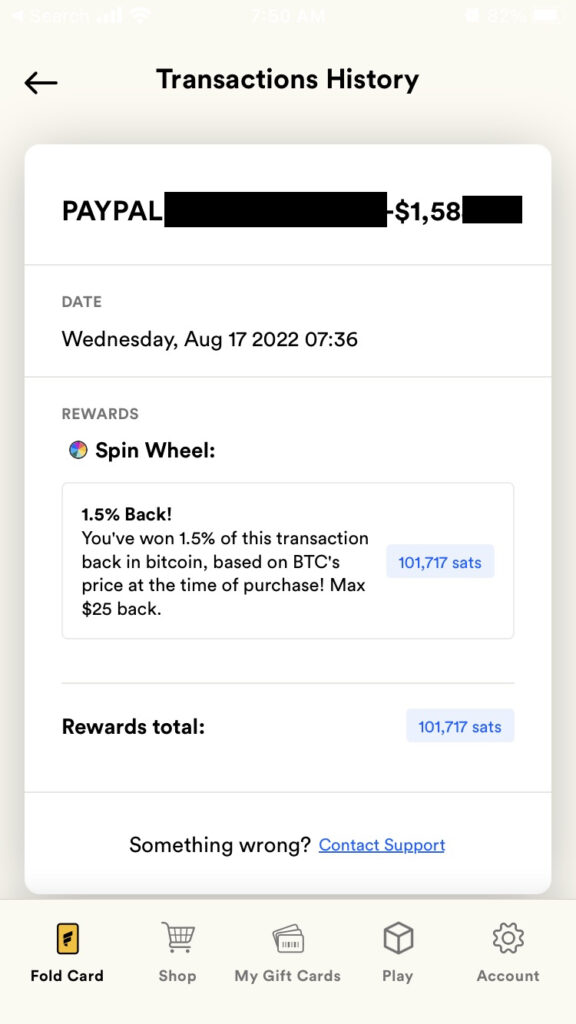 It's Pretty Common To Get 5%-10% Back On Small Purchases
If you are paying your mortgage and spending on Amazon every month, then another prize I like to hit is "1 sat per dollar purchase in the last 30 days", which is pretty common to hit right now. It's got a max of 5000 sats return, but 5k sats, but that's $1 right now, which works out to 10% return on a $10 purchase.
For example, I got 丰4865 sats back on a $21.18 purchase, which is $1.03/$21.16 which is 4.8% return.
The main mechanic at work here is that I have a high spending rate (at least a few thousand a month), coupled with small-dollar purchases. For example, a $1000 purchase with 丰5000 back would only be 0.1% back, so in that case, I would use a re-spin because another reward would be more advantageous. Even just the the flat 1% back would be good here.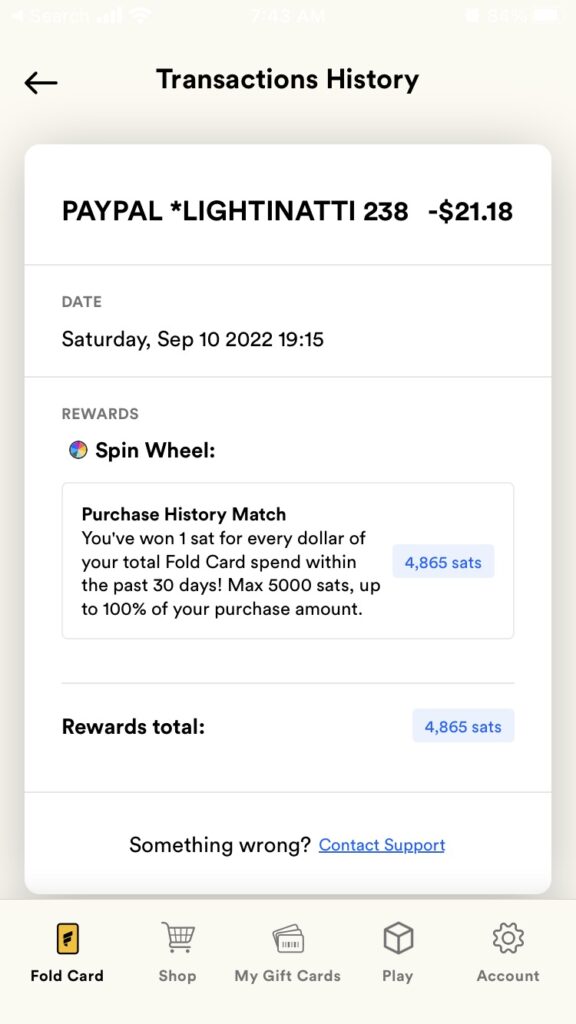 It Keeps Me Head-Down, Stacking Sats
Saving money, whether it's in sats or dollars, is a grind. You really have to watch where your money is going, and focus on the small things. It's not easy to keep a budget when you are constantly battling against the consumer culture we live in. It's hard to resist buying things when it's just a click away and delivered by Amazon in two days.
What I like about the stacking sats mentality is that it keeps you focused on the daily grind of being just 1% better every day.
The simple goal is to end up with more bitcoin at the end of this month than you had at the end of the previous month.
It's simple and unsophisticated, but it works for me.
I need to manage all sorts of other things like the rising cost of living, my business income and expenses, and what not, but in terms of saving in bitcoin, I like that stacking sats doesn't add a lot of complexity to budget. Just stay humble and stack.
Then, you start to see the compounding effect of saving in bitcoin. $1200 in credit card rewards over three years doesn't sound like much, but if that turns into $4,000 in credit card rewards, it starts to make more sense.
Some Stuff I Don't Like About The Fold Debit Card
Fold Is Not A Bank
Fold is not a bank, so it doesn't come with the ability to treat it like a bank. Their desktop website is useless except for account management. You've basically got a mobile app where you can manage small-ish amounts of money that you plan to spend in the immediate future.
I don't doubt my money is safe with Fold, but it means I have to manage it like a "mobile app with money on it", rather than an institution where I can just manage all my money needs.
It requires mental energy to keep track of how much money is on it, what I plan to spend, when deposits are incoming, etc. It's an actively-managed bitcoin-spending tool. Adding this with all my other "bitcoin management tools", just makes me acutely aware of the brain drain of money management.
I've already got multiple bank accounts, multiple credit and debit cards, multiple bitcoin wallets with various security setups… and now on top of this I need to manage my bitcoin gift cards with yet another app? Then I start to think… is it worth it for a few extra sats?
I mean, money is money, so I'm doing it for the time being, but it's just added hassle to my life.
Everything Is Gamified
I really don't like the gamification of money management. Maybe when I was in my 20's I would have enjoyed something like this a little more, but I'm almost 40, and I don't need to be spinning a prize wheel every time I purchase, especially when some of the prizes are worth a few pennies. I've got more important shit to do with my time like take care of my family and run a business.
There's even an augmented reality game they're integrating into the app. I tried it a few times, but a few minutes in just felt like, "What the hell am I doing with my time. Am I going to be catching Pokemon next?"
Of course, we all waste time throughout the day, and it's not like I'm an inhuman machine who doesn't occasionally enjoy the time-waster game. We all do. But to integrate a daily prize wheel, multiple times throughout the day just isn't something I enjoy doing. I guess I'm not really Fold's target audience because sometimes I just can't be arsed to participate.
This is why I try to simply my own Fold Experience to just the essentials:
Amazon gift cards
Mortgage
Daily driver debit card with 1% flat spins
With these simple steps, I've managed to rack up almost 2 million sats the past couple years.
"Win A Whole Bitcoin" (But Not Really)
The thing with the spins is that multiple times per day you secretly hope that you'll win a whole bitcoin. There are people who do win a whole bitcoin, among other large prizes like 丰100,000, or 100% cash back spins. I've seen the posts on Twitter and in Discord. However, after more than two years of being a Fold Spin+ member, even with upgraded prize wheels and extra spins, etc, I have never gotten more 2% consistently.
I've gotten the occasional 3% or 4%, or as I mention elsewhere on this page, as well as some advantageous spins when I have some high spending months, but I've never really gotten an "amazing" prize. To me, that makes the "win a whole bitcoin" thing more of a gamble. There's a one in a million chance it'll happen, so you can't even consider it when considering if you should use the Fold debit card.
Fold Spin VS Spin+ Membership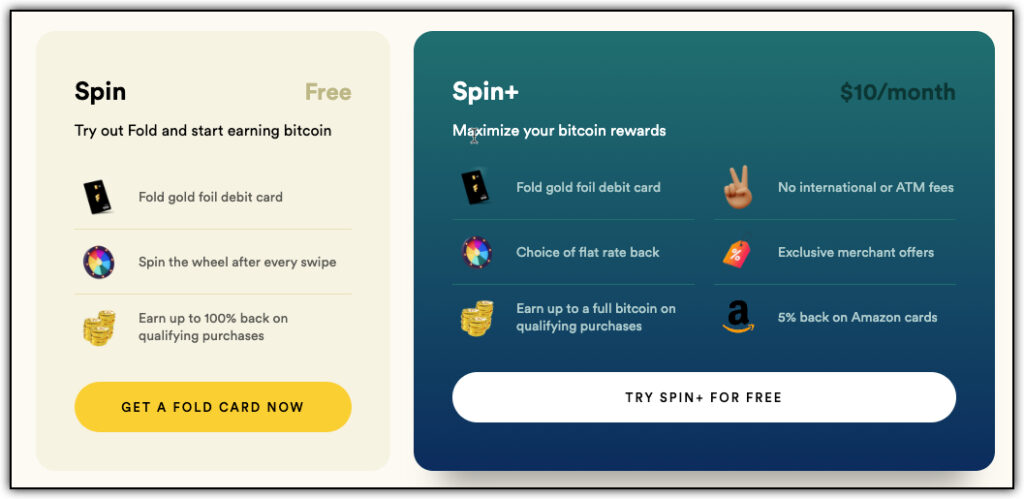 There is a free version of Fold called "Spin", and a paid version called "Spin+"The Spin+ version of Fold comes with a yearly fee. Since Fold is a relatively new company, the yearly fee for Spin+ has changed since I signed up. Originally, it was $250, but that membership ran for about two years while they made some adjustments, and now the yearly fee is $100 (or $10/month)
The key thing to think about using Spin vs Spin+ is whether or not you can make that $100 back, and how much above the $100 you would earn in rewards. This is a delicate decision to balance, because there are a lot of factors at play.
A Yearly Fee For The Spin+ Membership Is A Big Deal
The main thing is that other debit cards may offer "crypto rewards" and cost you zero dollars, while offering you a flat fee of 1.5%, PLUS boost rewards and other incentives. Paying $100 for the privilege of possibly earning 1.5% if you get lucky on the Spin Wheel sounds like a shitty deal when you look at it like that.
The guy in this video below agrees. He basically loves the company and likes the idea of sats back, but for the average user, you'll earn more money using normal credit cards.
Video: The Problem With Stacking Sats With Fold
I only mention those things because in my mind, based on my spending habits, it makes total sense to get Spin+. I've earned about $500 per year since I signed up to Fold, so the $100 yearly fee is worth it. I get access to better rewards, including 5% back on Amazon cards, which is the main purchase I make, and even getting just 2% back on my mortgage payment is a big win. Using my extra spins allotted to me with Spin+, I can earn over 丰100,000 each month like clockwork.
Your spending habits may be different. If you only earn $100 in rewards per year, it doesn't make sense to pay for the Spin+ membership because you're just paying back all your earnings. It may make more sense to use a different debit or credit card with higher rewards, or use a normal card with Bitrefill + Strike to earn cash back on your purchases.
Fold VS Other Sats Back Systems
I was just at a bitcoin meetup last night and was surprised to know that more than a few of my fellow bitcoiners had transcended the basic sats back debit card and have gone on to slightly more complicated, albeit more rewarding methods of earning sats on their daily purchases.
I guess it's not really that complicated once you see the steps laid out, but it's certainly not just swiping a card.
Create a Strike account (referral) and connect it to your bank
Create Bitrefill account (referral)
Use your credit card like normal
Search your credit card company on Bitrefill
Bitrefill creates a lightning invoice for the amount of your credit card payment
Pay the lightning invoice with your @Strike (dollar) balance
Boom. You get 2% back on all lightning invoices paid with Strike
Actually, I got 6% back between some kind of Strike boost and Bitrefill rewards
You can even supercharge this system by purchasing goods through Lolli (referral) using a credit card, which you then pay off using Bitrefill using Strike, and you can triple down on your rewards. The downside here is that the offers on Lolli are sometimes only promotional offers, and the terms are not super clear (e.g. they are advertised as "up to 20%", but you have to order specific things to qualify, and there's often a maximum of $5 or $10 per purchase.
The point is, you could be earning 10% back or more if you get a good system going with gift cards and credit cards… if you want to make the effort.
It Is Worth It Getting So Complicated?
The trouble with this and other systems is that they all come with tradeoffs. For example, Strike has a maximum payment of $1000 over lightning, so I can't pay my mortgage over lightning with them. They also have a weekly deposit limit of $2,500, so you can't use them for everything, like you could with Fold. They also pay in dollars, not sats, and while they do have no-fees for buying bitcoin, the price you buy at will vary from other exchanges, and I'm not sure how it compares.
Other cards may pay a flat 1.5% sats back, but they also have a flat withdrawal fee, so you have to earn enough to justify even taking your money off the exchange into cold storage.
I could try to work around these limitations somehow, but then it's getting into the too-much-crazy-effort territory for a few extra bucks per month.
So for now, I'll just stick with Fold, and remember that any sats back rewards program easily be outpaced by simply buying $100 of bitcoin every month.
Should You Use Fold?
If you are a humble sat stacker and looking for an easy way to get some free bitcoin into cold storage, then Fold is a great tool to have. There are many ways to earn free sats, but compared to most of the other games, faucets, and other things going on, the Fold card is probably the most reliable and consistent. Why not pay yourself back in bitcoin for stuff you're going to buy anyway? Even if you do nothing else but buy Amazon gift cards and use the card for everyday IRL purchases, it's still a good deal.
Getting Lost In The Gamification
However, I do think it's easy to get lost in the gamification aspect. It's taken me two years to earn almost two million sats on Fold, and while that's not bad, I could easily out-stack that by simply buying more bitcoin every month. I'd save myself a lot of time, and have way more sats at the end. I mentioned that I made almost $500 with fold over the past few years. Compare that with buying $100/month of bitcoin, you would have way more than 丰2,000,000 saved. So the sats savings is nice, but you can easily outperform simply by not buying stuff.
Sometimes I'm disappointed in how much brainpower I dedicate to trying to stack a thousand sats here and there. I realize that some people are in that type of financial situation, but I'm not. I'm over here fist pumping when I get a 3% spin and 丰40,000, but then realize that I just spent more than 丰50,000 on a coffee and eggs bites at Starbucks today.
So should you use Fold? Basically yes. You can sign up for an account and get 20,000 sats for free right now. It's a super easy to way to get free bitcoin, and get a good amount of bitcoin relative to the effort you put in, as long as you optimize for your own spending habits. However, my advice is to not get too sucked into the gamification stuff if you can afford to just buy more sats.
Fold Card FAQ
Does Fold Offer Cashback Rewards?
Fold offers "cash" back rewards in the form of "sats", or small units of bitcoin. Though colloquially known as "cash back", it's not actually USD cash.
Does Fold Offer ACH Rewards?
Fold does not offer rewards available for ACH withdrawal. Rewards are paid in bitcoin, and must be withdrawn to an on-chain bitcoin wallet.
Can I Use The Fold Card At The ATM?
Yes, you can use the Fold card at the ATM to withdraw cash. However, be aware that there may be a cash withdrawal fee.
Where Is The Fold Card Login for Desktop?
The desktop login page is here: https://use.foldapp.com/login The Fold website makes it surprisingly difficult to find the desktop login page, and their desktop website has very little functionality compared to the app. You may need to log in from time to time though.