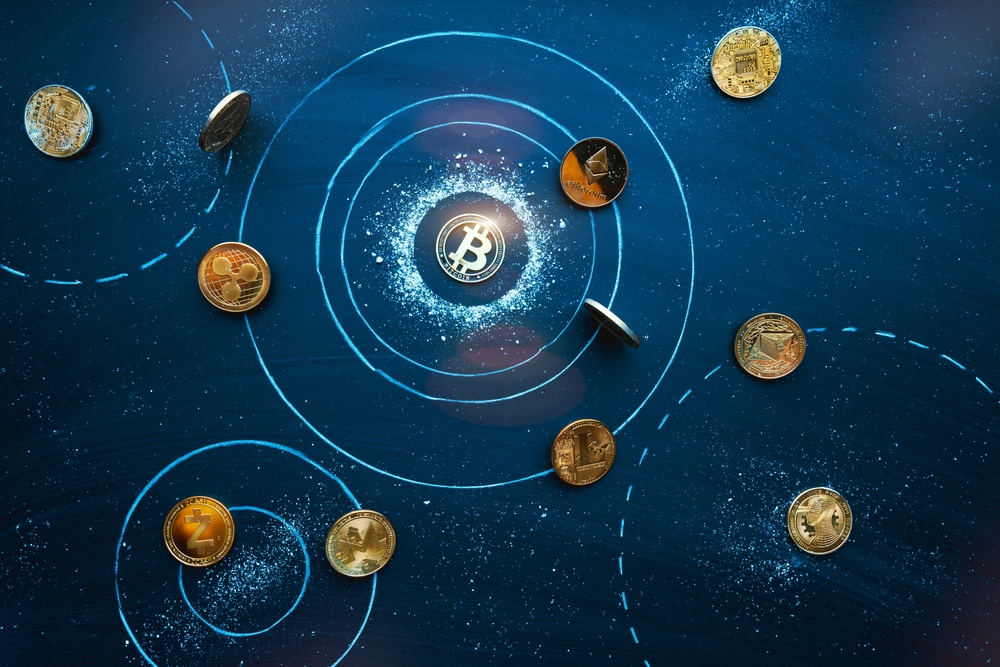 Bitcoin market dominance is often used in news reports, both crypto and mainstream as a way to show the trend of bitcoin's imminent death. The intent is to prove Bitcoin is losing its share of the cryptocurrency market as a whole. It's a dinosaur protocol. It's a boomer coin. It's trending towards death.
However, as with all statistics, if you manipulate them enough, you can create any kind of statistical illusion that you want.
The truth is that bitcoin's market dominance is a nonsense metric that doesn't tell you much about anything at all because it's being compared against things that are unrelated to it. Basically, bitcoin is a commodity, while other cryptocurrencies are securities. They are two different asset classes.
Look, I'm no fan of altcoins and would never recommend that someone buys them. However, normies seem to be enamored with them, so I think they'll be around for a while. I'm not going to have the crypto vs bitcoin debate here, but I think even most shitcoiners would agree that bitcoin is in a league of its own.
Would you compare the market cap of gold to the market cap of a penny stock? Absolutely not. Yet, that's what is happening here when people show bitcoin's market dominance shrinking against a sea of altcoins.
Bitcoin Market Dominance VS Crypto Coins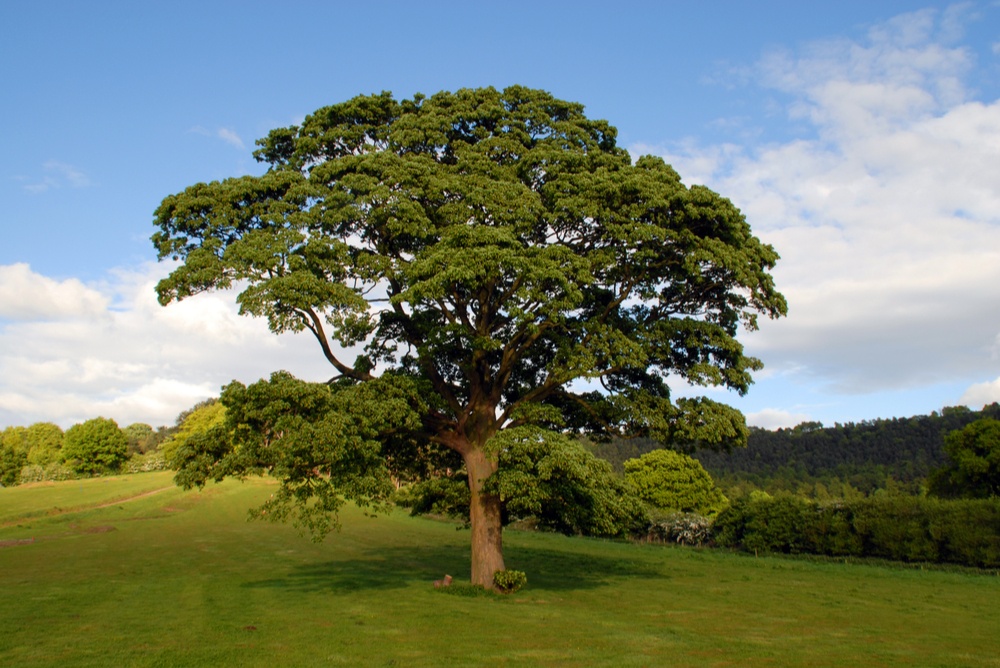 Let's look at the first bit of statistical manipulation that takes place when using market dominance as a metric. You might look at bitcoin's 2013 dominance at somewhere around 70-80%, and see it drop to 40% in 2022, and think wow, bitcoin is approximately 50% less important than it was 10 years ago. These altcoins are really growing!
What that doesn't tell you is that there are now significantly more altcoins these days, and the number is still growing.
If you had a gigantic oak tree that was growing in the forest for several decades, and weeds kept growing up around it, you could say, "Hey, there are way more weeds than the oak tree. It's losing market share of the forest!"
Or you could look at the fact that one thing is an oak tree and will continue to grow tall, strong, and survive for hundreds of years, while weeds will come and go, only surviving long enough to soak up some resources and then disappear. Meanwhile, the oak tree continues to grow stronger and larger, and the weeds have no effect on it.
This analogy also works to describe bear markets and market crashes. There have been exactly zero coins that have created new all-time highs after peaking during a bull cycle. Every time the market dumps and the crypto forest burns, the irrelevant, weak grasses are destroyed. Although bitcoin may be temporarily damaged by the fallout of the burn, it survives to grow another year.
Bitcoin Market Dominance Over PoW Coins
Bitcoin's market dominance is often quoted in relation to all other crypto coins that are available on the market. It doesn't matter what they do, how long they've been around, what their market cap is, how much volume trades, or anything else that might be relevant. This is why the data is so skewed, and the wrong way to look at bitcoin's market dominance.
A very useful tool to look at is the Real Bitcoin Dominance Index, which gives a much more accurate picture of what's going on in crypto. It compares only the top proof of work coins with bitcoin, and the results you get are much different. Since 2013, bitcoin has consistently been the overall dominant cryptocurrency, with no close competitor.
However, even their statistics undersell how far ahead bitcoin is in terms of market adoption compared to other available coins. Looking at their list of coins included, you can immediately cross off failed bitcoin and Ethereum forks such as BTG and ETC. These coins may be mined to be sold at a profit, but nobody in their right mind is using these to store value.
Furthermore, Ethereum is now proof-of-stake, so why even bother to include them in this list of proof-of-work cryptocurrencies? Luckily, the creators of this website were smart enough to recognize that, and you can simply toggle Ethereum away from the list, and suddenly bitcoin's market dominance starts to look more realistic.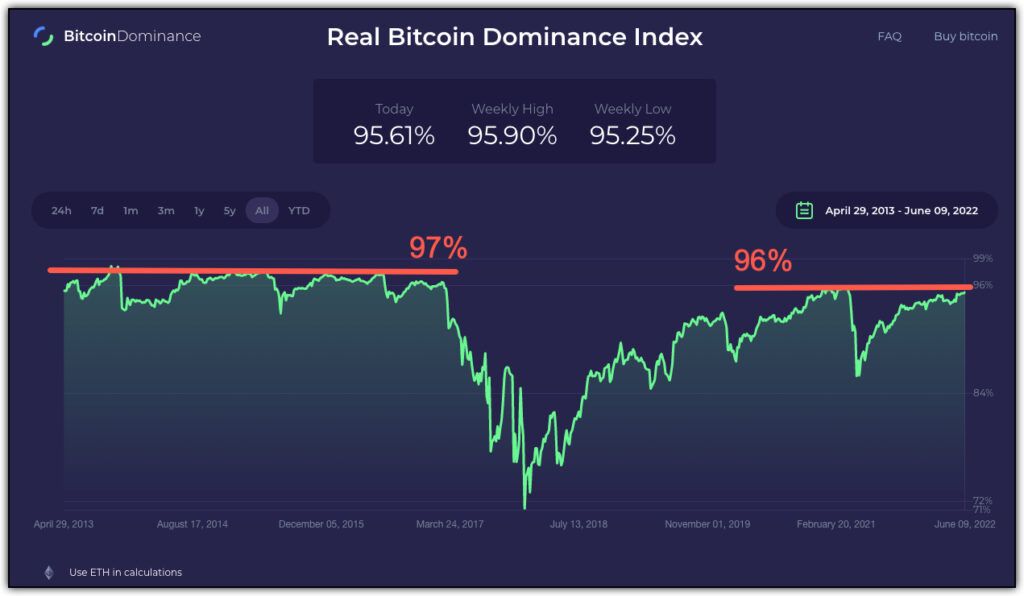 Bitcoin Market Dominance Is Actually 99%
So, if we remove proof-of-stake coins AND zombie coins from the mix, then bitcoin market dominance is actually around 99%.
It's pretty obvious once you think about it. Altcoins are generally not used for anything other than trading. The idea of getting paid in an altcoin, or selling a good/service for an altcoin just isn't on the radar of altcoin "investors" (gamblers).
You can watch this dynamic play out when the shit hits the fan, as people dump their bags for bitcoin or cash.
We've been in a bear market for most of 2022, and you can see how bitcoin's dominance has changed over the year. There's safety in sats. When the fun of trading dies out and the degens get liquidated, bitcoin outperforms all other cryptocurrencies.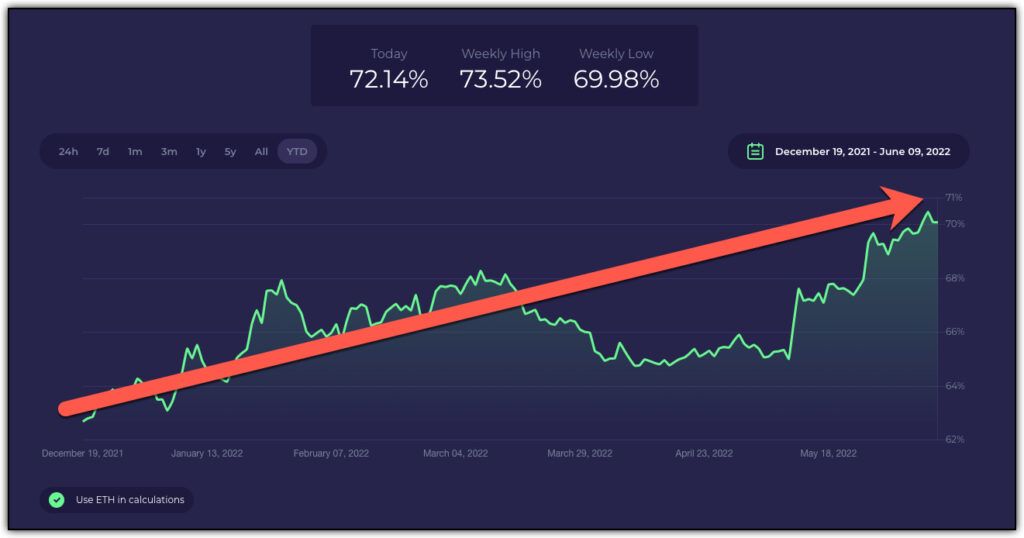 So basically, what we are looking at is historic, current, and future trending total market dominance for bitcoin when compared to other proof-of-work cryptocurrencies. Keep in mind, when looking at these charts above that we aren't even considering the 15,000 other coins out there.
Remind me, what would be the point of betting on any other network?
Bitcoin Hashrate Is 99.99% Dominant
Another interesting metric to look at is the hashrate of all the coins available. What this tells us is how many people are using real world resources to mine for coins. In other words, how many people are putting skin in the game for bitcoin versus other coins.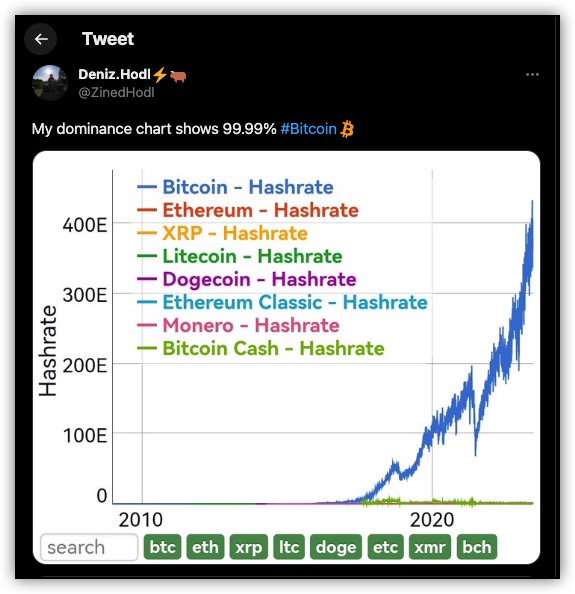 Not surprisingly, 99.99% of hashrate is dedicated to bitcoin. Anyone who is serious about mining cryptocurrency is mining bitcoin.
Why Market Dominance Doesn't Matter
The truth is, bitcoin's market dominance doesn't matter no matter what you compare it to. Bitcoin is the market. Everything else is just noise.
If Market Dominance Doesn't Matter, What Does?
What really matters in bitcoin is the fact that there will only ever be 21 million bitcoin, and those rules are being enforced by a network of 50,000 nodes strewn across the world. Bitcoin is not centralized in the hands of one single corporation or government and has been operating with more than 99% uptime over the course of the more than a decade in which it has existed.
That means you can't make any more bitcoin and it's going to continue to be that way.
The same can't be said for any other cryptocurrency out there. Many cryptos claim to be decentralized, but they are not (DiNO = Decentralized in Name Only).
Other cryptos do things like pause the blockchain for periods of time to fix bugs, or even roll back the blockchain when contracts get hacked. They may even change the protocol for no other reason than to pump the price.
There are all kinds of shenanigans that happen with these projects, and all of it is possible because they forsook the first principle concept of decentralization of power. Instead, they chose to make compromises along the way, and now it's simply too late to go back. If there's a problem, get the devs to do something about it.
Though I don't think it's very useful to compare bitcoin's market dominance to other cryptocurrencies, what I do think is interesting is looking at bitcoin's market cap versus other types of stores of value. Right now, many types of investments are being used to store value (i.e. stocks and real estate), so I think it's worth considering how much value might leak from those assets into bitcoin.
Bitcoin Isn't Competing Against Other Cryptocurrencies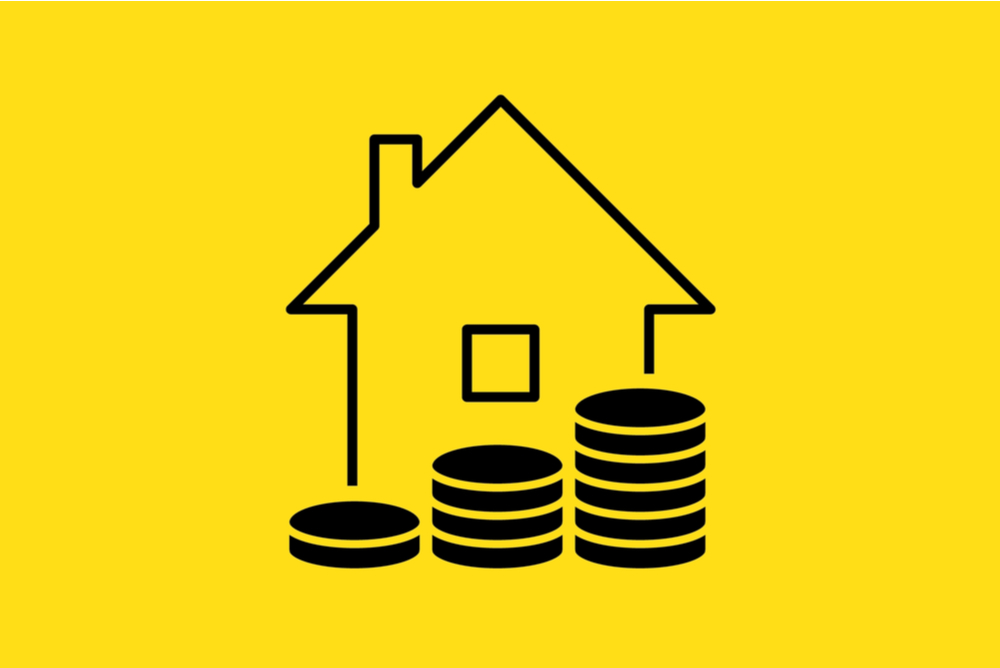 Bitcoin isn't actually competing against cryptocurrency for market share. Bitcoin has already won. There is no second best. Instead, as a new method of storing wealth, bitcoin is competing against other traditional assets where people would typically store wealth.
Instead of looking at bitcoin vs crypto, I compare bitcoin with stocks, bonds, and real estate. This is what I think about when I consider what the future of Bitcoin might look like.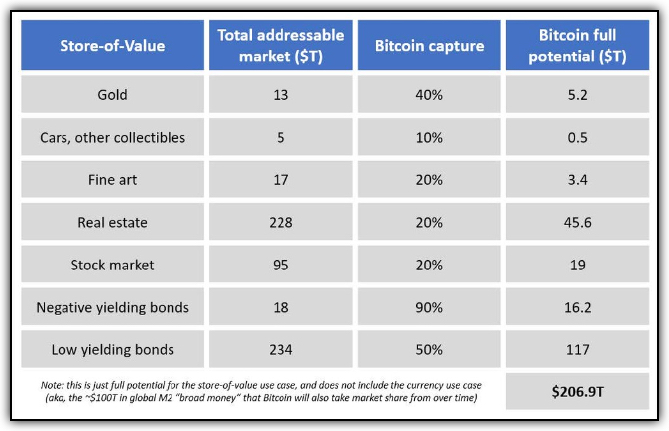 Bitcoin VS Global Equity Markets
In the US, it's "common knowledge" that you should invest in index funds as a means of storing wealth for retirement, so a large portion of equity ownership is not actually due to individuals doing research and investing money into specific companies. Instead, it's just massive numbers of people passively investing in large companies in an attempt to grow their wealth enough to outpace inflation.
My guess is that at least a portion of those passive wealth portfolios will move to bitcoin, either as a growth portion of the portfolio, as an uncorrelated asset, or as a hedge against the traditional financial (fiat) system.
Bitcoin VS Global Bond Markets
Investors typically buy bonds to earn a yield on their cash. The trouble is, with interest rates so low, if you purchase a "safe" bond these days, you won't be earning much. In fact, unless you are buying junk bonds with very high yields, it's likely that you are not outpacing inflation, and losing purchasing power in real terms.
My guess is that one of these days, people will wake up to the fact that bitcoin is gaining purchasing power quite rapidly. I believe that bond investors may take interest in owning some bitcoin to hedge their continually underperforming bond allocation. That's not even to mention the fact that bitcoin is a bearer instrument, meaning the is no liability attached to it, unlike a bond, which requires a counterparty to actually pay back the loan.
Even just 1% of money moving from the bond market into bitcoin would be massively beneficial to the price of bitcoin.
Bitcoin VS Real Estate Markets
In a low-interest rate environment, buying property as a means of storing wealth is popular because you can acquire a hard asset for cheap. The loan you acquire now will be cheaper to pay off in 20 or 30 years as the value of money gets debased, assuming that your income grows alongside inflation.
As interest rates rise, that asset becomes more expensive, making it less attractive as an investment.
Real estate, at its core, is something that has value because it has utility. Prices are outrageous right now because there is a "monetary premium" on top of the utility. It's possible that with inflation rising and asset prices going down, some real estate investors are going to start looking for other opportunities.
Why own a rental that needs a water heater replaced every 7 years, and a roof every 30 years, with everything else in between, plus taxes, when you can own an even more scarce asset that costs almost nothing to secure and is liquid 24/7/365?
Final Thoughts
For me, bitcoin's market dominance is not something I even think about when deciding whether or not to buy and own bitcoin. There is no next bitcoin. Bitcoin is the only cryptocurrency that has a chance to survive against attacks, so for me, the choice is bitcoin or nothing.
To consider bitcoin's market dominance, you must first consider what "the market" is. Though bitcoin is often lumped in with other cryptocurrencies, I don't even consider them to be in competition for the same market.
No matter what use case you can think of for any other altcoin out there, there are pretty much three guaranteed things you can count on:
I can't run a node
there are public founders who benefited from a lucrative premine
the moment the state steps in with regulation, everyone in the system folds.
For me, that puts everything else in a different category than bitcoin. However you define bitcoin, whether it's a crypto asset, digital asset, cryptocurrency, digital gold, digital real estate, or just money, there is no second best.
Frequently Asked Questions
Which Cryptocurrency Has The Highest Dominance After Bitcoin?
Ethereum has the highest market dominance after bitcoin, but after Ethereum, it drops off a steep cliff and there's basically nothing else worth following in terms of size.
What Percentage Of The Crypto Market Is Bitcoin?
If you look at standard metrics, bitcoin is about 60% of the crypto market, but once you take out illiquid altcoins with totally fake market caps, utility tokens, and unregistered securities, bitcoin is over 90% of the crypto market. After you remove anything other than proof of work, bitcoin accounts for more than 99% of all proof-of-work crypto assets.
Who Is the Majority Owner Of Bitcoin?
Nobody knows who the largest individual holders of bitcoin are, as they are not public. However, some of the biggest public individual owners of bitcoin include Tim Draper, The Winklevoss Twins, and Chamath Palihapitiya, among others. Microstrategy owns over 140,000 bitcoin and Grayscale owns around 650,000 bitcoin.
What Is The Market Cap Of Bitcoin?
The market cap of bitcoin changes with the price, but the current market cap as of mid-2023 is about 600 billion dollars. The highest market cap bitcoin has ever seen was just over 1 trillion dollars. Some bitcoin investors speculate bitcoin could eventually rival the market cap of gold, which is around 13 trillion dollars, and would put the price of bitcoin around $500,000 USD per coin.