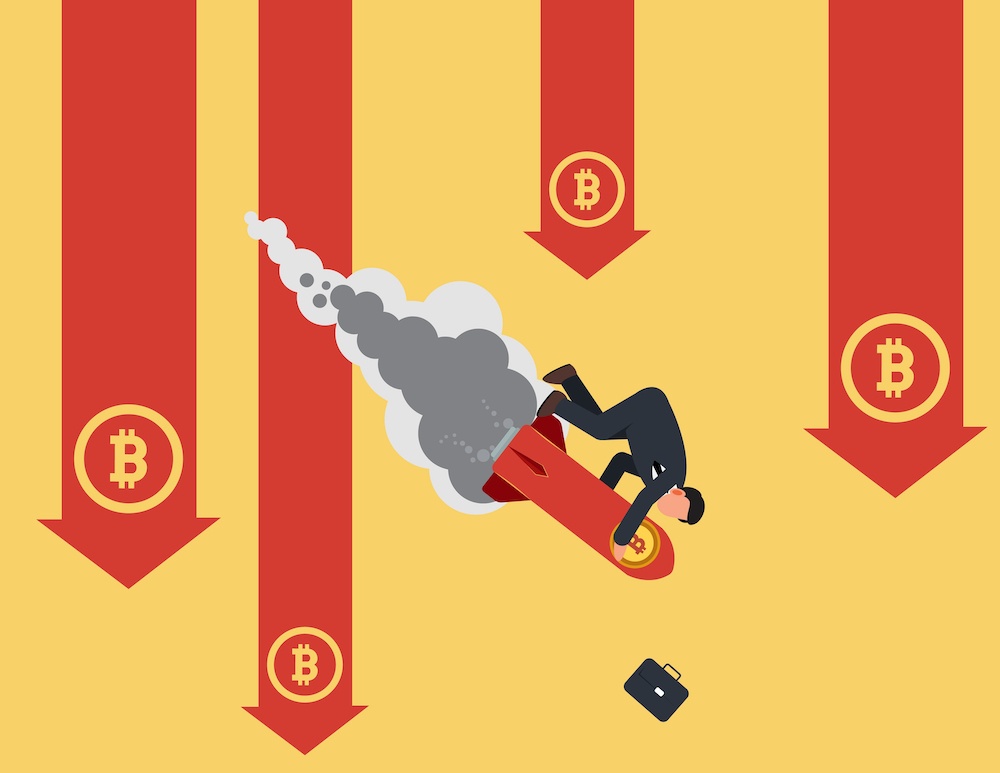 You've heard about bitcoin and know it's a way to make money, but are afraid to buy, because you aren't sure how the whole thing works. Can you lose money in bitcoin, or is it just going to go up forever? The answer is nuanced.
Yes, you can lose money in bitcoin, but only if you make some common, and easy-to-avoid mistakes. As we sit near an all time high in 2021, more than 90% of people who ever bought and held bitcoin have increased the purchasing power of their money. In other words, the vast majority of people who are holding bitcoin have not lost money.
Sounds easy, right? Hold on. Remember, I said there were nuances.
Not losing money in bitcoin means you didn't sell, you didn't trade, and you didn't wander off into other "digital assets". Buying and holding bitcoin means you bought it, saved, it, and it's still in your possession.
For those who understand what bitcoin is, the decision to hold is easy. Bitcoin is hard money that cannot be debased by governments. Bitcoin is an asset that you have full control over, and which you do not need permission from a 3rd party to custody or send peer-to-peer. Bitcoin is the best money the world has ever seen, so why would you ever want to sell it? The goal is to get more bitcoin, not more fiat.
You can lose money in bitcoin, but only if you trade it away for something worth less money.
3 Ways To Lose Money In Bitcoin
1. Selling The Dip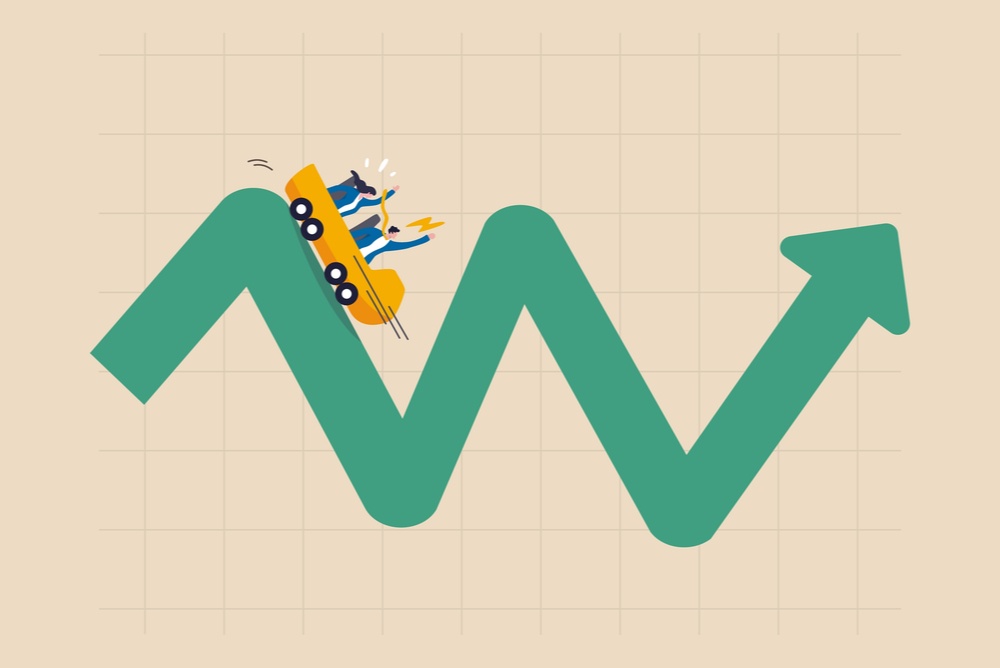 The fastest way to lose money in bitcoin is to sell your bitcoin when the price crashes. Everyone knows that you buy the dip, not sell it. Buying high and selling low is not a great strategy to make money!
Personally, I do not "trade" bitcoin. Every bitcoin I buy is locked away in cold storage. When bitcoin dips, sometimes I buy more. When I don't have enough extra cash to buy the dip, then I don't buy any more. I have lived through many dips over the past 4-5 years, so I realize there will always ups and downs to the price action, and I only have so much money to put into bitcoin. Bitcoin is an accumulation game, but we all have life expenses.
Every bitcoin top is a future bitcoin dip

Unknown
People sell the dip because they panic sell, or they think they can outsmart the market.
Watching The Price Of Bitcoin Is Emotional
If you are emotional about bitcoin price fluctuations, then there's a chance that you bought too much bitcoin for your risk tolerance. If the price of bitcoin is keeping you up at night, you may need to trim your holdings or abstain from buying for a while.
The journey to hyperbitcoinization of the global financial system is going to take at least a decade, and you'll give yourself an ulcer if you are always stressing about daily market gyrations.
If you think you can outsmart the market, there's a good chance you'll get rekt in the future. There are millions of people trading bitcoin around the world 24/7, and somehow you, who's been in the market for a few days, think you can out-trade them? Do YOU, have some kind of market insight or successful trading strategy? Probably not, so you should not be trying to time the market.
Every time you sell bitcoin, for whatever reason, there's a chance you'll end up with less of it at the end of the month.
2. Diversifying Into Altcoins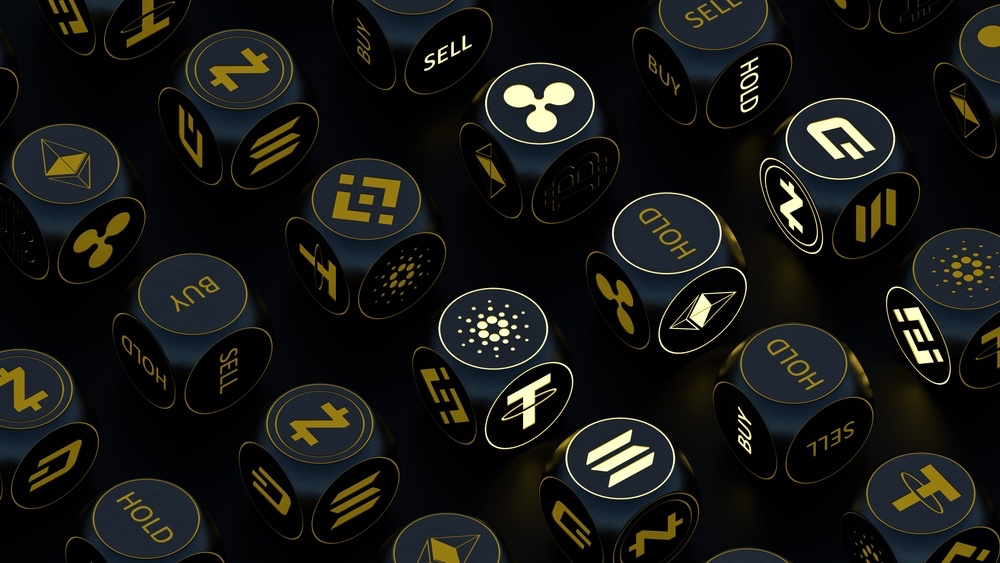 Altcoins outperforming bitcoin is often seen as a justification for their existence. You may hear some traders claim that they only trade alts to stack more bitcoin. Why should you be satisfied with a mere 200% CAGR, when you could buy some random token and earn 91 million percent return over 12 months?
Of course, there are two things that most people don't realize when they start trading shitcoins.
First, there are over 40,000 tokens currently on the market, so while one or two may get you insane returns, the vast majority will not. Because none of these tokens have any fundamental value or any serious future utility, it's pretty much gambling trying to find the 1 of 40,000 that will shoot up in price and has enough liquidity for you to sell for a profit.
Second, there's always someone else on the other end of that trade. Because there is no reason for these coins to exist other than to trade them with other people, you trading at a profit means that someone else is going to trade at a loss. The vast majority of people lose money in altcoins.
Altcoins only exist to steal your bitcoin

Max Keiser
Every time you exit a bitcoin position to purchase an alt, you are entering a possible trade where you could end up with less bitcoin. You could miss a bitcoin run up in price, or you could trade your way to less purchasing power. People lose money trading altcoins all the time. Nobody loses money when they buy bitcoin and continue to hold it.
It's not possible to have a diversified portfolio of crypto. You have bitcoin, or you have nothing.
3. Using Leverage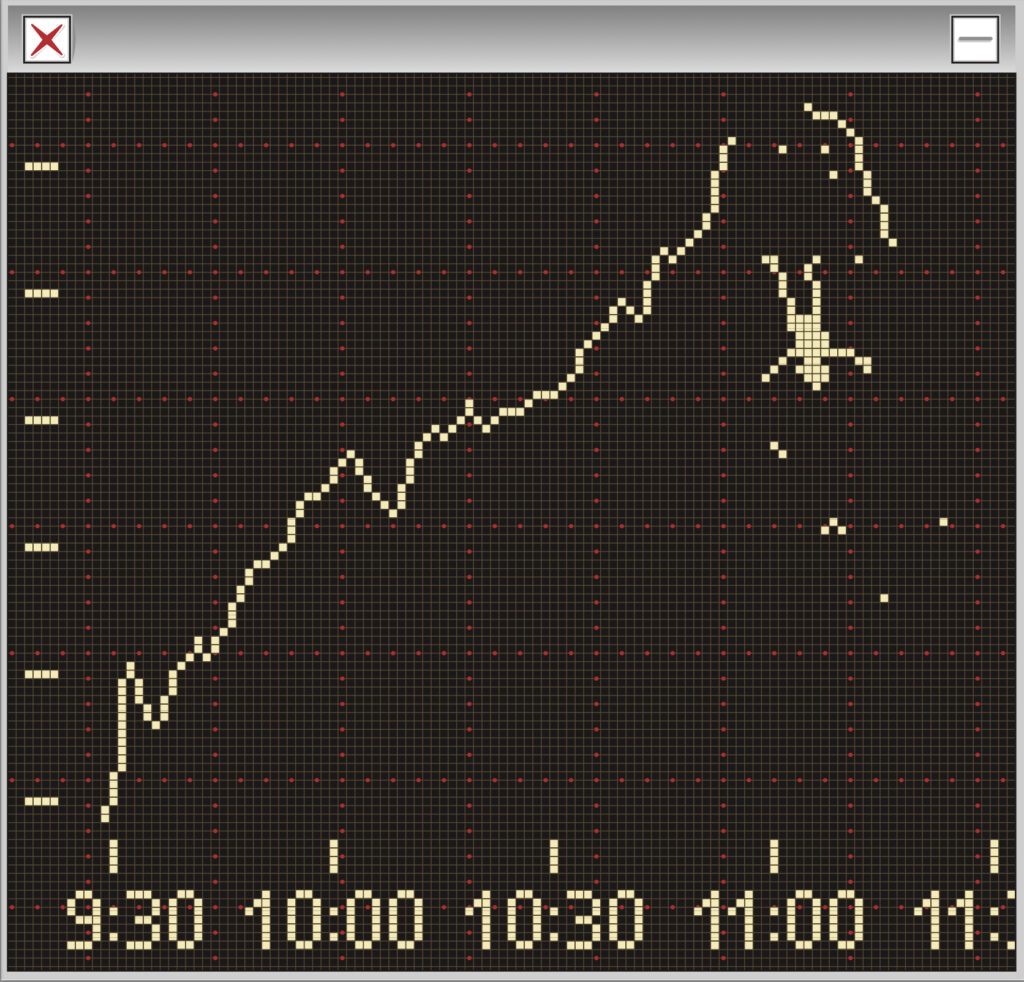 Everyone who gets into bitcoin feels like they are late, and they want to catch up. Maybe you have a dream of being a "whole coiner", or you just feel the need to stack extra hard now that the bitcoin narrative finally clicked for you. So you get a bit of FOMO and start leverage trading your current bitcoin holdings to try to get more bitcoin.
With leverage, you can go either long or short, meaning you essentially place a bet that you know which way the price of bitcoin is going to move. If you go long, and bitcoin goes up, then you earn more bitcoin. If you are short, and the price of bitcoin dumps, then you earn more bitcoin.
Another way to use leverage is to borrow money to buy more bitcoin. You can get a bitcoin backed loan, borrowing fiat money like USD to purchase more bitcoin, or you can get a traditional fiat loan and make monthly payments to repay the loan. Some people have gotten a HELOC or bought bitcoin with credit cards. These are essentially "leveraged long" positions, since you need the price of bitcoin to go up in order to pay back the loan.
Don't Get Rekt (Liquidated)
I have never personally used leverage, so I can't speak to all of the nuances, but what I do know is that if that if the price of bitcoin moves in the opposite direction of what you predicted, you can get liquidated. That means you lose all your bitcoin. Using leverage to acquire more bitcoin is essentially another type of gambling.
Regardless of however many charts you read, and in spite of what any bitcoin influencer says on Twitter, nobody knows which way the market is going to go.
Just last week, Barry Silbert, owner of the Grayscale Bitcoin Investment Trust made an announcement that "next week" was going to be "big". Nothing happened, the price dropped more than 10%, and people who levered up with long positions expecting some kind of positive news got liquidated. Lots of people lost money in bitcoin this week.
Change Your Unit of Account. 1 BTC = 1 BTC
The question of whether or not you can "lose money" in bitcoin should be reframed. Bitcoin is money, so even if bitcoin goes down in US dollar value, you still own the same amount of bitcoin. That's why there's a meme in the bitcoin community that 1 btc = 1 btc.
The goal of owning bitcoin is to simply own bitcoin, not to exchange it for US dollars at some magical point in the future. Once you "get bitcoin", you realize it doesn't make sense to trade it away for other assets because other assets come with their own tradeoffs.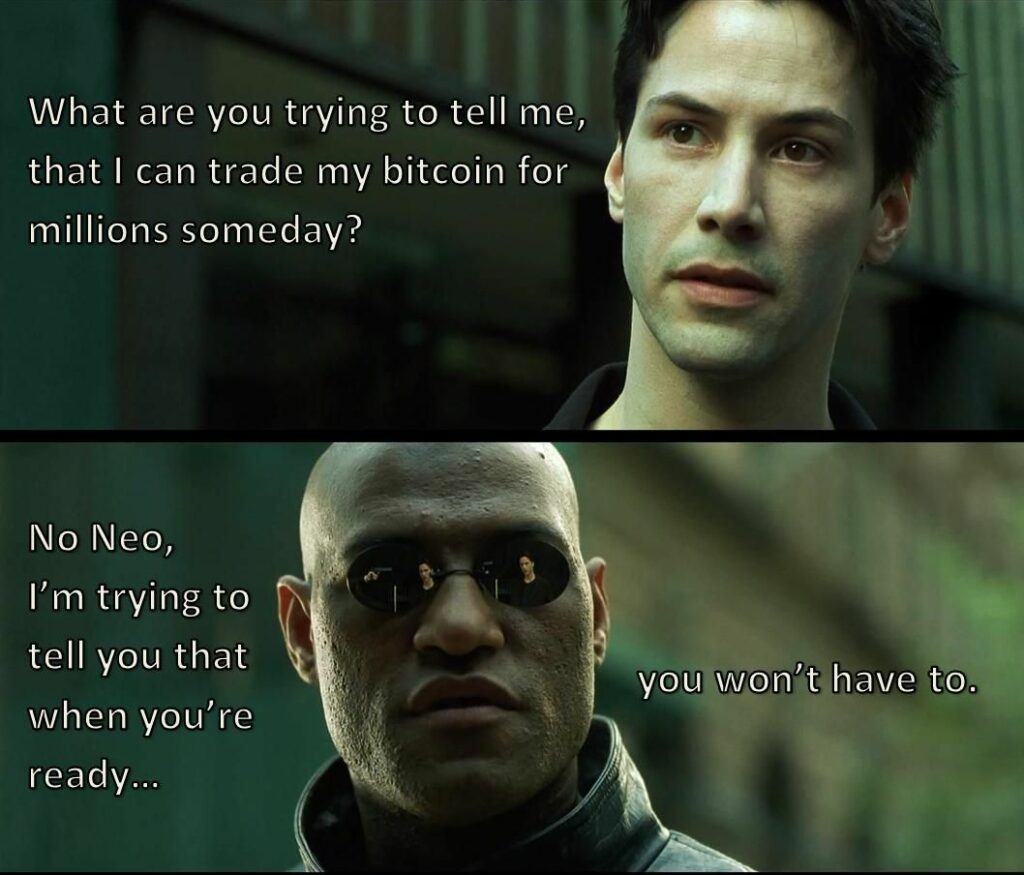 Again, we return to the very basic idea of stay humble and stack. Put a little bit of money away in a bitcoin savings account every month, and just leave it. Money is for saving. You can't lose money in bitcoin if you keep adding to your bitcoin position.
If you can get into this headspace and routine, then it won't matter if the US dollar purchasing power of your bitcoin holdings goes down 80% in six months. Hold it for a bull/bear cycle or two, and you'll get what I mean. 80% down when you are already 1,000% up isn't that big of a deal, and you can see the future potential of where bitcoin is going.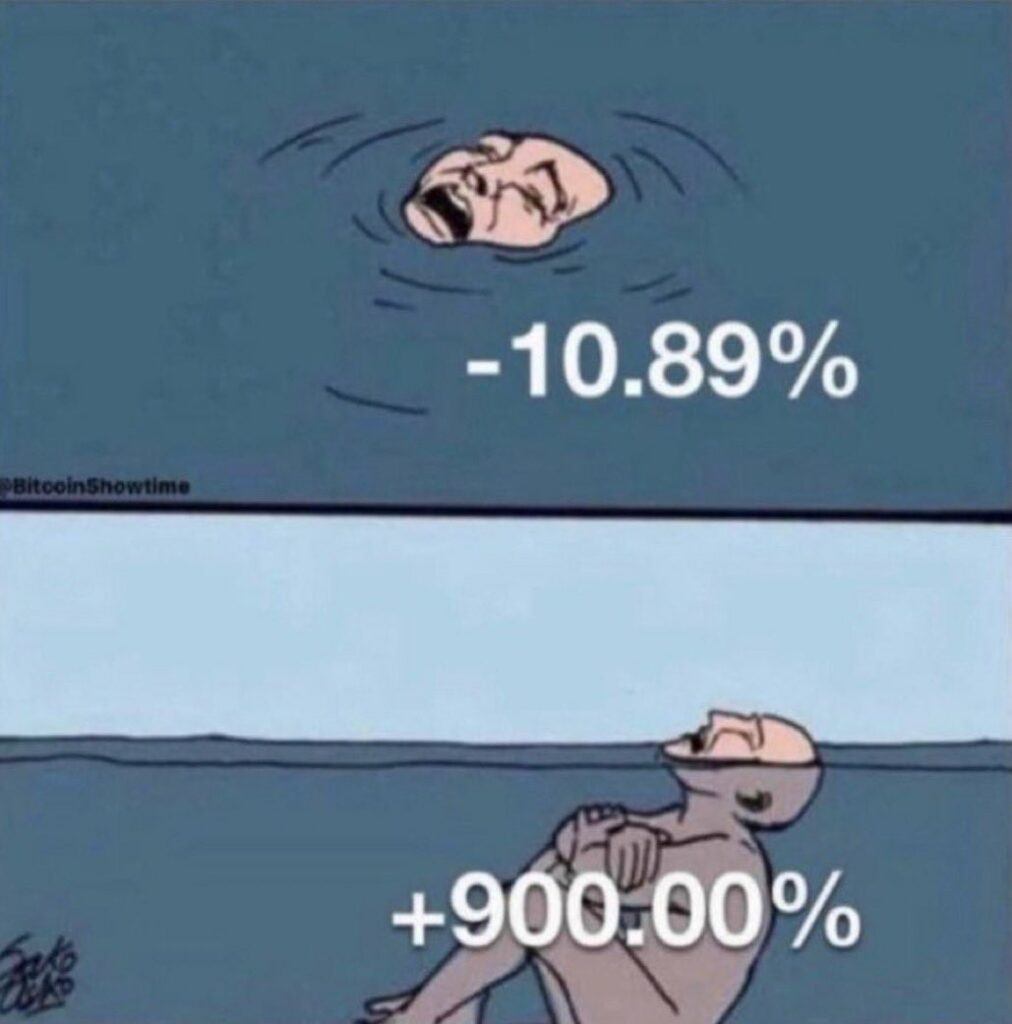 How To Get More Bitcoin Without Risk
So now you're on board. You're stacking sats. You're not leverage trading. You're not trading alts. How do you get more bitcoin?
The best way to get more bitcoin without adding the additional risk of losing all your money is to improve your own value in the job market and mine harder for fiat.
What I mean is that you should give up on trying to find the easy way to stack more bitcoin. The reality of the world we live in is that there is no easy way to earn money. Bitcoin is money, so there's no easy to earn bitcoin either. When you start trying to find easy ways to earn bitcoin, you're going to end up in a bad situation. It's time to go back to the basics.
Work Harder. Earn More Bitcoin.
In the "real world" how do you earn more money? You work more hours. You become better at what you do. You provide real value in some way.
You can work more hours at your job to earn more bitcoin. You can ask for a raise to earn more bitcoin. You can take classes or enroll in training to become better at your job and earn more bitcoin. You can take another position within your company that pays you more bitcoin. Of course, your job probably doesn't pay you bitcoin, but they pay you fiat, and you can use an app to instantly convert that to bitcoin, or just buy more bitcoin on a monthly basis.
In order to earn more money than you do right now, you have to make some kind of change. It's impossible to escape that reality. Money must be earned, and if you want to change your earning potential as a participant in the workforce, or more broadly speaking, the marketplace of value exchange, you need to consider how to improve your market value.
There is no risk in improving your ability to make money. There is no risk in becoming a better person. There's no risk in becoming better at what you do. This is the mental transformation that so many bitcoiners talk about. In an attempt to acquire bitcoin and become a better steward of their money, they ended up becoming a better person.
Frequently Asked Questions
What Happens If You Lose Money In Bitcoin?
If the value of your bitcoin goes down below your average purchase price, you can sell it at a loss, or hold onto it with the believe that its price will go back up. If you lose money in bitcoin after selling it you can write it off as a loss on your taxes. If you don't sell, then you haven't realized any losses it's not able to be written off.
Can I Lose More Than I Invest In Bitcoin?
No, it's not possible to lose more money than you invest in bitcoin. When you buy bitcoin, the asset can never go to price of less than $0. It is possible to lose more money than you invest in bitcoin on some exchanges if you buy with leverage, but these are special circumstances in which you don't actually "own" bitcoin, and are only speculating on the direction of price movements.
Is My Money Safe In Bitcoin?
Yes, your money is safe when stored in bitcoin. Bitcoin is not possible to be hacked when stored in self-custody cold storage using a hardware wallet (best practice). If you store your bitcoin on exchanges, it could be hacked (Mt. Gox) or confiscated if the exchange goes bankrupt (FTX).
Will I Owe Money If Bitcoin Drops?
You will not owe money if the price of bitcoin drops. The purchasing power of your bitcoin will less, but price fluctuations are normal for any investment.
Can You Turn Bitcoin Back Into Cash?
Yes, you can sell your bitcoin and turn it back into local cash currency. You can sell it back to an exchange and withdraw cash to a bank account or you can sell your bitcoin at a local Bitcoin ATM and withdraw cash directly IRL. Some exchanges even offer debit cards that allow you to spend a bitcoin balance to purchase goods priced in local currency (usually USD).