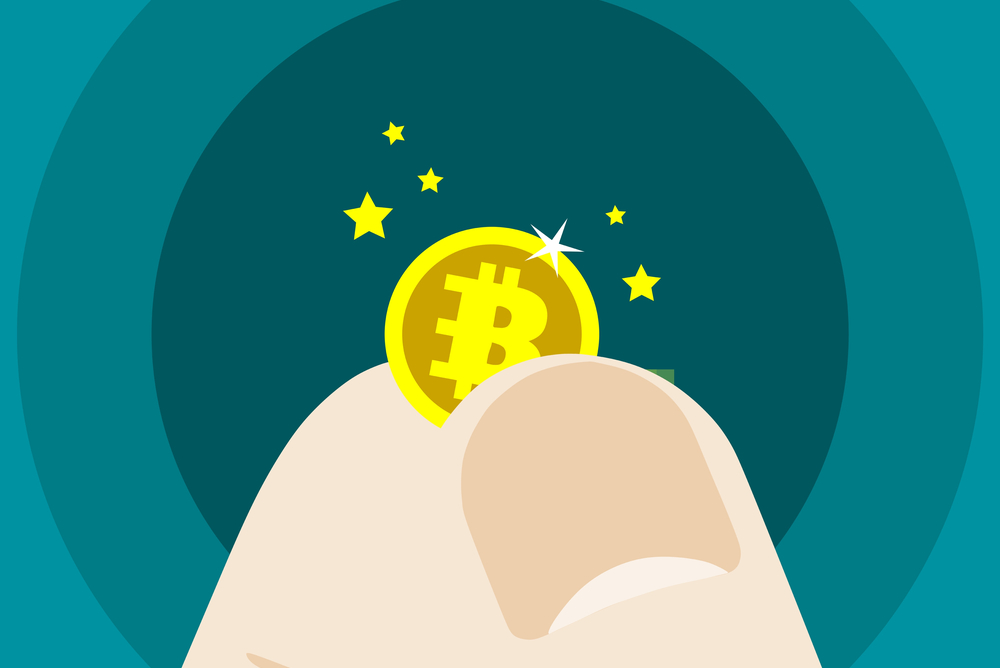 What are sats? "Sats" are the shorthand way of saying satoshi, and sats are the smallest subunit of a bitcoin. Just like there are 100 cents in a dollar, there are a hundred million satoshis in a bitcoin. Sats are becoming a more common way to talk about fractions of a bitcoin because it's kind of a pain to remember and then verbally say zero point zero zero zero one bitcoin or one ten thousandath of a bitcoin (0.0001 bitcoin). Instead, it's a lot easier to just say ten thousand sats.
Where Do Sats Come From And Where Are They Going?
Sats VS Bits vs mBits
Bitcoin was launched in 2009, but it wasn't until 2010 that the name for the smallest unit of bitcoin was chosen. There was never any official endorsement. It just kind of caught on.

Other unit nomenclature has been suggested over the years as well. For example, one user suggested that a satoshi be equal to 1,000 BTC. Though it may seem strange to have a special unit for 1,000 units of something, that's how the metric system works. This user also suggested using the words suna (sand) for a millionth of a bitcoin and koishi for a thousandth of a bitcoin (pebble).
Another user proposed naming the second smallest unit (₿0.00000010) a lazslo, named after Laszlo Hanyecz, who is famous for paying ₿10,000 for two pizzas, among other things like being the first to mine bitcoin with a GPU and the creator of the Mac client for bitcoin.

Other proposed units have been based on the satoshi standard, with dekatoshi, hectoshi, kiltoshi, and megatoshi, while others wanted to stick with the "bitcoin" theme, and choose names like millibit, bitski, bitdime, and even littlebit (LOL at that last one)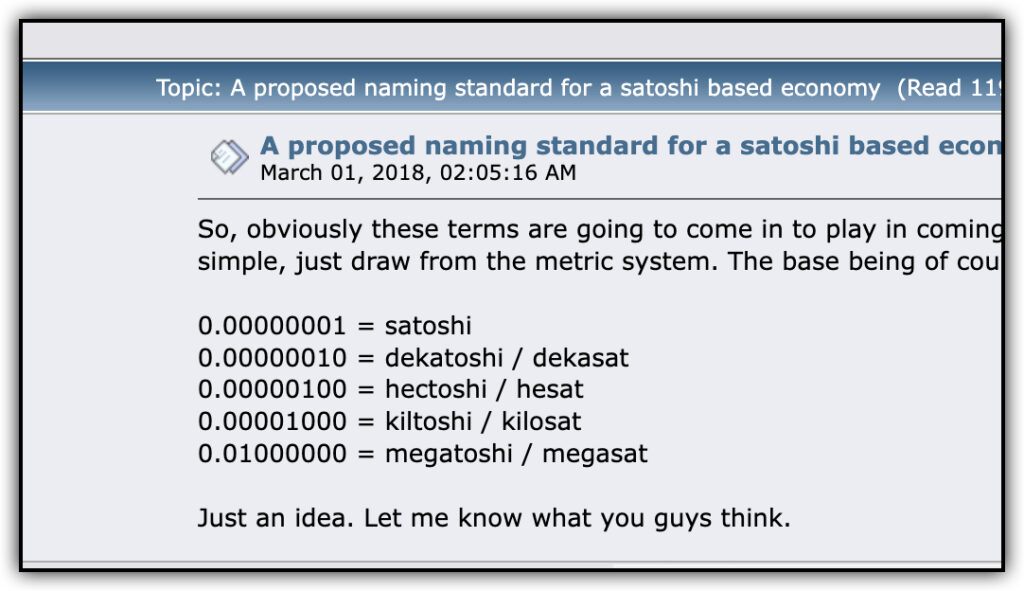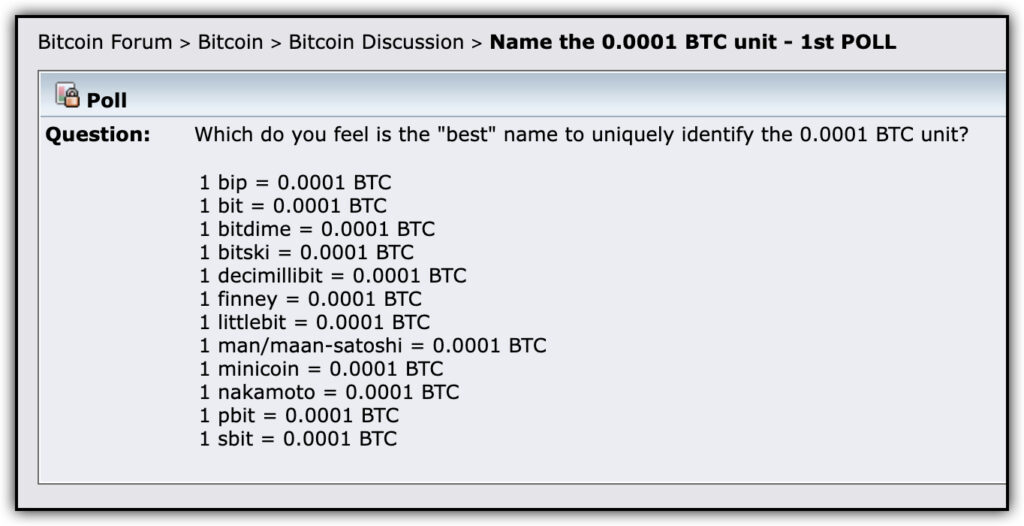 Even as recent as 2022, there's been a debate about changing the name "sats" to "bits" because normies get confused about why a smaller unit of bitcoin is called something weird like "sats". Why isn't it bitcoin and bits? How about buying bits instead of stacking sats?
The trouble is, sats is here, and sats is what people like. Bits can make logical sense, but that doesn't mean it's going to happen.
Another ongoing debate is what to use as the satoshi symbol. I tend to use 丰 because it looks cool and unique, but some other proposals have been ϟ and §.
Using Sats On The Lightning Network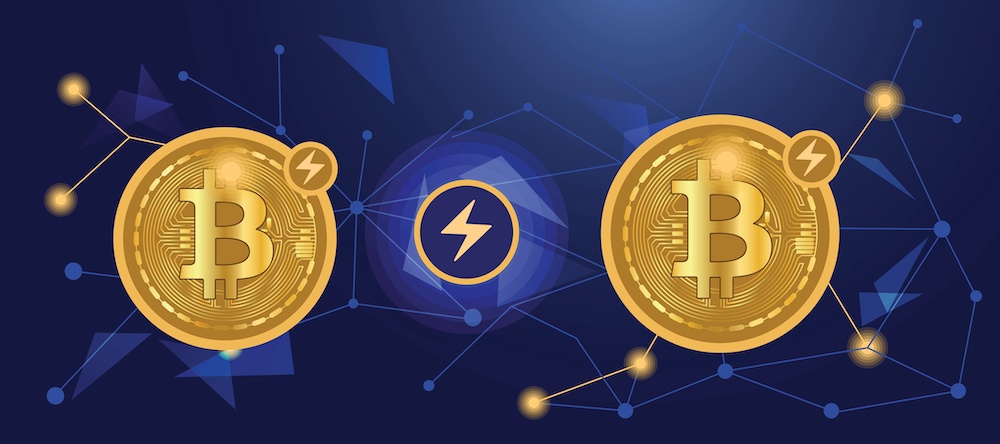 Now that a whole bitcoin is worth so much, it's much more common to send smaller amounts when paying for things and sending money to friends. As bitcoin infrastructure and software get more robust and available, people are wanting to use bitcoin for more and more things.
The trouble with buying coffee for 丰10,000 is that during times of high congestion on the network, it could cost you 丰3,000 in fees and it would take at least 10 minutes to be included in the next block. That's a 30% fee and way too long to make it practical to use on-chain bitcoin for day-to-day transactions.
This is why many people are turning to the lightning network.
With the lightning network, you can turn that fee for your coffee into 丰3 instead of 丰3000 and have it clear instantly. This is a "second layer" technology that allows you to use bitcoin network as part of payment channels. It makes sending smaller amounts of bitcoin much cheaper and faster, and for the lightning network, it makes a lot more sense to denominate in sats.
I'll get your beer. Just send me a couple of thousand sats, man!
Custodial VS Non-Custodial Lightning
The lightning network has its own nuances to be aware of, and I'm not going to get into the weeds here, but it's just something to be aware of. Lightning wallets are widely available to download. The main thing to be aware of is that the lightning wallets which you can use instantly are generally custodial, meaning that the app has control of your funds. There are exceptions, but this is something to be aware of. Remember, not your keys not your coins!
Custodial lightning is a convenient way to get started using lightning. Blue Wallet, Muun Wallet, and CashApp are all very easy to set up and load sats onto your lightning wallet. In fact, CashApp doesn't even distinguish between their bitcoin and lightning wallet. Just scan a QR code, and it detects the required send mechanics automatically.
Non-custodial lightning takes a bit more work, but ultimately, it means your funds are fully in your control This requires opening channels and managing liquidity, so takes some time to learn.
mSats And Further Divisibility of Bitcoin
Bitcoin is often described as "infinitely divisible", but it is not. I, myself, and guilty of spreading fake news in the world of bitcoin before I fully understood what was going on. Then I read this tweet:
John Carvalho, known as @BitcoinErrorLog on Twitter knows his shit, so I had to figure out what he meant. How could bitcoin not be divisible? It didn't make sense.
What he meant is that the units of bitcoin as they are used in the bitcoin protocol are actually satoshis. A "whole bitcoin" is an artificial concept determined by the placement of a decimal point. There's some interesting discussion about why 8 decimal places was chosen, but expansion to a higher number of decimal places would require a hard fork.
When you send a whole bitcoin, you're actually sending a hundred million satoshis grouped as a unit as a matter of convenience for the user. "1.00000000 bitcoin" doesn't exist on the bitcoin network. Only "100,000,000 satoshis" exist on the protocol level.
In the past, whole bitcoins were used out of convenience. They were worth a few pennies or a few dollars. People used to give away tens of bitcoins at conferences, and you could collect free bitcoins online through various games.
There Are No Bitcoins. Only Sats.
As of 2022, it's getting harder and harder to talk about multiple bitcoins in day-to-day life. If someone has multiple bitcoins, they are not talking about transactions. They're talking about someone's life savings! Everyone is dealing in fractions of a bitcoin these days, so it makes much more sense to talk about value in satoshis.
Right now, a single satoshi is still worth less than a penny, so 丰1,000 is still just ¢20 or ¢30. In the future, as the price of bitcoin continues to rise, we may need to consider how to deal with further divisibility of bitcoin.
To divide bitcoin into further subunits, a hard fork would be required, and we would actually have to inflate the supply of bitcoins. Sats are not divisible – they are the base unit. We'd have to increase everyone's bitcoin stash proportionally to make room for more units to be distributed. So, if you had 10 "whole bitcoin" and the supply 10x'd, you'd be 10x richer, assuming demand for the additional supply remained constant.
This really gets off into the weeds and is not a problem that's on the forefront of anyone's mind right now. It's just something interesting to keep in mind as bitcoin adoption increases.
mSats On The Lightning Network
On the lightning network, there is something called mSats, which is worth 0.001 satoshi. This is one hundred billionth of a bitcoin. This is generally understood as a next level scaling solution for Bitcoin.
It's already obvious to most that the Bitcoin base layer is not scalable enough to do everyday transactions due to block space limitations and fee cost. That's why the lightning network and other 2nd layer solutions were invented and continue to be developed. To scale bitcoin for global use, we need a faster and cheaper network built on top of bitcoin!
With lighting, you can send just a few sats to someone almost for free. It might cost you 100 sats to send some money, which is equal to just a few pennies USD. That being said, people are always thinking about the future, and when you're stacking sats, every satoshi counts.
mSats Are Still Early And Always Custodial
Sats are still super cheap right now, so you don't see mSats very often. In fact, I've only ever seen them associated with "freebie" type stuff, like online gambling games, or promotional giveaways. Remember 10 sats is still worth less than a penny, so a single sat is worth virtually nothing.
The thing about mSats, is that they are purely a function of the Lightning Network, and mSats don't actually exist on bitcoin. When you deal in mSats, you are dealing with a trusted third party. You are trusting that they'll honor their mSat calculation and send you the correct amount of sats after you collect enough millisats.
Of course, if you're worried about your mSats right now, you are missing the forest for the trees. You can easily become a satoshi millionaire with just a few hundred dollars, so don't spend your days gambling for free millisatoshis. The mSats thing is just something interesting to know.
How To Remember The Value Of Sats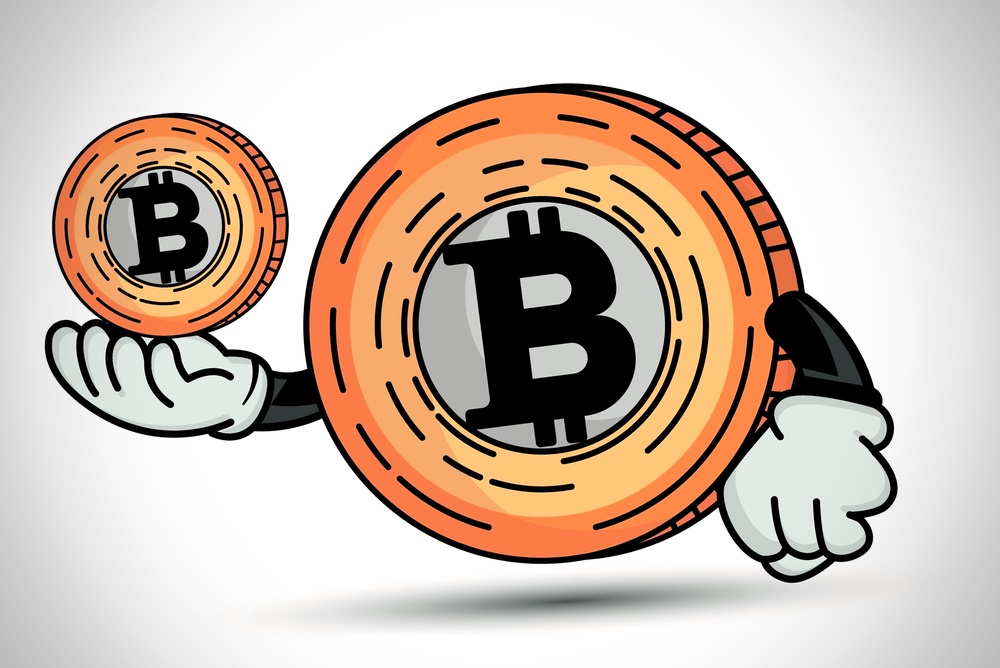 Sats are easy to say, but honestly, they are kind of hard to remember unless you start with some mental tricks. Even to this day, I have to work backward with many calculations in satoshis because I'm just not yet living on a bitcoin standard.
If you were to ask me how many satoshis $15 dollars could buy, I'd have to remember that a dollar buys about 2,000 sats (a little more when the price is under 50k and a little less when the price over 50k), so $15 x 丰2,000 is 30,000 sats. Right now, the price of a whole bitcoin is about $40k, so thus $15 can get you a little bit over 丰30,000. It's not really a straightforward path to get there, but I can do it!
Here are some mental tricks I use to quickly remember my satoshi calculations
1,000 sats is less than a dollar
10,000 sats is a couple dollars
100,000 sats is tens of dollars
1 million sats is a few hundred dollars
10 million sats is a few thousand dollars
1 hundred million sats is a whole bitcoin (tens of thousands of dollars)
Since $100,000 bitcoin price means that 丰1,000 is exactly a dollar, then $50,000 bitcoin means that 丰1,000 is exactly $0.50. Right now, the price of bitcoin is $36,000 so 丰1,000 is $0.36.
Make Sats The Standard On Your Bitcoin Apps
Another thing that I do is to set the default for my bitcoin buying apps to display sats instead of bitcoin. Not all apps do this, but CashApp and Strike do. That way, when I buy bitcoin, I know how much depositing into my account, and how many sats I get in return. I can then visualize the purchasing power of that dollar amount and remember how many sats it would cost.
For example, if I buy $50 worth of bitcoin, I know that's about what it costs for dinner and drinks for my wife and I at the local brewery. When I see that $50 buys me about 130,000 sats, I know that I can get dinner and drinks for about 丰130,000. Broadly speaking, dinner should cost between 丰100,000 to 丰200,000.
Beat Unit Bias And Start Counting Your Sats
Though living your daily life and calculating purchases in sats isn't easy (yet), there's still a major effort underway to make sats the standard for buying bitcoin. Unit bias is a real battlefield in the world of cryptocurrency. There's a huge group of uneducated crypto enthusiasts who think that because something costs less per unit, it's "cheaper".
The logic is that because bitcoin went from $0.01 to $10,000+, then if you buy a different coin, it'll take that same path. Unfortunately, the human mind makes the mental calculation that because the units are smaller, it's more likely that $0.01 will turn into $1.00 than it is for $10,000 to turn into $100,000. The truth is, this is not the case. In fact, the opposite is true.
Bitcoin has a high value because it works. It's secure. It's verifiable. It's global. Many people want it. Other coins are cheap because of the opposite. They aren't secure. They aren't widely used. They aren't desired.
Become A Satoshi Multi-Millionaire
Bitcoin has a higher chance of hitting $100,000 or $1,000,000 because it is already successful. The longer something exists, the longer it tends to perpetuate into the future. The more successful something is, then more it tends to continually be successful. Bitcoin's successful run isn't over – it's just getting started!
Unfortunately, this isn't obvious to the average retail investor, who just sees that a whole bitcoin costs $40,000 USD and Dogecoin costs $0.12. That's why you hear fanatics screaming "Dogecoin to a dollar!" What on Earth could stop dogecoin from hitting a dollar? After all, a dollar isn't worth much at all. Should be easy, right?
Well, that means a useless coin has to 10x for absolutely no reason. Bitcoin on the other hand is being adopted globally as a means of saving and payments. Bitcoin is being bought by individuals, corporations, and governments around the world. There is a consistent and growing demand for bitcoin. Bitcoin could 10x or 100x or more from here. Things that are successful tend to continue to be successful.
All of that is to say that unit bias is real, and it's preventing people from buying bitcoin. With sats as the standard, the average retail investor could get their first million sats and become a satoshi millionaire relatively quickly. Now that's something to be excited about!
Frequently Asked Questions
What Are Other Bitcoin Units?
Other than sats, the only other subunit of bitcoin that has enjoyed some level of adoption is the mSat (millisat), or 100,000th of a satoshi. These are not actual units calculated by the bitcoin network, and are a centralized feature of the lightning network. There are no other bitcoin units which are seriously used and talked about, though other units have been proposed such as kilosats or millibits.
What Are Sats VS Bits?
The Sats VS Bits debate is a reoccurring debate within the bitcoin community about what to call the smallest unit of bitcoin, or 0.00000001 bitcoin. Satoshis has been adopted, but since there is no "official" marketing department for bitcoin, some people still lobby for "bits" instead of "sats". Their argument is that "bits" is a more logical subunit, and using "sats" confuses people because it's an unrelated word.
Why Buy Sats Instead Of Bitcoin?
Sats and bitcoin are the same thing, so the only reason to buy bitcoin denominated in sats instead of bitcoin would be for the aesthetic or as a mental hack to get yourself to save more money. It can be more satisfying to buy 10,400 sats versus buying 0.00014 bitcoin.
How Many Satoshis Make $1?
$1 will buy you a few thousand sats, but the exact amount will fluctuate. In 2021, you could only buy about 1500 sats for a dollar, but at the bottom of the bear market, you could buy more than 5000 sats for a dollar. In 2023, about 3500 sats make $1, but that will change by the time you read this. The price of bitcoin is volatile, so the price of sats is volatile as well, the only way to accurately calculate how many sats are in a dollar are to use a sats-usd calculator.