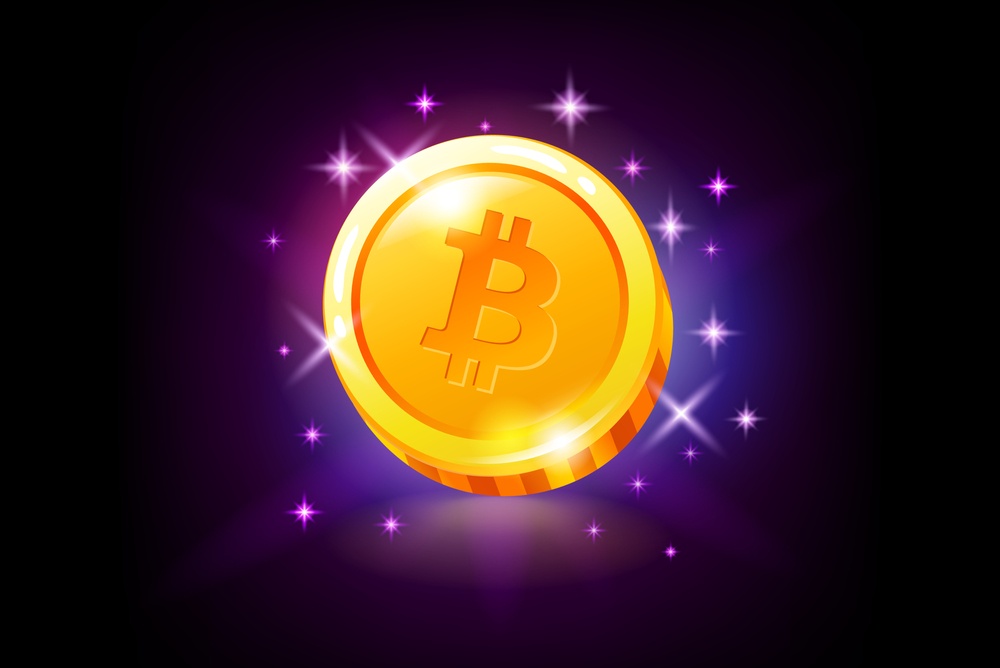 The holy grail of earning bitcoin is to earn it by doing what you love. For many, that means playing video games. Can you really play video games and earn bitcoin? Kind of, but not really. There are some games that pay bitcoin, and really let you withdraw, but there are often conditions that make it hard to withdraw your money unless you play the game a lot.
Most so-called bitcoin games, however, rarely actually pay out that much bitcoin, even if you get good at them.
Let's cut the bullshit. I've done a ton of research on this, and at the end of the day, you simply are not going to earn a significant amount of bitcoin from playing video games. I'll get into some of the details below, but the general thing you need to understand is that most games that actually pay bitcoin simply aren't that fun, and they don't even pay out that much bitcoin.
I mean, what did you expect – that you'd be playing COD and become bitcoin rich? It's not gonna happen.
That being said, there are some decent games that pay some amount of bitcoin, so it is possible to earn bitcoin playing games.
There are actually a couple of companies that are trying to specialize in this niche market of paying bitcoin to people who play their games, but it's still a very small and early market. There is obviously lots of interest in the topic, and these companies are still trying to figure out how to balance everything with investors, profit, game development, overall company management, and of course how to integrate bitcoin. Everything is a "work in progress".
Below, I've compiled a list of all the quality games you can play to earn bitcoin, but I've specifically left out two categories: I did not include any casino or gambling games, and I did not include any shitcoin games.
With gambling games, there's just too much malware and too many scams associated with them, and they are specifically designed to take your money, not give you money. With shitcoins, there actually are some okay games out there but they often require investment in NFTs to actually play them, and then you end up in the same boat as the bitcoin casinos, i.e. losing money as the value of their native token drops.
Lastly, if you continue to do your own research in this area, just be aware that there are loads of scams associated with bitcoin games. You'll see lots of links claiming to pay you in bitcoin to play games, but they often require you to download sketchy software and they probably (almost definitely) capture and sell your data.
Mobile & Desktop Games That Pay Bitcoin
(Including A Couple of Them That Actually Don't Suck)
The ONLY Addicting Bitcoin Game I've Tried
So far, the only truly addicting game I tried that worked right out of the box and actually paid out sats seamlessly was Lightning Swing. Maybe it's just my own taste in games, but this is the one I'm most excited to recommend. Not that it was revolutionary or that it paid me so much money, but I actually had fun playing it and it was quite difficult to stop playing and get back to work.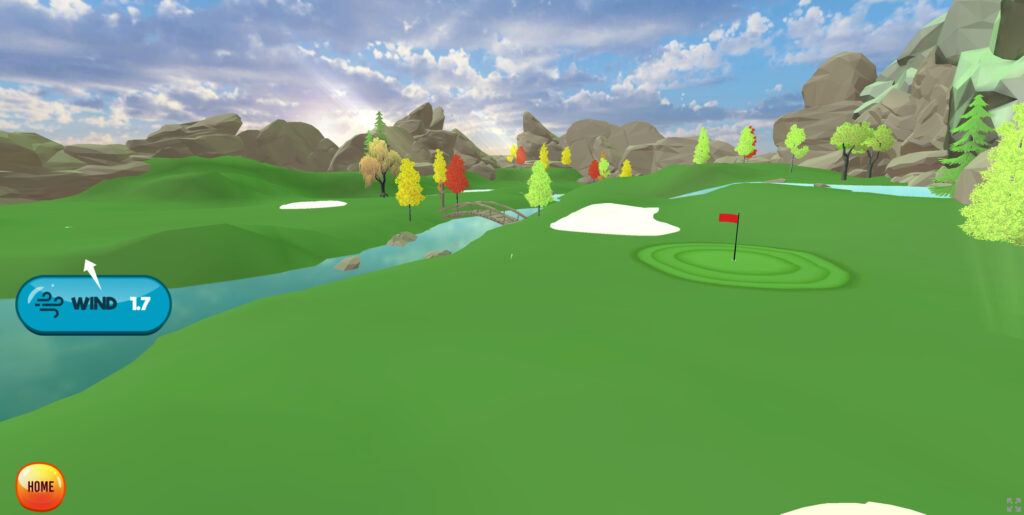 Lightning Swing is a golf game, testing your accuracy as you try to get the ball in the hole. It was easy enough to understand within a few seconds, difficult enough to not be an expert right away, and fun enough to want to try to get good at it. However, the most addicting part of the game was that you could actually compete against other players and wager sats to see who was the better player.
OK, so I say the game "paid out sats", but in reality I wasn't getting paid. It was certainly taking my sats, and I assume it was paying other players, but I just haven't gotten good enough to actually win a round. [Update: I finally won a game and earned 5 sats!]
I was playing on desktop (browser game, no download required), but the app is available on iOS and Android as well. Everything worked smoothly. The game loaded fast. I was able to deposit sats fast, and the lightning invoices performed beautifully for each game.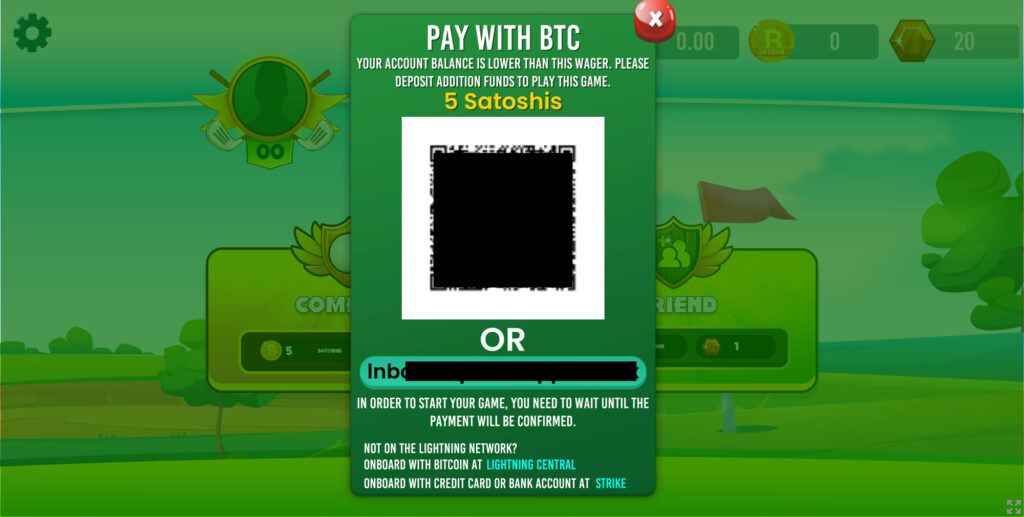 The cost per game was only 5 sats, but it added a real fun element to it. Kind of like playing poker with quarters. It doesn't matter if you lose a few hundred sats, but it's still fun trying to win because you have skin in the game.
I'm surprised it's available in the App Store because you're exchanging real sats to play the game, but I guess I'm not super clear on the rules of the Apple App Store. Anyway, it works on both mobile and desktop.
This is a game, and the type of game, that I think could be really successful with lightning adoption. It is paying just enough money to make it interesting, but you don't need to commit hundreds or thousands of dollars, as is common with traditional AAA games and the NFT garbage people are pushing.
My criticisms of the game are that I wish you could wager more than 5 sats, and I wish there were more people playing the game. It appears that there are only three people playing the game at this time, since I consistently match with only two other competitors, GOLFERBOY7 and GOLFLIFE.
iOS & Android Games That Pay Bitcoin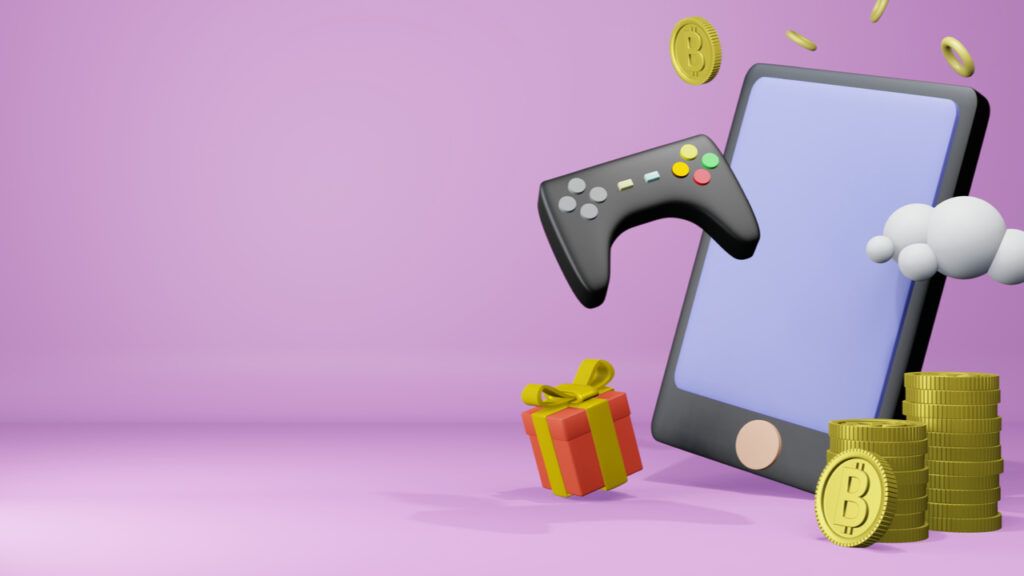 THNDR Games List
THNDR Games is focused on integrating lightning into mobile games, and they are producing results. The four games listed here are the highest quality games on my list, and based on my experience, have the biggest potential for most people to earn sats playing games. These are solid that actually work, and have clear outlines of how you actually get the bitcoin rewards. Most work on a drawing method, where players, winners, or high score holders are rewarded randomly with bitcoin.
Unfortunately, none of these games have the playing mechanism you might expect, where you perform a task and then get paid in bitcoin, e.g. beat a level and earn money. It's just not a sustainable business model (so far).
I enjoyed the discussion from THNDR Games founders on Lightning Junkies, so give it a listen if you have time.
Satsss Bitcoin Snake
THNDR Bay
Bitcoin Bounce
Turbo 84
As I said above, these are all solid games, but I think my personal favorite was Bitcoin Bounce. Bitcoin Bounce offered the most gameplay variance and it was also very visually interesting. I was kind of bored by the bubble shooter and the car game, but the graphics of everything were great.
Zebedee Games List
Zebedee is a company that produces software called Infuse, that allows gaming companies to pay out bitcoin for their games. At least, that's how I think it works. It's a little confusing. Anyway, when I downloaded the Zebedee app, the following games were presented to me, even though the publisher of the game is listed as a different company when you go to the app store.
SaruTobi
Amazeballs
Balls King
Lightning Crush
Stattrak
Wheel of Crypto
Wheel of Trivia
More added in 2022/2023
Bitcoin Chess
eRepublik (MMO)
Bitcoin Scratch
Missing Letters
Solitaire
BrainDoku
Santa's Moonshot
Hellfire Arena
Coin Mahjong
Update 2023: Zebedee now has over 100 games that pay bitcoin rewards based on the amount of time you play.
SaruTobi
The two most fun games on this list were SaruTobi and Hellfire Arena. SaruTobi was a one player game where you swing a monkey to earn points, and Hellfire Arena was actually a live first person shooter with other players.
I actually played SaruTobi one quite a bit, though I never earned enough to cash out any bitcoin. What did end up happening is that I spent money to acquire power ups to make my monkey fly further, and then it was pretty obvious that I was going to need to invest a good amount of time to master the game skills to get any further.
Hellfire Arena
Hellfire Arena was actually a more fun game and a little addicting, but I didn't get involved in the bitcoin stuff on the game. Actually, this game was the first time where I was like, "OK, this could be really cool." To earn bitcoin you pay Ș1000 (satoshis) to enter a tournament, and winners can win up to Ș5000 in a prize pool. This tournament-style "win bitcoin for skill" type of game is something I think could really take off, since I think the incentives are clear: Get good at the game and start winning prize money.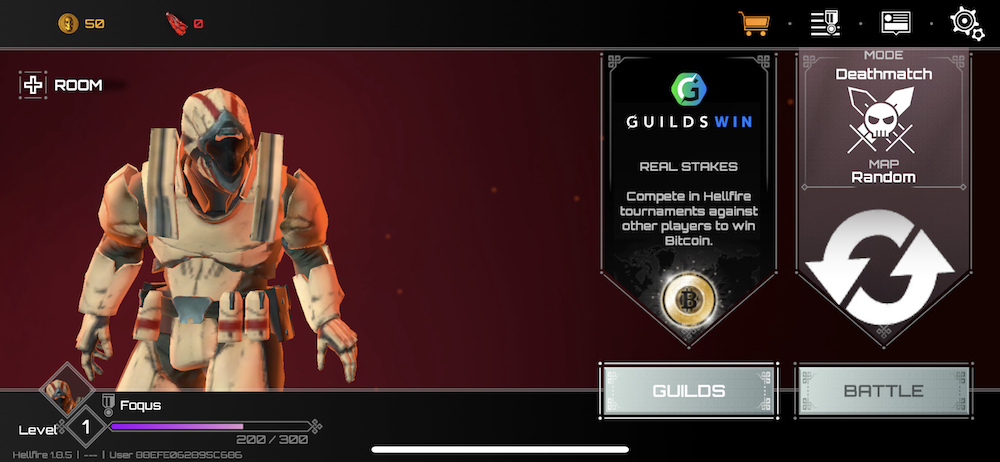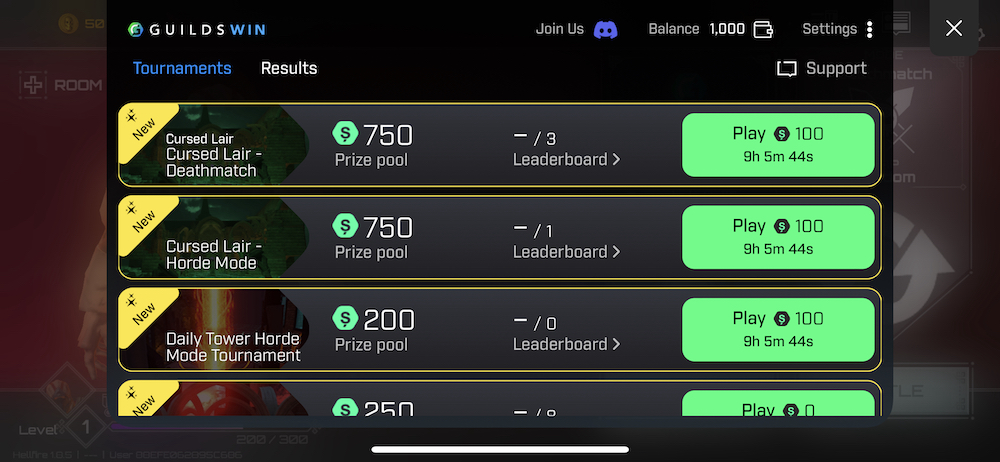 There do seem to be a lot of steps to get from "Play games on Zebedee" to actually getting your money though. I had to create a Zebedee account, PLUS I had to download the Hellfire game, PLUS I had to download the Guilds wallet to hold my bitcoin. It wasn't like I could just get on Zebedee and start earning bitcoin. That being said, 2023 is a lot more promising than when I wrote the original content for this article in 2020.
One thing to consider, however, is the cost/reward of playing these games. You really have to value your time if you want to earn bitcoin. The guy in the video mentioned he played "all day" trying to win a tournament for Ș250 sats, currently equal to $0.07.
Zebedee is really pushing forward with new games, and they are not ditching their bitcoin-only stance like so many other promising "bitcoin gaming" companies have done in the past. This is definitely a company to watch, especially if you like mobile games.
Mobile games aren't really my thing so I can't get too excited about them, but they are obviously very popular with some groups, so they may be worth checking out for you.
Other Mobile Bitcoin Games
Bitcoin Alien Run
Bitcoin Alien Run is a side scrolling runner game where you jump from block to block as the terrain changes. You can reverse gravity, ride vehicles, and use various power-ups to get through levels as they advance to more difficult terrain.
The bitcoin winning mechanism for this game seems to be random rewards, and it's not exactly outlined how you get bitcoin. Rewards seem to be in the 10's of satoshis based on what was advertised on their home page, so this doesn't seem like a super efficient way to earn sats.
Bitcoin Billionaire
The subtitle of this game is "get rich idle clicker", and the game pretty much lived up to its name. You can't win real bitcoin and the only thing you do is tap the screen as fast as you can. This game fucking sucks.
Fumb Games Bitcoin Miner
There were a few different bitcoin miner games that I came across in my research, but the one that seems to be paying out real sats is the Fumb Games Bitcoin Miner game. It's not super straightforward to get paid, but there are payouts happening. You can find their discord server on the Fumb Games website.
The main thing is that you need a Zebedee gamer tag, (which is free), then you need to verify the tag to start earning. Be sure to use the forward slash /verify in the correct room on their discord (verify-here).
Again, gotta say here this is a pretty shitty game.
First off, you have to pay $12 to remove ads, which you'll probably never earn $12 worth of sats in a year of playing this game. If you don't remove ads, you have to sit through at least 30 seconds of ads you can't close out.
Then, featured in the game is a bunch of random shitcoins like Solana and Stellar Lumens.
I played this game for about 10 minutes and couldn't really figure out how it actually worked. There were various power ups, a few sat symbols, and something was denominated in a small "b". Every once in a while I would earn a single satoshi, but it was unclear to me how that happened, or how to even actually play the game to "win".
There are people getting paid, so if you want to spend the time to figure it out, go for, but I can't personally recommend it.
Bling Financial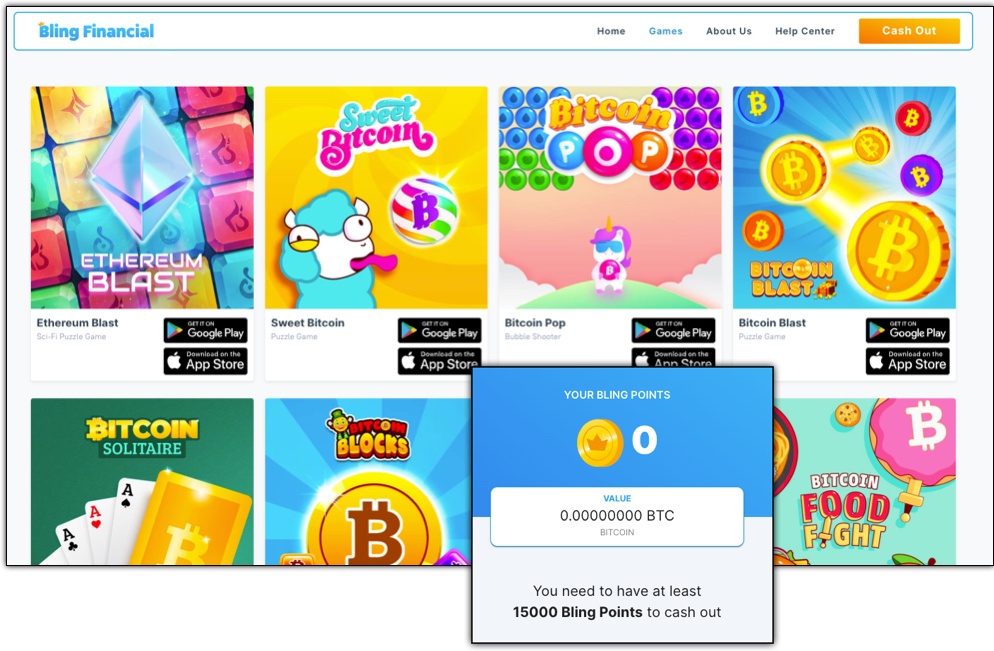 There's a whole bunch of crappy little games you can play from a company called Bling Financial, which should give you some insight into what exactly their goal is as a gaming company. All these games seem to be pretty standard mobile-games-for-your-mom like a bubble popper, a Candy Crush copycat, solitaire, and those type of games.
Apparently, you can actually cash out real bitcoin, but it's unclear how long it takes to acquire 15,000 "Bling Points", and how many sats you get for it, which is probably the point. That's how these types of games always get you. It's likely some really poor exchange rate, so I wouldn't plan on earning more than a few pennies per hour of playing the game.
This is not a long term strategy for stacking sats.
Desktop Games That Pay Bitcoin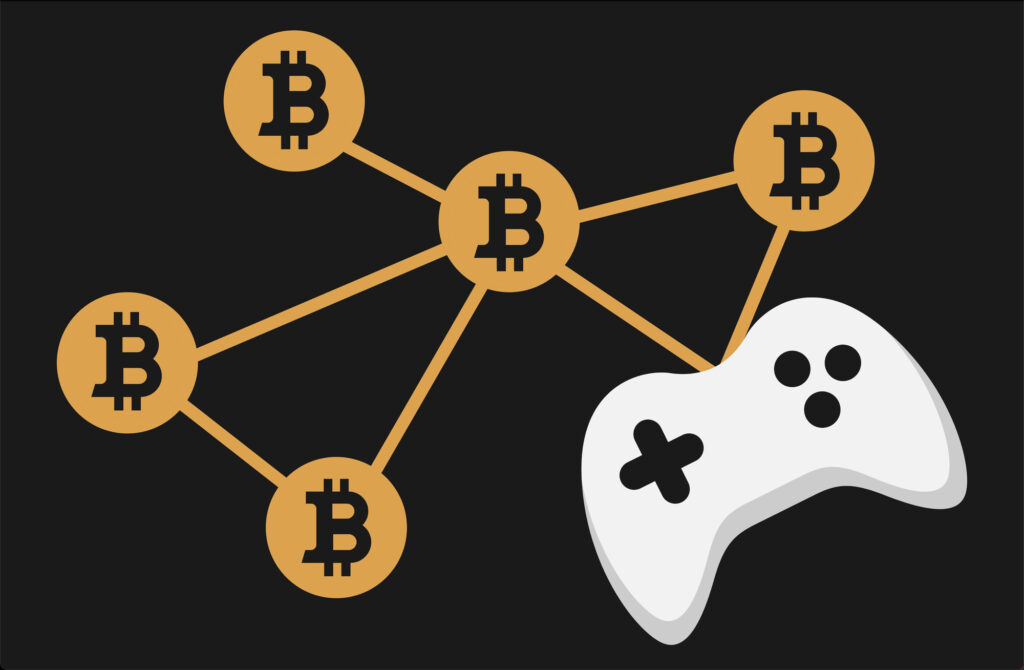 Personally, I'm most excited about desktop games that could potentially pay bitcoin because this arena is more competitive and there are more options for complexity and fun. Rather than tap-tap-tap and stare at your mobile phone, on desktop, there's real potential for global competition, fun, community, and long-term gameplay.
Of the ones below, I would be most excited to play Satvival. Unfortunately, either my computer wasn't good enough to play these games (it should be, it's the most updated iMac running the latest version of OSX), or there is an issue with the games themselves. Either way, I had trouble with all of these. I've included gameplay videos from YouTube to show what the games look like, and links to where you can download them.
Zebedee
I've listened to the Zebedee founders on several podcasts and they are focused on using gaming as a medium of adoption for bitcoin. The competitive nature of first person shooters and racing games make them perfect for risking some sats to prove your skills.
I would imagine it would be fun to be a pro at one of these games, then pay an entry fee to get into a worldwide gaming tournament. Or maybe you and your friends could get together and put some money on the table for a Friday night competition, with the winner taking the pot.
CS:GO
I wanted to play CS:GO, but to play, I needed to download Infuse. Unfortunately, Mac wouldn't let me install it without customizing a bunch of permissions. I use this computer for work and don't want to expose myself to future malware potential, so I'll leave this one for you to try out on your own.
That being said, it's pretty straightforward what's going on here. You play different kinds of matches on the famous Counter-Strike: Global Offensive game, and you can win sats for being good at the game. Sometimes it's a battle royale with winner takes all. Other times it's a team match and you split the winnings.
This is one of those games I would consider actually "fun" even though I didn't play it myself. Counterstrike has a massive online following for a reason, and the game has been around for years. To me, using Infuse to "infuse sats" into the game is a genius idea. I'd love to see this game get more airtime.
ZBD Kart
I was most interested in playing this game because it was something familiar to me. It was basically Mario Kart, but bitcoin-themed. Upon playing I was both impressed and disappointed in what playing a game in beta stages is like.
The graphics were surprisingly good, and the game was full of fun bitcoin references. You could play as a cartoon lion-like Samson Mao's Twitter handle, or as the wizard from the Magic Internet Money meme. There were bitcoin themes in the racetracks as well. The music was pretty funky, so I was excited to play.
Unfortunately, the game pretty much sucked. It slowed down my whole computer, the gameplay difficult to master (I kept crashing into walls), and the in-game sounds were not leveled appropriately. I even locked myself in an infinite loop within just a few minutes of playing. This game is definitely not ready for prime time.
Playing by myself was OK to test out the game mechanics, but there were no hosted games to join. Supposedly you can charge people in sats to join your server, but I couldn't test out this feature since it seems nobody was playing.
Elixir Games
These two games on Elixir caught my eye, but I was unable to play them. I couldn't even buy either game or download it. Well, that's unfortunate. I'm not really sure what's going on with this company. There are a bunch more games that have to do with bitcoin, but I'm not going to go through all of them if these two don't even work.
2140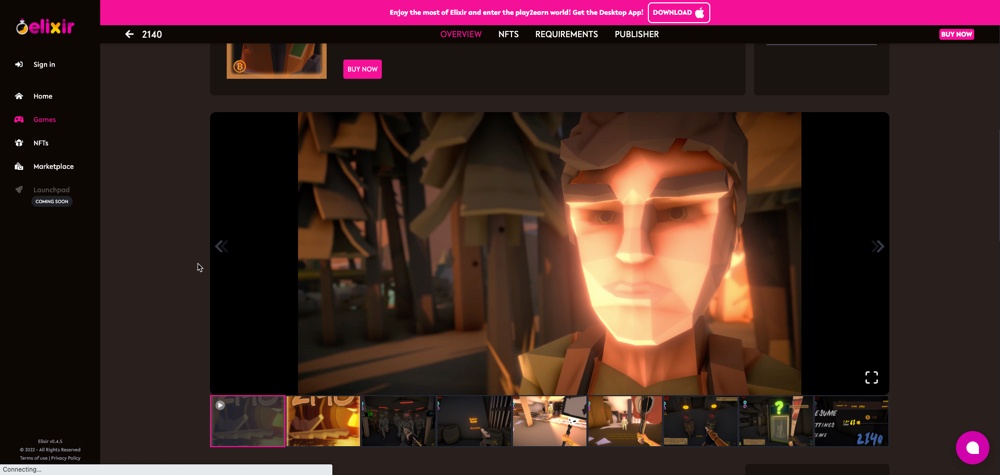 This is a first person zombie shooter where you attempt to survive as many rounds as possible to win satoshis. You can then choose to upgrade your weapons and defenses, or cash out. This game looked really cool and seemed like an interesting concept, but I couldn't get my $12 payment through. I tried on the website and the app, with credit card and with bitcoin. Nothing worked.
I assume the payment mechanism is that you pay a fee to join a game, then survive as long as possible, and the winner(s) take the pot.
Satvival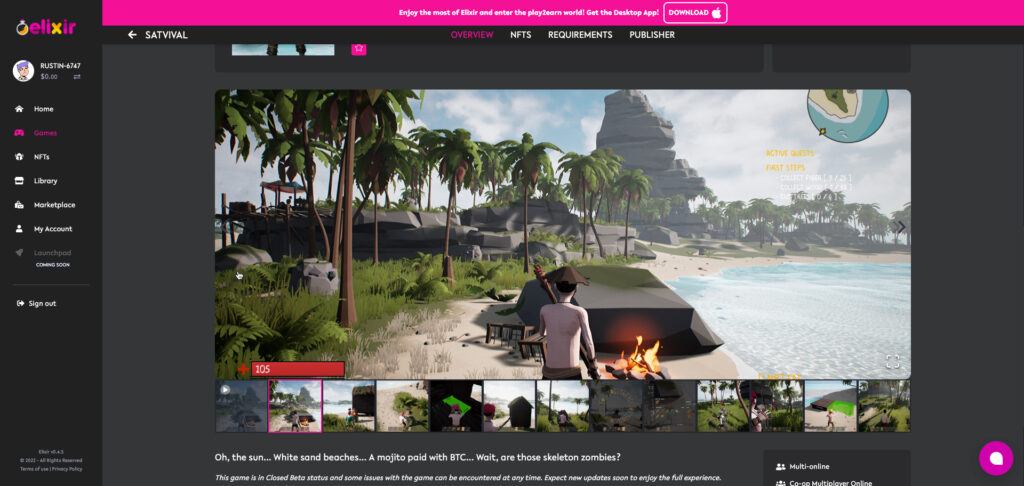 Here's another very cool idea for a game that I'd love to see completed since it's still in closed beta. Nonetheless, it sounds cool, so I'll be following its progress.
It's a survival game, where you are dropped onto an island with tools, enemies, and other players, and you have to figure out how to survive. You can team up with other players or build your own citadel and go it alone.
It sounds like accomplishing tasks gets you rewarded in sats, and I'm sure you can steal stuff from other players you rob or kill along the way (if you choose to do it).
Other Games To Earn Free Bitcoin
Cointiply
Cointiply is basically one of those "paid survey" style websites where you answer questions and watch little ads to rack up points and you can eventually cash them out for money. In this case, you can get paid in bitcoin. My experience with these types of programs is that they are extremely boring, often broken, and only pay $1-$2 per hour for your time. Personally, I wouldn't invest my energy into something like this.
However, these programs remain available because they are quite popular with a certain type of person, so if this sounds like something you'd be interested in, here's a good review to help you understand more of what to expect after you sign up.
Fold Spin
Fold Spin (affiliate link) is actually a debit card that pays cash back rewards in bitcoin. The "game" part isn't really a game per se, but it is gamified in the sense that you spin a prize wheel for every purchase you make. You can get 1-5% back on the purchase price, win a flat amount of sats, or even a full bitcoin.
It's actually very easy to use Fold. They recently enabled "instant transfers", and you also get a physical debit card, plus mobile bank management for your money, so it's just like any other bank. Their desktop app needs work, but the mobile app is great. Everyone spends money, so you might as well get some free sats for doing something you'd already be doing anyway.
Using Fold as your main card is a great way to stack sats weekly!
Gamertron
For an honorable mention, I wanted to include Gamertron, which is a series of 8-bit games designed by a 10-year-old kid, and they pay out sats to winners weekly. What's amazing is that the games work, and are actually pretty fun. They are basic games that remind me of when I was playing free flash games in the late 90s and are worth checking out for a few minutes of fun. I enjoyed playing the lander game!
What About Play-To-Earn Crypto Tokens?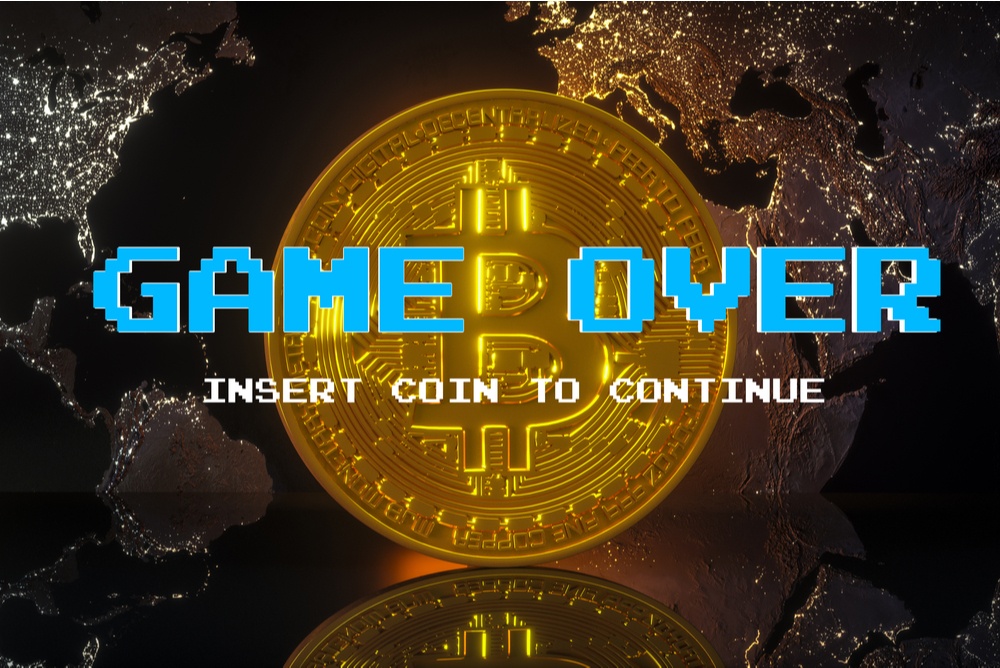 If you like making money playing games, then you might be tempted to try one of these "play to earn" games that are popular in the crypto space. Sounds cool, right? Just play a video game, and when you win, you earn some tokens, then you can exchange them for cash or bitcoin!
The issue with these games is not the mechanics of play-to-earn. I think that can totally work with the right monetization strategy. I see the potential there, assuming the game uses bitcoin. The issue with games using crypto is that these games have a native token that is trying to be MONEY. That means the value of the money is tied to the success of the game, and the success of the game is tied to the demand for the token.
The Death Of Play-To-Earn In Web3 & The Metaverse
If demand for both is rising, then everyone is happy. If demand for both tanks, then the death spiral begins, and we've seen multiple instances of this happen in the past.
So, let's game-theory this out. Why would I store my wealth in a token that is going to lose value based on how many people play a video game? It doesn't make sense. What makes sense is to play the game as long as the bull market continues, while continually cashing out for harder money, i.e. bitcoin.
These crypto tokens always go to zero because is no value in a native token. Nobody is running nodes to secure the network. Nobody is accepting these tokens for payment. Nobody is hodling these tokens to store value. There is no limit on how many can be created because there is no desire to limit the amount of tokens, so long as the price keeps rising.
The dynamics always play out in the same way. A new company says it will launch, or even does launch a basic game. A token is introduced as a reward for playing. People speculate on the token, predicting that the game will become popular. There is a short period of growth and euphoria, but energy slowly begins to slide because game development takes a back seat to price gains.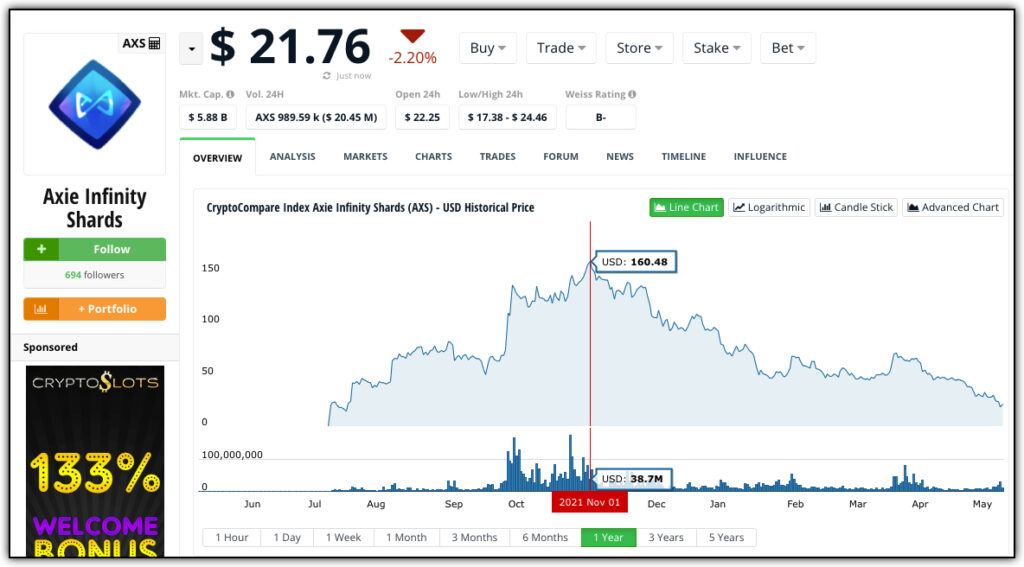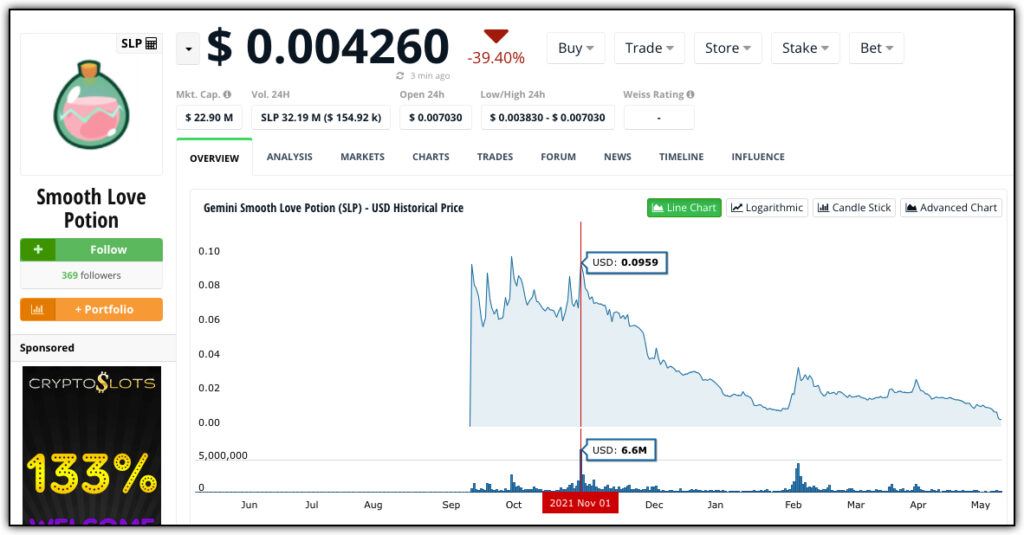 As the token price begins to slide, new features are introduced to the system to prop up the price. This could include limitations to withdrawals, rules for holding periods, or "burning" tokens to change the supply.
People start to exit the system. The game still sucks, and people realize they were just in it for the token price gains, so they move on to another exciting token. A few die hards stay around and continue to play the game for a bit, but with the majority of users leaving, the community stagnates. The game and the token are toast.
It Was Always About The Token
The issue, as I see it, is that neither the game nor the token has value.
The game sucks because it's a secondary priority to price gains from launching a token. The token sucks because it is built on Ponzi-like economics instead of sound money properties
I'm not against using money in games. I think it could add an interesting dynamic to gameplay, and with the right incentives, could add a unique element to the right type of game. Game developers would just always have to be aware that if anything is profitable, people will exploit the hell out of it. Remember when Chinese prisoners were forced "farm" gold in World of Warcraft?
Money is the ultimate incentive and getting paid to play video games is a pretty attractive idea. Billions of people would love to sit in their homes for 12 hours a day playing video games, even if they were paid a pittance, so this is a dangerous incentive.
Will Bitcoin Games Suffer The Same Fate?
Some people would say similar things about bitcoin games, i.e. that the monetary incentive ruins that game. I think that's a fair criticism, as most of the play-to-earn bitcoin games are not exactly winning any awards.
Where I think the situation is different is that bitcoin is valuable on its own, so game developers don't have to encourage people to want bitcoin. Bitcoin is already money. Developers can focus on making a good game and getting the monetary reward right, instead of also having to figure out how to create a new cryptocurrency out of thin air and deal with those incentives.
Games offering bitcoin rewards aren't groundbreaking right now, but they are not claiming to be either. The companies launching bitcoin games are trying to get bitcoin into the hands of as many people as possible and work out a sustainable system whereby people enjoy playing a game and earn real money at the same time.
To be fair, it's a work in progress. The problem of how do you make a fun game that is profitable, yet gives away money? is one worth thinking about. The answer is above my pay grade, but it'll be interesting to see these companies try.
Final Thoughts
The cool thing about using bitcoin in games is that it's globally accepted as money and an open standard. That means rewards paid out in bitcoin can be used on other bitcoin games. It's not like you have to worry about these weird token exchange rates and you won't be losing money each time you exchange your money to a new token. Once you have bitcoin, you can use it on any other game that also uses bitcoin.
I think this is why if big game companies integrate any type of money into their games in the future, it'll be bitcoin. Bitcoin is the most secure, has the longest history, is the most trusted, and most importantly, has the most robust network of users. What else could be more attractive to new players other than the ability to earn bitcoin by playing a game?
Not only does bitcoin blow altcoins out of the water in terms of global monetary interpretability, it also performs better than the dollar. No bank required. Self-custody is an option. Totally permissionless sending and receiving. Final settlement in just a few minutes. Microtransactions are possible with lightning. These are all superior to the dollar system.
Are There Any AAA Games Adopting Bitcoin?
So why haven't AAA games adopted bitcoin into their games yet?
As mentioned above, I think incentives are an issue. If a game is profitable, it'll be exploited until it isn't fun. If it's not profitable, then what's the point of adding money? Plus, it's an added step of education, while most players don't care about the details and just want to play a fun game.
I think, for now, the cross-section of money and games is going to be limited to funky little online games where you can earn a little bitcoin, and we'll see where the market takes us from here.
Further Education
Frequently Asked Questions
Do Bitcoin Mining Games Pay Real Bitcoin?
Bitcoin mining games do not pay real bitcoin. Bitcoin mining games are often just ways to kill time and click your phone for a few minutes in a waiting room. They actually require very little strategy or thought, and are mostly based on mastering the speed of a singular motion like clicks or swiping.
What Are The Highest Paying Bitcoin Games On Android?
The highest paying bitcoin game on Android is SaruTobi. Although other games claim to pay similar, SaruTobi is the only game I was able to pay and actually collect some bitcoin rewards. Even though I never earned enough to actually withdraw, I think it was one of the best functioning bitcoin games that I reviewed.
What Are The Highest Paying Bitcoin Games On iOS?
The highest paying bitcoin "game" on iOS is simply earning free sats with a Fold debit card. You can earn 5-10 sats per day spinning the free wheel. However, consider that there is a 50,000 sat withdrawal limit, so to actually get those sats in a bitcoin wallet, you'll likely need to purchase some gift cards for sats-back rewards.
Are There Any Free Bitcoin Games?
Yes, most bitcoin games are free. There are some games that require an entry fee to play as part of a team, but most games are so early stage at this point that a cost to play would be too much of a hindrance to onboarding new users.