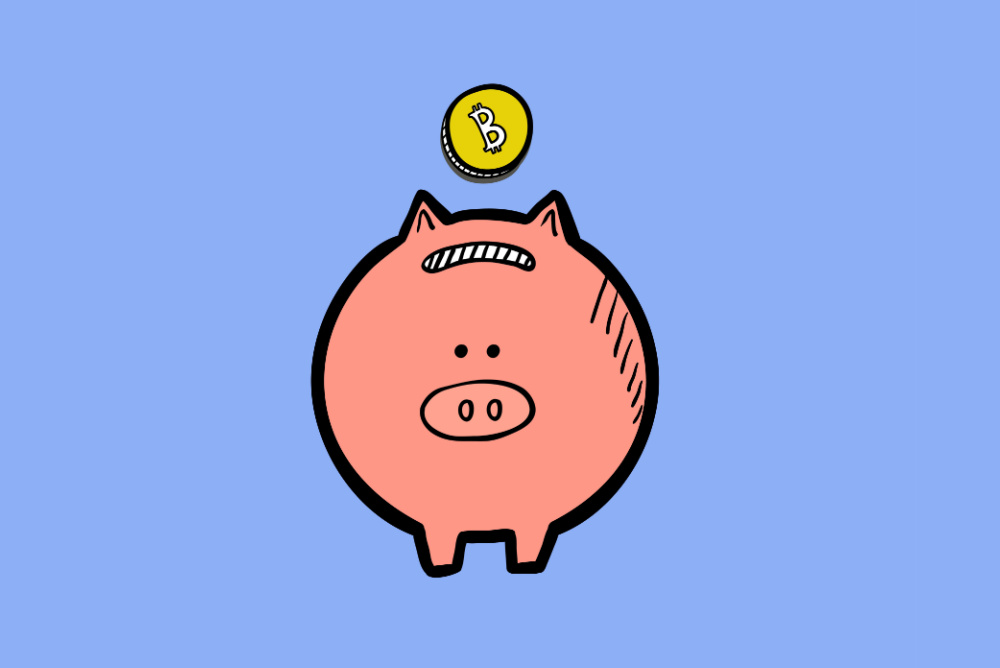 Crowdfunding has become popular way to raise money in the digital world. Crowdfunding can be used to collect money from friends and family for personal expenses (GoFundMe), to raise money from investors for a business idea (SeedInvest), fund cool projects with cash (Kickstarter), or as an ongoing support platform for creators (Patreon). Bitcoin crowdfunding platforms have begun to spring up because the most famous crowdfunding platforms you know have one main fatal flaw: They are centralized platforms that can shut off your project, fund, or business for any reason.
When you use a centralized platform to fund a project, you are asking for their permission and relying on them providing you a service. It's a private company so they can do whatever they want, and if your project draws the wrong kind of controversy, you're toast. The biggest example of this was when GoFundMe shut down the account of the Trucker's Protest in Canada, which had raised more than ten million dollars at the time it was removed.
Patreon is known for doing this as well, and has closed down many creator accounts over the years, with conflicting reasons as to why, and how various clauses in their TOS are applied.
Plus, your private data and financial information is stored on these platforms, and it can be exposed if your data is not properly secured. This became obvious when GiveSendGo was hacked and donor information was released to the public, then was used shame individuals who donated to the Trucker fund (after it was shut down on GoFundMe).
Centralized platforms need to collect this information in order to process your payments because they rely on the dollar banking system. The result is that whatever data they collect about you is now attached to the thing you funded.
The main advantage to bitcoin crowdfunding platforms is that you can donate or raise money pseudonymously, and if you're using privacy best practices such as coin control and coinjoin, then it's pretty simple to make private donations via bitcoin. Privacy is not a crime!
A secondary advantage to using bitcoin as a crowdfunding tool, however, is that you get to contribute to the circular bitcoin economy and strengthen bitcoin as a robust store of value and desirable medium of exchange. Buy bitcoin. Save in bitcoin. Spend bitcoin. Repeat.
For more insight into bitcoin crowdfunding and a chat with the creators of some of these platforms, I recommend listening to Citadel Dispatch 57.
4 Bitcoin Crowdfunding platforms
As you look through these platforms, you may notice that a lot of the public projects on these platforms are very skewed towards bitcoiners and bitcoin-related stuff. Don't let this deter you from using bitcoin to fund any project you want! Bitcoin's goal is to be neutral, global money, so if you think this type of crowdfunding could be useful even if you aren't "a bitcoiner", then go for it.
Bitcoin is for everyone! For now, it just so happens that bitcoiners are the first to know about these platforms, so they are using them to raise money for what inspires them… which happens to be bitcoin-related a lot of the time 🙂
1. Geyser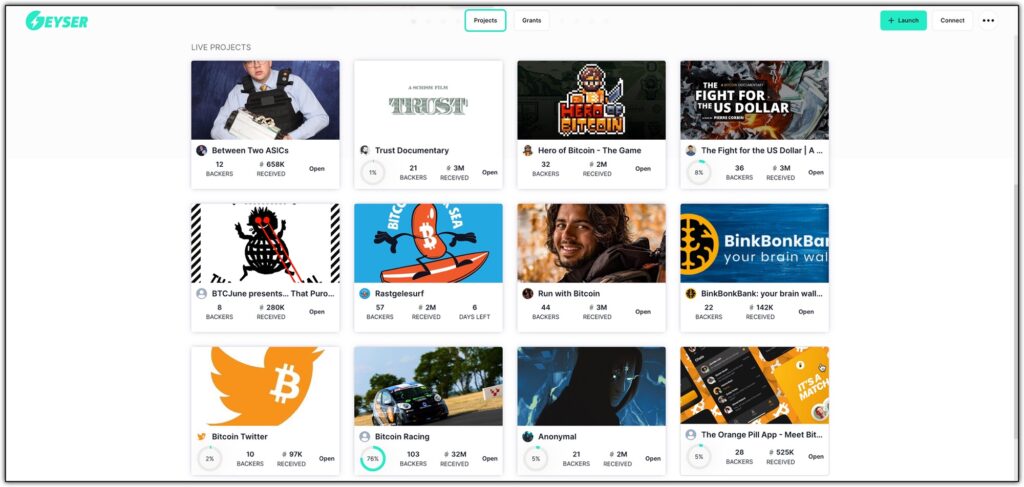 Geyser is a bitcoin-native crowdfunding website similar to Kickstarter, in that people post projects they want to launch, and seek out "backers" who will front some bitcoin to fund the project. Those who fund the project will generally get access to some kind of reward tier, and the more you give, the more you get. A few sats may get you early access or a brief thank you in the credits, while sending a million sats or more could land you swag, or invitations exclusive events.
Right now on their home page they are featuring a number of cool projects, including movies, YouTube series, a video game, bitcoin education resources, and even funding a bitcoin racing team.
Even though Geyser is a centralized platform to advertise crowdfunding projects, project owners ultimately receive and hold the funds, so the platform does not hold any money. You can donate using on-chain bitcoin or lightning.
What's unclear to me right now is what happens if projects do not reach their goal. Since funds are not held in custody at Geyser, it would be up to the project organizer to refund your money if the target is not met. There are no chargebacks in Bitcoin!
I donated to a movie project to test out Geyser and the process was super smooth. All I needed to hand over was an email address so they can contact me about a free t-shirt later when the project launches.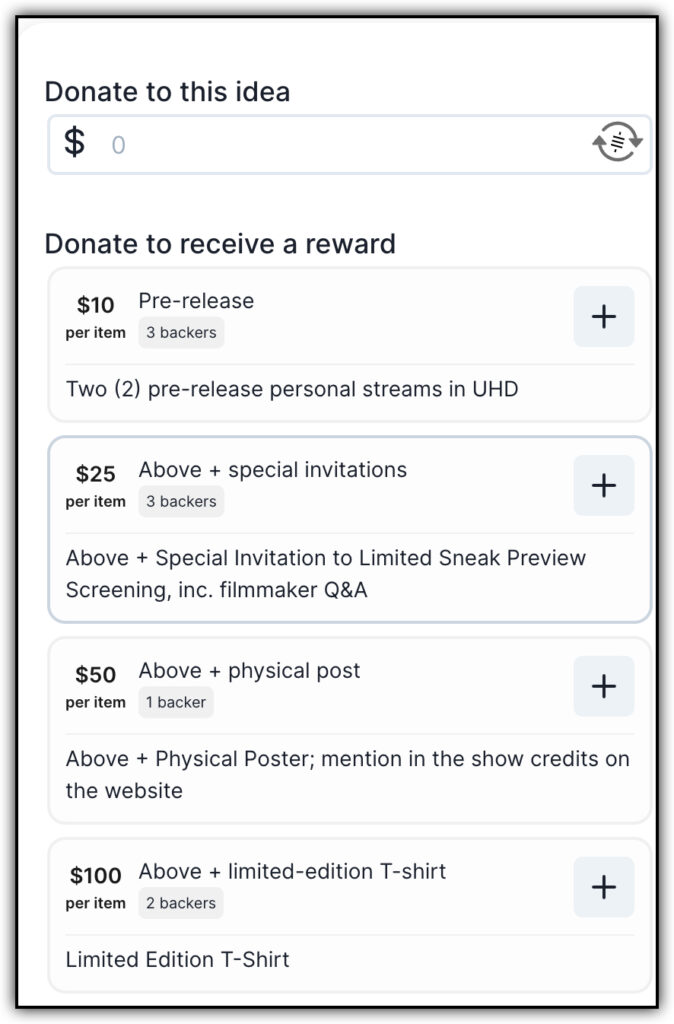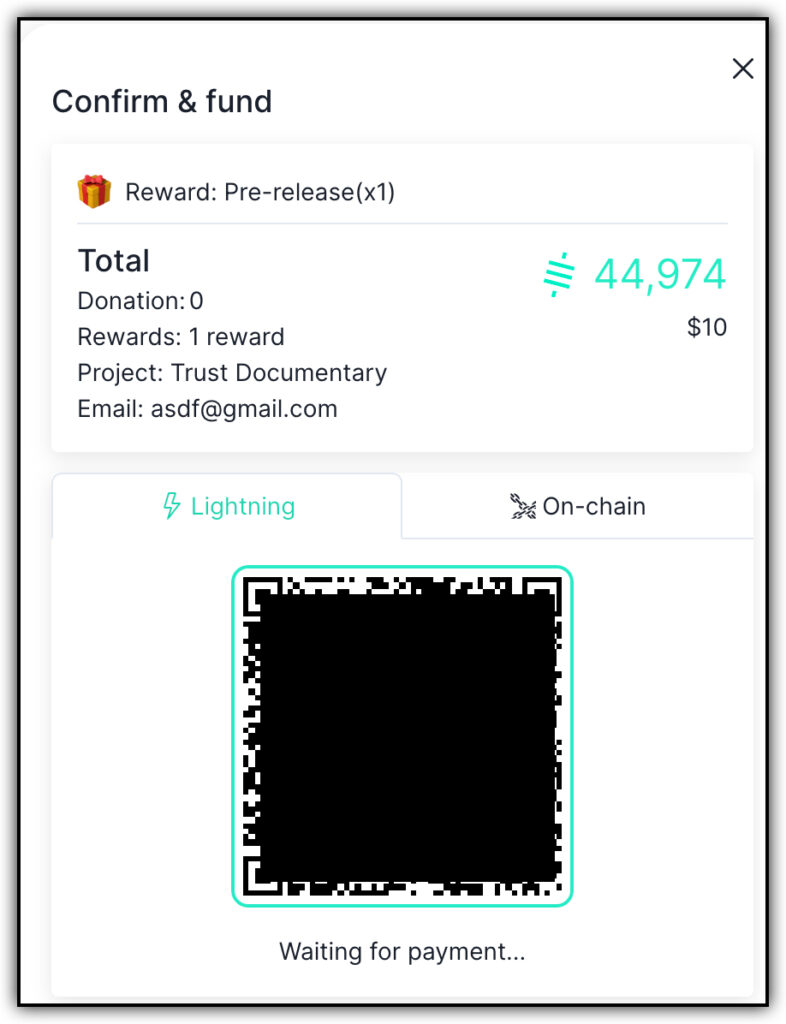 2. sats4tips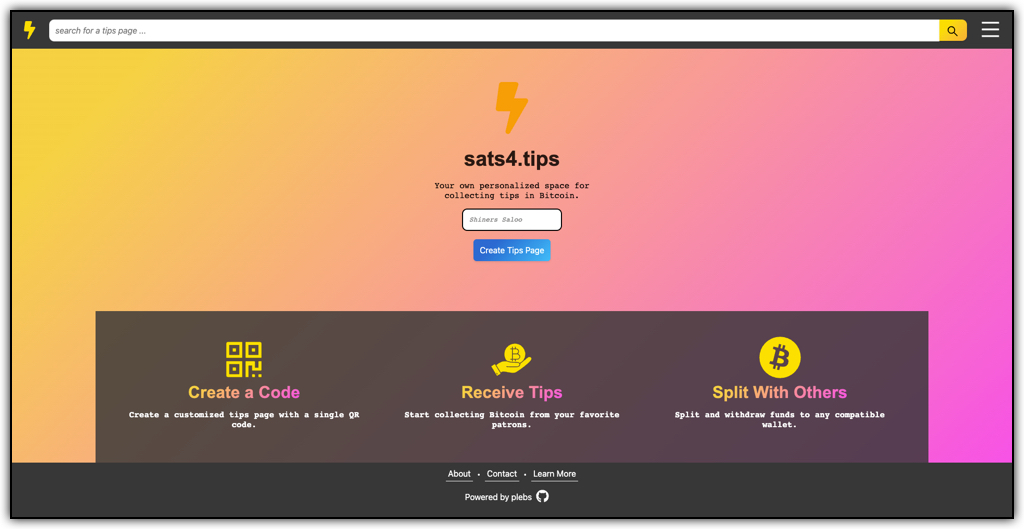 sats4tips is basically a lightning tip jar. You set up a static page with a QR code that can be reused, and anybody can tip you some sats. I actually didn't know this was possible, since I'm used to being invoiced for lightning transactions. I'm not sure of the mechanics of how it all works, but it's certainly nice to see, and it works flawlessly.
I think this would be a cool way to set up lightning tips in a retail setting, where you could have tablet or smartphone displaying the QR code at the front desk, as a sticker on the table, or even printed out as a pin on a shirt or menu. Customers could easily scan the QR code with their phone and tip an individual or the staff as a whole using sats.
I was even able to set up a donation page for Bitcoin Foqus, and just put the QR code in my sidebar. Now, anyone in the world can send me any amount of sats over the lightning network and I'll receive it instantly.
This is very cool for online creators because it enables non-committal micropayments for donations. Someone can donate a few hundred or a few million sats (less than a penny, or a few dollars) without paying crazy fees, and without needing to sign up for any service. They don't need to download an app or become part of a club. They can just directly send a little bit of money from any lightning-enabled bitcoin wallet. You simply cannot do that with the dollar banking system.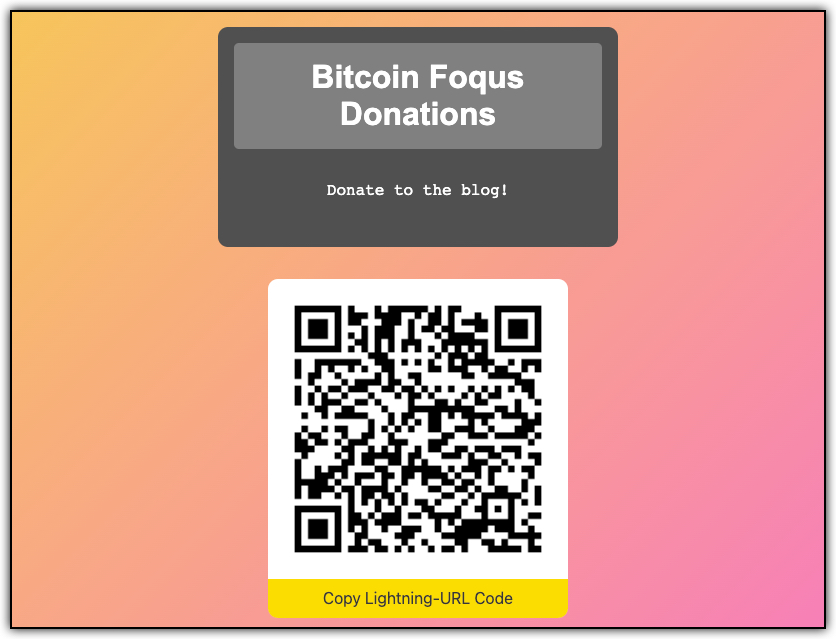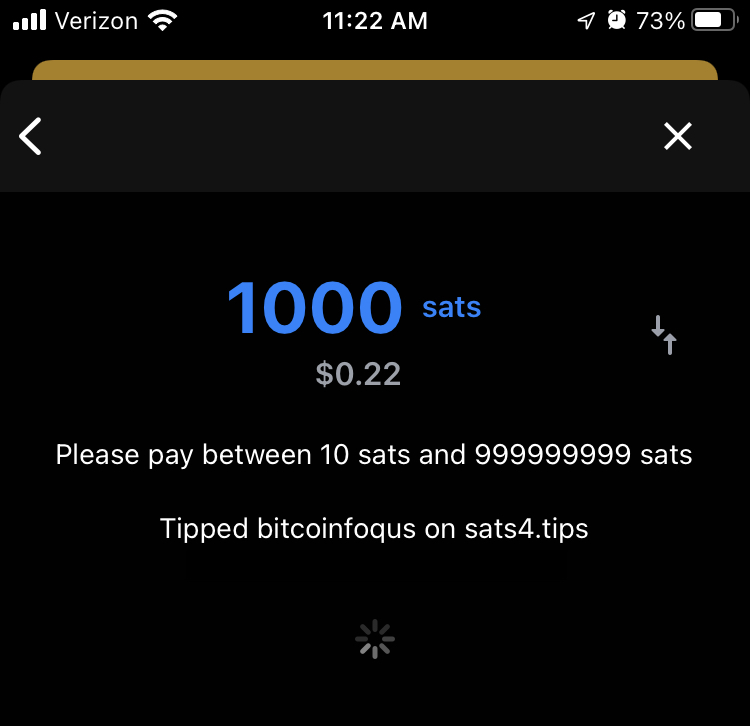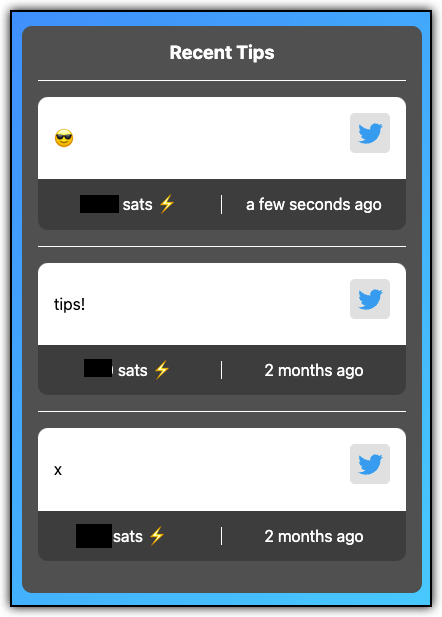 One thing that's cool about sats4tips is that you can see what other people have tipped and said. What I've noticed from using value4value podcast apps is that when you can see how much money other people are giving and get some attention for your comments, it encourages a kind of "competition" amongst superfans. E.g. if someone else said something funny and donated 丰50,000, then maybe you want to donate 丰50,001 and respond to them.
3. tallycoin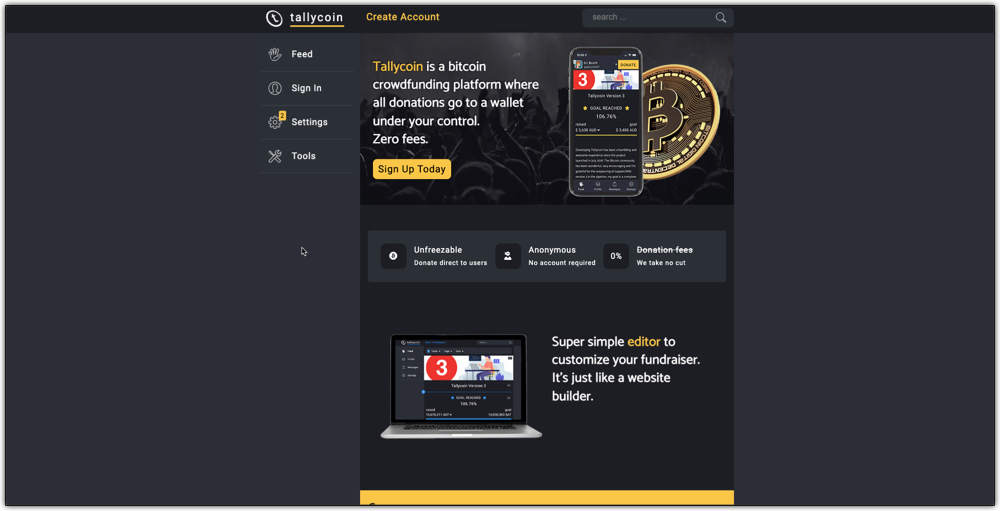 tallycoin is similar to GoFundMe in that people ask for donations rather than using it to fund a specific project. Unlike GoFundMe, however, your wallet is not held the control of a centralized company, and unlike GoFundMe, your donations can be completely anonymous. In fact, with the most recent update, people who receive donations can also keep their donations private because donations no longer go to a single wallet address.
Using a single, trackable wallet address was the main criticism to come out of the Trucker Protest fiasco where millions of dollars worth of bitcoin was donated to the Canadian Trucker Protests, and then exchanges were barred from interacting with these specific "toxic" bitcoin addresses. Though it allowed donors to track their funds on the public bitcoin blockchain, it also meant that the funds could be censored by authorities, regardless of the fact that no crime had been committed.
With the update you are still able to donate any amount you like, and you can still track how much a fund has raised. You can donate using on-chain bitcoin or lightning. Some projects are a one-time goal, while other projects have monthly goals to meet. I haven't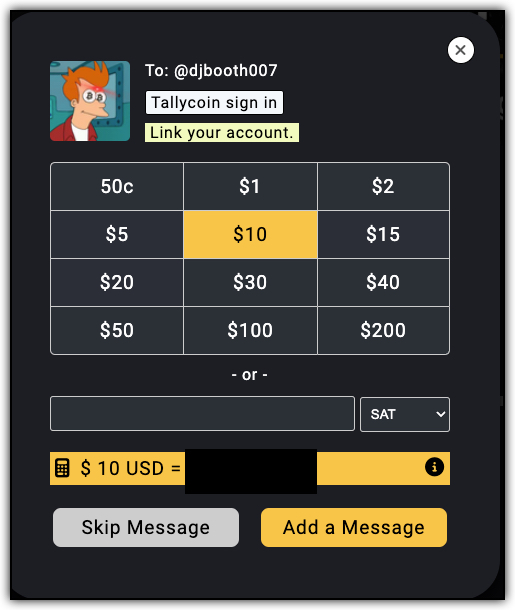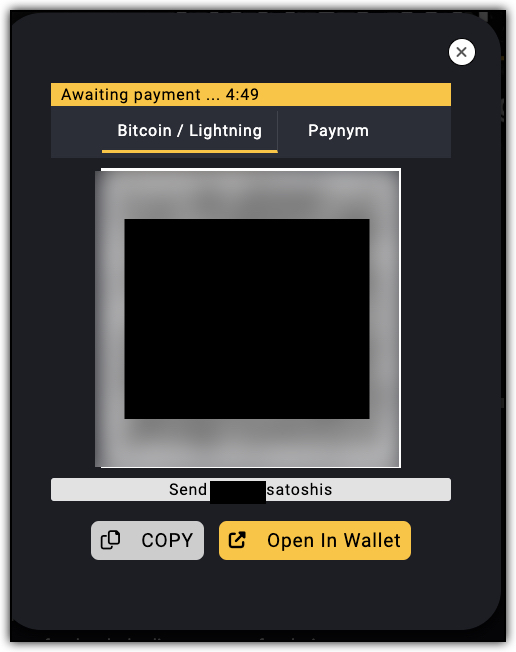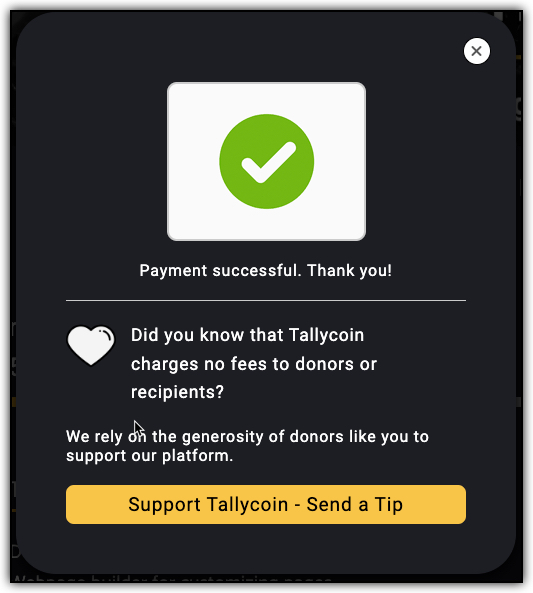 tallycoin has a wide mix of donations going on right now, and what's interesting, is that this is the most non-bitcoin-centric crowdfunding platform I've come across in my research for this article. I saw donation pages for flight and hotel expenses, medical operations, business funding, and protester support.
4. SatSale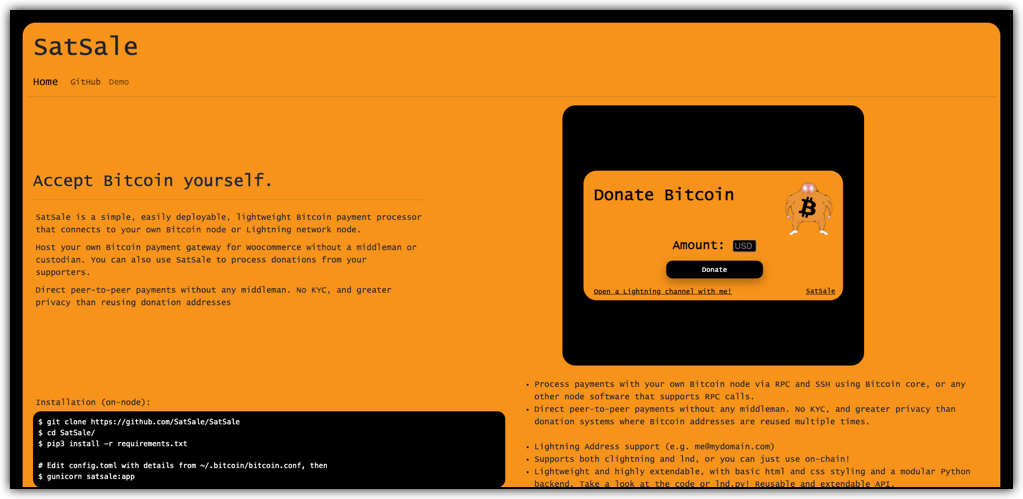 SatSale is actually a very simple bitcoin payment processor that can be used to create your own online donations portal. It's a lot more versatile than other crowdfunding options I highlighted in this list, and you can use the API to integrate bitcoin payments into any applications you see fit.
One example I heard on a podcast was to use lightning payments to verify real comments on a blog, and of course you can use it as a donation button for any project you have with a very simple "Donate" button on your website. You can also allow any WooCommerce shop on WordPress to accept bitcoin payments at checkout.
SatSale offers more versatility for applications, but will require you to have a bit more coding skills and a plan on how you want to integrate it into your project. You can't just got to the SatSale website and click "create page" to make a donations page.
It's still more simple than other bitcoin processor applications, but does require you to go to Github, download the software, connect it to your node, and check that your setup is working correctly. It's doable for the average person with some patience and a willingness to ask questions and troubleshoot, but I certainly couldn't ask my Grandma to do it. Just keep that in mind.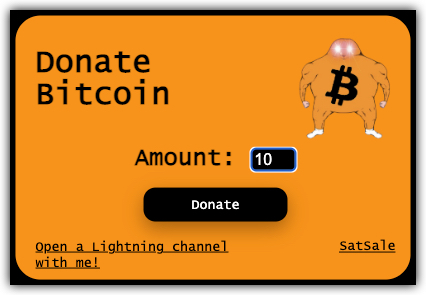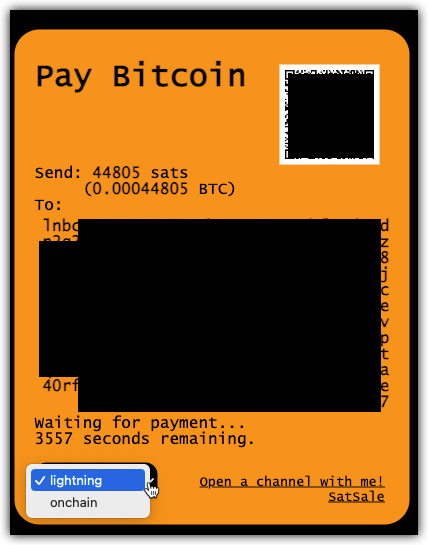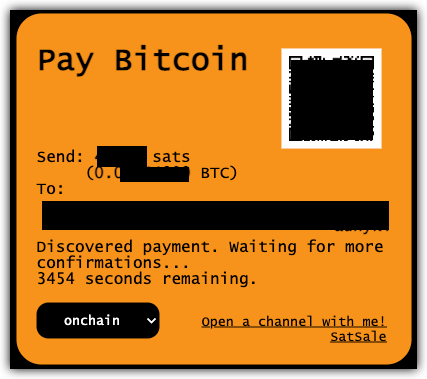 Though there are many potential applications for SatSale, in terms of crowdfunding, I think it's an interesting option because you could essentially create your own donations portal using a WordPress website. This would allow you to leverage more ideas to increase donations for your crowdfunding effort. Using a memorable domain name, a custom logo, and a modern WordPress theme, you could create a sort of sleek sales page ("squeeze" page in the industry lingo). Furthermore, using WordPress native tools, you could further optimize your page to encourage spending more time on page, clicks, donation size, social shares, or something else.
Bitcoin Crowdfunding FAQ
Are Bitcoin Crowdfunding Platforms Decentralized?
Bitcoin crowdfunding platforms are not decentralized. These are centralized services that allow individuals, projects, and companies to collect bitcoin. Some services are custodial, meaning they hold the bitcoin is escrow, while others are non-custodial, meaning they do not hold any bitcoin on behalf of their users.
What Is The Best Crowdfunding Site For Individuals?
The best bitcoin crowdfunding site for individuals is Tallycoin. It's donation based, with no expectations of returns or rewards. It's battle tested after the Trucker Protests in Canada, it's non custodial, and it continues to improve and be developed in 2023.
What Is The Best Crowdfunding Site For Startups?
The best crowdfunding platform for startups is Geyser.fund. It allows for reward tiers to offer funding incentives, and project updates, voting, and other media tools that allow for audience engagement.
What Are The Four Types Of Crowdfunding Platforms?
The four types of crowdfunding are donations, debt, equity, and rewards. Donations are given with no expectation of returns or rewards. Debt is more like p2p lending where you expect a monetary return on your investment. Equity would entitle you to a piece of the company. Rewards would mean that you get some kind of incentive like product or service for giving a specific amount of money.