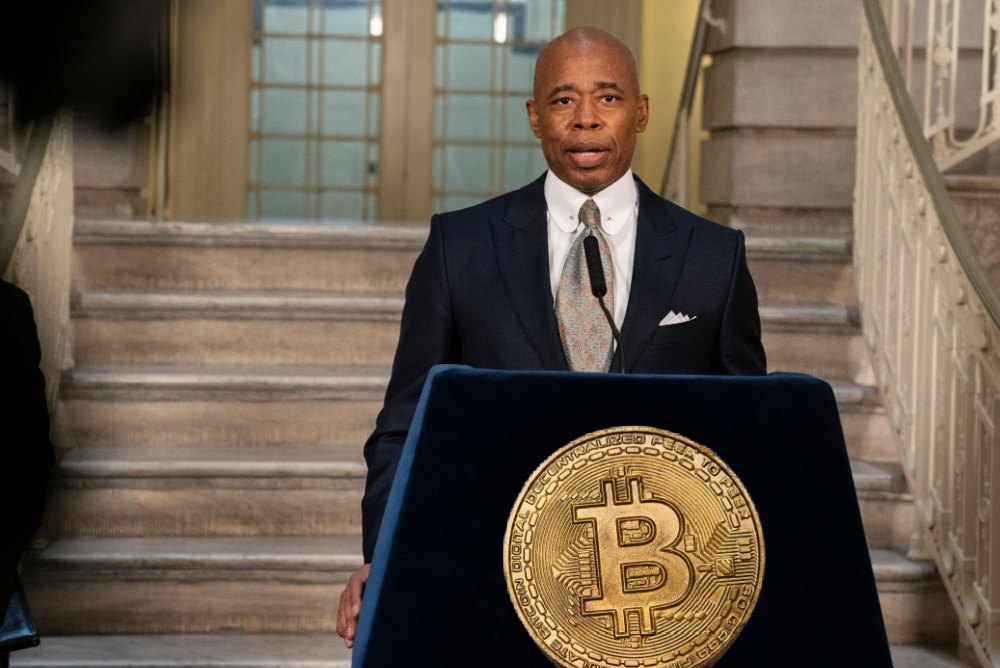 Born in Brooklyn and raised in the rough neighborhood of Brownsville, Eric Adams was no stranger to hardship.
Starting his career as a police officer in New York City, Adams witnessed first-hand the intricate dance of law and order. But instead of just being a silent player, he rose to become a captain. He was a man of action from the get-go.
From the gritty streets to the political stage, Adams then served as Brooklyn Borough President before clinching the mayoral seat. His journey, fraught with challenges, is a testament to his tenacity and drive.
Adams isn't a man to be bound by convention. With the rise of Bitcoin, he spotted an opportunity and leaped at it. He embraced Bitcoin, even opting to receive his initial paychecks as mayor in the digital currency. Now, he's advocating for New York to be a central hub for Bitcoin, giving the Miami tech hub a serious side-eye.
Adams has recently taken a stand against the New York state BitLicense, stirring the pot a little more. He's on a mission, and that mission is to transform New York City into a thriving hub of technology and innovation.
Adams isn't merely paying lip service to the Bitcoin revolution. He's right there on the front lines. While he enjoys a comfortable lifestyle, he is far from being another silver-spoon billionaire pontificating about the virtues of Bitcoin from an ivory tower.
Adams is actually rolling up his sleeves, putting his own hard-earned money into the game. He's a player, not just a commentator, participating with his own skin in the game – a testament to his unwavering belief in the potential of Bitcoin.
What Does Eric Adams Think About Bitcoin?
The Mayor of Bitcoins
Eric Adams is a man who wears his pro-Bitcoin heart on his sleeve, so much so that he's decided to put his money where his mouth is – or, in this case, where his digital wallet is.
When he proudly announced his decision to accept his first three mayoral paychecks in the form of Bitcoin (and a pinch of Ethereum), he wasn't just making a statement, he was making a statement.
It all started in November of 2021, Eric Adams pulls out his smartphone, opens Twitter, and drops a bombshell tweet that reads:
"In New York we always go big, so I'm going to take my first THREE paychecks in Bitcoin when I become mayor. NYC is going to be the center of the cryptocurrency industry and other fast-growing, innovative industries! Just wait!"
Fast forward to January 2022, and guess what? Adams stays true to his word. As per an official nyc.gov press release, he proudly proclaims that his first paycheck will be paid in Bitcoin. He amps up the excitement with:
"New York is the center of the world, and we want it to be the center of cryptocurrency and other financial innovations. Being on the forefront of such innovation will help us create jobs, improve our economy, and continue to be a magnet for talent from all over the globe."
By April 2022, Adams had clearly warmed up to his role as the Bitcoin-friendly mayor. Speaking on BitLicense in London, he made it clear that he wasn't afraid to ruffle some feathers. He remarked:
"New York State is the only state to require a license… That's a high barrier, and it just makes us less competitive. We have to continue to be competitive."
Adams went on to add, "It's about thinking not only outside the box, but on this one, we may have to destroy the box."
Then, in June 2022, according to a journalistic piece by CrainsNewYork, Adams publicly urged Governor Kathy Hochul to veto a bill that threatened to ban Bitcoin mining in the state of New York.
With characteristic flair, he said:
"We can't continue to put barriers in place for miners who wish to help bolster the state's economy with the "billions of dollars."
Come January 2023, in a riveting interview with CNN's Dana Bash, Adams gave us yet another glimpse into his vision for a tech-driven NYC, remarking:
"The purpose of the Bitcoin is to send a message that New York City's open to technology, we want to see a large amount of new technology in the city of New York and encourage all young people to be engaged in these new emerging markets."
During another interview with CNN Business later in the year, when asked about the reasoning behind taking his paychecks in Bitcoin, Adams' replied:
"I want to make sure that this city becomes a center of innovation, no matter what that innovation is, and this is what the human spirit is about. Not being afraid to look at every area of innovation as we move our country and city forward."
Eric Adams, the boisterous mayor of New York, has certainly been vocal about his Bitcoin alliance. But, as we near the end of our tale, there's an unexpected plot twist that just might make you sit up a little straighter.
Could his fervor for Bitcoin be less of an altruistic endeavor to turn the Big Apple into a Bitcoin haven and more of a strategic ploy to court the affluent blockchain aficionados for his re-election war chest?
A paltry sum of $2100 from Brock Pierce, the Bitcoin tycoon now living the dream in sunny Puerto Rico, found its way into Adams' re-election campaign coffers. Now, when you stack that up against the hefty donations (we're talking tens of thousands) from other benefactors, it barely registers as a blip on the radar.
Adams and the Bitcoin Boom: Dissecting the Rhetoric
What a refreshing gust of change it is to have a figure as pivotal as the Mayor of New York City singing praises of Bitcoin's potential.
Even so, it's vital to give his declarations the old litmus test. Let's roll up our sleeves and find out just how well these grand proclamations hold up under scrutiny.
Adams's Bitcoin Paychecks and the Reality Behind the Paychecks
Ever since the audacious announcement by New York City's Mayor Eric Adams to receive his first three paychecks in Bitcoin, the Bitcoin-sphere has been abuzz.
Such a move by a public figure not only signals a strong endorsement of Bitcoin but also opens up a wider conversation about the use of Bitcoin as a legitimate form of payment. It's one thing for an athlete like Tom Brady to take payment in bitcoin, but it's another thing for a politician to stake his career and reputation by doing so.
But let's not get ahead of ourselves here. As much as we would love to imagine a world where public servants get their salaries in shiny digital coins, we're not quite there yet. This was actually stated in the press release:
"New York City cannot pay employees in cryptocurrency."
In fact, the legal framework and payment infrastructure are nowhere near ready to support such a transition. As it stands, it's neither legally feasible nor logistically simple to pay a public servant in Bitcoin. But hey – a Bitcoiner can dream, right?
What Adams did was craftily circumvent this roadblock. Instead of receiving Bitcoin directly, his salary was first paid in the good old-fashioned US dollars and then converted into Bitcoin using Coinbase, a popular digital currency exchange.
To be clear, this is not a criticism of Adams' approach. In fact, there are many services such as Cash App and Strike that automatically convert a portion of your paycheck into bitcoin, so you too, can "get paid in bitcoin".
While Adams' commitment to Bitcoin is laudable, it is essential for us to temper our excitement with a dose of reality. The road to widespread Bitcoin adoption is filled with legal, logistical, and societal challenges. But every journey begins with a single step, and Adams accepting his paychecks in Bitcoin could well be that inaugural stride.
He's not the only politician to do so. Francis Suarez of Miami was actually the first US politician to do so, and many other US politicians publicly own bitcoin.
If anything, Adams' move serves as a beacon to draw more attention to the potential of Bitcoin. This publicity may encourage other politicians, businesses, and individuals to consider similar steps; it could push Bitcoin one step closer to mainstream acceptance.
Even if Adams' gesture was mostly symbolic, symbols matter. They shift perceptions, spark discussions, and ultimately, drive change.
The Bitcoin Paycheck
While Adams might be the most high-profile individual to join the Bitcoin payroll, he's certainly not alone. Over the years, several forward-thinking companies have started offering employees the option to be paid in Bitcoin.
Online retailer Overstock, for instance, has been offering this option since 2014, making them quite the trailblazers in the Bitcoin universe.
But having Bitcoin jingling in your digital pocket is one thing, actually spending it on everyday necessities is another beast altogether. So, let's say you've just received your paycheck in Bitcoin. How do you then go about turning this into your groceries for the week or paying your electricity bill?
Well, there's good news and there's bad news. The good news is an increasing number of businesses are accepting Bitcoin as a form of payment, either directly or through payment processors like BitPay.
Some major utility companies, such as Japan's Chubu Electric Power, accept Bitcoin for bill payments, and retail giants like Whole Foods and Starbucks allow you to pay with Bitcoin through certain apps. (alternatively, you can just buy a gift card with bitcoin)
The bad news? It's still a very small fraction of businesses that accept Bitcoin, and this can significantly limit your choices. Moreover, transaction times and fluctuating values can also pose challenges.
Remember, Bitcoin is a volatile beast. One day, you're buying a latte; the next, that same Bitcoin would have bought you a grande cappuccino machine.
While it's clear that the world isn't quite ready to run solely on Bitcoin paychecks, these are still the early days. And as more people like Adams put their money where their mouths are, the groundwork for a Bitcoin economy is slowly being laid.
Mining Bitcoin in the Big Apple: Can New York Strike Digital Gold?
New York City, renowned as a hub for finance and innovation, is currently engaged in a dance with a new form of 'gold' – Bitcoin mining. However, this dance is complicated by two major hurdles: the recent ban on new Proof of Work mining operations running on non-renewable power sources and the infamous BitLicense.
In June 2022, Mayor Adams made headlines by calling on Governor Kathy Hochul to veto a bill that threatened to put an end to the city's burgeoning Bitcoin mining industry.
This wasn't just a hiccup for Bitcoiners – this was a full-blown cliffhanger. Will New York's bid to become a Bitcoin hub be thwarted by environmental regulations?
The Bitcoin mining ban, an offshoot of the Climate Leadership and Community Protection Act, is designed to slash the state's greenhouse gas emissions by 85% by 2050.
To achieve this, the ban stipulates that all Proof of Work mining operations must be powered by 100% renewable energy. The frustrating part of this bill is that it doesn't ban all industries from using fossil fuels to run their operations; just bitcoin.
Simultaneously, the city's approach to Bitcoin is further complicated by BitLicense – a regulatory straitjacket that has, since 2015, suffocated Bitcoin business innovation with its rigorous requirements and exorbitant fees. Even Adams has criticized it as a "high barrier," contributing to a less competitive environment.
However, if we read between the lines of Adams' comments, there's a sliver of hope. If he's serious about fostering a Bitcoin-friendly New York, we could see some sweeping changes in the city's approach to Bitcoin regulation.
For New York to truly become a Bitcoin hub, it will need more than just bold words – it needs decisive actions that roll back restrictive regulations, encourage Bitcoin adoption, and cultivate a Bitcoin-friendly ecosystem.
So, can New York truly strike digital gold and transform it into a Bitcoin mining haven? If the city can successfully navigate these policy minefields, it might just be possible.
Until then, the eyes of Bitcoin miners and enthusiasts worldwide remain firmly on the Big Apple, pickaxes poised and ready.
Eric Adams: Bitcoin Bro or Just Another Pie-in-the-Sky Politician? Bitcoiners React
Alright, now that we've discussed at length Adams' Bitcoin opinions and actions, let's shift our focus to the peanut gallery. What do the Bitcoin enthusiasts, skeptics, and the ever-vocal Twitterverse think about Adams' Bitcoin crusade? Let's dive into a mixed bag of opinions that range from cheerleading to outright dismissal.
First up, we have Marc Chandler (@marcmakingsense), who tweets:
"Will NYC have to buy #BTC to pay the new mayor–or is he really talking about converting his paycheck into Bitcoin, which means saving his first three paychecks, not spending them. How many Americans can do that?"
Then, there's @anildash who retorts:
"Update: Adams isn't being "paid in Bitcoin" any more than using his paycheck to buy Shake Shack equals being "paid in cheeseburgers."
It's a good chuckle, and while the phrasing is pure Twitter snark, the logic paints a picture of just how much further Bitcoin adoption needs to come.
David from CoinDesk weighs in with a video response, pointing out that Adams isn't an independently wealthy man. In his words:
"Well, I think the first thing to point out is, on the one hand, this is definitely a symbolic move. I mean, obviously, you can now sell your Bitcoin in like two seconds. It doesn't really matter.
However, I do think it's worth pointing out to Eric Adams is not like Michael Bloomberg, for example. He's not a person who is truly independently wealthy. He's a former police officer. He owns a couple of properties in the city.
And I mean, I'm sure he's doing just fine. But he's not somebody for whom his paycheck is irrelevant. So the fact that he's taking any Bitcoin really does represent at least some tiny little degree of personal risk that he's taking. So that's worth pointing out."
That's a fair point. Even though we've had our fun poking at Adams' decisions, it is a risky move that deserves some respect.
And then there's the massive clown Ben McKenzie and Jacob Silverman from Slate, who weren't pulling any punches:
"Leaving aside the fact that, no, you cannot actually dictate to your employer the currency in which you get paid ("I'd like my fee for this article in gold doubloons if you please, Slate"), this was still an embarrassingly stupid move on the incoming mayor's part. The grasping for publicity by any means is to be expected."
and:
"Pledging fealty to the Bitcoin cult, promising to become a low-tax crypto playground, laying out the red carpet for the venture capitalists investing in the industry—these are rapidly becoming table stakes for tech-forward mayors."
My Thoughts On Eric Adams And Bitcoin
I've been around long enough to know that the starry promises of politicians and billionaires are as volatile as the price of bitcoin.
Since the "paid in bitcoin" stunt, Adams hasn't really done much for bitcoin. After all, we're in a bear market, talking about bitcoin doesn't have the same viral effect as it does in bull markets.
Ultimately, New York is just one city in a massive global bitcoin economy, and they appear to be falling behind. At this point, a bitcoin company would much rather move to a city like Austin, Nashville, Miami, or even out of the country to El Salvador than to New York city.
There's always time to prove me wrong. Bitcoin skeptics like Michael Saylor have done a full 180º on Bitcoin, so we still have time to see Adams stick to his word and make New York City a more bitcoin-friendly place.
Until then, he's pretty irrelevant to what's happening with bitcoin.