Peter Schiff is an American economist, author, and staunch advocate for all things gold. Renowned as a financial commentator with a penchant for predicting economic downturns, Schiff has crafted a name for himself as the 'Doomsday Economist.'
He shot to fame (or notoriety, depending on which camp you belong to) for his bold predictions about the 2008 economic crisis.
Author of several books that examine financial crises and the downfall of economies, Schiff's popularity further soared as he used these platforms to champion gold as the one true currency.
A financial broker and CEO of Euro Pacific Capital Inc., Schiff is undoubtedly a formidable figure in the world of economics.
He's the kind of guy at the party who, after a couple of drinks, will take great pleasure in telling you how Bitcoin is a massive bubble, how it's going to zero, and how gold is the only real safe haven.
In short, Schiff is a card-carrying member of the 'Bitcoin is a fad' brigade.
Recently, the same man who spent years shouting from the rooftops about how Bitcoin is a worthless piece of code has done a 180. Well, sort of.
Schiff recently teamed up with Market Price to create an art project, of all things, called "Golden Triumph" – a series of prints and Ordinals (read: NFTs) inscribed on the Bitcoin blockchain.
Yes, you've read that correctly. Schiff, the unrelenting Bitcoin skeptic, has dipped his toes into the very waters he spent years discrediting. The irony of it all is not lost on us, and we hope it's not lost on you, either.
What Does Peter Schiff Think About Bitcoin?
The Schiff Bitcoin Chronicles: A Symphony of Skepticism
In the lively debate surrounding Bitcoin's value and future, few voices have been as consistently skeptical as Peter Schiff's.
From equating Bitcoin to economic bubbles to labeling it a mere "collectible token," Schiff's words capture his stance in a nuanced yet unambiguous manner. Let's trace this thread through some of his most memorable quotes.
Back in November 2013, Bitcoin was but a child in the world of finance, both in terms of its market size and volatility. Amidst this fledgling era, Schiff, a guest on CNBC's Squawk Box, didn't hold back his views on the emerging technology:
"A bubble is a bubble, whether it's dot com or a real estate bubble, and there's a bubble in bitcoin."
The price of Bitcoin on that day was $3.00. The price day, as I write this, is just over $30,000. If you listened to Peter Schiff's advice, you'd have missed out on 1000x returns on your money.
He went on to add:
"The reason people are buying Bitcoin is because they think they're going to make money; it will keep going up until it implodes, and a lot of people are going to lose a lot of money in Bitcoin. A small number of people will make a lot of money, but it will be paid for by a much greater number of people who lose because they will come in at the end of the pyramid scheme."
Video: Bitcoin VS Gold in 2014
iT dOeSn'T dO aNyThInG!
Fast forward to April 2021. During a candid interview with Real Vision, Schiff continued his relentless Bitcoin critique, saying:
"Bitcoin is not a currency, it's not used as a medium of exchange really, or a unit of account. It's just used for speculation. It's not an investment asset like real estate, doesn't pay rent, it's not a stock, it doesn't pay dividends, it's not a bond, it doesn't pay interest. It's not even a commodity because you can't use it for anything. It's a collectible token."
His commentary extended beyond the financial scope, likening Bitcoin to worthless collectibles:
"I don't think these Bitcoin collections are going to be worth anything when the music stops. People have told me that when the bubble burst in Beanie Babies, they were able to use them to insulate their homes. They could shove them in between the walls, and they made good insulation. You can't do anything with a bitcoin. Once nobody wants your Bitcoin, it's completely worthless."
The (Alleged) Father-Son Drama
Perhaps most surprisingly, during this interview, Schiff revealed a personal dimension to his Bitcoin saga – his son, Spencer Schiff, growing interest in Bitcoin. He confessed:
"My son's been indoctrinated into the Bitcoin cult. He's completely delusional. Now, he's got an excuse – he's only 18. But you've got a lot of older people that don't really have an excuse."
The father-son subplot took a dramatic turn in March 2021 when Schiff tweeted about his son going all-in on Bitcoin:
"My son @SpencerKSchiff went all in on #Bitcoin… If my own son is this brainwashed, imagine how vulnerable most kids are. He's HODLing to infinity or bust."
Despite their financial disagreements, Schiff's fatherly affection remained apparent in 2022.
He wished Spencer a happy birthday via Twitter, however, he just couldn't hold back his continued dissatisfaction with his son's Bitcoin investments:
"Happy 20th Birthday @SpencerKSchiff. It's hard to believe that you're no longer a teenager. My little boy has grown up. But you're still young and hopefully have a long life ahead. Despite your temporary obsession with #Bitcoin, I'm still proud of the man that you're becoming."
Lastly, in April 2023, Schiff even brought artificial intelligence into his Bitcoin commentary, suggesting that the AI model, ChatGPT, was intelligent enough to steer clear of Bitcoin. His tweet stated:
"#ChatGPT AI is pretty intelligent, after all. It didn't recommend any allocation to #Bitcoin."
Peter Schiff Actually Uses Bitcoin (For Ordinals Unfortunately)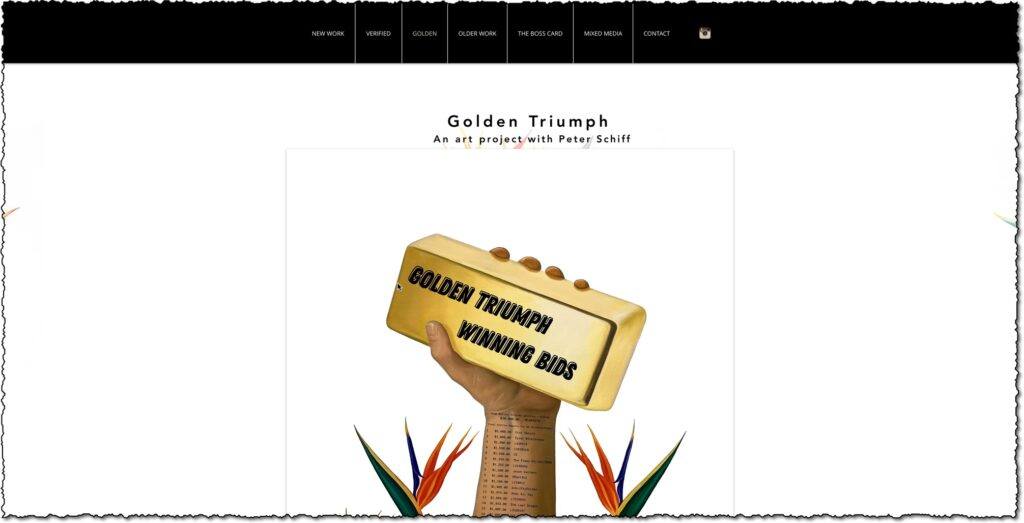 When it comes to Peter Schiff, it's always safe to expect the unexpected. In a surprising twist to his Bitcoin saga, Schiff announced an art project, Golden Triumph, in collaboration with an artist known as Market Price in May 2023.
The irony of this project, inscribed on the Bitcoin blockchain, certainly hasn't been lost on the Bitcoin community.
His initial tweet, dated May 27, 2023:
"I'm pleased to announce an art project with one of my favorite artists, Market Price. This collaboration features the original painting "Golden Triumph" as well as a series of prints and Ordinals inscribed on the #Bitcoin blockchain."
This served as a launch pad for this artistic venture, and the Bitcoin community was quick to question Schiff's intentions. Was this an indication of a shift in his attitude toward Bitcoin?
However, he quashed these speculations in a subsequent tweet on May 28, stating:
"I haven't converted. I think the value is in the art. An original oil painting and limited edition signed prints. The Ordinals help add value to the art by making it easier to prove authenticity. The Ordinals themselves could have extra value if it turns out I'm wrong on Bitcoin."
Here, Schiff highlights the use of the Bitcoin blockchain for its utility in establishing authenticity rather than as a speculative asset.
In June 2023, he justified his decision further, tweeting:
"Why not. A lot of Bitcoin collectors follow me, so why not create something for them? You guys love scarcity, and there will only ever be 50 of these Ordinals. Far more scarce than 2.1 quadrillion sats. Plus, each one comes with an actual print. Bitcoin itself comes with nothing."
He cleverly taps into the 'scarcity' argument often made in favor of Bitcoin's value and how it ties into his art project.
"Golden Triumph" is a fascinating blend of traditional and digital art, making use of the Bitcoin blockchain to guarantee authenticity and limit edition numbers.
Even though Schiff remains a Bitcoin critic, his project utilizes the unique benefits that blockchain brings to the art world – namely, scarcity, verifiability, and immutable ownership records.
The project's theme is also a reflection of Schiff's long-held belief in the value of gold. The depiction of a human hand holding a bar of gold could be interpreted as a metaphorical representation of Schiff's steadfast faith in gold's inherent value, even as he ventures into Bitcoin's territory.
Come On, Man. What Are You Doing.
There's an undeniably delicious irony to Schiff's use of the Bitcoin blockchain to release an art project showcasing the glory of gold. Here's a man, so unwavering in his skepticism of Bitcoin, who still leverages its technology to add value and authenticity to his art project. It's like an ode to gold sung on a Bitcoin stage.
So, what's really going on here?
If Schiff doesn't believe in bitcoin's scarcity, then why is he launching a so-called "scarce" art project on the bitcoin blockchain. If he things that bitcoin is going to zero, why waste his time supporting anything to do with bitcoin.
In my opinion, he's just looking to get paid.
It's shitty art and someone paid Schiff a good amount of money to put his name on the project. Why should he care at all what happens to the NFT, bitcoin, or whatever else since he probably got paid cash to tweet it out.
The final winning bid for the oil painting was $30,000 USD. I don't know how much of these Schiff received versus the artist who created it.
The whole situation is so dumb. How he can see the value of inscribing an NFT onto bitcoin, but not that bitcoin is an immutable ledger is beyond my comprehension.
Schiff is known to relentless troll bitcoiners, so I wouldn't be surprised if this whole thing was meant to be a troll and if he got paid in the process – why not.
The Doomsday Economist vs Bitcoin: Peter Schiff's Forecasts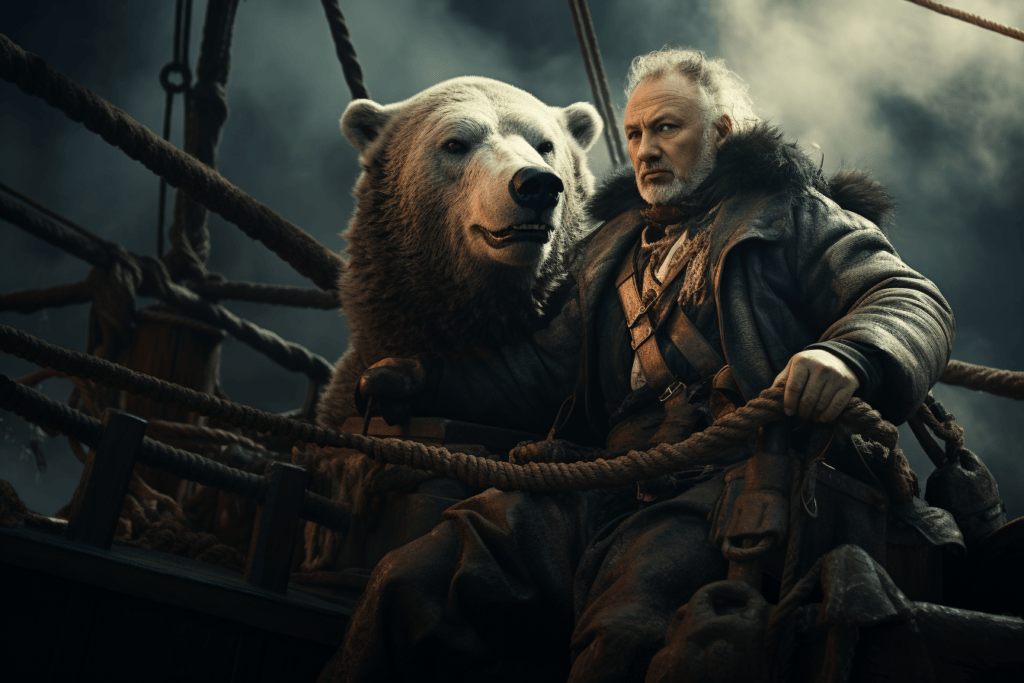 The world of Bitcoin is no stranger to predictions of its imminent demise, and at the helm of this bearish ship stands the "Doomsday Economist" himself, Peter Schiff.
Given his prominent role in the ongoing Bitcoin discourse, it is crucial to take a closer look at Schiff's key assertions about Bitcoin and evaluate their validity.
Is Bitcoin A Pyramid Scheme?
Peter Schiff has never shied away from painting a gloomy picture of Bitcoin's future. Among his most striking assertions is the comparison of Bitcoin to a pyramid scheme.
However, the fundamental nature of Bitcoin challenges Schiff's claim. A pyramid scheme is a business model that recruits members via a promise of payments or services for enrolling others into the scheme, rather than supplying investments or sale of products.
The whole structure collapses when the scheme can no longer recruit new members, leading to most members losing their investment.
Bitcoin, on the other hand, is a decentralized digital currency operating on blockchain technology. It does not depend on an influx of new "members" to sustain its value, nor does it promise rewards for enrolling others. It's purpose is to transfer money, and it does this effectively, regardless of the "price" we assign to its units.
Bitcoin's value is not derived from the participation of new investors but rather from its unique qualities that make it desirable. Its decentralized nature, fixed supply, divisibility, fungibility, and utility as a means of transaction on a global scale.
Bitcoin does not benefit a central authority at the expense of new entrants. Rather, every participant in the network, regardless of when they start, can verify transactions, mine new Bitcoins (though increasingly difficult), or simply hold and use it.
Therefore, categorizing Bitcoin as a pyramid scheme overlooks its inherent structural and functional properties. It is essential to differentiate between volatility and risk inherent in any investment versus the systematic exploitation found in pyramid schemes.
While Bitcoin undoubtedly presents its risks and has shown substantial price volatility, these characteristics do not make it a pyramid scheme. Schiff's comparison, while provocative, falls short upon closer inspection.
A Collectible Token or an Evolution in Asset Class?
Undoubtedly one of Peter Schiff's most vivid descriptions of Bitcoin is likening it to a collectible token devoid of intrinsic value. According to Schiff, Bitcoin is not an investment asset, It's not a stock, it doesn't pay dividends… you can't really do anything with it.
Such a characterization fundamentally ignores the benefits of investing in bitcoin. While it's true that Bitcoin doesn't pay dividends or interest like traditional financial assets, it was never intended to.
Instead, Bitcoin was designed to function as a decentralized digital money which is resistant to government control and censorship. It is in this role that Bitcoin finds its intrinsic value.
Bitcoin's utility extends far beyond being merely a "collectible token." Bitcoin's blockchain technology forms the backbone of a growing number of applications, from smart contracts to decentralized finance, and serves as a decentralized, transparent, and immutable ledger system.
Bitcoin Is Truly Scarce (And Fungible), Unlike Collectibles
Furthermore, Bitcoin's "digital scarcity" – with a capped supply of 21 million coins – instills it with a deflationary property that many investors find appealing, particularly in an era of unprecedented monetary stimulus and concerns about inflation.
Even though Bitcoin doesn't physically exist, this doesn't preclude it from having value, much like digital products or services in other realms of our increasingly online lives.
The digital nature of Bitcoin actually enhances its utility in many respects, allowing for rapid, low-cost international transactions and providing access to financial systems for those who may be excluded from traditional banking services.
Consequently, labeling Bitcoin as a "collectible token" seems to underplay its multifaceted utility and potential.
Firstly, more collectibles can be produced by a centralized manufacturer, and we see this time and time again. Even "limited productions" can be expanded to other products with similar features and value with new collections issued by the manufacturer.
Secondly, collectibles are not fungible or divisible, meaning they are not good as money. A blue horse beanie baby isn't worth the same as a purple horse beanie baby. You can't divide your first edition baseball card into 100 units to trade for beef. Calling bitcoin a collectible is a great straw man argument, but bitcoin really has little to do with collectibles at all.
While Bitcoin's future remains a subject of debate, its current applications and value propositions suggest that it is far more than just a digital trinket.
Video: Bitcoin vs Gold #2 with Peter Schiff & Greg Foss (2022)
Bitcoin and the Younger Generation
Peter Schiff, the ever-concerned parent, sounded the alarm on what he views as the "Bitcoin brainwashing" of the youth, including his own son, Spencer.
Now, you may ask – what exactly did Junior Schiff do to earn this moniker? Before we dig into that though, it's worth mentioning that the whole Schiff family drama over bitcoin vs gold may be interesting at first, but after a few years hearing it, my perception is that it's completely manufactured.
With both of these guys, the name of the game is engagement, and whatever you can do to rile up bitcoiners gets you more likes and tweets. I wouldn't place any faith in the honesty of either of these two individuals.
In 2020, Spencer, in a move that would give any seasoned gold bug palpitations, hitched his wagon to the Bitcoin train, singing its praises as a revolutionary form of currency and the future of value storage.
But he didn't stop there. Come March 2021, Spencer doubled down on his faith in Bitcoin and went in 100%. Spencer threw all his eggs into the Bitcoin basket, prompting his dear dad to tweet that his son had gone "all in."
While Peter Schiff might see this as his son succumbing to some kind of techno-cult, it's worth stepping back and looking at the bigger picture.
Zoomers Are Growing Up With Bitcoin, Not Gold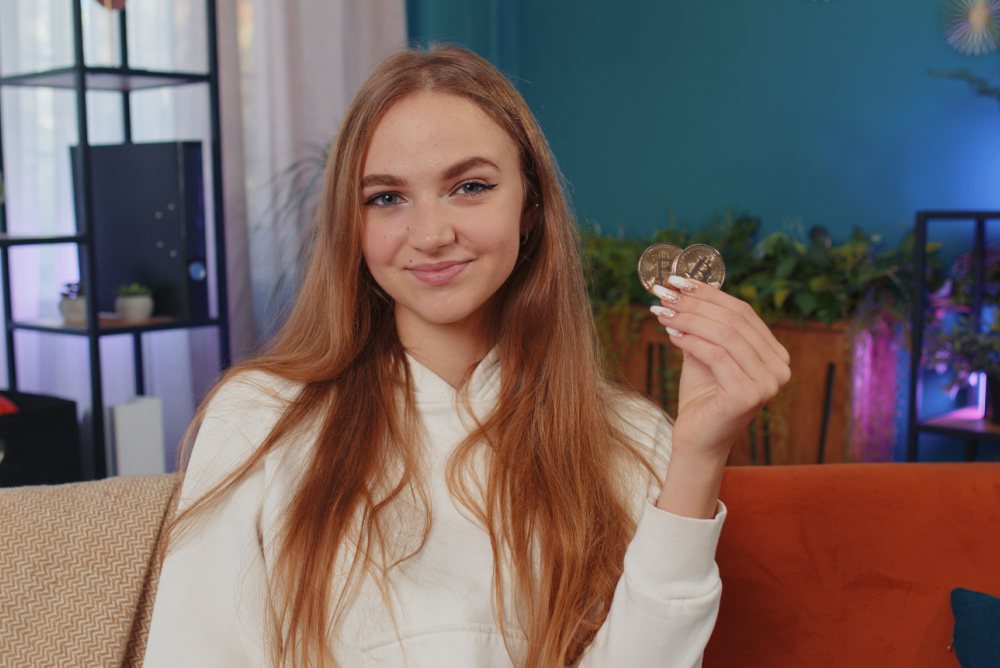 Millennials and Zoomers (the youngsters of today) are looking to the future, and how things will be, not to the past, and how they should be. While some of those inclinations may be misplaced, such as with NFTs and other meme garbage nonsense, I can't say any of that is worse than putting your life savings in rare sneakers, as my generation is wont to do.
What is interesting to consider, is where global consensus will land for digital store of value.
As it turns out, it's not just the rebellious spirit of youth that's warming up to Bitcoin. According to a survey by Blockchain Capital, a solid 60% of the 18-34 demographic sees Bitcoin as more than just a fad, hailing it as a bona fide breakthrough in financial technology. Is it that hard to imagine that someone under 20 will keep 1-10% of his or her wealth in bitcoin in addition to a traditional stock portfolio?
These are digital natives we're talking about. They grew up with tech permeating every part of their lives, so it's no surprise they'd place their bets on the shiny promise of decentralization that Bitcoin offers.
Spencer Schiff's move to invest wholly in Bitcoin can be seen less as a wild punt and more as a confident step towards a financial revolution that resonates with his generational beliefs.
So, here's the million-dollar question: are the youth "brainwashed," or are they just more attuned to the rhythm of the financial future? I mean, if they're the ones jamming with the beat of tomorrow's tech, maybe it's time to lend an ear to their tunes, no?
Peter Schiff's Perspective On Gold And Bitcoin
At the very least, Schiff is actively engaging with bitcoiners, so there's plenty of video and audio to look back on and try to understand his position.
At the very heart of Schiff's argument for gold is that it has physical utility. To him, this means that gold can never "go to zero". There is always a backstop of what would give gold some kind of value.
Bitcoin, on the other hand, has no native utility other than being so-called "money". Because you can't eat a bitcoin, and you can't make jewelry with it, then it's intrinsic value is zero. Any monetary properties built on top of it, therefore, are not "real", so the whole thing is worth zero.
At least, that's my generous interpretation of his argumennts.
He just can't let go of the non-physical thing.
What I really don't understand about his argument is how he doesn't see the value of non-physical assets.
For example, the value of Facebook's company greatly exceeds that of its physical infrastructure. Facebook is valuable not because it owns land, buildings, servers, and copper wires running from those servers. It has immense value because of the service it provides.
Bitcoin has value not because it has some sort of physical nature backing it, but because it provides a service.
The service? Assurances that the number of units won't change, and if I send those units, they'll reach the recipient with little chance of being censored. With those two elements, suddenly those units have value.
Bitcoin was not launched with inherent value to the units we call bitcoin. Value was imbued upon them by people using the bitcoin network because of the utility that the network provides.
In Peter's mind, regardless of this fact, there's always a chance that the bitcoin "code" could change, people could change their minds, and the fad could collapse. Gold will never be changed because you simply cannot rearrange the atoms.
People React To Peter Schiff And Bitcoin
In an evolving world where the concept of money is rapidly transforming, our beloved skeptic, Peter Schiff, has had his fair share of critique from all corners of the Bitcoin sphere.
After all, Bitcoiners are nothing if not spirited defenders of their favorite digital asset.
Kierkeguardian, a thoughtful contributor at steemit.com, makes a compelling point, highlighting a critical distinguishing factor that sets Bitcoin apart from other speculative bubbles
"Bitcoin bubbles are not like Tulip Bubbles…the supply of Bitcoin…cannot be increased to offset increases in demand, and thus, the price cannot be demolished in the same way that traditional tulip bubbles can."
Ah, the beauty of the immutable supply of Bitcoin, a fact seemingly overlooked by our gold aficionado.
Meanwhile, on Twitter, @Antonio82687742 jests:
"Peter, I'm worried about you, man. I hope you're stacking sats behind the scenes to support your eventual pivot. ChatGPT is super intelligent. It knew it was talking to a boomer."
And then there's @nealmcspadden from leofinance.io, who acknowledges Schiff's viewpoint but points out the evolutionary process Bitcoin is currently undergoing, transforming it into a widely desired commodity:
"Lots of things have been money, gold, silver, salt, rice, shells, etc. All highly desirable goods that were widely desired in their communities. Bitcoin isn't that. And that's what Peter is railing against. What he doesn't see is that we are in the process of bitcoin becoming the widely desired commodity."
Yes, Peter, even salt once had its golden days as a valuable commodity.
Teuta Franjkovic of Coinspeaker, too, hints at the unique niche Bitcoin is carving out for itself as an uncorrelated asset:
"Peter Schiff is right about one thing. Bitcoin is twirling from its store of value plot to become the world's one and only uncorrelated asset. This means that if assets such as stocks, commodities, and bonds are performing badly, Bitcoin will still continue to trade as usual."
Yes, in an era of increasingly volatile markets, Bitcoin keeps dancing to its own beat.
And, of course, we can't forget the most endearing critic of them all – Peter's son, Spencer Schiff. While managing to maintain an impressively tolerant and respectful discourse with his father, Spencer has occasionally pointed out the irony in Peter's Bitcoin skepticism.
After all, if Bitcoin was such a poor choice, why would its value continue to rise?
Responding to Peter's birthday wishes, Spencer tweets,
"Thanks, but it's really not an obsession. I'm a fan of anything that can make humanity more prosperous and technologically advanced. Bitcoin is one of many things that I think will do that."
The torch has been passed, and the new generation seems ready to take up the mantle.
As Bitcoin continues to permeate the global financial system, it appears that a new wave of digital finance-savvy individuals is leading the charge. It might be a brave new world we're venturing into, but it seems less daunting, thanks to Bitcoin.
My Thoughts On Schiff And Bitcoin
Honestly, listening to Peter Schiff is quite exhausting. I used to hold out some kind of hope that he's eventually see the connection between bitcoin and gold, but it's just been too many years to expect any kind of change from him. Quite the opposite of someone like Joe Rogan, who admits his ignorance of bitcoin, yet remains positively optimistic, Schiff is full of confidence in his permabear stance.
I've listened to several podcasts, interviews, and debates between himself and other knowledgable, intelligent bitcoiners, and Schiff just cannot get over the "bitcoin has no utility" argument.
Peter Schiff is not dumb, so I tend to believe his anti-bitcoin position is more of a social media grift to generate attention for his business. I'd be willing to be that every controversial bitcoin tweet sends a bunch of traffic to his website which sells gold.
The formula is simple. Say something dumb about bitcoin. Get attention to yourself. Remind people to buy gold. Done.
Overall, I wouldn't listen to anything he says about bitcoin because he's proven himself be continually and willfully ignorant of bitcoin's value proposition.