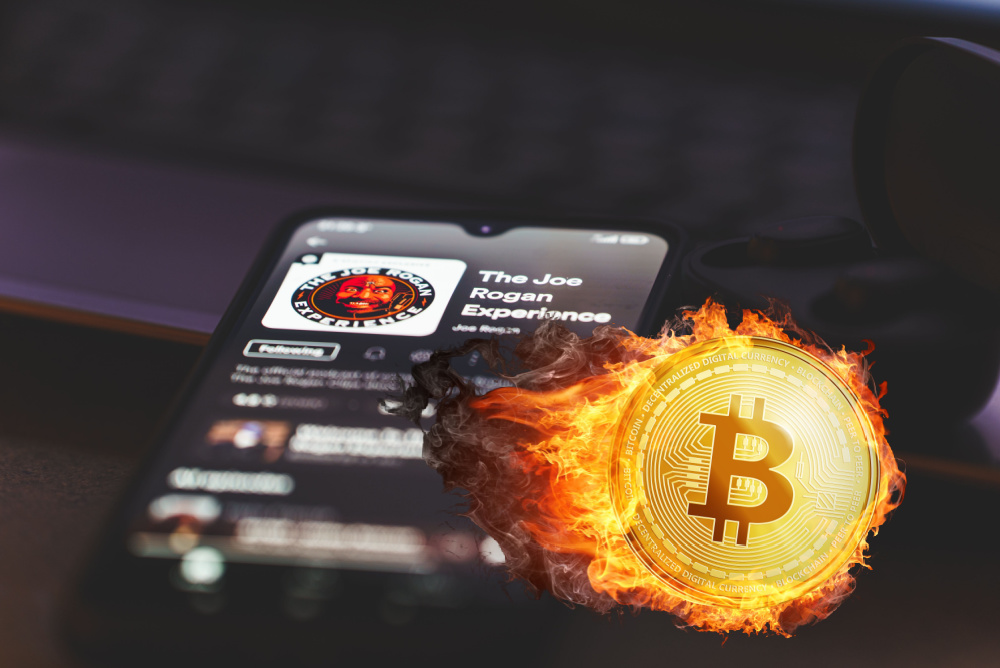 Joe Rogan – the modern age Walter Cronkite. The mixed martial arts commentator-turned-podcast juggernaut. When Joe talks, the world doesn't just listen, it hangs on his every word. So what does Joe Rogan think about bitcoin?
With millions tuning into his podcast, "The Joe Rogan Experience," you can bet he's got the power to shift conversations on everything from politics to astrophysics, drugs to conspiracy theories, and all the crazy in between.
Joe's got a knack for speaking first and dodging fallout later. He's welcomed everyone from big-name celebrities to controversial figures onto his show, always ready to shake up the status quo.
He's shared a joint with Elon Musk, contemplated the cosmos with Neil deGrasse Tyson, debated culture with Jordan Peterson, and even ventured into UFO territory with Bob Lazar.
Now, let's talk about Bitcoin. Rogan is no stranger to the conversation, and he's certainly not afraid to admit when he's out of his depth. He's not your typical Bitcoin bull, but he's shown a cautious optimism that's hard to ignore.
His approach to Bitcoin? It's like a slow dance – he's not leading the charge, but he's definitely moving to the beat.
Rogan's even dipped his toes into accepting Bitcoin payments. So, as we navigate Rogan's wild waters between dog coin disses and social credit scores, let's dive deep into how the world's favorite podcaster perceives the Bitcoin universe.
What Does Joe Rogan Think About Bitcoin?
Bitcoin Soundbytes
While a good portion of Bitcoin chatter on The Joe Rogan Experience often comes from his guests, Joe hasn't held back on sharing his two cents on the subject. He's no tech guru, and he's humble enough to admit he doesn't know all the ins and outs of Bitcoin.
But that hasn't stopped him from throwing his hat into the ring.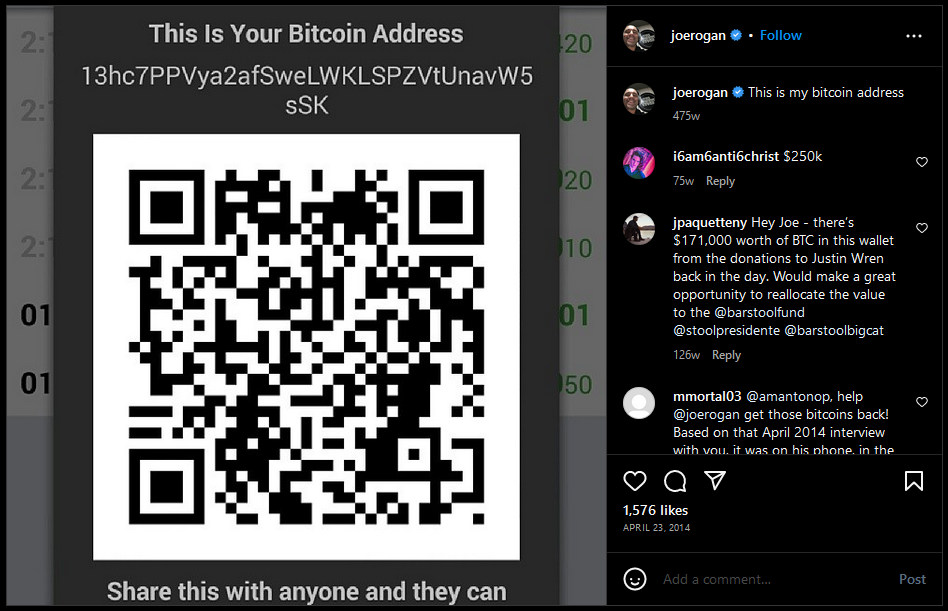 Image: Instagram
Rewind to 2014, Joe jumps onto Instagram and posts:
"This is my bitcoin address."
Not exactly a grand proclamation, but enough to show he was dipping his toes into the Bitcoin pool, and his fans were all for it.
Fast forward two years to September 2016, during a podcast with guest Bitcoin entrepreneur Andreas Antonopoulos, on episode #844.
Here, Joe drops a nugget of wisdom, hinting that Bitcoin might just be the key to chipping away at government control over the economy and those policies that set the stage for financial crises:
"It's going to slowly but surely erode a lot of the major problems that we have with society today, as far as this government having massive amounts of control over the economy and the banks being the ones who, sort of, enforce the kinds of laws that have allowed the mortgage crisis and allow these bubbles to occur."
Next up, November 2021, episode #1728 with Ari Shaffir. Joe's not just bantering about Bitcoin now – he's getting paid in it. After a cheeky jab from his guest about a $100,000 sponsorship payment in Bitcoin, Joe coolly responds:
"It's not American money, It's all in Bitcoin."
Joe Is Cautiously Optimistic About Bitcoin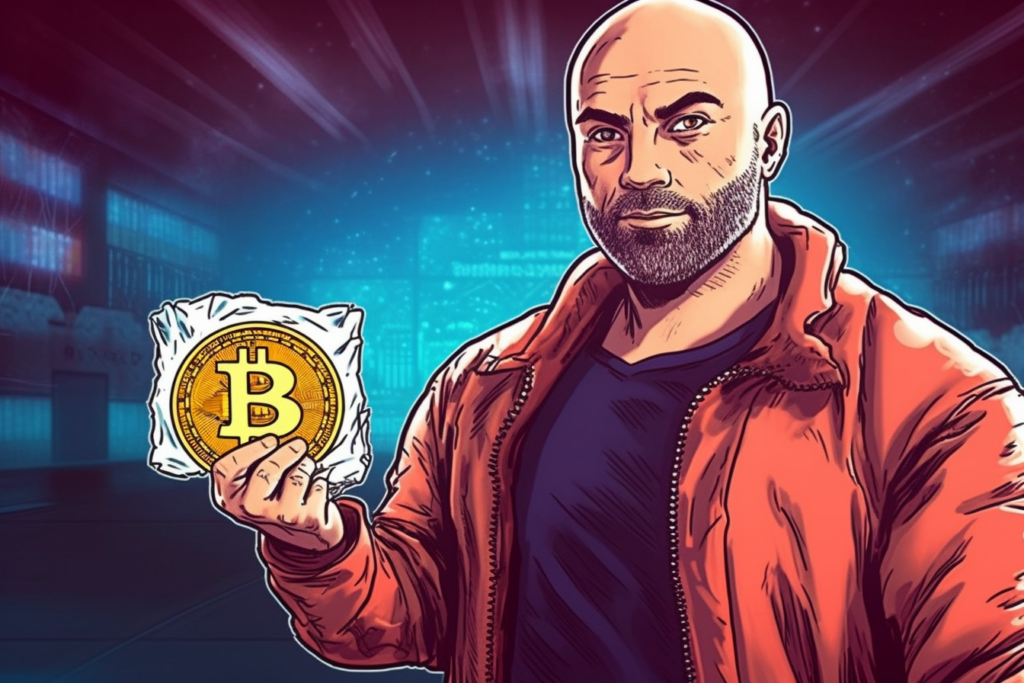 January 2022 swings by, and Joe's having a fireside chat with Adam Curry about Bitcoin's future on episode #1760. Joe plays it cautiously optimistic, saying:
"What we're seeing right now is, it's either going to fall apart completely, or we're going to use this as an opportunity to right the ship and come up with a better way to live our lives."
In May 2022, during episode #124 with mixed martial artist Khalil Rountree, Joe likens Bitcoin to the early internet, saying:
"I think they didn't see it coming and now it's a viable form of currency you can actually buy things with and I think the government is freaking out."
JRE Encourages Users To Stack Sats With Cash App
But let's not forget episode #1515 from July 2020 with Dr. Bradley Garrett. Here, Joe features the automated Bitcoin purchasing feature of Cash App during his ad segment.
While the original ad is MIA from the Spotify podcast, thankfully, Bitcoin Meme Hub had our backs and preserved it for posterity on Twitter:
"With the Cash App, you can automatically purchase Bitcoin daily, weekly, or even bi-weekly, this is known in the industry as 'stacking sats'."
"Sats is short for Satoshi, the legendary person who created Bitcoin. I don't even know if that's their real name. It's one of those weird things where the internet has always tried to figure out who it is."
"But Bitcoin, what it is for sure, is a transformational digital currency that acts as a decentralized peer-to-peer payment network powered by its users with no central authority."
"I love it. I wish it was the way we exchanged currency and maybe it will be in the future"
So, we've seen Joe go from casually dropping his Bitcoin wallet on Instagram to actively promoting Bitcoin to his vast audience of 200 million.
Yet, he's not exactly a Bitcoin evangelist. But hey, he's keeping things positive, and for Bitcoin enthusiasts, that's a win – because when Joe talks, people listen.
Video: Joe Rogan And Adam Curry Talk Bitcoin
The Bitcoin Experience
If you thought Rogan was just another pretty face, think again. The man scored a respectable 127 on an IQ test, proving there's more to him than just a knack for making people laugh.
Whether you love him or wouldn't be caught dead listening to his podcasts, you've got to hand it to Rogan for his humility. He's been candid about his limited knowledge of Bitcoin's intricacies.
That's a breath of fresh air in a world where every guru with a bulging bank account thinks they're a Bitcoin savant. Just because they've got the Midas touch doesn't mean they're always golden when it comes to Bitcoin advice (thinking about you, Robert Kiyosaki).
Rogan, in all his self-professed ignorance of Bitcoin's inner workings, has still managed to drop some pretty compelling nuggets of wisdom. With such a huge fan base and genuine influence, it's definitely worth exploring his opinions in context.
Content Creators Can Step Out of the Shadows with Bitcoin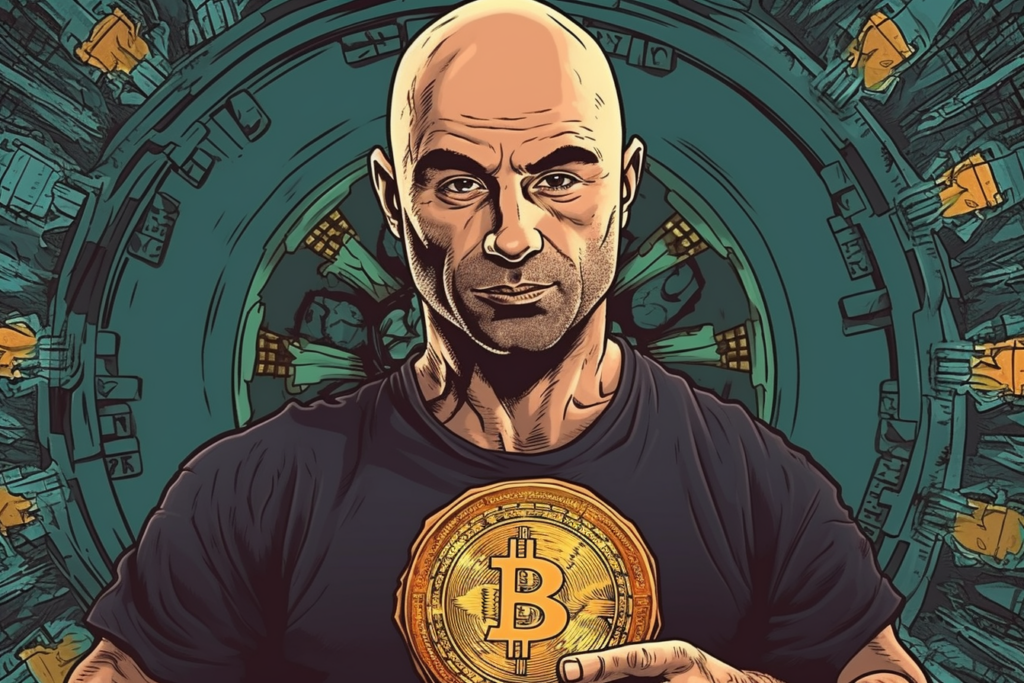 Joe Rogan's Cash App sponsorship was a big deal when it happened. When he took an equivalent $100,000 payment in Bitcoin, not US dollars, to plug the app to his massive audience, he wasn't just making a business deal. He was telling over 200 million people to buy Bitcoin.
Rogan has said before that he doesn't rely on sponsorship revenue from Cash App. This suggests that his Bitcoin endorsement isn't just about the money – it's about a genuine belief in the potential of Bitcoin.
The Bitcoin sponsorship made waves. It wasn't the first time a figure with Rogan's mindshare reach had accepted payment in Bitcoin. Other celebrities and athletes such as Tom Brady have accepted bitcoin before, but none with the amount of cultural influence as Rogan.
This marked a notable moment – Bitcoin wasn't just a speculative asset anymore – it was a viable form of payment, even for high-profile content creators.
Bitcoin For Content Creation. You Can't Ban Bitcoin.
This opens up new possibilities for creators struggling with shadow banning on traditional social media platforms.
Bitcoin, with its decentralization and peer-to-peer transaction capabilities, offers an alternative way for these creators to earn money directly from their fans. It's like a digital tip jar, where supporters can donate Bitcoin during live streams or to show appreciation for their work.
Apps such as Vida.live allow for streaming bitcoin payments via video, and Nostr allows you to get paid for likes in a format similar to Twitter.
The beauty of Bitcoin lies in its resistance to censorship. Unlike traditional ad revenue or sponsorships, Bitcoin donations are independent of any platform's policies or algorithms. It's an empowering tool, allowing creators to take control of their income in a landscape increasingly overshadowed by censorship by big tech.
Video: Twitter CEO on Bitcoin. "The Internet Will Have a Currency"
Bitcoin Is Desirable Money, Even If You Don't Really Get It
But Bitcoin's appeal doesn't stop at transactions. Many view it as 'digital gold' – a store of value despite its notorious price swings. Its limited supply and growing demand make it an asset that could potentially preserve wealth over time.
Bitcoin's worth isn't just theoretical – it's tangible. With an increasing number of businesses accepting Bitcoin as payment, demonstrating real-world purchasing power.
Bitcoin received as a tip or donation can be used to purchase goods and services or even converted into other currencies. It's clear that most people would like to have a little bitcoin. If they're unwilling to buy it with the dollars they still regard as "real money", I'd be willing to bet most people would be willing to accept bitcoin as payment for creating content online.
Who wouldn't want to get paid 丰1,000,000 for a viral tweet? Who would refuse sats streaming in while you play video games for fans?
Bitcoin is more than just a financial instrument. It's an incentive, a lifeline, and an investment.
It's a tool for content creators to monetize their work and shield themselves from the whims of traditional platforms. Its multifaceted appeal is why influential figures like Joe Rogan are not just taking notice but actively promoting this transformative technology.
Video: Bitcoin Is The Escape Hatch
Bitcoiners And Nocoiners Weigh In On Rogan's Bitcoin Endorsement
The world of Bitcoin is expansive and ever-evolving. It's a space where opinions and attitudes can change as quickly as market values.
While Joe Rogan himself might not be the primary focus of Bitcoin enthusiasts, his platform and influence are hard to ignore. Particularly, his relationship with Cash App and his perceived endorsement of Bitcoin has been the talk of Bitcoin town.
Robert D Knight of BeInCrypto observed:
"From Rogan's past remarks on the subject, it's safe to conclude that the comedian and podcaster is a longstanding admirer and fan. Rogan is a bitcoin idealist who sees the potential of the technology as a driving force for positive change, and as a way for individuals to protect themselves from tyrannical governments."
This observation encapsulates Rogan's fervor for Bitcoin and the revolutionary possibilities he perceives within it. Known for his contrarian stance on perceived government control, Rogan's endorsement of Bitcoin, a technology with the potential to liberate individuals from conventional banking systems, resonates powerfully. It's a stance and sentiment that is both compelling and easy to get behind.
What CashApp Sponsorship Critics Fail To Understand
TheOvenTimer comments on Rogan's involvement with Cash App, noting that:
"Rogan at one point in his career, back in 2021, receives $100,000 in crypto from CashApp to promote Bitcoin on his podcast. Maybe this fueled his passion for the new currency. Would you take Joe Rogan's advice for investments?"
This question sparks a broader dialogue concerning the impact of influencers on Bitcoin investment choices. What questions like this fail to understand is that Bitcoin is a 500 billion dollar asset. Whatever Mom-and-Pop outfit decides to invest $100 or $100,000 into bitcoin because ofa an ad campaign is not going to move the price. This is not an MLM scheme where current bitcoiners get paid based on how many people they recruit to bitcoin. For the most part, shilling bitcoin is a thankless job.
Furthermore, Rogan has been a long time vocal advocate of Bitcoin's potential, way back before CashApp was a sponsor.
Joe Rogan Is A Curious Minority
@Victory on Stacker.News laments the lack of genuine interest in Bitcoin from gurus:
"It's too bad the people like Rogan are a super minority. By far most people don't take time to reflect on things etc. They are a completely different animal and it doesn't matter how just and moral etc. Bitcoin is. People will just chase the object that shines the most."
This hints at the broader frustration some Bitcoiners feel regarding the general public's understanding and acceptance of Bitcoin, which is often driven by its flashy allure rather than its underlying potential.
Despite the diverse perspectives, there's a universal truth – one doesn't need to know everything about Bitcoin to have an opinion on it.
Rogan himself is an example of this. He may not be an authority on Bitcoin, but he's not shy about sharing his views and sparking conversations about it.
For that, Rogan has earned respect in many quarters. After all, in the complex and beautiful world of Bitcoin, every voice enriches the ever-evolving narrative. As long as the sentiment is authentic, it's worth standing behind.
Video: Joe Rogan With Andreas Antonopolous On Bitcoin (JRE #446)
Frequently Asked Questions
Does Joe Rogan Have Cryptocurrency?
Joe Rogan has confirmed that he owns bitcoin, but has not confirmed that he owns any other cryptocurrency. He has not mentioned how much bitcoin he owns, and though various guests have given him bitcoin in the past, it's unclear if he has access to those old bitcoin wallets.
Is Joe Rogan A Billionaire?
Joe Rogan has not publicly claimed to be a billionaire and there is no way to know exactly how much his total assets owned are worth. It's unlikely he's a billionaire, though he would likely confidently sit in the multimillionaire camp considering his Spotify deal was worth $120,000,000.
What Does Joe Rogan Invest In?
Joe Rogan doesn't publicly list all of his assets and investments, but it's safe to assume that his primary investments are his multiple businesses, namely The Joe Rogan Experience podcast, Onnit supplements, his comedy career, and his job as a UFC commentator. It's likely any homes he owns would also count as "investments", but he has not claimed to be an active real estate investor. Though Rogan has stated that he owns some bitcoin, he hasn't said how much, or what percentage of his assets are stored in bitcoin.
What Companies Does Joe Rogan Own?
Joe Rogan co-founded Onnit, and is the sole proprietor of The Joe Rogan experience.