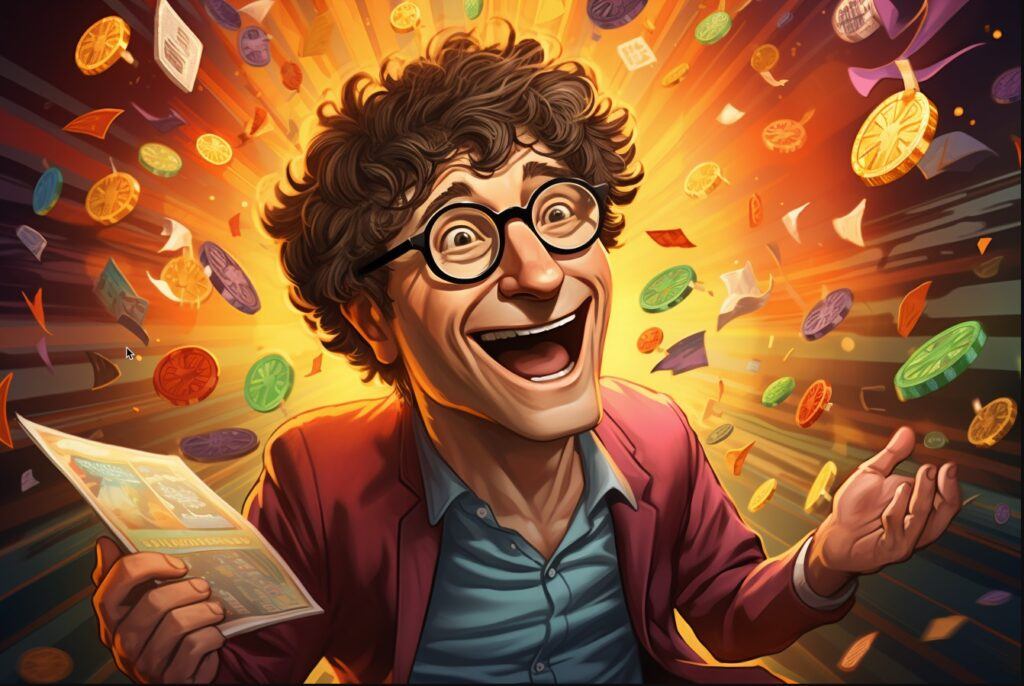 James Altucher, a face you've likely scrolled past on countless online ads, his Bitcoin-illuminated eyes blazing amidst a backdrop of fire.
His unsolicited 'Bitcoin breakthroughs' are omnipresent, and 'free-but-not-really' newsletters are the subject of controversy. When it comes to bitcoin, he's best known for his blend of obnoxious marketing and self-described crypto prowess. But there's more to this man than just questionable ad choices.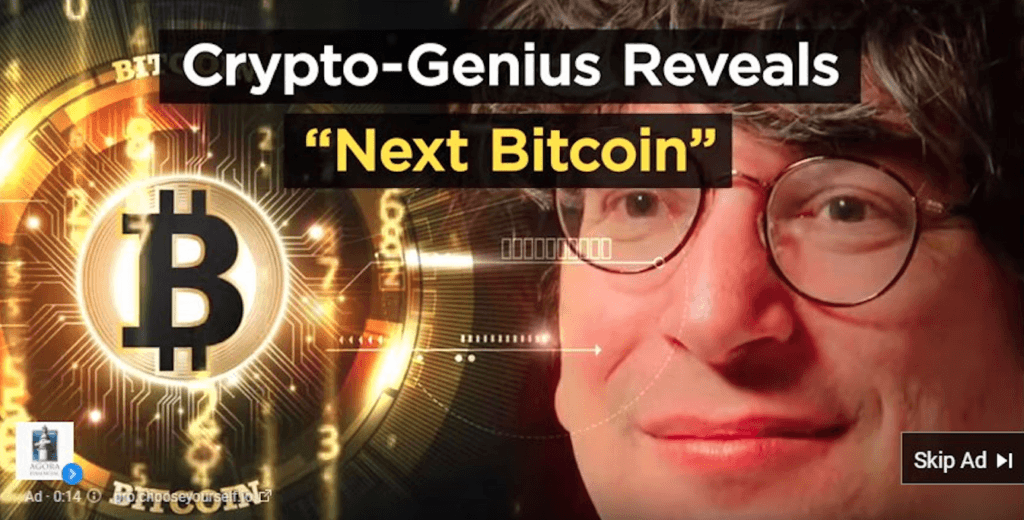 Prolific writer, entrepreneur, angel investor, and podcast host – Altucher is a digital Renaissance man, with more than 20 companies in his entrepreneurial rearview.
A Cornell graduate and HBO IT department alumni, he's danced with booms and busts throughout his career. His bank account may not boast billions, but a cool $50 million isn't exactly chump change either.
Bitcoin, to Altucher, was once a ludicrous scam. But he swallowed his words, trading skepticism for evangelism. His best-selling book, Choose Yourself, was even once available for purchase with Bitcoin – a shout-out to his newfound faith.
Ever eager to simplify the enigma of Bitcoin for the less tech-savvy folks, Altucher's rhetoric is bold and unapologetic. His passionate stance on Bitcoin might be seen as a performance, yet, amidst all the bluster, there's a question that lingers: Is Altucher's Bitcoin fervor genuine or a crafted act?
Critics have labeled him a scammer, a con artist, peddling infamous newsletter campaigns. Even so all this, Altucher remains undeterred and bullish about Bitcoin. That's what we're really here to explore. What does James Altucher think about bitcoin?
What Does James Altucher Think About Bitcoin?
The Bitcoin Prophet or The Boy Who Cried Profit?
Bitcoin To $1 Million Dollars
When James Altucher spoke about Bitcoin, we listened. Not because we necessarily wanted to, but because he was everywhere – like an omnipresent Bitcoin genie.
Let's unpack some of his more memorable Bitcoin proclamations.
In November 2017, Altucher emerged as another Bitcoin soothsayer on CNBC's Squawk Alley, predicting Bitcoin would skyrocket to $1 million by 2020. He reasoned:
"There's 15 million millionaires around the world. All their financial advisors are going to say, 'Hey, buy a Bitcoin. You need some exposure.'"
He also banked on the scarcity factor, emphasizing the 21 million Bitcoin limit.
Fast forward to 2018, same place – CNBC's Squawk Alley, different tune.
"Bitcoin is not a penny stock – it's not something you buy one day and sell the next day for little gains," he asserted, hinting at Bitcoin's potential to displace paper currencies. He also predicted institutional adoption:
"Institutions aren't yet in Bitcoin, but they will be."
Gold Is A Rock. Bitcoin Is The Internet Of Money
By 2019, Altucher was taking his Bitcoin sermon to Twitter:
"Gold's just a rock. It became money because it (and silver) were only scarce metals with industrial uses. Bitcoin is more scarce, and has more industrial use. First gold coin (see attached) is from 6th century Turkey. The world financial system more complex now"
In a 2021 video interview with Angelo Robles from Family Office Association, he echoed this sentiment. He highlighted Bitcoin's functionality beyond being a currency and even boasted about his about-face from Bitcoin skeptic to acceptor:
"I know a lot of people say like, whenever I bring up Bitcoin, they say, 'Oh didn't you say it was a fad or a scam?' Yeah, but then a month later, look what I did – I created a store and accepted Bitcoins."
But the crux of Altucher's Bitcoin commentary, albeit loaded with self-promotion, came in a 2022 promotional video hosted by StockPickExperts.
He likened buying Bitcoin to the early internet days, with its pioneers and inherent challenges:
"Buying a Bitcoin was really hard and not secure – sort of like sending an email in the early 2000s."
"Bitcoin was the pioneer. Much like the original search engines for the World Wide Web were pioneers."
Crypto Agnostic, But Not A Shitcoin Shill
Yet, it's here we encounter the paradox of Altucher. He lauds Bitcoin as the digital gold standard while simultaneously plugging altcoins – earning him his nickname as the man who put the "alt" in altcoins.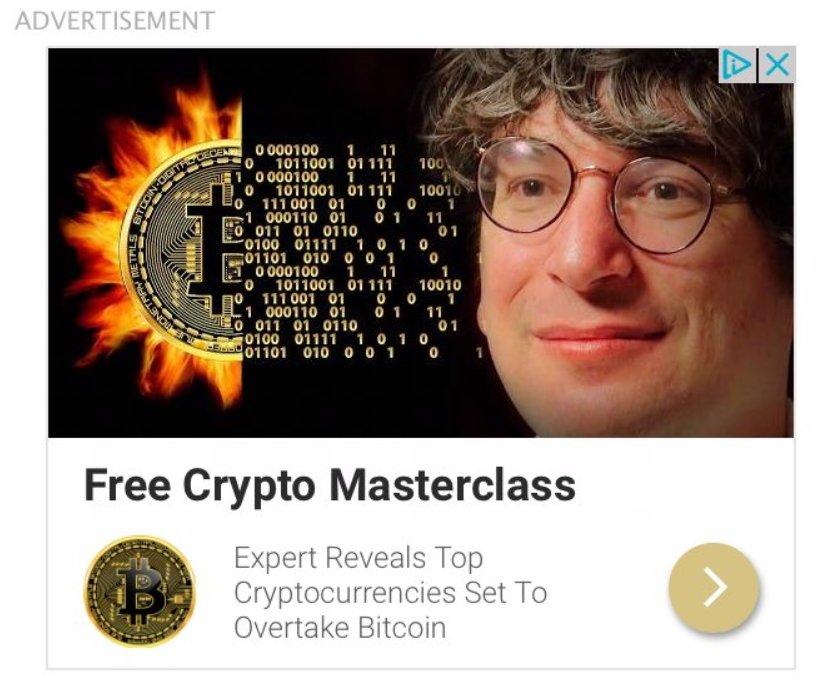 Late 2022 saw him penning a Twitter thread theorizing about Twitter's potential to become a Bitcoin transaction powerhouse, citing the involvement of crypto-affiliated moguls like Binance's CEO, CZ, and Twitter co-founder, Jack Dorsey:
"Twitter could become the largest platform for Bitcoin transactions if they build payments on top of the bitcoin lightning network. Note that Binance CEO, CZ, is one of the largest investors in the new twitter. As is Jack Dorsey, who also co-founded Square and is a big advocate of Bitcoin."
The thing about Altucher I discovered while doing research on his ideas around bitcoin is that he's definitely pro-bitcoin, but he's also very pro crypto. He doesn't really see the crypto world through the lens of a bitcoin maximalist, which to me, indicates that he hasn't dug deeper beyond the surface.
He seems to be "crypto agnostic", believe the narrative that altcoins can serve alternative purposes outside of bitcoin. What he fails to see is that without the network of individuals running nodes, the network is not decentralized, therefore not worth anything at all.
What I didn't find evidence of, however, was any type of specific shitcoin shill. So although he get shit from bitcoiners for bitcoin a shitcoiner, that doesn't seem to be the case. There is some nuance there, but I'll get into that later.
In Data We Trust
Altucher's Bitcoin commentary, though occasionally marred by hints of self-promotion, offers a slew of interesting takes – especially in his seminal blog post from 2018, "Everything You Need To Know About Bitcoin."
The article was part Bitcoin love letter, part techno-primer; it was penned for those starved for Bitcoin knowledge sans the technical jargon.
Altucher wrote:
"Here's the problem: Most people who know a lot about Bitcoin can only speak 'tech.'"
His goal? To break down Bitcoin for the masses, turning crypto-geek to crypto-chic.
He kicks things off with an anecdote from his Choose Yourself book launch. The book, originally available exclusively for Bitcoin, was a hit.
"Once I launched it, quite a few people bought my book… I sold many copies," he reminisces, adding a dash of Bitcoin nostalgia.
Altucher then serves us a lesson in economics, tracing the evolution of money from gold and barter systems. These early mediums had their issues – transportation, and authenticity verification, to name a few.
Then came fiat currencies, which spawned a new beast: unchecked money printing.
But Bitcoin, according to Altucher, swoops in like a digital knight in shining armor, solving these historical issues:
"Bitcoin solves the problems above."
He touts Bitcoin's backing – not by gold or government decree, but by hard science:
"There's about 1000 man-years of science backing Bitcoin," he states, highlighting Bitcoin's foundations in cryptography, financial systems, and contract law.
Bitcoin Is The Evolution Of Money
Add to this the nascent potential of the blockchain, and you have a monetary revolution in the making.
Altucher drives his point home by placing Bitcoin in the broader context of industry evolution. From medicine to warfare, he draws parallels between the shifts in various sectors and the evolution of money.
He categorizes these changes into Theism, Humanism, and Dataism, with the latter representing our current technological reality.
In Altucher's view, Bitcoin aligns perfectly with the data-driven paradigm.
"In Data We Trust" he declares, framing Bitcoin as the next logical step in the evolutionary ladder of money.
His argument has a ring of truth. Bitcoin, with its transparency, immutability, and decentralization, seems well-positioned to drive a new era of monetary systems. It poses a challenge to traditional financial structures and holds the promise of reshaping the way we perceive and utilize money.
In a nutshell, Altucher's 2018 blog paints Bitcoin as a techno-evolutionary marvel – complex yet accessible, revolutionary yet familiar.
Whether or not you buy into his vision, his argument for Bitcoin as the inevitable evolution of money is compelling and worth a second look.
After all, as he says, "The natural evolution of money has arrived." And it's got 'Bitcoin' written all over it.
The Lightning Network, Bitcoin's Next Evolution
Altucher's connection of the Lightning Network to mainstream tech giants like Twitter hints at a vision of Bitcoin's future that isn't so much about mere speculation but about becoming a part of everyday life. His words are a neat segue into the Lightning Network, Bitcoin's most-used "second layer".
In essence, it's akin to setting up a tabs in a local pub. Patrons don't need to settle up for every pint "on chain".
Instead, transactions are performed "off chain" between parties in private channels. Only the final tab, the net result, gets settled on the blockchain. This saves both time and energy and prevents the Bitcoin blockchain from getting congested with microtransactions.
Its off-chain nature allows the seamless and near-instant execution of these self-executing contracts, expanding the realm of possibilities for Bitcoin for fast and cheap global payments.
Yet, every silver lining has a cloud, and the Lightning Network is no exception. One concern is that it might unintentionally steer Bitcoin towards a hub-and-spoke model reminiscent of the centralized financial systems Bitcoin sought to upend.
Picture this: larger, more affluent nodes becoming central hubs, forming a nexus of power and influence within the network. The Lightning Network could echo the very structures Bitcoin was conceived to disrupt.
The good news is that bitcoin AND lightning are permissionless. Anyone can make improvements to lightning, and anyone can start their own lightning implementation.
Plus, there are already existing alternative second layers on bitcoin, namely Liquid, and there's nothing stopping anyone from creating new second layers. In fact, a new layer has already been proposed, called Ark, though it's still in the initial phases and not even ready for alpha launch.
Lightning may have its issues, but it currently works, and it's still early days in terms of building second layer transactions on top of bitcoin.
What's clear, however, is that we don't need an altcoin for "faster" or "cheaper" bitcoin transactions. They can be built directly onto bitcoin.
Those Bitcoin Genius Ads
James Altucher's infamous Bitcoin ads. They were everywhere – like Bitcoin-themed graffiti in the urban sprawl of social media.
But behind the eye-catching graphics and high-pitched promises lay a series of controversies that would end up reshaping the Bitcoin advertising landscape.
Altucher, ever the maverick, single-handedly spearheaded an aggressive Bitcoin ad campaign. For a time, his face was inescapable. It was as if he'd become the unofficial, self-appointed poster boy of Bitcoin.
A somewhat scruffy yet endearing embodiment of the Bitcoin ethos.
His ads were not just omnipresent; they were bold, making lofty predictions about Bitcoin's future. They worked so well
Exploiting Bitcoin FOMO
They were designed to sell his newsletters, linked to Agora Financial – a firm with a rather checkered reputation and a penchant for get-rich-quick schemes. This tie-up didn't sit well with many observers, adding a thick layer of skepticism to the already speculative nature of Bitcoin investments at the time.
Altucher played the FOMO card, and he played it hard. For those blissfully unaware, FOMO (Fear of Missing Out) is the collective malaise of our digital age. It's that insidious anxiety that keeps you scrolling, clicking, and Altucher hoped – buying. His newsletters and blog posts, jam-packed with Bitcoin information, dangled the carrot of hidden knowledge in front of the masses.
But here's the kicker: most of this "exclusive" insight was already freely available. It's like selling tap water in a bottle – genius if you're the one doing the selling, but not so much if you're the one buying. And yet, like bottled water, Altucher's newsletters found their market.
The scheme no doubt filled Altucher's coffers and kept him firmly in the media's spotlight. It was an audacious move that ruffled more than a few feathers, sparking a hailstorm of criticism.
So contentious were his marketing tactics that Altucher found himself penning a Facebook manifesto, an essay-length attempt to explain why his ads drew such ire.
Selling Shitty Infoproducts
Altucher belongs to a class of entrepreneurs that include the likes of Tai Lopez (Here in my Garage) and Mike Chang (Trainers hate him). These guys had insanely successful ad campaigns that ultimately delivered nothing to the buyer.
As someone who previously worked extensively in the "scam finding" industry, I ran into products from these guys A LOT, and it's the same playbook over and over.
The core component to understand here is that the success of these entrepreneurial endeavors is the success of a viral marketing campaign, and not the delivery of a quality product. Resources are poured into covering the internet with clickable images that lead the buyer into a funnel, with a series of cheap products that get progressively more expensive as you get deeper into the funnel.
Upsell After Upsell After Upsell
While you may pay $15 for "crypto insider" information, after buying, you're offered a "discount" on the next level of insider info. The misleading pitch is that the product is supposedly worth $500, but you've got a one-time discount that gets you access for just $95.
Of course, the sales pitch doesn't end there, and you are then offered a subsequent product for $995, and then $5995. Buyers jump off the buyer train at the level where their wallet starts to hurt, or they figure out they've been duped.
Of course, this is not a "scam" in the literal sense, because there is a real product delivered to the buyer. The information is literally there. It's just dog shit and not worth what you paid.
Most products come with a money-back guarantee. You just have to jump through hoops to get your money back, and most people give up at some point. Many others just consider the product "good enough", and simply don't take action on whatever the advice was.
These shitty infoproducts enrich the creators, and dumb buyers are often dumb enough to fall for version 2.0 and version 3.0, then forget the whole thing happened.
So What Exactly Happened To Ethereum Classic?
Here's a great example related to James Altucher.
From what I gather, the next bitcoin Altucher was promoting in his newsletters was Ethereum Classic. His insane logic was that you could buy Eth Classic for cheap, and it would eventually be worth as much as the real Eth, so you were basically buying Eth for cheap.
It's fucking idiotic. They aren't the same chain. It's the dumbest reason to buy an altcoin I've come across.
I guess that's the target audience for his newsletter.
Let's check in on how ETC performed since 2017.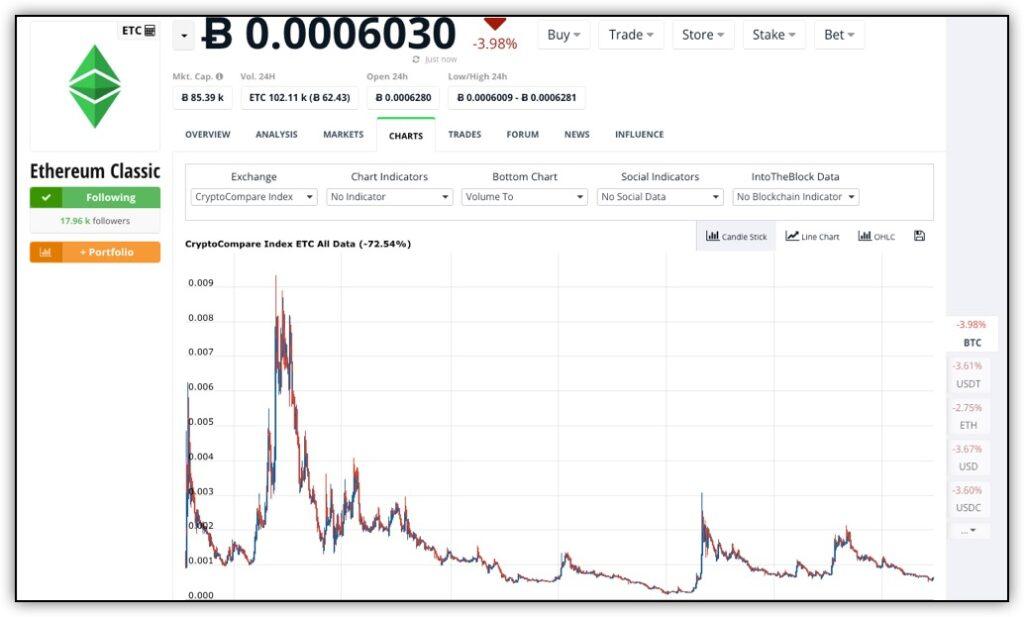 If you followed Altucher's exclusive trading advice, you'd have gotten rekt. You should have just bought bitcoin.
Of course, that doesn't make for a sexy ad campaign.
Does Altucher Promote Shitcoins?
Not really. I mean kind of, but not in the worst way possible. I mean that he doesn't seem to have any specific public stake in any niche cryptocurrency that I could find. He did mention in one of his posts that he "did well" with ICOs, and he has mentioned Bitcoin and Ethereum (plus Ethereum Classic), but these are pretty well-known.
In addition, he's never really said how much he owns, or given any specific trading advice except to buy.
So I gotta be honest here, he isn't really that bad of a shitcoiner. It's still terrible advice to tell people to buy ETC, but there are much worse out there. Many of the crypto gurus you see on YouTube today do backdoor deals buying up altcoins then promoting them to their thousands of followers for a quick pump and dump profit.
John McAfee was one of those types. I haven't seen evidence that Altucher is the same.
Is James Altucher A Scammer?
James Altucher is a interesting case to look at and ask, "Is he a scammer?".
Technically, no. He's not scamming people. He's selling a product for a price, and who doesn't engage in sensationalized advertising. We all know that the hamburgers you get from McDonald's don't really look like you see on the commercials.
Plus, Altucher actually has a legitimate writing career, and I knew of him from his self-help book Choose Yourself before writing this article. In addition, he has a podcast, engages on Twitter, and even has addressed many of the criticisms I've outlined in this article. He's a real person, and not a anonymous content creator hiding behind a stock photo and AI-generated responses.
That being said, he really rides right up to the line between what is sensationalist advertising and what is outright lying.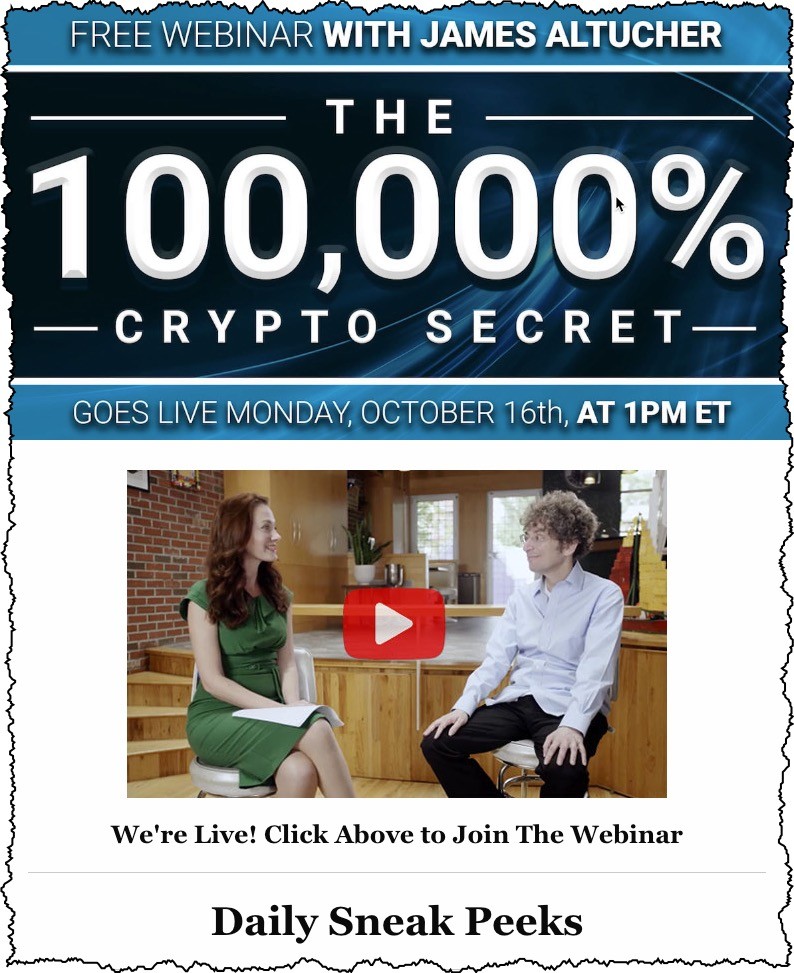 He's a smart guy. He has to know that naming a product "1000% crypto secret" is going to attract get-rich-quick seekers. He has to know that when he labels a product a "live webinar" when it's not really live is shitty behavior. I highly doubt he'd be happy if his own Grandma paid $99 for a newsletter and then some guy funneled her into a $2000 high-pressure, "one time offer".
There are thousands of complaints about him, his products, his associated companies, and his advertising style online.
Then again, some of these entrepreneur guru-types are so far up their own assholes about succeeding at business that all they see is the numbers. It's possible that from all his shitty and annoying marketing, he sees the numbers in his bank account as a win. The numbers don't lie, right? If people are paying for something, they must like it right?
Honestly, I won't call James Altucher an outright scammer. However, I would never trust his advice on anything. He reminds me a lot of Robert Kiyosaki; a guy who wrote one great book but should pretty much be ignored at this point. He burnt that bridge of trust long ago.
z
Altucher and Bitcoin: Public Reactions and Bitcoiners' Perspectives
Beyond many geology enthusiasts vehemently insisting that gold is a mineral and not a rock, there has been some expressive feedback from Bitcoiners and the public.
Let's just say they are less concerned about geological semantics and more about the apparent distaste for being taken for a joyride on the scam express.
In 2017, Neeraj K. Agrawal (@NeerajKA), the director of communications at Coin Center, took a rather lighthearted stab at Altucher's ubiquitous online presence, tweeting:
"It would be kind of funny if James Altucher goes broke again from buying so many ads."
Sasha Lekach of Mashable.com took a somewhat grimmer view of the situation in 2017:
"Altucher is just one of a growing number of internet self-help gurus that have embraced bitcoin as the future, a way for you — yes, you — to get rich. It's a pitch built on a dangerous combination: Dreams of riches and ignorance of a new, highly volatile market."
Then there's Coin Scribble, who didn't pull any punches:
"James Altucher is nothing more than a salesman. His promise of secrets that will allow his customers to get rich quick is not a new scam but, nonetheless, an effective one. While his experience may seem impressive, nearly every aspect of his previous success and ability has yet to be verified. Stay away from Mr. Altucher and similar schemes."
Grey Enlightenment, in response to Altucher's grand proclamation that Bitcoin solves the issue of privacy with paper money, retorted:
"Wrong again. Although a Bitcoin wallet address is much harder to trace to a specific person than a bank account, the flow of Bitcoin transactions are visible on the public ledger."
In a particularly scathing 2023 review on Gripeo, a consumer griped:
"This guy writes down what will attract the readers and not what is worthwhile or interesting. His information about Bitcoin opened him up for phony news to twist his beliefs and make plenty of falsification to spread. His wearisome videos have no actionable information it is just the simple and basic information anyone can figure out without his useless concepts."
So, the million sat question remains: Should we listen to James Altucher when it comes to Bitcoin?
To be honest, maybe we should let the man himself answer this one. As Altucher once said in his blog:
"Don't listen to me."
Fair enough, James. Fair enough. We won't.
My Thoughts On James Altucher And Bitcoin
James Altucher hasn't really proven that he has any real insight into bitcoin beyond the basic idea that bitcoin is digital money. His blog articles of "bitcoin in simple language" might have been useful to a specific newbie-oriented crowd some years ago, but the modern landscape of bitcoin content has changed. Considering the wealth of information available now, those articles now seem quite dated, and even inaccurate at times.
Altucher is right. You should buy some bitcoin. But that's where you should stop listening to him. The trouble with guys like him is that you never know how long down the line they are going to try to sell you some kind of bullshit.
You might follow his content for a year and then he'll sell you out for some new infoproduct priced at $19 with a $1999 back-end upsell. A famous quote comes to mind:
When someone tells you who they are, believe them the first time
Altucher is a salesman, and he'll sell you anything, then gaslight you into thinking it was worth the money.