If you were a BlockFi customer at any time, you may have received an email recently claiming that you can now withdraw your assets from BlockFi. BlockFi filed for bankruptcy not too long ago, but long enough that you may have forgotten if you even had money on there. Or maybe you had your entire life savings on BlockFi, and it's the email you've been waiting for.
This is definitely a scam email, and you should not click any links or attempt to withdraw any assets. Though the details of the email like the subject line, email contents, sender, and link may change over time, you can be sure that these emails are not real.
If you ever want to check if you actually have assets to withdraw, only go directly to the BlockFi.com website from a device you own, on a wifi network you trust.
Fake BlockFi Phishing Email To Withdraw Assets
1. The Email Isn't From BlockFi
The main indication that this is a scam is that the email sender is not actually from BlockFi. This is the #1 tool in your tool belt against scams. Learn how to check the sender of an email and look at the root domain from where the email originates. In this case, the email I received was from mail@networkforgood.com.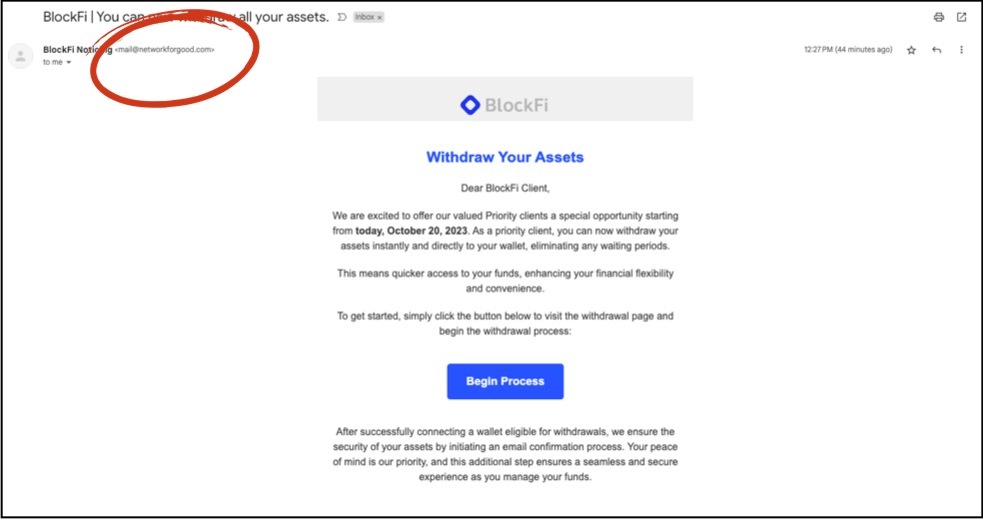 If the email isn't from BlockFi, it's a scam.
Unfortunately, on some email clients, like my iOS standard mail client, the domain of the sender isn't shown to you as obviously on Gmail. On my iPhone, I just saw "BlockFi Noticing". The scammers must be dumb in this case, because that was the first indication to me that this was a scam. BlockFi wouldn't send an email from "BlockFi Noticing". It would just be "BlockFi".
Luckily, my suspicions were raised and I confirmed that the email wasn't sent from BlockFi.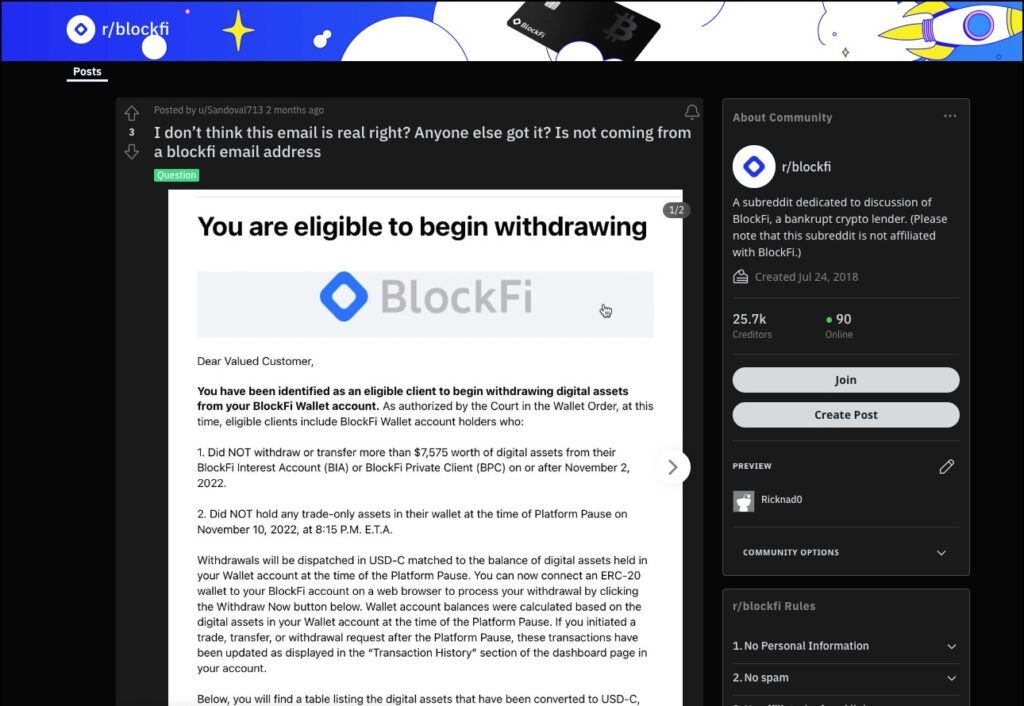 Scam Headlines To Watch Out For
The pace of scam emails have picked for for myself, having received two more in the last day. It seems there has been some other type of email communication breach across multiple companies, so the BlockFi scam emails may not be related to BlockFi itself, but broader leak affecting more customers.
For example, I got an email to withdraw assets from FTX, but I've never had an FTX account. I'll keep a running list of scam email headlines, and hopefully Google will index them, and people checking search results to see if they are a scam will land on this page.
FTX Updates: Great News, you can now withdraw your assets.
Kroll (BlockFi): BlockFi withdrawals are now instant.
BlockFi Noticing: BlockFi | You can now withdraw all your assets.
Kroll Restructuring Administration: FTX withdrawals have been temporarily re-enabled.
FTX.US Noticing: Priority clients can now access their funds.
FTX Information: You are eligible to withdraw your assets from FTX.
Is The Network For Good (networkforgood.com) Website A Scam?
The confusing thing about this particular email was that the domain sending the email and the link to click was from a company called Network For Good, from networkforgood.com, which seems to be a legitimate website for fundraising.
I'm emphasizing seems here, because at first I was pretty sure it was a scam, but now I'm not so sure. I don't meat at all you should trust the domain or anything on there, but the scam doesn't seem to be as straightforward as I imagined.
Initially, I thought networkforgood.com was a scam for a few reasons. One, there are no legitimate, trusted websites reviewing it. Two, I've never heard of it. Three, the language and design of the site seem extremely generic. It could easily be a fake website spun up to appear legit, with equally scammy-looking sites like https://www.goodunited.io/ spun up to review it.
Furthermore, even though TrustPilot has 8 positive reviews of the company, they are all from 2022 around the same time period, and all from reviewers with very low review counts. As I dug deeper, I discovered that Network For Good has not checked all boxes to prove they are a legit company. The only verification they have is that they have a bank account and they registered the correct domain name.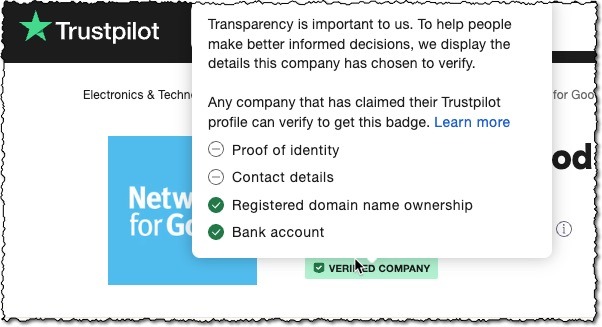 Doing all this would take maybe a couple hours, and then the whole thing could be taken down and spun up again with different domains on different hosting in less than a day. I've seen similar scam websites in other industries.
However, there also doesn't seem to be any indication that this actually is a scam website. There are folks online who have been scammed by individuals pretending to be Network For Good, but not by Network For Good Themselves.
Network For Good Scam Update
So from reading a Reddit post, it appears that the email credential from Network For Good from their emailing service have been compromised. How Network For Good hasn't followed up on this yet (I'm still receiving email several days after initially posting this article) is a big question, but this seems to be a plausible explanation for how a legitimate website could be the front for a scam.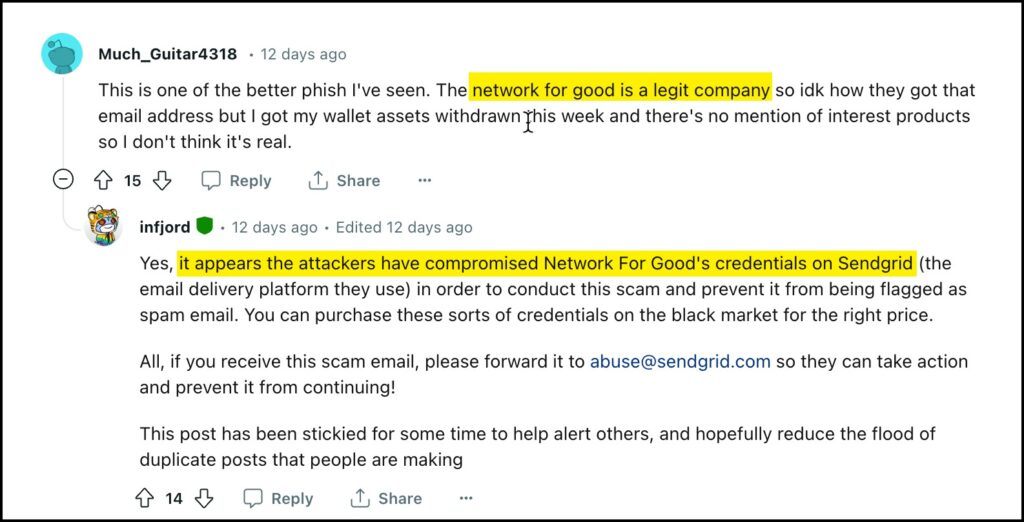 How Does The NetworkForGood.com Scam Work?
How can someone actually steal your crypto using the Network For Good website?
Well, I actually don't know. My best guess after learning of the autoresponder (email list mailer) service being compromised is that after clicking the link in the email, you're redirected to a FAKE Network For Good website. Using a Link Cloaking Service, you can actually make a domain appear one way in the address bar while actually serving up a different website. Either that, or they just replace an "o" with a "0" in the URL like you see all the scammers do on Twitter.
Beyond that, I'm not going to dive that deep. It's probably some kind of social engineering scam where you sign up to "receive" your money from BlockFi, FTX, or wherever and then they trick you into entering your private key into a scam site. Boom, they sweep any other funds from your cold storage.
Or maybe they ask you to donate some money before you withdraw your assets, or pay some kind of "fee to withdraw".
Or maybe they just want to collect more information on you, so they ask for things like social security number, phone number, home address, and other personal information. It's quite odd that the networkforgood.com site isn't taken down yet, and that they are still using some kind of commercial mass mailer to send out these scam emails… so maybe the scam is more complex.
Regardless of how the scam actually works in the end, you can be sure that this is not BlockFi, and they're not giving you money, so the road ends here.
Actually, Some People Can Withdraw Assets From BlockFi
What really made me do a double take with this particular email is that some ex-BlockFi customers can actually withdraw assets. The truth is, I was able to withdraw assets from BlockFi a few weeks ago (2023), and successfully confirmed that the Bitcoin was real, and I have taken ownership of it.
The catch here is that this bitcoin was in the BlockFi standard wallet at the time they halted withdrawals. It was not in their yield-generating program, whatever it was called back then. If you had bitcoin or other crypto assets tied up generating yield on your earnings, those are still locked up in bankruptcy proceedings, and you'll likely only ever get a fraction of those assets, if anything at all.
For clients holding funds in BlockFi Wallet: At this time, the company is working through distributing funds to clients with assets in the BlockFi Wallet product. If you are eligible to withdraw and have not taken action yet, please submit a withdrawal request to receive your funds in crypto as soon as possible, before the Wallet withdrawal window closes on December 31, 2023 at 11:59 PM UTC.

(Legit) BlockFi Email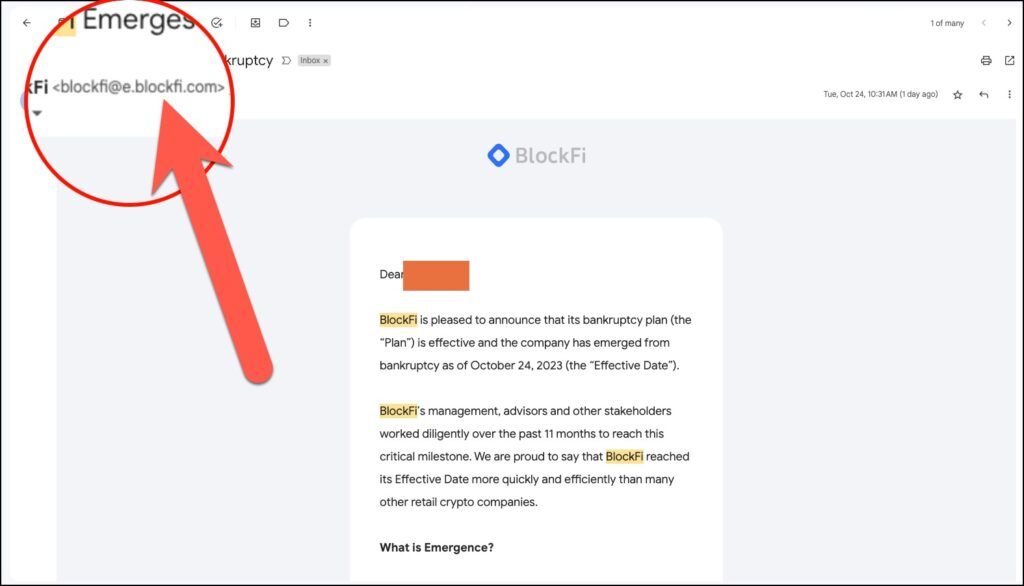 If you had bitcoin or crypto in the standard, non-yield-generating wallet, you may have received an email that you are able to withdraw those assets. If not, you can log into the BlockFi website and check.
Even when I received the email from official BlockFi communication that my bitcoin was available to withdraw, I didn't click any links. I logged into the BlockFi official website on a separate device using my normal credentials and 2FA, and send the funds to an address I had previously whitelisted. At no time did I enter any personal information, private key information, or anything that could compromise my funds.
I recommend using equally extreme caution if you are attempting to withdraw funds from any of these institutions that have had their customer email lists leaked.