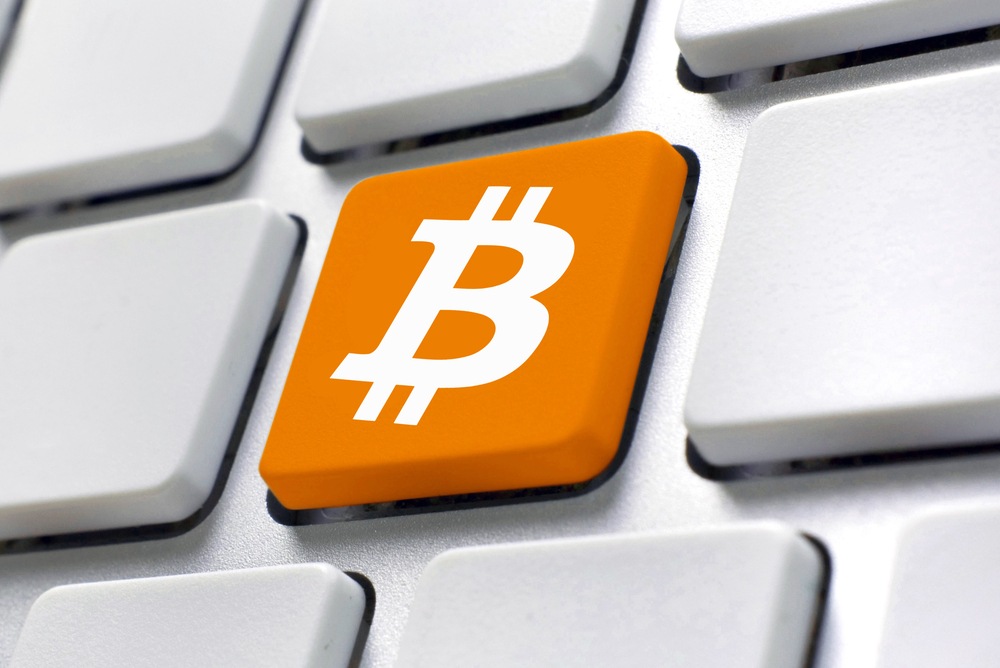 When the bitcoin whitepaper was launched, there was no currency symbol for bitcoin. Originally, it was just a simple "BC", as in "Bit-Coin". Now, the pretty universally accepted symbol for Bitcoin is a "B" with two strokes on the top and bottom, similar to the dollar sign with two strokes. Even though bitcoin is one of the most popular global assets/currencies, it's still difficult to figure out how to type the bitcoin symbol on many modern smartphones or desktop operating systems.
How To Write And Type The Bitcoin Symbol (₿)
There are many ways to hand write or type the bitcoin symbol, but the general idea is that it should look similar to a dollar sign.
The bitcoin symbol, when hand-written, would be a capital B, but how you do the strokes will differ. Much like a dollar symbol, there's a bit of personal flare on how many and what style of vertical stroke goes through the core symbol.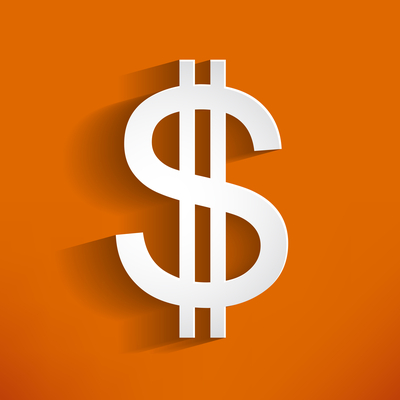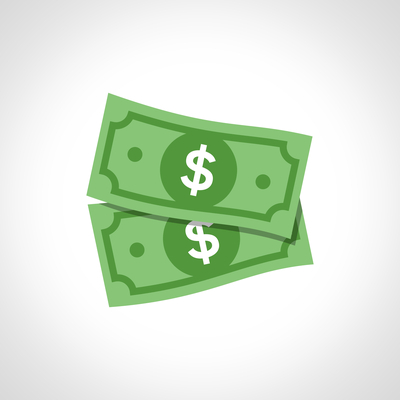 Some people write two strokes penetrating completely through the S/B. Some people do a single stroke all the way through. When writing by hand, it seems unnatural to do little tiny strikes on the top and bottom, but typed out, that's what the symbol looks like: ₿ (no strokes through). With a dollar sign typed out, many times the strokes go all the way through, though this will vary by font and how your browser interprets the font: $
Surprisingly, some fonts still don't have a bitcoin symbol available, and you'll end up with an empty square instead of a bitcoin symbol!
I guess there just aren't a lot of situations where you'd be writing out a bitcoin symbol by hand, but I can think of one historic moment where it was (pictured below). Oddly enough, he used one stroke, all the way through the B.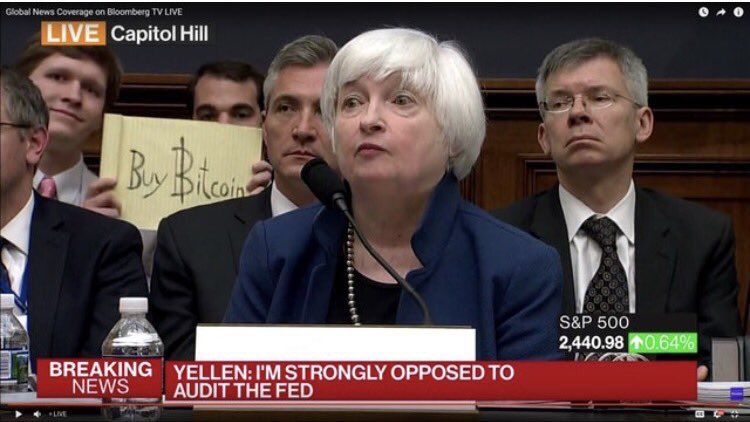 How To Type ₿ On A Mac
MacOS does not come with a native way to type the bitcoin symbol, but there are two ways to customize your Mac so that you can type a "₿" pretty easily.
The one you'll read about most is not my favorite method, but it works. You need to add the unicode keyboard to your keyboard options. This can be done in a couple of clicks.
System Preferences
Keyboard
Input Sources
(+) Symbol
Search "Unicode Hex"
Toggle keyboard options in the top menu bar of your desktop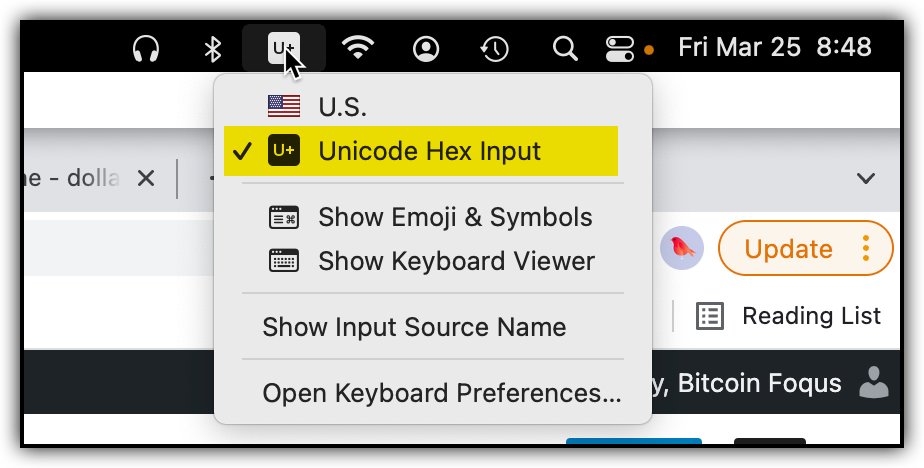 You can see the whole process of how to do this video about typing special characters on a Mac. Getting access to the unicode keyboard will also allow you to access other symbols and even emojis.
Once you do that, you hold down the option key (⌥), then type "20BF" (still holding down option), and the symbol will appear.
There are two downsides to this method.
First, it's kind of a pain to type five different keys to insert one symbol. Second, using the unicode keyboard means you'll lose some other keyboard shortcuts from the standard keyboard, meaning you'll have to flip between both keyboards depending on what type of special symbols you usually type. Yet another extra step.
Setting Up Custom Keyboard Shortcuts
Personally, I've set up my Mac to simply have some custom keyboard shortcuts through text combinations. Not only does this allow me to keep my standard keyboard active, but I can also use non-unicode symbols and have those on deck ready to deploy as well.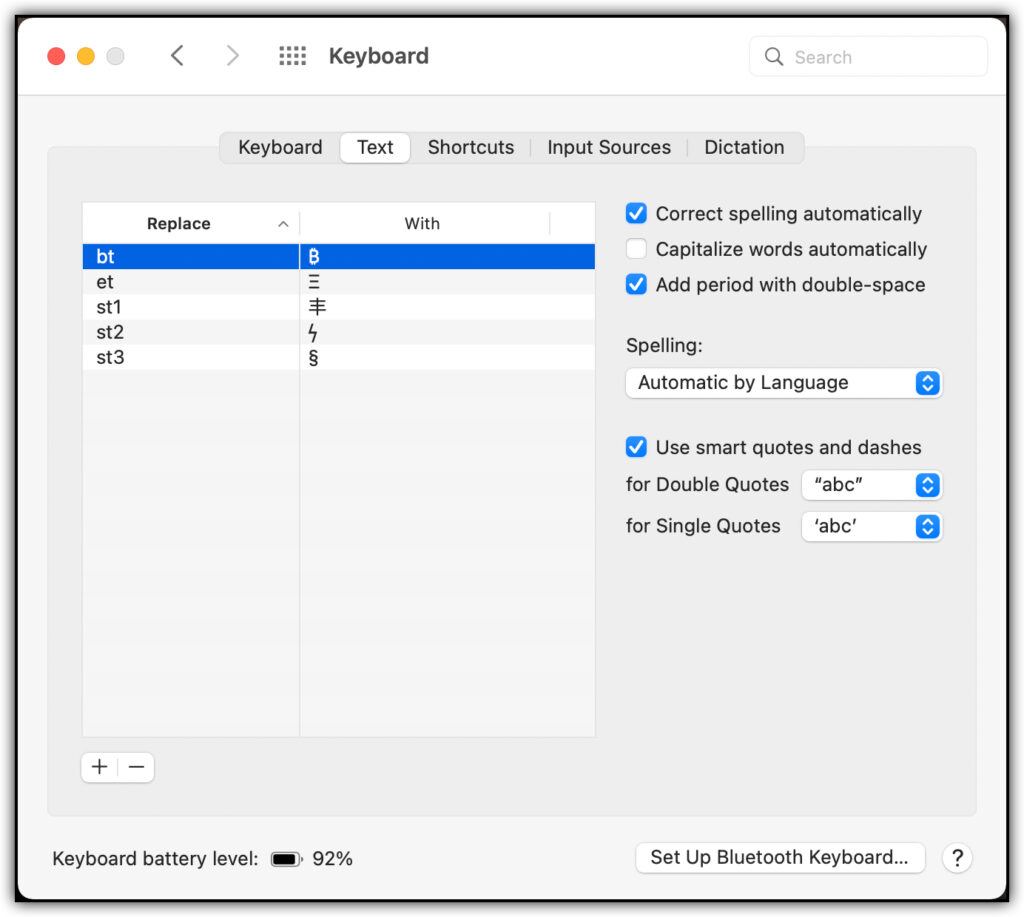 To set this up:
System Preferences
Keyboard
Text
(+) Symbol
Enter your desired text combination and symbol
As you can see from the image above, I've chosen some uncommon text combinations to represent common symbols I use here on my blog, including bitcoin (₿), ether (Ξ), and sats (丰, ϟ, §).
Uncommon text combinations are important because the symbol will appear as an option any time you type those letters together, and if you hit space or enter afterward, the symbol locks in automatically. That means if you use common letter combinations "th" or "oo" as a custom symbol, you'll probably make more work for yourself rather than save yourself time.
How To Type ₿ On Windows
Windows comes with the native ability to interpret and type unicode, so it's much easier than Mac. Open any word document, type the numeric code for the bitcoin symbol (20BF), then highlight the text, and hit Alt+X.
You can just hold the Alt key while typing 8383. I do not know why the Alt+X code is different from the Alt code, but that's the way it is. Make sure that your number lock on the keypad is enabled with this second method.
How To Type ₿ On Linux
With Linux, it's very simple to type any unicode, though the keys you need to press are different. Hold Ctrl+Shift+U, then type in the alphanumeric code 20BF.
How To Type ₿ On An iPhone (🌽)
To type a ₿ on an iPhone, you'll need to install a special keyboard app on your phone. Download Gboard from the app store, then activate it in your iOS keyboard settings.
Settings
General
Keyboards
Turn on Google keyboard
Go into a text app or document and hit the globe icon on your keyboard to switch keyboards
Press and hold the dollar sign to access the bitcoin symbol
When you activate Gboard, my advice is to not give it "full access", otherwise the developer can see everything you type, including old texts!
This of course means you'll need yet another app installed on your phone, which is kind of annoying to do just so you can type one symbol every once in a while. It'll depend on how bad you want it, and how often you type ₿.
Alternatively, you could simply copy/paste the symbol to a note on your notepad, then copy/paste it as you need it. Also not convenient, but it doesn't require an additional app.
My personal favorite is to use the corn emoji (🌽), since it's a common meme that "bitcoin" is "corn", thanks to a mispronunciation one guy did one time.
How To Type ₿ On Android
For Android phones, the native Google keyboard should have the bitcoin symbol ready to go. Just long-press the dollar sign and a number of alternative currency symbols will pop up, including bitcoin.
If you want something more accessible you can navigate to your personal dictionary, and you can add the bitcoin symbol as an autocorrect for when you type a series of characters you designate. For example, if you type btc, you could have your keyboard suggest ₿ as the correction.
Gboard Settings (Gear Icon)
Dictionary
Personal Dictionary
hit (+)
Paste or Type "₿"
Add Shortcut
hit (√)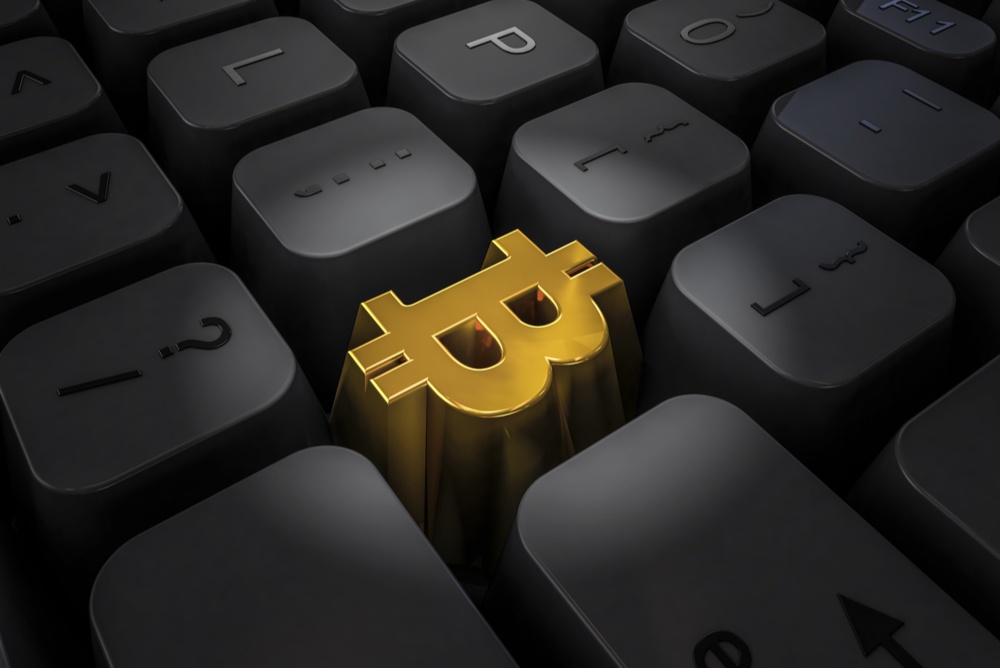 More Bitcoin Symbols
Thai Bhat (฿)
For a while, there were people who championed the use of the Thai Bhat symbol for bitcoin, since it had the full stroke all the way through the letter B, similar to a dollar sign. The currency symbol was also more accessible at the time since ₿ wasn't added to unicode until 2017. However, this is obviously confusing in a global context.
Letter Beta (Ƀ)
Another proposed symbol for bitcoin which also looks a lot like the letter B is the letter beta, which is a letter from the Latin alphabet, which uses the phonetic sound β. In phonetics, it's very similar to the sound "v" makes, though slightly different. The sound is irrelevant to the use as a bitcoin symbol. It's just an interesting bit of information I wanted to include.
The letter Ƀ (lower case written as ƀ), is what is recommended by BitcoinSymbol.org, the same organization that brought us the sats symbol. Unlike the sats symbol, which seems to be catching on, I've never actually seen the Ƀ symbol used in the wild. For now, everyone seems to be sticking with ₿ for now.
The Satoshi Symbol (丰 ϟ § Ș )
Though the Bitcoin symbol and its orange color have been fully adopted at this point, one interesting area of debate is how to denote satoshis. Satoshis, or sats, are the smallest unit of bitcoin. There was a small campaign to call these units "bits", but it never really gained traction. So now, although everyone agrees on what to call them, nobody knows how to write them! There are dollars ($) and cents (¢), and there is bitcoin (₿) and sats – for which we don't have a symbol yet.
This was a less relevant question in the past, but now that the price of a single bitcoin is out of reach for most people, there is a strong push by many bitcoiners to make sats the standard.
Nobody wants to buy 0.00001 bitcoin, but buying 10,000 sats sounds pretty awesome! Since most people will be buying fractions of a bitcoin at this point, it makes sense to get some marketing and promotion behind sats. In some bitcoin apps, you can even switch the units to sats, so instead of buying $300 worth of bitcoin, you can buy 640,000 sats.
Top Satoshi Symbol Contenders And Their Advocates
There are a few leading contenders for sats symbols so far.
Maybe the most well known is from the Twitter account @symbolsatoshi, which has the sats symbol as three horizontal lines with one vertical line through the middle (丰). The upside to this symbol is that there's some meaning behind it, in that it traces onto the Bitcoin logo very well, and means bountiful and abundant in Japanese. The downside is that it looks like gyro meat on a vertical grill.
In 2021, there was a burst of activity around developing a satoshi symbol, and one of the most popular tweets from those couple weeks came up something that looks like an infinity symbol turned vertical with a horizontal line through it. This one wasn't my first choice because it looks like a number 8, or like an ankh, which is a religious symbol.
The poll below compared the gyro meat symbol (丰) with a tilde (~) and the section symbol (§). The upside to the tilde and section symbols is that they are easy to type with a normal keyboard. The downside is that a tilde can have multiple meanings. The section symbol can be hard to read in certain fonts or sizes, and it's difficult to hand write. I don't even know how to do it. What is it – two s's stacked on top of each other?
Personally, I thought the tweet below was a cool design. The symbolism is interesting, because a satoshi is a small unit of bitcoin, so it takes the outside of the bitcoin logo and places a small 's' on the inside. I think it looks very much like a typical currency symbol. The downsides here are that it takes many strokes to write out compared to a typical currency symbol, and the 's' with vertical lines is typically associated with dollars.
My personal favorite was the Greek letter koppa (ϟ). It's only one stroke to draw, easy to see in small fonts, symbolizes the lightning network, and it already exists as a unicode symbol. Unfortunately, a large number of comments on this Twitter suggestion immediately drew connections to the Nazi Schutzstaffel, which often shortened to SS, and stylized as ϟϟ. That's a bummer. I really liked this one.
There have been many suggestions and artistic interpretations of sats over the years, including variations on dollar-like 's' symbols. I personally like the 3rd one on the top right that looks like an '@' symbol, since I think it would be easy to write out. This would require a new symbol to be created for keyboards though!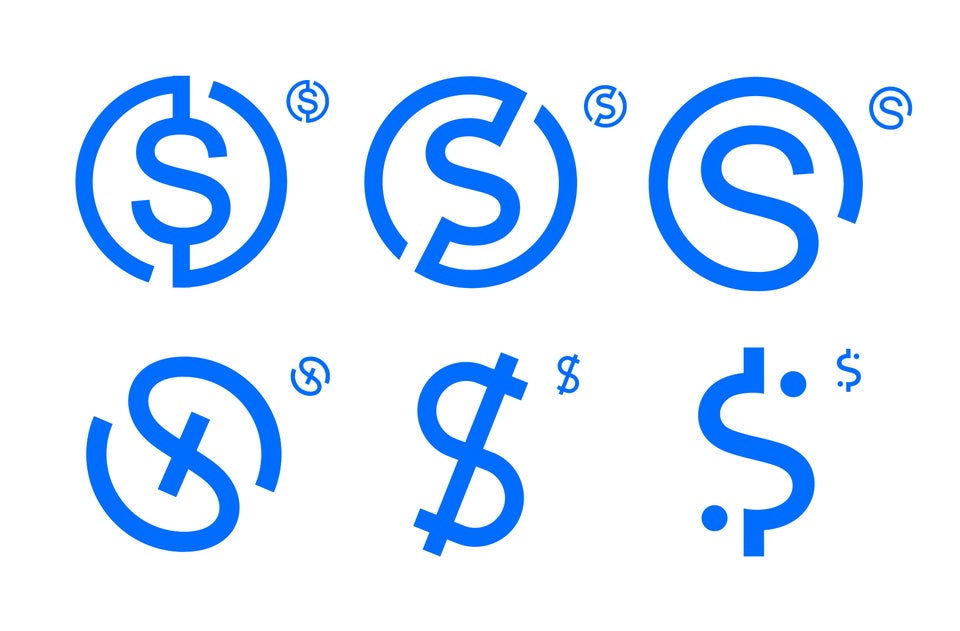 Will we ever get a satoshi symbol? Maybe bitcoin is too big and too diverse now to decide with intent which symbol we are going to use. Maybe we are just waiting for a symbol strong enough to pull everyone together. Maybe one day a symbol for sats will appear and everyone will just kind of nod and think, "Sure, that works."
What's The Proper Bitcoin Ticker & Currency Code?
When you search for bitcoin on an exchange, similar to how stocks are listed on a stock exchange, it's listed with a "ticker". A stock ticker is a 1 or 4 letter combination that represents the company, so you don't have to write out the entire company name in confined platforms. For example, Amazon is AMZN, Ford is F, and Facebook is FB. Traditionally, this was so that you could fit company names on ticker tape, which was a small strip of paper transmitted via telegraph. These days, it makes it convenient to list stocks on mobile phones.
Another system that uses shorthand to represent units is the International Organization for Standardization (ISO) currency code (4217) system. You'll recognize currencies such as USD (US Dollar), CAD (Canadian Dollar), EUR (Euro), JPY (Japanese Yen), and the Yuan (RMB).
People buy and sell bitcoin like a stock, but bitcoin is money. So, what is bitcoin's ticker and what's bitcoin's currency code? Actually, they are two different things.
BTC VS XBT
If you've bought bitcoin before, you probably would recognize BTC as being the most common representation of bitcoin listings on exchanges. However, BTC can't be used for its currency code because violates the currency code rules of starting with "BT", which is the country code of Bhutan. Commodity monies such as gold and platinum are listed with an "X" preceding their elemental unit, so gold is XAU and platinum is XPT, so it makes sense that the currency code for bitcoin is XBT.
99% of places will list bitcoin as BTC, but the last time I logged into Kraken, one of the largest crypto exchanges in the world, they still had bitcoin listed as XBT. Bitmex, another massive exchange, also uses XBT, so it's at least something you should be aware of.
Bitcoin Forks
Bitcoin has been "forked" many times into projects which claimed they were the original bitcoin, or a better bitcoin. Of course, their values plummeted after forking and have very little activity on their network.
Did you know that at one time there was an attempted fork of bitcoin called Bitcoin XT that used the symbol XBT? The fork was not widely adopted and is no longer active, unlike the ones listed below. There are actually hundreds of bitcoin forks out there, but here are some of the more widely known ones that have survived. The only one of these three that actually gets used in the wild is Bitcoin Cash.
BCH: Bitcoin Cash is an attempt to make bitcoin transactions cheaper.
BTG: Bitcoin Gold is an attempt to expand the functionality of bitcoin.
BTD: Bitcoin Diamond is an attempt to make Bitcoin transactions faster.
Wrapped Bitcoin (WBTC)
Another type of bitcoin you might run into, and one that is arguably more popular even than the bitcoin forks listed above, is WBTC, which is wrapped bitcoin. Wrapped bitcoin allows you to use your bitcoin holdings on the Ethereum network.
WBTC is an ERC-20 token that can be used like any other asset on Ethereum, giving you access to DeFi protocols, staking, smart contracts, DAOs, and other Ethereum buzzwords.
The trouble with wrapped bitcoin is that it isn't bitcoin. It's a token managed by a private company, so you're introducing 3rd party risk. Plus, you're using Ethereum, so you can expect way higher transaction fees.
Frequently Asked Questions
How Do You Get The Bitcoin Emoji?
To get the bitcoin emoji on social media sites, often you just need to type "bitcoin" or #bitcoin, and the bitcoin emoji will automatically appear. To get a bitcoin symbol on an iPhone or Android, you need to go through a few steps to add it to your keyboard, but it can be done.
How Do You Get The Bitcoin Emoji on iPhone?
To get the bitcoin emoji on iPhone you need to install a special keyboard app called Gboard.
How Do You Get The Bitcoin Symbol On Twitter?
To get the bitcoin symbol on Twitter you just need to type hashtag bitcoin (#bitcoin), and the option will appear.
What Is The Bitcoin Symbol In Unicode?
The unicode for bitcoin is 20BF, but the key combinations to get the bitcoin symbol to appear will differ based on the operating system you use.